Make no mistake, Notion is one of the best productivity apps available right now. Its all-in-one workspace concept, completely revolutionized the way we think about productivity, allowing us to consolidate separate everyday work tools into one giant super tool.
However, just because Notion is a great tool, it doesn't necessarily follow that it is the right tool for your work. It has weaknesses that may cause unnecessary difficulty in your workflow, or it might just be ill-fitted for your purpose. If this describes your experience with Notion, the good news is that there are tons of Notion alternatives you can explore to boost your efficiency.
This article will bring you up to speed on all the best alternatives to Notion, ranging from dedicated knowledge/project/task management, and note-taking applications to all-in-one apps like Notion. However, before we go into the apps, you must first understand Notion's flaws, that way, you can choose apps that accurately meet your needs.
Why Use an Alternative to Notion?
Notion's chief attraction is its versatility. With just one app, you can build roadmaps, design documents, create wikis, publish websites, or record meeting minutes. However, for all its utility, Notion suffers from some critical flaws which may be deal-breakers for you. Common Notion user grievances include:
Steep learning curve: Even though Notion does a lot to make it seem easier (there are tons of Notion shortcuts, for example), the sheer amount of functionalities in Notion make it extremely difficult to use, especially for complete productivity tool beginners. Other apps similar to Notion get the job done, but are way less complicated.
No Local File Management: All your files in Notion are stored in the cloud, and you can only access them via web service. On the other hand, some Notion alternatives give you complete control and let you store your files locally.
Poor offline support: While Notion does work offline, without a strong internet connection, you can only access preloaded pages.
Clunky mobile app: Notion's mobile app is slow, does not support multitasking and has a tricky UI. Other Notion app alternatives like ClickUp and Asana, offer a much better mobile experience.
Limited time tracking: Notion lacks time tracking features which can complicate the Notion project management process (however, you can use a Notion time tracking integration).
How To Choose a Notion Alternative That Matches Your Workflow
Notion is arguably the best all-in-one productivity app on the market, so if you're going to ditch it in favor of something else, it must perform better for your purpose. You can get some insight into which Notion replacement to choose by answering the following questions:
Do you need something minimal and simple or highly customizable and complex?
Is the tool for personal or business use?
Will you be working alone or in collaboration with others?
How would you like to input data? As text only? Or with images, sketches, video, and audio?
Where will you primarily work? Your desktop? Or mobile?
18 Best Notion Alternatives
Notion App Alternatives
Price
Platform
Rating (PCMag)
Asana
$0-$30
iOS, Mac, Android, Windows
4.5
ClickUp
$0-$19
iOS, Mac, Android, and Windows
–
Airtable
$0-$24
iOS, Mac, Android, Windows
4.0
Basecamp
$0-$99
iOS, Mac, Android, Windows
4.0
Evernote
$0-$14.99
iOS, Mac, Android, and Windows
4.0
Joplin
Free
iOS, Mac, Android, Windows, and Linux
4.0
Microsoft OneNote
Free
iOS, Mac, Android, and Windows
4.0
Trello
$0-$17.50
iOS, Mac, Android, Windows
4.0
Confluence
$0-$10.50
iOS, Mac, Android, Windows
3.5
Monday.com
$0-$16
iOS, Mac, Android, Windows
3.5
Quip
$10-$100
iOS, Mac, Android, Windows
3.5
Google Keep
Free
iOS, Mac, Android, and Windows
–
Coda
$0-$36
iOS, iPadOS, Android, and Web App
–
Craft
$0-$12
iOS, Mac, Android, Windows, and Web App
–
Nimbus Note
$0-$8
iOS, Mac, Android, Windows, and Web App
–
nTask
$3-$12
iOS, Mac, Android, and Windows
–
Nuclino
$0-$6
iOS, Mac, Android, Windows, and Web App
–
Obsidian
$0-$50
iOS, Mac, Android, Windows, and Linux
–
Notion is a combination of a knowledge/project/task management, and note-taking app, therefore, the alternatives listed below are either one or a combination of these things. We've excluded apps that are still in development like Anytype and Microsoft Loom, but those that did make the selection were chosen based on functionality and user reviews.
---
Asana
Pricing: $0-$30
Platform: iOS, Mac, Android, and Windows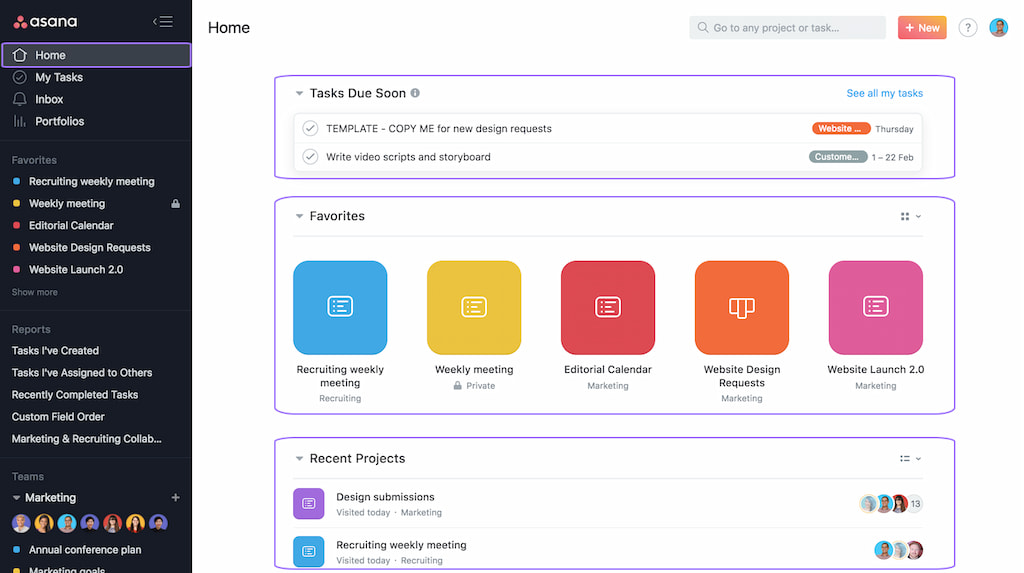 Strictly speaking, Asana is a work management and collaboration tool. However, it also incorporates some Asana project management elements and can be useful when organizing lightweight projects. It is well known for its flexibility, and customizability, but it also provides templates for users who prefer a bit of structure.
🌟 Features
Task Management: Asana lets you break work into tasks and subtasks, and assign each task to specific team members.
Timeline: This Gantt-style view lets you track projects and deadlines so you can easily make schedules and meet deadlines.
Milestones: Asana lets you understand project goals and stay motivated by setting milestones that serve as progress markers.
Calendar: Asana lets you view any list of tasks on a calendar so you can get a clear idea of what is due, and when.
Privacy controls: You can control who has access to sensitive information or even make private teams for confidential projects.
✅ Pros
Powerful free version
Flexible design
Task filter
❌ Cons
It can be difficult for beginners
It is more expensive
Limited customization features
---
ClickUp
Pricing: $0-$19
Platform: iOS, Mac, Android, and Windows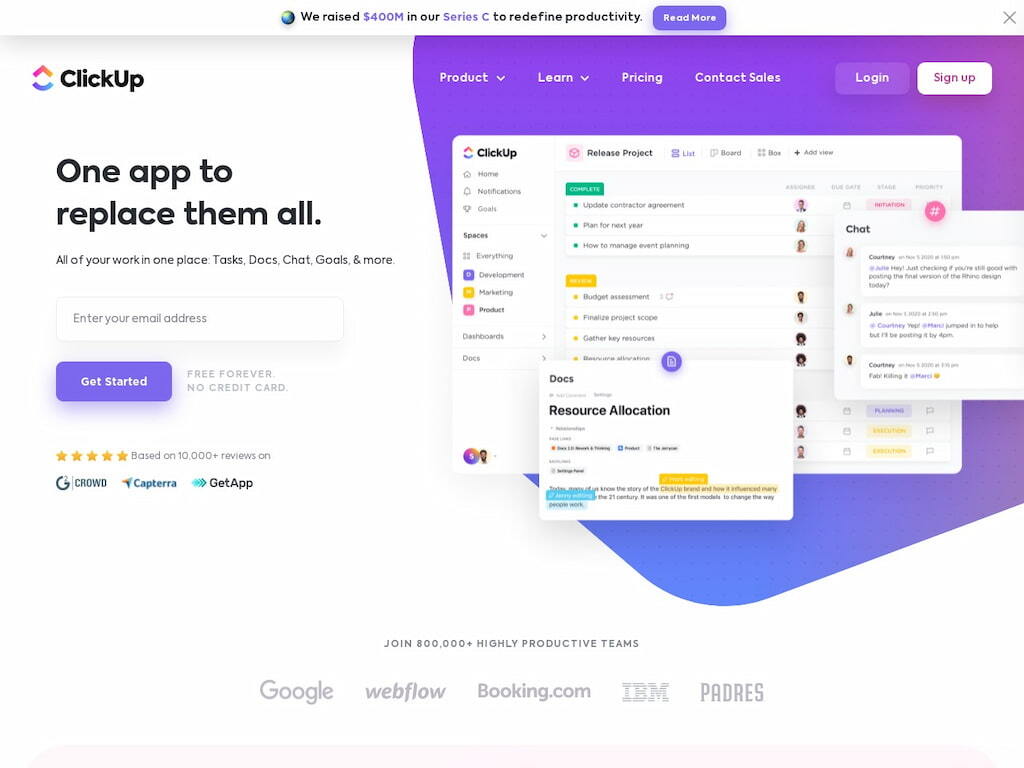 ClickUp is an all-in-one productivity platform that promises to increase productivity by eliminating the friction caused by using many different applications. It brings all your tasks, docs, chats, and goals to one place and is easily customizable.
ClickUp and some of ClickUp alternatives can be a bit better than Notion when it comes to collaboration. It boasts several features unavailable in Notion including dashboards, assigned comments, dynamic recurring tasks, and real-time chat.
🌟 Features
Overview: ClickUp's "Everything view" gives you a bird's eye view of all your tasks. You can use it to find anything you need, no matter where it sits in the hierarchy.
Customizable tasks: You can customize ClickUp to fit your need by mixing and matching its 35+ ClickApps.
Nested subtasks and checklists: ClickUp helps you organize things hierarchically. Break complex projects into tasks, and subtasks, and create checklists within tasks.
Multiple views: ClickUp has more than 15 different views including list, board, box, and calendar.
Automations: It has over 50 actions, triggers, and conditions that you can use to automate routine work, You can use pre-built automation, or customize your own. You can also use a number of ClickUp integrations.
✅ Pros
Amazing design
Easy to learn
Multiple features
❌ Cons
It sometimes has bugs
There are not enough learning materials
Adding guest users is difficult
---
Airtable
Pricing: $0-$20
Platform: iOS, Mac, Android, and Windows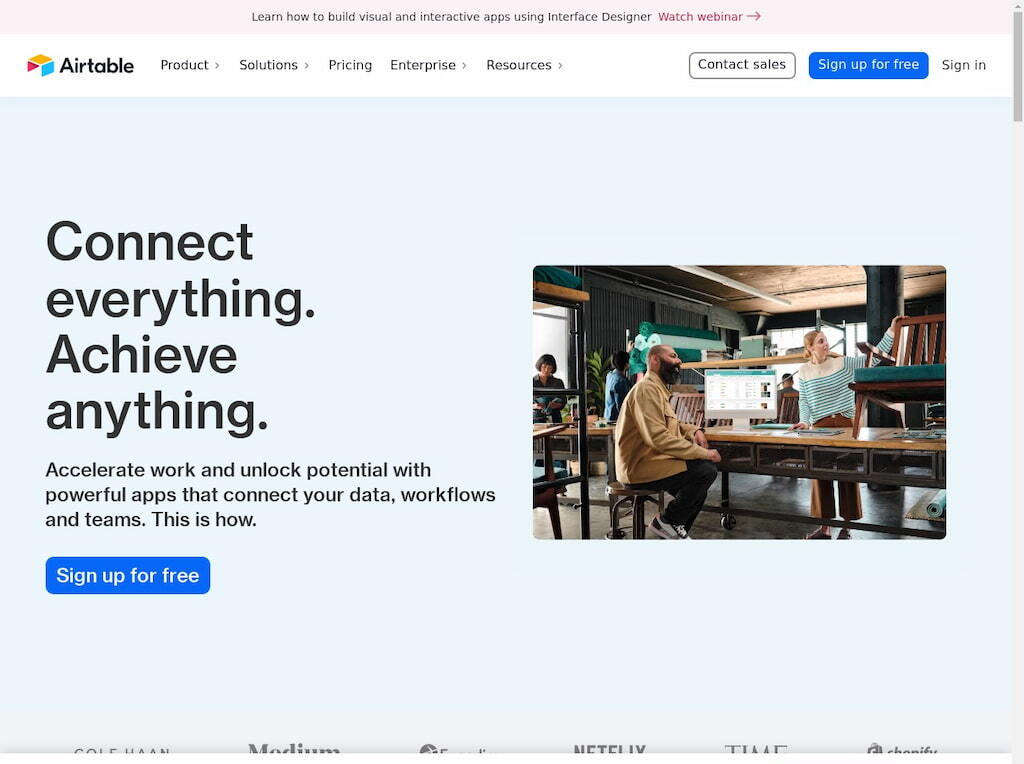 Airtable is a low-code platform that lets you easily build custom tools to enhance your workflow. At its core, it is a database, but it also includes powerful visualizations, integrations, and processes that let you use your data in completely unique ways. Airtable ensures that every member of your team is always on the same page with real-time updates and powerful sharing capabilities.
🌟 Features
Interface designer: This new feature lets you create custom applications from existing data with a simple drag and drop builder.
Views: Airtable lets you see the same information from multiple angles with timeline, Gantt, kanban, gallery, form, calendar, and grid view.
Automations: Airtable lets you create simple or complex automation.
Sync: This feature lets you collaborate with team members on the same data. It can also pull data from other platforms and sync them seamlessly.
Reporting: Airtable lets you easily create dashboards, charts, and graphs with your data.
✅ Pros
❌ Cons
Weak version history
Basic data visualization
Limited free version
---
Basecamp
Pricing: $0-$99
Platform: iOS, Mac, Android, and Windows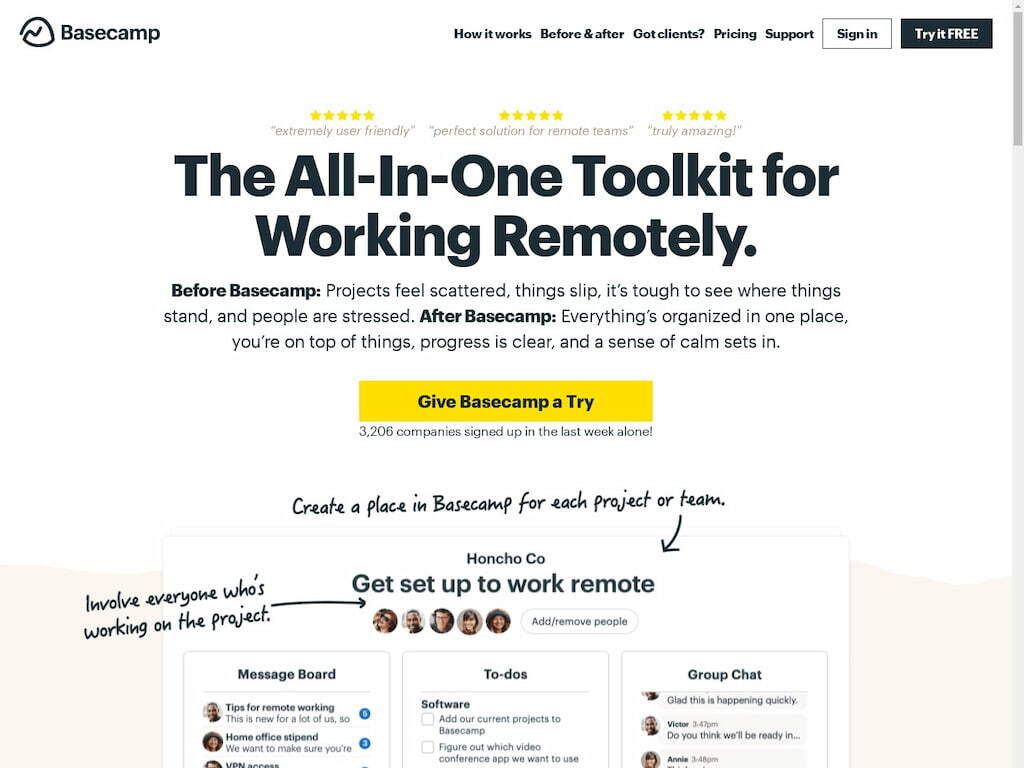 Basecamp is the perfect project management solution for remote teams. You can communicate with your team via the message board, organize tasks with to-dos, and create automatic check-ins to monitor the state of work. Basecamp also features an exclusive Hills Chart which helps you understand how close work is to completion.
🌟 Features
Hills chart: This feature helps you track how projects are progressing and how soon they will be completed.
Client access: You can use Basecamp to share information with your clients without them needing to learn the software.
Message boards: This feature lets you organize conversations by topic. You can embed images or files into your messages, and share them with the team, or select individuals.
Schedules: The schedule lets you add events, with dates and times, and it can be configured to notify you when schedules change.
Documents and file storage: Each project in Basecamp has a shared space where you can upload documents.
✅ Pros
❌ Cons
It lacks time tracking
It can be expensive
There are no Gantt charts
---
Evernote
Pricing: $0-$14.99
Platform: iOS, Mac, Android, and Windows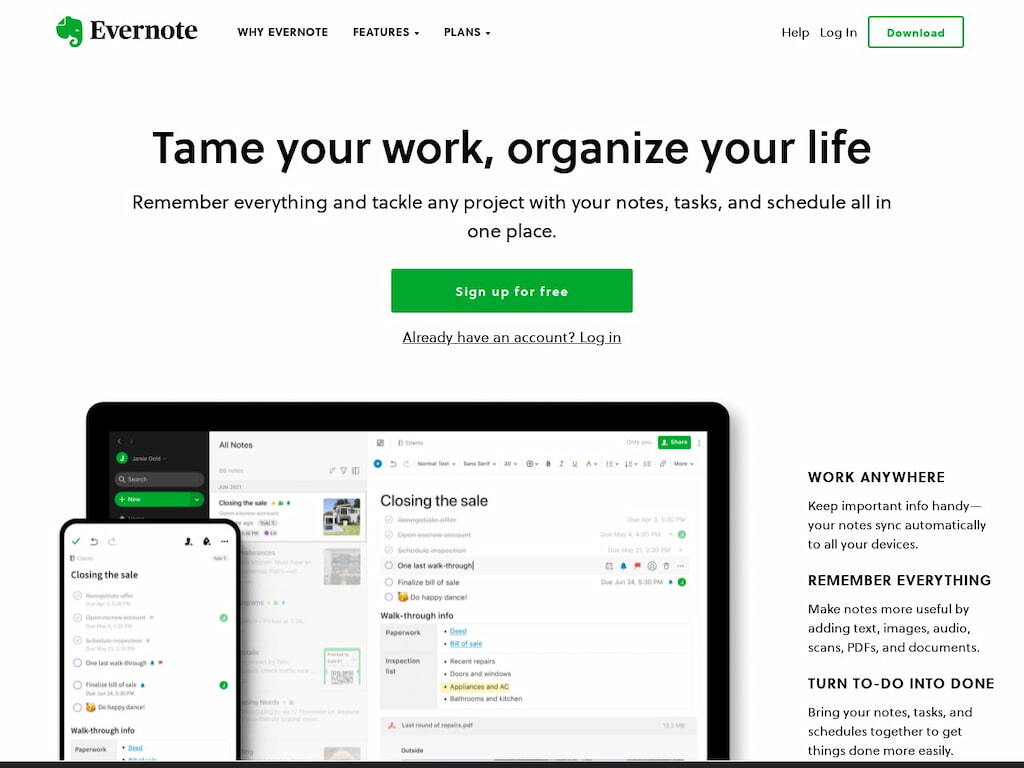 When it comes to note-taking, Evernote is one of the first and best. It is accessible from any device and allows you to capture and store whatever information you want, whether that is an image, text, sketch, video, or web clipping.
Retrieving that information is also a breeze, thanks to Evernote's OCR-powered search feature. Simply type in your query, and Evernote will return accurate results whether the words appear in photos, documents, or even handwritten notes.
🌟 Features
Web clipper: This feature lets you capture web pages, articles, or PDFs, and even customize them with highlights, text, and annotations.
Templates: Evernote features several predesigned templates that you can install and customize to get a running start on your notes.
Search: You can use search to find words in handwritten notes, photos, and documents.
Sync: Your notes are automatically saved online so you can access them wherever you are.
Tasks: You can create tasks inside your notes, set due dates, recurrences, and reminders, and even assign tasks to others in your team.
✅ Pros
Syncing across devices is perfect
OCR-powered search
Simple and easy to use
❌ Cons
It is pricier than other options
No offline capabilities
Free accounts are limited to 60MB of storage per month
---
Joplin
Pricing: Free
Platform: iOS, Mac, Android, Windows, and Linux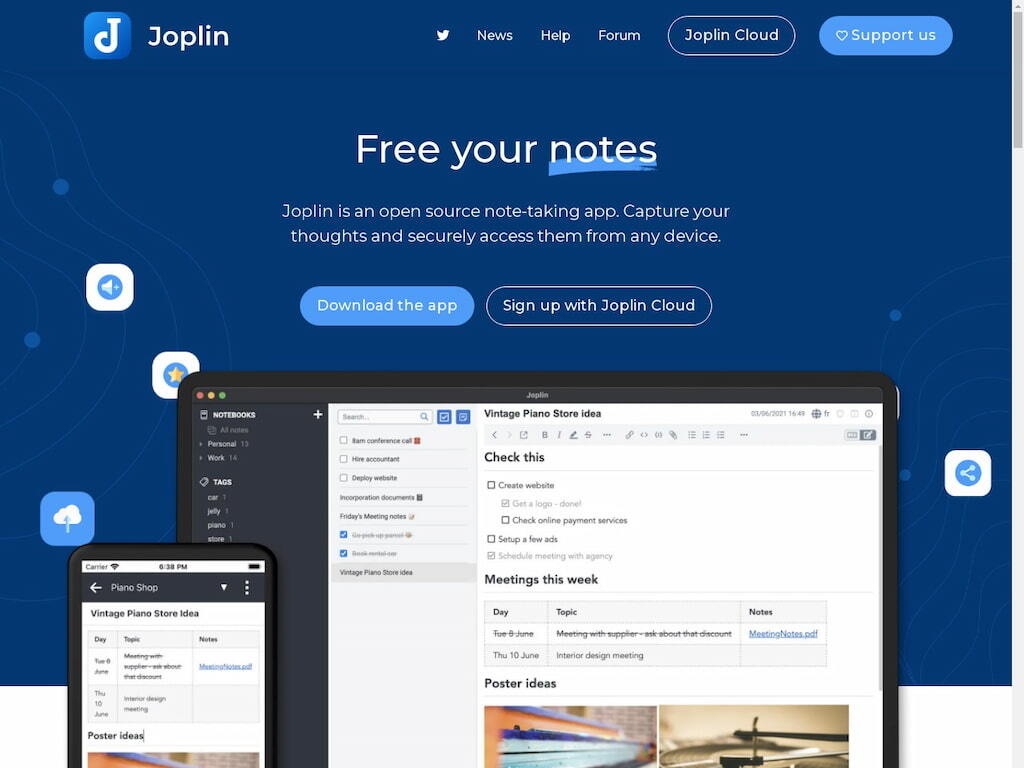 Joplin is an open-source Notion alternative that allows you to store text, multimedia, and even mathematical diagrams as notes. If you install the web clipper extension, you can even save web pages or screenshots. Since Joplin stores notes in an open file format, there is no risk of losing access to them, and you can even import notes from other apps.
🌟 Features
Data privacy: With Joplin, your data is yours alone. It secures your notes with end-to-end encryption and stores them locally on your device.
Sync: Joplin has an option to sync with cloud services like Joplin Cloud, Dropbox, and OneDrive.
Markdown: Joplin stores files in Markdown, a standard and non-proprietary file format, which makes it easy to export your notes.
Multi-platform support: Joplin is available across Android, iOS, Mac, Windows, and Linux devices.
Open source: Joplin's software is open source meaning you can tweak it to best fit your needs.
✅ Pros
Open source
Available cross-platform
Works offline
❌ Cons
No collaboration tools
It has bugs
Weak search
---
Microsoft OneNote
Pricing: Free
Platform: iOS, Mac, Android, and Windows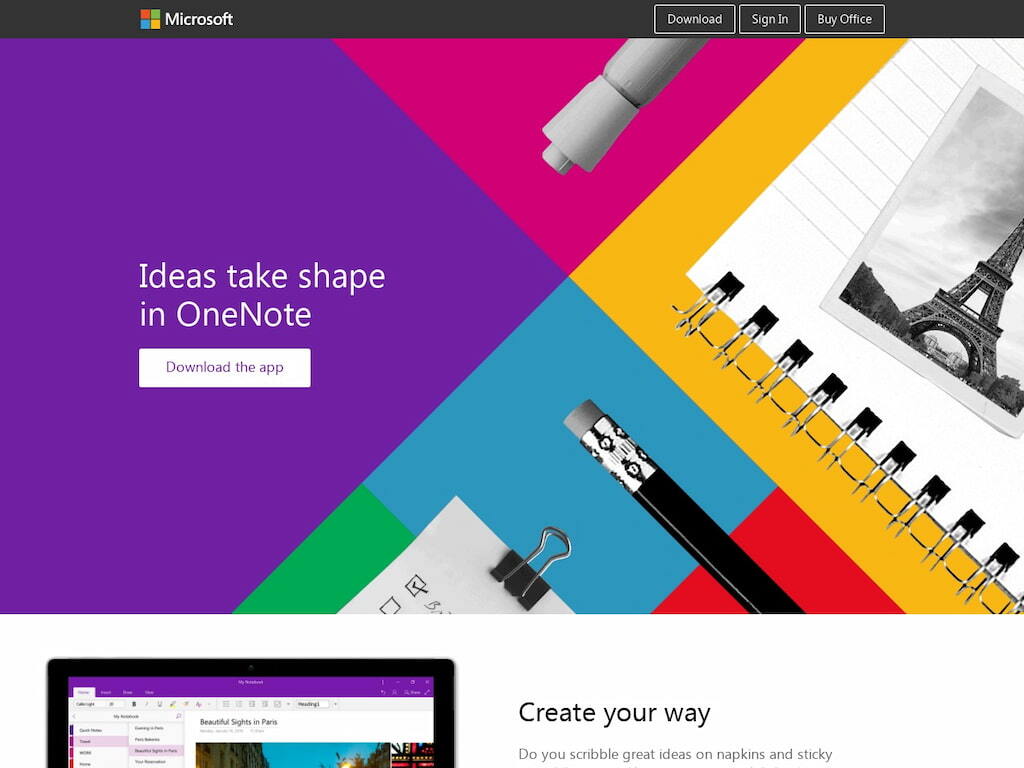 OneNote is Microsoft's take on collaboration and note-taking apps. It lets you capture your thoughts and ideas—whether they come as text, sketches, or web clippings—and share them with other people in your team. It also has advanced drawing and design tools that make it perfect for capturing more visual ideas.
🌟 Features
Web clipper: The OneNote web clipper can save online content with a single click.
Mix media: OneNote lets you embed videos and audio into your notes.
Notebook organization: OneNote lets you organize notes into notebooks which are further subdivided into sections and pages.
Tags: You can attach tags to notes to identify and organize them.
File Sharing: You can share notes or even entire notebooks with other people.
✅ Pros
It is free
Sharing capabilities
Multiple input sources
❌ Cons
Poor integration with other platforms
Poor automation
Limited formatting options
---
Trello
Pricing: $0-$17.50
Platform: iOS, Mac, Android, and Windows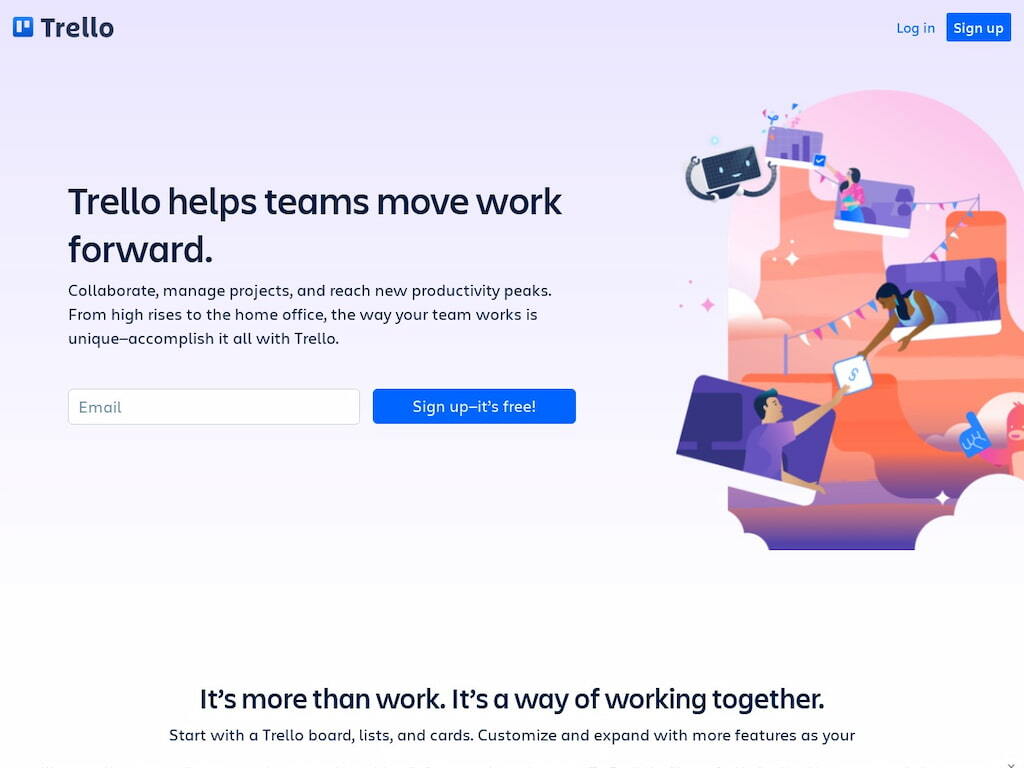 Trello is a work management tool that uses boards to help you get work done. It is easy to use and perfect for collaboration within and without your organization. With Trello project management features, you can assign tasks, set due dates, and track their progress. Additionally, you can create checklists, and leave comments for your team. It is customizable, and you can integrate it with all your best tools.
🌟 Features
Views and visualizations: Trello offers multiple view options including Board, Timeline, Table, Calendar, Dashboard, and Map views.
Automation: Trello's automation system, Butler, lets you create rules, buttons, and commands to automate repetitive actions.
Integrations: You can bring your work apps like Slack, Dropbox, Gmail, time tracking tools into Trello to track Trello time. You can also use Trello Power-Ups.
Plugins: Trello has plugins called Power Ups which you can add to customize Trello as you see fit.
Templates: You can browse Trello's wide library of templates to find one that suits your purpose.
✅ Pros
Intuitive interface
Integrates well with other tools
Extensively customizable
❌ Cons
No swimlanes
It doesn't support multiple mail accounts
It doesn't scale well
---
Confluence
Pricing: $0-$10.50
Platform: iOS, Mac, Android, and Windows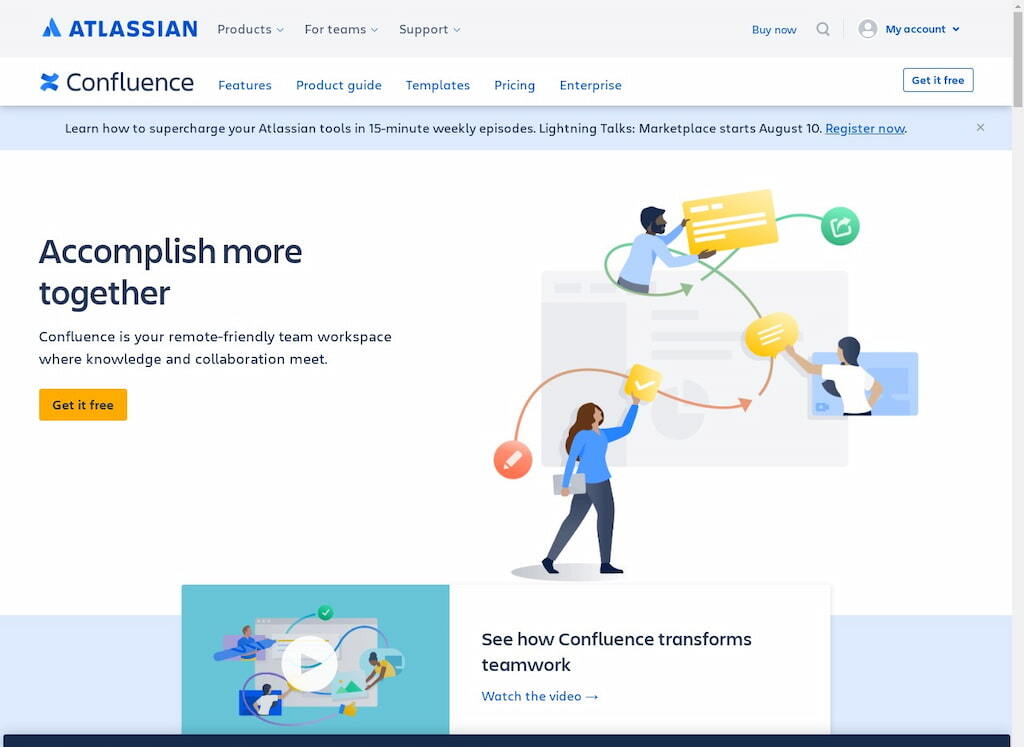 Confluence combines knowledge management, project collaboration, and communication to create a remote-friendly team workspace. Team members can work on projects, engage in discussions, leave comments, and record decisions all while gradually building context and history that new members can refer to for guidance.
🌟 Features
Unlimited spaces and pages: You can create an infinite amount of pages and spaces.
Apps and integration: You can integrate third-party work tools with Confluence.
Structured page tree: Confluence has an intuitive page hierarchy, and you can organize your pages with tags.
Version history: This feature lets you view the history of a document and revert changes.
Templates: Instead of starting afresh, you can explore tons of templates for different purposes.
✅ Pros
It allows you to draw connections with links
It has several useful plugins
Great document syncing
❌ Cons
Poor sharing capabilities
Poor text formatting
It can be confusing for new users
---
Monday.com
Pricing: $0-$16
Platform: iOS, Mac, Android, and Windows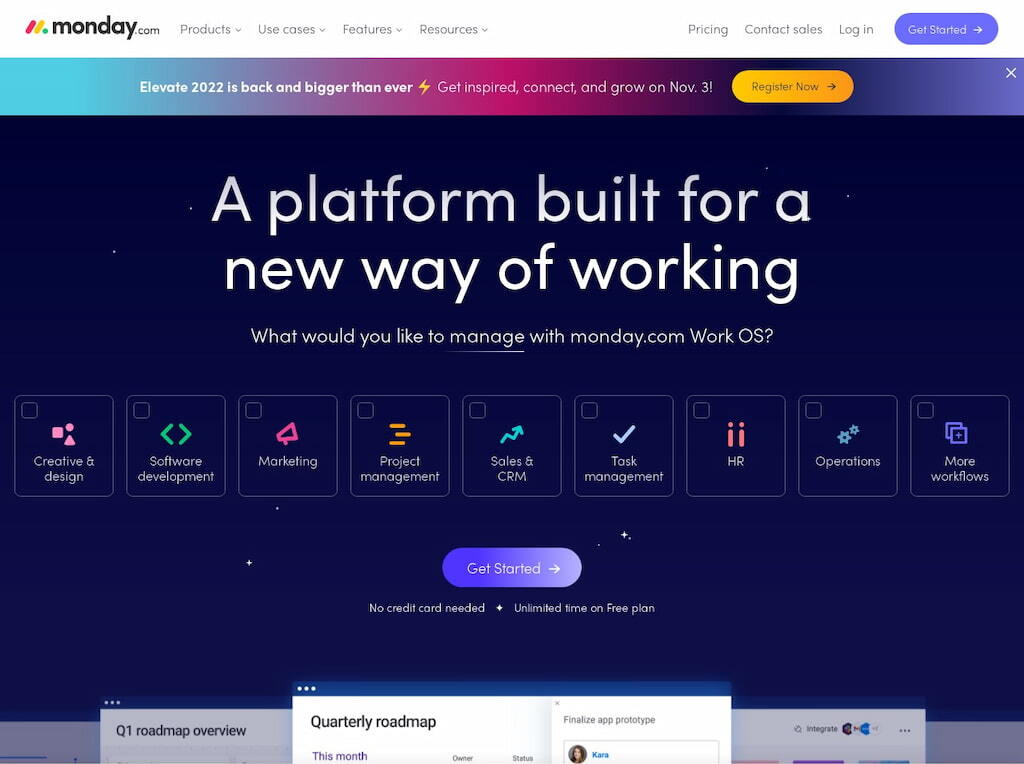 Monday.com Work OS is a collaborative and project management platform with a spreadsheet design that you can customize to fit your business needs. Its features include a dashboard that gives you a bird's eye view of all your projects and automation which let you save hours on repetitive tasks.
🌟 Features
Dashboards: You can create custom dashboards that give you a high-level overview of how your projects are progressing.
Integrations: You can connect Monday.com with several tools you already use.
Automations: You can customize your own automations without any coding.
Apps: Monday.com is extensible, and you can download Monday apps to increase its capabilities (for example, for Monday time tracking or Monday project management).
Boards: Monday.com works with boards, and you can customize them to visualize your work.
✅ Pros
Lots of templates
It is customizable
It is well designed
❌ Cons
Complicated pricing structure
Limited support for other languages
Limited software integrations
---
Quip
Pricing: $10-$100
Platform: iOS, Mac, Android, and Windows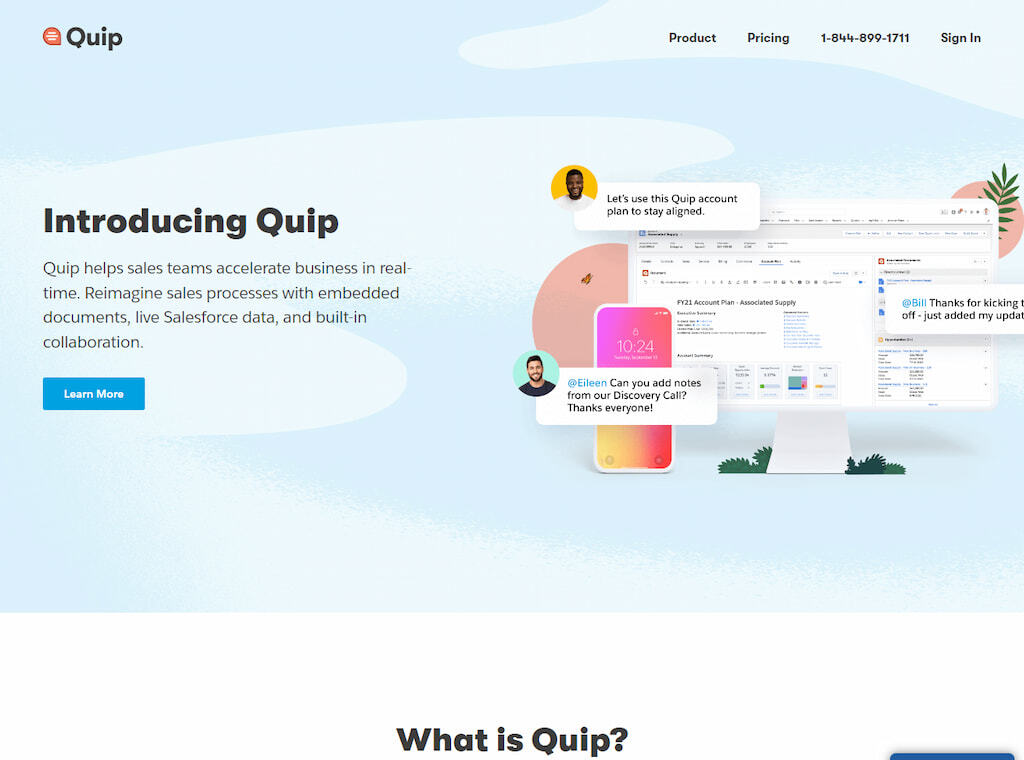 Quip is an online workspace developed by Salesforce, and specialized for sales team collaboration and communication. You can invite team members to create and edit documents, brainstorm, and generate new ideas. It also integrates with the Salesforce CRM software.
🌟 Features
Offline mode: Quip does not require an internet connection to run.
Permissions: You control who has access to documents.
Version history: With version history, you can track and revert any changes made to a document.
Chat rooms: Chats are built into every document, so you can chat with individuals or the entire team.
Templates: Choose a template, and customize it to meet your needs.
✅ Pros
Free version
Works well with Zapier
Easy to set up and use
❌ Cons
Limited integrations
Limited text formatting options
No offline capability
---
Google Keep
Pricing: Free
Platform: iOS, Mac, Android, and Windows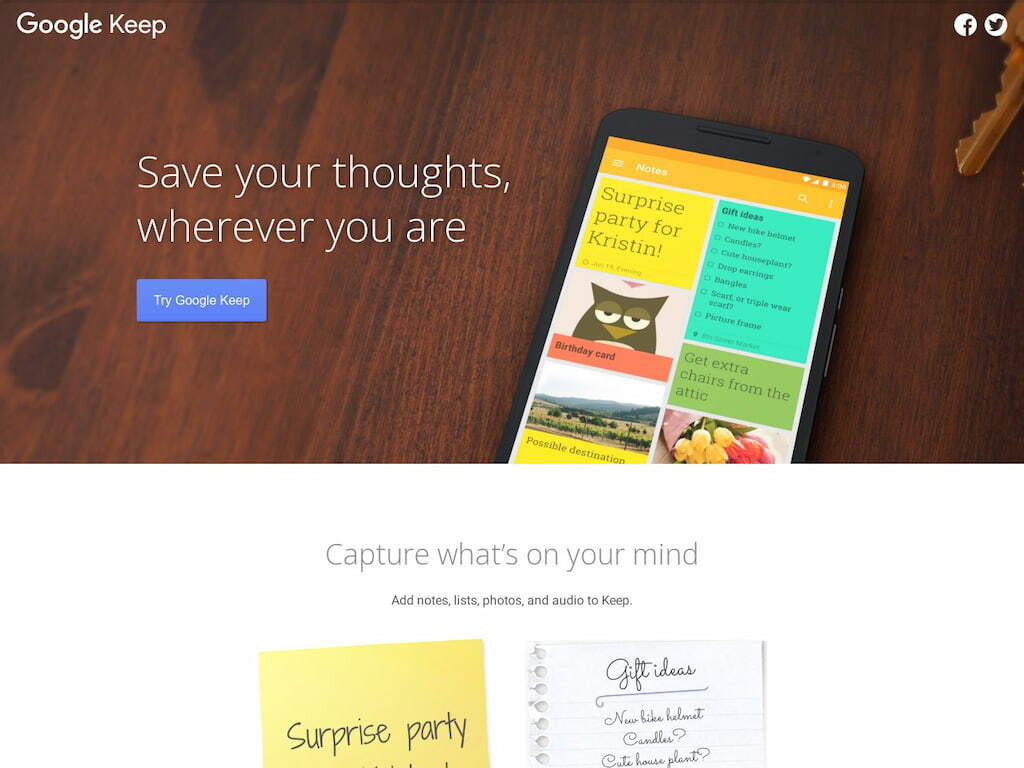 Google Keep is a simple cross-platform note-taking app optimized for personal use. It allows you to capture your every thought in the form of notes, lists, photos, and audio. With Google Keep, you can categorize notes by color, add labels, and pin important notes. Additionally, using the search and quick filter functions, you can easily find notes you need, when you need them.
🌟 Features
Sync: You can access your Google Keep notes across all your devices.
Search: You can search for notes by color and attributes.
Reminders: You can put location or time-based reminders on your notes.
File sharing: You can share and collaborate on notes.
Web clipper: The web clipper lets you save digital content.
✅ Pros
Fast and lightweight
It works seamlessly with other Google apps
Completely free
❌ Cons
It doesn't have a desktop app
The web clipper is limited
It is not great for organizing
---
Coda
Pricing: $0-$36
Platform: iOS, Mac, Android, and Windows, and Web App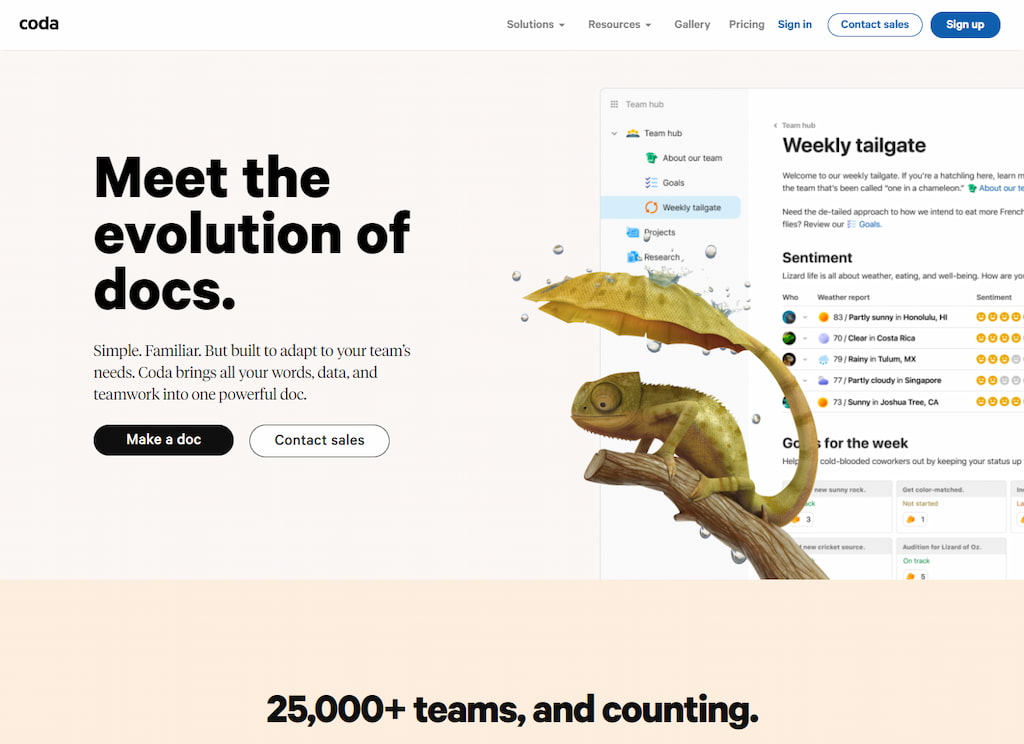 Coda takes something as familiar as docs and supercharges it so that it becomes a powerful document/project management solution to rival any app. At its core, it is a simple doc, but what makes it different is its ability to evolve through building blocks.
Coda building blocks can be tables that talk to each other, views that present the same data in different ways, or buttons that take action. With Coda, you can combine them however you want to create tools that suit your unique needs.
🌟 Features
Building blocks: Coda lets you evolve your document as you need with building blocks.
Integrations: You can connect Coda with all your favorite tools through Zapier.
Plugins: Coda plugins are called Packs, and you can use them to give your document more functionality.
Customizable templates: The Coda Gallery has templates you can use to get started.
Connected tables: Tables in Coda talk to each other so that edits reflect throughout your doc.
✅ Pros
It integrates well with other tools
Amazing customer support
You can build whatever you want
❌ Cons
The features are not intuitive
Poor document formatting
It underperforms with a large amount of data
---
Craft
Pricing: $0-$12
Platform: iOS, Mac, Android, Windows, and Web App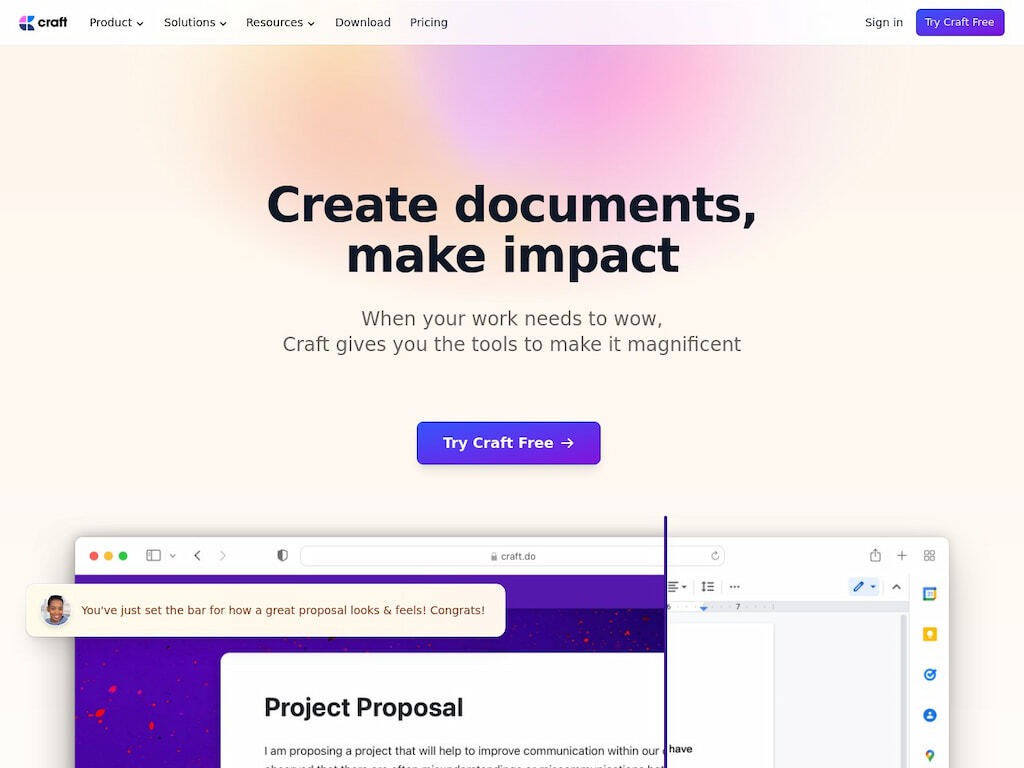 Craft is a project management and note-taking app with great visual design. It allows you to combine images, text, and other media to give your document the feel of a website. With minimal training, you can use Craft to organize your workflow, write reports and monitor multiple tasks.
🌟 Features
Links: You can connect your notes with bi-directional links.
Markdown: it stores files in an open format.
Multi-platform: It is available on iOS, Mac, Android, Windows, and as a Web App.
Sync: Craft has instant sync which lets you work across devices.
File sharing: Craft offers many options to share your work such as secret linking, shared spaces, external guests, and export.
✅ Pros
Good visual design
Easy to use
It is cost effective
❌ Cons
It doesn't have tags
There are a few bugs
The limited number of integrations with other tools
---
Nimbus Note
Pricing: $0-$8
Platform: iOS, Mac, Android, Windows, and Web App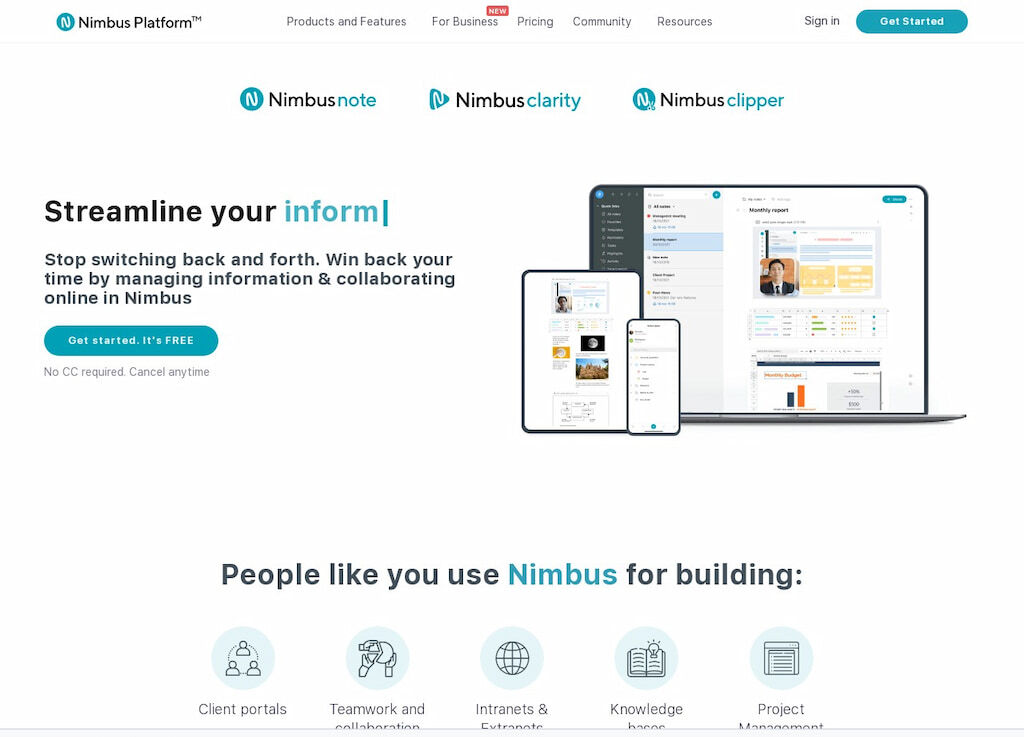 Nimbus Note acts as the central hub for all your work processes. You can use it to capture media and extract data or build client portals and knowledge bases. You can also use it to communicate with team members through audio and video messages. Switching over to Nimbus is easy as its design lets you easily migrate old notes from other tools.
🌟 Features
Super editor: Nimbus Note organizes text with blocks and contains a rich set of formatting tools.
Multi-platform: It is available on iOS, Mac, Android, Windows, and Web.
Offline access: You can access your notes, even without an internet connection.
Nested folders: You can create folders within folders, within folders.
Tags: Label your notes to make them easier to find and organize.
Flexible search: Nimbus Note lets you search for notes by all major criteria.
✅ Pros
It is easy to learn and use
Amazing customer support
Great user interface
❌ Cons
Few integrations
The migration tool is incomplete
The web clipper is slow and inefficient
---
nTask
Pricing: $3-$12
Platform: iOS, Mac, Android, and Windows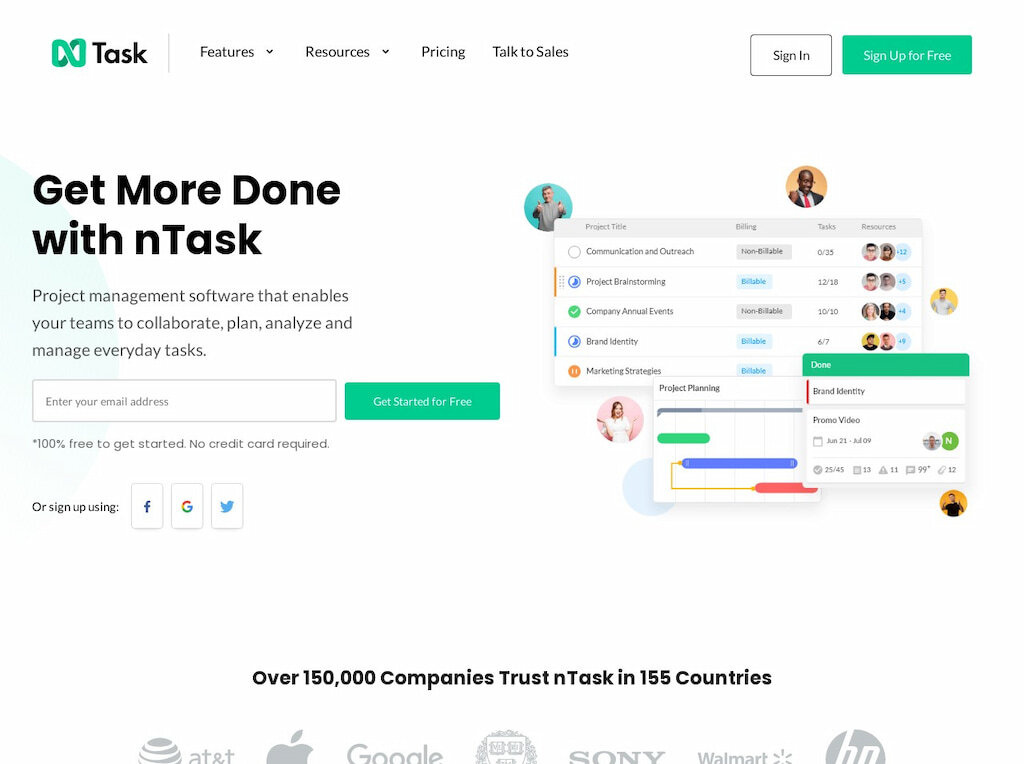 nTask is an online project management solution that boosts your productivity by combining task/meeting management, communication, reporting, and time tracking tools into one easy-to-use app.
nTask is extensively customizable, letting you create dedicated workspaces for your projects, company departments, or clients. You can also assign tasks, set priorities, and due dates, and track everything as it progresses.
🌟 Features
Gantt charts: nTask creates Gantt charts that monitor projects in real-time.
Time tracking and timesheet: This feature includes an automated web timer, manual timesheets, and timesheet approvals.
Issue tracking: This feature lets you resolve issues faster. You can assign issue severity, and priority, and send issue updates.
Risk management: This feature helps you assess risk likelihood and impact, and plot a mitigation strategy.
Kanban board: nTask lets you create Kanban boards and custom statuses for each stage of work.
✅ Pros
Value for money
Simple and easy to use
Time management features
❌ Cons
Unintuitive interface
Limited integrations
Basic calendar
---
Nuclino
Pricing: $0-$6
Platform: iOS, Mac, Android, and Windows, and Web App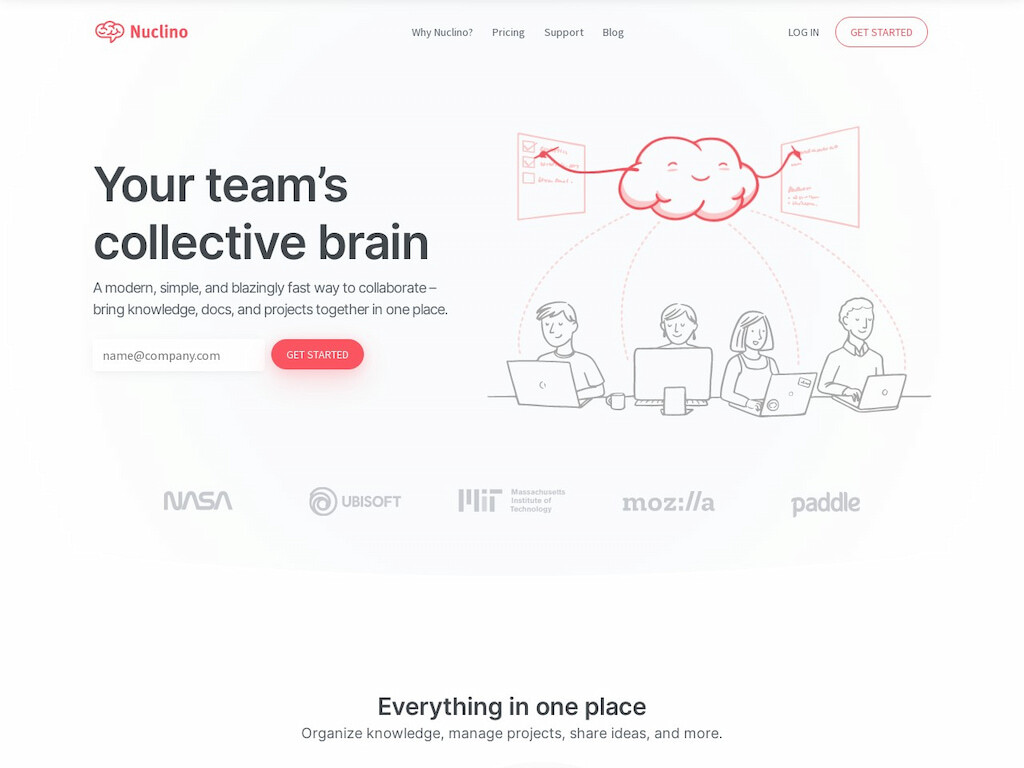 Nuclino is a collaboration tool built for speed. Its simple and intuitive design dramatically shortens its learning curve and its advanced features such as autosaving, instant search, and hotkeys, let you capture your ideas as fast as you can think of them. Nuclino also integrates with over 40 different apps so you have access to all your best tools in one space.
🌟 Features
Instant search: You can find anything you need by using search and applying filters.
Version history: See previous versions of a document and revert unwanted changes.
Editor: Nuclino uses a simple drag-and-drop editor to create and edit content.
Views and visualizations: Nuclino supports a list, board, and graph view that you can switch between seamlessly.
Access rights: You can set permissions on who can read, edit, or comment on documents.
✅ Pros
Quick
Multiple integrations
Intuitive UI
❌ Cons
Simple formatting tools
No reminders
It can be difficult to organize
---
Obsidian
Pricing: $0-$50
Platform: iOS, Mac, Android, Windows, and Linux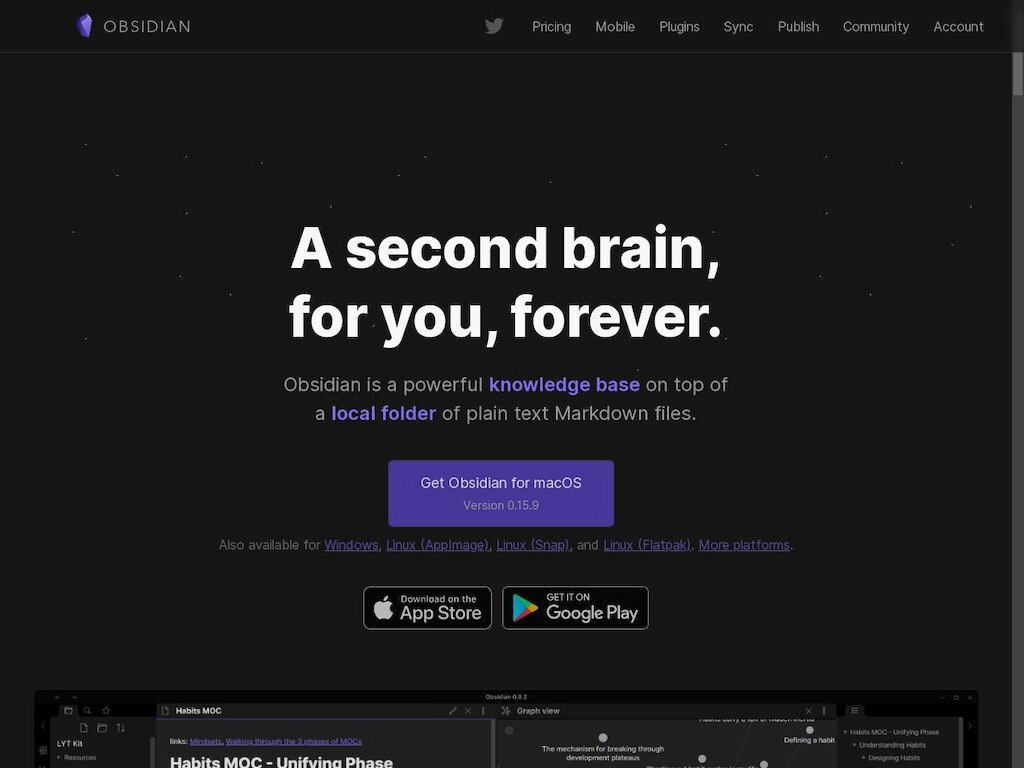 If you value the privacy of your notes, Obsidian is the perfect app for you. It stores notes locally as plaintext Markdown files, which means you can access and modify them however and whenever you want. Obsidian is also extensively extensible, meaning you can add as many features as you like to build a custom system that works for you.
🌟 Features
Links: Obsidian lets you connect notes and ideas by linking them.
Graph view: Obsidian has a graph view which is a visual representation of the relationships between your notes.
Plugins: Obsidian has 25 core plugins and 626 community plugins. You can combine them however you want to build a system that works for you.
Markdown: Obsidian uses Markdown, a popular and easily editable file format.
Local storage: Obsidian is completely offline, and all your notes are stored locally.
✅ Pros
Customizable shortcuts
Files are saved locally as Markdown
It supports third-party plugins
❌ Cons
Slow sync
It is not open source
It is built on bloatware
Slite
Pricing: Freemium plan + two paid plans (starting at $6.67 user/month)
Platform: iOS, Mac, Android, and Windows, and Web App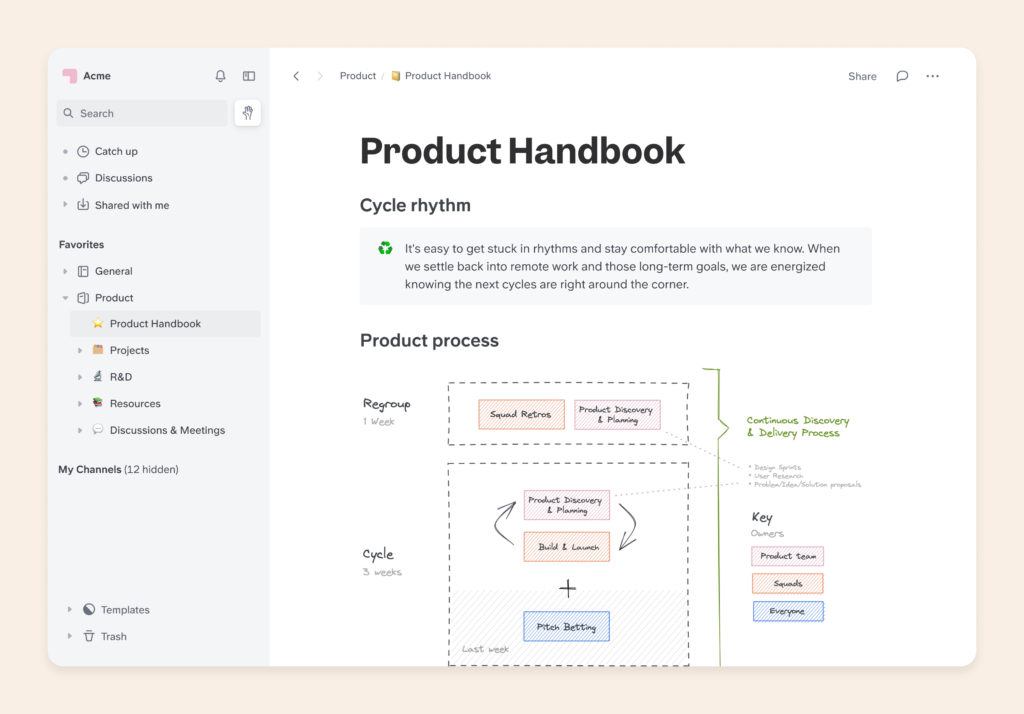 Slite is a modern workspace that combines beautiful and easy-to-use documents with async decision-making and enables teams to bring clarity to their work. The new AI assistant – Ask – answers questions based on the team's documentation. It helps to take the pain out of finding info, learning from the past, and getting new teammates up to speed.
🌟 Features
Docs – Use sketches, markdown, video, and hundreds of embed options to get ideas across clearly.
Ask (Beta) – Access and uncover knowledge in your Slite workspace using AI.
Collections – Manage docs in embeddable board or database views with custom filtering, and sorting.
Templates – Ready-to-use docs for product specs, company handbooks, meeting notes, and more.
Decisions – Reach clear decisions and embed them where they're needed, where work happens.
Integrations – Integrates with hundreds of existing tools (like Asana, Figma, Loom, and more).
Public Docs – Instantly publish docs from your workspace to the web and edit on the fly.
✅ Pros
Easy to use and simple interface
Fast and reliable Search
Powerful formatting options and templates library
❌ Cons
Lacks synced blocks
No formulas or tabulation in tables
No offline editing
---
Notion Alternative: Notion+Everhour Integration
If you love and use Notion, and your only major gripe is the absence of time tracking capabilities, you may not need a Notion alternative after all. You can simply integrate Notion with Everhour to gain access to a rich set of tools such as the work hours tracker and attendance tracker that will further improve your productivity. Power up your Notion experience with a timesheet app and cover all your employee time tracking needs.
---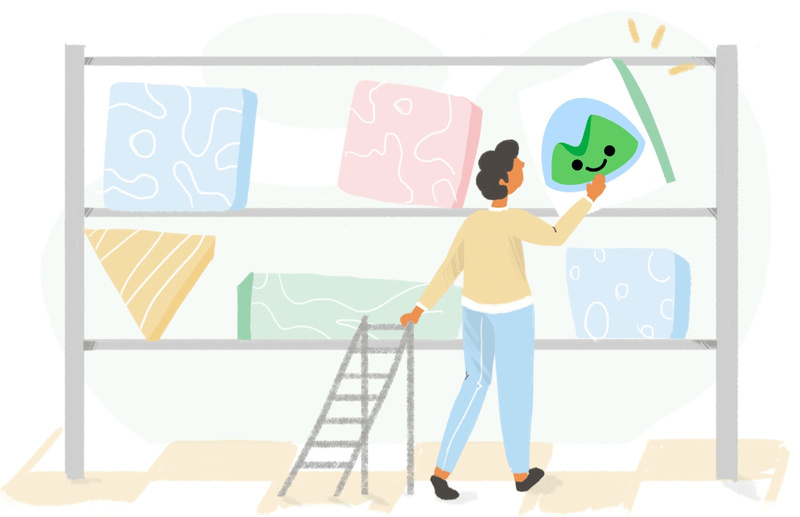 Take a look at these Basecamp alternatives, both free and paid, so you can find the software that your team and business likes best!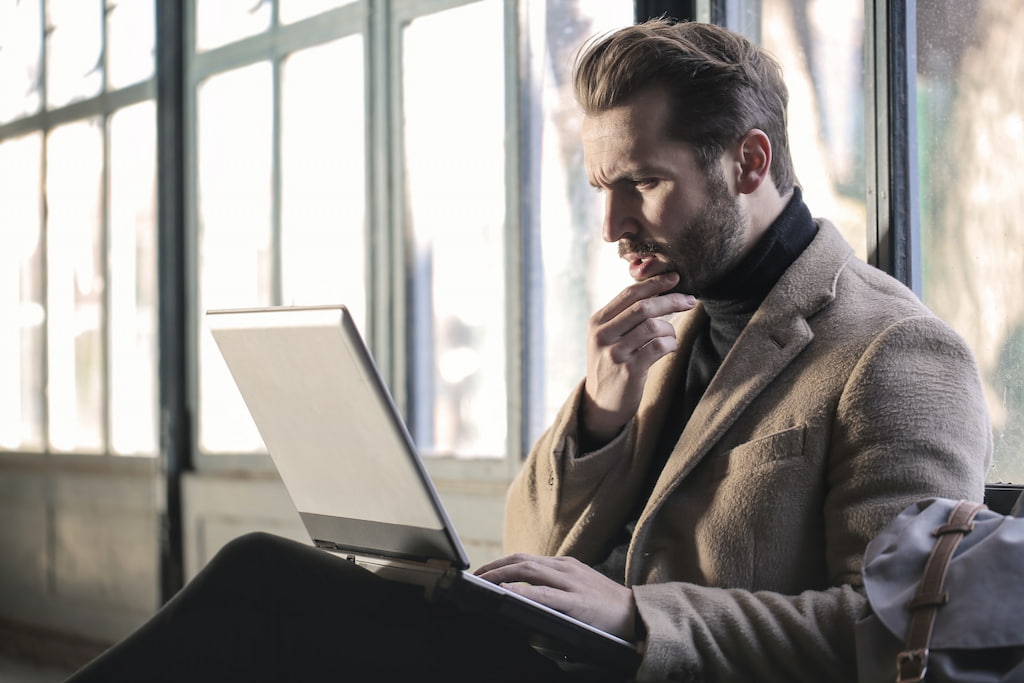 There are plenty of Monday.com alternatives that are much better – try them out!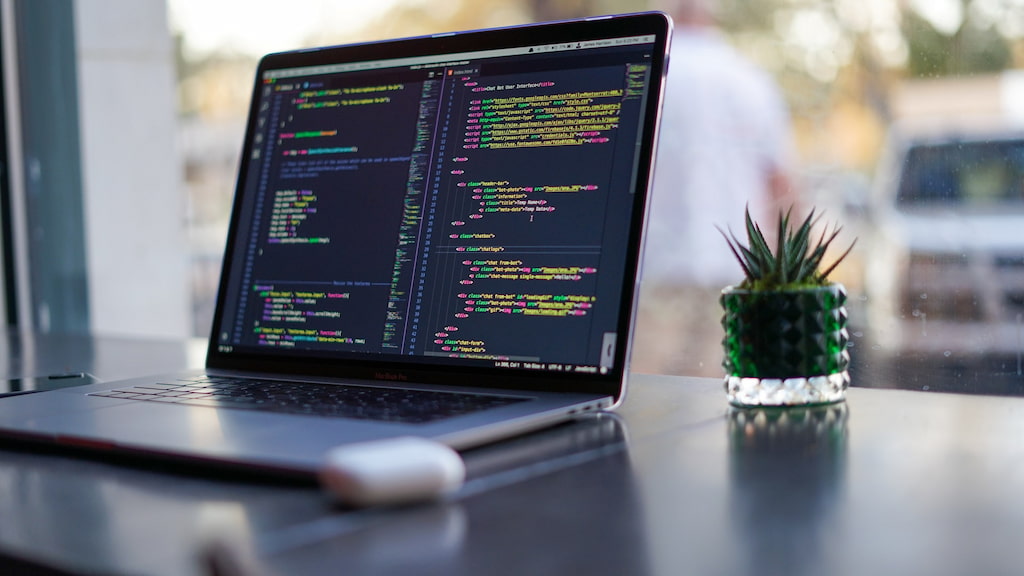 Over 30 million people use GitLab to manage DevOps workflows. But what are the best GitLab alternatives to use if the platform doesn't suit your needs?