ClickUp time tracking integration
Estimate tasks, set budgets, customize reports & keep time with Everhour's ClickUp time tracker. Direct in your interface! No more tab switching!
How Everhour improves ClickUp?
Let us tell you more about the details (with screenshots) about how
we integrate with and improve ClickUp
Time on board and list views
With Everhour, you can easily track time in any task within ClickUp. You will see the timer and reported time next to the task title as well as the total time by each column (section) and the entire project.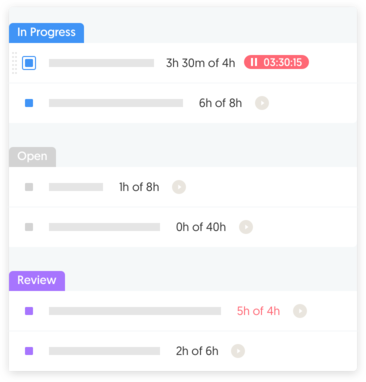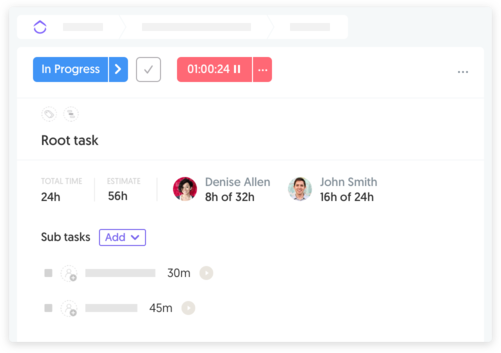 Time in task details
In the task details, you'll see the reported time by each employee and its progress towards the original estimate, as well as the time reported on parent task and on each subtask. You can track time using timer or log time manually at any time.
Overall or individual estimates
Among other things, you can track progress by the task as a whole, or even set individual estimates.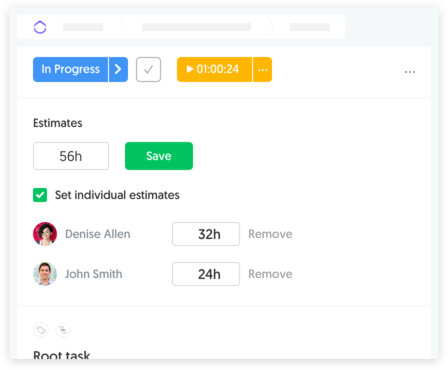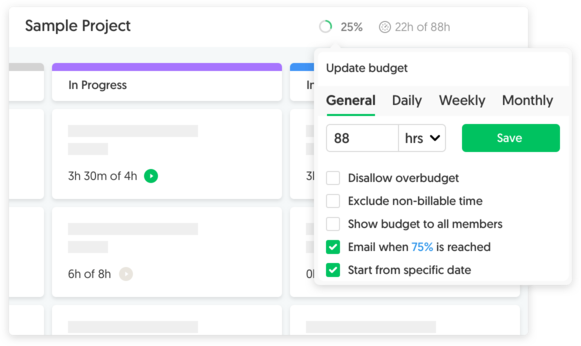 Budget near project title
With the help of Everhour, any project in ClickUp can have a budget set in hours or money. You can even set up an advance notification.
Why choose Everhour?
Here is why ClickUp + Everhour is the best time tracking integration on the market
1. Quick setup
When you connect ClickUp with Everhour, we sync all your active projects so that your team can start tracking time right away. No manual project setup required.
2. Less employee teaching
You don't need to explain to your staff how to use additional software. Time tracking controls will appear right inside their ClickUp interface, making it easy for them to track time.
3. Accuracy
Employees often forget to track time as it's not convenient for them to switch between apps. Everhour eliminates these steps and improves time tracking accuracy.
4. Estimates always in front of you
Everhour shows time vs. estimate beside task titles. When the entire team sees progress on tasks, they will hold you accountable to ensuring work is done.
5. Automatic updates
When you add a new project or change the name of the existing task in ClickUp, we will sync this change automatically in Everhour. That means your reports will always show the freshest data.
6. Detailed reports
Our reports let you organize reported time using various information from your ClickUp tasks such as tags, sections or custom fields. So you can dive deeper into analysis to get more accurate results.
What else Everhour can do for you?
Besides controls we embed into ClickUp interface, you will get access to
many extra features through our site
Simple and flexible projects billing. Set budgets to track progress in real time. Receive timely notifications

Easy-to-use time tracker. Know the time spent on tasks, hours of work and breaks for each employee

Create tasks, organize them in sections, add time estimates to keep everyone in the loop and on track

View your team's schedule, know how busy or available someone is, compare plan to the actual time spent

Track work-related expenses with ease. Reimburse employees, use costs in project budgets, add to client invoices

Reports and dashboards to dive deep into how your team spends time, money and resources

Easily create an invoice based on tracked time and expenses. Connect with QuickBooks, Xero or FreshBooks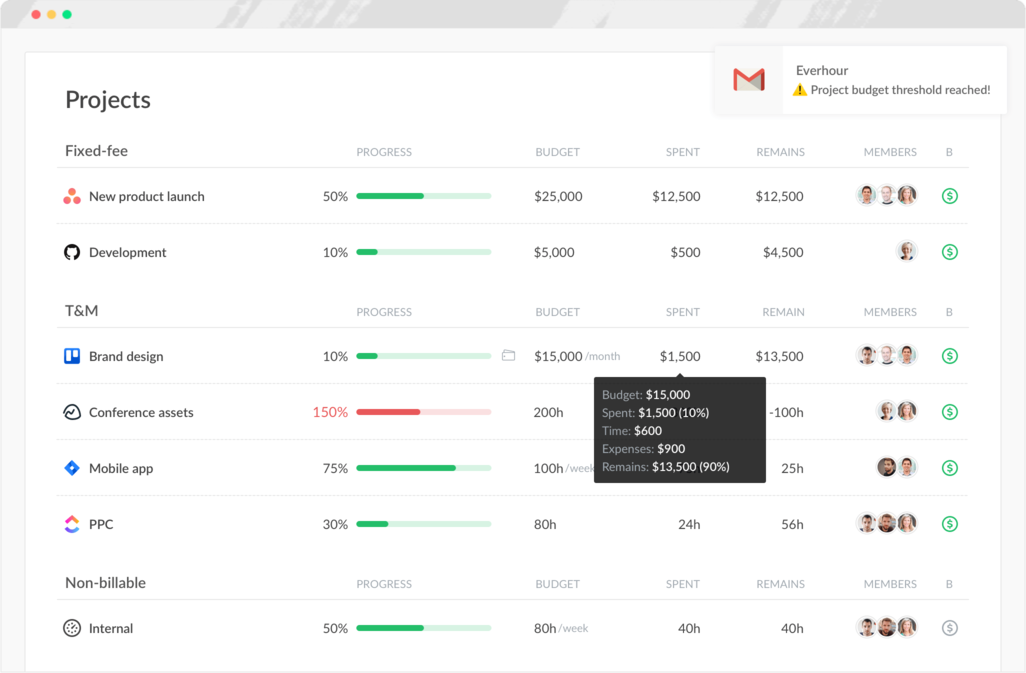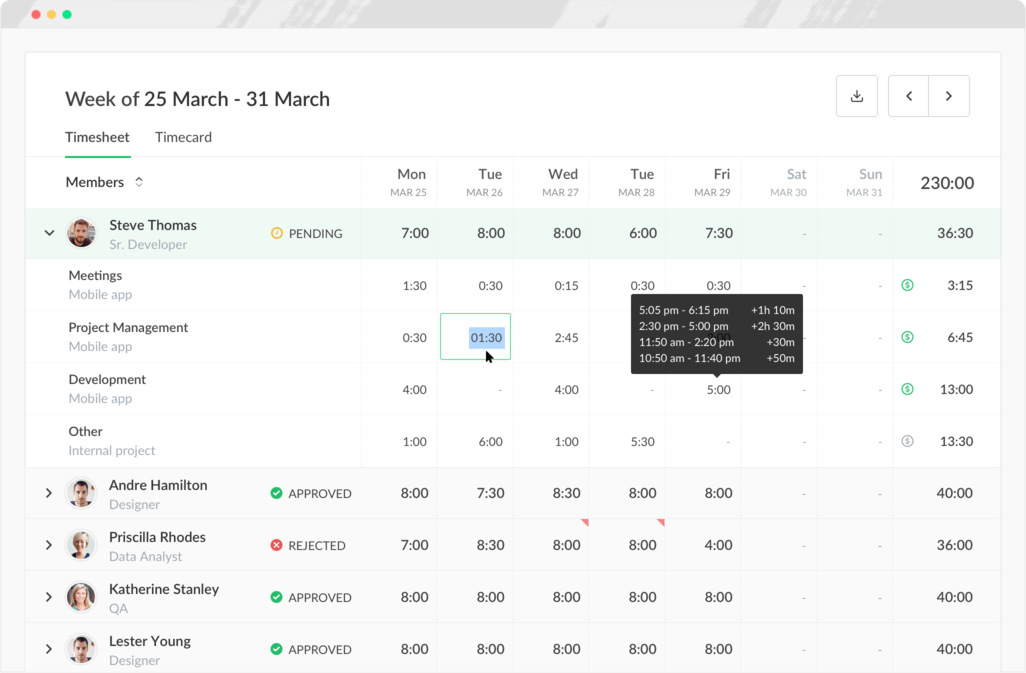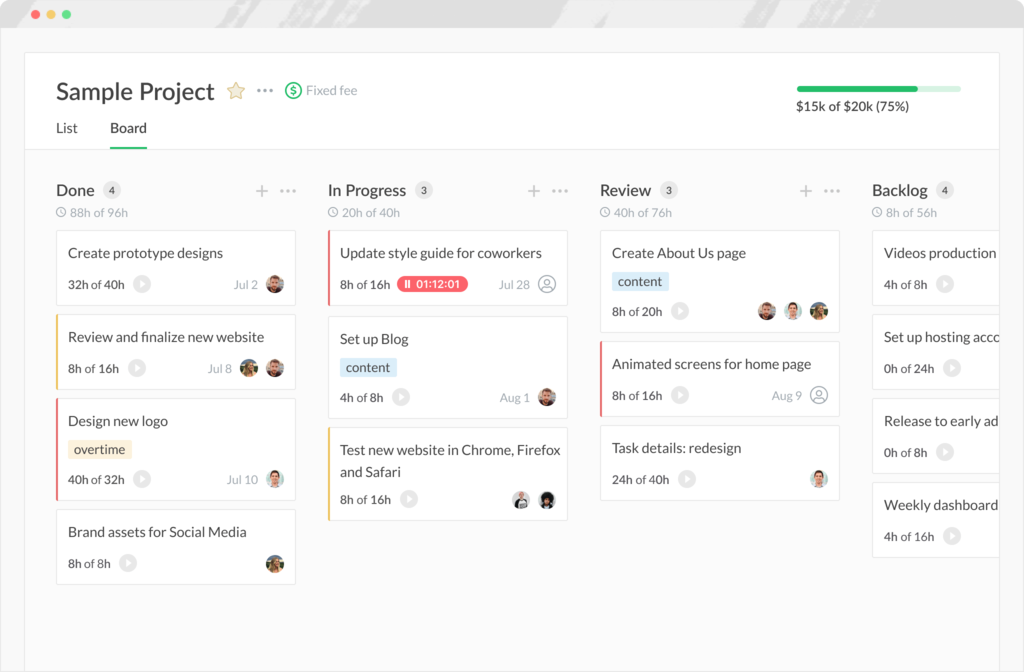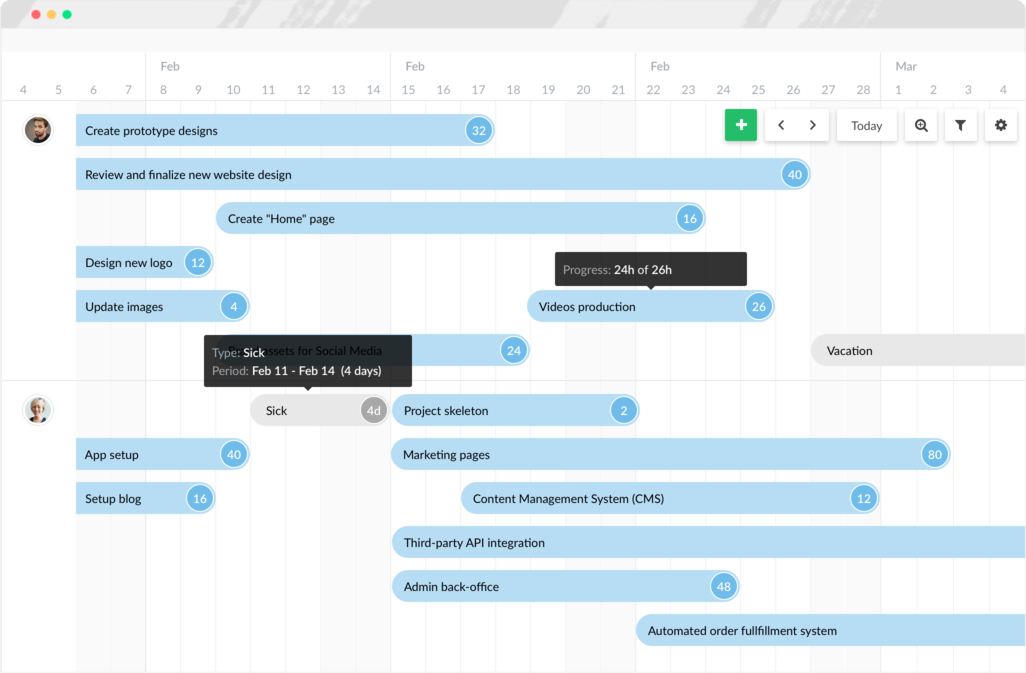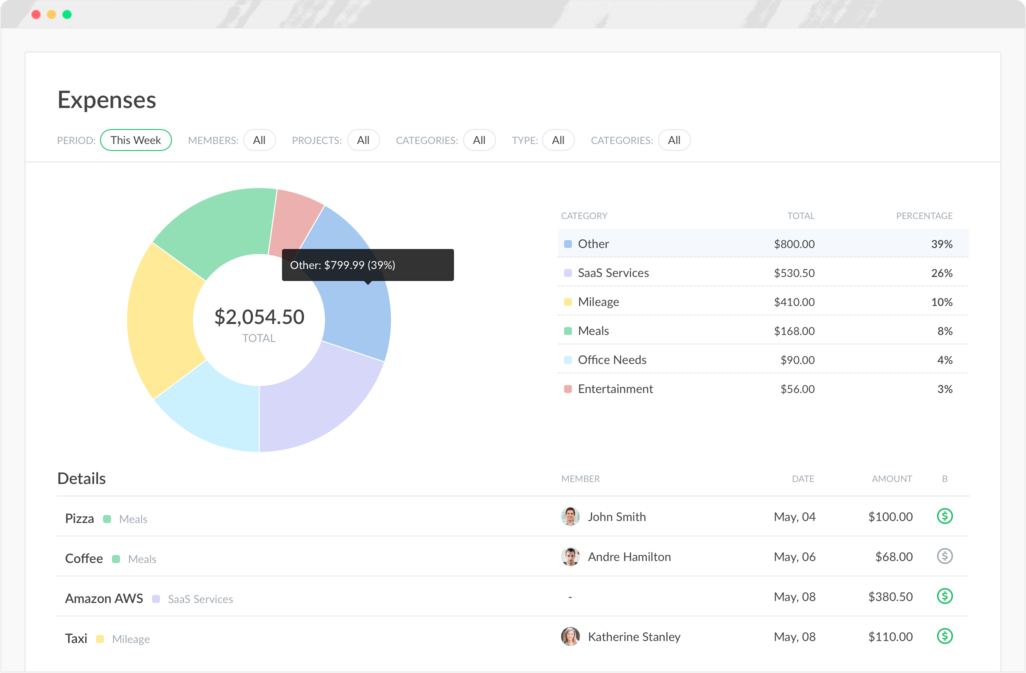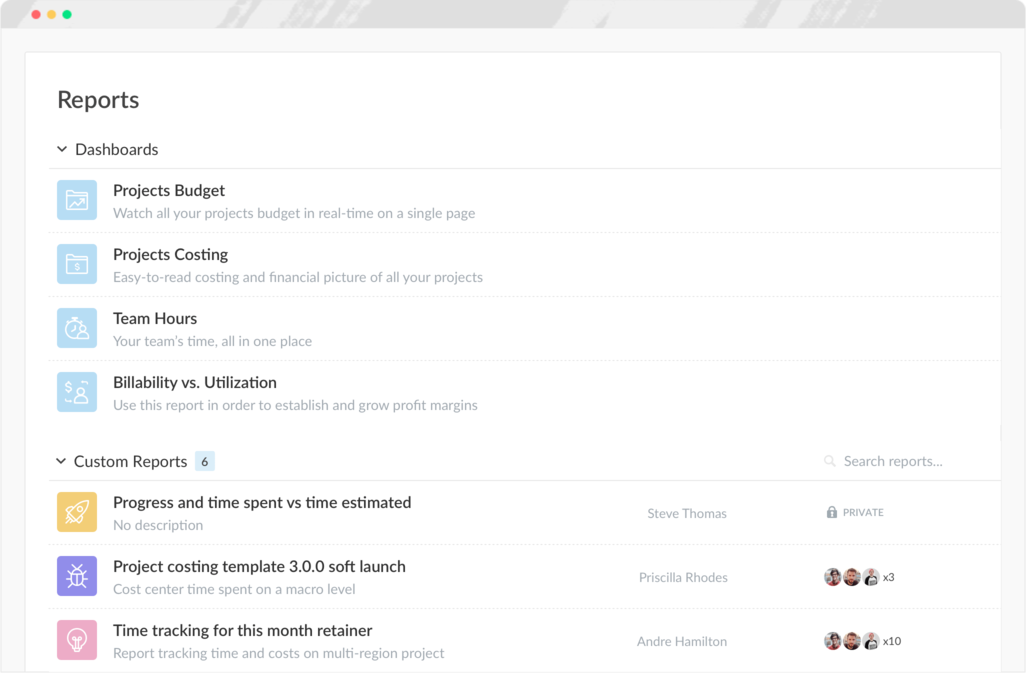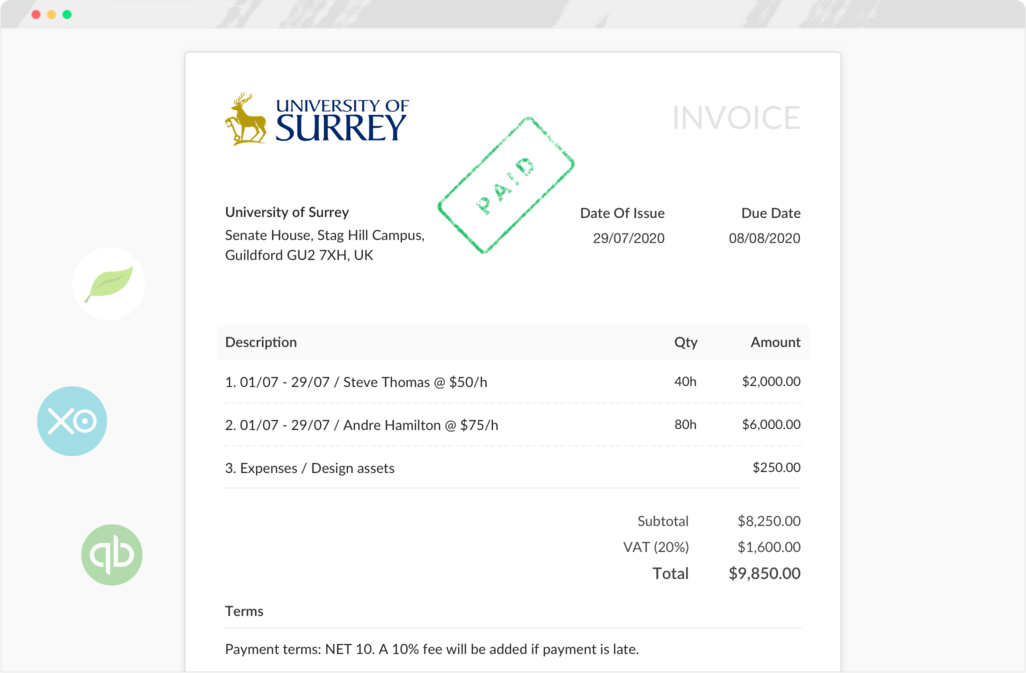 ClickUp offers time tracking, but
Native time tracking is simple and easy to use. But some businesses have
complicated time tracking needs
Everhour
ClickUp
Features

Log time on someone's behalf

As a manager, sometimes you may need to add or edit time on behalf of your team members

Time approval

Timesheet approval is useful if you need tighter control over the edits made to time entries

Individual time estimates

If several people are working on the same task, you can track their progress individually

Project budgeting

With the help of Everhour, any project in ClickUp can have a budget, ensuring you're never caught out by surprise

Customizable time reports

You can create any report you need: add or delete columns, change orders, apply a filter or conditional formatting

Invoices

Pull the billable time and expenses you've tracked into invoices easily