Simple and transparent time tracking
Accurate employee time tracking for precise invoicing and painless payroll.
Trusted by over 1,700 businesses in more than 66 countries.
Sign Up for Free
Everything you'll ever need to get work done
It's a game changer for your business
Budgeting
Keep track of all your project budgets by costs or hours spent
Time Tracking
Accurate and simpe time tracking. Spend less time following up
Reporting
Highly flexible reports will let you analyze time the way you want
Invoicing
Create invoices from your time entries and send them to your clients
Resource Planning
Know how busy or available your team is at a glance
Integrations
Time tracking inside the most popular project management tools
Automation
Use Zapier to connect Everhour to your favorite tools
Lots More
More great features to make time management a breaze
Project budgeting
Keep track of all your project budgets by costs or hours spent. See how
much was done and how much of it remains.
1
Billable / Non-Billable
Determine projects that you should invoice to clients. Understand your non-billable hours.
2
Budgeting
Don't let budgets catch you by surprise. Keep track of all your project budgets by costs or hours spent.
3
Time Limits
Set project limits so your team does not go over. Get a notification when the time threshold is nearing.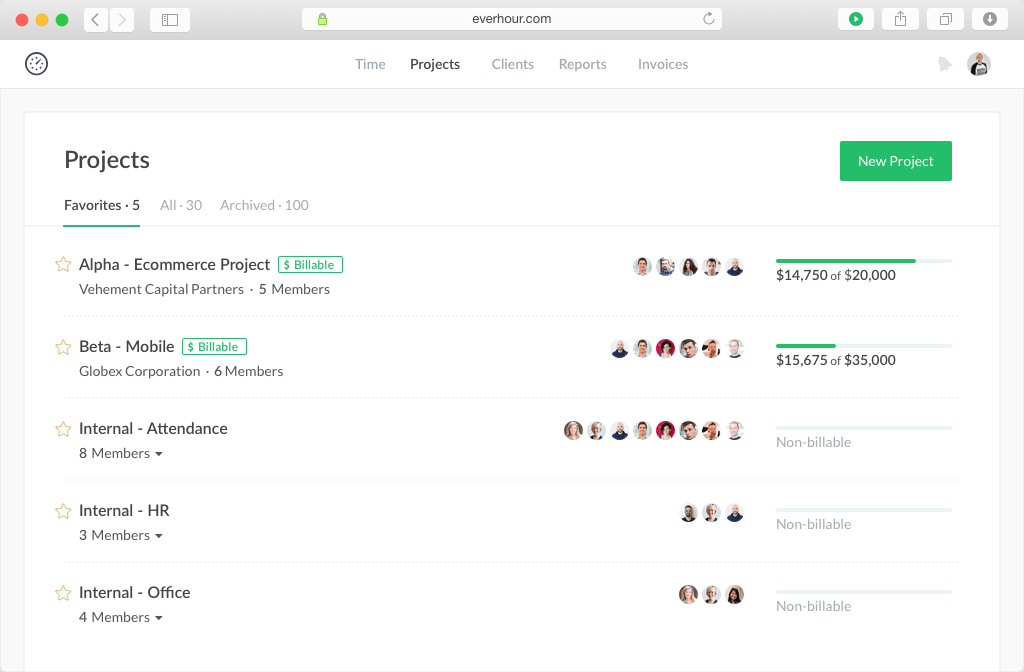 Real-time progress dashboard
Easily find who is working at this moment and on what, their past activities for today and
identify those who didn't report a minute at all.
1
Be Always Aware
Who do what exactly today, for how long, their progress towards an estimate.
2
Manage Timers
An admin can always stop someone's timer, explaining the reason and notifying the user by email.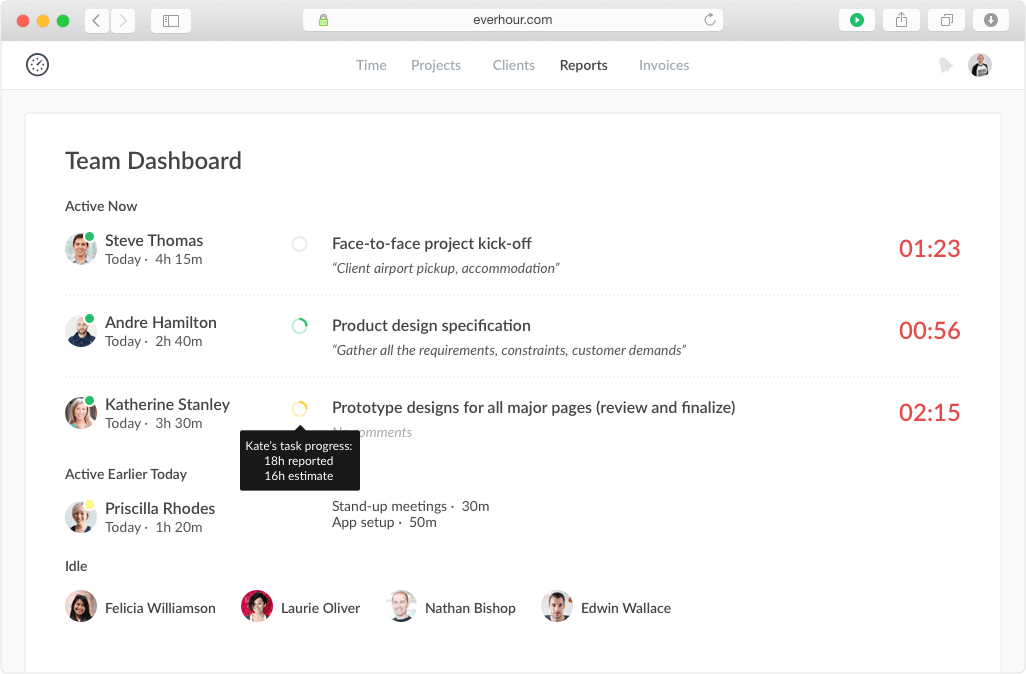 Time tracking with your app
Connect Everhour with your app and forget about duplicating projects or clients
Project Management Tools

Automatic sync

Everhour natively integrates with your project management app so you can track time on tasks right from its interface.

CRM

Automatic sync

Improve your efficiency on sales-related activities by tracking time dedicated to completing them.

Accounting

Automatic sync

Turn billable hours into an invoice automatically copied to your accounting tool. No double entries.
Try for Free
Customizable reports
Everhour report is an array of filters, columns, groups and conditions that you can save to make
a report look the way you want. So there is no fixed and unchangeble reports.
1
Filters
Filter reported time within a specific time range, projects, members or by various meta information.
2
Export
Export your data to send them to a client or to do some internal math. Choose from .csv, .xls or .pdf
3
Multiple Layouts
Layout defines how your report looks, what columns to show and the order of their appearance.
4
Save and Share
Save any combination of filters, layouts and date ranges. Separate saved reports by distinguishable names.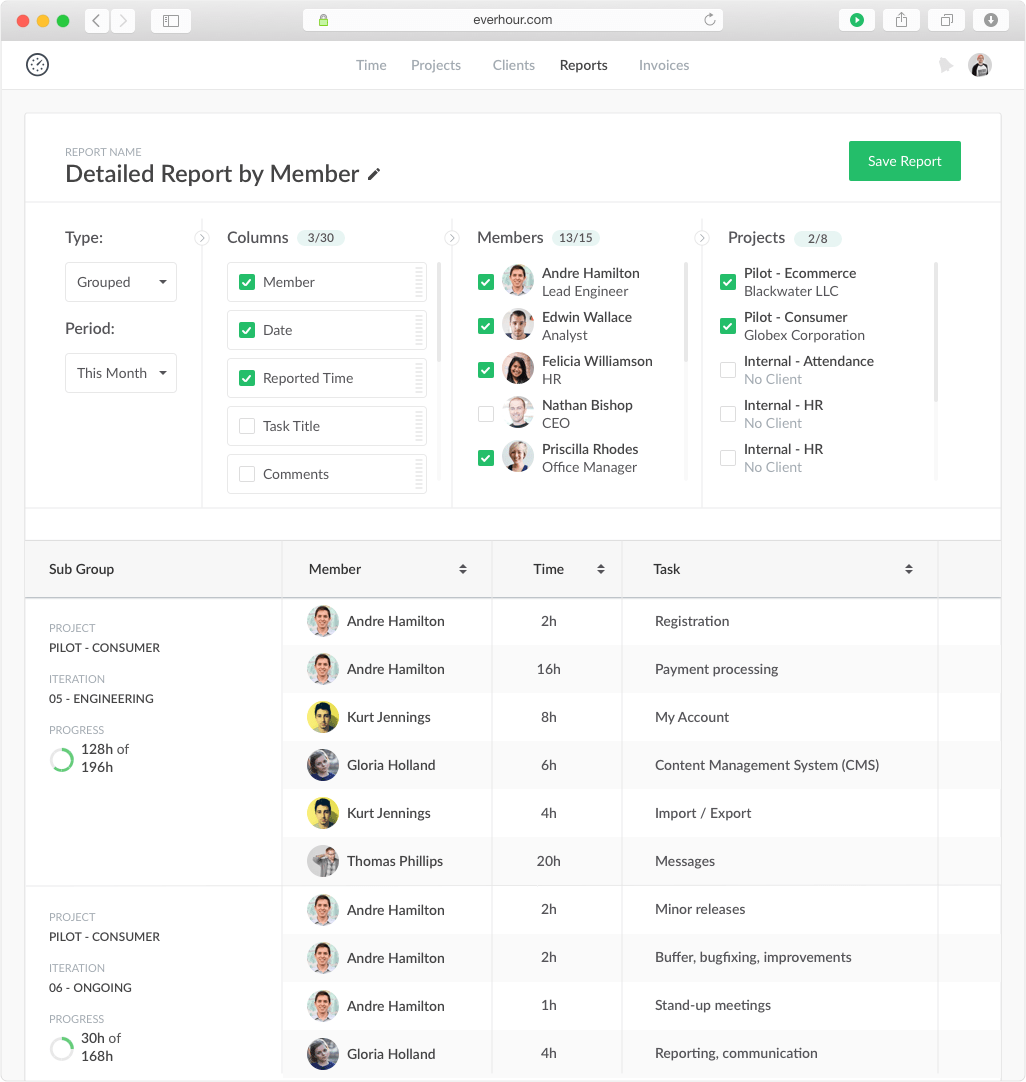 Summary emails
Know your team's progress by the start of the working day, week or each month.
It's right in your pocket every morning.
1
Your Team's Time
Who's tracking time, who's overworked, compare it with the previous period.
2
Projects Overview
At-a-glance overview of all your projects. Ensure your projects run smoothly.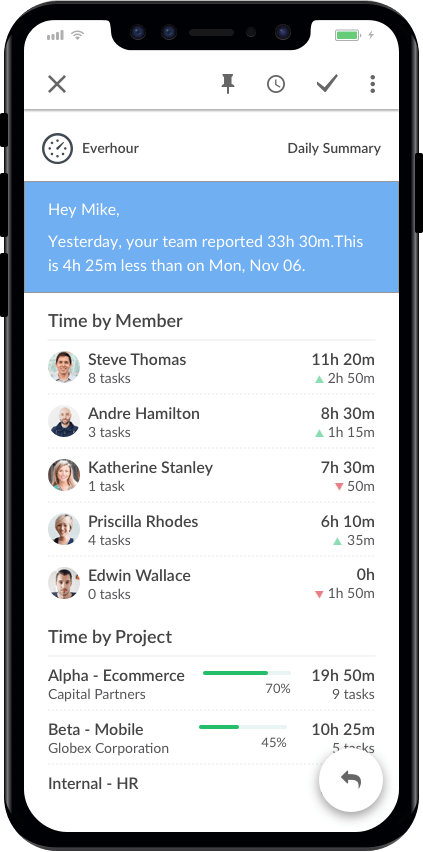 Task boards
Boards let you organize your work. Add tasks to your board, drag and drop to move work around
or track it through multiple stages.
1
Clear Visual Overview
Boards provide your team with a true representation of the scope of the project.
2
Freedom to Work
We don't force you to follow any principles. Create boards to match how you work.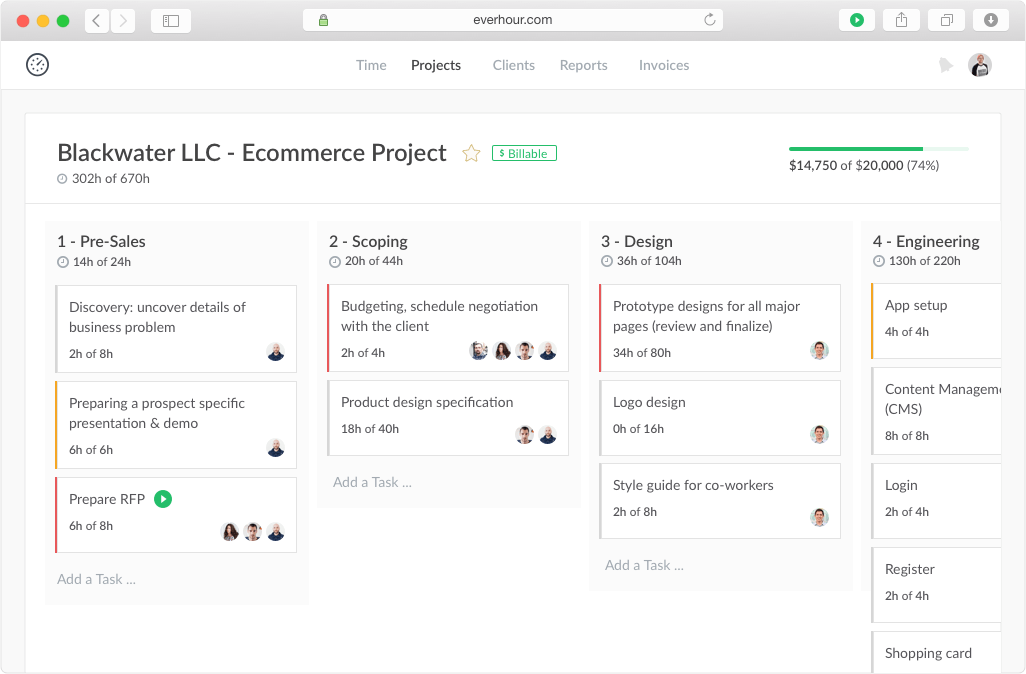 Simple invoicing
Create accurate invoices from the logged work just in a few clicks.
Watch the reported time and the accurate time invoiced.
1
Easy Invoicing
Pull the billable time you've tracked into invoices in a single click. Send invoices and record payments.
2
Accounting
Connect with QuickBooks or Xero and we will automatically copy invoices over to them.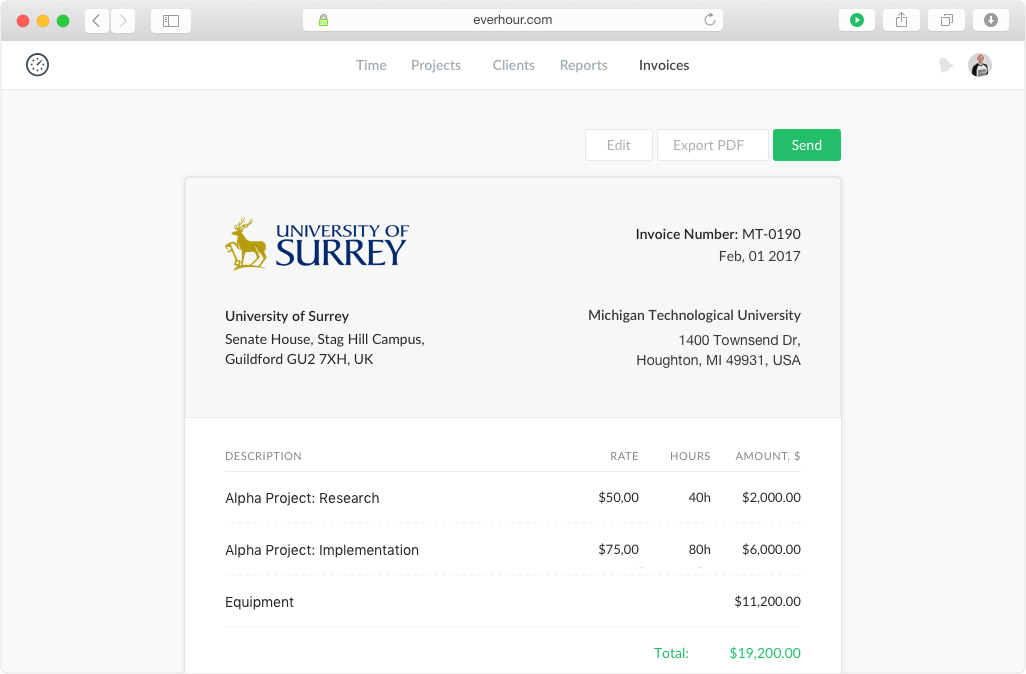 What our customers are saying
People love us, and we love them back.
Absolutely love how Everhour integrates with Asana - we stay organized, know who has worked on what project for how long, and can group all the projects by clients, making billing way easy!
Philanthropy, 11-50 employees
As a freelancer developer with my own clients as well as subcontract clients I have many different directions I get pulled. Before Everhour tracking my time on these projects was impossible and I was missing billing time.
Shad Mickelberry, Freelancer
Everhour has already paid for itself by helping me track time I was missing in client projects. It is easy to use, has friendly customer service people and the reports make it easy to invoice clients and track projects.
Jenifer De La Garza, Solopreneur
Pleased with the real-time logging transparency and integration with Asana. I like the way it shows the time log used in our projects. It's great for remote teams to see who is working on what in that specific moment.
Financial Services, 11-50 employees
Read more reviews on Capterra, G2Growd or Alternative.To