The Best Time Management Solution For Your Team
With Everhour, your team stays productive and with a well-structured workflow, reduces administrative burden, putting everything under control and making clients happy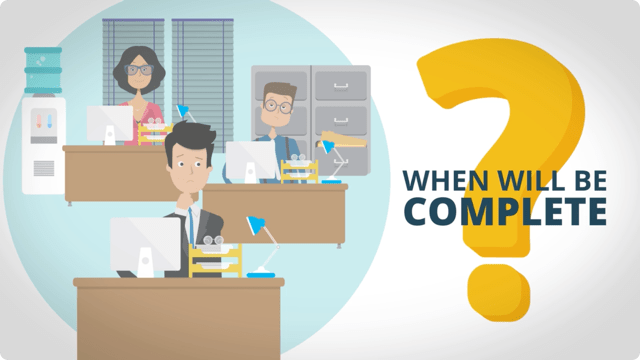 We have the best integrations in market
01
Accurate time tracking
It's not just about filling a timesheet on Monday. Our product is focused on making data meaningful, helpful in managing your projects and clients.
02
Always staying in the know
Forewarned is forearmed. At Everhour we keep you up-to-date on progress in the most convenient and less time-consuming manner.
03
Professional invoicing
Create accurate invoices from the logged work just in a few clicks. Watch the reported time and the accurate time invoiced.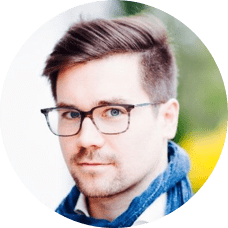 Johannes Crepon
Founder / CEO at Velocity
Before Everhour we've worked with Excel, which was not practical for us
As a primary project management tool we're using Asana. With Asana, there are numerous advantages combined: intuitive interfaces, variable evaluation options and a very practical Everhour integration which allows us to track times of projects and tasks even when days are stressful.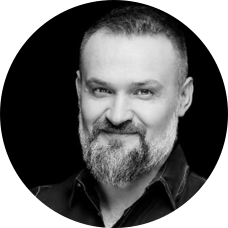 Grzegorz Mogilewski
Founder/CEO at ICONARIS
We switched to Everhour after 4 years of Toggl. I always find their reporting hard to use
In my opinion, Everhour has a better UI compared to Toggl. I liked how naturally their timer button looks inside Asana tasks, besides, they nicely calculate the subtask time. Another advantage are comprehensive reports that I can customize to show the data I really want to see.
ICONARIS is a Business Design and Online Marketing agency.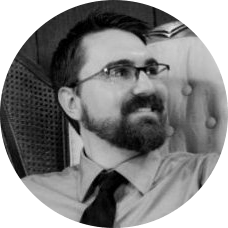 Jon Wilcox
Senior Graphic Designer at Mount Hermon Association
None of other time tracking tools that we tested, including Toggl, had something close
Evehour has a much deeper integration with Basecamp that is a must for us.
We are a marketing and design team within a larger non-profit organization. Since funds are always carefully scrutinized we want to make sure that we are being good stewards. Time tracking allows us to look at the totality of the project and justify or use data to discontinue something that we are doing.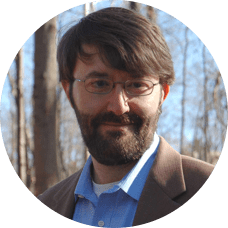 Steve Phipps
Founder/President at Wayfind Marketing
Everhour is a better overall value for my budget
I switched from Harvest for three primary reasons: 1) Because Everhour allows for creating time estimates at the task level in Asana. Harvest lets you track time at the task level but it doesn't offer time estimates which I need for my team; 2) I really like the custom reporting options that Everhour offer (which Harvest does not); 3) Everhour is a better overall value for my budget.
Wayfind Marketing serve as an outsourced CMO to help business leaders make smart marketing decisions that get results.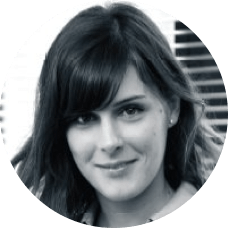 Kata Breman
Director of Operations and Key Accounts at Peak Seven Advertising
The seamless integration between Everhour and Basecamp is paramount
We have been using Harvest for over 4 years. At a boutique agency like ours, everybody wears a lot of hats, so it's important that we use an efficient system that works well for our purpose. Using Harvest, we had to double admin projects. We tried 3rd party integrations but they didn't work well either. Everhour's logic is different than Harvest's which takes some getting used to, but once you get the hang of it, it's so much better.
Peak Seven Advertising uses the creative flair to strategize stunning advertising and marketing campaigns that drive results.
WHY WE ARE BETTER
What's so special about Everhour?
02
Custom reporting
With Everhour, you can build clean and professional time reports of any kind. They are more than just a monthly timesheets - they give you great project insights. To get a better idea of ​​what it's about, take a look at our sample gallery.
03
Estimates
The unique estimating feature will help your team to stay within the budgets and scheduled timeframes. You can see in your reports how much time left due to a milestone, teammate or a particular project.
04
Task boards
Organize particularly any team activities on a single board. It works better than just a project with activity types in other time trackers. Separate boards by project or client, divide them into different categories to get best visual insights of your team progress.
05
Live dashboard
Watch in real time who is working at this moment and on what task, track their past activities for today and identify those who didn't report a minute today at all. Our users love this feature.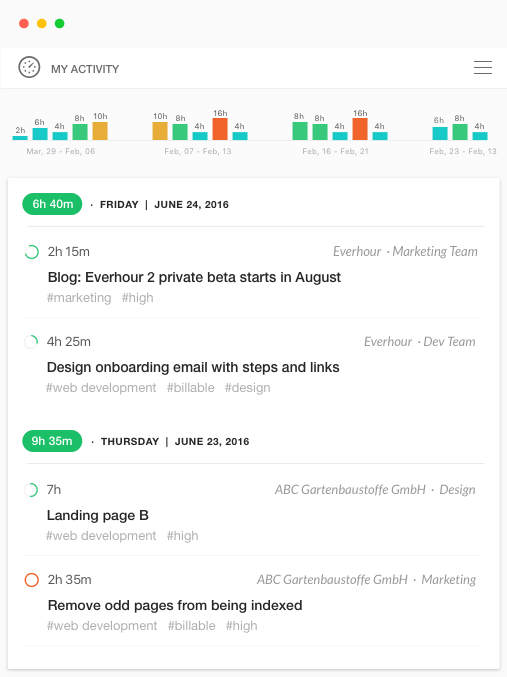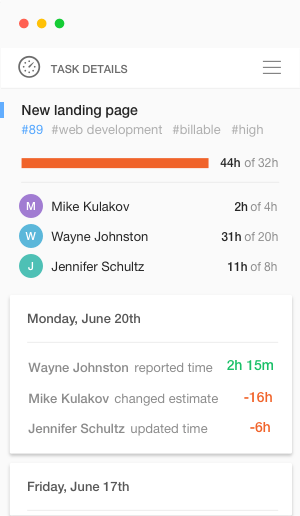 THEY TRUST US
1,000+ teams use Everhour every day