Work hours, organized
Track time, bill your clients accurately, and understand better how long
work actually takes to improve future quotes and estimates

What's inside?
See how Everhour can help you manage your staff and projects effectively
Time tracking
Resource planning
Budgeting
Invoicing
Expenses
Team management
Projects and tasks
Reporting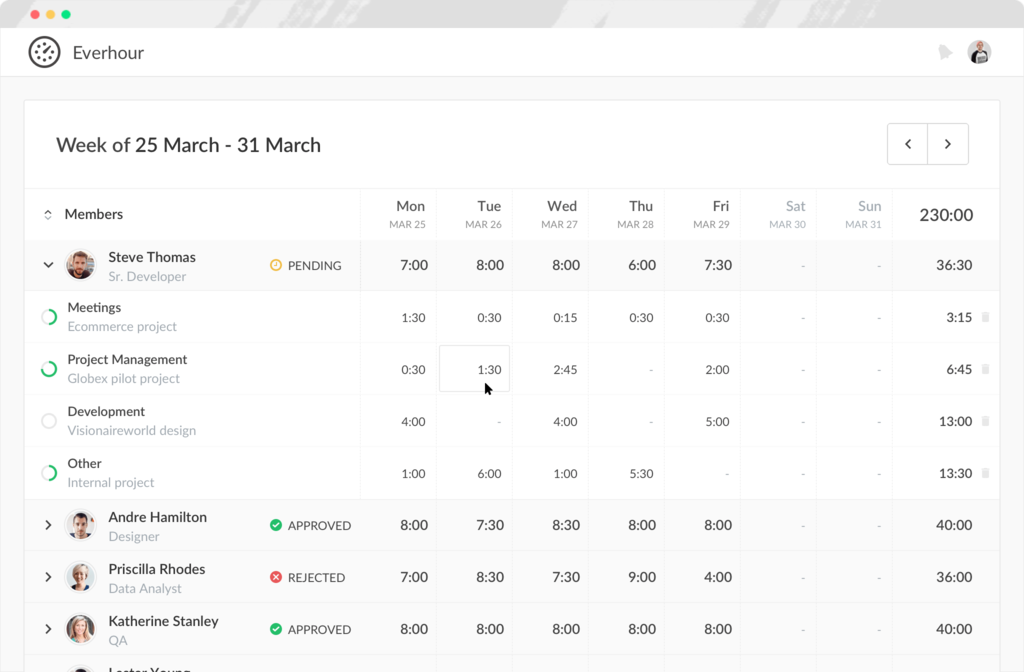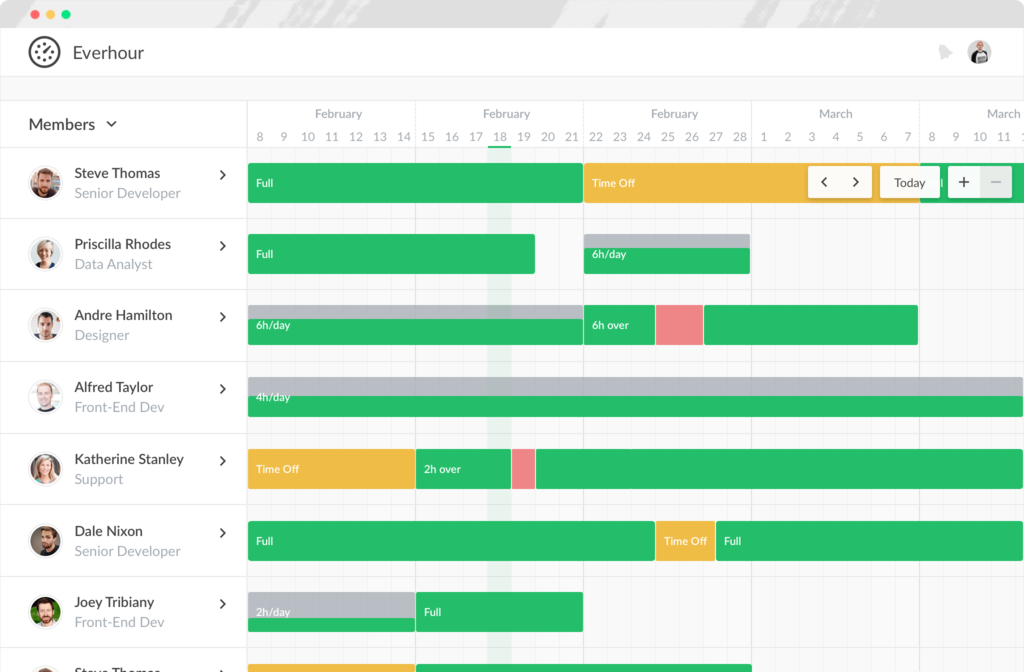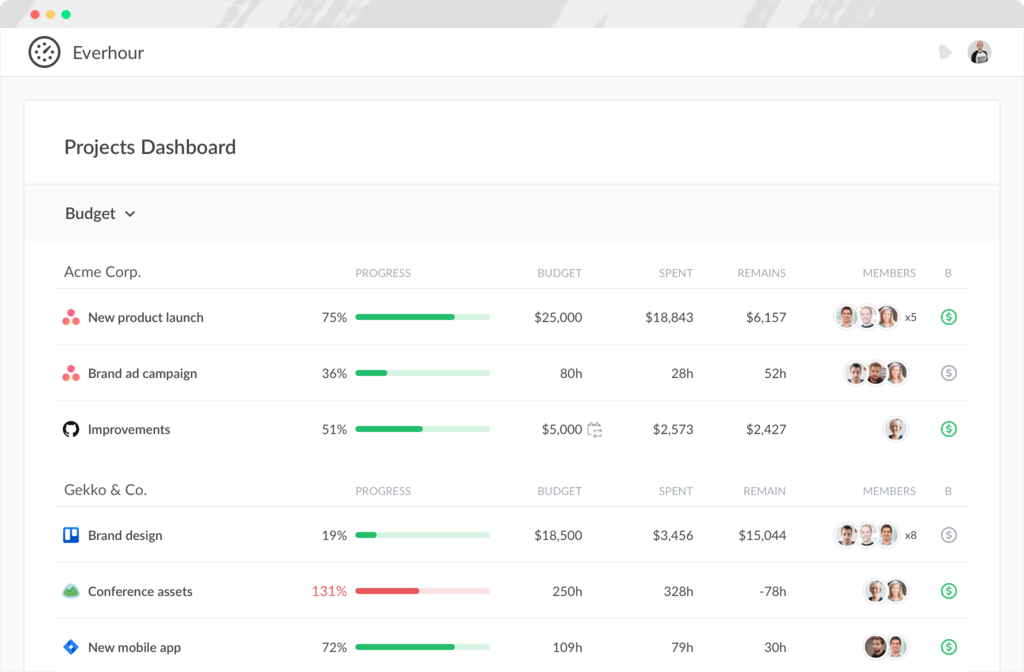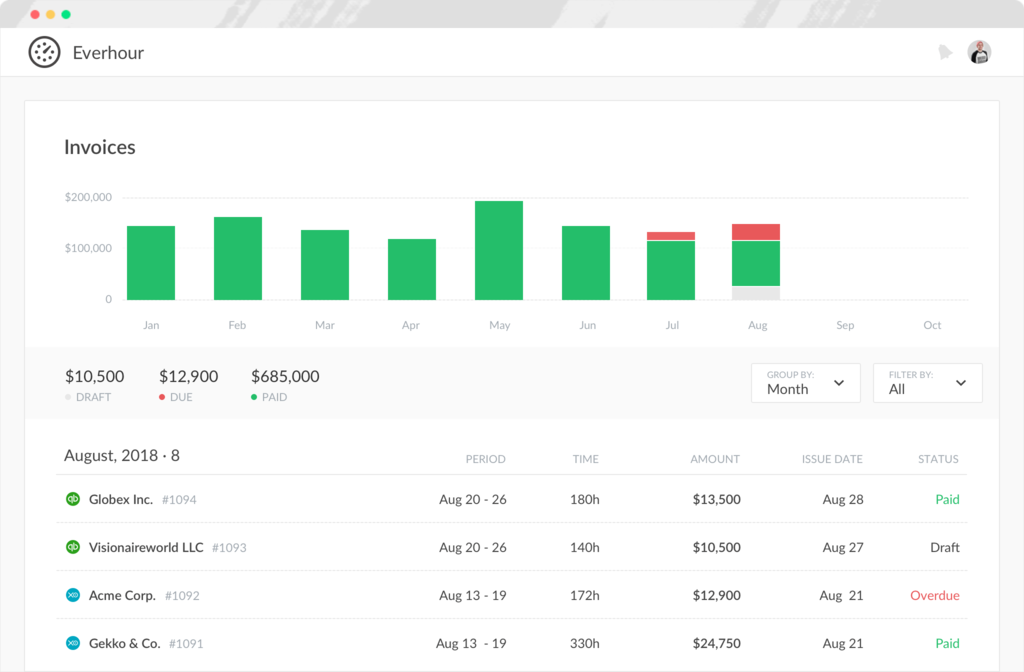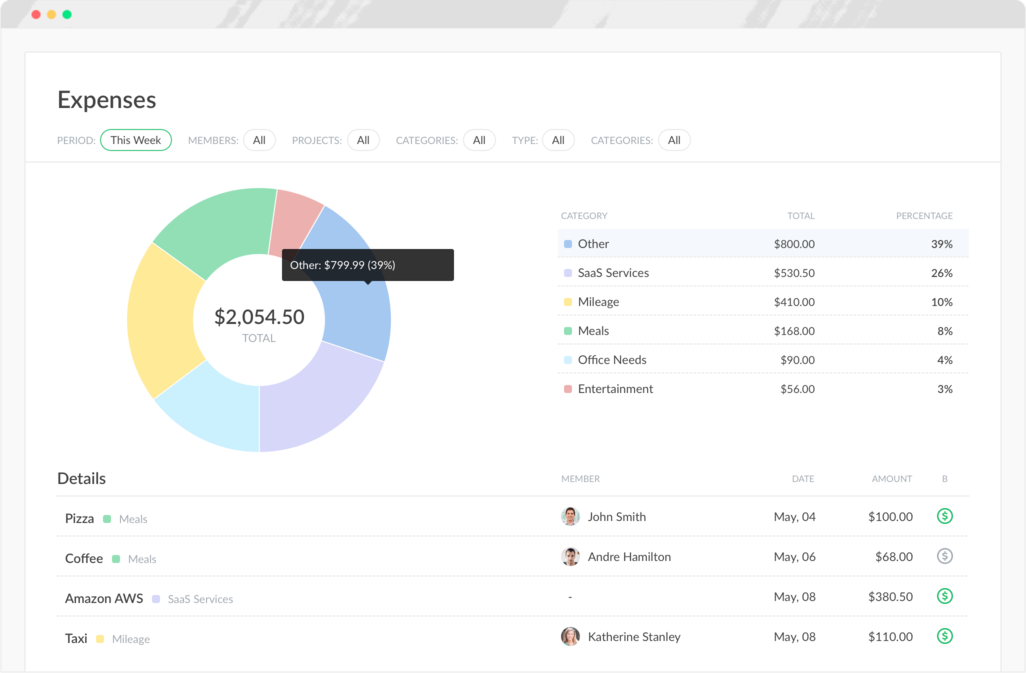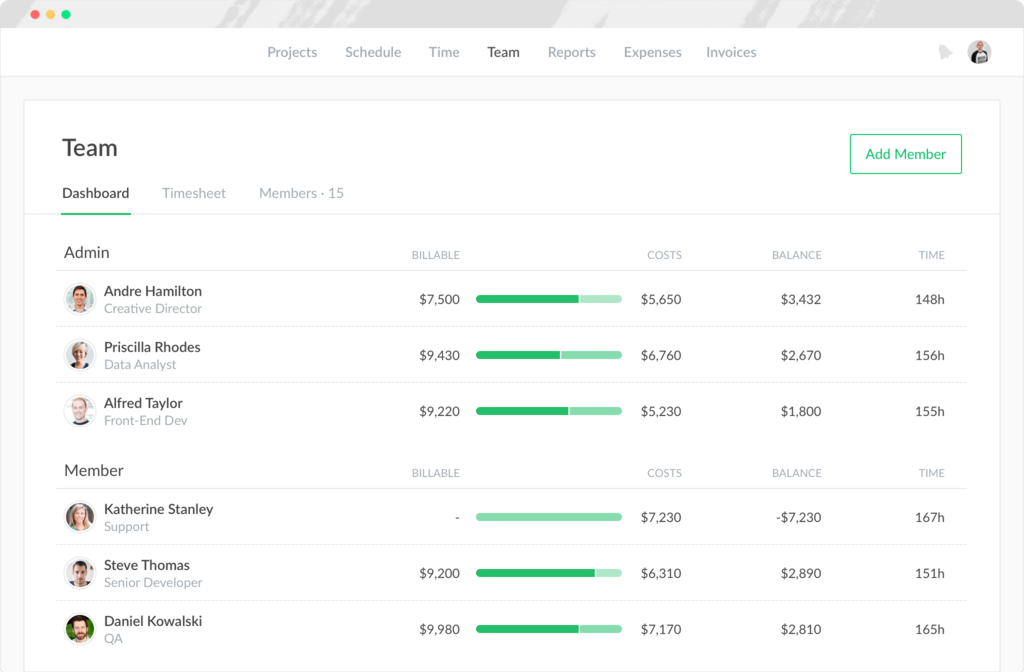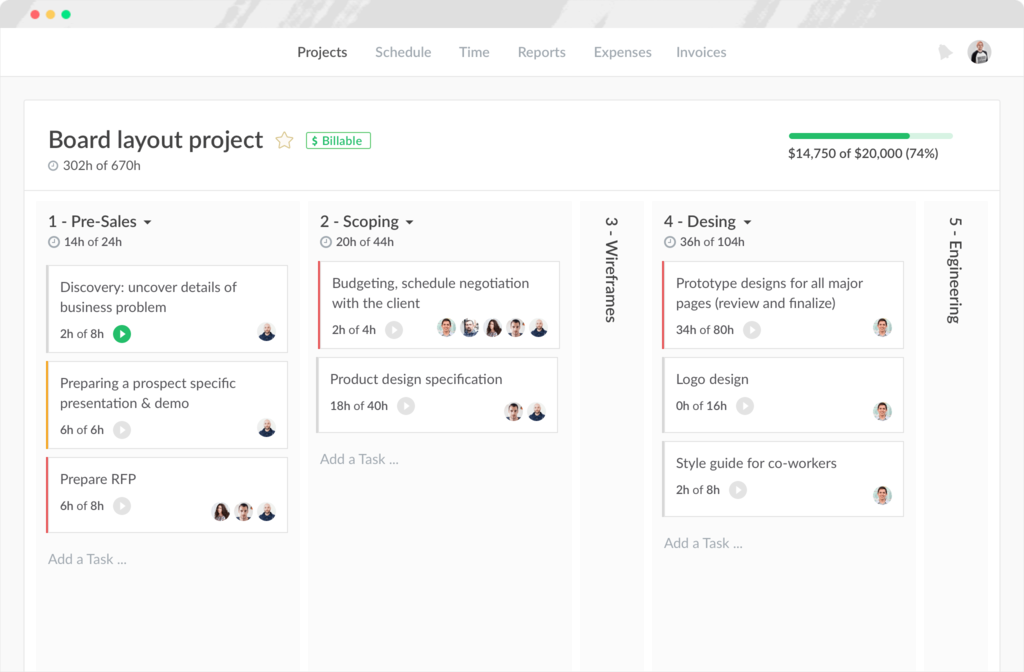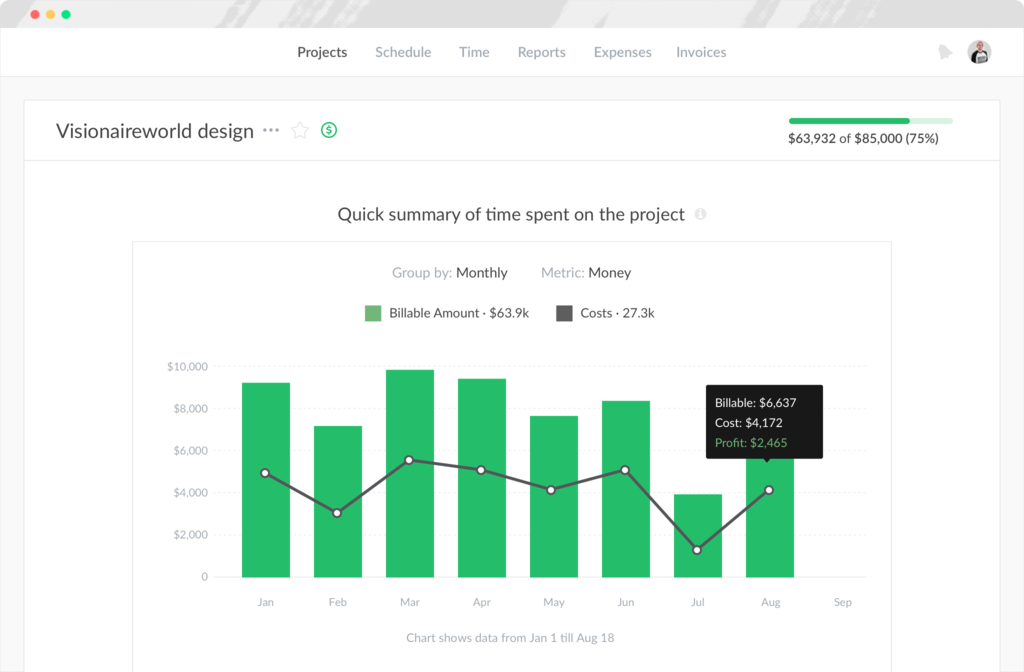 Why is timekeeping worth the effort?
Because your productivity, efficient work-money relationship
and billing matter
How timekeeping can help YOU
Be more honest with yourself and what you spend your day doing to fuel productivity.
Learn to budget more efficiently by discovering how you spend your time.
Increase your performance during "on-the-clock" hours and reduce working stress.
How timekeeping can help YOUR BUSINESS
Just like your personal time, time tracking helps you optimize your team's performance.
Increase your profits with accurate time-money-work estimations.
Automate payroll and cut down on the time you need to input data, increasing productivity.
Distribute work evenly across your team and add transparency with fair time tracking.
Why use Everhour?
These are some of the key reasons what makes us different from all the rest
Clarity
We value your time, that's why we clearly organize and structure your timekeeping process so that reported time can be easily analyzed and you do not end up with a heap of duplicates or records without a concrete project or task.
Accuracy
We do our best to make the time entry process as simple and convenient as possible, but at the same time, we promote the accuracy of input in your team. Otherwise you cannot trust and use this data to improve your workflows.
Efficiency
It is not only about time. With the statistics gained from Everhour, you'll clearly see how your projects, employees, time, and finances are structured, providing you with feedback for better future quotes and estimates.
Unity
With Everhour, your entire team can see estimates and time spent on tasks at all times with no extra effort required, meaning that everyone can track progress and keep an eye on project progression.
Transparency
Everhour allows you to understand at any moment who is working on what and the status of the task in real time. Thus minimizing the source of continuous undesirable interruption just for a status update.
Asana
Trello
Basecamp
Jira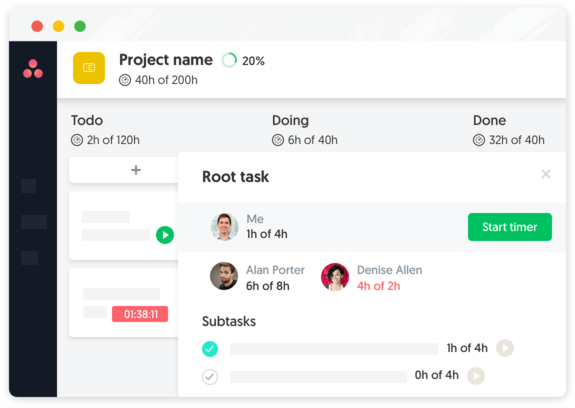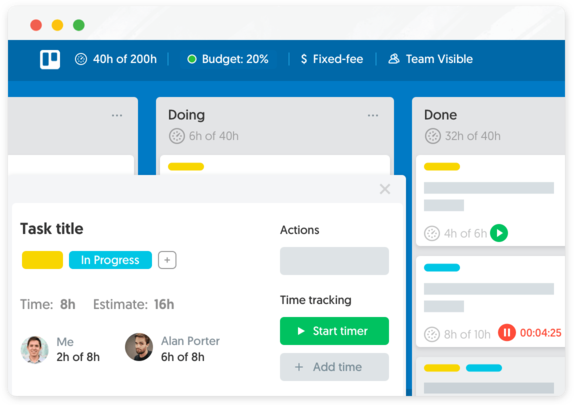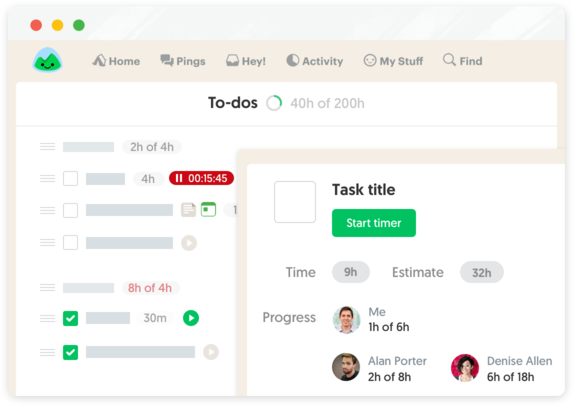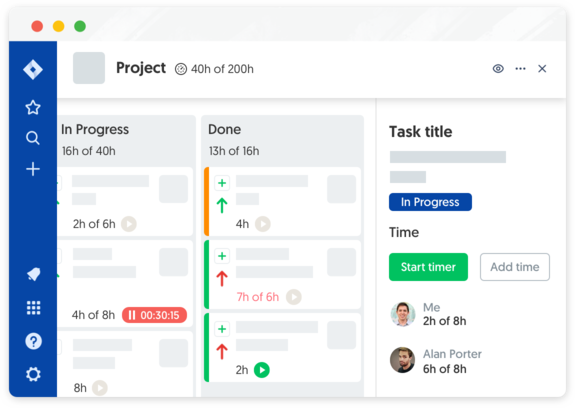 Featured
Everhour + Asana
Everhour extends Asana with a wide range of time management opportunities in just a few clicks
Featured
Everhour + Trello
Everhour empowers Trello with seamless integration that boosts your project's potential
Featured
Everhour + Basecamp
Everhour helps your team easily track time in Basecamp by integrating natively into your current project management workflow
Featured
Everhour + Jira
Completing your Jira experience with Everhour and native integration to increase the power of your time tracking capabilities
More than 2,500 businesses can't be wrong
Kellie S. (Manager, Global Accounts)
As an outsource marketing agency, we rely on Everhour to get our contractors' time reports to ensure we are within budget and scope.
Maciej B. (Senior Analyst)
Everhour integration with Asana is seamless — it looks and feels like it's always just part of Asana. Easy to add and edit time.
Elizabeth W. (Creative Director)
We use Everhour to track our internal hours against contracted hours and be sure we are not going overbudget and that we are profitable on every job.
Everhour has already paid for itself for the year by helping me track time I was missing in client projects. Best investment I've made for my business this year.
Everhour is easy to use. Our collaborators can put their time very easily. Which saves time for them and also for us and our clients. The cost-benefit is huge.
Janelle H. (Operations Manager)
Everhour is currently being used by two of my departments. It allows us to time projects for billing purposes and also allows us to time for efficiency.
Learn more from us
We share advice on productivity, project management, workflows and more