I bet you've heard about Trello.
With an estimated 25 million (yes, million!) users worldwide noted in 2017, and a growth of 6 million from 2016, Trello is proving to be a popular project management choice. It was right about the time they were acquired by Australian software giant - Atlassian for $425M.
Trello was and still is the de facto choice for many companies that want to start managing their projects. At least many are likely to try to adapt Trello for their needs. Some will find it suitable, but not all. Trello solves a number of problems better than others but cannot do everything.
In this article, we talk about what Trello is and will try to cover the basics you need to know so you can decide whether you should use it in your business or not.
About Trello 🎓
Trello is a Kanban board-based project and task management system, it uses cards, boards, and lists to manage and organize tasks, presenting them in an aesthetically pleasing, interactive platform.
The best part? Trello works for a wide range of tasks. If you want to manage your shopping list or plan family vacation, you can use the tool, or if you are a manager in charge of a serious project, you can pick the tool again. The UI and UX is really simple, and you can use it without spending hours learning to use it.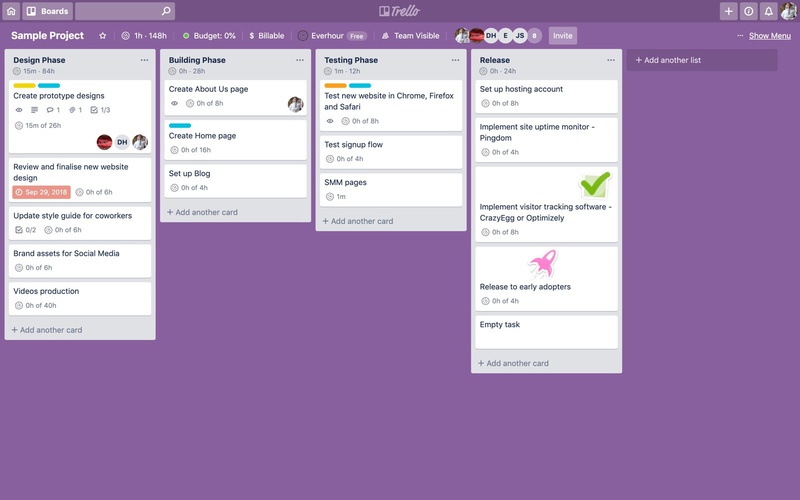 Advantages of Trello 👍
Below are some of the most noteworthy features of Trello:
3-tier pricing structure – Free, Business Class and Enterprise. The Free system allows to try out the system and discover if it works for you, while Business Class and Enterprise offer increased functionality and are both competitively priced from $12.50 per user per month and $20.83 per user per month (respectively). A lot of things with Trello are free. Some individuals never pay for it at all. It is, perhaps, one of the most generous offers on the market.
Focuses on being easy-to-setup and user-friendly. That means you just need to enter a few basic details to get going (name, email, password) and that's it. In addition, it comes with accessibility features such as keyboard shortcuts and "Colorblind friendly mode," which allows users to feel more comfortable with the system.
Simple, yet effective. Trello devotes its attention to user experience with team boards, simplicity, the ability to navigate easily, and complete tasks clearly. Tasks can be labeled as "To Do," "Doing" or "Done" allowing transparency in the project process.
Great on browser and mobile. Allowing you to manage projects from the comfort of your desk or on-the-go, Trello ensures you never miss important tasks or alerts with its handy-to-use mobile app. The app works well and is pretty simple to use.
Plays well with others. Trello is built with integration in mind, aside from its pristine integration with Everhour, Trello can work alongside Slack, Jira, Google Drive, Gmail, GitHub, CloudApp, and a number of other third-party applications. Meaning less switching between apps for your team.
Flexible to your needs. Trello's power-ups allow users to add buttons and features, increasing functionality to suit your needs without weighing the tool down with unnecessary features.
Drawbacks of the system 🤔
You can't win 'em all. These are the drawbacks users are mentioning about Basecamp:
Lacks some features of other tools. Depending on what you're looking for in a project management system, you might find Trello a little light on features, especially if you're used to using the behemoth that is Jira. For some simplicity is key, others prefer unlimited choices. While Trello excels at making project management simple, it lacks in some deeper process management features which may or may not be essential to your business. Therefore, many teams at some point forced to move on to something more specific like ClickUp or Wrike.
Great free package, but to get the most out of it you need to upgrade. While Trello does have one of the best free packages on the market, to get the most for your business, you'll need to expand the functionality with those previously-mentioned power-ups (as you can see here, many pretty basic features are possible only through power-ups). This does give you flexibility, but adding more than one power-up per board could require you to upgrade, costing you extra.
It's a 'blank slate'. Some may not like that there are no formal rules or guidelines on how to use it. Trello does provide some ideas on how others use the system, but you are pretty much on your own (or need to do your own research) on how it can be best employed for your organization.
Who needs Trello?
Trello can be a perfect system for almost any business seeking to improve their project management practices and get a better hold over their workload. However, like most things in life, project management comes down to the personal preference of the business and its particular needs.
Here are some top points to consider. Trello might be the right system for you if you need:
A simple, integratable project management platform for your business.
A personal planner for individual use.
A tool that works perfectly for staff who are not so technically minded.
A highly visual platform.
A system for your small business or start-up.
Conversely, Trello may not be the best suited system if you have a large-scale enterprise or require intense process management capabilities.
Is Trello the only tool out there? 🔍
Trello isn't the only project management tool on the market; there are lots of tools out there. To help you decide which one is best for you, and see how Trello measures up, we've created these two handy comparison pages for its closest competitors:
Trello vs. Asana – Discover how Trello and Asana match up, and which system better meets your needs.
Trello vs. Basecamp – See Trello's battle against another worthy competitor, Basecamp, who will come out on top for your business?
In short
Now, you know a little more about Trello, you've probably decided whether or not you'd like to try out the system for yourself. With its free capabilities, Trello gives you the opportunity to try before you buy, to test out the system for your business.
If you're seeking an easy-to-use project management tool, it could prove ideal, but if you need a more substantial piece of kit packed with reporting capabilities, it might be worthwhile looking at other options.
In short, Trello is an easy-to-use project management tool that focuses on simplicity, style, and integrations allowing you to put business first.
P.S.Trello combines seamlessly with Everhour, meaning you can easily monitor your time natively in the project management software, with no need for extra software or tab switching.