What's inside
Simplicity
Drag it, drop it, work it
Task assignment
Find your inner peace – and your task
Integration, baby!
Quick setup
No more copy / paste
Auto-sync and track with ease
No more tab switching
Handle your project budgets
Understand your billable and non-billable time
Flexible and easy to read reports
See real project stats
Less of a learning curve
Asana? Isn't that a yoga term?
In fact, you're right, it is, but we're not talking about that Asana :)
Asana is an amazing project management system that streamlines the task management process for millions of people worldwide.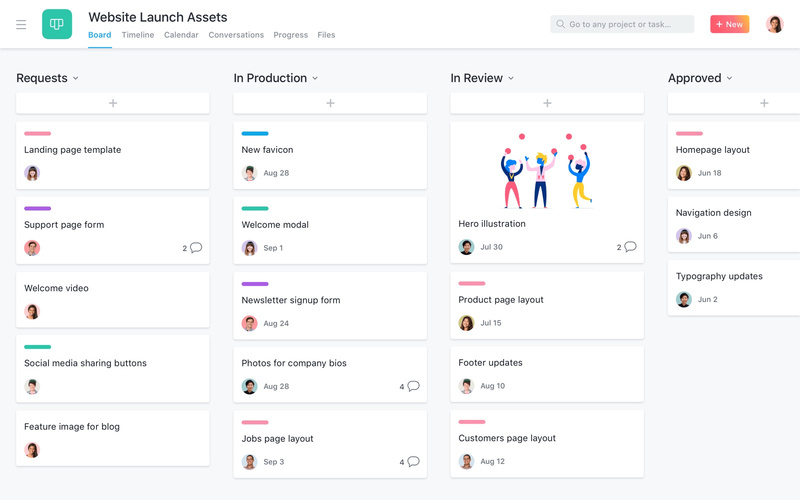 Headquartered in the sunny state of San Francisco, with offices in New York (US), Dublin (Ireland), and Sydney (Australia), the task management company is the brainchild of Facebook alumni Dustin Moskovitz and Justin Rosenstein.
Below we talk about why people love it so much and how it can help you get stuff done
Top 5 things we think you'll love about Asana
Simplicity
Built with a clean, clear interface, Asana brings simplicity to task management helping you keep an eye on your task's progression – is it on time, and schedule? – allowing you to focus on the important things first.
Drag it, drop it, work it
Adding documents, presentations, designs and more to Asana is easy, all you need to do is drag, drop, and share with your team, allowing you to collaborate on multiple elements of a project at once, in a singular place.
Task assignment
Need something done? In Asana, with the click of a button, you can assign a task to another team member, perfect for collaborating whether your colleagues are in the next room or distributed thousands of miles away. The "@" shortcut makes it even easier to add and assign to your teammates, and the software makes collaboration easy as participants can access a task at once.
Find your inner peace – and your task
The "My Tasks" and "Inbox" features help ensure task participants are up to date on what they need to do and what the deadline is. Making sure you know what you're supposed to be working, so there are no unexpected surprises later.
Integration, baby!
Asana is known for its flexibility for integration, allowing you to customize the platform for your needs. Want to message your team, add Slack, decided to monitor your time, well that's a job for Everhour. Each combines with Asana to present a united project management front to make your working life more manageable.
Only for big business? Hmm, no!
As you start your business and begin to grow your team, it's likely that you'll have to watch your budget. Asana provides the perfect team working solution as it lets teams of up to 15 people work for free.
So, how does the company make money then? Asana offers a freemium-service, hence the free to small teams, but as your organization grows and you need more features you begin to pay for the service, with additional features added, of course.
This method has proved popular with the platform, allowing it to grow from 20,000 paying subscribers 1.5 years ago to over 50,000 today, an increase of over 30,000 paid users.
As a project management system, it also comes highly recommend. Popular review site G2 Crowd users rate it 4.3 stars out of 5, while TrustRadius users give it an 8.3 out of 10. These are some of the features reviewers are raving about:
Customer service
Ease of use
The flexibility of the software, allowing different teams to collaborate
Excellent search features
Clean user interface
Fast
Easy communication between teammates
Task assignment features
Organization of tasks through lists or boards
Combine and conquer – time management and Asana
As we've said before, Asana is highly integratable, allowing you to combine with other software and master your project's goals. At Everhour, we want to ensure your time tracking experience is as streamlined as possible, which is one of the reasons we've made sure our software blends smoothly with Asana (the other is we use the software ourselves).
These are some of the features you can enjoy when trying out our integrated Asana-Everhour combo.
Quick setup

Adding Everhour to Asana couldn't be easier (but if you think it could, let us know and we'll do our best), all you need to do is head to our integration page, click "Try with my Asana," and hit "Allow" to start your time tracking journey.

No more copy / paste

Tired of having to copy-paste into an excel document to track your time? Us too. With the Asana-Everhour combo, you won't have to waste time recreating your tasks and projects, it's all done right inside Asana's interface.

Auto-sync and track with ease

As we said, there's no need to recopy all your projects and tasks into your time tracking software just to track time. By adding Everhour you're able to auto sync everything. When you add a new project or change the name of the existing item, we will sync this change. That means your reports will always show the freshest data.

No more tab switching

Avoid the time-consuming process of switching back and forth between tabs to add time stats and track your progress; it's all done directly in Asana, ensuring you have more time to complete your work.

Handle your project budgets

Whether you need to report to a client or account for your own expenses, the Everhour and Asana time tracking integration lets you set a budget to any of your Asana projects and makes sure you don't exceed it.

Understand your billable and non-billable time

Track your time whether it is billable or non-billable, by integrating time tracking into your project management system you'll be able to separate how your time was spent, and how much it cost.

Flexible and easy to read reports

Need to report to the CEO in an hour? Or, got a client on the phone who wants to know all the details? With seamless integration you can see the latest time data from your projects in easy-to-read charts, making it simple for you to account for your time and report quickly and efficiently.

See real project stats

Once you've added Everhour to your Asana, you'll always be able to see your real-time versus estimated time statistics, ready for you to analyze direct on your screen. Keep up to date with project advancements and amend them to make sure they stay on time and budget.

Less of a learning curve

With integrated software that tracks your time directly in your project management system, you avoid the laborious task of teaching your staff how to use an entirely new piece of kit. Instead, all you need to do is a short tutorial on where to locate the time tracker within Asana to get going.
How to get started?
Whether you're already using Asana to meet your project needs or considering switching to the platform, adding Everhour's time tracking can help you make sure your projects are more efficient financially and time-wise, and make your time more productive.
We wish you a happy start to your time tracking journey.