As projects became more and more complicated over the years, various project management tools have emerged to address the needs of project managers. Among the hundreds of project management software products in the market, two have emerged as leaders: Asana and Monday. Both of these software tools are web-based services that use cloud-based storage. But which is better, Monday or Asana?
As a project management expert with more than ten years of experience, I believe I am qualified to settle the "Asana vs Monday" debate once and for all. Here's what I think about both tools.
What is Monday.com?
Monday.com is a cloud-based project management software that gives enterprise solutions to professionals across the world. In addition, the platform has its Project Management suite that allows the users to integrate every project management step in a single space.
In a nutshell, Monday is a space where teams can collectively track tasks, collaborate over every step of the project, visualize progress through stats, scheduling options, and performance options, and store everything on a single platform.
The program also offers integrations that make apps like Monday an absolute necessity for teams collaborating in a dynamic environment.
What is Asana?
Asana is also a cloud-based project management software that caters to small and medium business needs. The software provides a one-stop solution for task management, collaborations, portfolio management, and workflow management.
You can see your work's progress in the form of calendars, lists, Gantt charts, and Kanban Boards. In addition, you can collaborate with your team by using the communication tools that integrate into Asana.
Due to its ease of use, Asana is widely used as a project management tool worldwide.
Asana vs Monday: Features
First off, let's take a look at the most important features side-by-side:
Benchmark
Asana
Monday
Views and Features
Asana has three main views board, Gantt charts, and Calendar. A multitude of collaborative and management features that include portfolio management tools.
Monday also has three basic views, including lists, Kanban boards, and timelines. The distinct features include workflow management based on location.
User Interface
Asana has a convenient user interface, but a newbie can get stuck with the number of functionalities it offers.
A colorful and vibrant user interface with a single view option where you can organize many things on a single view. However, the same problem of too many functionalities complicates usage for a new user.
Team Management and Communication
Asana allows up to 15 members in Free plan. You can use integration to enable flawless communication between the team.
You cannot add more than 2 team members in the free version.
Integrations may allow effective communication within a team.
Integrations
More than 150 integrations are available.
More than 50 integrations are available.
Pricing
Asana has three-tier pricing, Basic, Premium, and Business.
The Basic version is free. The Premium Version is for $10.99 per month per person, and the Business account is for $24.99 per month.
Monday has a four-tier pricing strategy.
Individual- Free
Basic- $8 per month per seat
Standard- $10 per month per seat
Pro- $16 per month per seat
Enterprise- customized prices according to the business needs.
To give you a better idea of what each tool has to offer, here's a Monday vs Asana feature comparison.
---
Workflow Management
You can manage workflow with Asana project management features through different 'view' categories. The views include lists, boards, and timelines. All these views show the workflow differently. You can drag and drop tasks to the view you have chosen to see the workflow. Here's a list view at Asana: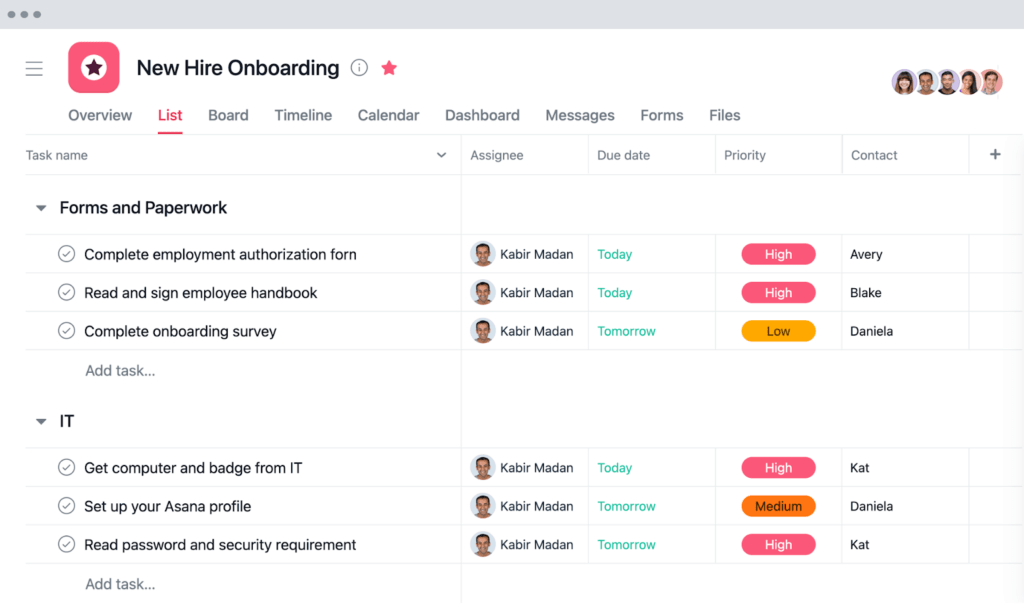 Similarly, you can see your project in a Kanban board form if you want to.
Monday.com also has an almost similar way of managing workflow. However, it is easier to switch between different visual project workflow units as compared to Asana. Using Monday.com, you can manage the workflow through Kanban boards, charts, and timelines.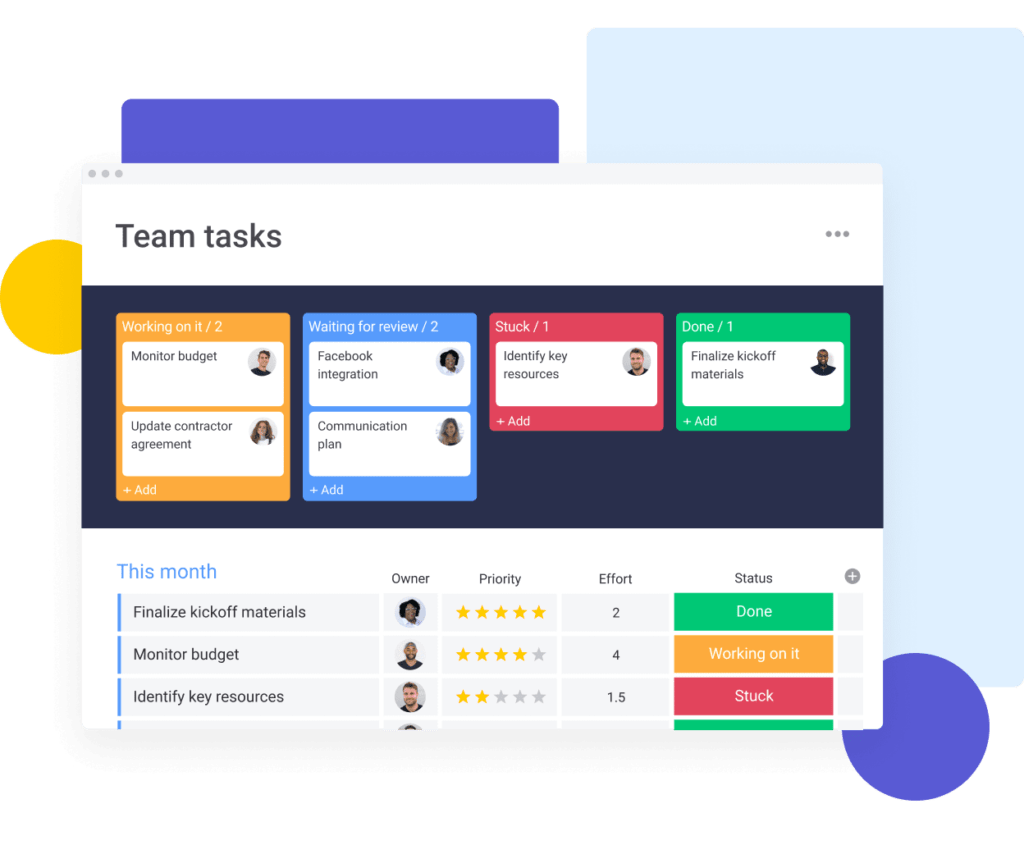 The image shows a Kanban chart that visualizes a team's workflow. With Monday.com project management features, you can see the list view of every project step in the form of pulses. In addition, the UI allows you to switch between pulses without much hassle. The default view is in a list form, but you have the option of choosing a Kanban board or a chart for the visual view of your workflow.
---
Task Management
Task management in Asana involves creating tasks, setting task goals such as deadlines, assigning the tasks to the team members, and keeping track of the tasks through the lists, boards, and timeline view.
You can see the to-be-completed-soon tasks in the 'My task' tab on the home page. You can also click on any task to view all the task details and attach documents for collaboration. Here's a timeline view of the task management in Asana. You can see that different tasks of a project are assigned to various members of the team.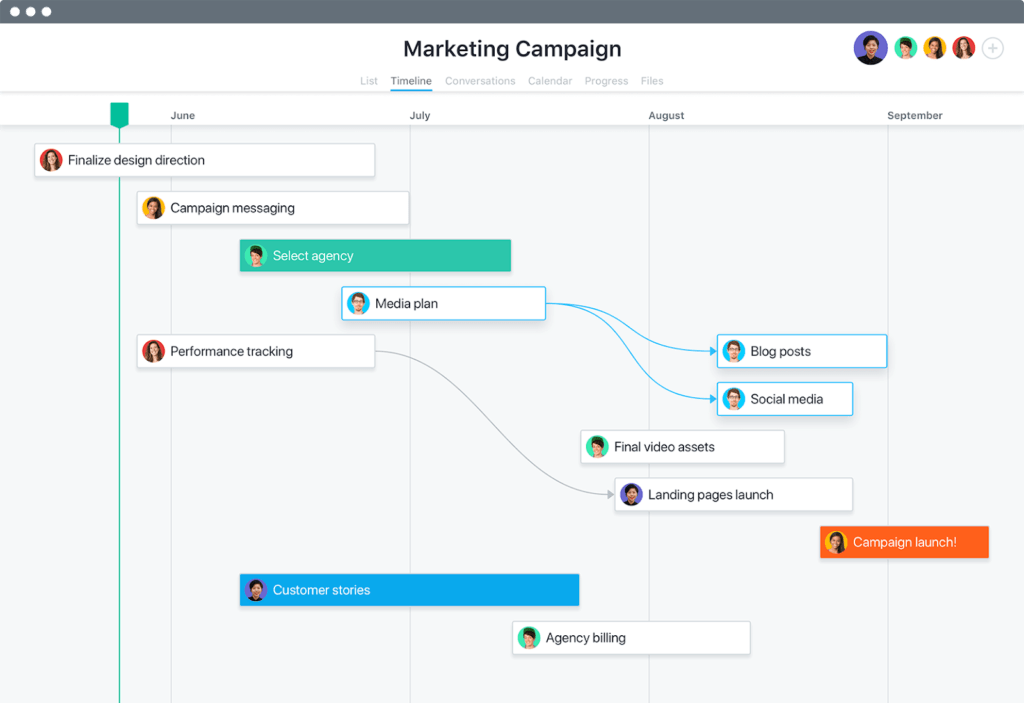 Monday.com has almost the same way of managing tasks, but here you call the tasks pulses. You can create pulses, assign them to the team members, and create dependencies in the tasks. You can also track the task progress by checking the task overview in your task manager. The task statuses keep the team updated on the task's completion rate.
The software also allows you to manage daily to-do lists and weekly team tasks. The team lead can design tasks and assign them to the team members. The action boards give an overview of the status of each task making task management convenient for the team members.
---
Portfolio Management
Both Asana and Monday, unlike many other PM tools, offer Portfolio Management. Portfolio Management is the overall management of all the ongoing projects in a single space. Here's how both tools perform it:
You can see the portfolio of ongoing projects by zooming out on the day-to-day tasks at Asana. The portfolio shows the status of each project, so you don't miss any project due to juggling many projects simultaneously.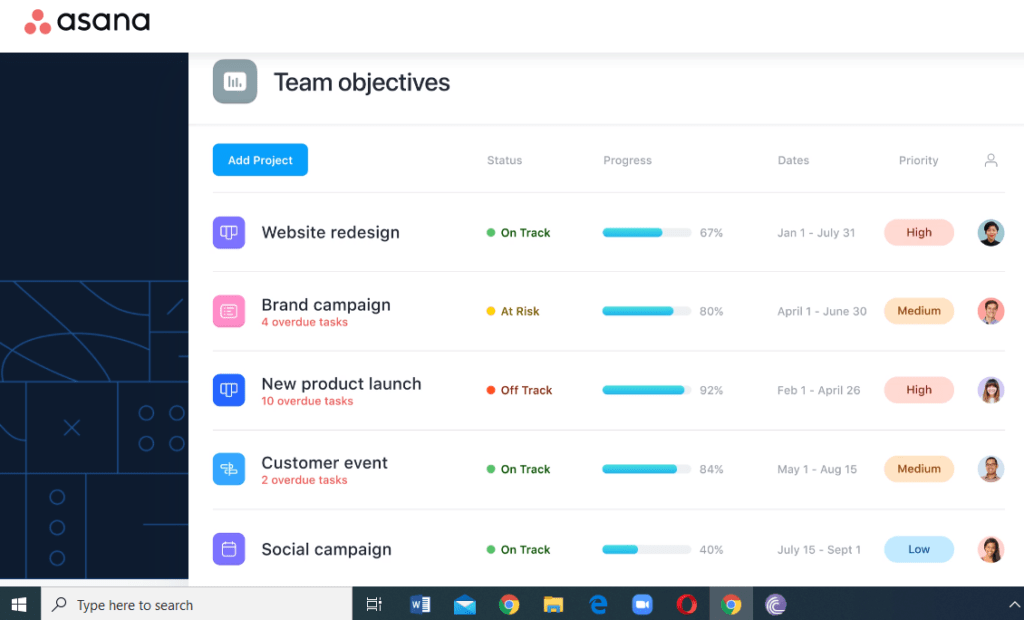 Monday, unlike Asana, doesn't have a proper portfolio management section. However, Monday has a feature named 'Groups' that you can use to group any sub-benchmark of your project. Using the group tool, you can make a portfolio tab by integrating all your current projects in one place.
Unlike Asana, the groups do not show you the complete progress status of the projects. However, you can still keep tabs on the projects by making a group (at least you can avoid forgetting a project completely). Here's what a group looks like on Monday.com.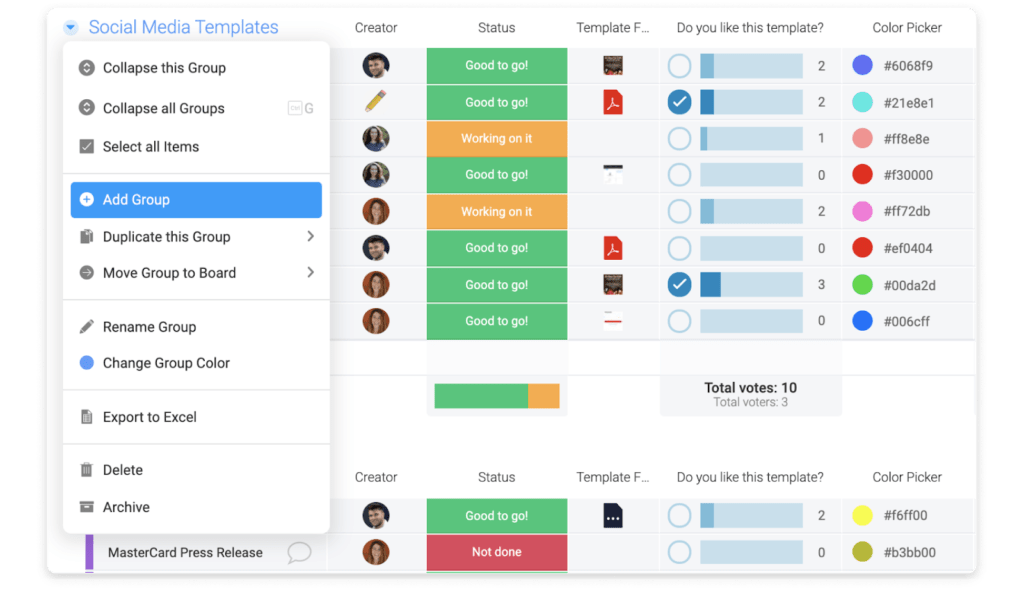 ---
Security
Digital security is a concern for all enterprise-based solution providers. However, in Asana and Monday, both companies have secured their clients through reputable security compliances.
Asana has compliance with SOC 2 and ISO/IEC 27001:2013. The company doesn't give the right to the enterprises to operate the software on their servers. They have kept it cloud-based and have firewalls in place to avoid any security breach for their clients.
Monday.com keeps the customer's data readily available by working with Amazon Web Service (AWS). Besides that, Monday also uses the security practices of the Google Cloud Platform. Moreover, the company has complied with ISO 27001, ISO 27018. In short, both platforms are taking their customers' data security very seriously.
---
Integrations
Asana has over 150 integrations with enterprise software programs. You can use Slack, Instagantt, Dropbox, and Google Drive to organize your work better. You can also benefit from a powerful Asana time tracking integration like Everhour: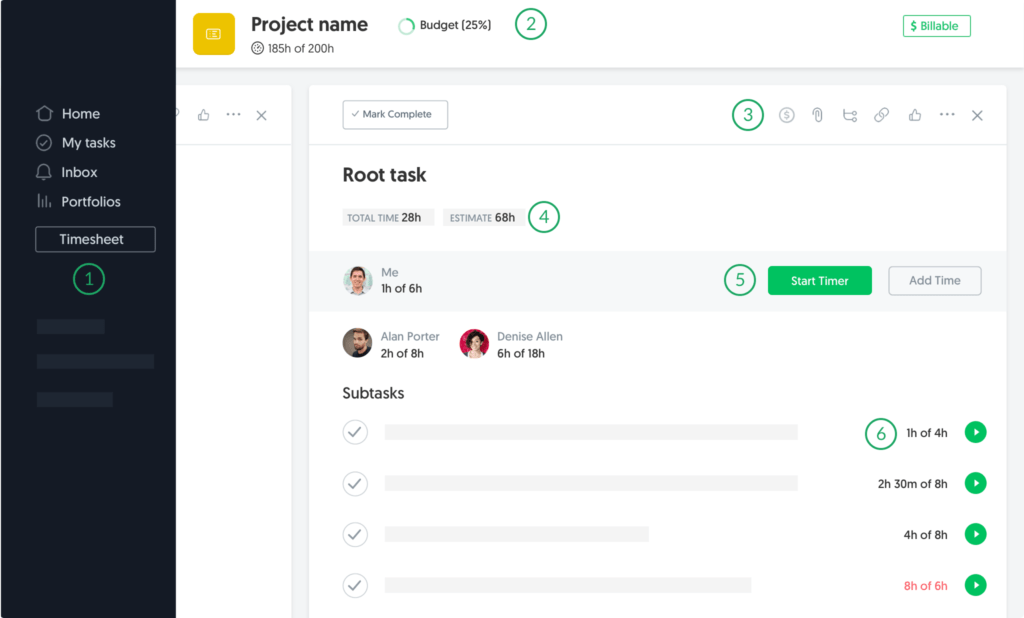 'Timesheet' button. You'll be able to quickly look at all your timekeeping for a Day or Week as well as quickly add time and comments for the tasks you have been working on;
Project billing & budgeting. Configure any project as billable, set up project budget, see total project hours and estimate. By default, only admins can see the budget. You can enable showing budget to everyone. Regular members don't see anything money-related in Everhour;
Task billing. Click little "$" icon to mark any task within billable project as non-billable or set custom task billing rate;
Individual estimates. Click on estimates to configure individual estimates for different employees and track their progress.
Track time. You can track time using the timer or log time manually;
Subtasks. You can track time and watch progress by any subtask. With native Asana timer you can't do so.
All above is handled via Everhour + Asana integration.
---
When it comes to integrations, Monday is behind Asana with almost 50 workspace solution providers. You can use Zoom, Google Drive, Excel, etc. while using Monday. The best way to enable Monday.com time tracking is by connecting Monday.com and Everhour.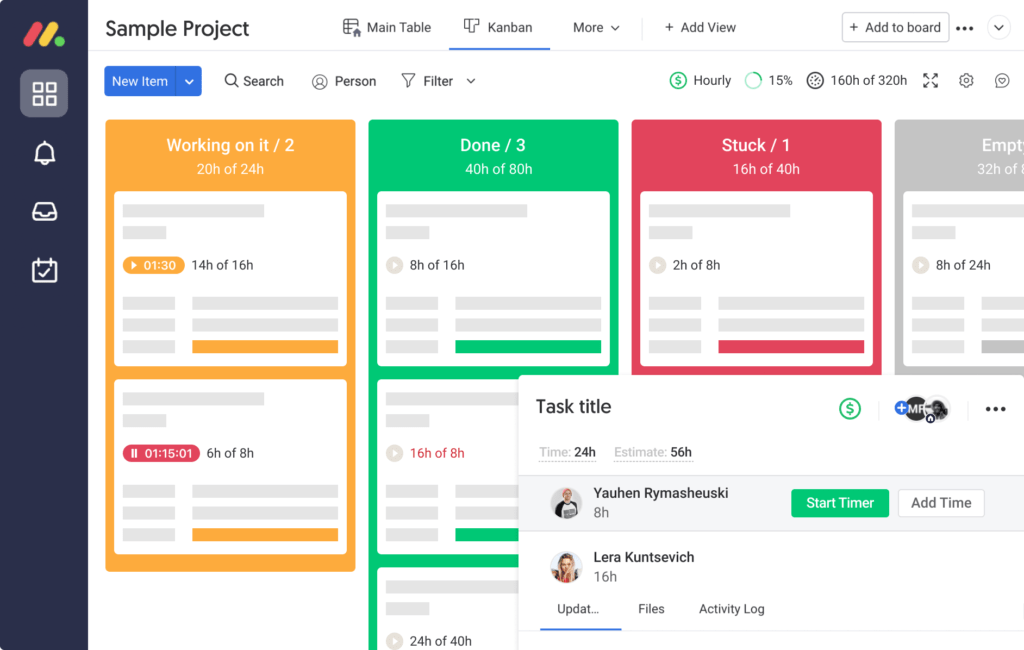 By integrating Everhour and Monday, you'll get all the same features for time tracking, billing, budgets and estimates. Everhour works with all the most popular project management systems and equally complements them, so you can choose any. At any time you can change the system, but keep all your time keeping data with you.
---
Asana vs Monday: Pricing
Asana
1️⃣ The Basic plan is free that gives three views as mentioned, basic workflows and reporting. The basic free version can include up to 15 team members.
2️⃣ The Premium account is for $10.99 per month which gives you access to custom fields, unlimited dashboards, and unlimited reporting across unlimited projects among others.
3️⃣ The Business plan is the most expensive and costs $24.99 per month per user. The features include advanced reporting options and four views compared to three views in the lower-priced options.
Monday
1️⃣ The Individual plan is for free and can include up to 2 members with unlimited boards and more than 200 templates.
2️⃣ The price for the Basic plan is $8 per person per month.
3️⃣ Then there's a Standard account that costs $10 per month per person.
4️⃣ The Pro account is for $16 per month.
5️⃣ The enterprise solutions prices are customized according to the package.
Overall, Monday has better pricing than Asana. But if you prefer a free version, Asana definitely takes the cake.
---
Pros and Cons of Using Asana
User-Friendly Interface: Asana has an easy-to-use and intuitive interface that even beginners won't have a hard time using it.
Customizing: Asana gives you the option of customizing almost every function you perform.
Integrations: The over 150 integrations make Asana a favorite for enterprises.
Multiple Views: Asana users can manage views according to their individual preferences. For example, they can see lists, project timelines, boards, and timelines.
Team Collaboration: The teams can communicate in a single space.
No Single View for All Tasks: You cannot manage all the tasks on a single screen and has to switch between tabs.
No More Than One Assignee for a Single Task: You cannot assign a task to more than one person.
The Software is Expensive: The pricing plans can be expensive for small businesses.
Pros and Cons of Using Monday
Colorful User Interface: If you see the interface, Monday has a vibrant and colorful display that can cheer anyone up.
Multiple Departments Can Collaborate: Monday makes it easy for the inter-departmental team to track tasks and projects.
Multiple Assignees: Unlike Asana, Monday.com lets you assign a single task to multiple people.
Multiple Integrations: Over 50 integrations allow many functions on the tool other than the built-in features.
Intuitive Interface. Just like Asana, Monday also has an intuitive interface making it easier to use even for beginners.
Task Related Functionalities Need Training: You cannot directly start working on Monday.com. It requires training if you're working in an enterprise setting due to the complexity of task management.
The Free Plan Doesn't Allow Team Members: The maximum number of team members for Monday.com's free plan is two, which is basically useless if you're managing teams.
---
Other Alternatives
Other than Monday.com and Asana, there are other project management software tools you can use. Some other excellent options include:
All these software programs have pros and cons, and it is essential to remember that there's no perfect software. Your team needs to get adjusted to one thing or another, whichever project management tool you go for.
For further reading, you can also check out this comprehensive list of Asana alternatives and Monday alternatives.
---
Asana vs Monday Debate: the Bottom Line
This Asana vs Monday comparison reveals that both the software programs have some positives and some negative aspects as well. For the integrations and customization part, Asana performs slightly better than Monday.com. However, in the pricing and interface comparison, Monday.com takes the lead.
Both project management tools are designed for small and medium enterprises and have pretty much the same structure. At the end of the day, it all boils down to your personal preference and organizational needs. I hope this review helped you choose which project management tool is more suitable for you.