Monday.com is one of the top software for companies looking to manage their projects and tasks more effectively. However, it lacks many fundamental functionalities such as making it pretty difficult to track progress and tasks on the platform. It can be settled with a help of Monday time tracking integration, however, not all companies are willing to invest in them. Aside from that – the interface can also be overwhelming and confusing for users who are not used to working in an online environment.
And whether you share the same opinion as we do or Monday.com isn't cutting it for you and your team for another reason such as the lack of an attendance tracker – in this read, we will go over the best Monday.com alternatives that are currently available on the market.
But before we do that – let's take a look at why you need a Monday.com alternative in the first place.
❓ Why You Need Monday.com Alternatives
Monday.com is arguably one of the top software of its kind. However, it does fall short in some areas, which is why there are many people in need of a Monday.com alternative. For example, their free and basic plans (the cheaper options), don't provide that many features, which kind of forces you to avail of their more expensive packages, which might be out of budget for some.
Additionally, there are specific features that we feel don't exactly cut it when stacked up against the Monday.com competitors.
On top of that, there are some companies who simply don't enjoy using Monday.com because it doesn't suit their needs at all. And if that is the case for you – below, we will take a look at the 20 best Monday.com alternatives.
🤔 20 Monday.com Alternatives
To help you find the perfect alternative that best meets the needs of your workplace – we spent countless hours researching what's currently out there and narrowed down our selection to the top 20. And below, you will get to see our honest thoughts on all 20 of them.
Everhour
💰 Pricing: Everhour costs $10 per user per month (starting at 5 users as a minimum). If you decide to pay annually – the price per user per month comes down to $8.50.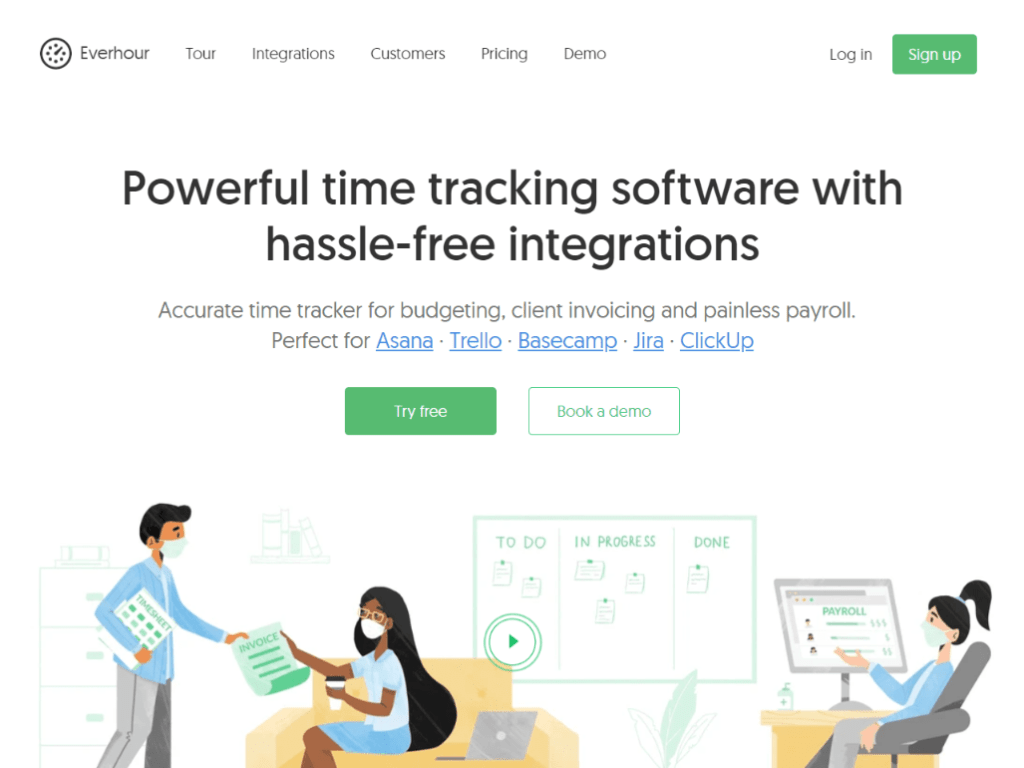 Our absolute favorite Monday.com alternative is Everhour. And one of the biggest reasons for this is because of Everhour's great interface. Monday.com's major advantage over the competition is its intuitive and modern interface, but Everhour can definitely give it a run for its money. With Everhour, every single feature is available at your fingertips, whether you're using a desktop computer, laptop, or smartphone.
On top of that, Everhour also has a simple but very effective time tracker, which can help you with employee time tracking so that you know exactly how much time is spent working on the different projects that are currently underway. This will not only help you optimize your workforce's time efficiency and productivity but also help you with billing your clients accordingly.
Everhour also has a range of great budgeting, task management, and planning features that are staples of any workplace management software. Users can even integrate Everhour with other work-related apps, further increasing productivity and efficiency at the workplace. Also, Everhour serves as a great work hours tracker and a time clock app, making your admin's work a piece of cake.
Asana
💰 Pricing: Asana is free forever for up to 15 members. The premium plan is $10.99 per user per month when billed annually. Otherwise, it's $13.49 per user per month when billed monthly. As for the business plan, it's $24,99 per user per month when billed annually and $30.49 per user per month when billed monthly.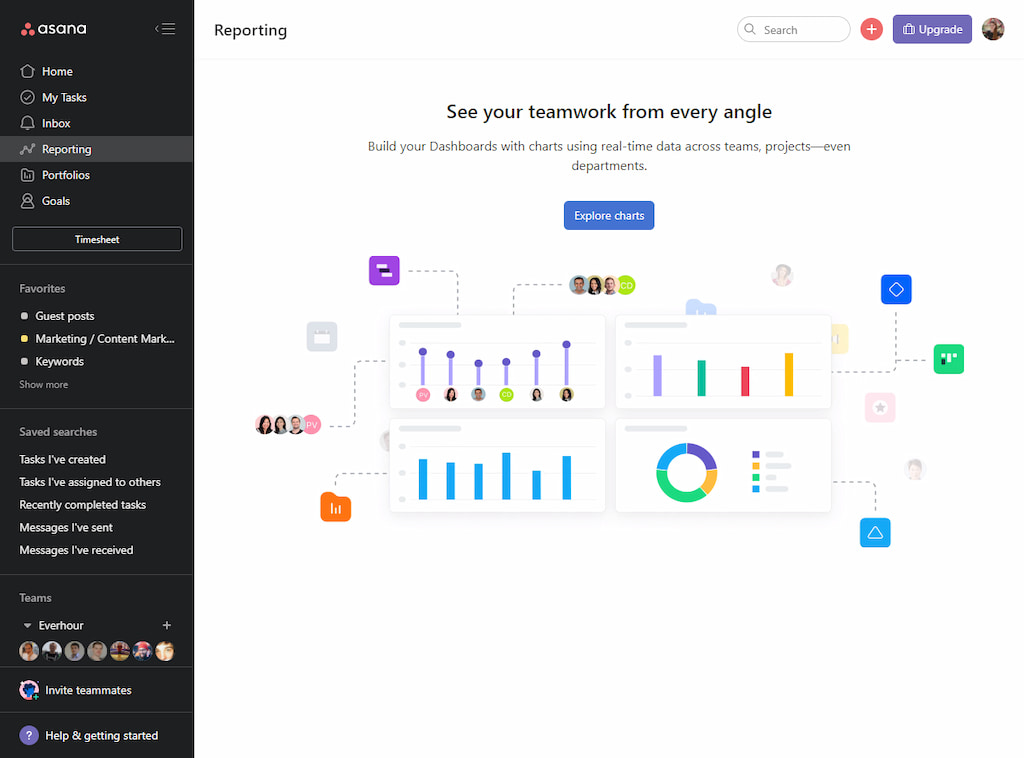 Asana is a web and mobile work management platform designed to help teams organize, track, and manage their work. The beauty of this app is that you can use it for both big and small tasks. This is ideal for teams that have to deal with a range of assignments that can vary quite greatly from time to time.
When you use Asana, one feature you will definitely enjoy is its simplified interface. With that said, this interface allows users to focus on the task at hand and really understand how a particular task is supposed to be done. In turn, this will increase efficiency and productivity amongst team members.
Asana's features focus on three major applications: project management, process management, and integrations. With the tool, you can start with the big picture, explain it to the team, then proceed to the fine details and start assigning the smaller tasks after breaking up the project.
From there, you can start integrating different digital tools. For example, if you use certain Adobe software for interior designing and other purposes, you can integrate the Creative Cloud in seconds to further streamline operations.
JIRA
💰 Pricing: Though free for the most part, for larger teams of 10+ people, companies can expect to pay $7.50 per user for the standard plan, $14.50 per user for the premium plan, and starting from $128,000 annually for companies with 801-1000 users.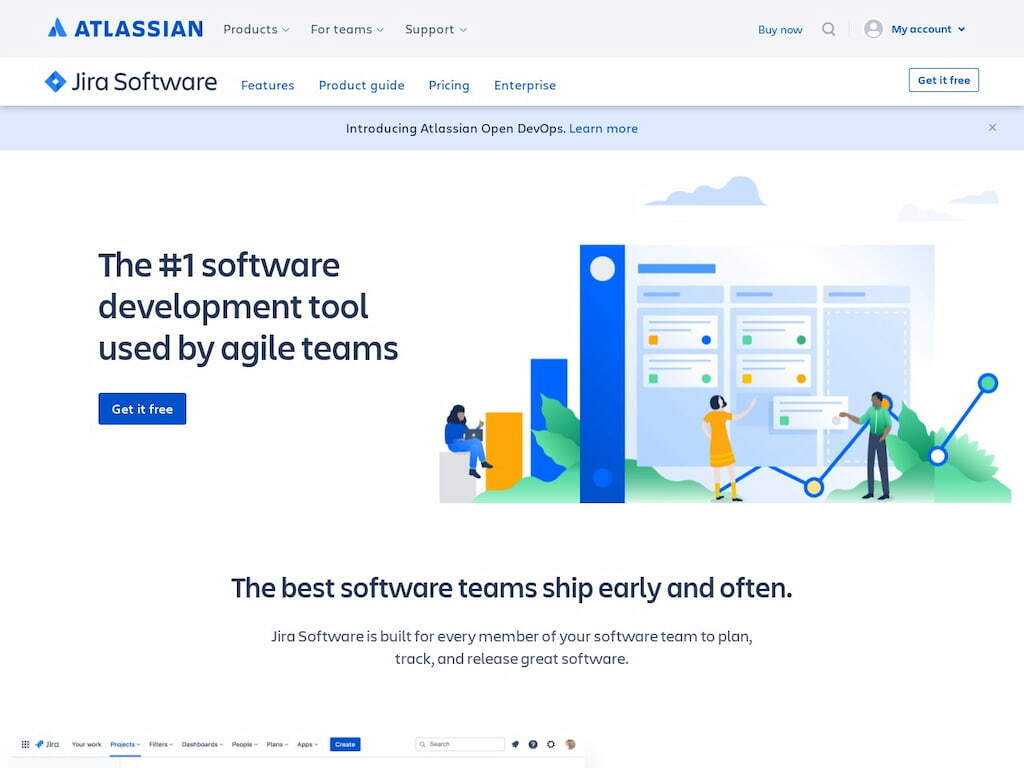 JIRA is another free Monday.com alternative that can supply you with just enough functionality without requiring you to spend money. In fact, you don't even need a credit card to sign up for JIRA, which means you can create an account in minutes and add up to 10 different accounts.
One of the reasons why JIRA is easily on par with Monday.com and is so widely used across project managers is due to its streamlined functionalities that help companies break down projects and ideas into smaller and more manageable tasks.
The downside to JIRA is that it isn't optimized for large teams with many members. However, it does have more than enough features to handle small and medium projects with great effectiveness.
Trello
💰 Pricing: Free, there are also paid plans. The standard plan costs $5 per month per user when billed annually – otherwise, it's $6. The premium plan costs $10 per user per month when billed annually or $12.50 per user per month when billed monthly. As for the enterprise plan, that starts from $17.50 per user per month billed annually or $210 billed monthly.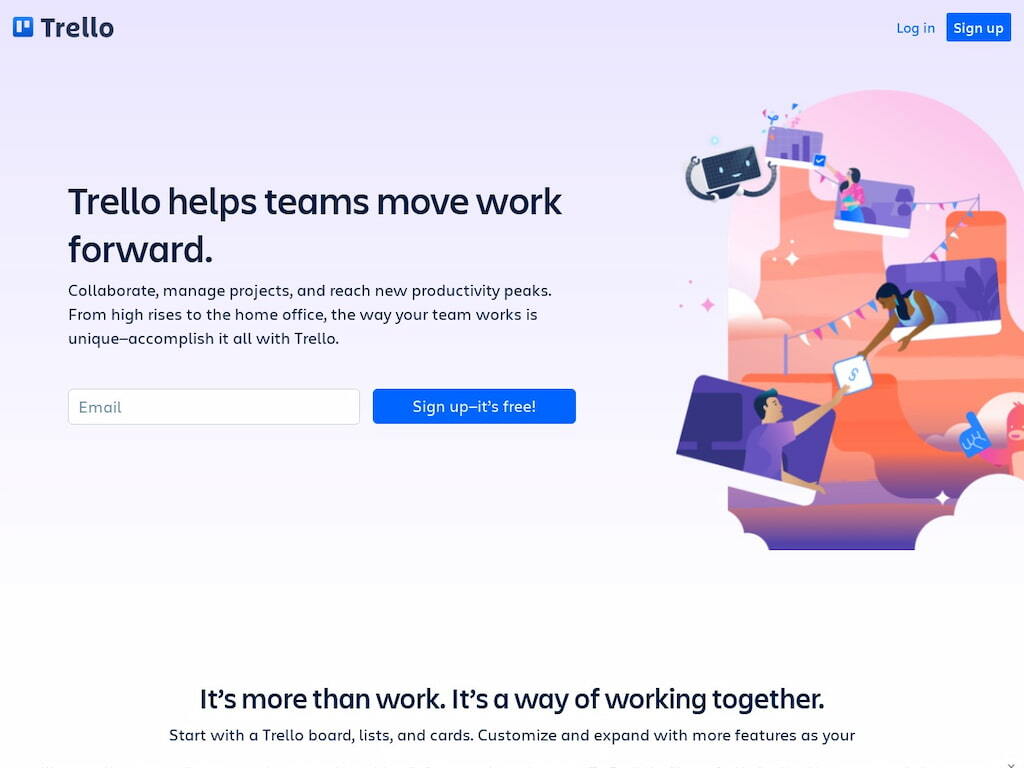 Trello is a great software designed to keep track of your tasks and projects. You can create boards for each project, and then add lists and cards to the board. The cards can have checklists, notes, and due dates. You can also invite other people to collaborate on the board with you. Trello is a great way to stay organized and get your work done.
Aside from that – the reason we chose to highlight Trello is that it can improve teamwork with great effectiveness without adding any extra complexity.
Wrike
💰 Pricing: Wrike is free for an unlimited number of users, however, you will be capped at 2GB of storage. If you require more storage, you can go for the professional plan, which is $9.80 per user per month, the business plan, which is $24.80 per user per month, or enterprise plan, which you'll need to request a quote for.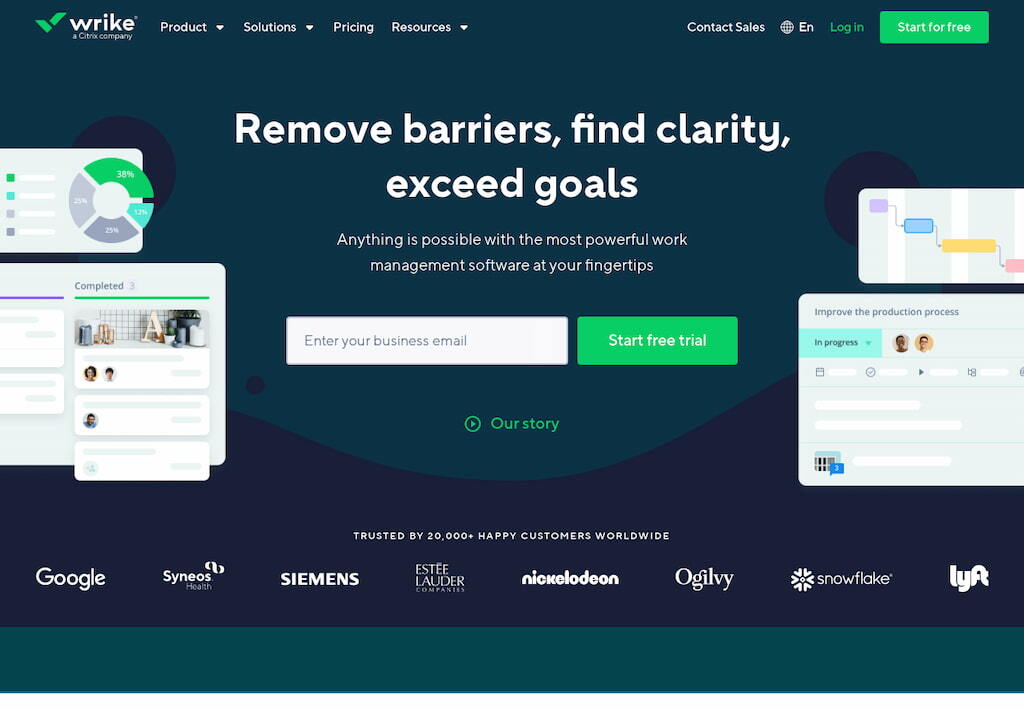 A big reason companies need project management software is to streamline efficiency and productivity while minimizing complications and any miscommunication. This is something Wrike was designed to fix, which is why it's one of the most effective project management software available on the market today.
The reason Wrike helps companies simplify communications is by bringing everything to one platform. Instead of communicating on WhatsApp and using other apps for assigning tasks and scheduling, you can do all of that on Wrike. What's more, you can customize the interface based on your team's needs, which is a huge plus.
Basecamp
💰 Pricing: the Basecamp personal plan is free for up to 20 users and 1GB of storage. The business plan is $99 per month.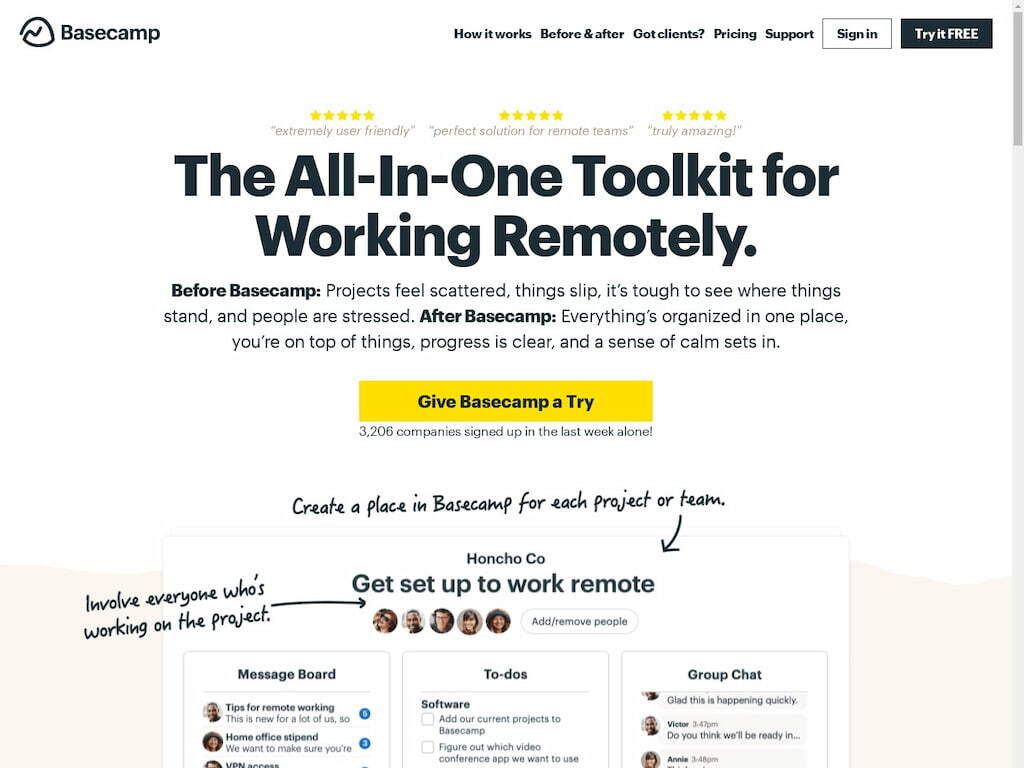 Basecamp is your all-in-one tool kit for project management. With Basecamp, you can easily organize projects and tasks to keep everything from getting cluttered and easily complicated. Basecamp allows you to organize big projects and break them into smaller tasks to ensure that you and your team members don't fall behind schedule.
Basecamp is particularly useful if the majority of your team members are remote workers as the software has unique features made to optimize remote work. One of their slogans is "One place, not all over the place." – so if you would like that for your workplace – check out the Basecamp website and learn more about this world-class project management & communication software.
Zenkit
💰 Pricing: Personal, which is free – plus, business, and enterprise. You can pay for Zenkit monthly and annually and both in dollars and euros.
Zenkit is a simple yet highly effective solution for teams looking to optimize their workplace productivity. This software comes with tons of intuitive features that make the management of projects easy, simple, and very straightforward.
With this project management and timesheet app, you can create lists, assign tasks, and collaborate with team members with ease without any complications or miscommunications in the process. That's why since its conception in 2016 – Zenkit has become a favorite for companies all over the world.
Bitrix 24
💰 Pricing: Free, Basic, Standard, and Professional. The basic plan costs £36 per month and allows up to 5 users. The standard plan allows for up to 50 users and costs $74. The professional plan costs £149 per month and you can have unlimited users. If you pay annually – you can save up to 20%.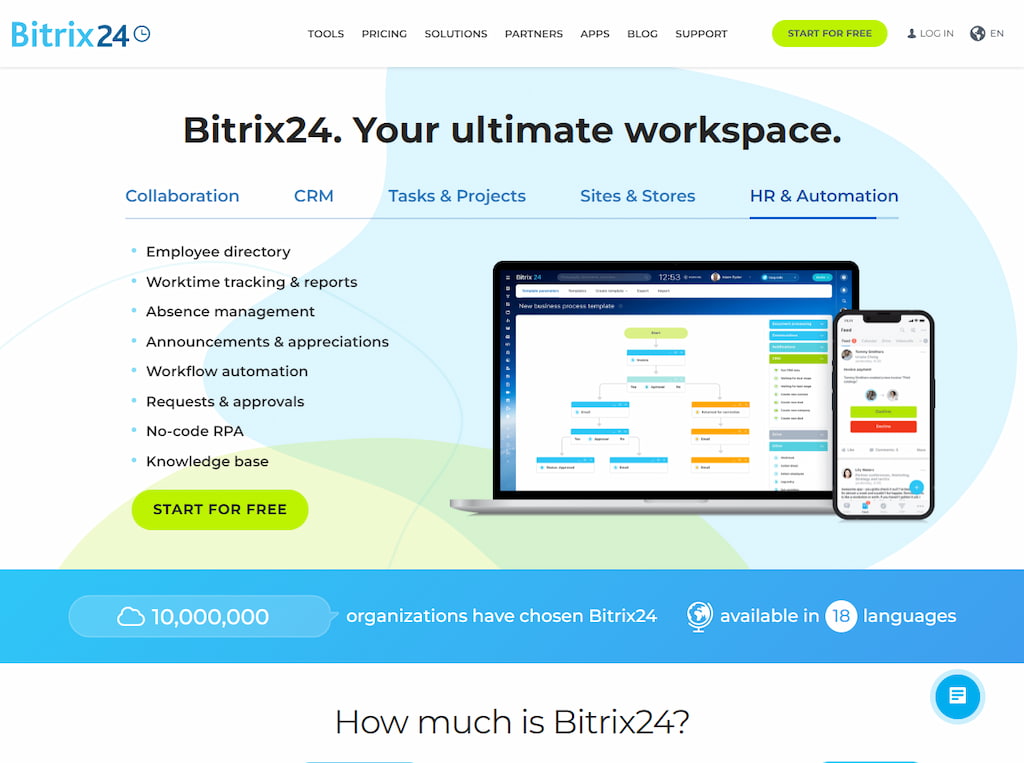 You can do just about everything when using the Bitrix24 software, which is why we didn't think twice about featuring it on this list. With Bitrix24, you can chat with team members, conduct video meetings, assign tasks, and give yourself and your team a fair amount of cloud space.
It's quite literally the perfect all-in-one project management software. Bitrix24 even has a pretty decent free plan for companies on a tight budget looking to try out the features. But if you want to utilize the software to the best of its abilities, we recommend opting into some of the premium packages.
nTask
💰 Pricing: Premium ($3/month – billed yearly), Business ($8/month – billed yearly), Enterprise – custom plan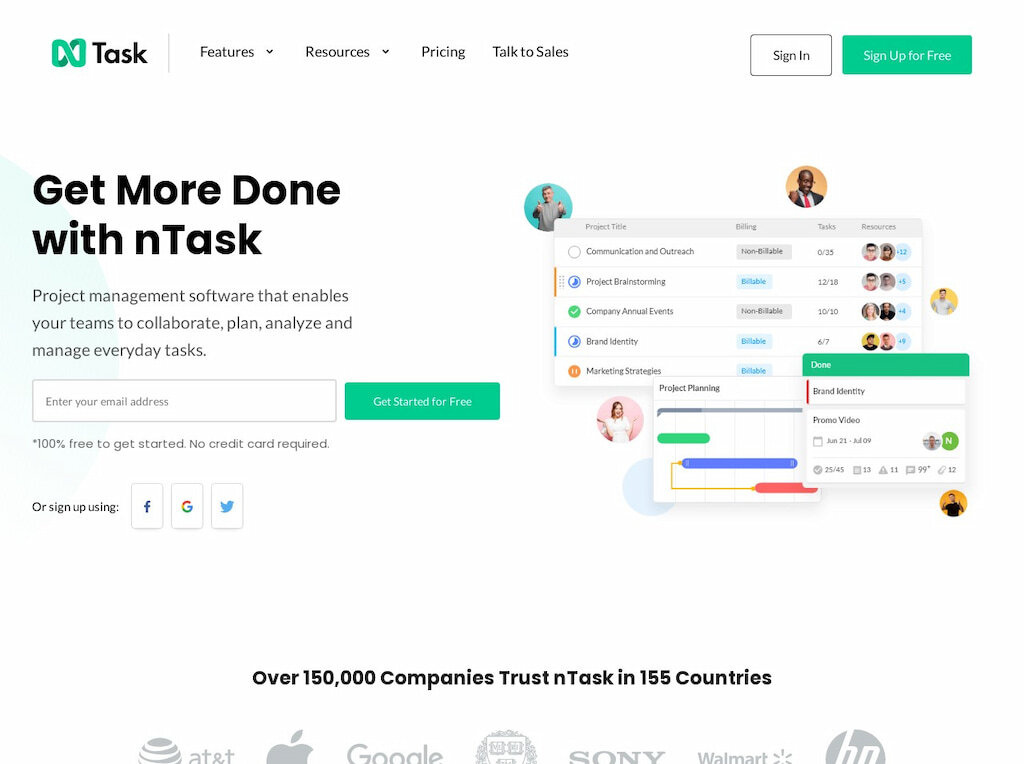 The reason we're highlighting nTask as a worthwhile Monday.com alternative is because of one specific feature: Kanban boards. Granted, Monday.com has this feature as well, but the software doesn't do it anywhere near as well as nTask. If you find the organization of tasks and assignments necessary, then nTask is great software for you and your company.
nTask has a fairly simple interface that allows you to view all the tasks on one page. From there, all the additional features to optimize your processes are available at your fingertips.
Additionally, nTask can quickly visualize how far along you are in the process. This is a great feature for teams as it can show if you're behind or ahead of schedule. On top of that, these intuitive visuals are also ideal for presentations and showing the team what needs to be done.
Redbooth
💰 Pricing: Pro, business, and enterprise. The pro and business plans cost $9 and $15 per user per month when billed annually and $12 and $18.75 per user per month when billed monthly. For the enterprise plan, you need to get a custom quote.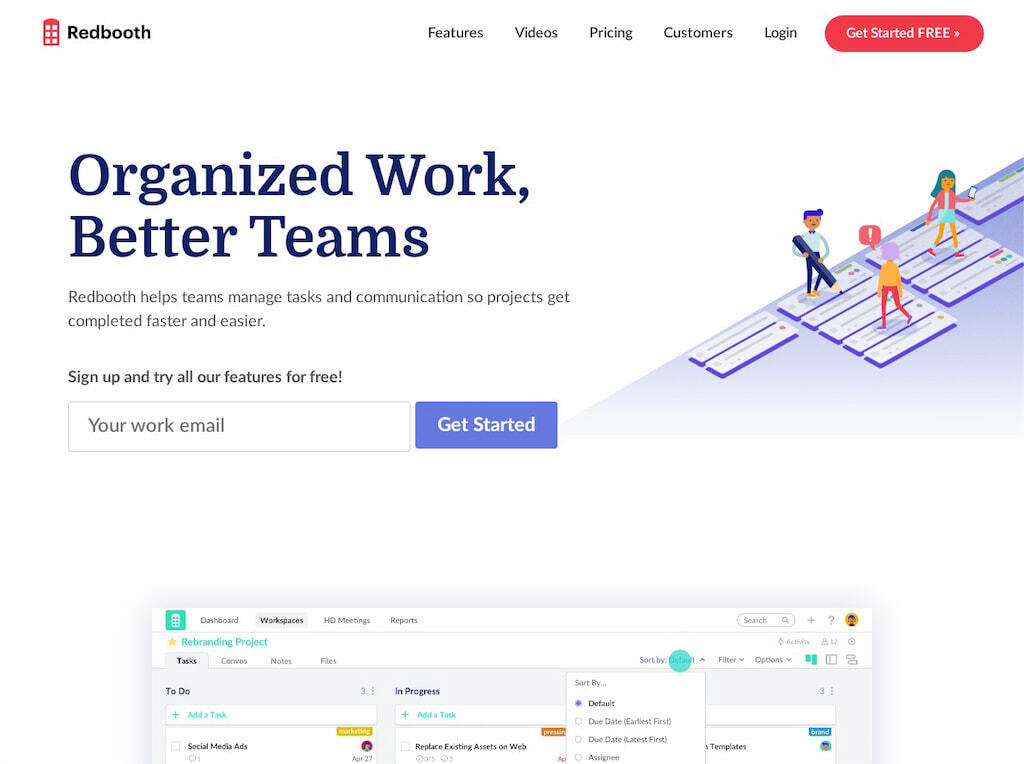 Redbooth is another project manager designed to handle every work task that you and your workforce might face. Aside from viewing and assigning tasks, you can conduct meetings, generate reports, and take a look at the bigger picture through the dashboard, which will help you and your team stick to the schedule.
Another cool feature of Redbooth is that this software is also optimized for mobile use, meaning if you're away from your computer, you can still stay up to date with how your team is progressing.
Teamwork
💰 Pricing: Free Forever, Deliver, Grow, and Scale. The Free Forever plan is free for up to 5 users. The Deliver plan is $10 per user per month, the Grow plan is $18 per user per month, and for the scale plan, you need to reach out to Teamwork's sales team. All plans are billed annually.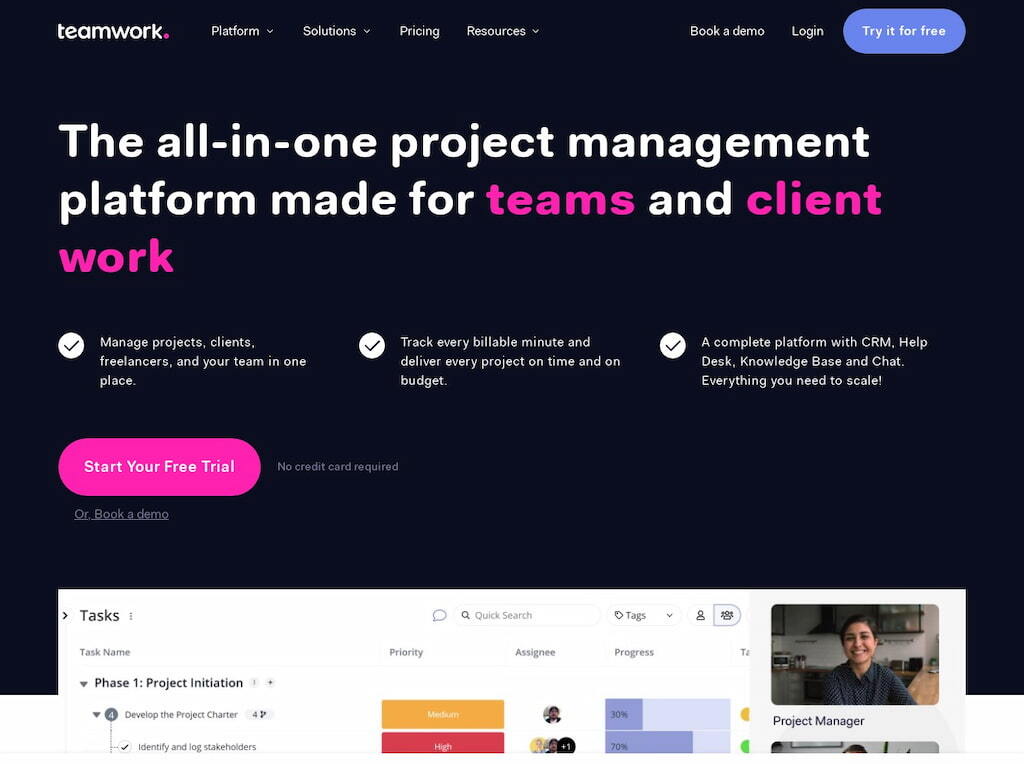 We really enjoyed Teamwork because of how well it incorporates collaborations between the different team members. Nowadays, it's important for teams to work smoothly, and this software can facilitate that extremely well.
While Teamwork is a fairly simple project management and time clock app that doesn't require that much technical knowledge, it does a great job at helping you schedule and really plan things out with the team. This way – everyone will know what they need to do and when they need to do it.
Workzone
💰 Pricing: Team, professional, and enterprise. Respectively, they cost $24, $34, and $43 per user per month.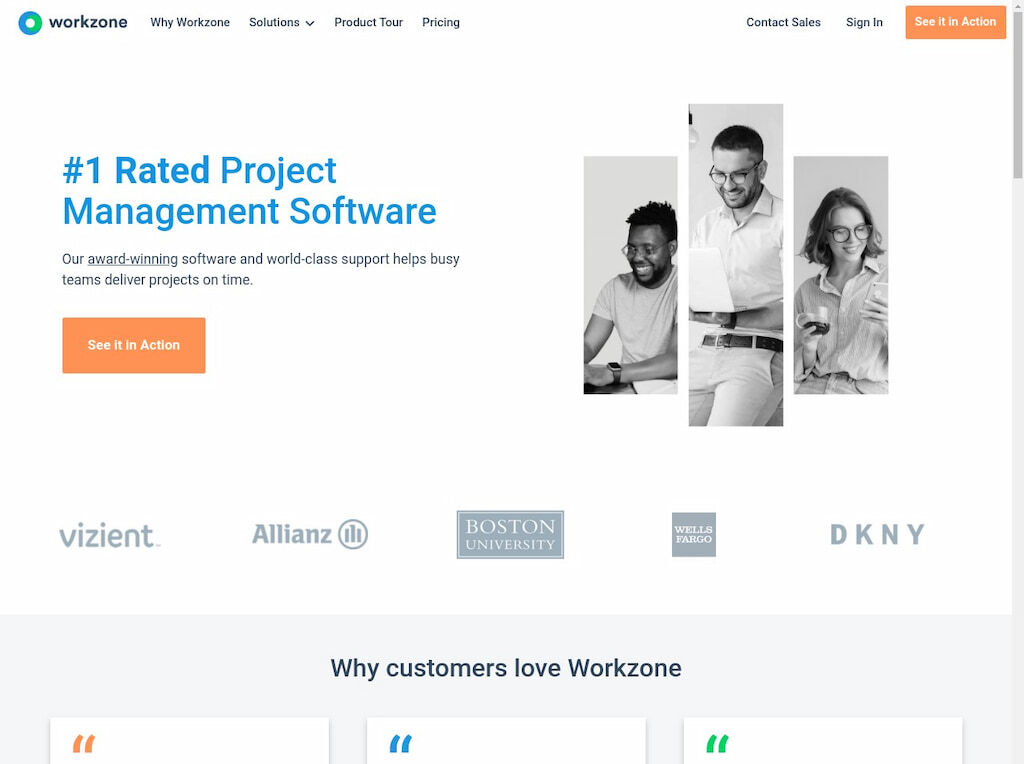 Workzone is one of the top-rated management apps currently available on the market. It was designed to help busy teams deliver projects on time. This can be done thanks to its simple yet interactive interface, which makes every aspect of Workzone very easy to use.
Additionally, you can measure specific productivity metrics in real-time. This way, the entire team can keep track of their progress and increase the effort in areas where the project is falling behind schedule. Team members can also make individual to-do lists which allows them to really focus on their specific tasks.
MavenLink
💰 Pricing: The price of MavenLink depends on your industry and needs.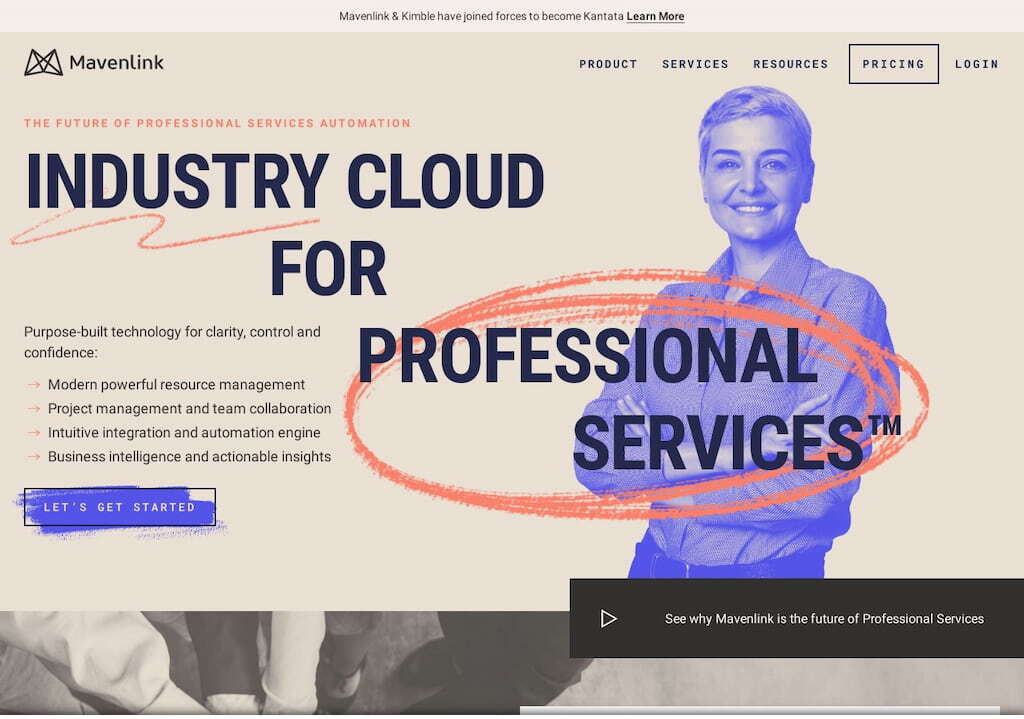 Mavenlink is a cloud-based software designed particularly for teams that thrive in a remote working environment. It has tons of features specifically designed for remote workers, which is why it's ideal for remote teams looking to bring their productivity to the next level.
It's a widely trusted software that tons of companies use. This could be your all-in-one tool for project management and is one of the best Monday.com alternatives available today.
Project Manager
💰 Pricing: Starter, team, business, and enterprise. The starter plan is free forever for up to 3 users. The team plan costs $11.50 per user per month billed annually, the business plan costs $20.50 per user per month billed annually, and for the enterprise plan – you need to discuss that with the sales department.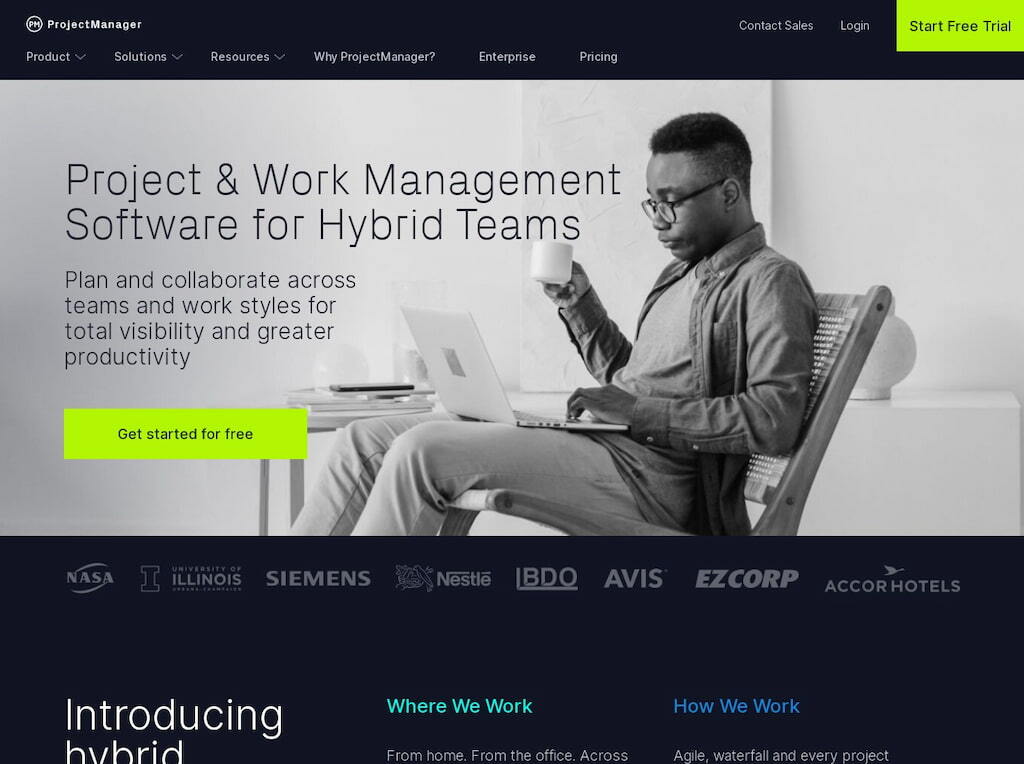 Project Manager is an online tool that helps project managers to plan, track, and report on their projects. It has a wide range of features that includes project management templates, task management, resource management, Gantt charts, and more. Project Manager makes project management easier and more efficient for users.
The beauty of Project Manager is that it works equally well for both traditional and hybrid work teams. So, whether your workforce is in the same building or is spread out all over the world – this software can help your entire team come closer together.
Freedcamp
💰 Pricing: There is a free plan, a pro plan, a business plan, and an enterprise plan. The pro plan costs $1.49 per user per month billed annually, the business plan costs $7.49 per user per month billed annually, and the enterprise plan costs $16.99 per user per month billed annually or $19.99 per user per month billed monthly.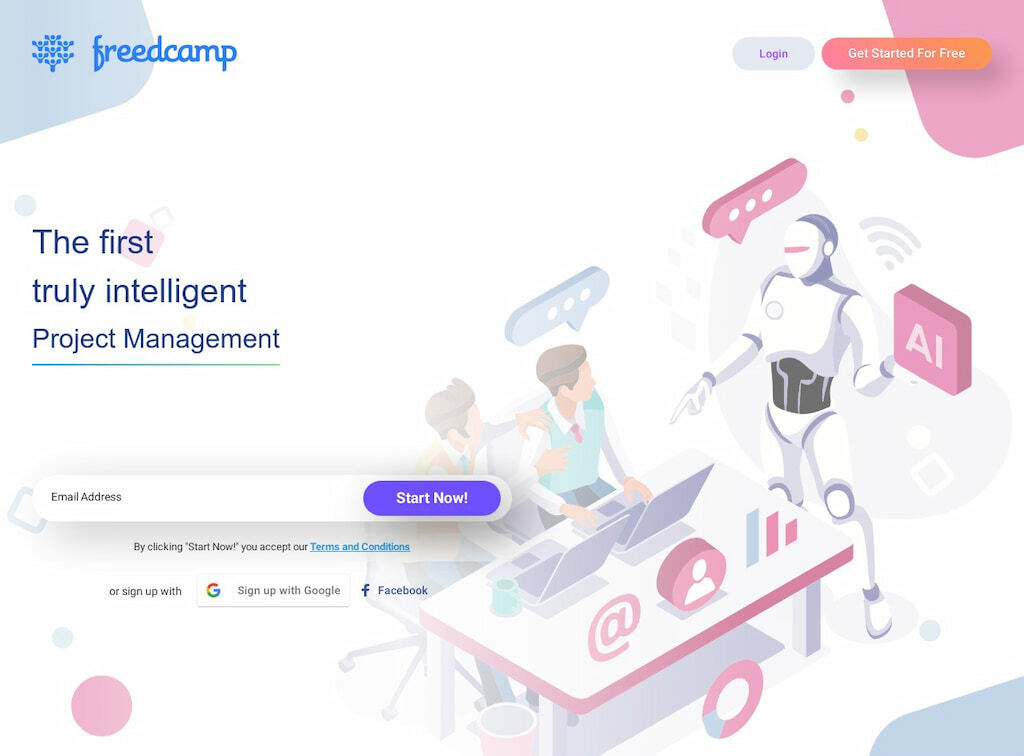 Using Freedcamp – you can create Kanban boards, task lists, subtasks, and Gantt charts. These are all great functionalities to make the management of projects a whole lot easier – completely for free.
Yes, you read that right. Freedcamp is a Monday.com free alternative that you can use without spending a single cent. Granted, there are some features that aren't available with Freedcamp, but it's great for startups and small companies that don't have a dedicated budget for workplace management software.
TeamGantt
💰 Pricing: Lite, Pro, and Business. The lite plan costs $19 per month per manager, the pro plan costs $49 per month per manager, and the enterprise plan is $99 per month per manager. If you want to pay annually – you can save 20%.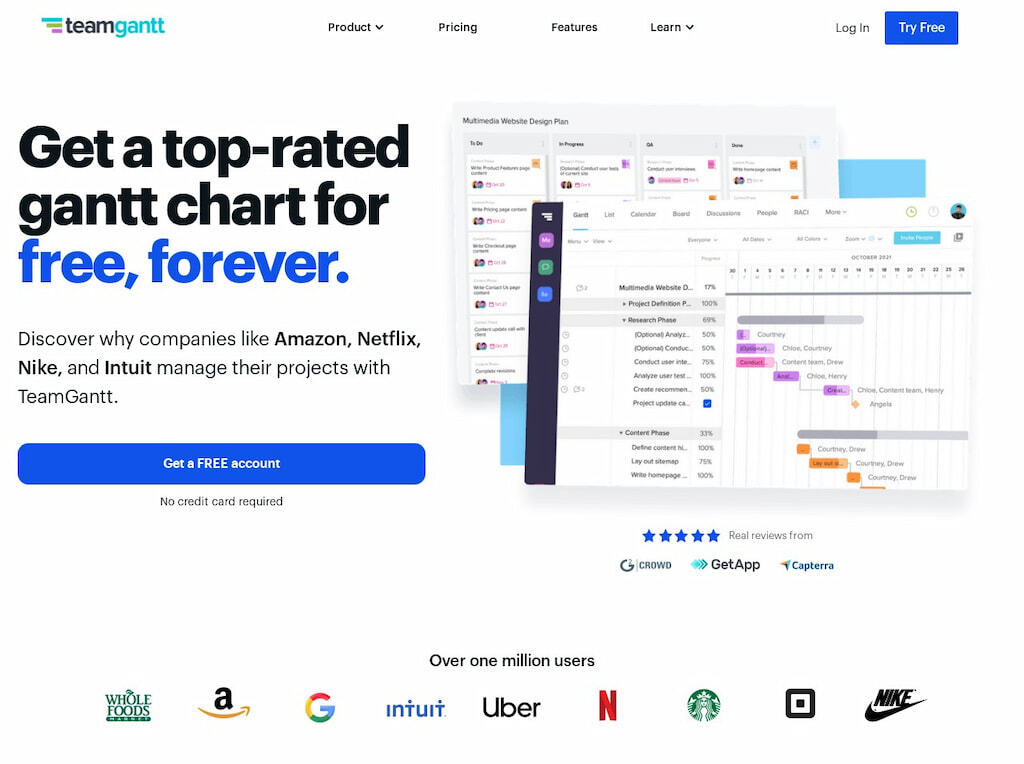 As the name suggests, this software focuses on Gantt charts. TeamGantt is the go-to option for companies like Nike, Amazon, Netflix, and more. This is because TeamGantt makes it incredibly easy to create interactive Gantt charts that clearly divide the work and show everyone what they need to do.
Additionally, this app does Gantt charts incredibly well in a way that Monday.com cannot match. And the best thing about it? It's free – forever.
NutCache
💰 Pricing: Free, pro, and enterprise. The pro plan costs $6 per user per month while the enterprise plan costs $12 per user per month.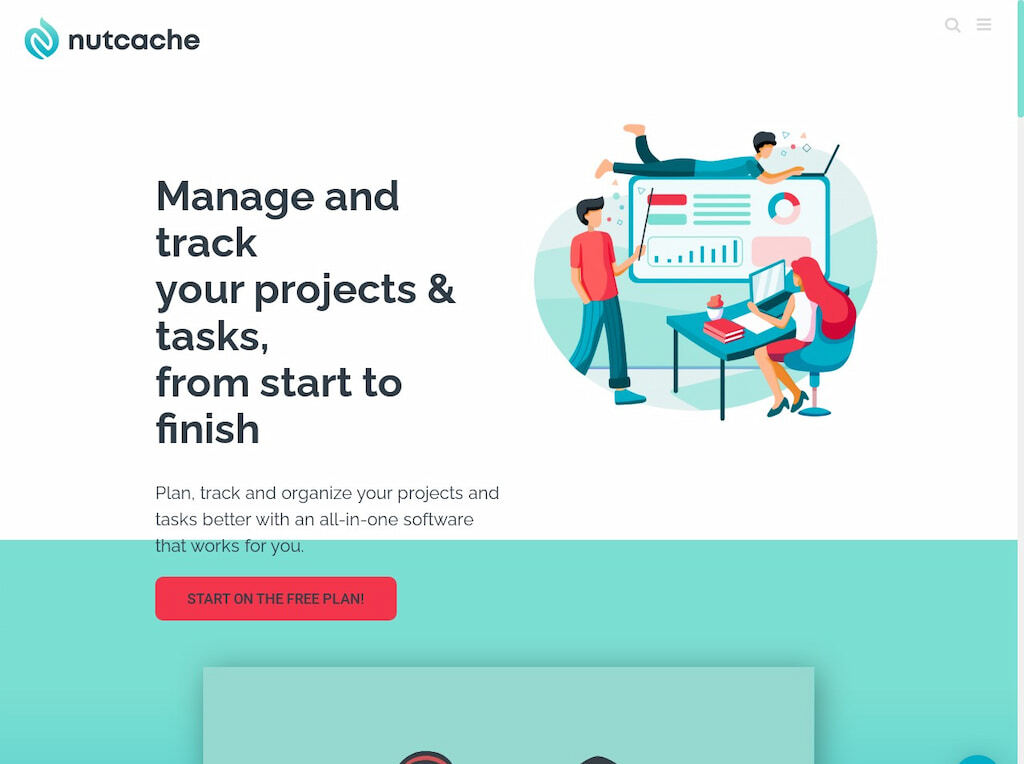 NutCache is another premium workplace management software designed to help project managers organize tasks, collaborate, follow a tight budget, and take a bird's eye view of how everyone in the team spends their time using the work hours tracker integrated within the app.
There's a free version of NutCache, but we have to admit that it isn't as functional as the premium version. So, if you plan to try out NutCache, we highly recommend going for their premium plans right off the bat.
Bloo
💰 Pricing: $50 per month and you get access to absolutely everything including the ability to add as many users as you need to.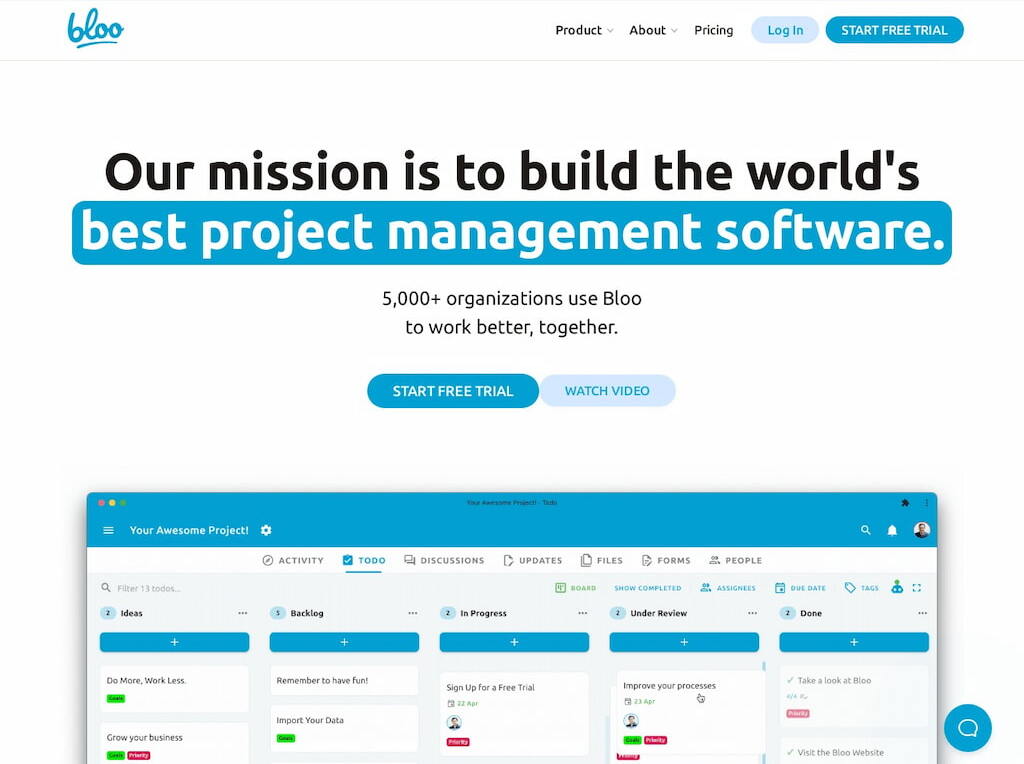 While Bloo isn't free, it's one of the more affordable apps like Monday.com, which is one of the reasons we chose to feature it in our top 20 list today. You can get Bloo for as low as $0.50 a month, which easily beats out most other workplace management software on the market.
Despite its low price point, Bloo offers a lot of functionality options. While it isn't as robust as some of the more premium options on the market, it gives you everything you and your team might possibly need when it comes to functionality. From project management to workplace communications, Bloo has you covered.
Smartsheet
💰 Pricing: $7 per user per month. And if you're not quite sure whether you want to go for any of the premium plans – you can try out the software completely for free.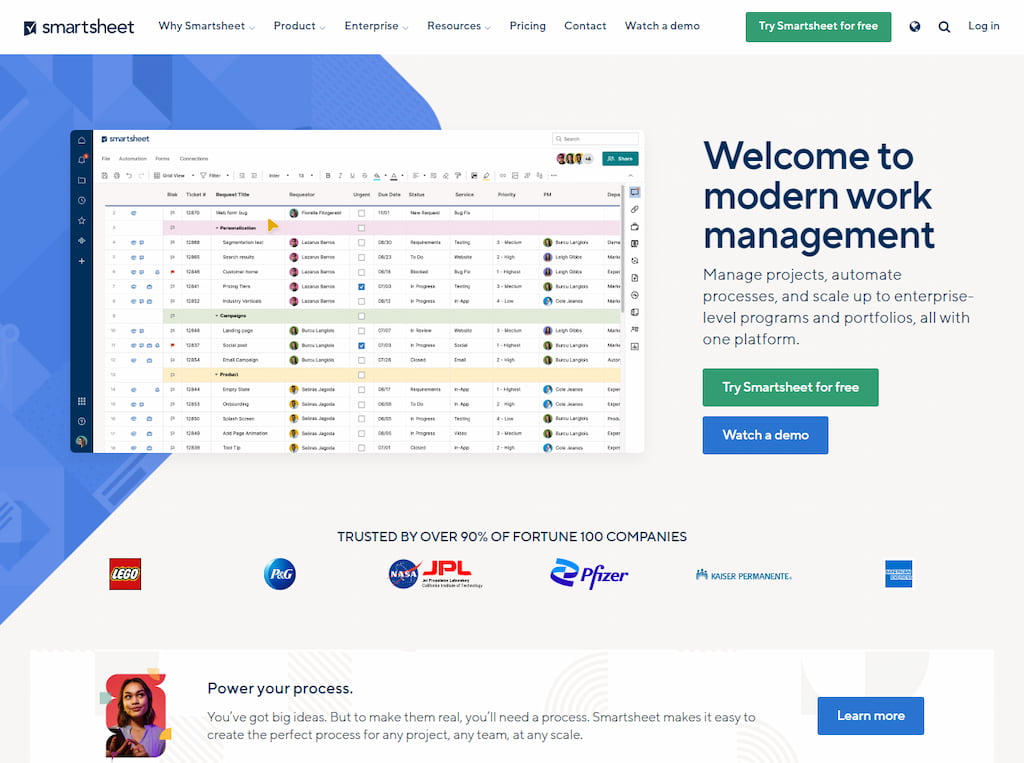 If you end up going for Smartsheet, you're one step closer to bringing your team into the future. Using this software – you can manage projects, automate processes, and scale up to enterprise-level programs and portfolios, all on one platform – Smartsheet. Granted – it is one of the more simple project management tools out there.
👍 Conclusion
Using the right project management software for your company, projects, and team members is crucial for the successful completion of projects and ensuring you don't fall behind schedule. And since Monday.com doesn't quite cut it for many companies (except Monday time tracking) – above you've had the chance to take a look at some of our top picks – including our favorite of them all – Everhour.