Redbooth Time Tracking: The Best Ways to Track Time in Redbooth
Maria Kharlantseva, November 11, 2022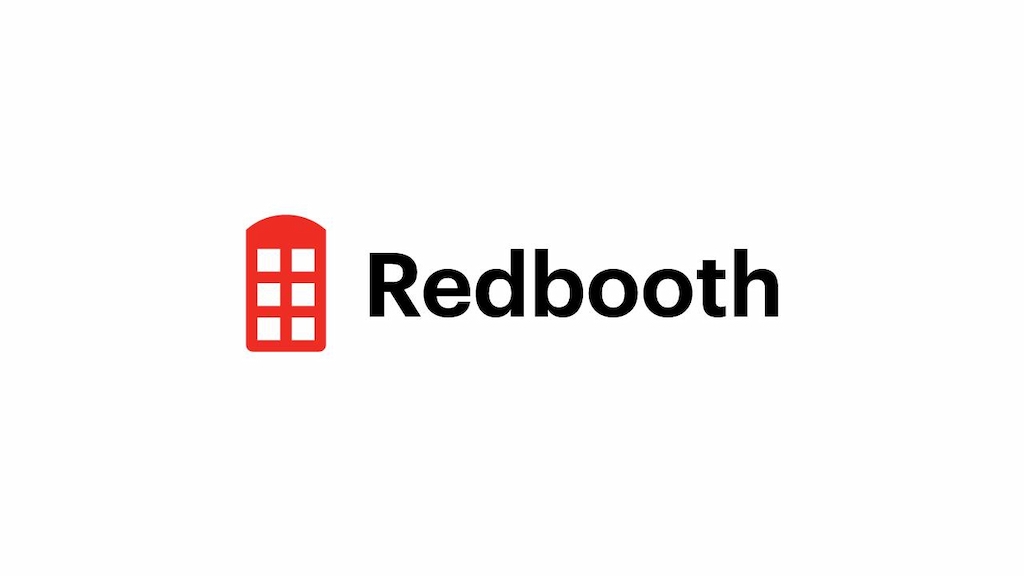 There are many benefits of time tracking, both for individuals and businesses. By keeping track of how you spend your time, you can become more productive and efficient by identifying areas where you may be wasting time.
Businesses can also benefit from time tracking. Companies can optimize processes and projects by understanding how employees spend their time, leading to increased productivity and profitability. Time tracking can also help businesses identify employee training and development needs.
Many individuals and organizations use project management tools to work collaboratively and keep track of tasks. One commonly used project management tool is Redbooth, which provides a host of useful features. This article explores the best ways to track time within Redbooth.
What is Redbooth?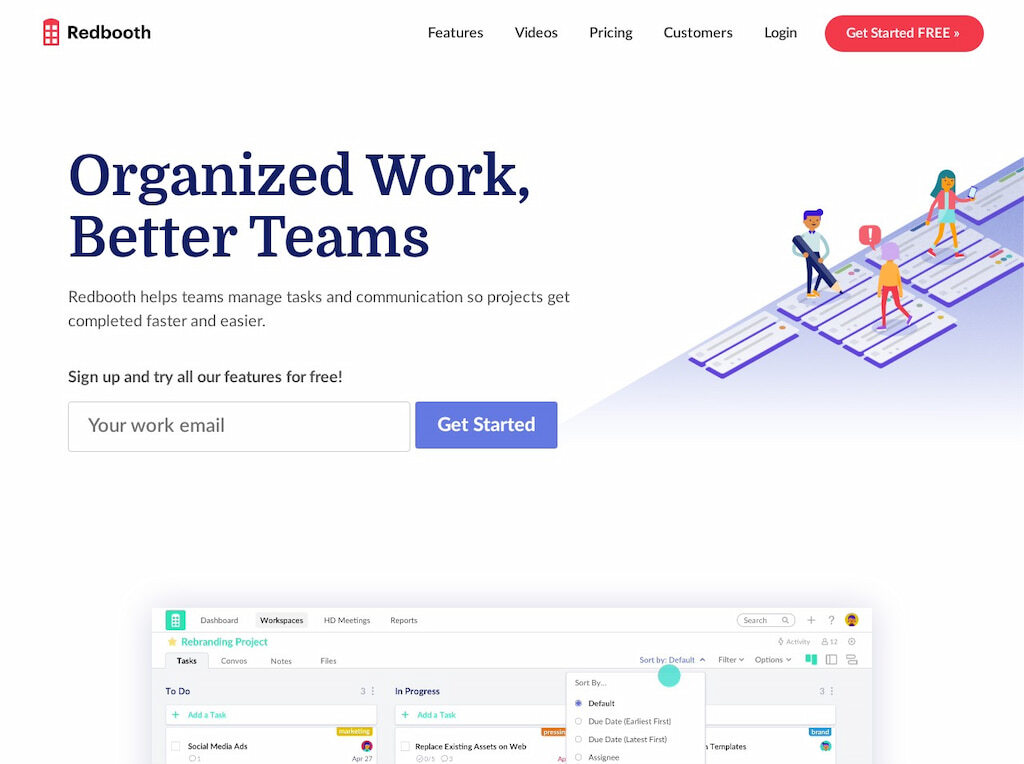 Redbooth is a project management software that allows users to track time, collaborate on projects, and manage tasks. The software is available to use free of charge, but a paid version is also available, which offers more features and integrations.
Redbooth is an excellent tool for managers and team members who need to track time spent on projects. The platform has various useful features, including kanban boards, task transparency which allows users to see who is working on tasks, dashboards to track progress and deadlines, visual project timelines, detailed productivity reports, high-definition video meetings to facilitate effective collaboration, and more.
How To Track Time in Redbooth
Another key feature of Redbooth is that you can track time on tasks. There are several ways to track time within the project management software: you can either track time natively or integrate Redbooth with a time-tracking tool.
Native Redbooth time tracking
Tracking time in Redbooth is relatively straightforward. However, you will need a pro or business subscription to use this feature. To track time spent on a task, all you need to do is post a comment where you can fill in the time spent. Then, the time will automatically appear in a report, where you can view the time you've spent on tasks by day, week, or month.
If you forget to add your time to a task, simply edit the time directly from the report and leave a comment explaining how you spent that time. You can export reports at any time and integrate all the time your team spent working on tasks into one report. Simply select 'All Users' within Redbooth and view time spent by task or user.
While tracking time in this way might work for some, it might not be right for others. For example, some users prefer to use a timer rather than entering time in manually after they've finished a task. The good news is that several time tracking apps are available that integrate with Redbooth!
The Best Redbooth Time Tracking Apps
If you need access to more advanced time-tracking features, we recommend integrating a third-party time-tracking app with Redbooth. There are dozens of excellent time-tracking apps to choose from, but we've narrowed it down to the four best Redbooth time-tracking apps.
Everhour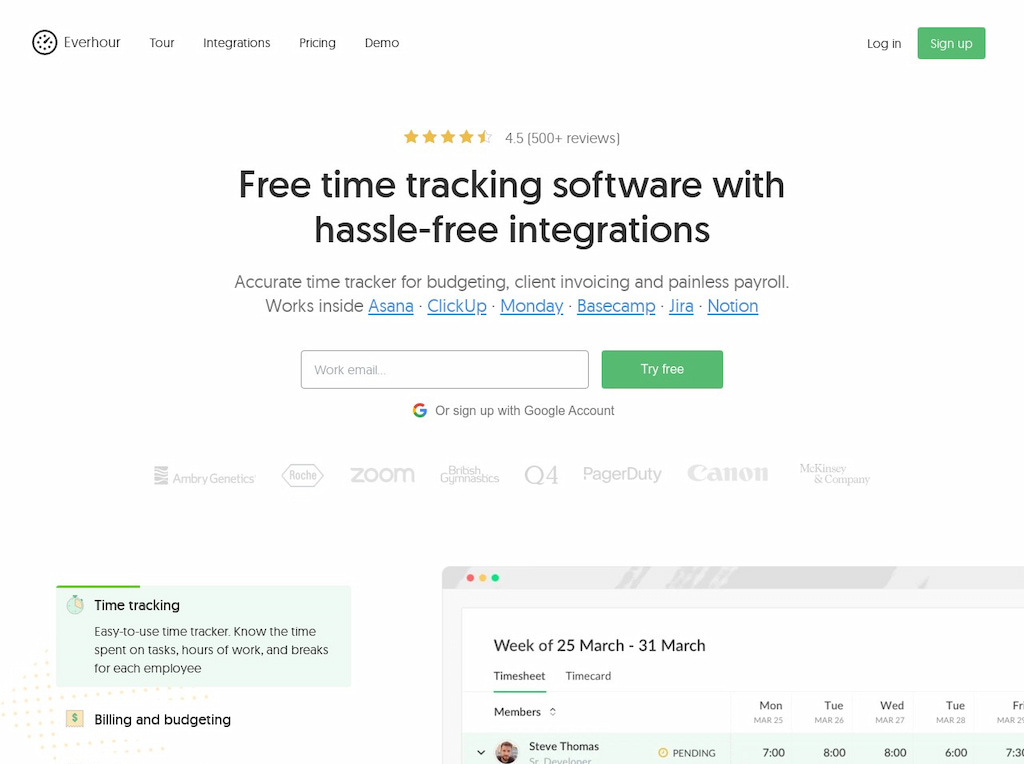 Everhour is a time tracker that allows you to see how much time you're spending on tasks, projects, and goals. It also has a number of features that make it unique among other time trackers.
The tool's best features include the ability to see how much time you're spending on tasks, projects, and goals using automatic and manual timers and access to a detailed analysis of your time usage that can help you optimize your workflow. In addition, you have the option to integrate with many popular productivity tools, such as Redbooth, Asana, Trello, and Notion, so you can easily keep track of all your work in one place.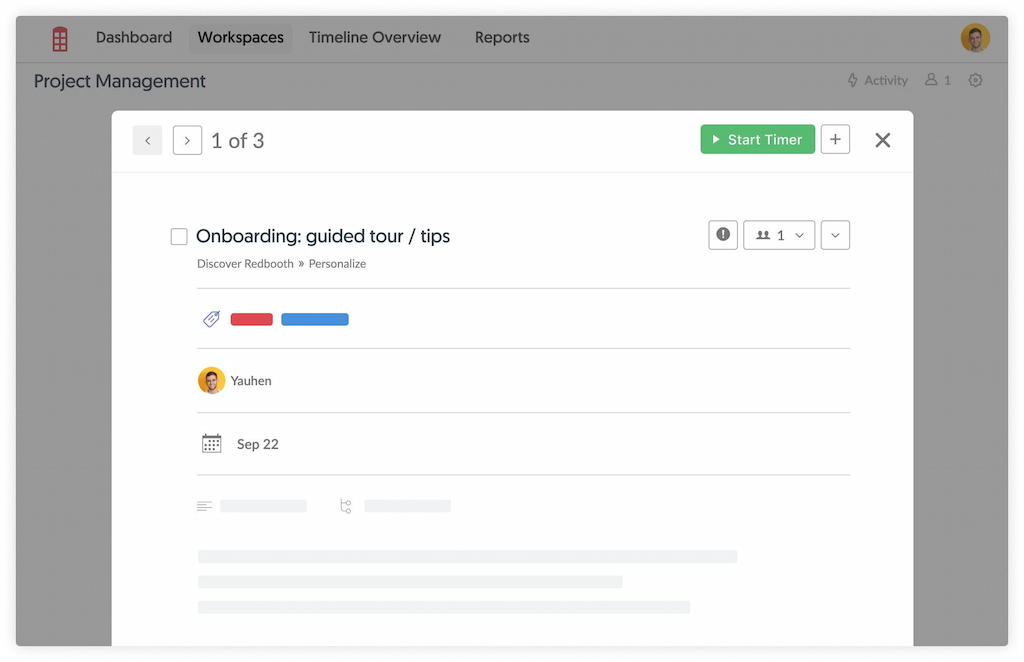 Furthermore, team management is easy with Everhour. The employee time tracking tool offers a time clock app that is effectively a work hours tracker. Plus, the timesheet app is a simple attendance tracker that lets users track their time in one easy-to-access place, meaning client invoicing and employee payroll is more accurate.
Everhour also has excellent reporting and invoicing capabilities that help to increase overall efficiency. For example, you can access live dashboards to see what your team is working on, view member profiles to see how individuals are progressing over time, and access project summaries that visualize the time and money spent on a given project.
Everhour's invoicing tools are extensive—the platform allows you to manage clients, create invoices based on tracked time and expenses, personalize invoices to include your logo and business details, and integrate with your chosen accounting platform, such as QuickBooks, FreshBooks, and Xero.
🔨 How to integrate Everhour with Redbooth
First, create an Everhour account and make sure to install the browser extension, the tool that allows Everhour to embed time-tracking tools into Redbooth's interface.
The Redbooth time tracking extension should appear in the toolbar. Click the extension and log in to your Everhour account, then click the pin icon to ensure the timer is visible at all times.
Then, you'll need to grant the website access. Open the Everhour browser extension and click on the avatar icon to access the Integrations page. Search for Redbooth and click 'enable.'
Next, head over to Redbooth, where you should see a 'Start Timer' button. Click the button to start the timer.
To view time entries, visit app.everhour.com. When you track time from Redbooth, the task title is copied into the time entry in Everhour, with a link back to Redbooth.
💰 Pricing
1️⃣ Everhour has a few price plans available: Free, Lite, and Team. The Free plan, which is available for up to five users, includes features such as unlimited time tracking, projects, reports, and integrations.
2️⃣ The Lite plan, which costs $5 per user per month and starts at two users, includes everything in the Free plan as well as useful features such as billable rates, costs, profit, clients, invoicing, and budgeting capabilities.
3️⃣ Everhour's Team plan costs $8.50 per user per month and starts at five users. The Team plan includes everything in the Lite plan, as well as time approval, time cards, time off, unlimited users, expenses, scheduling, and more.
RescueTime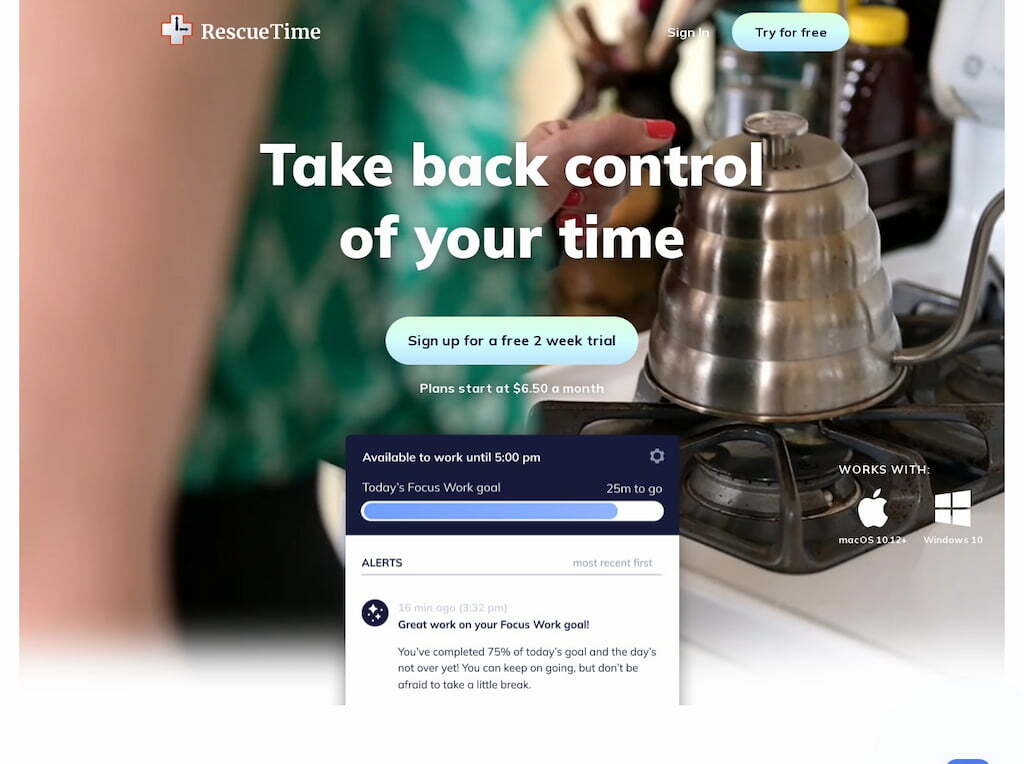 Another popular time-tracking tool is RescueTime. There are a few key features of RescueTime that make it one of the best ways to track time in Redbooth. First, RescueTime provides a built-in timer that makes tracking how much time you're spending on each task easy. RescueTime tool also automatically logs your activity, so you can see exactly where you're spending your time. Finally, RescueTime provides detailed reports so you can see which specific tasks are taking up the most time and where you could be more productive.
🔨 How to integrate RescueTime with Redbooth
Go to your account settings in RescueTime and select 'Integrations.'
Then, click on 'Add Integration' and select 'Redbooth.'
Enter your Redbooth login information and click 'Add Integration.'
Once you've added the integration, you'll be able to see how much time you are spending on different tasks in Redbooth. To do this, go to the 'Reports' tab in RescueTime and select 'Redbooth.'
Then, choose the project or task you want to see reports for. You will be able to see exactly how much time you have spent on the task, as well as a breakdown of where you spent it.
💰 Pricing
RescueTime offers several pricing plans: Lite and Team. The Lite plan is free, and the Team plan starts at $6.50 per user per month. The paid plan also offers a 14-day free trial to give users a chance to get to know the platform before subscribing.
Hubstaff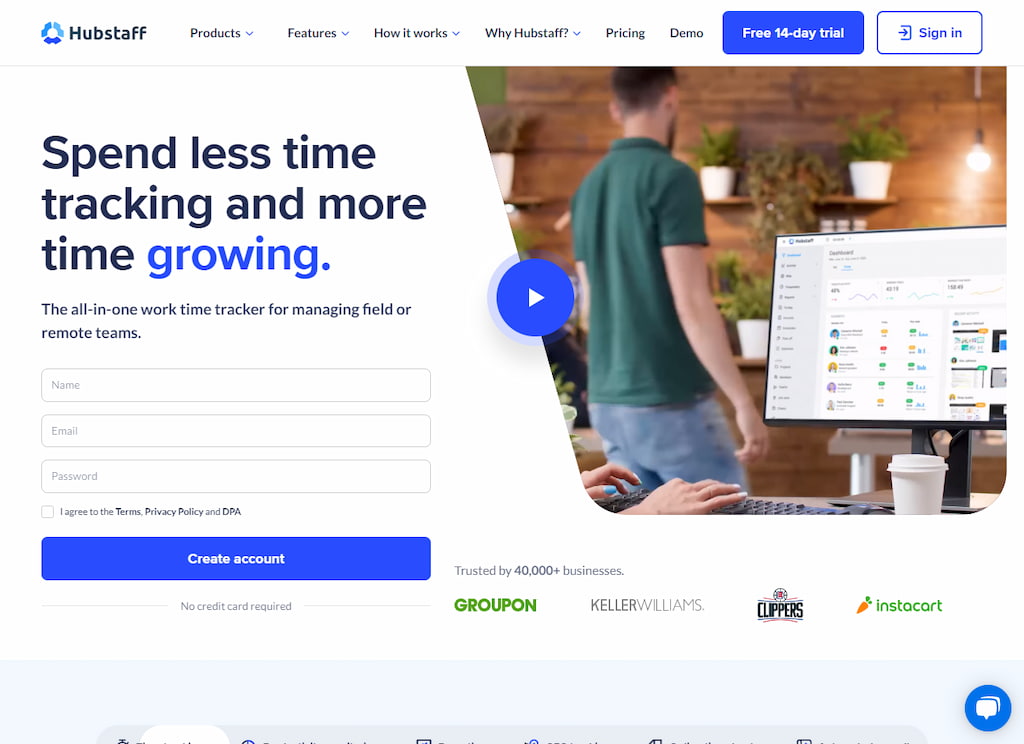 Another time-tracking tool to consider using is Hubstaff. There are several key features that make Hubstaff time tracking stand out from other apps available to use today. For example, Hubstaff takes screenshots and activity levels every few minutes, ensuring that you have an accurate record of how much time was actually spent working rather than just being logged in.
Hubstaff can also track time even when there is no internet connection. So, if you're working offline or you're regularly on the move, and your internet connection is unstable, your time will still be tracked correctly. In addition, Hubstaff integrates with over 50 different tools and platforms, so you can see all of your tasks and projects in one place, making it easy to keep track of how much time you're spending on each project.
🔨 How to integrate Hubstaff time with Redbooth
Log in to your Hubstaff account and click 'Settings.'
Click on the 'Integrations' option, and then select 'Redbooth' from the list of available integrations.
Enter your Redbooth login details, and then click 'Login to Redbooth.'
Then, you'll be asked to select which project you want to sync with Hubstaff. Select the project, and then click 'Authorize' to complete the installation process.
After this, all of your Redbooth tasks will be automatically synced with Hubstaff, so you can easily see how much time is being spent on each one.
💰 Pricing
Hubstaff offers several paid time tracking plans: Free, Starter, Pro, and Enterprise. The Starter plan costs $5.83 per user per month, the Pro plan costs $8.33 per user per month, and the Enterprise plan cost depends on the size and requirements of the organization.
Time Doctor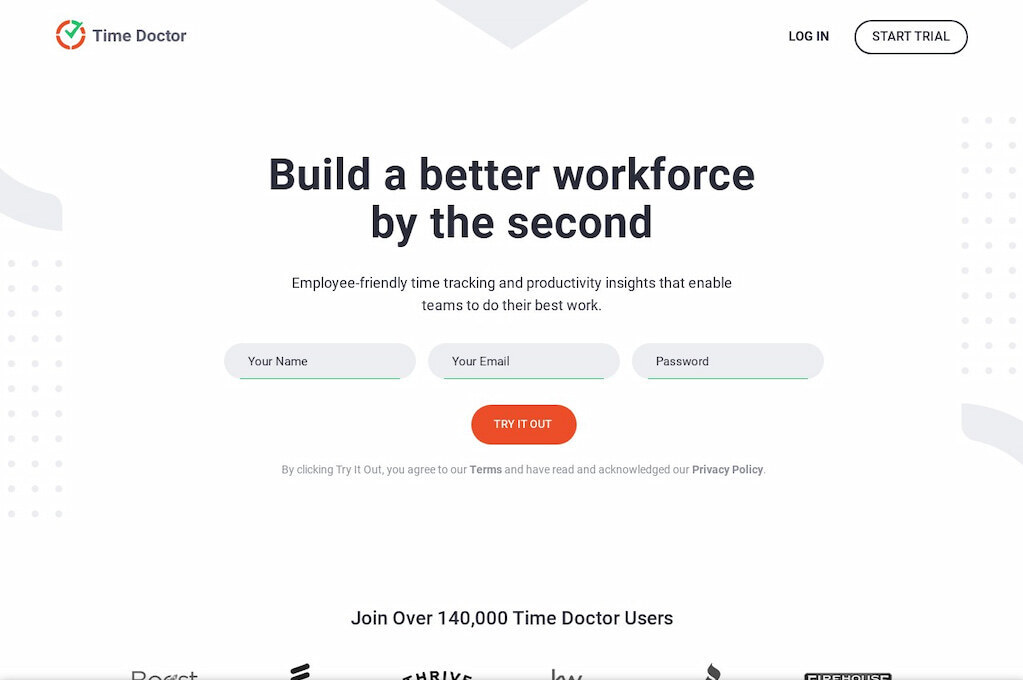 Time Doctor is a popular Redbooth time-tracking integration with many useful features. For example, you can automatically track time for all your projects and tasks, as the app will automatically track how much time you spend on each task or project, so you can see exactly where your time is spent.
In addition, you can see detailed reports of your time usage—reports show you not only how much time you've spent on each project or task but also how productive you were during that time. As a result, you can see which tasks are taking up too much time and which ones you could be working on more efficiently.
Other key Time Doctor features include a Pomodoro technique timer, which helps you break down your work into manageable chunks and keeps you from getting bogged down in long projects, and a break reminder to ensure you're taking time to relax to reduce the chance of burnout.
🔨 How to integrate Time Doctor and Redbooth
First, create a Time Doctor account.
Once the account is created, you will need to link your Redbooth account with your Time Doctor account. This can be done by going into the 'Integrations' section of the 'Settings' tab in Time Doctor and selecting the option to connect with Redbooth.
Once the accounts are linked, team members will be able to start tracking their time on projects within Redbooth. They can do this by clicking the play button next to the task they want to start working on.
Time Doctor will then start tracking how long the user works on that task. When the task is completed, the user can click the stop button, and Time Doctor will automatically record how much time was spent on that task.
💰 Pricing
Time Doctor offers several price plans: Basic, Standard, and Premium, all of which come with a free trial. The Basic plan costs $70 per user per year, the Standard plan costs $100 per user per year, and the Premium plan costs $200 per user per year.
Redbooth Time Tracking: In Summary
If you're looking for an effective way to increase your productivity and get a better understanding of exactly how you and your team are spending time, then time tracking is definitely something you should consider. Redbooth's native time tracking features or one of the many integrations available can help you track your time quickly and easily. Not only will you be able to see where you're spending most of your time, but you'll also be able to identify any areas where you could improve efficiency, either personally or as a team. We hope this article has shed some light on the best way to track time in Redbooth!