RescueTime Review: What Is It & How It Works | RescueTime vs Everhour
Maria Kharlantseva, November 1, 2023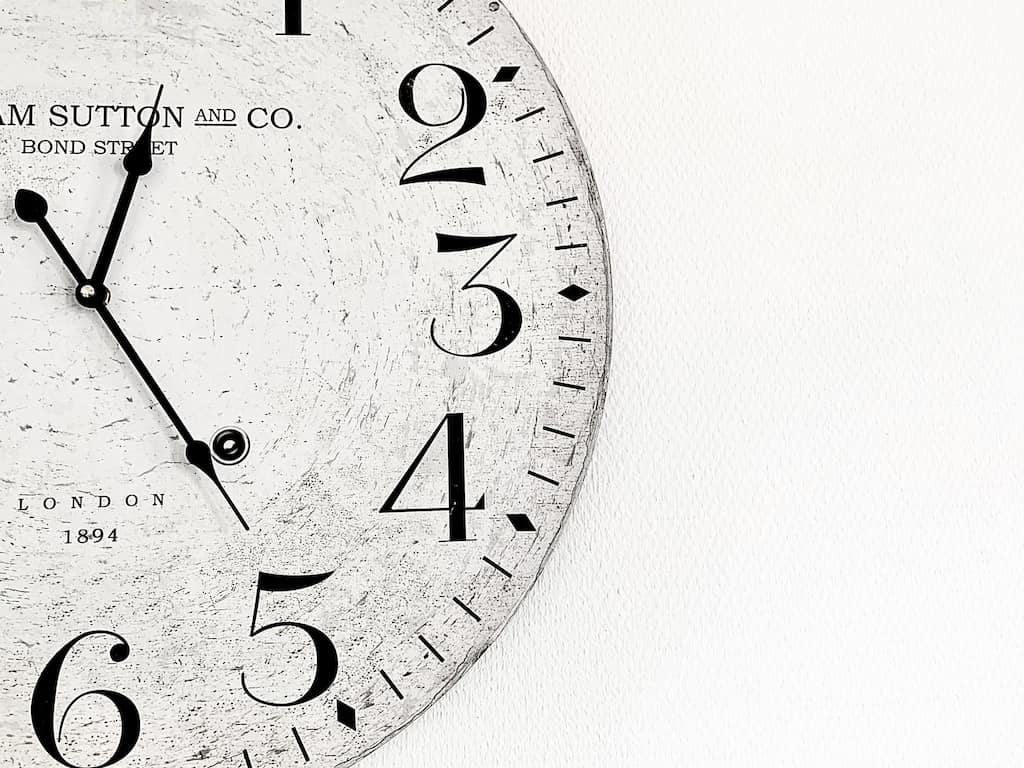 Many organizations now apply the best time tracking practices to monitor employee activity and measure team performance to improve business operations. Thanks to time tracking tools, such as RescueTime, monitoring and improving productivity has never been easier. This article will shed light on RescueTime – its main features, pricing, pros & cons, tips and tricks, and compare two popular tools to determine which time tracker will be on top: RescueTime vs Everhour.
What Is RescueTime?
We'll begin by exploring RescueTime. The tool was created to tackle some of the problems present in the modern workplace, namely, stress, reduced productivity, and burnout. One of the best ways to improve your productivity is to understand how you spend your time, so you can make necessary adjustments. RescueTime tracks your activity on a computer or mobile device and then provides you with insights into how you spend your time.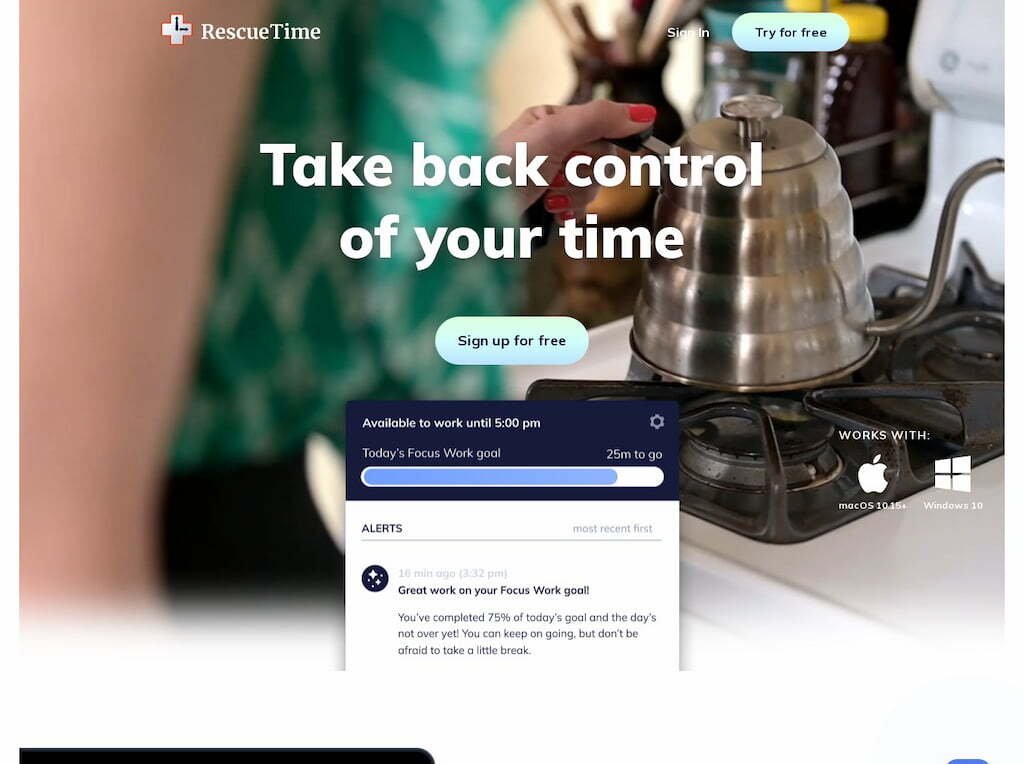 RescueTime Features
Rescue time provides users with a variety of useful features, which we'll explore in more detail.
🚜 Activity tracking
One of RescueTime's best features is its activity-tracking feature. It lets users see exactly what their team members have been doing each day. The feature tracks the time a user spends on a particular website, app, or even a specific document, allowing management to review their team members' working habits and make adjustments if necessary.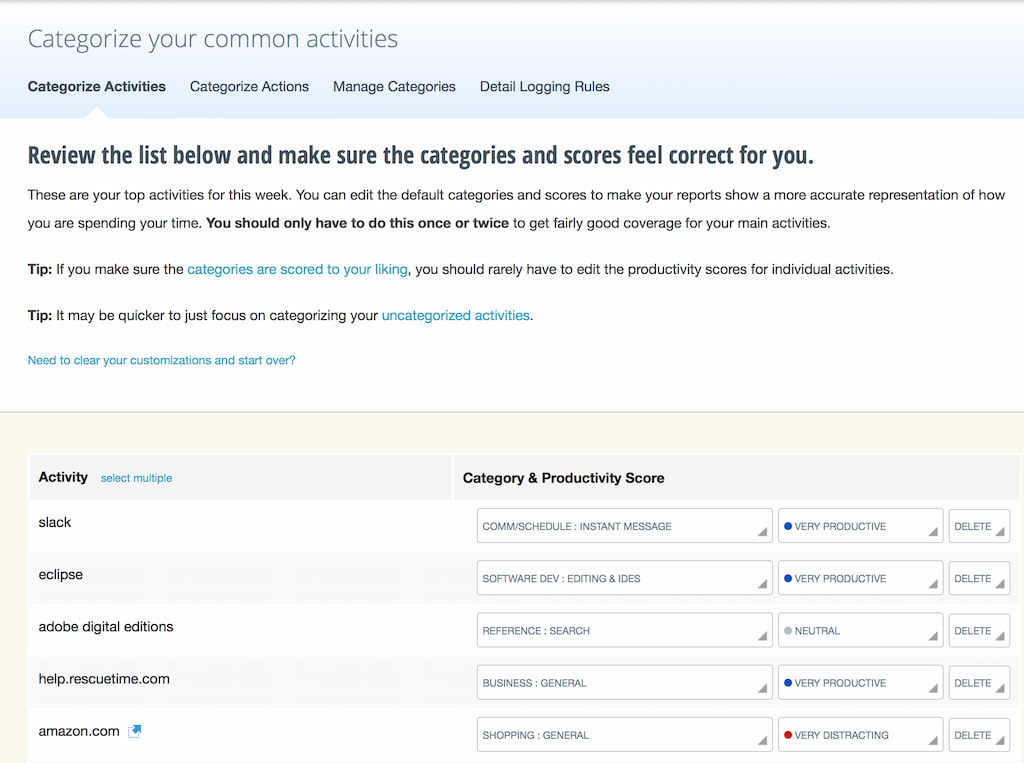 🔖 Activity labeling
Once RescueTime has collected the necessary data about how you use your time, it will categorize it into how productive it is on a scale with five different productivity levels. Some websites may be deemed as distracting in some roles and productive in others. For example, scrolling through your company's news website is part of your job if you're a journalist. As a result, you can mark certain websites as productive rather than distracting.
❗ Work goals and distraction blockers
RescueTime enables you to set a personal daily work goal and allows you to block distractions when necessary during what the platform calls a 'focus session'. The app tracks what you're working on and will alert you when you're beginning to lose focus or trying to work on too many tasks at one time.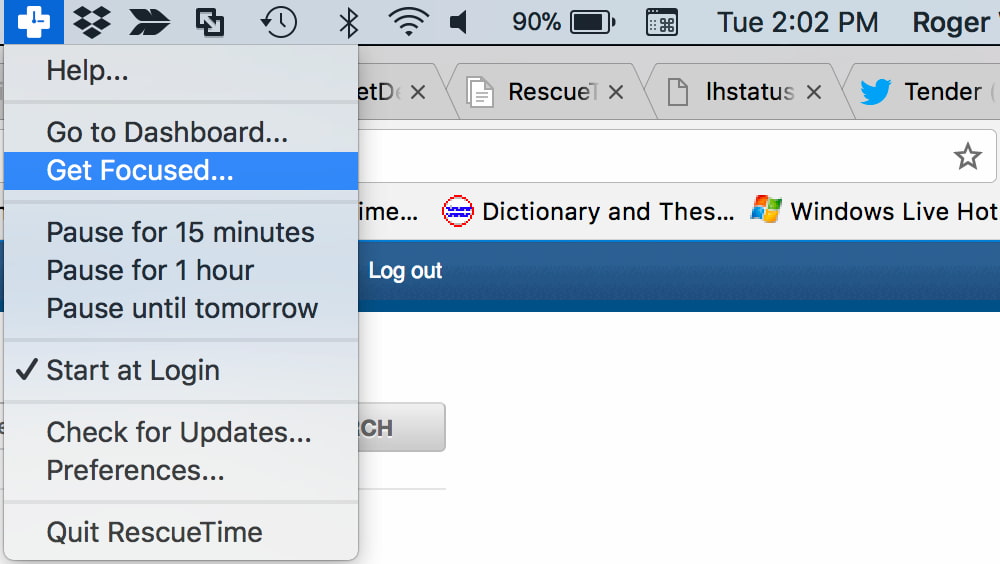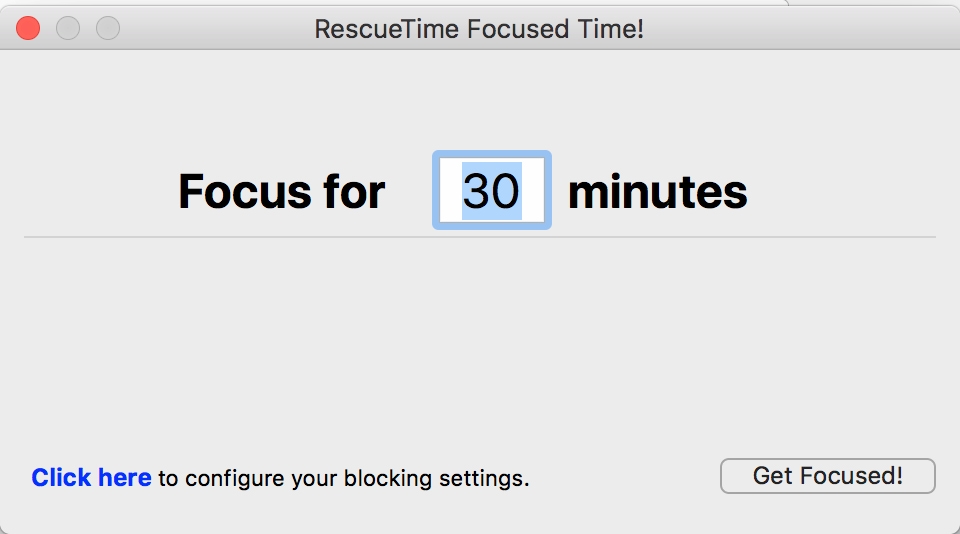 📊 Dashboard
This data is then presented on a dashboard. It gives you a productivity pulse and measures your productivity compared to the previous day. Additionally, the dashboard presents your activities by color: blue being productive, grey as neither productive nor distracted, and red as distracted. Finally, a table of each hour that you've worked that day will be populated with the color corresponding to the activity you did during that time.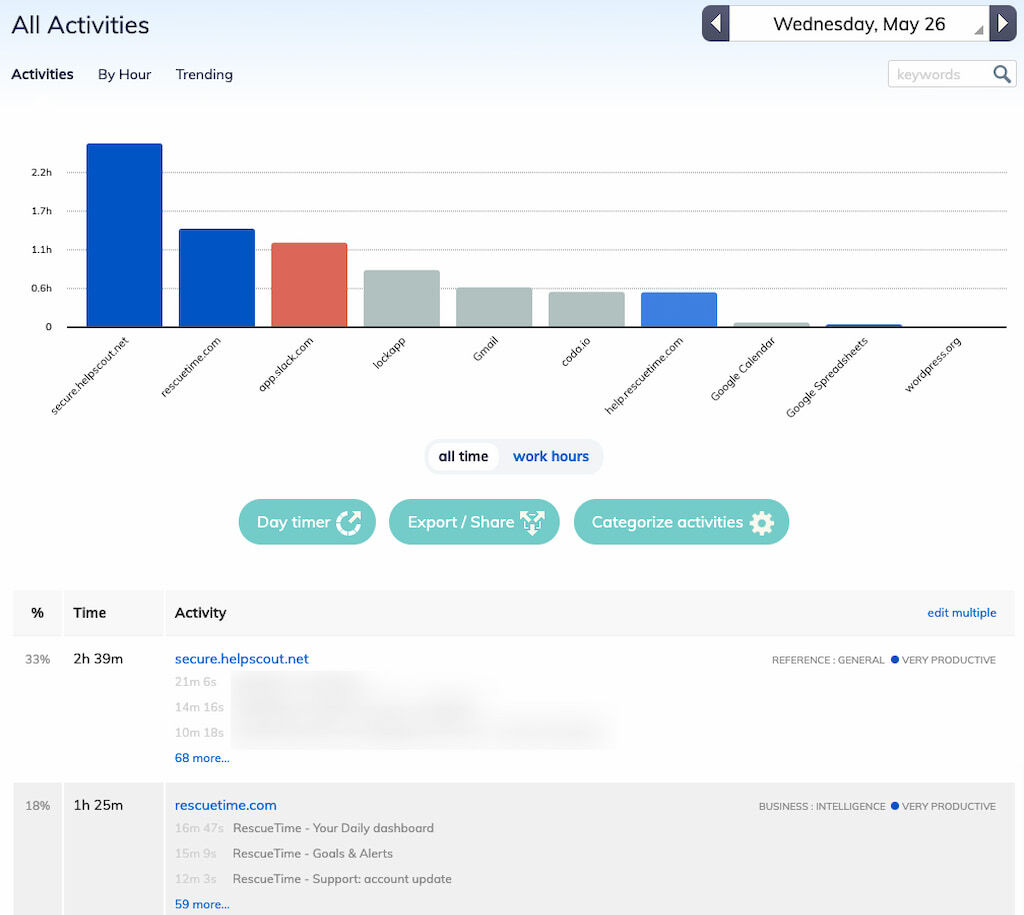 Once you've used the app for a while, it will give you more detailed insights into how you use your time. For example, if you use the app for a couple of months, you may find that you're particularly productive on certain days.
📃 Reporting
The data recorded in the dashboard can be converted into a report, which you can download and share with whoever you like by emailing them a copy within the platform. With a premium subscription, users can view a wealth of information in reports. This includes:
– Detailed activity reporting
– Trends within your activity to show how you work overtime
– A breakdown of your activities by an input source
– The ability to view your data based on customized time filters
– Exporting your data to CSV and filtering data based on specific keywords
🔏 Privacy
RescueTime allows you to disable the platform for certain apps and websites, giving you control over what information is recorded. You can pause the RescueTime app at any time. The app allows you to pause all RescueTime activity for 15 minutes, an hour, or until tomorrow to give you privacy.
Plus, you can schedule the app to only record your activity at certain times of day, outside of these times, the app will not track your activity. That's not all—you can also restrict which websites RescueTime logs by creating a white list of websites you would like RescueTime to track.
🔁 Integrations
You can allow other apps to use your RescueTime data. The app can be integrated with several platforms, including but not limited to
These integrations enable you to get the most out of the platform. You can also export reports to a CSV file, but only if you have a premium subscription.
🔧 Support and platforms
RescueTime offers various support options if you encounter problems. The first port of call is the RescueTime knowledge base, where you'll find informative articles about the platform, troubleshooting information, and FAQs. Suppose these pages do not help you fix a problem. In that case, you can contact the RescueTime team on the company website using the contact form, leave a phone message or email the team at contact@rescuetime.com.
RescueTime is a web-based platform, but it also has a mobile app that lets you track mobile phone usage. The RescueTime app is available on Android and IOS.
💲 Pricing
RescueTime offers a free version of the app with limited features. The RescueTime premium plan, which includes all the outlined features, costs $6.50 a month per user when billed yearly.
❓ Alternatives
RescueTime is a great app if your main goal is to track your productivity. However, it does not offer the same billing and invoicing features as other time tracking and productivity apps on the market. If you're looking for an alternative app to increase your productivity, consider Todoist.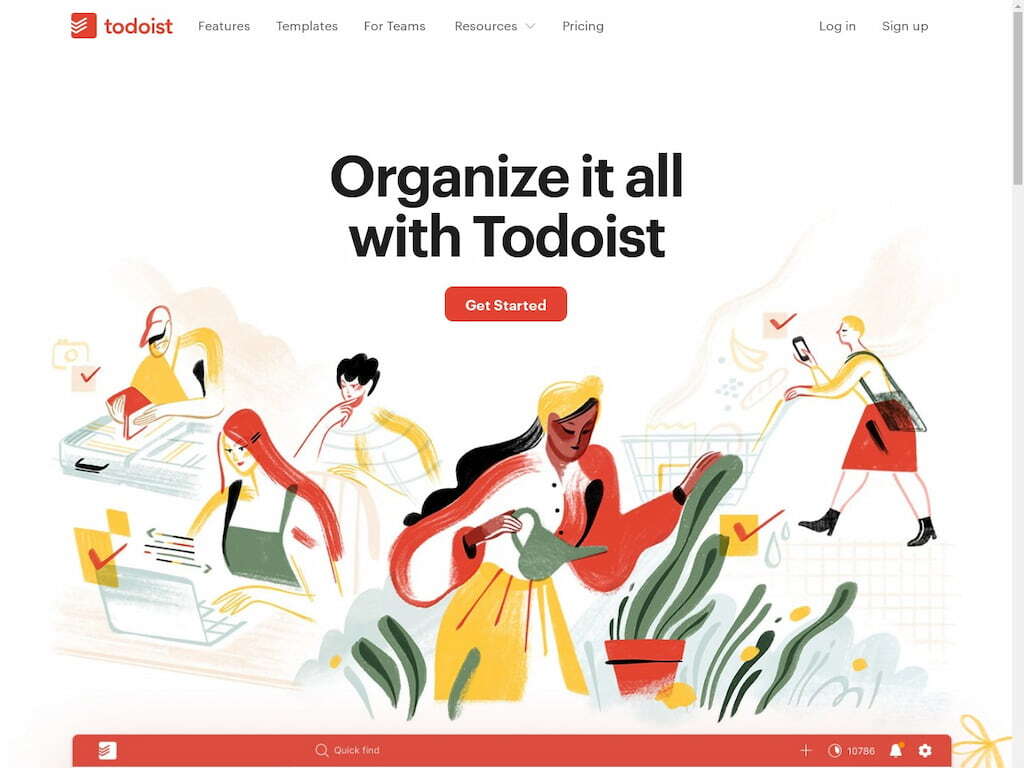 The app is used by millions of people to plan and collaborate on projects of all sizes. You can write to-do lists, create labels, set priority levels to highlight your most pressing tasks, set reminders, highlight favorites, and delegate tasks to team members. Additionally, you can see tangible progress through productivity visualizations, which, by week and month, help you stay on track to achieve set goals.
✅❌ Pros and cons of RescueTime
✅ Pros:
– Tracks productivity with minimal user intervention
– Runs in the background
– Helpful support
– Offers daily and weekly insights to effectively monitor performance
❌ Cons:
– The user interface is not as intuitive as other platforms
– Fewer integration options than other platforms
– Limited project management capabilities
– Limited customization options
– No attendance reports
While RescueTime is fully functional and can take care of most of your needs, it's worth taking a look how it compares to other time tracking tools, for example, with Everhour.
Everhour is an intuitive attendance tracker that enables users to track time, estimate tasks, set budgets for projects, and build detailed reports to distribute internally or send to clients. Additionally, Everhour provides dozens of integrations, allowing users to use all of the above features in their chosen project management tool, such as Basecamp or Asana.
Everhour Features
Everhour provides users with a variety of helpful features, which we'll explore in more detail.
🕜 Time tracking
First, Everhour offers easy-to-use employee time tracking tools. Use a native timer or enter the time you worked on a task manually. Plus, you can set time estimates so you can see how much time you've got left to spend on a chosen task. You can also set reminders, so you receive notifications about long-running timers.
If that wasn't enough, with Everhour, managers can review and approve timesheets (via a timesheet app) for their team members, allowing them to easily keep track of the hours their team is working.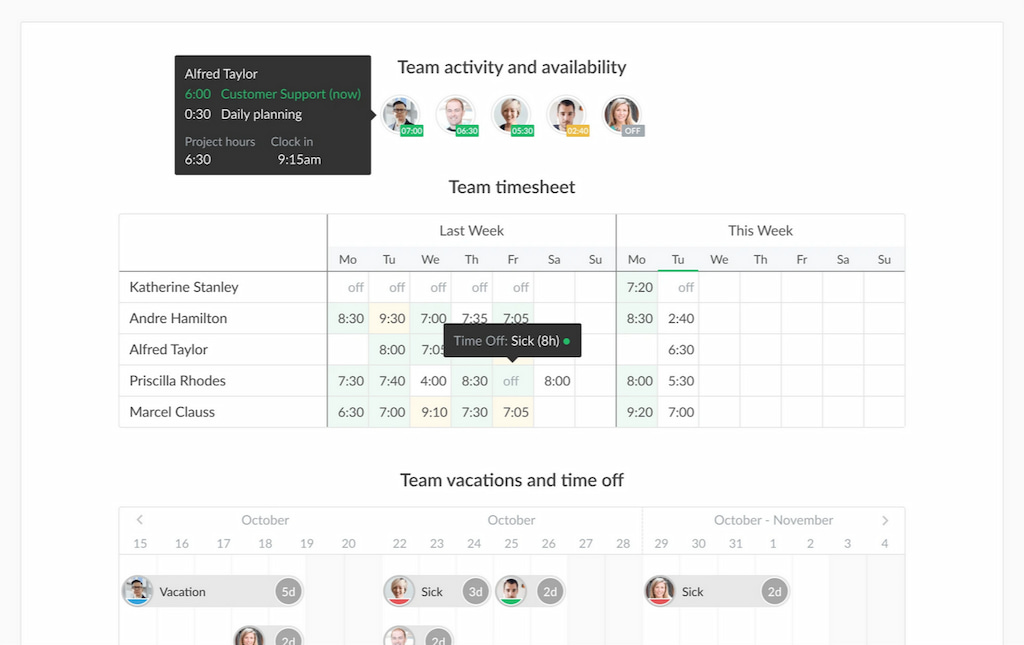 📚 Task management
Task management has never been easier because of Everhour. The platform enables you to quickly create new tasks, determine work priorities, set deadlines, and assign tasks to specific team members. Additionally, you can use sections and tags to organize and add context to your tasks, meaning there's less room for confusion.

Another key task management feature of Everhour is choosing between board and list views for your project task—Everhour gives you the option to choose the view that makes the most sense to you. With all your tasks laid out in front of you, it's easy to know what you should be working on.
🧮 Billing and invoicing
One of Everhour's key strengths is its billing and invoicing capabilities. You can create new invoices based on tracked time and relevant expenses, use dynamic variables that will be replaced with real data in invoice line items, translate invoice labels, apply online invoice generator, and connect with accounting platforms such as QuickBooks, FreshBooks, or Xero to sync your clients, and copy invoices.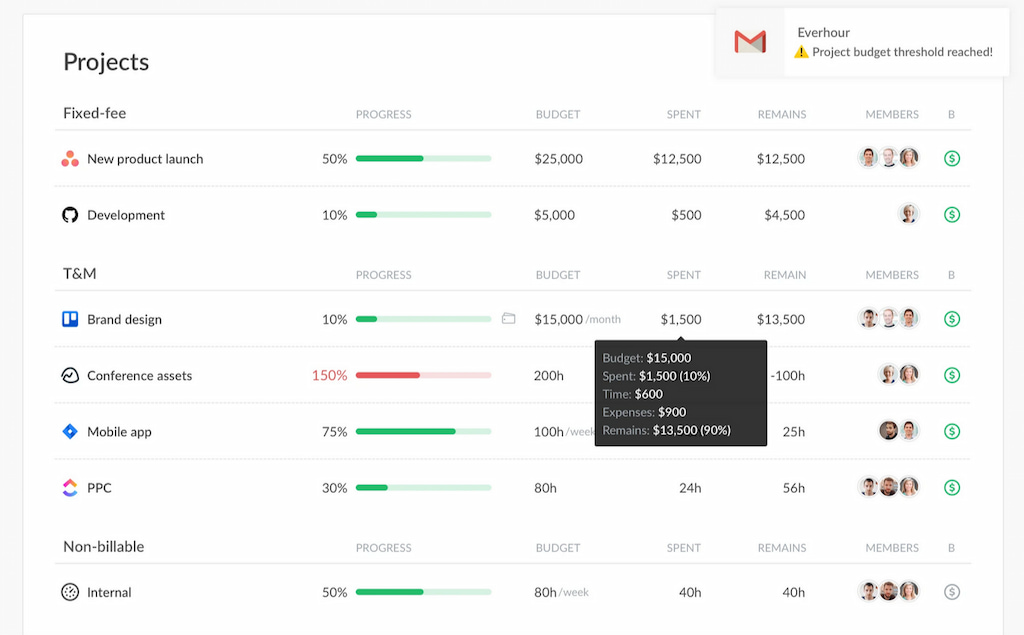 Additionally, Everhour enables you to track work-related expenses attach receipts to expenses, and use unit pricing per expense category.
📃 Reporting
Everhour provides in-depth reporting, allowing you to access analytics to increase productivity and show your clients exactly what they are paying for. You can create custom reports using filters to arrange columns and add certain conditions to create the reports you require. Plus, you can gain a deeper understanding of tasks using metadata such as tags, task types, or specific milestones.
Once you've created a report, you can share it with your team members or download it to send to a client. To save time, you can schedule reports to send to a list of email addresses on a specified day, on a daily, weekly, or monthly basis.
🌟 Project management
One thing that makes Everhour different from other time tracking software is the project management capabilities the platform offers. Everhour offers users real integration by injecting time management controls into your chosen project management platform, be it Trello, Jira, or ClickUp (or Monday project management), and enjoy their PM features with time tracking controls, so you and your team members don't need to duplicate information on two different platforms. 
🔁 Integrations
Everhour integrates seamlessly into dozens of different applications, allowing you to say goodbye to tab switching once and for all! You can integrate Everhour with a wide selection of platforms, including but not limited to Asana, Basecamp, ClickUp, Jira, Trello, Monday, GitHub, and QuickBooks.
Integrating Everhour with your chosen project management or accounting platforms allows you and your team members to stay on the same page.
🔧 Support and platforms
Everhour offers support to users in various ways. The first port of call can be found on the Everhour Help Docs page, where you'll find helpful user guides which run you through the platform's many features. If you face problems that cannot be fixed with the help of the user guides, you can contact Everhour using the contact form on the company's website.
Regarding platforms, Everhour is a cloud-based solution. As a result, all you need to do is download Everhour's browser extension, which is available on Chrome, Firefox, Safari, Opera, and Edge browsers. In addition, Evethour is currently beta testing an app, which is available to download via the Apple Store.
💲 Pricing
Everhour offers simple pricing with no extra fees. There is a Free plan with basic time tracking and reporting features. A monthly subscription to Everhour costs $5 and $8.50 per month per user if billed annually or $6 and $10 when billed monthly (Lite and Team plan respectively). Lite plan includes all the basic time tracking features along with more advanced reporting, budgeting, invoicing, and reminders. A Team plan subscription includes all features, including unlimited users, projects, integrations, and fast and responsive support should you encounter any problems.
❓ Alternatives
Everhour is an intuitive time tracking software with many excellent features. However, it may not be the best fit for all users, and it isn't the only tool available. A great alternative to Everhour is Time Doctor. Time Doctor is a great alternative to Everhour because it offers user-friendly time tracking, distraction management, reporting, payroll, and integration features, all in one easy-to-use app.
✅❌ Pros and cons of Everhour
✅ Pros:
– Great for teams working remotely or in the office
– Dozens of integrations, including Asana, Trello, and Basecamp
– Insightful reporting tools
– Easy-to-understand interface
– Transparent, affordable pricing
❌ Cons:
– No offline usability
– No Android app
RescueTime vs. Everhour: Pros and Cons
RescueTime
✅ Pros:
– Runs in the background as you work, allowing you to seamlessly track productivity
– Fast and responsive support is available, should you run into issues
– Daily and weekly performance monitoring displayed in an easy-to-understand dashboard
❌ Cons:
– The user interface is not as intuitive as other platforms on the market
– Fewer integration options than other similar tools
– Limited project management capabilities compared to other time tracking platforms on the market
– Limited customization
– No team attendance reports are available
Everhour
✅ Pros:
– Great for teams working either remotely or in the office, making collaboration easier
– Lots of project management and accounting integrations to use
– Great reporting tools that allow you to improve business operations
– Simple interface
– Affordable pricing for teams
❌ Cons:
– No offline usability option
– No Android app available at present
The Verdict: RescueTime vs Everhour
While RescueTime focuses on its key feature, activity-tracking, to increase productivity, Everhour gives users greater variety in terms of available features. So if you're solely looking to reduce distractions in the workplace, RescueTime is the best fit for you. However, if you're looking to improve project management processes in your organization, Everhour is more suitable. Whichever platform you choose will lead to a more productive, engaged workforce.