For small businesses, bookkeeping can become tricky, especially since it can be time-consuming and detract from other parts of the business. That's why many SMB owners choose to invest in best small business accounting software to minimize time spent manually entering invoice information and keeping the books in check.
The best accounting software for small business out there can do it all, from billing to budgeting, so you can focus your energy on the day-to-day operations of the business. If you're finding it hard to scale and numbers are bogging you down, then we'd recommend that you at least consider adopting accounting software for your small business.
10 Best PAID SMB Accounting Software
Bookkeeping mistakes aren't the end of the world, but if unaddressed, they can lead to further headaches and time wasted. When time is money, errors like this are costly and can affect your bottom line.
While there is a solid free accounting software option (which we'll cover later), most good accounting software suites are paid. The way to look at it is that you're likely going to save money using the software in the long haul, especially due to the removal of human error in the bookkeeping process.
Plus, once you sign up for accounting software, you'll be able to seamlessly transition your bookkeeping system into one interface to streamline the process going forward. Here are some of the best paid small business bookkeeping software options we think you should check out.
Quickbooks Online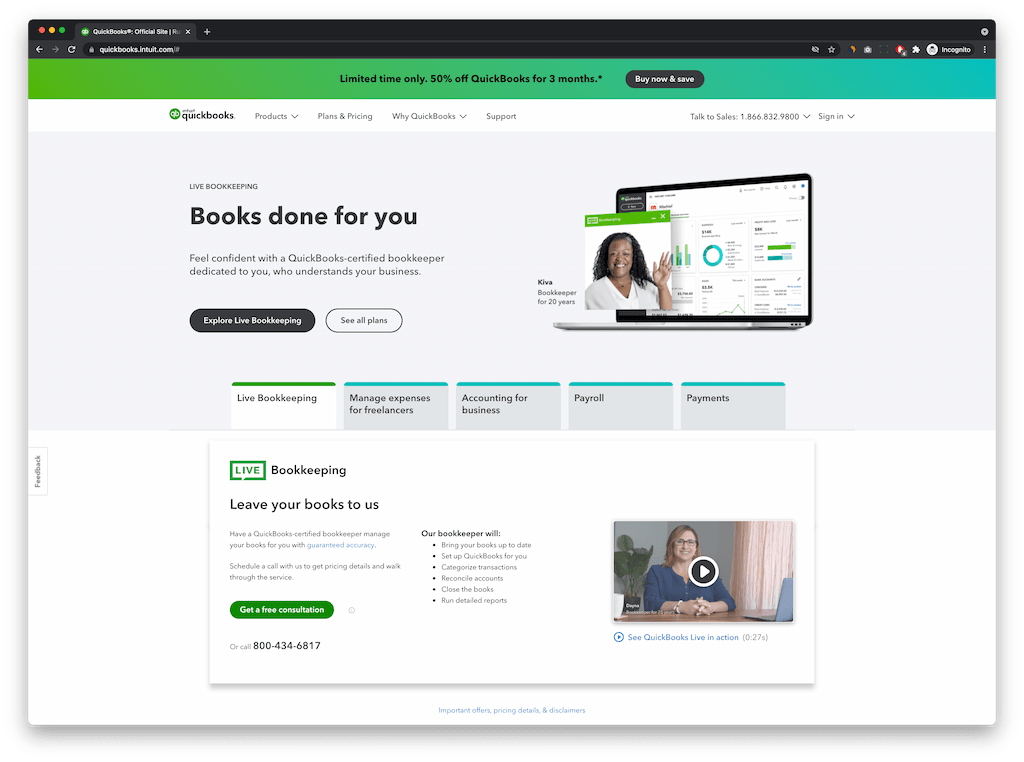 Quickbooks Online is one of the longest-standing accounting software options on the market today, having been first established back in 1983. Since then, the software has adapted to the changing market and evolved into a comprehensive bookkeeping suite packed full of useful accounting features for small business owners.
👍 Pros: While there's a learning curve associated with Quickbooks, there are a wealth of tutorials and learning resources on the company's website to help you get to grips with the software.
Quickbooks is often praised for its integration, too, as it's compatible with many third-party apps. Everhour is one such app, which in tandem with Quickbooks will allow you to track time and invoices effortlessly to further streamline the bookkeeping process.
🤔 Cons: The downside to Quickbooks is the learning curve, which even though surmountable, requires a significant time investment. The features on the basic plan are also limited, so if you want more users for example you'll need one of the more expensive plans.
💰 Quickbooks is cloud-based software that also has a mobile app, so you can check in on your business's financial health wherever you are. It offers a 30-day free trial, after which you can choose between several pricing plans starting at $25 per month for the 'Simple Start' plan and going up to $150 per month for the 'Advanced' plan.
Xero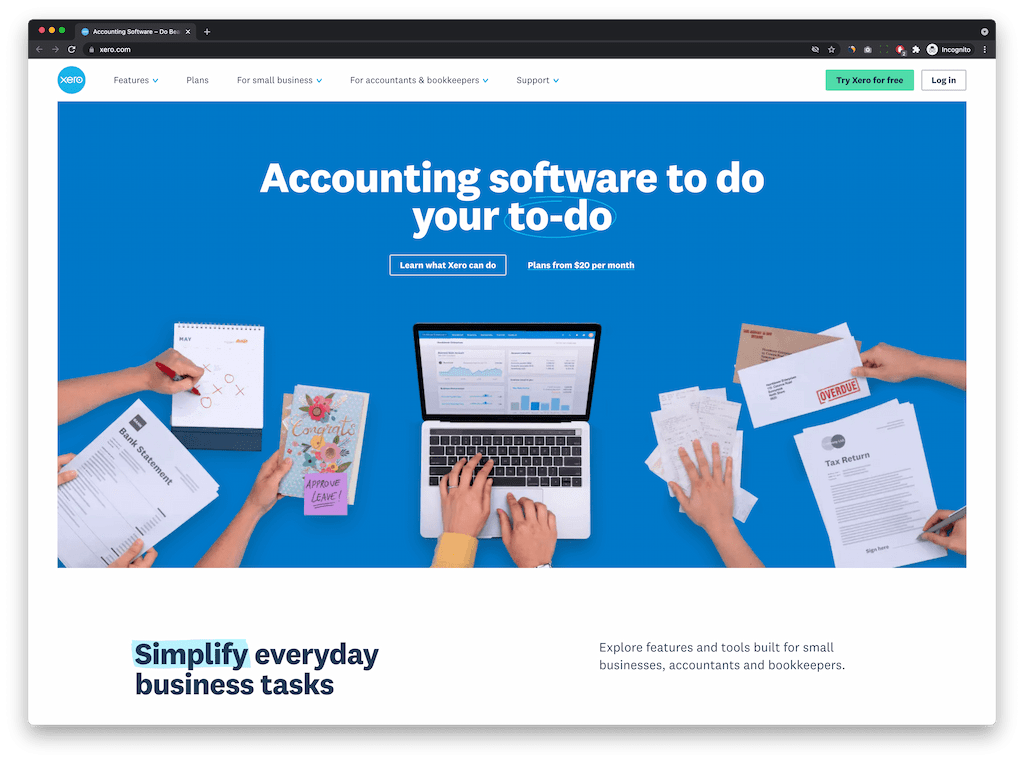 Xero is another popular option for accounting, which offers simplistic bookkeeping solutions for small businesses. With more than two million users, Xero is a reliable service commonly used in and outside of the US.
👍 Pros: With Xero, you can manage bills, invoices, and transactions, although the number of each is limited according to the price plan you choose. Xero features integration with many third-party apps such as Stripe and Everhour. With the latter, you can monitor how employee time is being spent, which makes billing and bookkeeping a breeze.
🤔 Cons: Unfortunately with Xero there are fees for ACH payments and the customer service is limited, so if you need assistance you may be waiting a while.
💰 There are three price plans, with the most affordable starting at $11 per month and the most expensive at $62 per month.
FreshBooks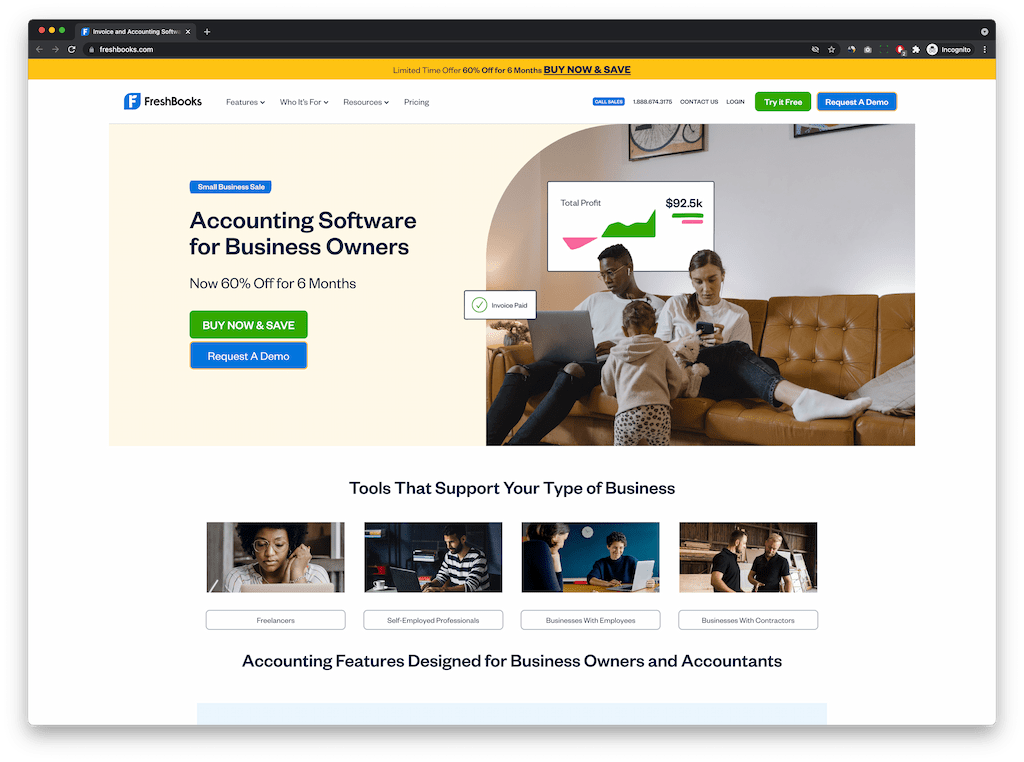 FreshBooks is a service that is most notable for its tailor-made invoices. Through the cloud-based software, you can customize your invoices, more so than with other accounting software options, which lets you put your brand stamp on the invoicing process.
👍 Pros: Mainly intended for service-based businesses, FreshBooks is mostly focused on invoicing, allowing you to send and receive them all in one interface, you can even pay them in the software too.
FreshBooks features third-party integration with a whole host of apps from Shopify to Stripe, and even time tracking software Everhour. With Everhour and FreshBooks, you can seamlessly sync invoice information between them and track billable hours with ease to speed up the bookkeeping process.
🤔 Cons: Though the software is excellent for invoicing, the lack of a payroll service makes it a less complete package than others.
💰 FreshBooks will set you back just $6 per month with the cheapest plan, and $20 for the most expensive plan, so all in all it's a relatively affordable option. There are four plans in total, with one of them being a custom pricing plan that's ideal for businesses with specific accounting needs.
Sage 50cloud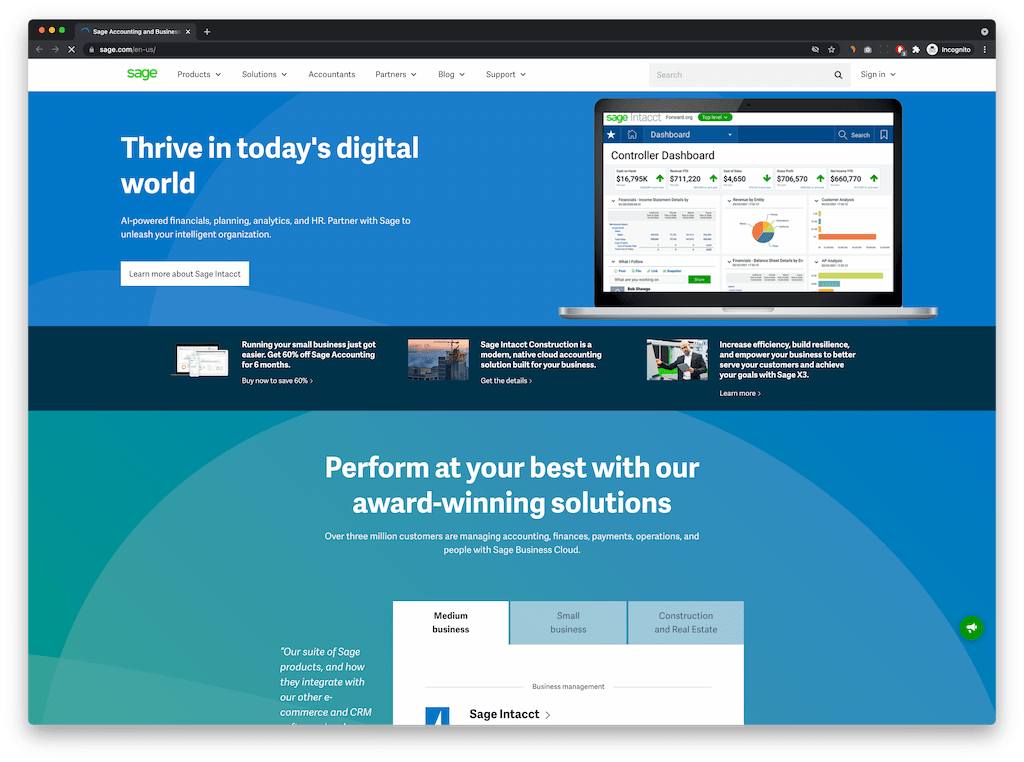 Sage 50cloud accounting is a cash flow management system that helps SMB owners track and send invoices through the mobile app or via the cloud-based website.
👍 Pros: The bookkeeping software allows you to manage accounts payable and receivable, take care of billing and invoicing, and monitor the business' overall cash flow. There's also payroll management which can be handy for budding businesses who are starting to take on more employees and could use some assistance.
🤔 Cons: With Sage 50cloud, you can only receive check payments so that means credit card payments are out of the question. The service is also quite costly for small businesses.
💰 There are three pricing plans for Sage 50cloud, starting at $56.08 per month and going up to $139.58 per month.
Zoho Books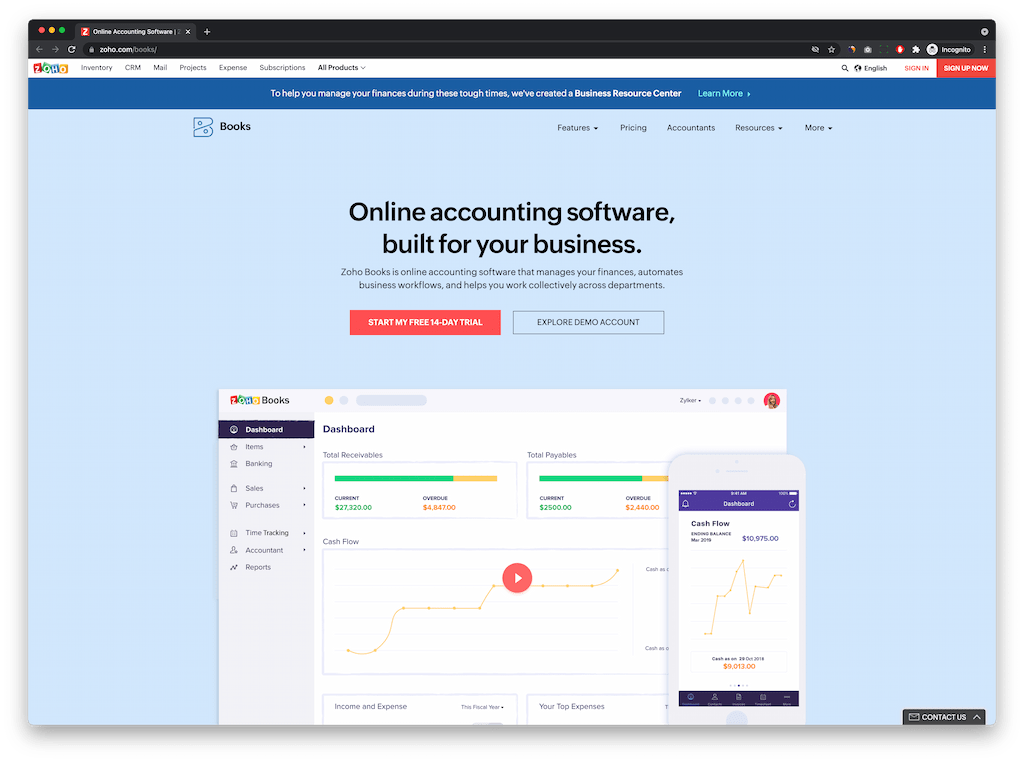 Zoho Books simplifies the accounting process by automating processes and removing the need for manual data entry. It allows you to better scale your small business with inter-departmental communication and everything from estimates to invoices and payments.
👍 Pros: One of the hardest aspects of the invoicing process is making payments on time, which is what makes the automatic reminders of Zoho Books an attractive feature. The multi-currency pricing can help if you deal with overseas clients, too.
🤔 Cons: There are some features with Zoho Books that are missing though, such as the ability to implement a budgeting strategy and a lack of integration.
💰 There is a free plan for businesses with a turnover of less than $50,000 per annum, though the features are accessible only to a single user and accountant and limited. The first paid plan costs $15 per month and the most expensive will set you back $60 per month, which is billed annually.
GoDaddy Bookkeeping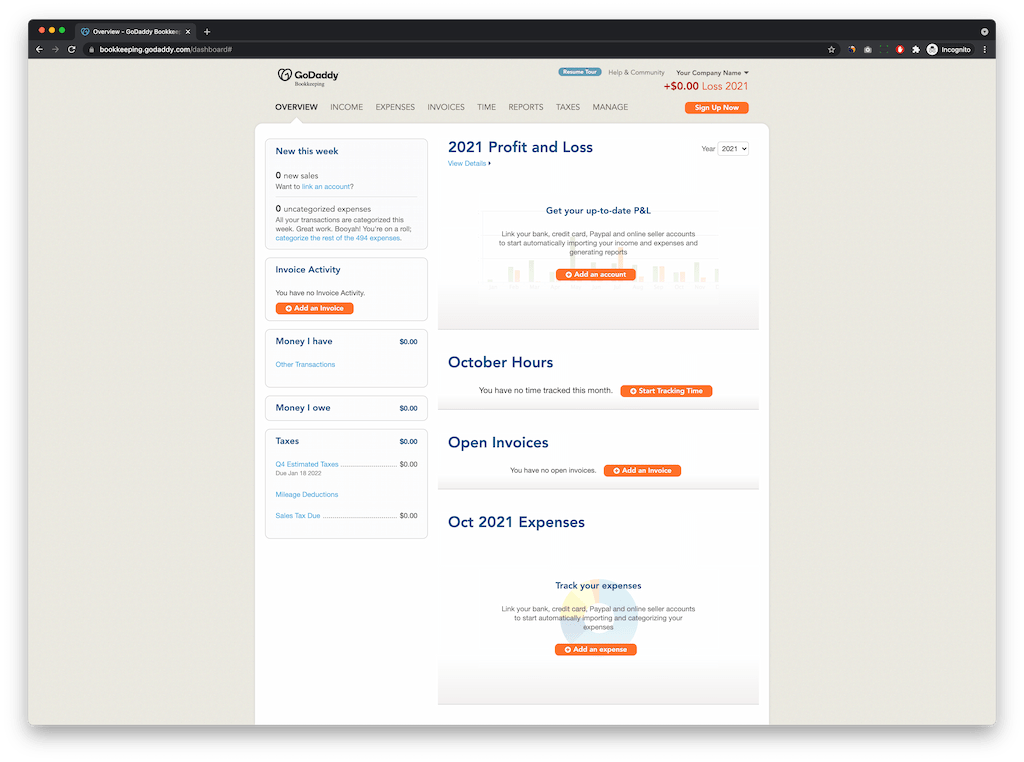 GoDaddy Bookkeeping is noteworthy for its direct integration with online retail giants Amazon, Etsy, and eBay. This makes it a good choice if you sell or buy goods online, and its interface is easy to navigate.
👍 Pros: The software is affordable compared to a lot of its competitors, and it has a handful of invoicing tools as well as features such as quarterly tax estimates.
🤔 Cons: Perhaps to be expected with its low cost, GoDaddy Bookkeeping is fairly limited when it comes to features compared to accounting software giants like FreshBooks and Quickbooks. For example, there is no option to pay bills or track projects with this service, nor is there support for different currencies.
💰 There are three affordable pricing plans, with the first costing $4.99 per month and the most expensive costing $14.99 per month.
Kashoo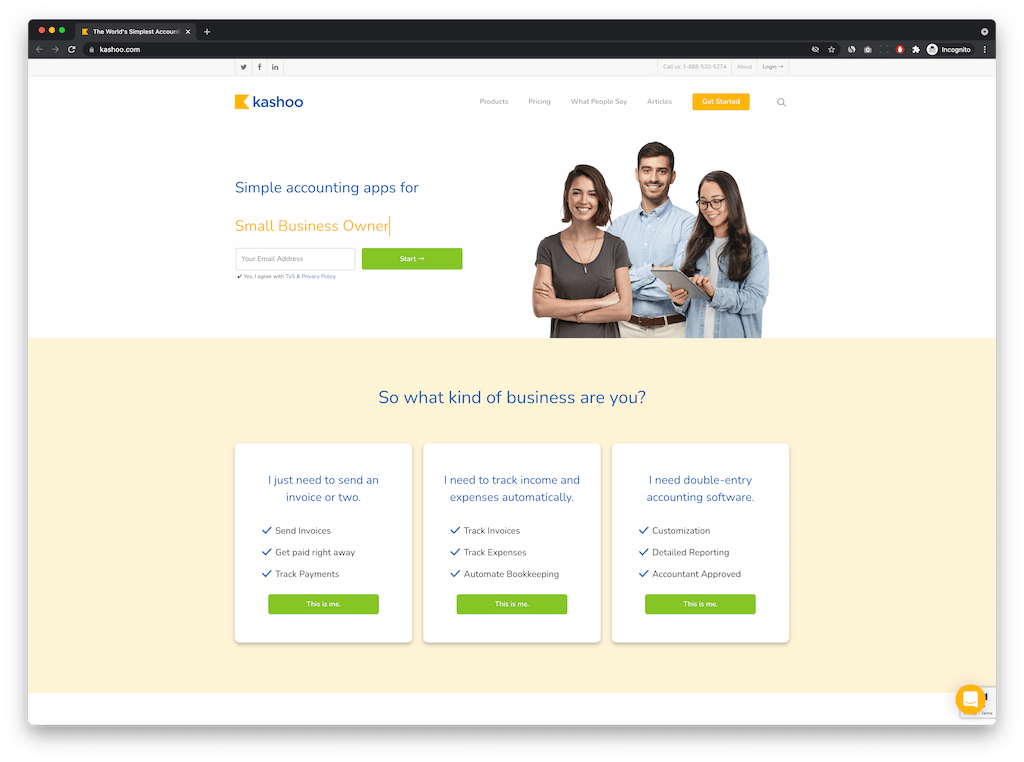 Kashoo is a minimalist accounting solution for SMB owners who would prefer a simplistic bookkeeping solution.
👍 Pros: With the accounting software, you can send invoices, receive payments, and track them. You can also automate the bookkeeping process, and gain access to detailed reports on how your business's financial health is looking. While it may not have all of the features you'd expect from some of the most popular accounting software options, you can still connect multiple accounts and feeds, upload receipts, and generally improve your accounting processes.
🤔 Cons: With Kashoo, you won't be able to do estimates, which is a useful feature many other accounting software options include. There is also a no-budget feature, which, again, is nice to have.
💰 Kashoo has two pricing plans which are $20 per month and $30 per month. It also has a free plan which comes with an invoicing tool for micro-businesses.
OneUp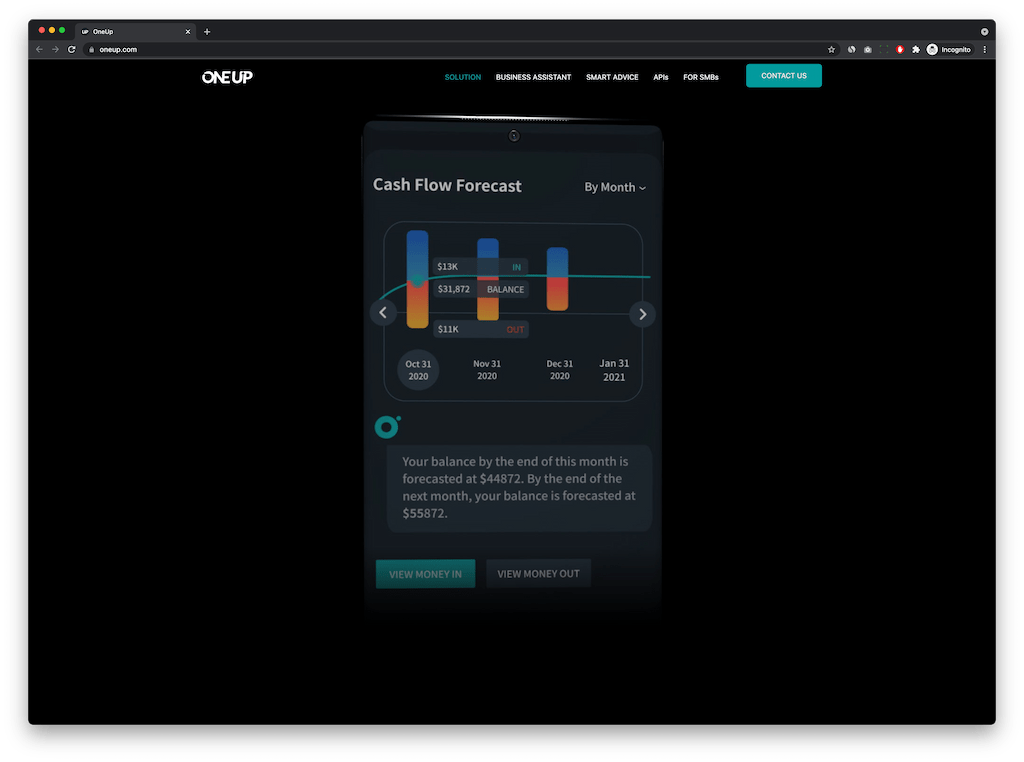 OneUp is an online accounting software service that bases its pricing plans on the number of users, rather than how many features you'll have access to, which makes it a flexible bookkeeping system.
👍 Pros: The standout features for this bookkeeping service include the inventory module and lead management, which are not features you often find in cheaper accounting software options. The inventory module is all about tracking your inventory products which is crucial for staying on top of your cash flow. Lead management lets you manage all your leads and set reminders for follow-ups.
🤔 Cons: As for downsides, there are limited reporting options, and you can't pay bills through the service.
💰 As we mentioned before, OneUp has a flexible pricing plan that scales according to the number of users rather than features. The most affordable plan, which is for a single user, costs $9 per month. To add a team it'll cost you $69 per month, and for unlimited users, it will set you back $169 per month. There are also a few options in between, so you can find the plan that works for your business.
ZipBooks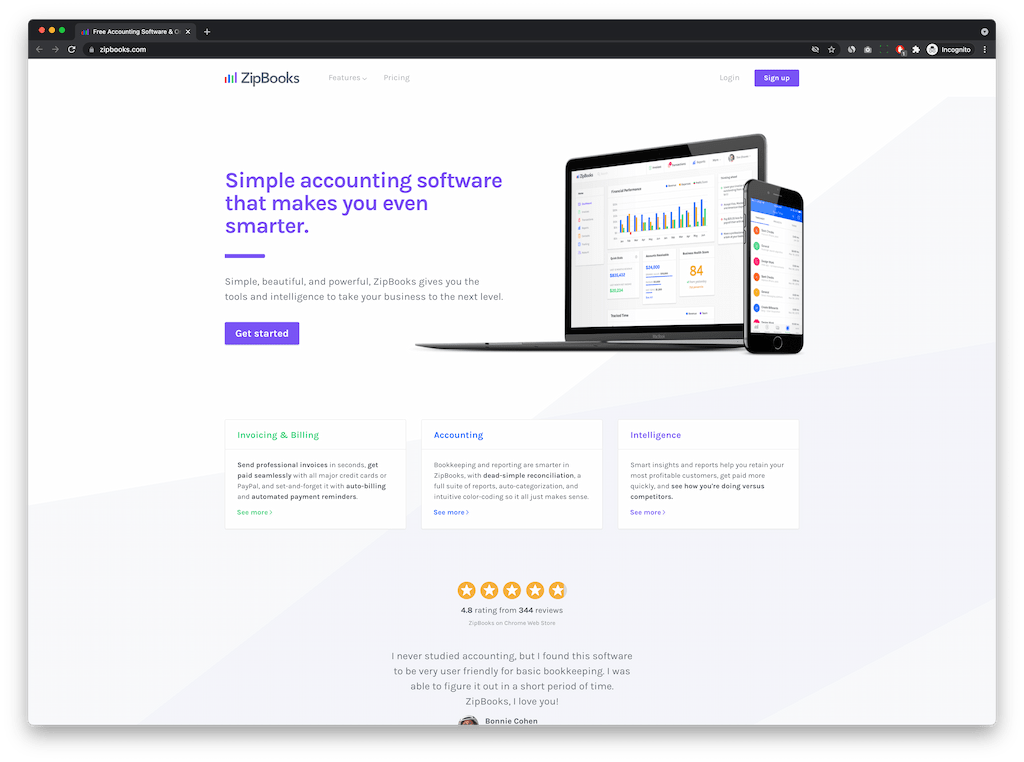 ZipBooks is a versatile accounting software suite that features not only bookkeeping and invoicing tools but allows for time tracking too.
👍 Pros: With ZipBooks, you can get paid easily with a credit PayPal card and gain access to a variety of useful data-driven reports. Many customers enjoy the clean interface of the software, and it has an array of features you can take advantage of such as accounts receivable, account charts, and all kinds of financial reports from balance sheets to income statements.
🤔 Cons: There are limited amounts for reports with ZipBooks, though, and the software doesn't allow you to sync data from some other services.
💰 There are four pricing plans, including a free plan with limited functionality and a custom pricing plan. The two paid plans are $15 per month and $35 per month.
Plooto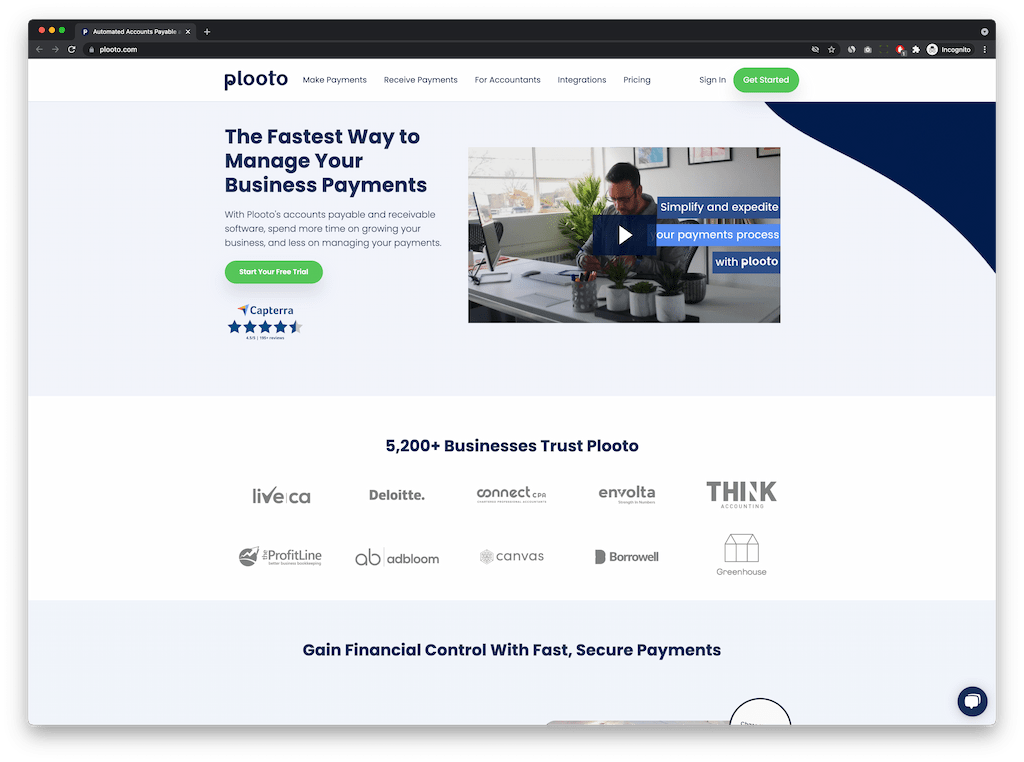 Plooto is a bookkeeping service with accounts payable and receivable, cash flow monitoring, and real-time payment tracking.
👍 Pros: It's a low-cost service that can be useful for automating accounts payable for your small business, lightening your bookkeeping burden. There's also third-party integration with popular software Quickbooks and Xero for automatic reconciliation and no more manual data errors.
🤔 Cons: While third-party integration is a plus, there are only two services it's compatible with, Quickbooks and Xero. The flat-rate fees for domestic and international transactions as well as check payments may be off-putting for some.
💰 Plooto has a single plan which costs $25 per month, with additional fees for some transactions.
Best FREE Accounting Software
Free accounting software is hard to come by, primarily due to how much it can do for your business's financial health. However, as you'll have noticed, several of the most popular options listed above do indeed have free plans, albeit with limited features and/or users. There is one accounting service that is truly free and trusted by over four million users. That service is Wave.
Wave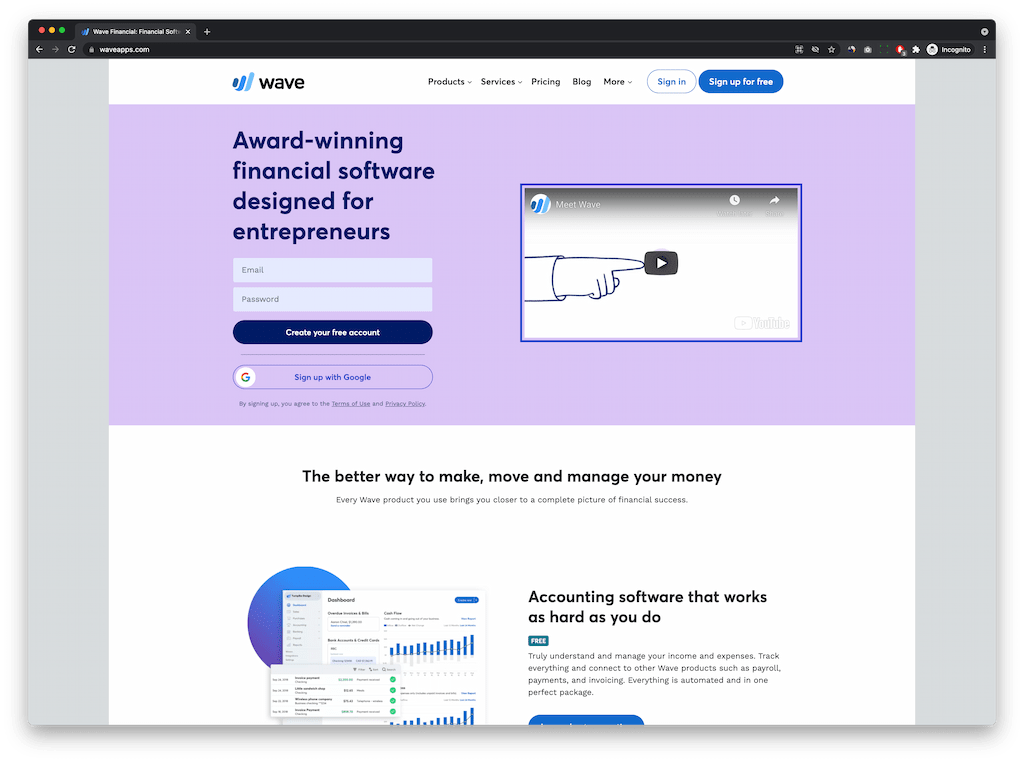 👍 Pros: Aside from the fact that it's free, there are many reasons to consider Wave for your business's bookkeeping needs. With it, you'll have access to key accounting features which include financial reports, expense and income tracking, invoicing, and more. All of this information can be viewed from within the Wave mobile app, too.
Unlike other accounting software suites, Wave gives you access to a great number of bookkeeping tools free of charge. That means you can save money by automating your business's finances, and also save money on the software you use to do it.
🤔 Cons: The caveat here is that Wave doesn't have many third-party app integrations, and has hefty fees for ACH and credit card payments. There's also no inventory management system.
💰 While the service is completely free, to have customer payment processing and payroll you'll have to invest a monthly amount of $20 per month or $35 per month.
Why Small Businesses Use Accounting Software
When tax season rolls around, trying to gather all the necessary numbers and the stress that comes with this can place undue strain on the business owner. The benefits of accounting software are numerous, and aside from the recurring expense, there isn't much in the way of downside.
One of the biggest benefits is that accounting software eliminates the risk of human error. This can save countless hours in the long run, and in most cases justifies the monthly subscription price alone. There's also the plethora of data that accounting software can give you at a glance, as well as robust security measures that keep your accounts safe.
Accounting Software for Small Business: In Closing
If you need more than just the bookkeeping features provided by accounting software, such as time tracking, Everhour can help.
With Everhour, one of the best productivity apps, you can take care of all your billing and budgeting needs for your business, tracking progress in real-time. Set budgets, create reports, and estimate the length and cost of tasks with the software or make the most of the many third-party app integrations with project management tools like Asana and Basecamp.
If you like the sound of time tracking, billing, and budgeting, but you also want accounting features in the same place, then why not consider a bookkeeping service that's compatible with Everhour such as Quickbooks, Freshbooks, or Xero? Make sure to check out one of the best time tracking apps and best time and attendance software around!