Remember when registering your attendance at work involved the now decidedly old-fashioned clock-in punch card? It served its purpose at the time, but those days are gone! Instead, inefficient manual clock-in systems have been traded in for accurate time and attendance software that measure the time employees spend working and their attendance.
Exploring the Finest Time and Attendance Software Solution
Understanding the qualities that define the best time and attendance software is crucial for making well-informed business decisions. Whether you're an individual professional or part of a small team, utilizing time and attendance software provides valuable insights into daily, weekly, monthly, and yearly work patterns.
Significance in Practice: Implementing time and attendance tracking ensures precise compensation, boosting confidence in payroll management. For teams, it effectively addresses the question, "How has your time been utilized?"
Essential Criteria for Evaluation:
Real-time monitoring: These applications allow for seamless initiation, pausing, and stopping of time-tracking processes. Data correction and manual input: You can easily rectify recorded time entries, even after completing a task, and input missed data. Comprehensive reporting: Enjoy detailed breakdowns of time allocations for projects, individuals, or clients. Invoicing and data export: Streamlined functionality for generating invoices or exporting data in various formats. User Accessibility: The software facilitates easy activation of timers across browsers, applications, and devices.
Our Methodology for Appraisal and Testing
Our assessments are meticulously curated by seasoned professionals with dedicated careers in software evaluation. Each app undergoes rigorous testing and evaluation against our established criteria. Notably, we maintain a strict policy of not accepting any compensation for featuring apps or including them in our articles. Our primary focus is upholding the trust our readers place in our impartial and authentic app and category reviews.
Everhour – Best For Teams and SMB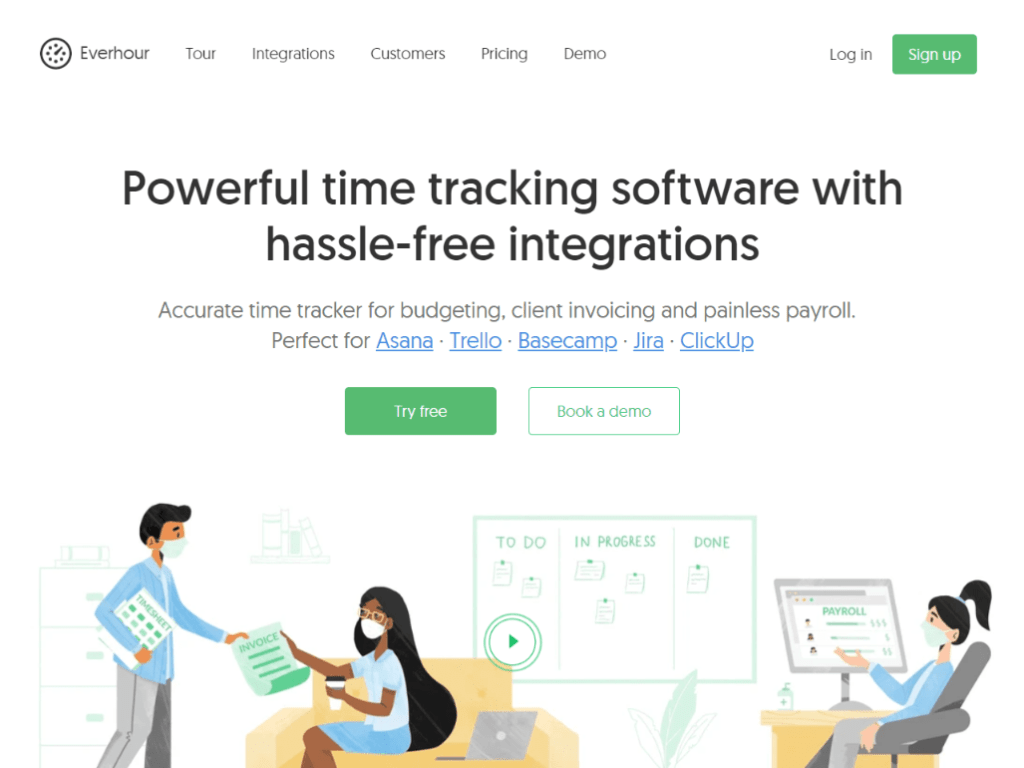 Everhour is powerful time tracker that integrates into the platforms you may already use, such as Asana, Trello, Basecamp, Jira, and many more. It is the best time tracking solution for teams and SMB.
Main Features 👍
The platform offers a range of useful features, including time clock, timesheets, and attendance tracker capabilities, allowing you to track your employees work hours, thus reducing the time you spend manually tracking and calculating employees' working hours.
Timesheet customization
The timesheet customization enables you to view hours worked within a given period. You can also choose how to deduct break time from the total hours, e.g., a certain amount of time for breaks or exact intervals.
Overtime pay
The timesheet also allows to calculate overtime and double overtime based on entered values. Additionally, you can set a custom hourly rate and get the sum to pay for overtime hours worked.
Ideal for businesses
Everhour is one the best time tracking apps for teams. Its timesheet calculator would benefit small teams, individual entrepreneurs, start-ups, small and medium enterprises, and large-scale businesses, as it allows users to track the employees' work hours.
Additional Features 💡
Timer manual entry time tracking
Budget tracking
Task management
Reports and dashboards
Pricing plans 💰
Free Plan
The free plan lets users to use some simple time tracking features, create reports, and unlimited projects.
Lite plan
This plan is $5 per user/month when billed yearly ($6 when billed monthly) and it allows for a better flexibility and control: on top of everything the Free plan offers, it also grants users access to billing, budgeting, invoicing, more users, and many more.
Team Plan
Unlimited amount of users, time approvals, scheduling, optional screenshots – all of this and many other features are presented in the Team plan, that costs $8.50 per user/month when billed yearly ($10 when billed monthly).
TrackingTime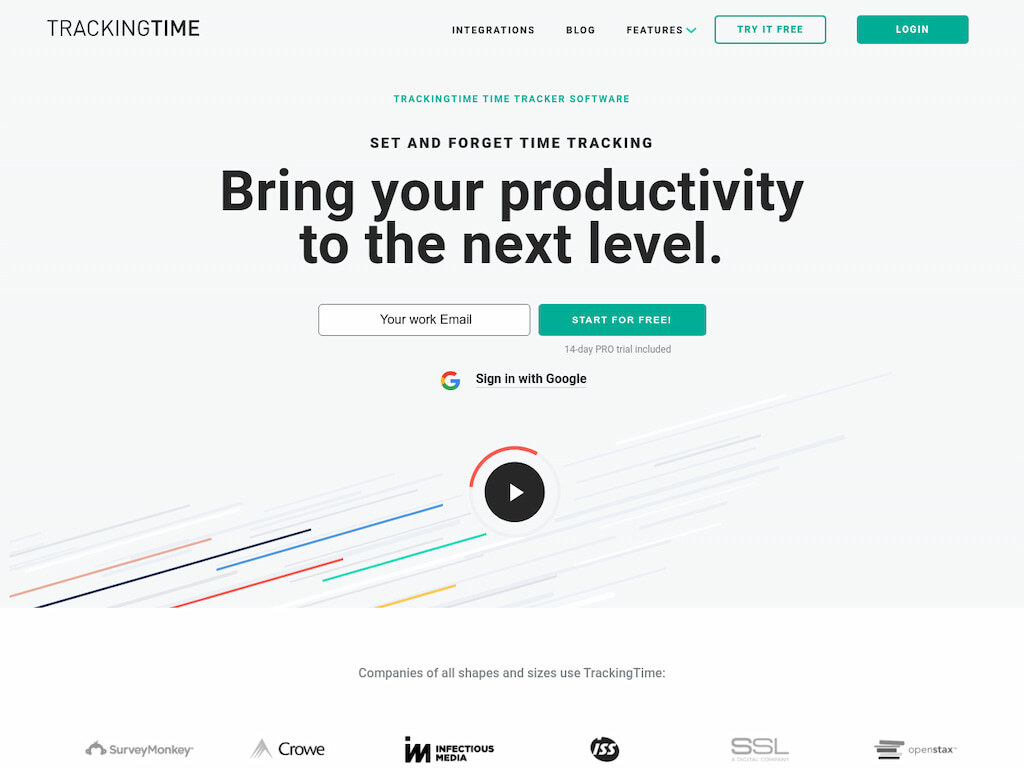 Ideal for remote teams, TrackingTime offers online time and attendance cards that allow employees to clock in and out quickly, either using their smartphones or in Microsoft Teams or Slack.
Main Features 👍
TrackingTime's user-friendly timesheet features allow you to keep track of your team's attendance.
Monthly overview
Regardless of the size of your time, TrackingTime allows you to access a monthly overview that displays the hours team members worked, any overtime, breaks, and days off.
Track breaks, overtime, and time off
With TrackingTime, you can set work schedules for your team to keep track of breaks, overtime, and paid time off based on specific workplace policies.
Export time and attendance data directly to the payroll
Easily download approved data to PDF, Excel, or CSV reports to submit to payroll.
Additional Features 💡
Integrate with Asana, Trello, Todoist, Smartsheet, and many more
Timesheet audits
Track time via a timer or manual entry
Email and in-app notifications
Easy invoicing
Detailed reports
File storage
Pricing plans 💰
The Free Plan
The Free plan offers three users task and time tracking, timesheets, basic online time reporting, and collaboration capabilities.
The Pro Plan
The Pro plan offers time and task tracking, online timesheets, advanced reporting, unlimited collaboration, and $5 per month per user when billed annually. Additionally, TrackingTime provides a free trial, allowing you to get a feel for the platform before subscribing.
Deputy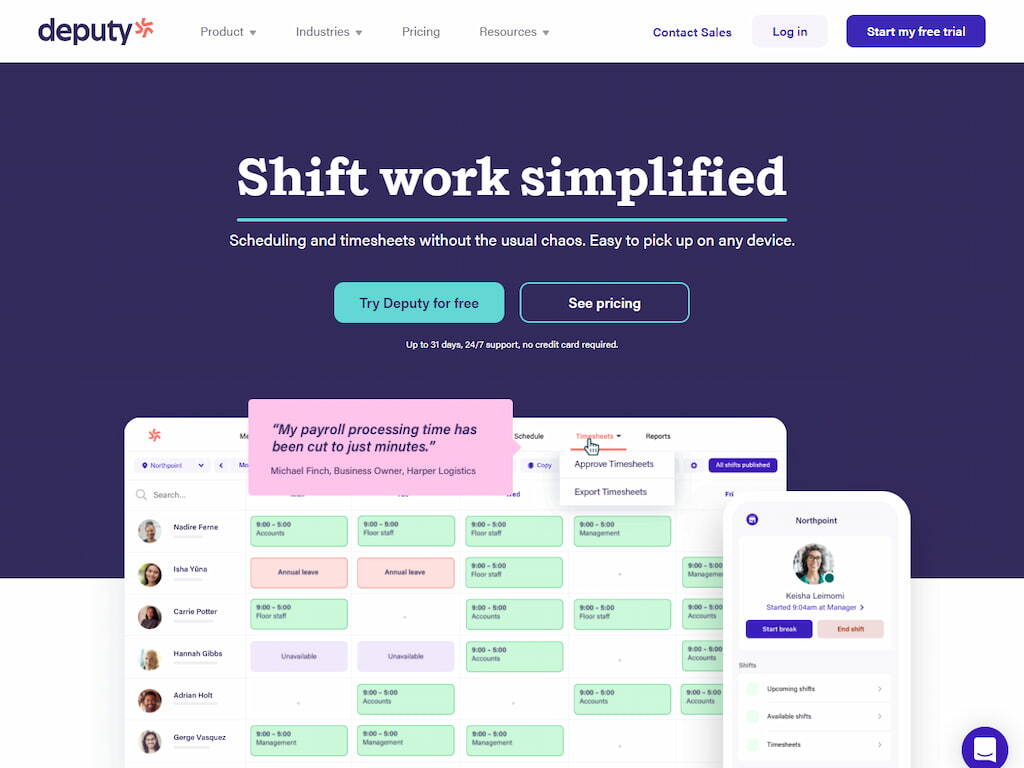 Used by over 300,000 workplaces worldwide, Deputy is a timesheet tool that is easy to use with excellent third-party integrations.
Main Features 👍
Deputy allows users to create smart rotas which are sharable to team members, capture the time worked, and ensure shift swaps are more straightforward than ever.
Simple scheduling
Create a smart rota that you can share with your team members instantly. If a team member can't work, find a suitable replacement in just a few taps!
View real-time attendance
See who is on shift, on their break, and who might be running late. Then, when employees start and finish their shifts, Deputy will monitor their shift using its time tracking function, giving supervisors live updates.
Automate wage calculations
Deputy's timesheet software calculates employee wages for each shift following your organization's employment contracts, meaning overtime pay or premium rates are accurate.
Integrate with your payroll system
Easily connect Deputy to your chosen payroll system to reduce admin and save you precious time. Additionally, you can sync employee pay rates and export timesheets in just a few clicks.
Additional Features 💡
Easy-to-use mobile app
Shift replacements
Health and safety screening
Message sharing
Task assignments
Pricing plans 💰
The Premium Plan
The premium plan, which costs £3 per user per month excluding VAT, offers a variety of features, including employee rotas, timesheets, payroll integration, leave management, and much more.

The Time and Attendance Plan
The time and attendance plan costs £1.50 per month per user, excluding VAT, and offers several features, including timesheets, payroll integration, leave management, and more. Deputy offers a 31-day free trial on both plans, allowing you to explore the features before subscribing.
Rippling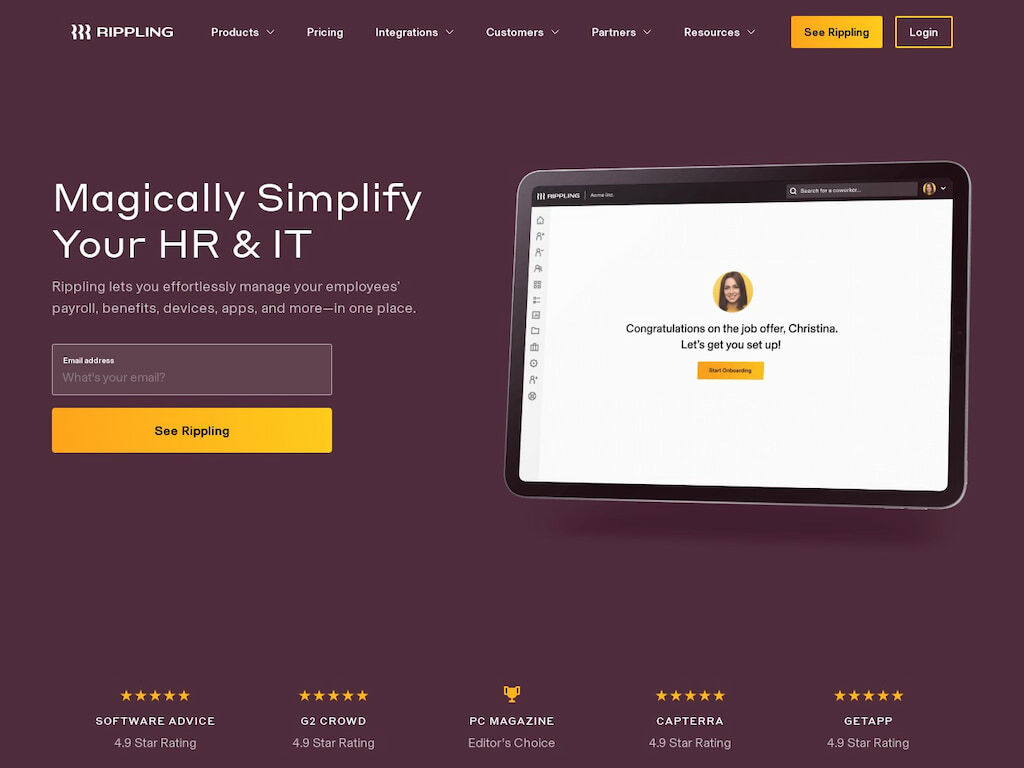 Rippling is a time and attendance system revered by medium to large businesses for its intuitive dashboard, workflow automation features, and the easy-to-use Rippling mobile app.
Main Features 👍
One integrated time and attendance system
Rippling allows you to track employees' hours automatically. So say goodbye to time-consuming manual data entry, irritating syncing issues, or late approvals from busy supervisors.
Automated workflows
All businesses are different – one workflow might not work for everyone. With that in mind, Rippling gives you control over the roles and logic for time tracking, enabling you to customize the platform to your specific needs.
Be in the know
It's hard to track who is working which shift, especially if you manage a large team — Rippling monitors staff time cards, so you don't have to. Simply set up the rules you'd like Rippling to follow, and the application will notify you if parameters are being reached. For example, if an employee is approaching overtime hours or missed their break.
Additional Features 💡
Benefits management
Compliance and risk management
Employee app management
Device protection management
Talent management
Pricing Plans 💰
The Time and Attendance Plan
Starting at $8 per month, Rippling offers various packages. The Rippling time and attendance subscription enables you to fully automate time tracking from when your employees check-in to when they receive their paycheck. Additionally, you will get access to payroll integrations, overtime and break policy features, approval chains, time and jobs reporting, and more.
QuickBooks Time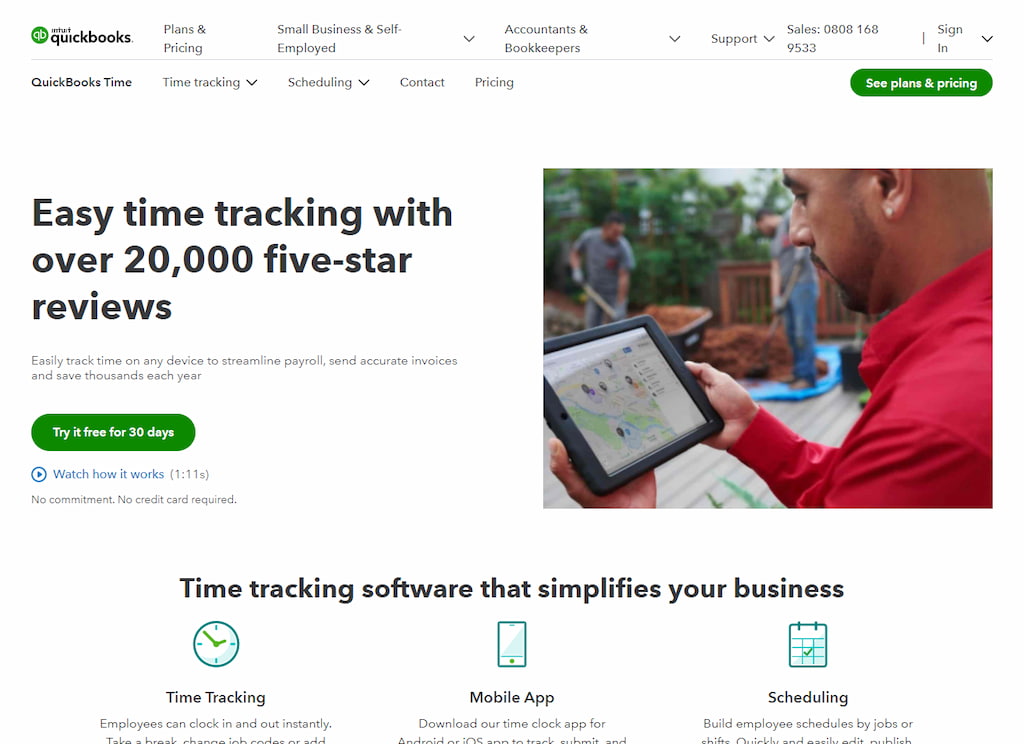 With over 20,000 five-star reviews, QuickBooks Time is a reputable platform used by businesses of all sizes to manage scheduling, payroll, and invoicing.
Main Features 👍
Simple time tracking
Using QuickBooks Time tool, employees can clock in and out seamlessly. Additionally, they can record breaks, change job codes or add specific timesheet details quickly and easily.
Easy scheduling
QuickBooks Time enables you to build employee schedules by jobs or shifts effortlessly. In addition, you can edit, publish and share with team members.
Informative reports
Receive operational insights with real-time, interactive reports. Reports enable you to increase business profitability, plan for payroll, and accurately predict employee time needs.
Additional Features 💡
Intuitive Android and iOS mobile app
Team management
In-depth reporting
Alerts and notifications
Mileage tracking
Timesheet signatures
Free phone and chat support
Pricing Plans 💰
The Premium Plan
The premium plan allows you to track time and attendance, no matter where your team is based. Starting a £6 per month per user, plus a £16 base fee per month and 20 percent standard VAT, you can access job and shift scheduling, time-off management, streamline payroll and invoicing, and much more.

The Elite Plan
The elite plan costs £8 per month per user with a £30 base fee per month plus 20 percent standard VAT. It includes all premium plan features, with the addition of mileage tracking, timesheet signatures, project estimates versus actuals reporting, project activity, and messaging and custom location-based clock-in and clock-out reminders.
OnTheClock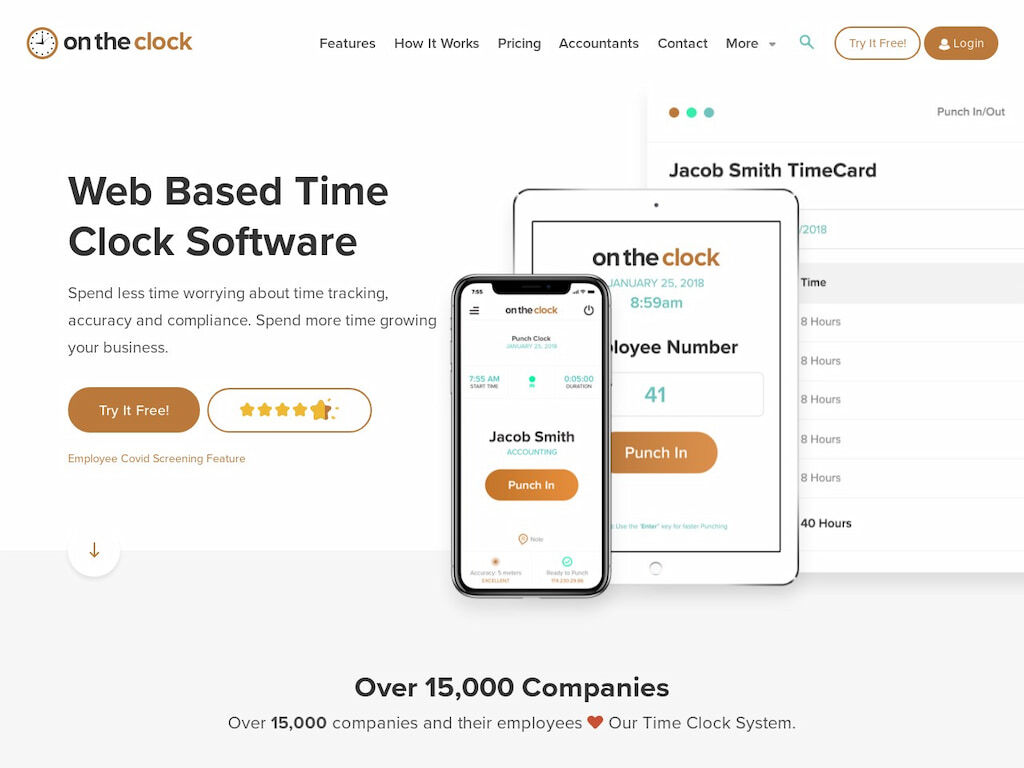 OnTheClock is a web-based time clock software application that allows you to spend less time worrying about time tracking and spend more time growing your company. The easy-to-use application is one of the ideal time and attendance systems for small businesses.
Main Features 👍
GPS time and attendance clocks
OnTheClock offers something a little different from most other software providers: a GPS employee time clock that holds employees accountable wherever they work. The feature records employees' locations to ensure they are at work when they clock in or out.
Payroll integration
Accurate time cards, created through OnTheClock's time tracking software, seamlessly integrate with payroll providers, including QuickBooks, Accounting CS, Gusto, and many others.
Paid time-off tracking
No more guessing – track employees' paid time off easily by creating paid time off allotments or accruals with defined start and end dates.
Additional Features 💡
User-friendly mobile app
Online and mobile time clocks
Biometric fingerprint punching
Shift scheduling
Pricing Plans 💰
Pricing plans depend on how many team members you would like to use the system. If you'd only like to track two users, it's free! The plan between 3 and 10 people will be $3 per employee. If you prefer to track 11 to 25 people, it's $2.95 per employee, and so on. Regardless of the plan you choose, you will have access to all OnTheClock's features. Plus, if you'd like to take some time to get to know the platform before committing, the company offers a 30-day free trial.
Paycom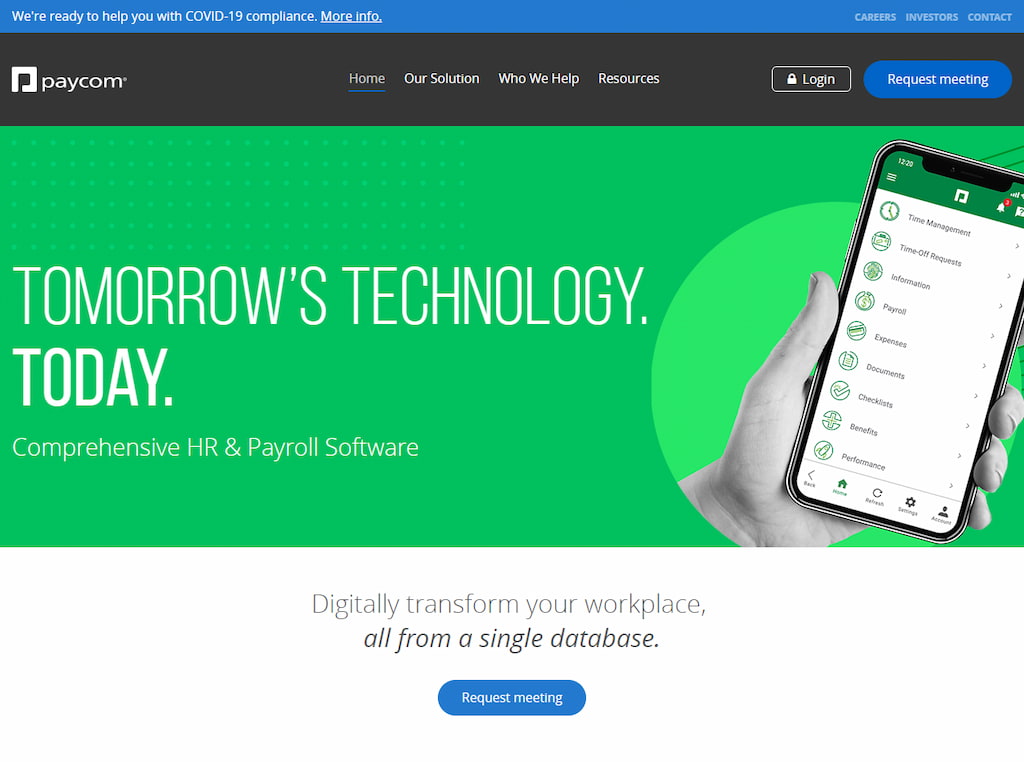 HR and payroll software Paycom is a highly-recommended application that enhances the employee life-cycle, all the way from hire to retire. The full-service platform offers time and attendance, talent acquisition, HR management, and payroll capabilities.
Main Features 👍
Efficiently manage employee time and attendance
With Paycom, employees submit their hours for approval through the easy-to-use timesheet app. So say goodbye to time theft, incorrect reporting, or buddy punching! Approved time is then synced automatically to payroll, meaning employees are paid for their work hours.
Pay employees accurately
The Employee Self-Service® app enables employees to manage their time cards, paid time off, expenses, and benefits in one software package. The result? Accurate pay every time.
Efficient scheduling
With Paycom, you can create and edit employee schedules and shift templates to ensure people are working at the correct time. Additionally, the system allows employees to swap shifts and pick up work without creating unnecessary confusion.
Additional Features 💡
Applicant tracking and onboarding
Background checks
Performance management
Compensation budgeting
Position management
Expense management
Pricing Plans 💰
To determine how much your Paycom subscription will cost, you should contact the company for a demo, as the information is not freely available on the website. The subscription cost will depend on a variety of factors, including the number of users, the specific software you'll require, and other factors.
How to Choose the Ideal Time and Attendance System
Now that you've learned more about the seven contenders, it's time to make a decision. But before you do, there are a few points to consider:
Consider the nature of your business 💼
The right platform will depend almost entirely on the nature of your business. For example, if your employees do shift work, Deputy is probably the best fit. Alternatively, if your team is relatively small and works remotely, you may benefit from an OnTheClock subscription.
If you're looking for a time and attendance system that integrates seamlessly with your chosen project management tools, Everhour is one of the best options. That said, all time and attendance software companies mentioned in the article offer affordable, flexible plans that allow you to make the most of the excellent features available.
Keep payroll integrations in mind 💸
Additionally, consider which software would integrate well with your chosen payroll provider. Many of these systems integrate with the most commonly used payroll platform, including QuickBooks, Sage, Gusto, Xero, and many others.
Time and Attendance Software Picks of 2023: Bottom Line
All of the time and attendance software contenders outlined above offer valuable features that would benefit most businesses today. Furthermore, the best productivity apps and time and attendance software will be user-friendly, accessible across various devices, and integrate directly with your payroll system. We wish you luck in your search for the ideal time and attendance software, and we hope that our list has helped you get closer to a decision!