Whether you have a team of five or 500 employees, staying on top of their schedule in 2024 is essential to maximize not only their productivity but also make sure that no resources are wasted. And as you can imagine, manually keeping track of what every employee is up to gets progressively more difficult with each extra team member, but when you start using employee scheduling software, you don't need to do any of that yourself.
In this review article, we will take a look at the best employee scheduling software for 2024 so you can pick the one that best works for you and your team. We'll look at each staff schedule software and its main features, pricing plans, as well as the pros and cons of using each one. And in the end, we'll put them all in a table for comparison so you can quickly make up your mind if you're still unsure.
Key Criteria for Evaluation:
Shift scheduling and allocation: These applications seamlessly create and assign shifts, ensuring accurate workforce allocation and task assignment. Task and project management: Effortlessly organize tasks and projects, fostering better organization and focused team efforts. Communication and collaboration: Access features that promote team communication, enhancing collaboration among team members. Integration and synchronization: Streamlined functionality that seamlessly integrates with various tools and platforms, ensuring a cohesive and efficient workforce management environment. User-Friendly Accessibility: The software ensures easy access and utilization of scheduling and management features across different devices and platforms.
Our Approach to Software Assessment and Testing
Our assessments are meticulously developed by experienced professionals who specialize in software analysis for employee scheduling and workforce management. Each software undergoes rigorous testing and scrutiny against our predefined criteria. Importantly, we strictly uphold a policy of not accepting compensation for featuring software or incorporating them into our articles. Our primary objective is to maintain the trust our readers have in our unbiased and authentic software assessments, tailored to enhance efficiency in workforce scheduling across various contexts.
10 Best Employee Scheduling Software
If you search the web, you'll find hundreds of employee scheduling tools. To save you time and effort going through dozens and dozens of options, below, we have reviewed 10 of our biggest favorites.
Shifts by Everhour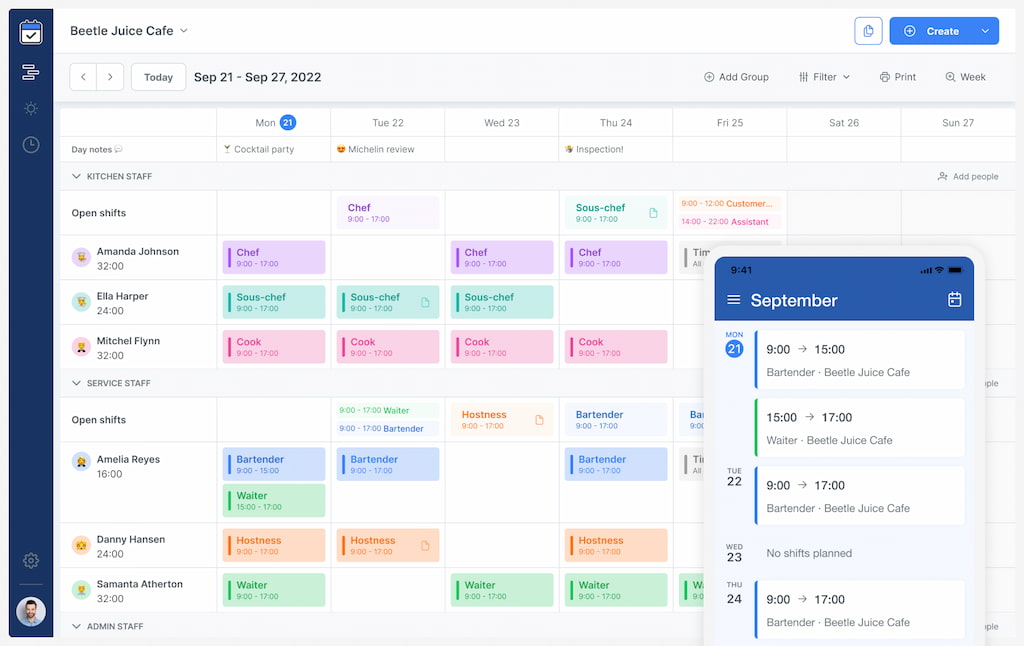 Everhour is one of the leading time tracking and project management software on the market today. Using Everhour, you can do everything from tracking time and monitoring employee productivity via the timesheet app to invoicing clients and a whole lot more. Its shift scheduling tool, Shifts, provides the same level of expertise and functionality for teams looking for high-level team scheduling. Below, we will go over some of Shifts by Everhour main features and pricing options, before we get into the pros and cons of this market-leading team schedule software.
🌟 Main Features
Easy shift scheduling: With Shifts by Everhour, you can effortlessly create and manage employee schedules. Define shifts, assign team members, and set recurring patterns with ease. Customize shifts based on time, duration, and break intervals to meet your specific business needs.
Real-time shift monitoring: Stay on top of employee attendance and availability in real-time. Monitor shifts and receive instant notifications for any changes, ensuring you always have a clear overview of who's working and when.
Seamless time tracking: Enable employees to track their time directly within their assigned shifts. With accurate time tracking, you can record hours worked and breaks taken, ensuring precise data for payroll and billing purposes.
Shift swapping and requests: Simplify the process of shift changes and time-off requests. Shifts by Everhour allows employees to easily request shift swaps or time off, streamlining the approval process. Automated notifications keep the entire team informed and ensure smooth coordination.
Comprehensive reporting: Generate detailed reports on shift assignments and attendance. Analyze employee performance and productivity, gaining valuable insights for resource planning and workforce optimization. Make data-driven decisions to improve operational efficiency.
Mobile accessibility: Stay connected on the go with the Shifts by Everhour mobile app. Employees can conveniently view and manage their shifts from anywhere, enhancing flexibility and enabling seamless communication within the team.
💰 Pricing
Shifts is ABSOLUTELY free. Right now, it is in its beta phase, which means that all usage of the product is 100% free, without any obligation to continue to a paid plan later. When it transitions to the General Availability stage, you may opt to choose its Free or Paid plan but then again – no obligation to do either.
✅ Pros:
Free
Suitable for both small and large teams
Allows to make data-driven decisions
Mobile accessibility – meaning can be used on-the-go
Fosters a sense of accountability
❌ Cons:
Learning curve if you're new to shift scheduling tools
---
ClickUp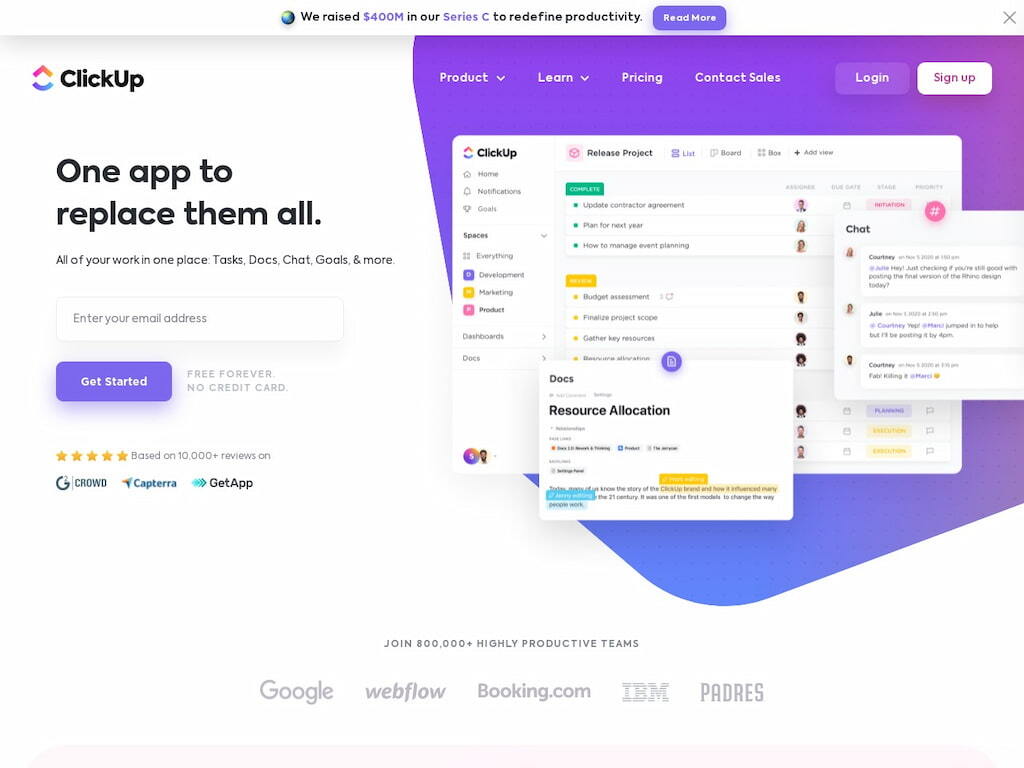 ClickUp is another market-leading staffing schedule software suitable for solopreneurs as well as small, medium, and large businesses. All-in-one project management tool, ClickUp is a highly functional and easy-to-navigate interface.
🌟 Main Features
One of ClickUp's best features is the Everything View. This feature allows for a bird's eye view of all tasks, allowing employees and team members to view all the tasks they need to do when they're due and other relevant details all in one place.
At the core, ClickUp is a task-assigning software, making it a perfect choice for project managers who need to assign and keep track of each and every task necessary for the successful completion of a project.
As a result, the software is equipped with all the features such as being able to add deadlines, comments, attachments, images, and more. Besides that, ClickUp is also highly integrative with other tools, such as Everhour, Slack, Gmail, and more.
💰 Pricing
ClickUp has many flexible pricing plans available to pick from depending on the needs of your team. For example, they have a Free Forever plan that costs nothing and is great for personal use. For small to medium-sized businesses, there is the Unlimited plan, which costs $5 per member per month, and the Business Plan, which goes for $12 per member per month.
If you're managing multiple teams, there is the Business Plus plan that costs $19 per user per month. As you could imagine, the more expensive of a plan you go for, the more features you can access, such as role creation, customized permissions, and custom exporting.
There is also an enterprise plan available, but that is reserved for large businesses. The enterprise plan is fully customized to the specific needs of the business. If this is the package you are considering, then you'll need to reach out to ClickUp for a quote.
✅ Pros:
Free forever plan available
Great for businesses and teams of all sizes
Fantastic for scheduling tasks and setting deadlines
A wide variety of paid plans to pick from
❌ Cons:
Can't create graphs with client data
The dashboards could be more intuitive
---
Monday.com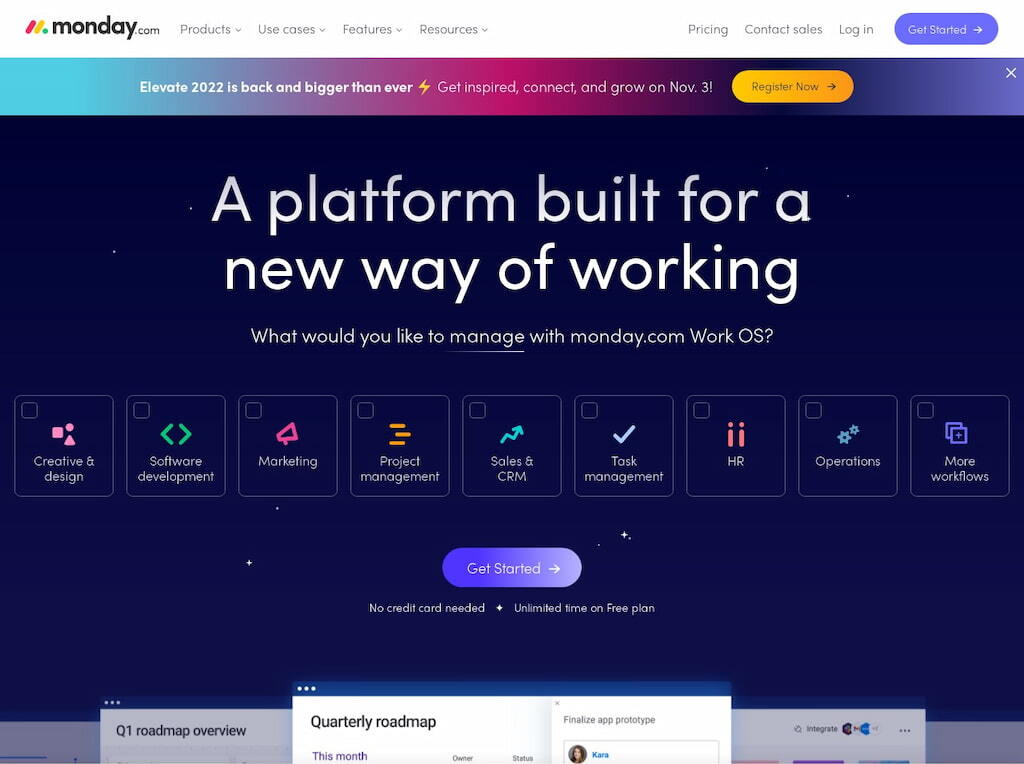 Another largely underrated work scheduling software is Monday.com. Monday.com is a great tool for managing, scheduling, and organizing all the weekly tasks your team members need to accomplish during the coming week.
🌟 Main Features
Monday.com's best feature is the "Monday Work Management" feature where you can create projects and tasks, and schedule them for your employees to do during the week. From there, you can also keep track of operations and how everyone in your team is getting on.
What we also really like about Monday.com is the ability to design the workspace however you like, either building it out on your own or using one of the many templates available.
💰 Pricing
To use Monday.com, you need to subscribe to one of their five plans: Individual, Basic, Standard, Pro, or Enterprise.
The Individual plan is free forever and is available for up to 2 seats. The Basic plan is £9 per month per seat. The Standard is £11 per month per seat. The Pro is £18 per month per seat, and for the Enterprise, you need to get in touch with the sales team to get a custom quote.
If you decide to pay annually, you can save 18% on your total cost. With that said, do note that you can't just buy a specific number of seats. Instead, you need to choose a pre-defined team size, which includes: 3, 5, 10, 15, 20, and so on. You can preview all the different team sizes you can choose from on the monday.com website.
✅ Pros:
Easy to use
Highly customizable
A great weekly employee scheduler
Ideal for individuals as well as small and large businesses
❌ Cons:
Doesn't have the most robust set of features
---
Homebase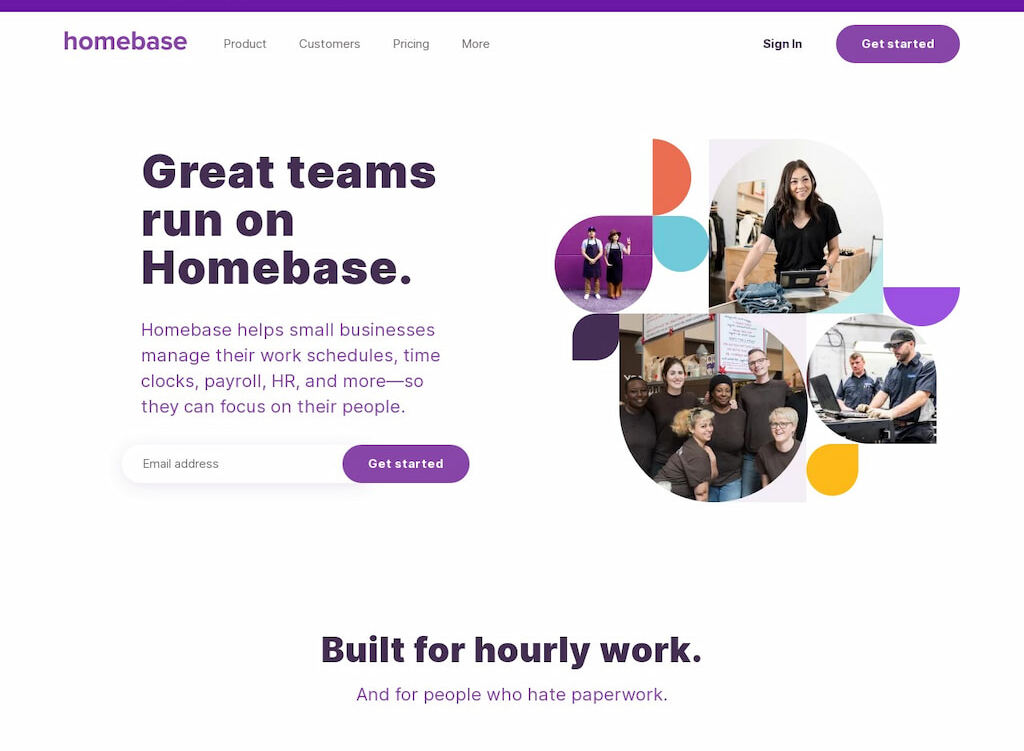 Homebase is one of the most feature-packed workforce scheduling software on this list. It is designed to serve not only as a work scheduler and time-tracking software but also for managing payroll, HR, and more. And since it's also widely recognized and used in the business world, we decided to make it part of our list.
🌟 Main Features
Homebase is primarily a staff scheduler software. It's called Homebase, as it serves as a launching point for projects on schedule. With the tool, you can easily schedule shifts and assign tasks while also tracking the employee payroll and using templates to optimize their schedule to get the most out of the team.
Another cool feature is that you can track employee availability. That way, you can easily contact available employees for unforeseen and unassigned tasks. On top of that, you can even use Homebase for communications, making it an all-in-one hub for all your employees. Check out our Homebase vs When I Work comparison to learn more.
💰 Pricing
Homebase has four different plans: Basic, Essentials, Plus, and All In One. The Basic plan is free forever, but can only be used in one location, regardless of the number of employees you have. As far as the paid plans are concerned, we'll cover their costs below.
Essentials: $24.95 per month per location
Plus – $59.95 a month per location
All-in-One – $99.95 a month per location
Since this scheduling staff software is quite pricy, if you decide to subscribe to your plan annually, you can save 20%, which is quite a lot of money, especially if you go for the more expensive plans.
✅ Pros:
Comes with a variety of scheduling and time-tracking features
Great for HR and payroll management
Ideal for small and large businesses
❌ Cons:
It can get quite expensive very quickly
---
DeskTrack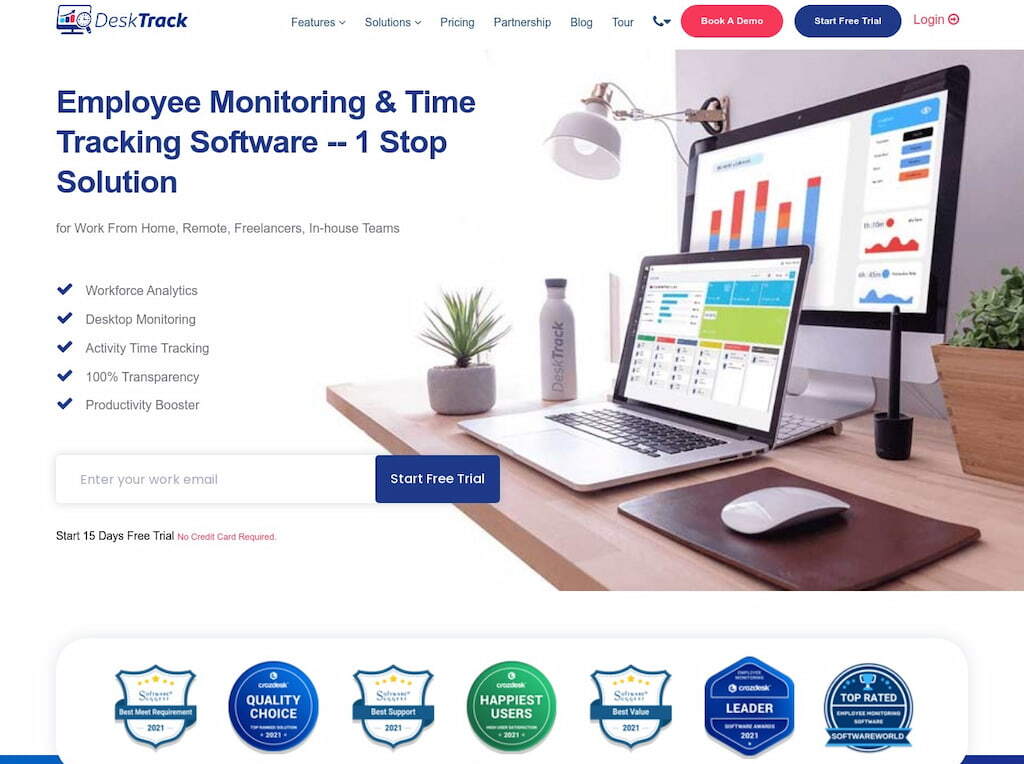 DeskTrack is a great employee schedule software for managers who want to keep a close eye on their employee's performance regardless if they are in the office, work from home, or are based across the world.
🌟 Main Features
The main feature of DeskTrack is the ability for team leaders to monitor their employees in real-time. That way, if you suspect that someone might be slacking or not doing as much as they should be doing, you can quickly and easily check in on that and see for yourself.
On top of that, the employee doesn't even have to be in the office for you to monitor them in real time. DeskTrack offers remote monitoring features which are great for teams that work from home or across the border.
Another great aspect of DeskTrack is how well the time-tracking functionality works in conjunction with workforce analytics. When enough data is recorded, you can access the workforce analytics and patterns that your workforce is creating, allowing you to make the necessary adjustments for better efficiency.
💰 Pricing
Though you can't use DeskTrack for free, the software's premium plans are amongst the most affordable on this list. There are three plans for you to pick from: DeskLite, Stealth, and Tagger.
DeskLite: $2.99 per user per month
Stealth: $6.99 per user per month
Tagger: $7:99 per user per month
✅ Pros:
Great employee monitoring features
Can be used for remote teams
Simple and easy to use
Very affordable
❌ Cons:
Some managers complain that the reports lack detail
---
Clockshark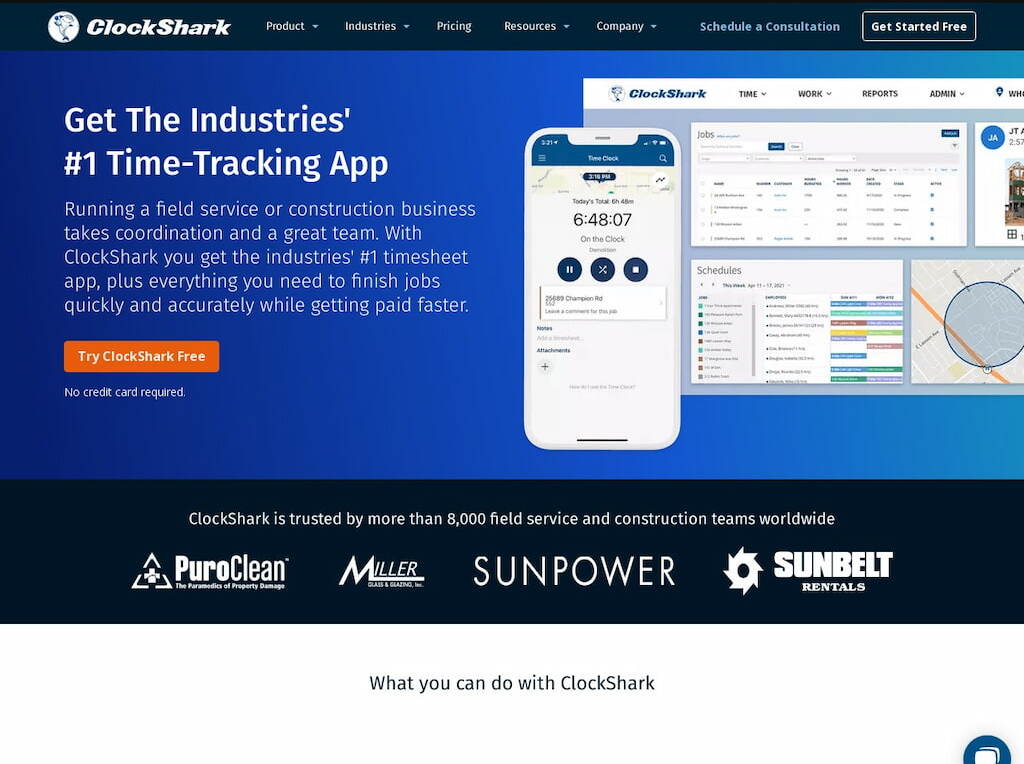 ClockShark is specifically tailored to a field-based workforce. Not many employee scheduling apps pay attention to this kind of work setup, which makes ClockShark a unique option. If you're looking for a fast, efficient, and easy-to-use tool for employee scheduling, this is a great pick.
🌟 Main Features
When using ClockShark, you gain access to a ton of different features, ranging from individual employee time tracking and crew management to job management and the financial side of the business such as taxes, payroll, and more.
And to ensure transparency, the employee can also view their tasks and tracked hours. That way, they keep track of their payroll stats and know exactly how many hours they worked within a certain time period.
💰 Pricing
There are two ClockShark plans. These are the Standard and Pro plans, which cost $8 or $15 a month, respectively. However, keep in mind that you will also have to pay $7 per month per user for the Standard plan and $9 per month per user for the Pro plan. While this is a bit pricey, it's understandable considering all the benefits you will get using this work schedule software.
✅ Pros:
Allows employees to track their tasks and hours
Offers great value for the money
No steep learning curve
Ideal for field employees
❌ Cons:
No way to track the phone usage of employees while working
---
Wrike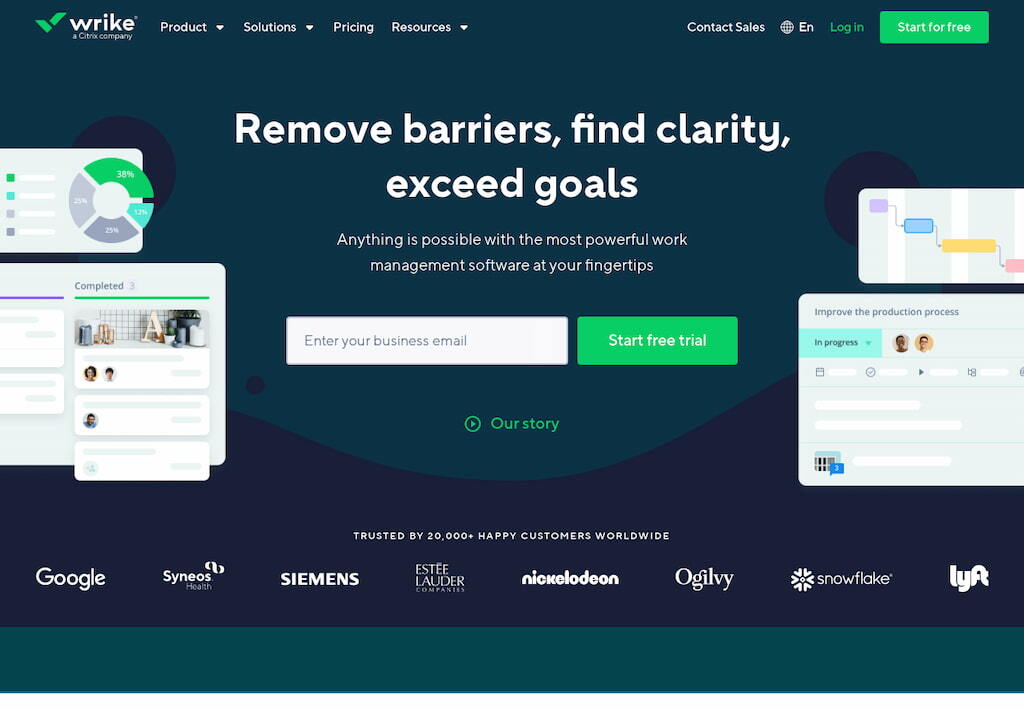 Wrike is one of the most powerful employee scheduling platforms on the market. Team leaders, managers, and project managers can plan projects, track deadlines, assign work, and stay on top of employee schedules easily.
🌟 Main Features
Wrike's main feature is its ability to make a manager's or a team leader's life a lot easier. Using Wrike, you'll be able to:
Plan projects and set deadlines
Take control of billable hours and increase client satisfaction
Manage and automate your staff's workflow
View team workloads and reallocate tasks to avoid burnout
And a whole lot more
💰 Pricing
Wrike has 5 different plans for you to pick from, each providing more features and functionalities as the cost increases. They include
Free: $0 per month for teams just getting started
Team: $9.80 per user per month
Business: $24.80 per user per month
Enterprise: Contact the sales team for a quote
Pinnacle: Contact the sales team for a quote
✅ Pros:
One of the most powerful scheduling software available
Can create custom workflows for each employee
Fantastic at managing employee workloads to avoid burning out
Relatively easy to use
❌ Cons:
One of the pricier options
You don't get access to many features with the cheaper plans
---
Connecteam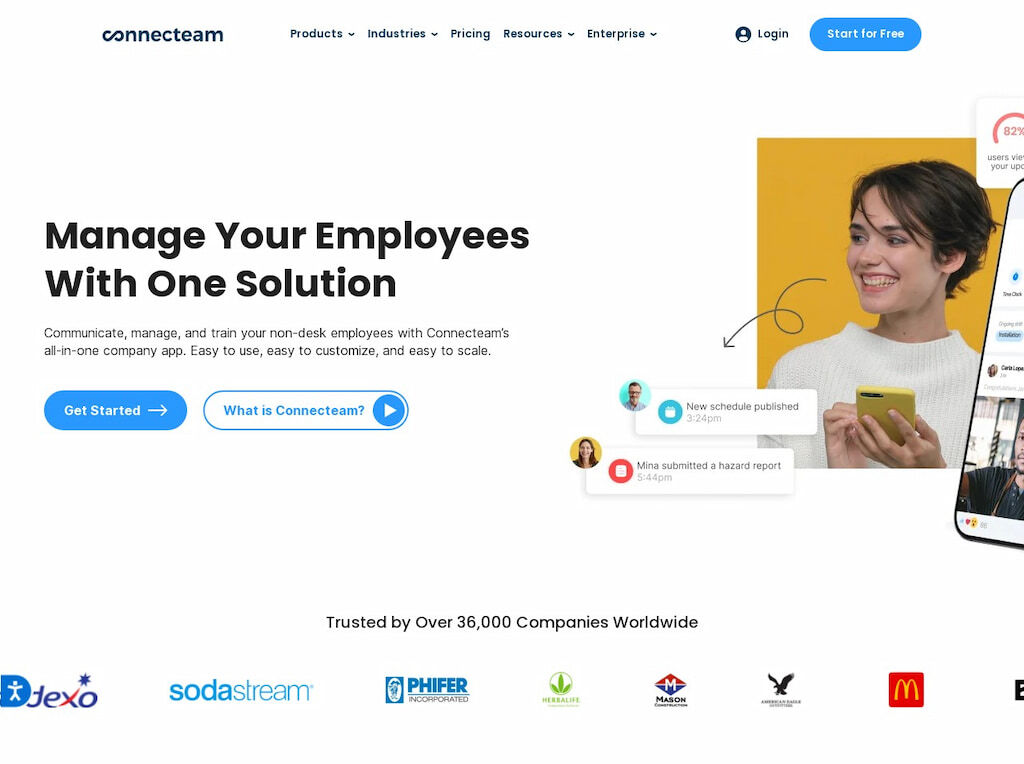 Used by over 36,000 different companies worldwide, Connecteam is one of the most widely used employee scheduling software today. Thanks to its simple and easy-to-use interface and a great number of features, you can start managing your team without having to go through a steep learning curve.
🌟 Main Features
When using Connecteam, you'll find it straightforward. It has a basic drag-and-drop interface that allows you to add and modify employee schedules very easily. You can even use the app for creating off-hours and breaks for employees, so everyone follows an exact schedule.
There are various pre-made templates available on Connecteam. That way, it's much easier for you to build schedules for entire teams rather than making a schedule for each employee. On top of that, this is one of the more affordable options available, which is what makes it a very popular choice.
💰 Pricing
Connecteam has four different pricing plans: Small Business, Basic, Advanced, and Expert. And for each one, you can expect to pay:
Small Business: $0 forever for up to 10 users
Basic: $35 per month for up to 30 users. Then, $0.6 for every extra user
Advanced: $59 per month for up to 30 users. Then, $1.8 for every extra user
Expert: $119 per month for up to 30 users. Then, $3.6 for every additional user
If you pay annually, you can save 18% on the total cost of your plan. Each paid plan also enjoys a 14-day free trial, with no credit card needed.
✅ Pros:
Free for small businesses
Fairly affordable per user
One of the most widely used scheduling tools on the market
Can create schedules at scale
Up to 30 free users with any plan
❌ Cons:
Free plan features are not clear
---
Deputy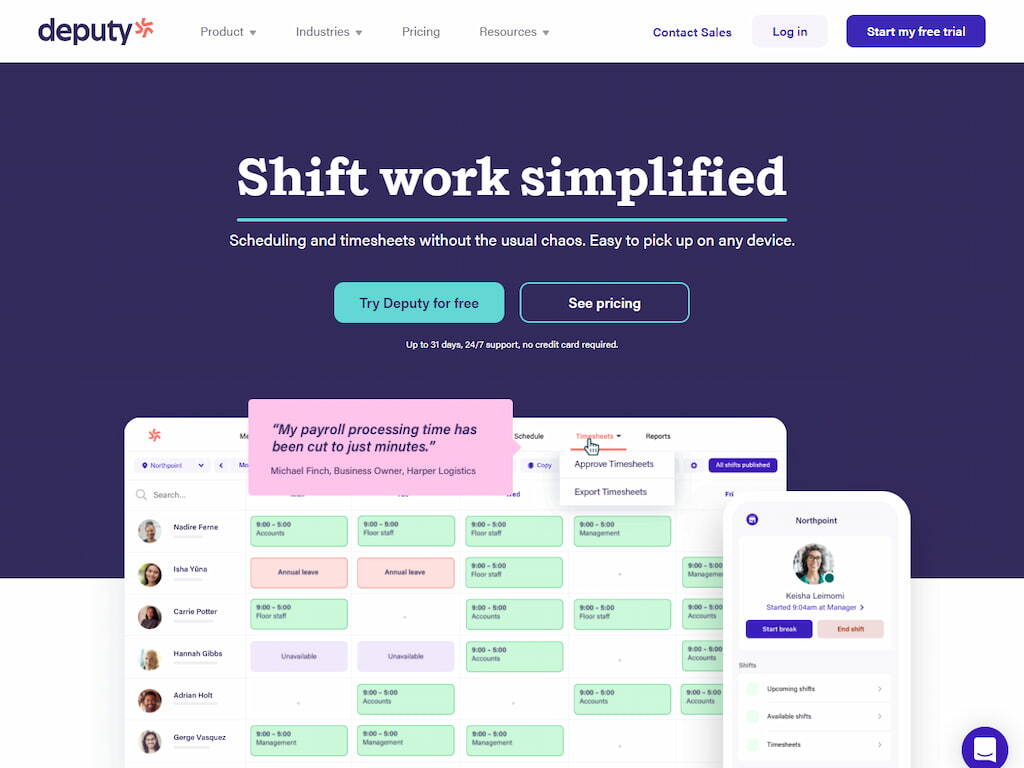 Deputy offers just about everything you need to schedule employees and increase their productivity without having to manually keep track of every detail. It's also super cheap, so if you're on a budget, definitely keep it in mind, but more on that later.
🌟 Main Features
The main feature of Deputy is how easy it is for team leaders and managers to keep on top of their employee's schedules. Using Deputy, you can schedule your team in minutes, saving you hours every month and dramatically reducing labor costs.
What we particularly like about Deputy is that its time-tracking feature is also quite good. You can accurately capture and keep track of every employee via the timesheet app and automate complex pay calculations.
Some other features of the software include
Access to labor compliance tools
A variety of integrations
💰 Pricing
Deputy's pricing plans are very strategically made, so you can keep the cost down by not subscribing to any feature the tool offers if you're not going to use it.
For instance, if you're only looking for an employee scheduling system, you can expect to pay £2.50 per user per month. If you're only looking for a time and attendance tracker, then you can expect to pay £2.50 per user per month.
And if you're looking to make use of both, you can pay £3.50 per user per month and that will grant you access to all features from both the previously mentioned plans.
If you have a company with over 250 staff members and require custom configurations, then you can reach out to Deputy's sales team for a quote based on your exact needs.
✅ Pros:
Great for small, medium, and large teams
Fairly easy to use
Very affordable
Enterprise plans available
❌ Cons:
The Android app isn't as good as it can be
---
Paycor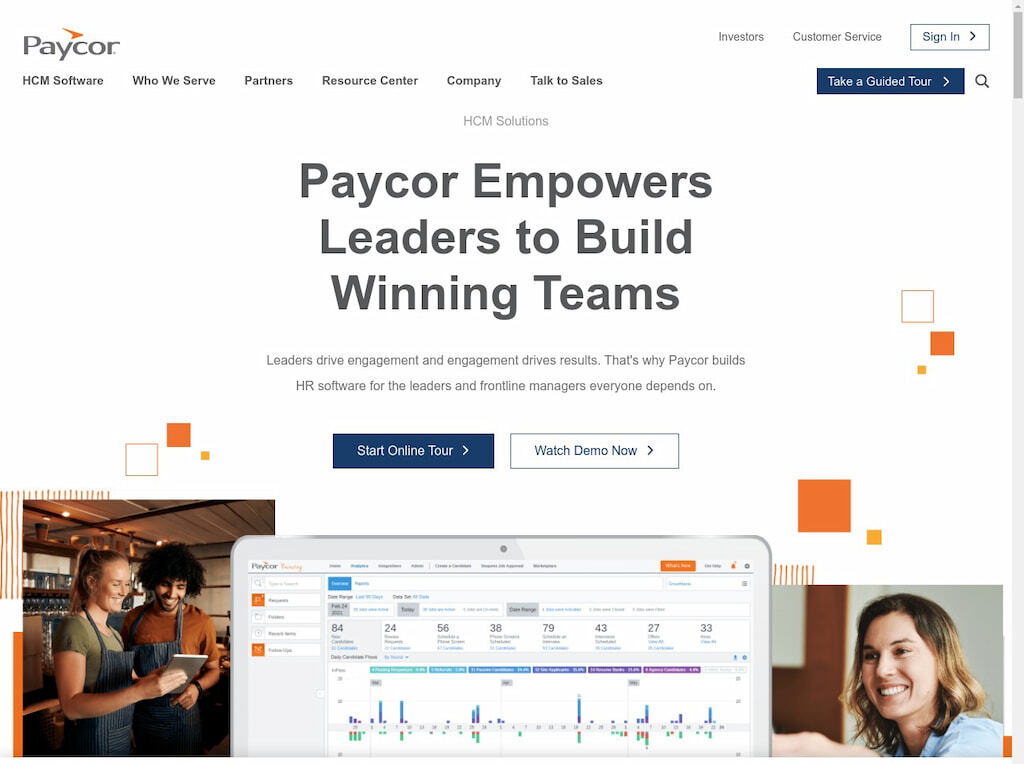 If you're looking for something more than employee scheduling software, then you should consider Paycor. This tool is extremely versatile, offering functionalities ranging from improving your employee experience at work to talent management and even HR & payroll.
🌟 Main Features
Paycor has a ton of fantastic features, and if we were to review them all, we would be here all day. So below, we'll bullet-point all of the Paycor features we think you should know about.
HR, Payroll, and tax management
Employee time and attendance tracking
Talent management and labor distribution
Employee onboarding
401K management
Basic Wage Garnishments
Compensation planning
💰 Pricing
Paycor isn't the cheapest scheduling software from the lot. Besides, the software only has two different pricing plans available, and those are only for companies with under 50 employees.
If that's the case with you, the most affordable plan is the Core plan, which will cost you $199 per month plus $8 per employee per month, and that will grant you access to 90% of the features Paycor has.
If you want to take advantage of features such as compensation planning, talent management, and advanced analytics, then you can expect to pay $199 per month plus $14 per employee per month. Do note that with both plans, you will get three months free.
And if you have a company with over 50 employees, and want to use Paycor, then you need to contact Paycor's sales team for a custom quote.
✅ Pros
Great time and attendance tracking features
Decent value for the money
HR and payroll management
❌ Cons:
Very expensive
Steep learning curve
---
Using an Employee Schedule App Free
If you don't have any money to spend on an employee scheduling program, then check out these five free work scheduler software.
If we take a look at the program for scheduling employees called Everhour, though it has affordable paid plans, it also offers a free forever plan. Using Everhour's free plan, users will still have access to some of the software's basic employee scheduling tools.
This staff scheduling software tools include but are not limited to the creation of unlimited projects, time tracking, and reporting. You will also be able to use the free version of Everhour over the web, via its browser extensions, or iOS app.
Employee Scheduling Software: TL;DR Comparison Table
| | Free Plan | Value for Money | Learning Curve | Set Up Difficulty | Capterra Rating |
| --- | --- | --- | --- | --- | --- |
| Everhour | Yes | Very Good | Average | Easy | 4.7 |
| ClickUp | Yes | Very Good | Extensive | Average | 4.7 |
| Monday.com | Yes | Very Good | Average | Easy | 4.6 |
| Homebase | Yes | Average | Average | Easy | 4.6 |
| DeskTrack | No | Very Good | Minimal | Easy | 4.2 |
| ClockShark | No | Average | Minimal | Average | 4.7 |
| Wrike | Yes | Very Good | Average | Average | 4.3 |
| Connecteam | Yes | Very Good | Average | Easy | 4.8 |
| Deputy | No | Average | Minimal | Average | 4.6 |
| Paycor | No | Average | Extensive | Average | 4.4 |
Employee Scheduling Software: Conclusion
Using shift schedule software is essential for every modern-day business. Using a great scheduling software such as Everhour allows you to not only stay on top of all of your employees without micromanaging but also gives you access to a bird's eye view of the progress your team is making.
And now that we've covered all the best software for how to schedule your shifts you should consider for 2024, all you need to do is decide on the one that best works for you and your team. In our opinion, Everhour stands out the most among them all.
It's not only cheap, but it can do everything you need it to do without spending a ton of time and resources setting it up or learning how to use it.