Scheduling your employees or the work they do is never an easy proposition. Sometimes, it takes so much to get it right. There are many aspects of work you'd want to manage efficiently, including adequate staffing, training, time-off requests, and emergencies. The list never ends. However, you can achieve fantastic results and better management with the proper tools.
You can take advantage of the best work schedule app for different purposes but, most importantly, to organize your workforce. That's the smart thing to do if you want to beat your competitors using the latest scheduling technologies. In this article, you'll learn why such an app is vital, the best app for a work schedule in 2023, and how it can help you bring out the best in your employees.
Why Use Work Schedule App?
With the pressures that come with the workplace, it's crucial to have an app or a tool to make your efforts worth it. That's where schedule apps for work become a life-saving component of your operations. With an efficient and effective time tracker or schedule app by your side, get set to achieve your goals and objectives. Here are some of the reasons you should know how to schedule shifts and use a work schedule tool.
You can track and approve overtime
When you want fast and accurate time tracking, including overtime, a work schedule app is your first port of call. Papers, emails, and even spoken words no longer suffice. Now, you get apps with systems designed not to make mistakes with the workflow and different projects.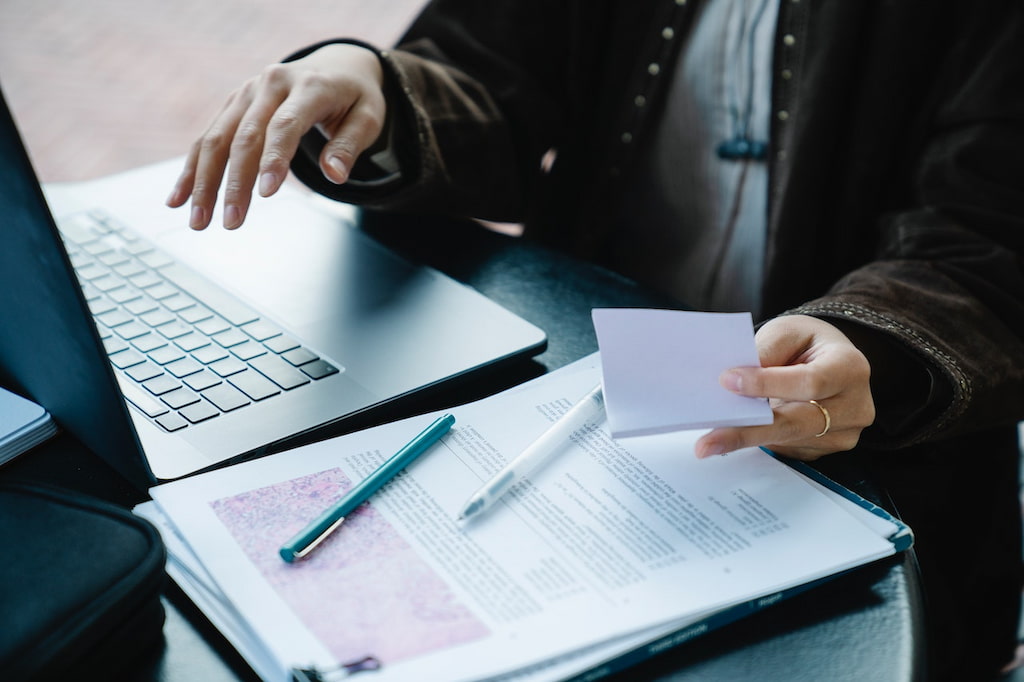 In addition, such an app helps you know who deserves what and how they earned it. Whether that's through regular time or overtime, you'll receive accurate employee information.
Boost staff training and onboarding
A scheduling app comes in handy when you need adequate support for your workers in different areas, especially during training, familiarization, and onboarding for new staff.
Further, you can use these apps to keep track of every relevant customer detail, which also helps to onboard staff. This way, your staff know what's expected of them, and their performance increases to a better level.
Faster responses
Even in times of emergencies, you can respond faster to your customers' needs. A delay or error can occur on the side of your customer, but it's usually up to you to fix it. That's why you need a tool that helps your business respond in time and accurately. If it involves a location, you can reach your customers quickly enough, thanks to a trusted scheduling app.
Enable staff to swap shifts
With a shift schedule app, you don't just get the scheduling and time coordination right; you can effectively manage shifts, especially when your business involves staff working within specific hours. In such a case, the app will let your staff know when to exchange shifts, and it makes the transition smooth. Your business runs efficiently, and your employees are more satisfied with the process.
Boost customer satisfaction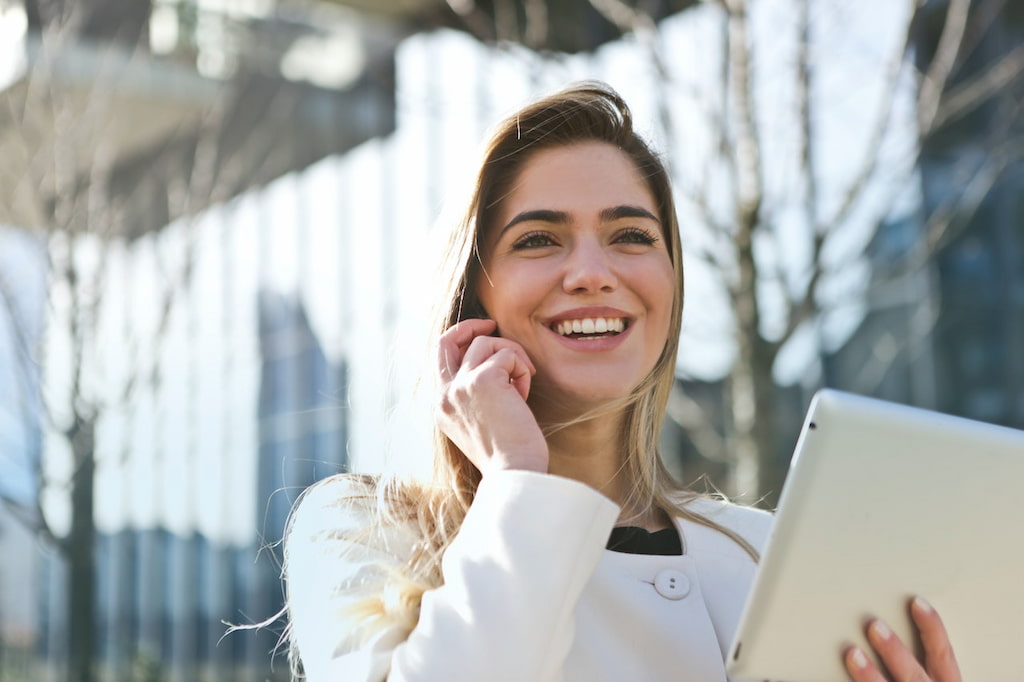 When you understand how scheduling apps work, it's easy to appreciate the value and noticeable contributions it brings to customer satisfaction. When every staff is pulling towards the same direction with efficiency and better management, customer satisfaction is sure to follow closely behind. Also, your customers will appreciate how quickly you process their requests and the accurate details you provide.
7 Best Apps for Work Schedules
With the reasons and benefits above in mind, you may be wondering about the best scheduling apps out there. Here are seven of them.
Shifts by Everhour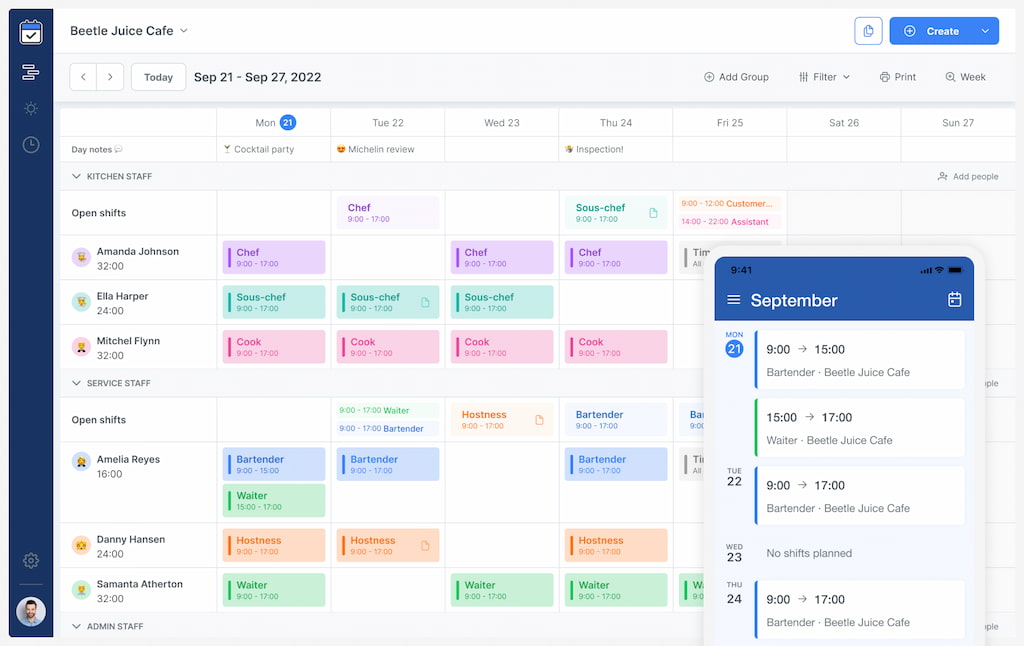 Everhour is a top job scheduling app with a reputation for being a user-friendly time-tracking tool that runs smoothly with multiple project management tools like Asana, Basecamp, Trello, Notion, etc. That's not all; Everhour offers Shifts—an innovative shift management app designed to help you maximize productivity in the workplace. Thanks to its efficiency, you can create a feasible work schedule for your team in minutes.
With Shifts by Everhour, you can avoid errors in work scheduling, especially overlapping shifts. The app will alert you whenever it detects an error in your employees' work hours, time offs, and other variables. So, you can relax while Shifts takes care of your team's workflow.
Shifts also fits into your already established workflow, so you can rule out making drastic changes. Once it's up and running, it will show you the time spent on each task, the data involved, and areas that deserve more resources. It backs up these parameters with visual reports to reduce the time spent collecting data.
⭐ Key Features
Shift scheduling: Shifts by Everhour offers an intuitive interface to create and manage employee schedules, allowing you to easily assign shifts, set recurring patterns, and adjust schedules as needed.
Time tracking: With integrated time tracking functionality, Shifts enables employees to log their working hours accurately, ensuring precise record-keeping and facilitating payroll processing.
Team collaboration: Shifts provides a centralized platform for team members to communicate and collaborate, enabling seamless coordination, shift swaps, and the ability to leave notes or updates for others to see.
Employee availability management: The software allows employees to specify their availability and time-off requests, giving managers a clear overview of each team member's schedule and helping them make informed shift assignments.
Real-time notifications: Shifts keeps everyone in the loop by sending automated notifications and reminders about upcoming shifts, changes to schedules, or shift requests, ensuring that everyone stays informed and updated.
💰 Pricing
Shifts is 100% free.
---
HotSchedules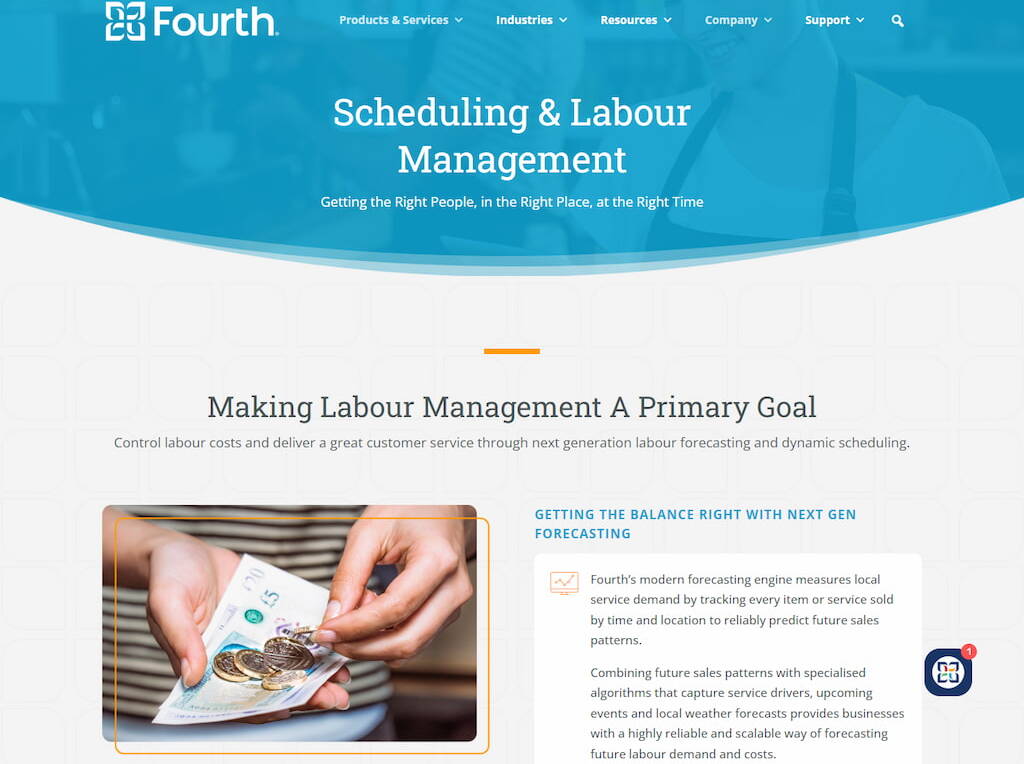 HotSchedules is another scheduling app that provides a high degree of visibility and control to organize your workforce. It's an app owned by Fourth Enterprises LLC. The app uses a schedule template and a drag-and-drop interface, which makes it easy to schedule employees. As a result, employees can see their schedules, clock in, and clock out time via the app.
HotSchedules makes it easy to swap shifts and track all schedule changes in real-time. You will receive information on labor costs, sales, and other aspects of your business.
⭐ Key Features
Make schedules: You'll find pre-built templates here, which are based on predictive scheduling. With it, you can deny or approve employee shift change requirements, set the rules for overtime, and reference employee availability.
Time and attendance monitoring: One of HotSchedules' top features is monitoring, which helps with time and attendance. Stay updated on employee clock-in and clock-out times, and gather information on tips and break entries. You can also give your employees access to their timecards and payroll histories. HotSchedules also lets managers add mobile web clock features. This way, your managers can set alerts to notify employees when they fall short of time.
Labor management: Calculating shift minimums to set holiday hours and generate suggested headcount is possible with this app. The raw labor projections also ensure that particular shifts always have the correct number of staff members available.
💰 Pricing
HotSchedules offers $40 per month for one location and up to 30 users. Even though HotSchedules has Android and iOS apps, you have to pay for them. Employers or their staff must pay $2.99 to download HotSchedules from iTunes or Google Play.
---
Humanity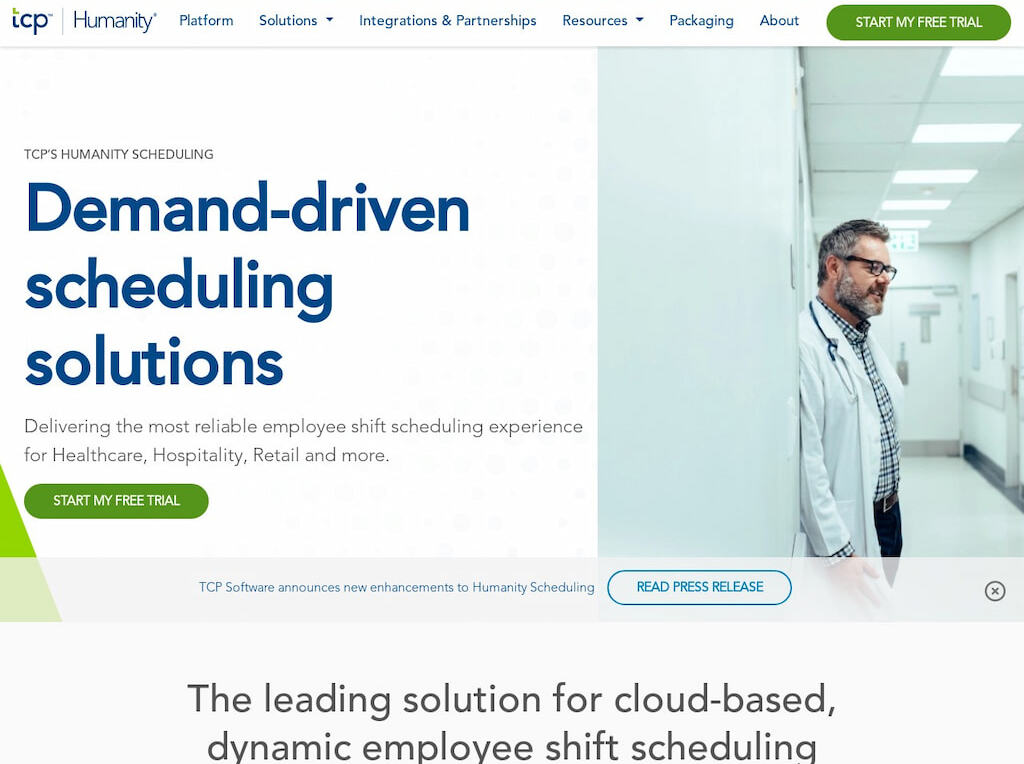 Humanity is popular among industry-leading healthcare providers. It's an exceptional scheduling app for any business in the service industry. In addition, healthcare, call centers, hospitality businesses, and restaurants take advantage of Humanity's features to automate scheduling in the workplace.
Running on both Android and iOS, Humanity is designed to help forecast your staffing needs. For the most part, expect error-free schedules while accounting for various employee scheduling requirements. With this app, you won't fall short of the latest labor laws about scheduling, breaks, and overtime.
⭐ Key Features
Time clock management: Like some apps here, the Humanity app helps monitor employee activities on the time-clocking system and ensures punctuality.
Forecast: With Humanity, you can integrate other KPIs and plan for upcoming activities without disrupting your employees' schedules.
Integrations: Integrations help you take advantage of popular third-party payroll and HR modules to enhance business operations. For example, Humanity integrates smoothly with popular external HR modules, including BambooHR, Workday, and many more.
💰 Pricing
Pricing on Humanity begins with a $2-per-user-per-month Starter plan. The plan is great for basic scheduling for teams. However, you can also pay annually at the rate of $60 per month.
There's also a Classic plan that comes at $3 per user per month. It can be paid annually, but the monthly subscription costs only $4 per user per month, which makes it quite the catch for midsize companies.
---
Calendly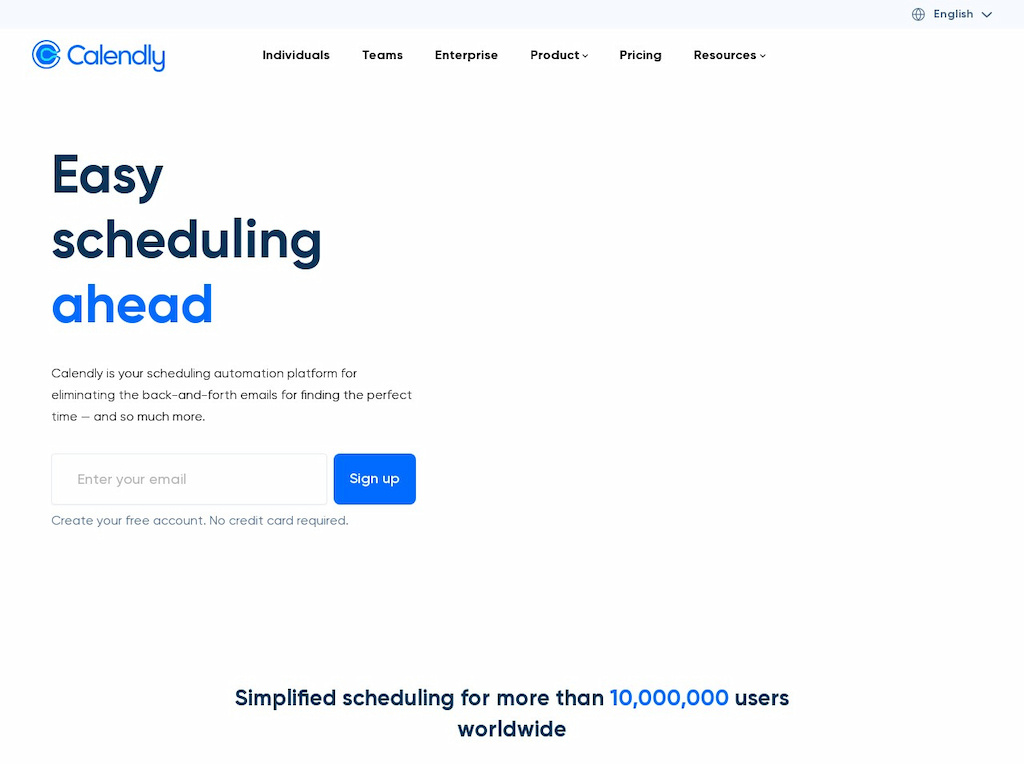 Calendly is another good app with an incredibly easy-to-use interface for scheduling interviews and meetings. Your employees can use this innovative app as a personal work schedule app that studies their availability to avoid possible gaps.
With Calendly, you can conveniently check your clients' and contractors' availability so that you can schedule sales calls or meetings at times convenient for everyone.
⭐ Key Features
Standardized scheduling: Calendly enables users to create and save templates to help standardize meeting types. This way, you get a resource that helps you and your team members maintain the same schedule.
Overview team activity: There's an admin dashboard you can use to review all types of meetings, participants, and items on the agenda. You can take advantage of this feature to ensure your employees aren't sleeping on the job.
💰 Pricing
Calendly has a free plan with some limited features. But it's a good choice if you don't know whether to trust the app. However, the Premium plan is set at $8 per month. Small teams can benefit from its custom features, including two calendar connections per user and unlimited active event types.
In addition, there's a Pro plan that costs $12 per month, and it's designed for teams with more complex scheduling needs. You'll find options like custom SMS notifications and extra color customization on this plan.
While there's an Enterprise plan, you'll have to reach out to Calendly for a customized quote.
---
Sling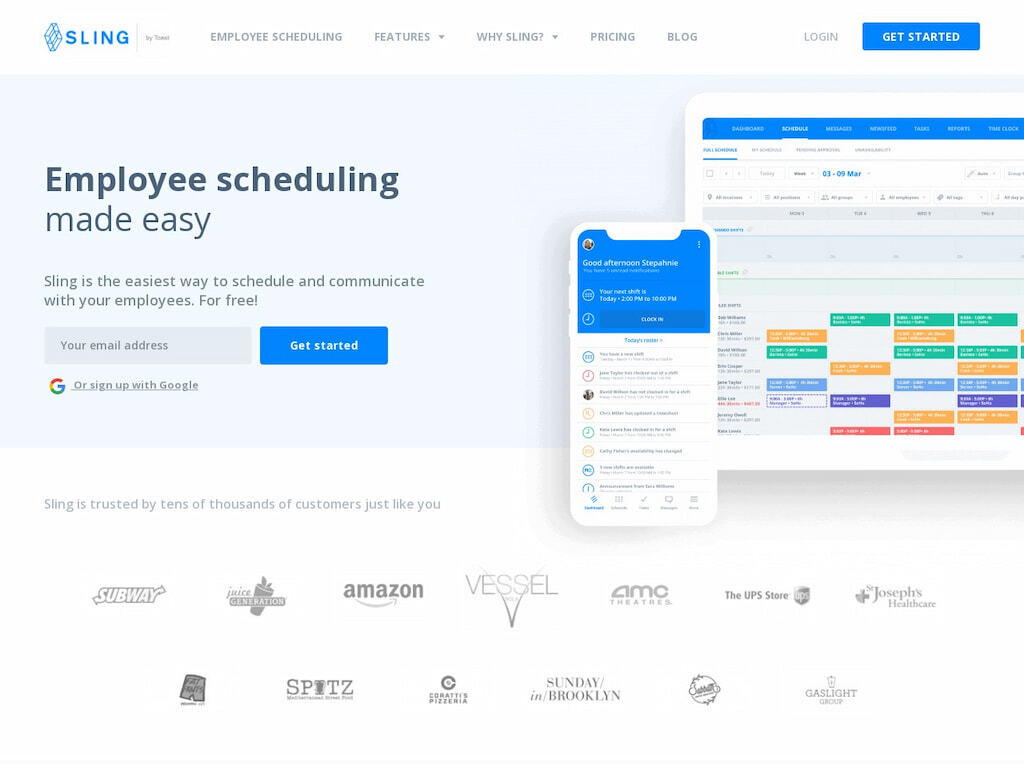 Sling makes it easy to create staff schedules with ready-made templates and notifications to manage multiple employee schedules simultaneously. As a result, you can hardly go wrong with the app. For example, if you schedule someone twice, you'll receive a notification. Sling also has a news feed feature to keep everyone updated while employees can sign up for preferred shifts or the ones that fit their schedules.
⭐ Key Features
Shift Scheduling: The templates available make it easy and fast to create working schedules within minutes. Even while managing time-offs, shift swaps, and availability, you can set the tone with schedules your staff can follow. If your employees stay in different time zones, it's convenient to set schedules for them.
Task management: This is one of the most important features of Sling that help you keep workers accountable while adding shifts and tasks. Along with the time clock, you can use Sling to clarify everyone's role during shifts and track employee activities.
💰 Pricing
Pricing is fair, and yes, there's a Free-for-Life plan. However, you can take things up a notch with a plan starting at $2/month per user.
---
Connecteam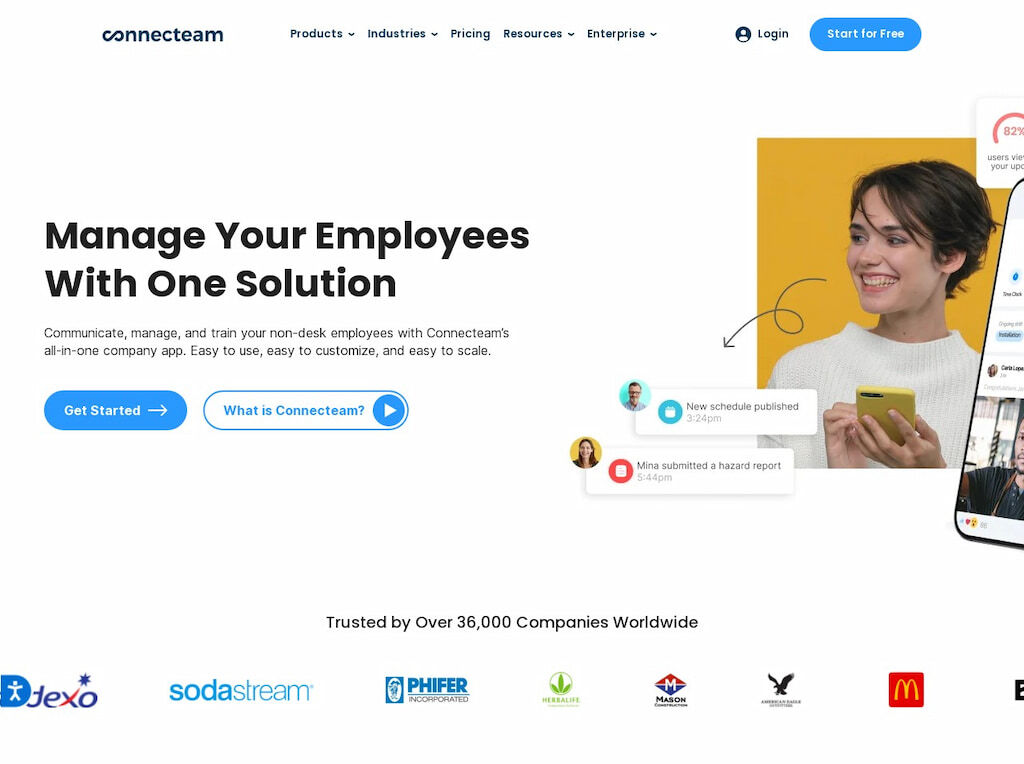 Connecteam is another app that provides innovative scheduling solutions for small and large businesses, even remote workforces. It's simple to operate and helps you quickly assign employee schedules. For example, you can use Connecteam to clock staff GPS locations when they clock in and out for tracking. What's more, your employees can use it to accept, reject, and check in for shift scheduling.
⭐ Key Features
Message board: With the message board, you and your team can make and see status updates throughout the day. Employees can also back that up with photos, videos, and notes to help everyone stay updated.
Team Management: Get more info about your staff location, clock-in and clock-out time, and other vital information. Check what they're up to and where they are on assigned projects.
💰 Pricing
You'll find a Free plan on Connecteam and a trial period to get the hang of the app. The main plan starts at $29/month for up to 30 users.
---
Homebase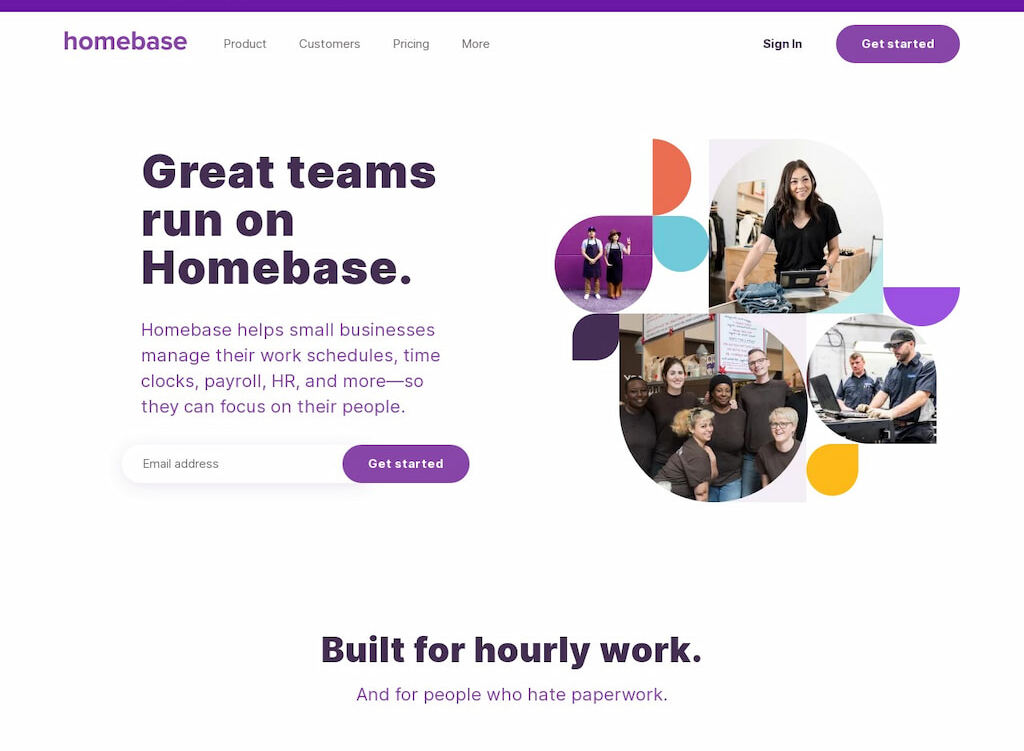 If you run a small business in a single location and require free work scheduling software, Homebase is a good option. The app is handy for shift trades such as food service, retail, hospitality, medical, and veterinary.
Homebase has a free basic version that you can use for timesheets, work scheduling, and messaging. Other plans offer more, though, including functional integrations. Read up our Homebase vs When I Work comparison to learn more.
⭐ Key Features
Integrations: You can link this app with others for better workflow processes. That's why it's a good choice for businesses that run numerous transactions. For example, you can integrate it with POS systems.
HR functionality and messaging: End-to-end HR functions are available on Homebase to help you better manage your employees. Take advantage of the platforms and tools available to manage applications and the onboarding process. Besides, Homebase encourages compliance, especially with tax laws.
💰 Pricing
Homebase starts with a free Basic plan. The Essentials plan is available at $24.95 per month per location or $20 per month per location (billed annually). The Plus plan goes for $59.95 per month per location or $48 per month per location annually.
The All-in-one plan is $99.95 per month per location or available at $80 per month per location and billed annually. Lastly, you can add the full-service payroll to any plan for $39 per month and $6 per active employee.
---
Comparison Table: Best Work Schedule Apps for 2023
| | | | | | |
| --- | --- | --- | --- | --- | --- |
| Apps | Integration | Reporting | Time Tracking | Work Shift Scheduling | Additional Team Features |
| Everhour | + | + | + | + | + |
| HotSchedules | + | – | + | + | + |
| Humanity | + | + | + | + | – |
| Calendly | + | – | + | + | – |
| Sling | + | – | + | + | + |
| Connecteam | + | + | + | + | + |
| Homebase | + | – | + | + | + |
The Best App for Work Schedule: Final Thoughts
With apps that automate some parts of your business or organization, you can focus on other important areas. Scheduling employees has never been an easy thing to do, especially on paper, which involves a great deal of patience and attention to detail. Thankfully, the best app for work schedules puts an end to those difficulties.
Further, the benefits are too numerous to overlook, and Everhour stands at the forefront of these apps. In 2023, expect companies of all sizes to include a strong scheduling app like Everhour in their system. This will boost employee efficiency and customer satisfaction, thanks to its all-in-one solution. Now that you know the benefits of these apps and the best among them, you'd do well to integrate them into your business.