Homebase vs WhenIWork: Which Is the Better Employee Scheduling Software?
Maria Kharlantseva, June 4, 2023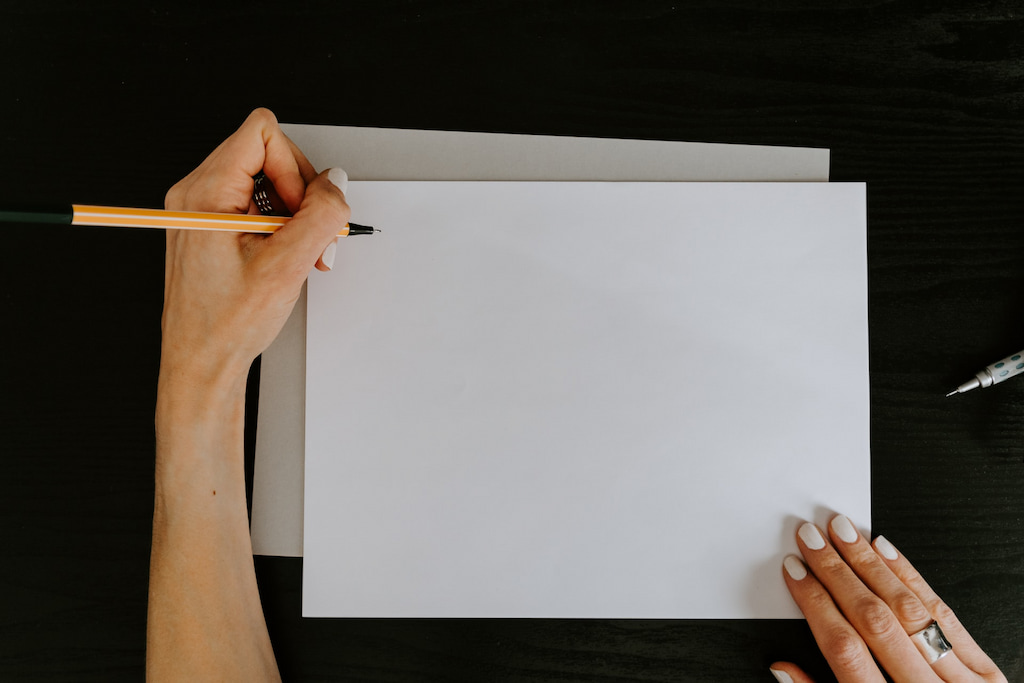 Homebase vs When I Work are two of the best employee scheduling and time and attendance tracking tools on the market. Each of the tools has its advantages and disadvantages, and the one you should use for your business will largely depend on your needs.
In this article, we will be putting Homebase vs When I Work to help you better understand what each of these tools can offer your business, and whether it's the right choice for you or not.
We will take a look at how both tools compare in terms of scheduling, payroll, customer support, ease of use, integrations, pricing, and rating. And in the end, we'll look at the individual key features and pros and cons of each software before showing you a comparison table that will help you decide on the one that works best for you.
Homebase vs When I Work
To compare Homebase vs When I Work, we will take a deep dive into some of the key features you need as part of your everyday operations and see what each of the software can offer you.
📆 Scheduling
When it comes to scheduling features, When I Work has a significant advantage over Homebase. While both of these options make employee scheduling easier, When I Work has a more robust set of features including automatic scheduling, smart scheduling templates, and notifications when either an employee or employer makes scheduling changes.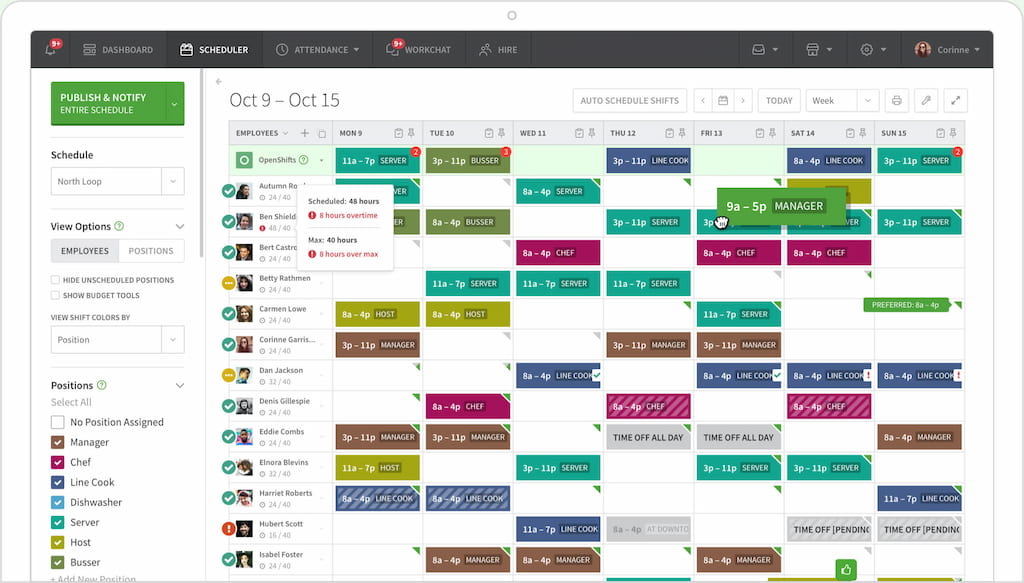 This makes it much easier for employees and employers to stay on track. On top of that, with the automatic scheduling feature, you'll be spending less time building schedules, allowing you to allot time for other important tasks.
Homebase has its own version of these features. However, they are far from what you can get with When I Work, which is why the latter has a major advantage in this category. For example, Homebase doesn't have basic features such as task scheduling and progress tracking, calendar sync & management, and others, which you do get with When I Work.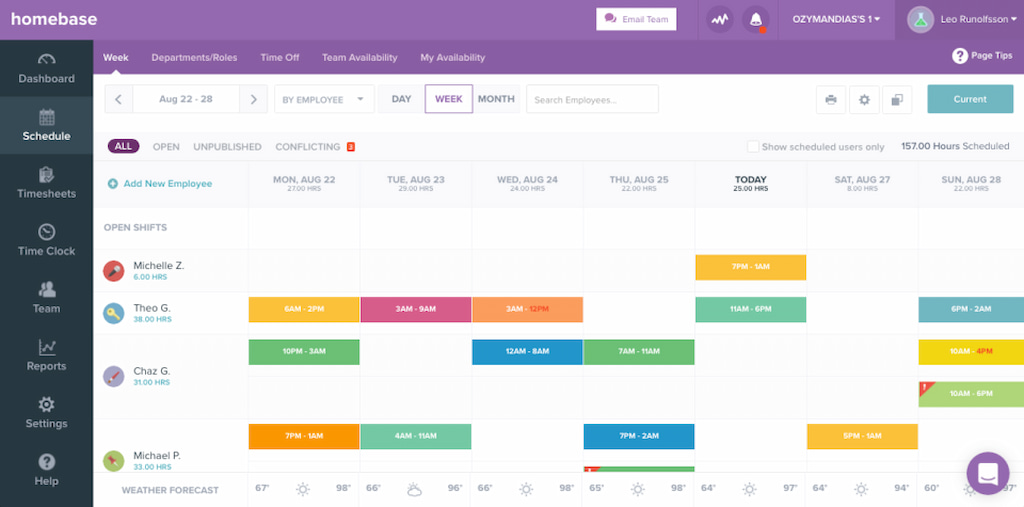 Aside from that, scheduling your staff with either of these tools is very easy, so it really depends on the functionalities that you are after when it comes to picking the right tool for your business.
In case these two tools don't cover your needs scheduling-wise, you can always check out Shifts by Everhour 😉
💸 Payroll
When it comes to Payroll, Homebase has the upper hand. Using Homebase, you can easily keep track of employee hours, manage time-off requests, and automate your payroll to a great extent. You can also use Homebase to generate labor cost reports and help you become compliant with labor laws.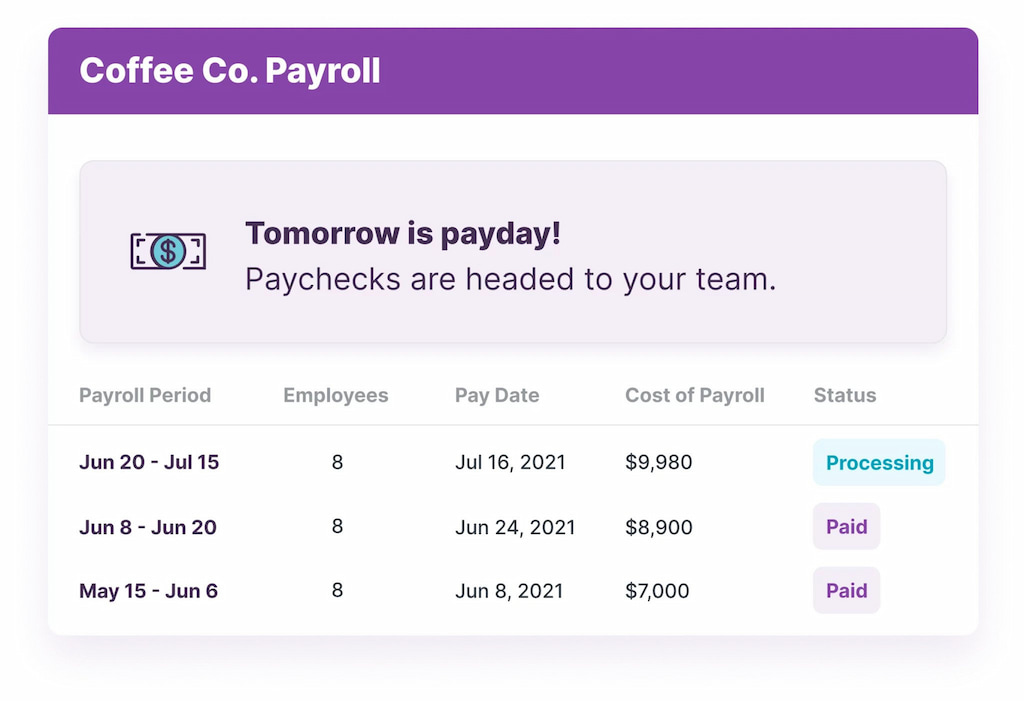 When I Work, on the other hand, doesn't have built-in payroll features. This is a significant letdown because having a built-in payroll management system allows you to build payrolls and manage them much faster and more efficiently.
Instead of having a built-in system, When I Work allows you to integrate their software with other payroll tools that already have this feature. Once you have the integrations set up, payrolls become much simpler. However, since it doesn't have a payroll system built-in into the app, Homebase is the far superior option when it comes to payroll management.
👩‍💻 Customer support
In comparison to Homebase, When I Work has a fairly sub-par customer support system. Nowadays, customers expect software to offer 24/7 customer support so if there are any issues, they can get resolved quickly no matter the time of day. Sadly, the When I Work customer service system is very reminiscent of old-school customer service systems that take a long time to help you with your various issues.
While the customer support of When I Work is active 7 days a week, they use an old-school ticketing system for complaints and concerns. While the team can get on your issue or problem right away and solve them pretty quickly, there are times when the system is overloaded and it takes a while before you're connected with the customer service team.
That said, they do have a range of how-to guides and training videos on their website. So, there's a fair chance that these videos will be able to show you exactly how to manage the problem you're facing without contacting a customer service representative.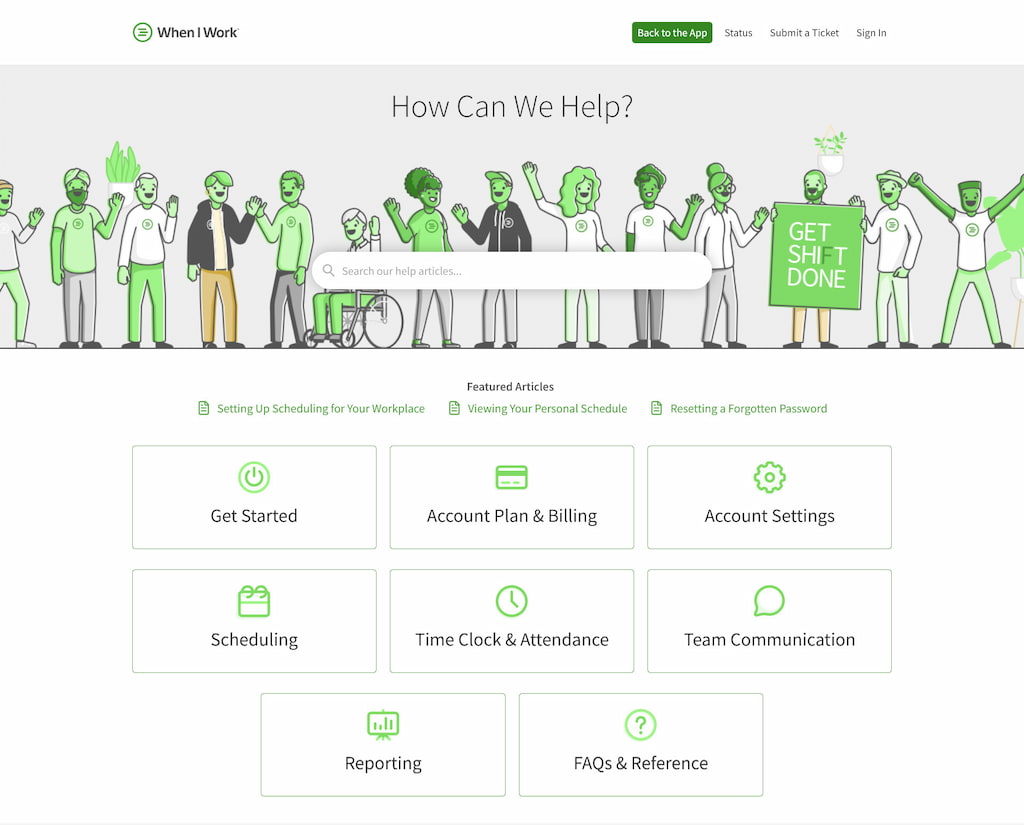 On the other hand, Homebase has a 24/7 email that you can contact. This is great because you can easily connect with a customer service representative whenever you run into a problems with the tool. Additionally, you can contact them via phone or chat from Monday to Friday during business hours, making it much easier to reach an expert for help.
And if you aren't keen on reaching out to a customer service representative, you can go to their knowledge base and read their articles designed to help customers. They also have a bunch of how-to guides that are well-written and easy to understand. So, between these two employee scheduling apps, Homebase offers a much more efficient and effective customer support system.
👌 Ease of use
Having access to a lot of great features is great until you face a steep learning curve on how to use them. Ease of use is where Homebase really excels. Even if you don't have any prior experience using Homebase or any other employee scheduling software for that matter, you won't face any difficulties finding your way around.
When you open Homebase for the first time, you'll instantly notice the clean and easy-to-navigate user interface. This makes it much easier for you to look for and find various features such as payroll, automatic scheduling, and integrations.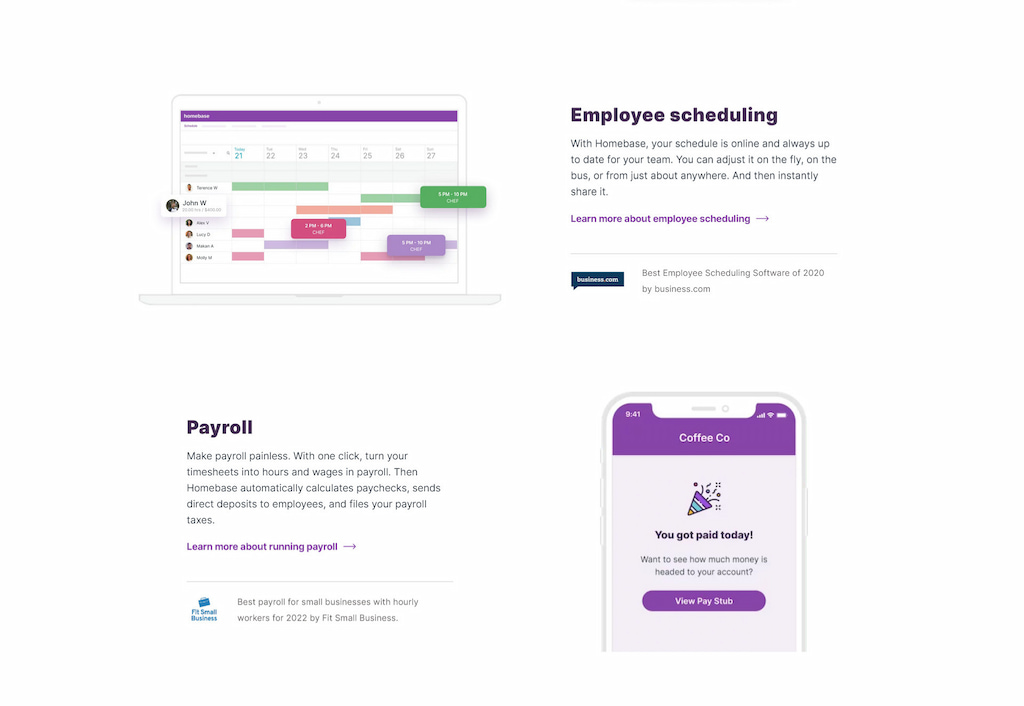 Now, don't get us wrong – When I Work also scores high when it comes to ease of use. This software has a modern layout that makes learning how to use the different features very simple and easy.
However, when looking at what other customers have to say about the software, there are quite a few that report a steep learning curve when they first open the app. This is natural for any type of software, but since Homebase doesn't have as steep of a learning curve, it is the clear winner here.
🔧 Integrations
It's important for modern workplace software to easily integrate with other tools. Nowadays, digital businesses utilize many tools when scheduling employees and managing the workplace. For example, aside from a scheduling tool, you might have a ticketing system for certain tasks, a workplace communication tool, and more.
Between these two tools, Homebase has the advantage when comparing integrations. This is because while both Homebase and When I Work have a wide range of integrations that make it easier and smoother to use the app, Homebase allows integrations with all of its plans.
When I Work only offers integrations when you have the time and attendance add-on. There are many users that avail of this add-on because it's really useful, while there are others that only get this because it opens up the integrations feature.
On top of that, Homebase is compatible with more apps. This means there's a higher chance that you can easily add this tool to your workflow and seamlessly use it in conjunction with all your other workplace tools.
💰 Pricing
The cost of Homebase and When I Work varies greatly depending on the number of employees and locations your company has. After taking a close look at both their pricing plans, we couldn't say that one had better prices than the other. Instead, there are certain organizations that get more value for the money with Homebase's pricing plans, while other organizations would benefit more from the When I Work pricing plans.
The Homebase pricing plan is largely based on how many locations you have. The price per new location can vary between $24.99 to $99.95 per location. That said, if you want to access the payroll features, you need to pay a base fee of $35 plus a fee of $5 per active employee.
Additionally, all of the Homebase packages come with time-tracking features. This means that you won't need to pay anything extra or use a third-party time tracker with Homebase.
On the flip side, When I Work has a per-employee rate for the tool. If you have a relatively small workforce, this setup could work for you, especially since the cost per employee is only around $1.50 to $2 per user. However, you can only imagine how much these prices will add up if you have a large organization with many employees.
That said, the When I Work plans don't come with hiring and built-in payroll features. Instead, you're going to have to use a third-party app and integrate it with When I Work. And since the app has a limited list of compatible apps, you may not even be able to use your payroll app and integrate it with When I Work.
Between these two tools, Homebase has the more flexible pricing options. However, if you have a small team across multiple locations, you may benefit more from the per-employee setup of When I Work.
📈 Ratings
One of the best ways to determine which employee scheduling software is better is to simply look at their individual ratings. To figure out who the winner was, we looked at each of the software's ratings on Capterra. At the time of writing this, Homebase is rated 4.6/5 out of 892 reviews whereas When I Work is rated 4.5/5 out of 997 reviews. Although Homebase is the winner here, still, both tools have great ratings so we definitely can't say that there's a clear winner.
Homebase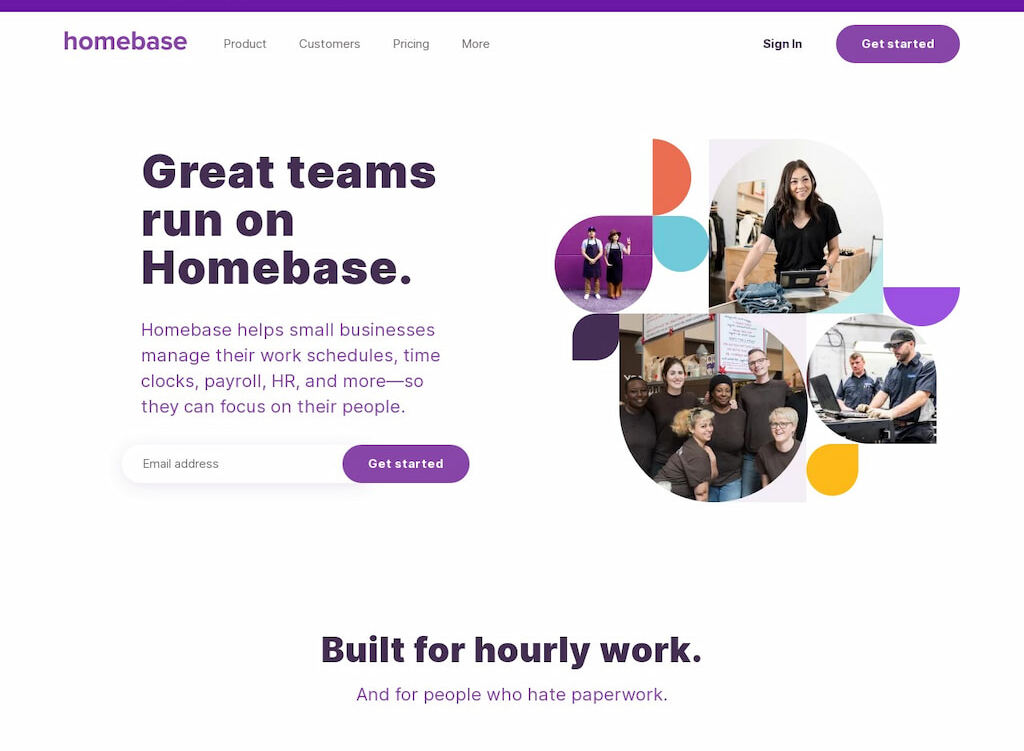 Homebase is one of the most popular and widely-used employee scheduling apps available on the market today. Below, we'll get into some of the key features of the Homebase schedule builder as well as the many pros and cons this software has to offer.
✨ Key features
The beauty of Homebase is that it comes with a wide array of features that are very useful to HR managers and team managers alike. To start, they have a great scheduling feature that allows you to automatically or manually schedule or adjust employee shifts.
The software also features time clocks, which allow you to track time more accurately. This feature works hand-in-hand with the payroll feature, which is designed to make managing employee payrolls much easier. This isn't present in When I Work, which is one of the reasons many people prefer Homebase.
On top of that, Homebase even allows you to communicate with different members of the team. That way, if employees have questions or need clarifications about their schedule, they can contact you right away. Smooth communication is essential for success in an organization, which is why Homebase is a true all-in-one tool.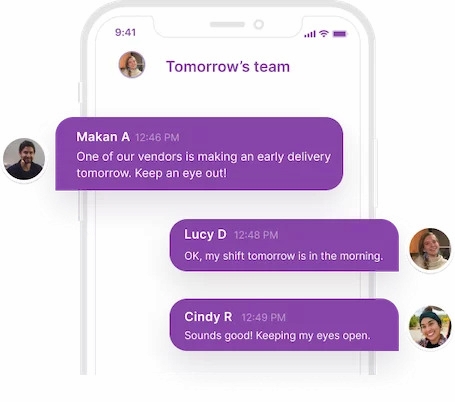 Here's an insight into some of Homebase's key features:
HR and Compliance – This feature is designed to make all aspects of HR much easier, even for people who don't have experience in it.
Employee Happiness Metrics – It's important to make sure that your employees are happy and satisfied with the company. That's why Homebase tracks employee happiness metrics automatically to gauge how your employees feel.
Labor Cost Management – Making sure that you stick to the budget while also paying all employees is hard. But with the labor cost feature of Homebase, you get a bird's eye view of your budget, how it's being spent, and when to pay your employees.
✅ Pros
A great pricing system for large and medium teams that work in different locations
Lots of free features that you can use without paying
Great employee payroll management system
Can be integrated with different tools
Can track employee happiness metrics as well as time, attendance, and other
❌ Cons
Doesn't have the same scheduling features as When I Work
Pricing is not ideal for small teams
When I Work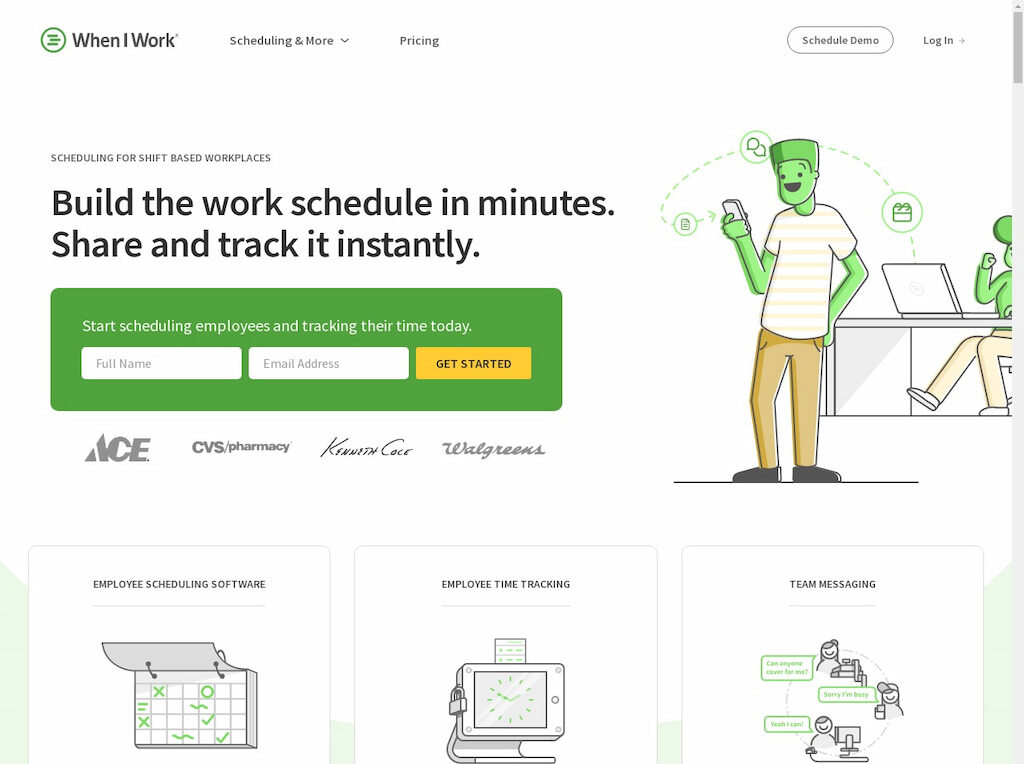 When I Work isn't as popular or widely used as Homebase. However, that doesn't mean it's not a great scheduling software. In fact, this is great scheduling software that's best for smaller teams and organizations. Below, we'll take a look at the key features this software has as well as its pros & cons.
✨ Key features
When I Work lacks features like built-in payroll management and doesn't integrate with as many apps. But while it isn't as flexible as Homebase, it excels in its primary function – employee scheduling. As mentioned earlier, the When I Work scheduling feature easily beats out the one Homebase has.
This is because automatic scheduling works better and you get notifications for employees and employers whenever there's a schedule change. The app also has an attendance feature suitable for tracking employees. There is one downside: it doesn't come with all their packages, which can cause your operational costs to add up.
That said When I Work still comes with its share of great and interesting features. Some other notable features of When I Work include:
Time Clock – Ability to accurately track time off, attendance, and employee breaks
Team Messaging – Communicate with your employees directly on the app – removing the need for third-party communication software
Timesheets – Automatically made easy-to-read timesheets that give you a better view of your team's schedule and the hours they worked
✅ Pros
Easy scheduling
Simple layout
Comes with a 14-day free trial
Ideal for smaller teams
Relatively affordable
❌ Cons
Lacks integrations
Doesn't have a built-in payroll feature
Customer support could be better
Comparison Table
If you're looking for a clearer comparison of these tools, check out the table below.
| | Homebase | When I Work |
| --- | --- | --- |
| Price | $24.95–$99.95 per location; a free plan is available | $2.50–$6 per employee |
| Time & Attendance | Available with all plans | Comes as an add-on with an additional cost per employee |
| Hiring | Available with all plans | None |
| Employee Scheduling, Time Clock, Team Messaging | Yes | Yes |
| Payroll | Available as an add-on that costs $6 per employee with a base fee of $39. Integrations are available as well. | Only through integrations |
| Point of Sale (POS) | Only through integrations. | Only through integrations. |
| Customer Support | Phone and chat during business hours Monday to Friday. Also has 24/7 email, a knowledge base, and how-to guides. | The ticketing system is active 7 days a week. How-to guides and training videos are also available. |
Homebase vs When I Work: Conclusion
Out of these two tools, Homebase offers more functionality, flexibility, and a better set of features overall. It is a great pick for larger organizations that need more features in their employee scheduling system. It's really easy to adopt Homebase and their customer support system is top-tier, which is why this is one of the most popular scheduling apps available.
While When I Work is still a great tool, it's best for smaller teams. The scheduling feature is definitely one of the best, but it lacks other features that it needs for large organizations. But if you have a small team and want a more affordable option, When I Work or its alternatives is a great pick.
When we compare When I Work vs Homebase, our personal favorite is Homebase. But as we've already said, this can be different for you and your business.