Looking to become more productive and reconsider your daily routine? But a to-do list turns out to be not very effective? Do you often over-schedule and only get 2-3 tasks done out of the 10 you planned for the day?
If so, have you ever tried employing a time tracker? Or a time blocking technique? Time blocking app?
In this article, you'll discover how to make all your planned-for-the-day tasks manageable, how to organize your time effectively, and how to digitize your diary with this time blocking technique.
FREE template you can find below 👇👇👇
Time Blocking Templates
A very important thing in time blocking is to choose the best block schedule template for your needs. You can select between paper-based, non-specialized, and specialized time management worksheets for daily use. Let's have a look at their pros and cons.
1) How to use Google Calendar for time blocking?
Online you can find a variety of free time blocking apps that provide a wide range of functions. But the most popular and simple way is time blocking with Google Calendar.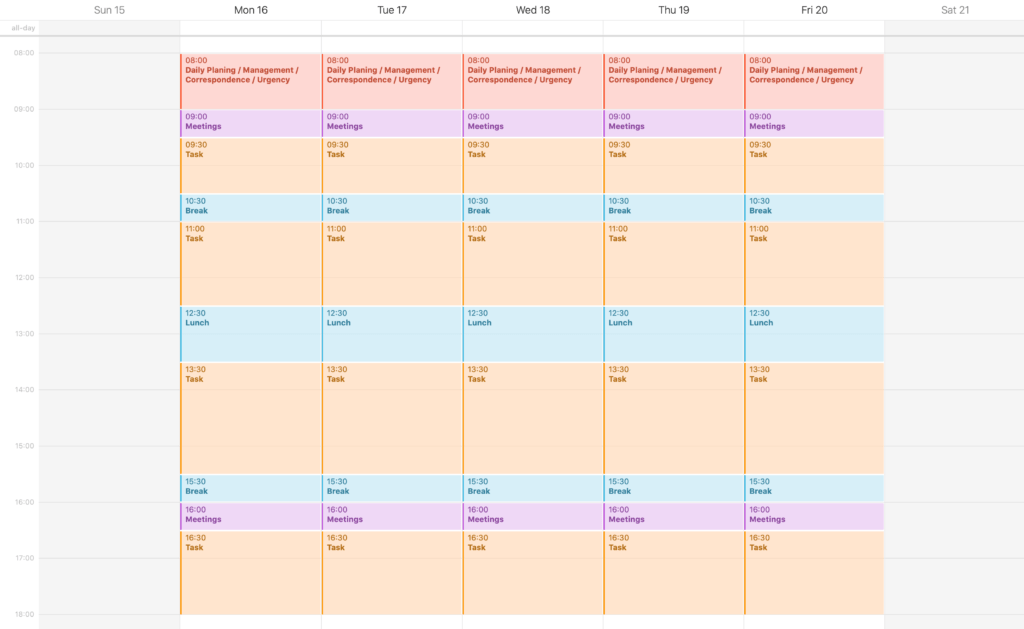 Before implementing this, it's important to think of the most important categories of the work you do. Here are some general areas:
Business Development,
Client Work,
Content Writing,
Marketing,
etc.
Open your Google Calendar and add a new calendar for each of your categories. Don't forget to color-code each calendar to make the different blocks stand out. After that, record and add everything to the calendar.
Generally, we are the most effective in the morning, so schedule any client work and other important things in the morning. Then fill up the afternoons with other stuff, depending on what you've got going on.
Don't forget to look at the bigger picture. Is there something that might need more or less attention? And make sure you keep some blank space for when additional issues and tasks inevitably pop up.
Keep it open in the background during the day, and switch to your normal work in Asana, Trello, Jira, or whatever you or your company use.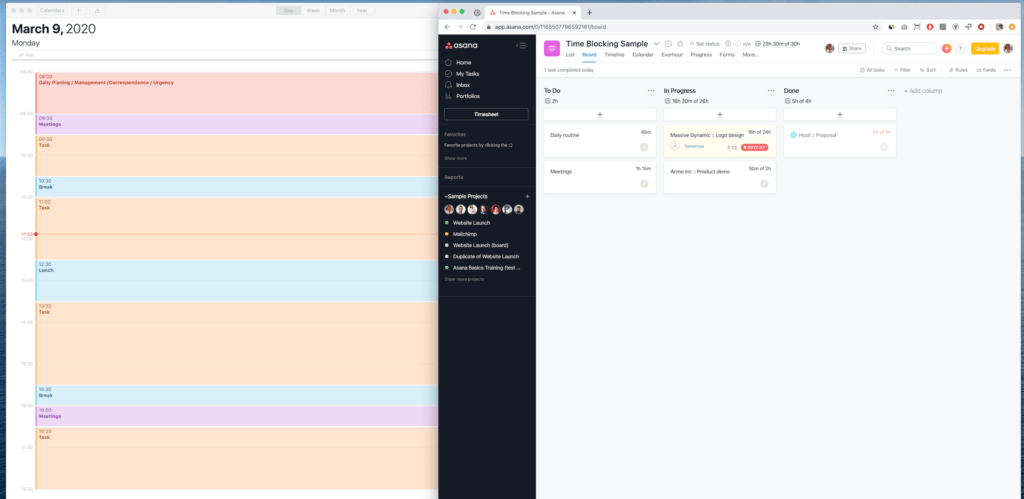 When you'll see that the allocated time is coming to an end – make sure it does not seriously affect your plans, otherwise, try to reschedule your day.
A time tracking app, like Everhour, will allow you to analyze and set accurate time boundaries in the project work and keep track of budgets, while time blocking with Google Calendar will organize your time into a smooth and consistent timetable.
2) Paper-based templates
Paper-based templates aren't very practical. You'll make lots of corrections to them, especially at the revision and re-planning stage. You can't sync a paper-based worksheet, or search it, or easily re-order it. What you see is what you get and that's it. Although, if you prefer the old-school style way of doing things, you might just find them to your liking!
There are many reasons that paper-based planners have been around forever. They are easy. They are straightforward. And they just work. Often, the simplest solution is the best.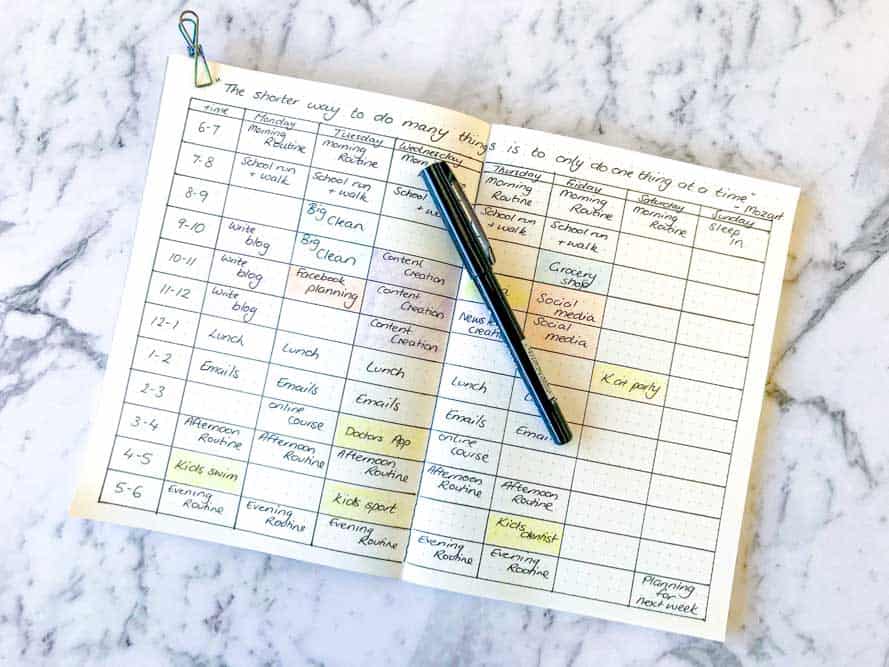 3) Time blocking planner templates [FREE]
Here are six time blocking planner templates you can download in PDF and print out, or easily fill out in Google Spreadsheets.
💡One little tip. If the technique works pretty well for you, you can print out the time blocking planner on heavy card stock, laminate it and use whiteboard marker pens. This way you can re-use it over and over again.
Daily Time Blocking Template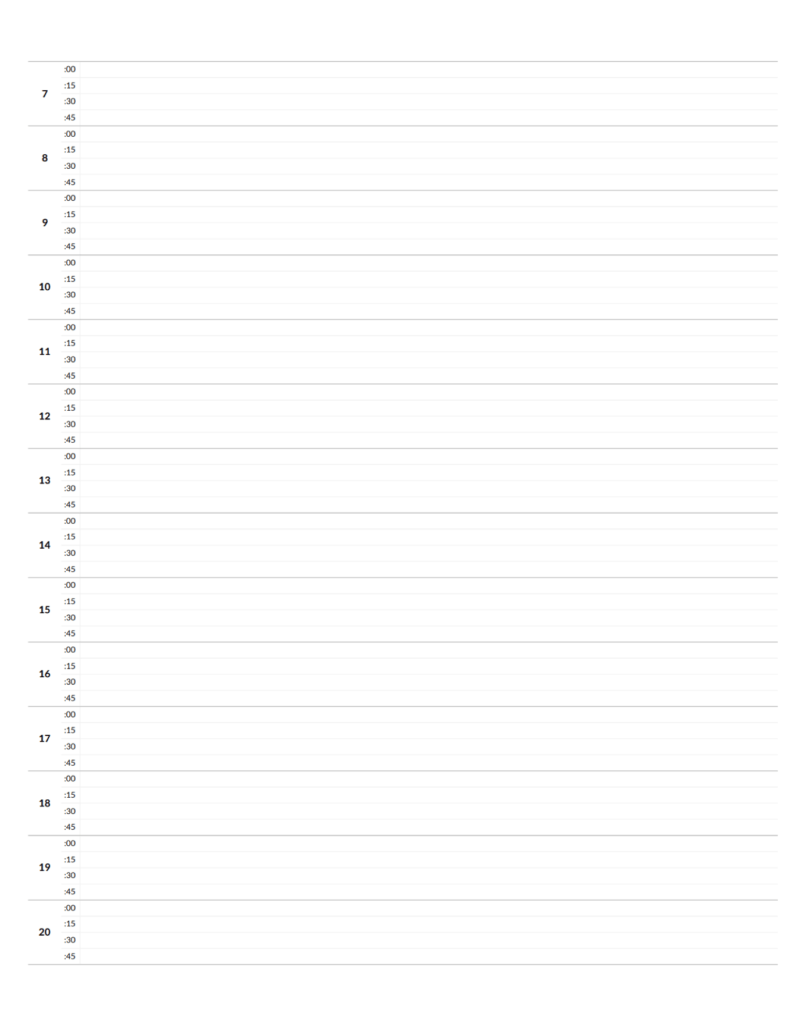 15 Minute Daily Planner (PDF)
Google Spreadsheet
---
Weekly Time Blocking Template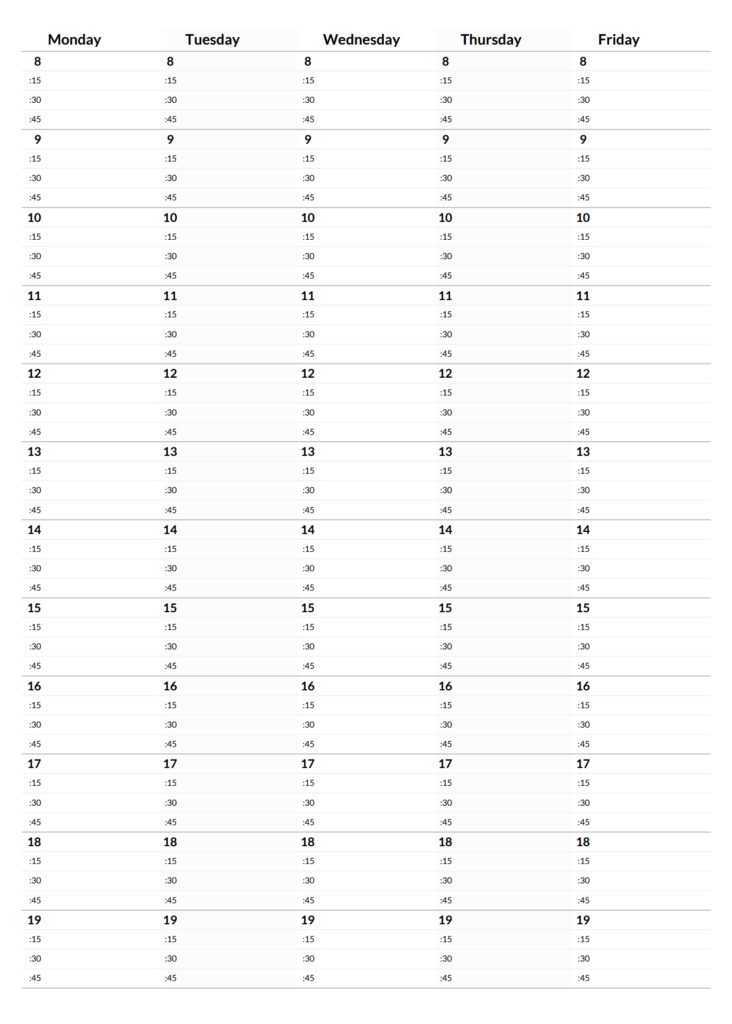 5 Day Weekly Planner (PDF)
7 Day Weekly Planner (PDF)
Google Spreadsheet
---
Monthly Time Blocking Template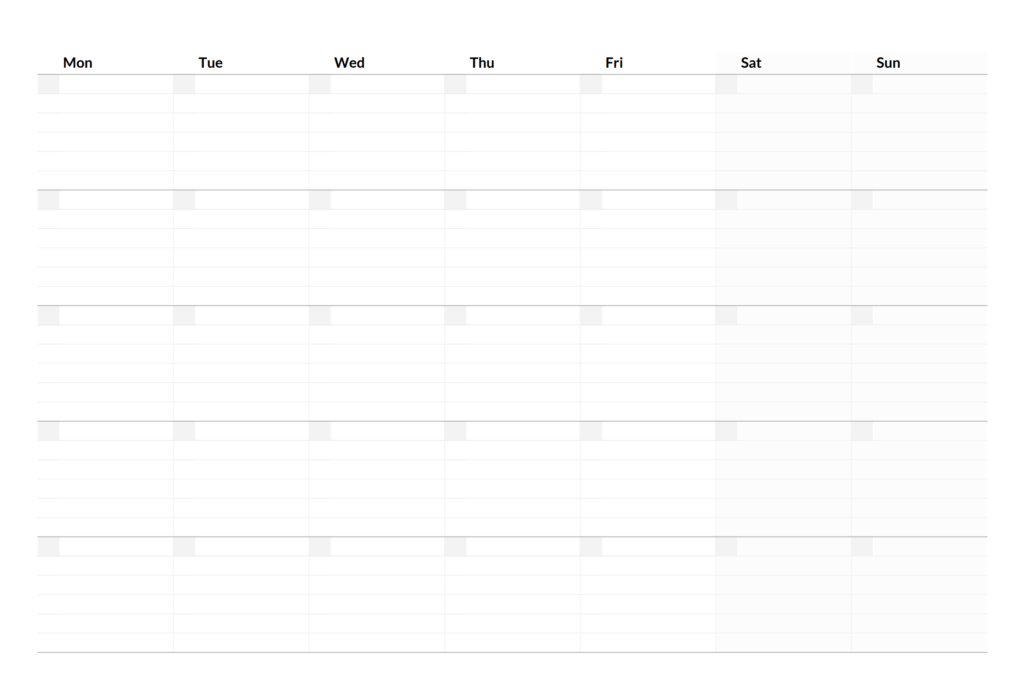 1 Month Planner (PDF)
Google Spreadsheet
---
What Is Time Blocking?
Time blocking, also known as time boxing, is a time management technique that helps you organize, prioritize and schedule all your tasks and activities using blocks. You can plan for a whole day, week, or even month with this technique.
These blocks implement the idea of time limits and are quite flexible in terms of deadlines, meaning you can always re-evaluate your tasks.
There is no definite answer who was the inventor of the time blocking technique. The practice of time scheduling has always been applied by people in one form or another. What is known for certain is that time blocking has always been used by great thinkers.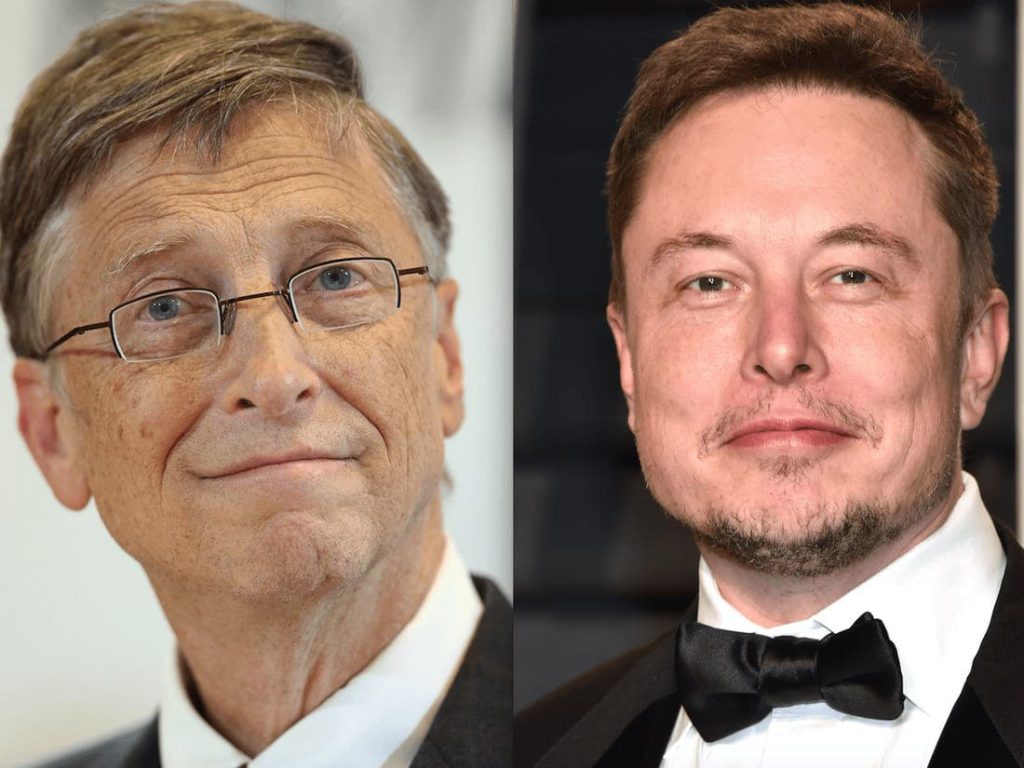 Elon Musk works an eye-watering 80–100 hours a week, but he also keeps an incredibly regimented schedule, breaking his days down into 5-minute increments so every moment is planned out.
Bill Gates does the same. Former Fed Chairman Alan Greenspan meandered through his day in comparatively idle 15-minute chunks. Entrepreneur extraordinaire Gary Vaynerchuk, on the other hand, claims to plan his days "down to the second."
While big names have always used it, there is no big secret here. The idea of time blocking is simple. This efficient time management practice encourages:
Division of all your time into blocks
Assignment of time limits to every task
Block revision after completing tasks or not meeting deadlines
Use of special apps and calendars for smooth time block revision
How Time Blocking Works?
Below are simple steps and useful tips to follow to create a great time blocking schedule:
Plan and prioritize
At this step, you gather and prioritize all of your tasks. The following tips will help you do it more effectively.
Think of and write down all the tasks you need to do on a piece of paper. Now, you have a great to-do list. But don't stop here.
After you've gathered all of your tasks, it's time to prioritize. For this, take another piece of paper and write out the most important tasks. They can be the ones you have to do daily. For example, answer emails, communicate with your work team or clients. Then add those that have close deadlines. After filling in those that have distant deadlines. Finally, add all the rest.
To prioritize exactly, use time management techniques, such as The Alps Method or The Eisenhower Decision Matrix. Find more useful techniques here.
Don't try to put all the tasks in one day; it's better to shorten your schedule to a maximum of 5 tasks a day. Otherwise, you'll slip into multitasking, which is never good for your productivity or accuracy. Read about some more time management pet peeves and how to avoid them.
Unite your tasks into time blocks
This stage is important as you assign time intervals to your tasks. For this you need:
Define the most productive part of your day, when you are the most concentrated, energetic, and creative. You can do it in the form of a game. For example, the Circadian Rhythm or Time Squared games can help you analyze your working day and understand how you allocate your time.
Schedule your most important or unpleasant tasks for the morning, the faster you complete them, the better you'll feel during the day. This can give you the power to handle all the rest of the tasks faster.
Set your time intervals wisely. At first, this activity may seem tough as different tasks require different time intervals. You can start with standard 60 mins for every task and then track the time for each completed task to become more precise in the future.
If your tasks are too big, it's worth dividing them into smaller ones. This will keep you from becoming demotivated when you are not able to finish everything on time.
Finally, as you've set the start and end time for each task, add them to your time blocking calendar and move on to the next step.
It's time to act!
You've drawn up your first time blocking schedule. Now, it's time to try it out.
Start your work at the 1st blocked task at a set time and finish it accordingly. If you've not managed to meet your self-set deadlines, don't panic! The next step will have all the instructions in case this happens.
Keep tracking time for every block you work on, for now, you need statistics. Analyze which tasks take you more time and less time. You can keep it on a piece of paper, using a free time card calculator or with an integrated time tracker.
If working in time blocks makes you tired quickly, an alternative method is the Pomodoro technique. Check out some of the best Pomodoro apps – they'll help you divide your working time more evenly, giving you the breaks your mind needs.
Revise, re-plan and re-plan
This step makes your time blocking schedule more adaptable to unforeseen circumstances and flexible with burned deadlines.
You'll never define the length of your time blocks with 100% accuracy. This is because of many reasons, such as unexpected work errors, various delays, or just simple tiredness. That's why there is the opportunity to revise all your planned tasks and put them in a new set of blocks.
Revise and re-plan your schedule when you have part of your tasks completed. Throughout the day the priority of your tasks can change and you should be prepared for it. Especially if you work in a fast-paced industry.
It's much easier to use special apps for schedule revision as it will look much neater than a time-blocking planner made on a piece of paper where you will need to cross out parts and add others in. After a while, it'll look pretty messy.
Why Time Blocking is Good For You?
Your work becomes your priority
When you arrange your tasks in time blocks, you start with the most urgent ones, devoting the most of your time and attention to them. At the same time, you learn to estimate and allocate time in advance for your long-run projects.
Great estimation skills are important for creating an excellent schedule. And such thorough planning makes you highly focused and with practice you'll start completing your tasks before the settled time, allowing you to pursue the most ambitious goals.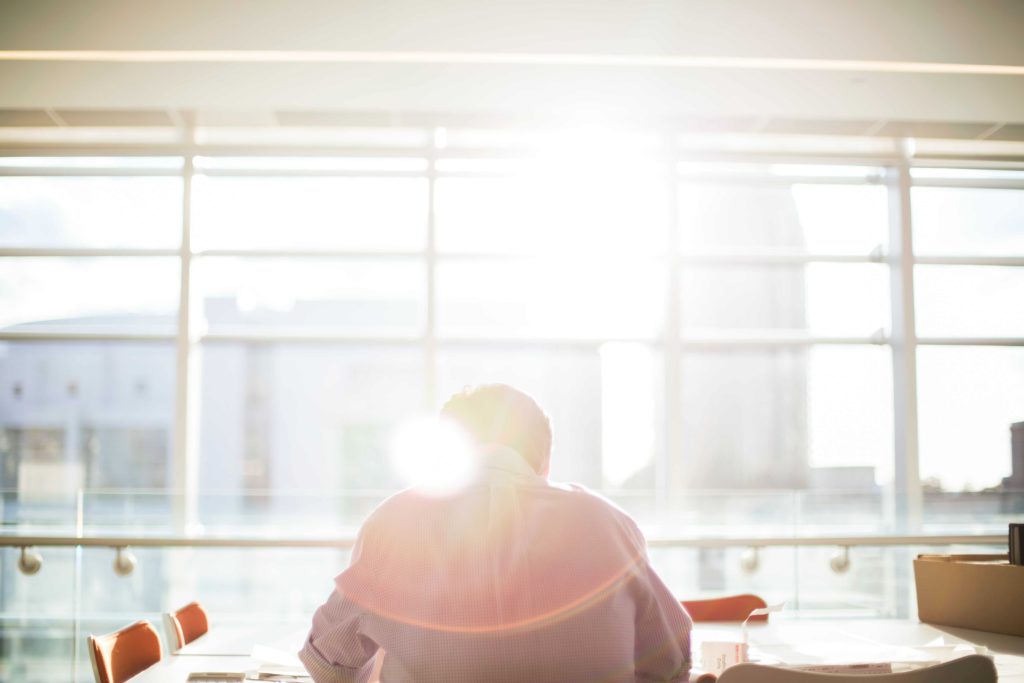 You become realistic about your working potential
Those who's just stepped on a path of productive time management usually make the same mistake: they overestimate their capabilities.
This means that they try to accomplish all the tasks in one day without realizing the real workload, possible distractors, or contingencies.
If you're a beginner at time management, at the start, you can effortlessly boost your work-time potential with different time management and productivity apps.
Dividing your tasks into smaller pieces, adding more time for a task than you think you need, and reserving time for breaks (it's not a luxury; it's essential) is the strategy of a wise planner.
All this can be easily learned by practicing the time blocking technique.
You make your brain work better
Our minds need time intervals to focus and complete a task. For productive and concentrated work, our brain usually takes us about 30 mins to tune into it. Time blocking employs effective time management techniques for that purpose.
It also minimizes the risk of distraction by telling you that it's time to work right now. Your brain knows that in a certain period of time there will be that desired break and becomes more focused on the task at hand.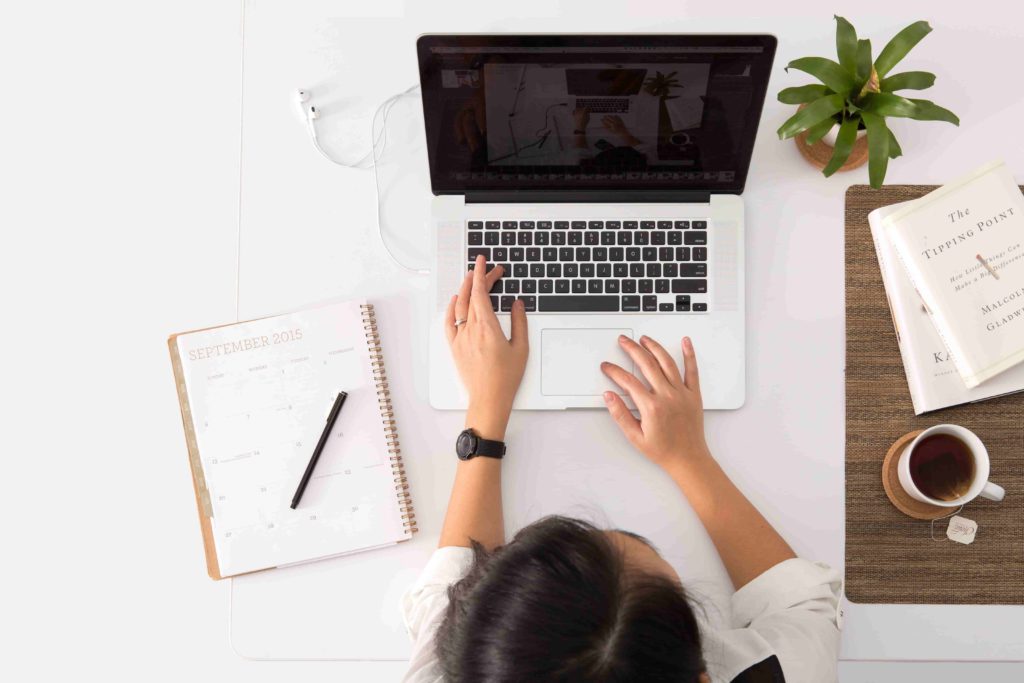 When you complete a task, you release your mental tension and that gives you an uplifted feeling – the feeling of success!
Time Blocking – What to Take Away?
Now, that we've uncovered the mysteries of time blocking, what should you take away? Here are our 3 key points:
Time blocking is perfect for organizing and setting your tasks by priority, allocating them by dates in your paper or digital calendar, and having a vision for long-term projects.
Time blocking is effective and quite flexible when it comes to deadlines. It helps you to stay on track even if you're overdue on all your set time limits and things aren't going to the original plan.
This technique is ideal for those who are just thinking of starting using time management in their work. It's also great for those who've already tried some methods of time management and haven't found a suitable solution yet.