There never seems to be enough hours in a day, especially when there are multiple deadlines to meet and new items on a never-ending to-do list. To keep up with the fast pace of work, many professionals rely on productivity apps to keep them on schedule.
But with many such tools in the market today, how do you know which productivity app is worth your time?
At Everhour, we believe that being productive is more than just saving time. It's also about creating good habits and working efficiently, so you consistently produce quality work. This means the right productivity tools should simplify tasks and processes that take too much attention from your work.
To this end, we've compiled a monster list of productivity apps that will help hardworking individuals and teams do more and do better, in less time.
The Best Productivity Apps for Personal Use
Productivity comes naturally to some people, but others need help creating a system that allows them to do more. These productivity tools will help you meet your personal and professional goals. Find the one that fits your working style and personality.
Pomodoro Timer
You might have already heard of the "Pomodoro technique" – and no, we don't mean the pasta recipe.
For those who are unfamiliar, Pomodoro is a time management method where you break down large tasks into short, timed intervals (or pomodoros) with short 5-minute breaks in between. Simply select a task, set the Pomodoro (timer) to 25 minutes, then work on it until the Pomodoro rings. Rest, and repeat. You stay productive by working in short sprints and stay motivated without burning out every time you take a break.
TomatoTimer is a simple web page to use the Pomodoro technique without creating an account;
Whether it's tasks at work or chores at home, to-do lists are useful for keeping priorities straight. But those who can't work with text-based lists don't find this particularly helpful. While whiteboards and post-its might be more effective, it's not the most efficient when you need easy access to your tasks on mobile.
That's where a visual task list comes in handy. These tools let you organize tasks according to priority while illustrating how they fit into the bigger picture. This helps visual thinkers remember what needs to be done and manage tasks efficiently.
There are many visual to-do lists available today, but To Round is certainly a unique one. This free app on Android and iOS visualizes your tasks in colorful bubbles, whose sizes you can change according to their importance. As you get things done, the bubbles slide down the funnel and get whisked off into an archive of done tasks.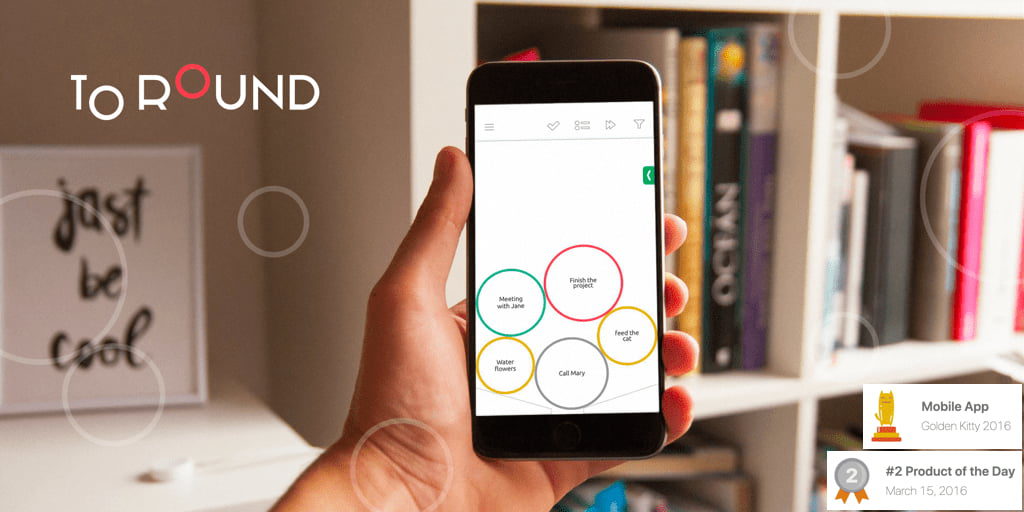 To Round doesn't have many advanced features, but we see this as a blessing rather than a curse. By staying focused on innovating task visualization, To Round delivers what it promises – a fun yet effective way to help you remember everything.
Most of us associate note-taking with being a student. But when used consistently, note-taking is a powerful technique to staying organized and doing more. Taking notes helps you remember information that matters or ideas that come to you. It's really quite simple.
Evernote used to be the go-to app for this until they recently announced significant changes that limit free accounts to just two devices.
One Evernote alternative worth trying is Simplenote, a free note-taking app that you can use anywhere, across all devices. It automatically syncs your data to your Windows, Mac, iOS, Kindle Fire, Linux, and Android device, and there's even a web version if you need it. With unlimited storage and easy access to older notes, you'll never forget anything.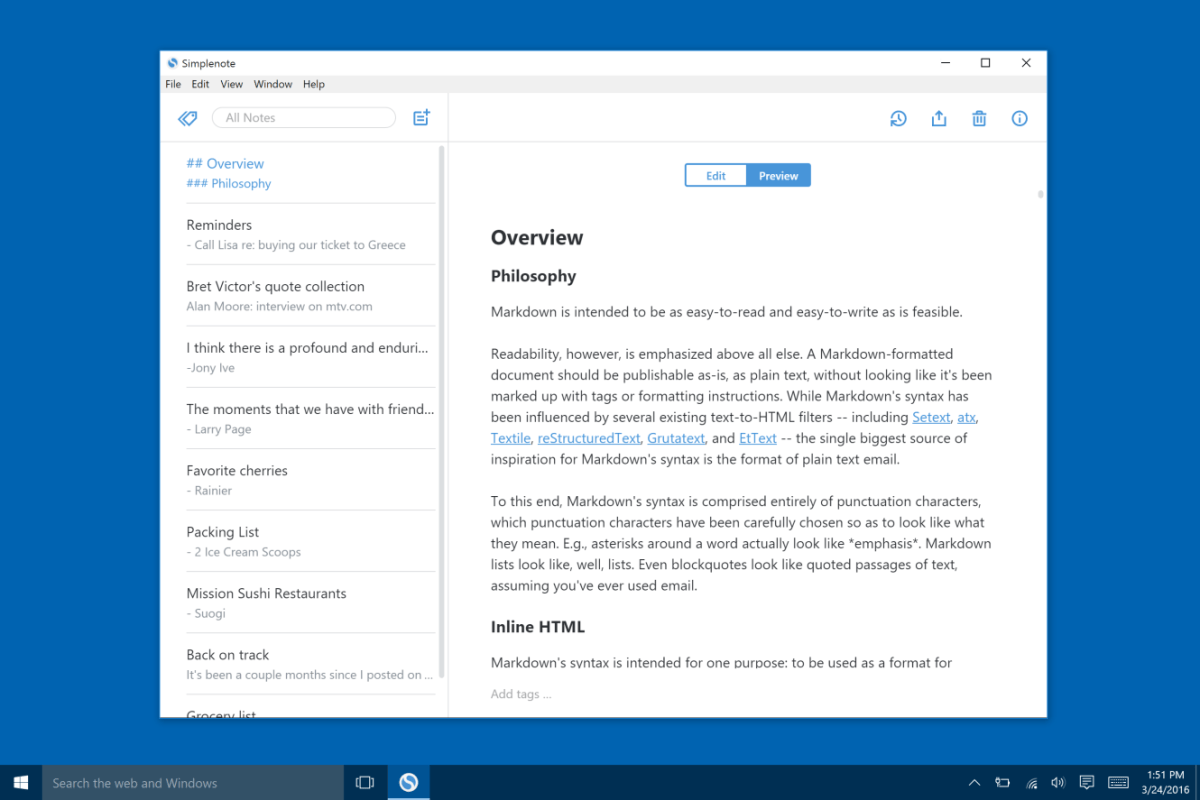 The downside is that Simplenote is strictly text-only and doesn't let you store images or clip websites. This might be a dealbreaker for more visually-oriented folks. But if you never bothered with these features and want a straightforward, fuss-free way to write and sync notes, this tool is perfect.
Complex project-management apps can help you keep tabs on every moving part of your project. But sometimes, all we really need is a simple tool to gently nudge us towards our deadlines or errands.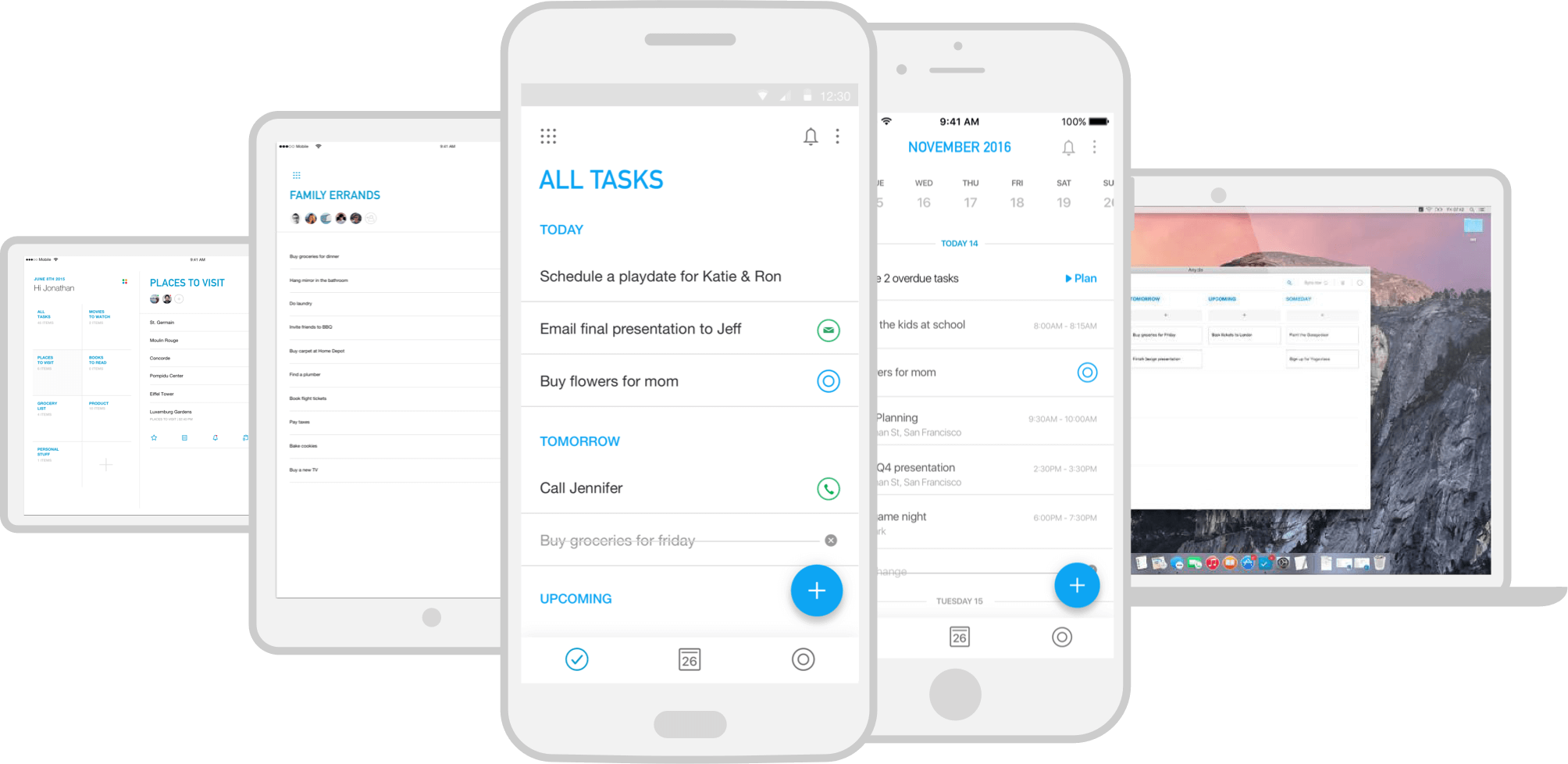 If this sounds like something you could use, try Any.do. Available on both iOS, Android, Web, Chrome, and Mac, Any.do is basically a to-do list on steroids. With it, you can keep all your tasks, events, and notes in one place, and set timed and location-based reminders so you don't actually forget to do them. It syncs seamlessly with your Google Calendar, iCloud, etc. so you have everything important with you.
Can't spare a single minute on mundane tasks and errands? The new Any.do Assistant uses AI to look over your tasks and select those that it can handle. With your permission, the AI then connects your tasks to other robots or human services to do your groceries, find a repairman, and do other things essential to daily living.
Any.do can be used for free, while more complex features like location-based reminders are available on Premium.
Clipboard Manager: Clip Menu
Copy-pasting things digitally is a little weird, when you come to think about it. You don't see what you've copied, and it doesn't leave a trace on your device after you've pasted it. But what if you need to keep a running record of what you're copy-pasting?
Clipboard managers solve this by keeping a running history of all the items you copied. This is really useful because it keeps you from losing information, especially when you're constantly multitasking or switching windows. With an ongoing record of everything you've ever copied, you can easily review what you've done throughout the day and keep what's useful in a separate document.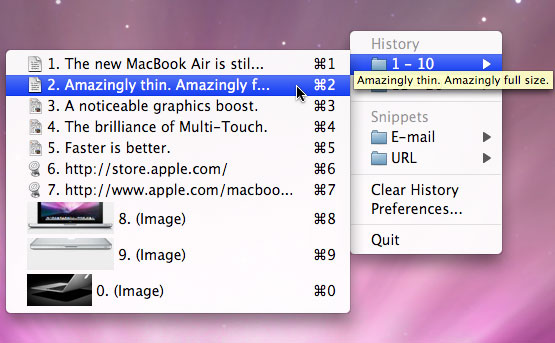 For Mac users, we suggest using Clip Menu to handle your clipboard history. You can record a number of items, from plain text to image, using shortcut keys. It even keeps frequently-used items like email addresses or ID numbers as snippets, so you can easily pull them out as you need them. These features make your workflow move smoothly, which means you never miss a thing.
Invoicing and Payments: FreshBooks
Ask any freelancer about what their least favorite admin task is, and they'll say accounting takes up so much time, especially when they have multiple clients. There are many items to keep track of, including quotations, invoices, as well as time worked. Manually doing invoices on Word or Excel competes for your time and attention, especially if you need to backtrack on who did what.
Invoicing software makes your accounting more efficient by logging worked hours and generating invoices around it. There are many options available online, and which one to get depends on your needs.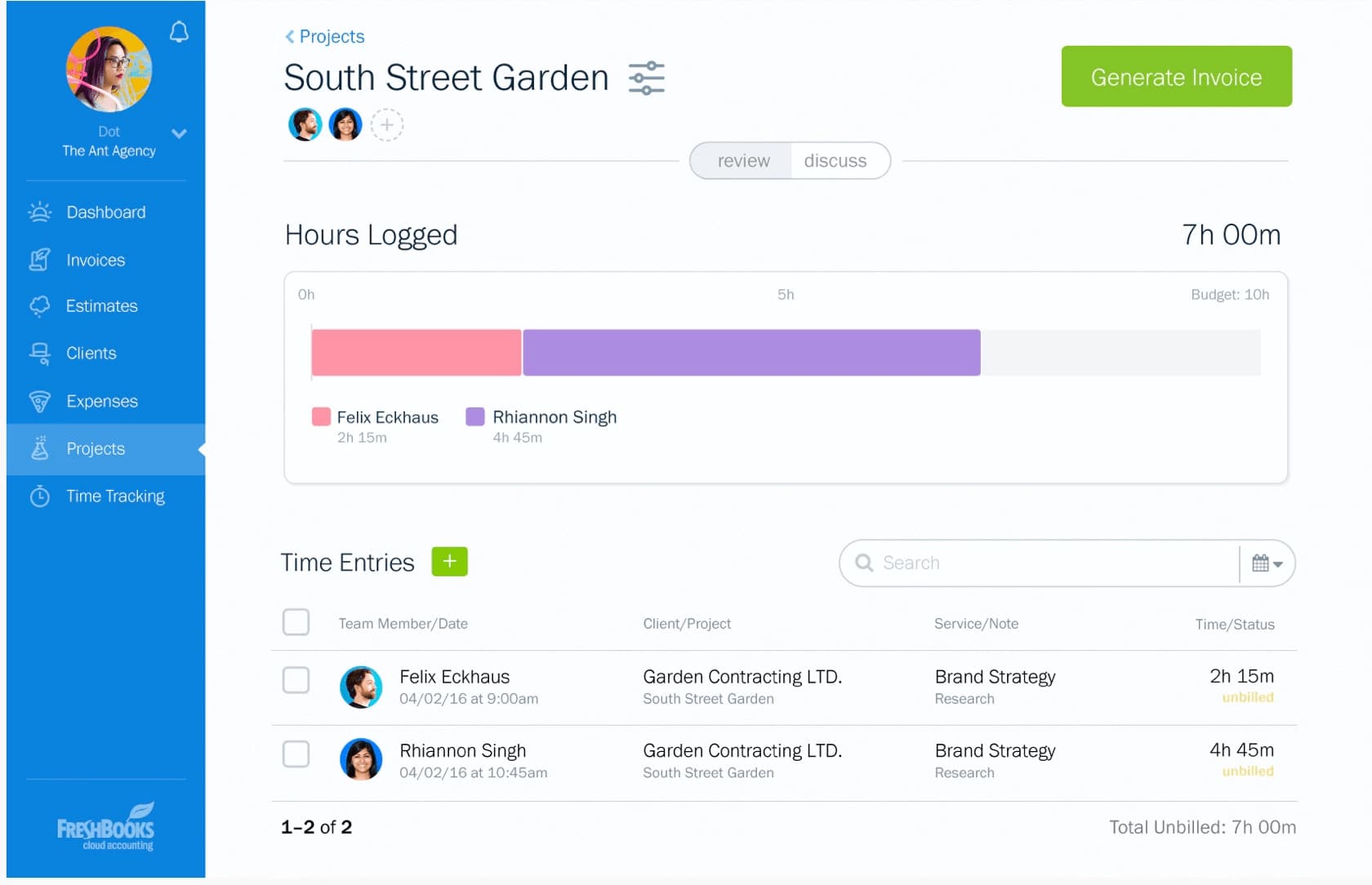 For small businesses owners, we suggest Freshbooks, full-featured accounting software that generates and sends invoices with a few clicks. You can use it to fulfill very basic accounting and invoicing needs or to help you with more complex needs like payroll. Thanks to a flexible API, it integrates seamlessly with time tracking software, payroll software, and payment gateways like Paypal.
The downside is that the pricing increases with the number of clients you bill. But if you're tired of doing invoices the good old-fashioned way, the extra premium could be worth it.
The Best Productivity Apps For Business Use
In the same way, technology changed work habits, so do they make entrepreneurs and small business owners more efficient. The right tool makes it easier to manage admin work, automate routine tasks, and keep track of projects. Here are the best business productivity apps that will keep your team organized, focused, and free from distractions.
Project Management: Asana
As you gain more clients or work on increasingly complex projects, managing tasks and team members becomes a tricky balancing act. The fact is, projects have tight deadlines, but your time and resources are finite.
When this happens, the right project management tool can help you maximize your resources throughout the planning and execution phases. Ideally, you'll want a tool that lets you allocate tasks, keep track of deadlines, and facilitate communication. Depending on your needs, you can get a standalone tool or one that integrates with other applications or enterprise suites.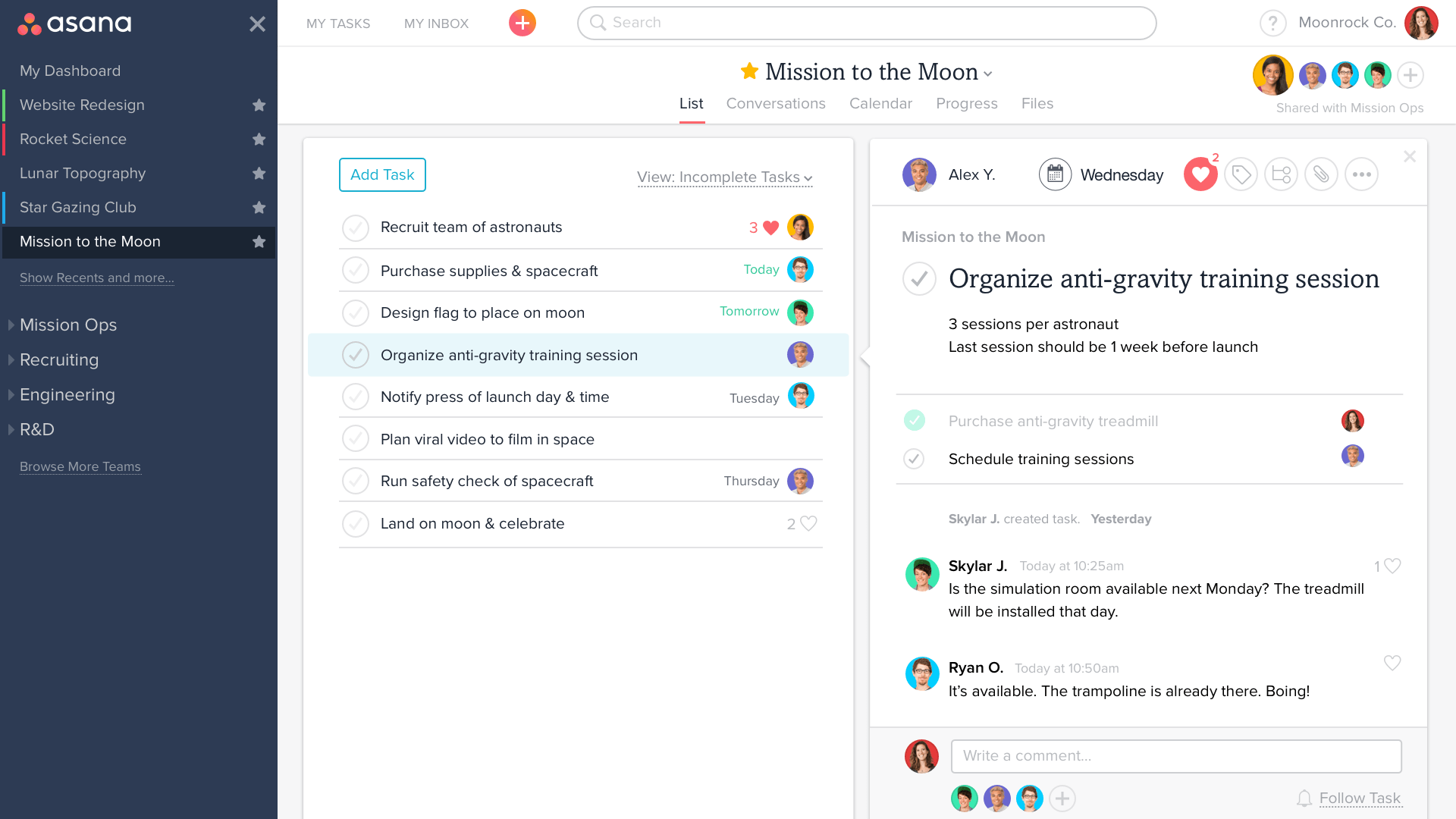 If you're just getting started with project management software, you might want to give Asana a try. Its suite of company-oriented features makes it ideal for managing teams across the business. Asana lets you organize tasks into projects or lists, then assign them to team members with a due date. Its conversation feature lets your team discuss the task at hand, saving your inbox from long email threads and keeping all relevant information in the same place as the task.
Asana also has a dashboard that gives you a high-level view of the project, and a calendar that organizes tasks by week or month. If you think these features aren't enough, it has a flexible API that lets you integrate Everhour and many other productivity tools with it (check out our article about other Asana integrations to learn more). You can power up Asana + Everhour time tracking solution to monitor your tasks!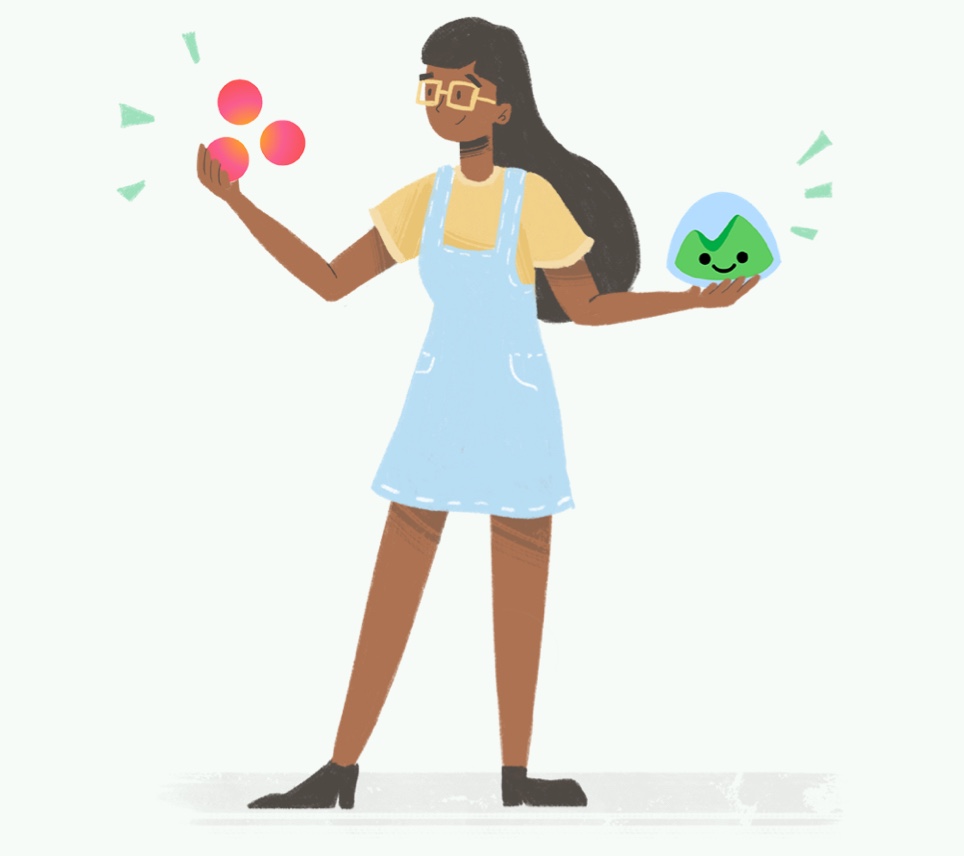 Prices depend on how many team members will be using it, but you can give it a whirl for free.
Timesheets, Invoicing & Payroll: Everhour
Doing invoices can be time-consuming, particularly when you need to include details about the number of hours worked. This is especially true when clients ask to see reports of the project's progress. To save time, you need a tool that keeps track of your work hours.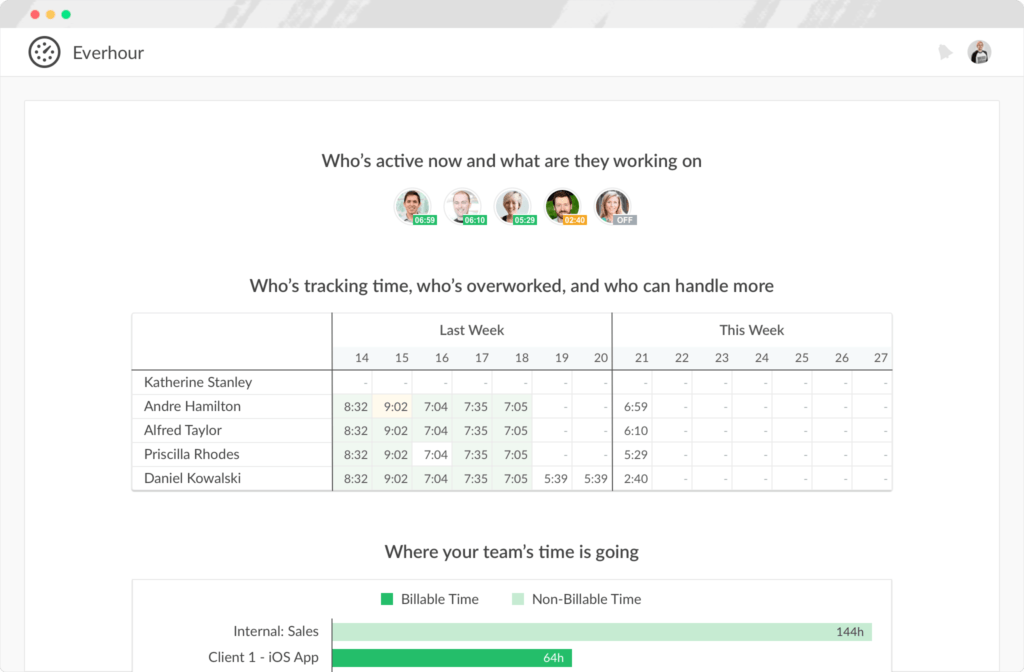 Everhour is known for being a comprehensive time tracking solution. Because it integrates seamlessly with Asana, Trello, Basecamp, GitHub, Jira, and other project management tools, teams can easily measure their productivity without adjusting to a new interface.
But our software does more than simply track time. You can also use it to create accurate invoices out of the hours worked by your team. It's as simple as connecting Everhour to your desired project management environment and getting the clock running.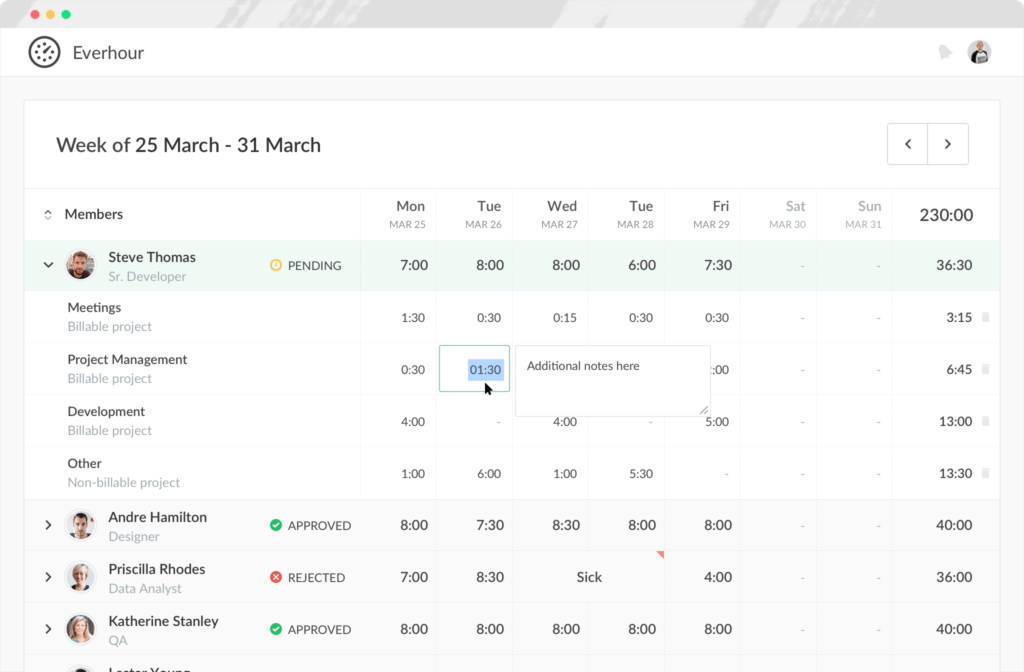 Everhour can also create detailed reports out of the tracked time, so you can easily see how it compares to your estimates or project milestones. The reports are so flexible and customizable, you can make them as detailed or as brief as you want. This helps everyone work efficiently and deliver quality work, without going over the budget.
Don't just take our word for it…read our clients' feedback.
Email is still one of the most effective sales channels, especially if you need to nurture personal relationships with your clients. There's a good chance that your customers are among the 91% of the population that checks their emails daily. But writing and sending emails can be tedious, especially if you need to personalize each one. If email is one of the better channels for your business, then it's worth investing in an email automation program.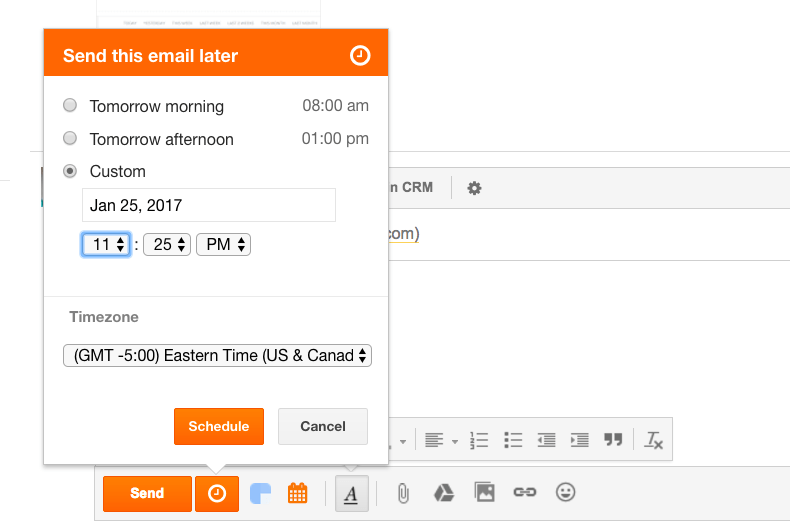 HubSpot Sales saves you lots of time and energy by automating all your email communications. You can let the software do all your outreach emails for you by sending a message, then scheduling a series of personalized follow-up messages. This keeps your exchanges friendly and conversational. Hubspot also notifies you as soon as your email has been opened, which gives you the chance to respond in a timely manner.
If you want a more comprehensive sales software, you can integrate HubSpot Sales with HubSpot's inbound marketing suite. This gives you useful features, such as contact forms or the ability to track your sales pipeline.
You can try out HubSpot Sales for free, then easily switch to a paid plan to get the full suite of marketing and sales features.
Workflow Automation: Zapier
If you are dependent on several tools or software to run your small business, then you could save a lot of time by automating your processes with Zapier. This unique tool helps you connect two disparate apps so they can do certain tasks automatically when you do a specific action. This automated workflow is what is called a "Zap".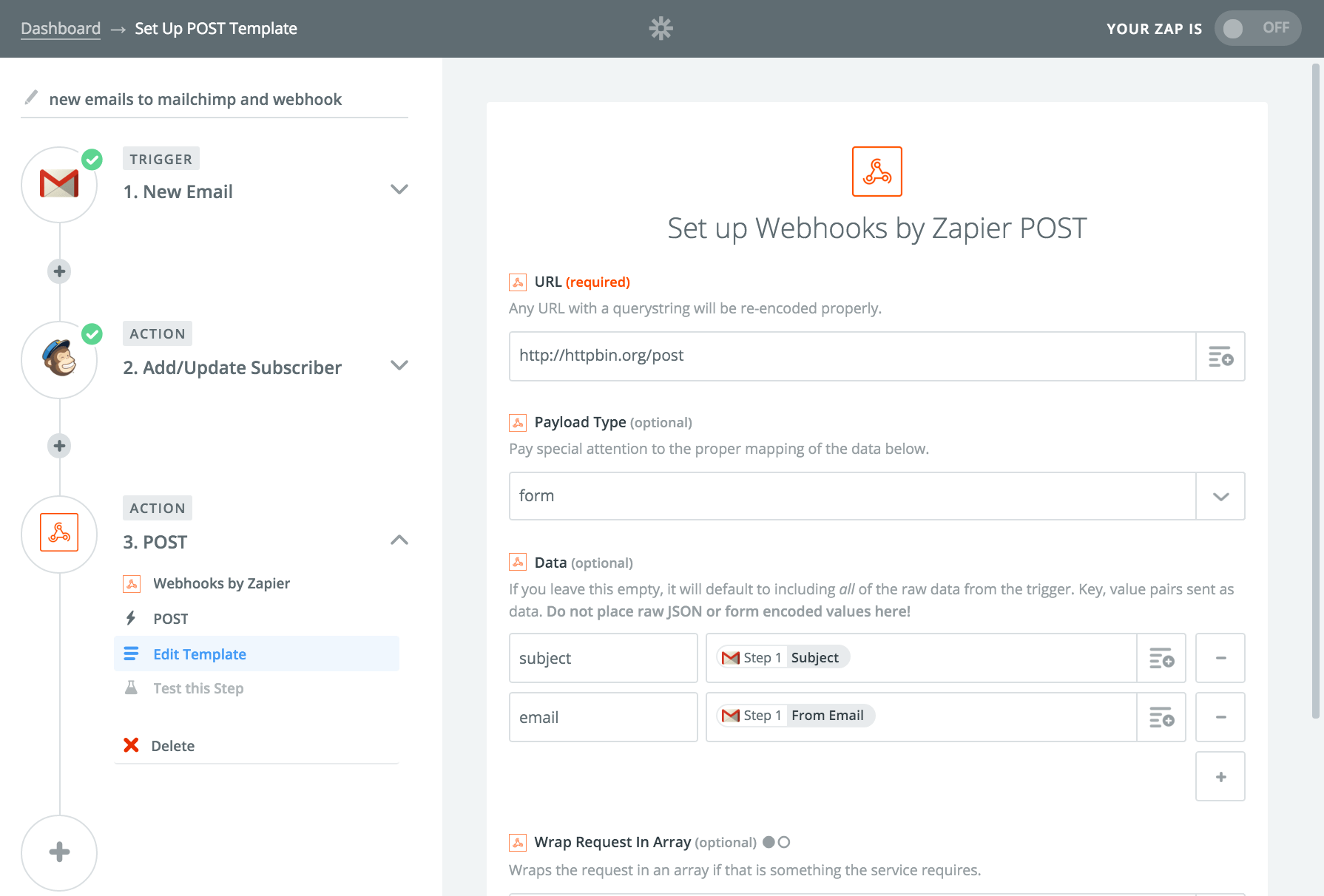 A Zap is created by specifying a trigger, or an action in an app that starts the workflow. An example of a Zap would be: If I create a new card on Trello, save it to Evernote. Zapier supports over 800 apps and is an excellent product to consider if you have a million little things you'd like to automate.
The beauty of Zapier is that you don't need to have the technical knowledge to set up a Zap. You can easily set up a Zap between two or three different apps and automate everything, from project management to note-taking.
Social Media Automation: Buffer
Social media management is a necessary yet repetitive part of any company's marketing strategy. Between creating content, responding to comments, and reaching out to customers, managing your social media presence can take up several hours of your day.
Fortunately, there's no shortage of social media automation tools in 2017. Each has its own unique set of features, but they generally schedule your social content, which saves you time.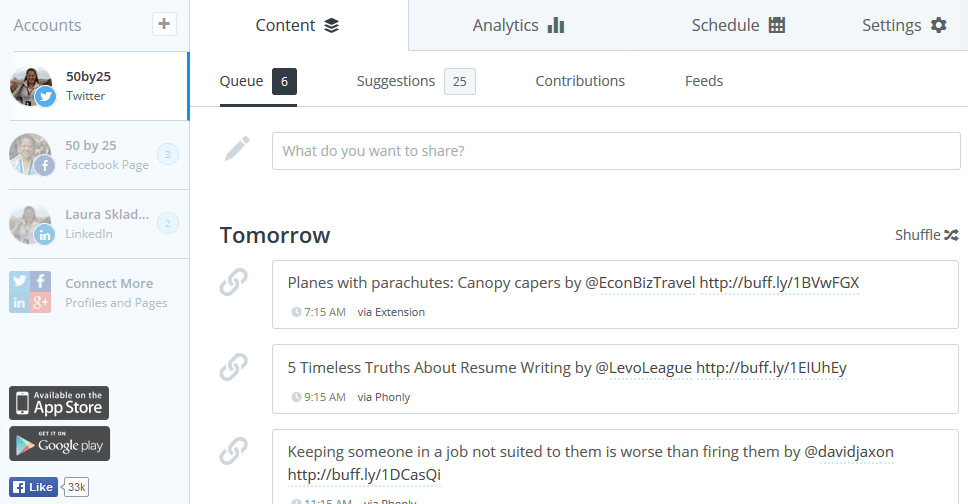 One of the best ones in the market is Buffer, a straightforward tool that lets you publish social posts at the best possible time of the day. Using Buffer is as easy as installing the Chrome extension, and using this to share and schedule your content. If you're managing accounts on multiple social platforms, Buffer makes cross-posting easier by giving you the option to post the same content to all platforms or customize each one.
The downside is that Buffer doesn't do more than social scheduling. If you don't need the bells and whistles of a more powerful social automation tool, then this one is for you.
The basic Awesome Plan is incredibly affordable at just $10 a month, which lets you schedule up to 100 posts to 10 accounts. If your business is very social, Buffer for Business lets up to 25 team members post to over 100 connected social accounts.
Scheduling Appointments: Calendly
Trying to schedule meetings among busy team members tends to result in long email threads where nothing gets resolved. Calendly helps you find a time that works by coordinating your schedule with everyone else in your team.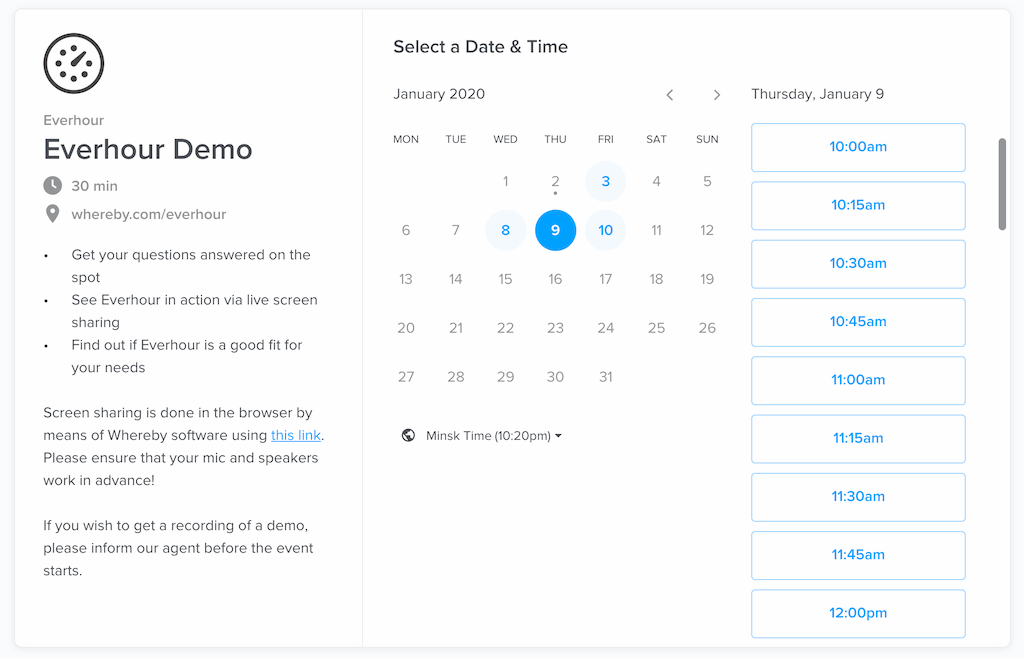 All you need to do is sync your Google Calendar to Calendly, and your team can work around your appointments to schedule their meetings with you. They won't have access to your calendar per se. Instead, Calendly lets them choose from several meeting types, at 15, 30, or 60-minute intervals, from Mondays to Fridays. You're free to customize these as you wish.
Other features include confirmation emails, meeting reminders, and cancellation notices. You can customize these notices with your own branding under the paid plan. But if branding isn't a priority for you, the free plan will be more than enough to make scheduling meetings easier.
Scanning App: Scanner for Me (iOS, Android)
We create a lot of physical documents that need to be brought to the digital world, and scanners are pretty much the only tool that can do this. Unfortunately, they're bulky, generally difficult to bring around, and not worth buying unless you have a heavy workload.
Fortunately, your iPhone camera is good enough to actually function as a scanner. All you need is a good app to digitize, manage, and share your documents.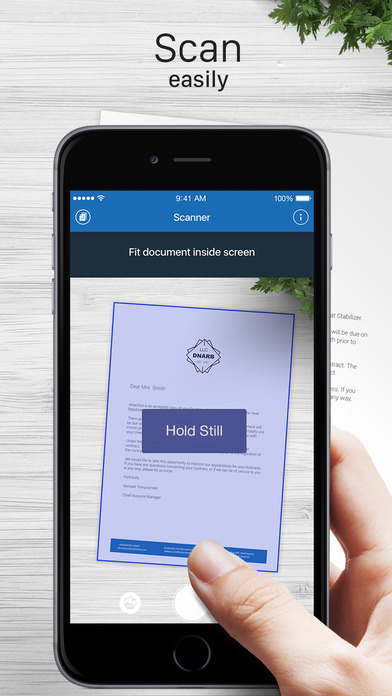 All you need to do is capture your documents through your iPhone camera. Scanner For Me then converts your document into editable text through Optical Character Recognition (OCR) technology. The app lets you edit borders, change orientation, and add filters for better clarity. Sharing your scanned document is incredibly easy. Send it out through email, messenger, or Dropbox, or hook it up to your printer to get a physical copy.