Unveiling the Pinnacle of Productivity: Exploring the Best Productivity Apps
Mike Kulakov, August 10, 2023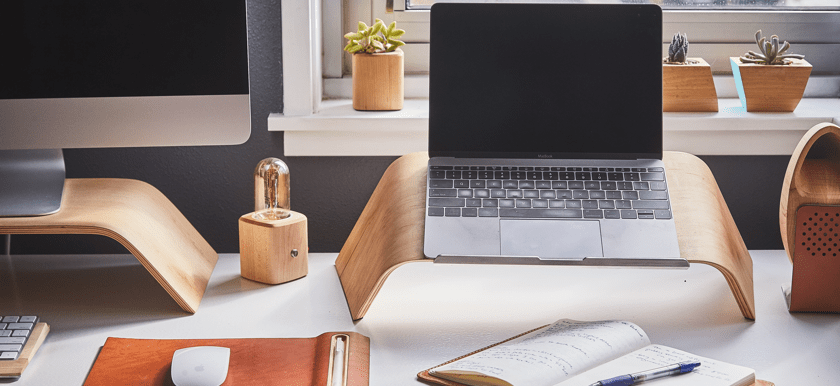 The average person is inundated, and it can feel like there is never enough time in the day. If you can relate to this, don't worry. There are ways to get more out of your time, better structure your day, and simplify managing the million different things you need to get done.
These solutions are known as productivity apps. There is a wide range of different ones, but the best productivity apps help in specific areas of your life. There is truly an app for everything, ranging from meetings management to notation and mind mapping.
Without further ado, let's explore some of the best productivity software out there, the apps that can help you improve and maintain your productivity.
Exploring the Top Productivity Apps
Understanding the characteristics that define the best productivity apps is essential for optimizing your efficiency and time management choices. Whether you're an individual aiming to boost personal productivity or part of a collaborative team, leveraging premier productivity apps offers valuable insights into managing your daily, weekly, monthly, and yearly tasks.
Significance in Enhancing Efficiency: Embracing leading productivity apps empowers you to streamline your workflow, making the most of your time and achieving your goals effectively.
Key Evaluation Factors:
Real-time task tracking: These applications seamlessly initiate, pause, and complete task-tracking features, ensuring accurate time allocation and progress monitoring. Task categorization: Effortlessly organize your tasks into categories for better organization and focused work. Collaboration and communication: Access features that facilitate teamwork, enhancing communication and collaboration among team members. Integration and synchronization: Streamlined functionality that integrates with various tools and platforms, ensuring a cohesive and efficient work environment. User-Friendly Accessibility: The apps make it easy to access and use productivity-enhancing features across different devices and platforms.
Our Approach to Evaluation and Testing
Our assessments are meticulously crafted by experienced professionals who specialize in software analysis for productivity. Each app undergoes thorough testing and scrutiny against our predefined criteria. Importantly, we uphold a strict policy of not accepting compensation for featuring apps or incorporating them into our articles. Our primary goal is to maintain the trust our readers place in our impartial and authentic app assessments, designed to enhance productivity across various contexts.
Everhour – Best for Time Tracking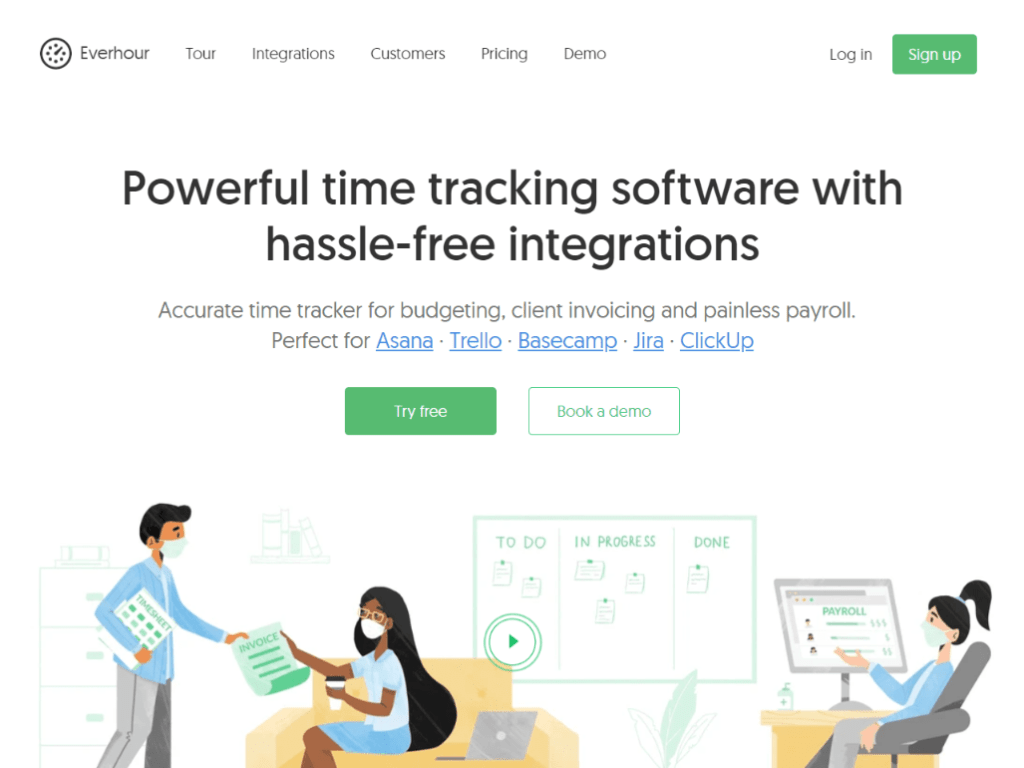 ❗ Key features
When invoicing clients, businesses need to provide accurate, up-to-the-minute reports on how their time was spent. This isn't easy without an effective time clock app. Luckily, Everhour is a time tracker that helps businesses and individuals organize and keep track of the time they've spent on projects. Everhour is a timesheet app that functions as an effective work hours tracker. It helps with billing and budgeting, task management, and invoicing, with easy-to-use features.
This app has unlimited integrations (Asana, Jira, Trello, ClickUp, and many more) and will allow you to take on unlimited projects. Everhour goes above and beyond helping with just employee time tracking, as it allows for the effective organization of key data.
💰 Pricing
The Everhour time and attendance software has three pricing plans. Free plan offers a basic set of tools and is available for up to 5 users. Lite plan $5 per user/month, when billed yearly ($6 when billed monthly), and, along with standard time tracking features, integrations, and reports, it provides invoicing, budgeting, reminders, and many other features. Team plan is $8.5 per user/month, when billed yearly ($10 when billed monthly), and it includes everything Free and Lite plan have, along with time tracking audits, priority support, time approval rights, and many more. All in all, Everhour is one of the best free time tracking apps out there.
🔧 How to install
This time clock app can be purchased from the website and integrated with software like Slack, GitHub, and more. It is one of the best work apps for ensuring you have a clear picture of time spent on projects. Everhour can be accessed on the Apple App Store for those with an account or downloaded as a browser extension.
Slack – Best for Enterprise Communication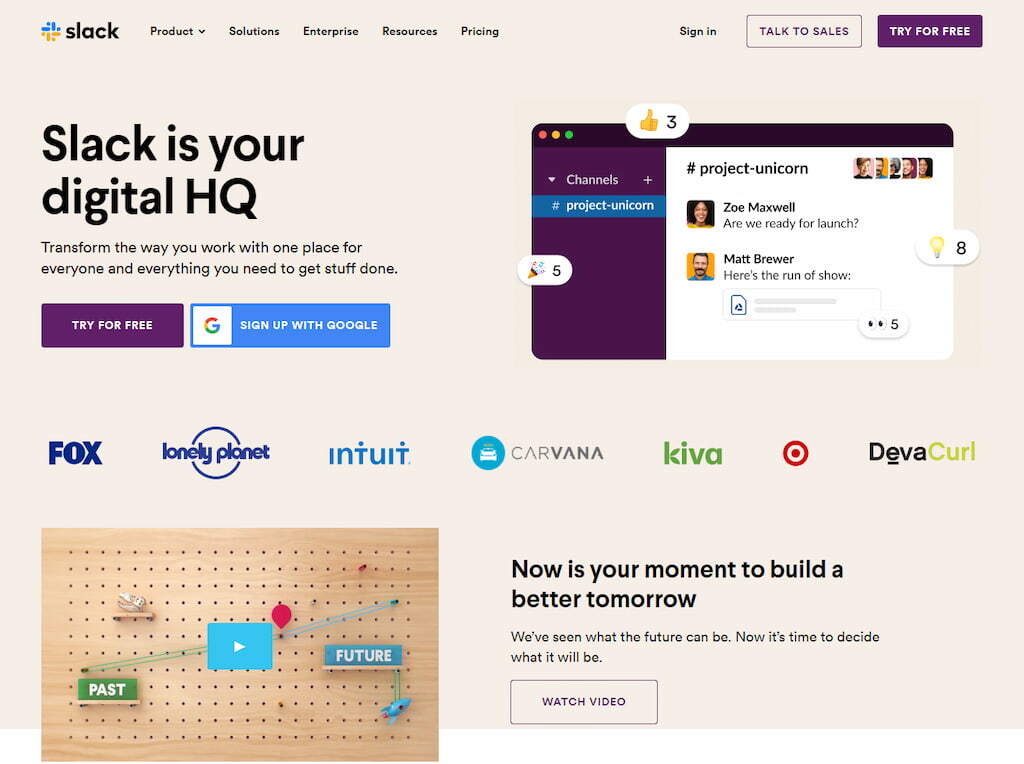 ❗ Key features
In the past couple of years, Slack has become one of the most important pieces of enterprise software available. It has a clear standing as one of the best productivity apps on the market because it allows for simplified workplace communication, even for companies operating asynchronously. Slack is a messaging app that is intended to function as a digital headquarters for businesses, with different channels that allow companies to divide communication as needed. It is one of the best apps for work productivity because it allows companies to streamline communications.
💰 Pricing
Slack has a free plan covering most of the core features and allows for up to ten integrations. A Pro plan costs $6.67 a month, and a Business+ plan is $12.50 a month. Various features separate each payment option.
🔧 How to install
Slack can be downloaded as an app on the Apple App Store or Google Play Store and can be utilized on both mobile or desktop platforms.
Trello – Best for Project Management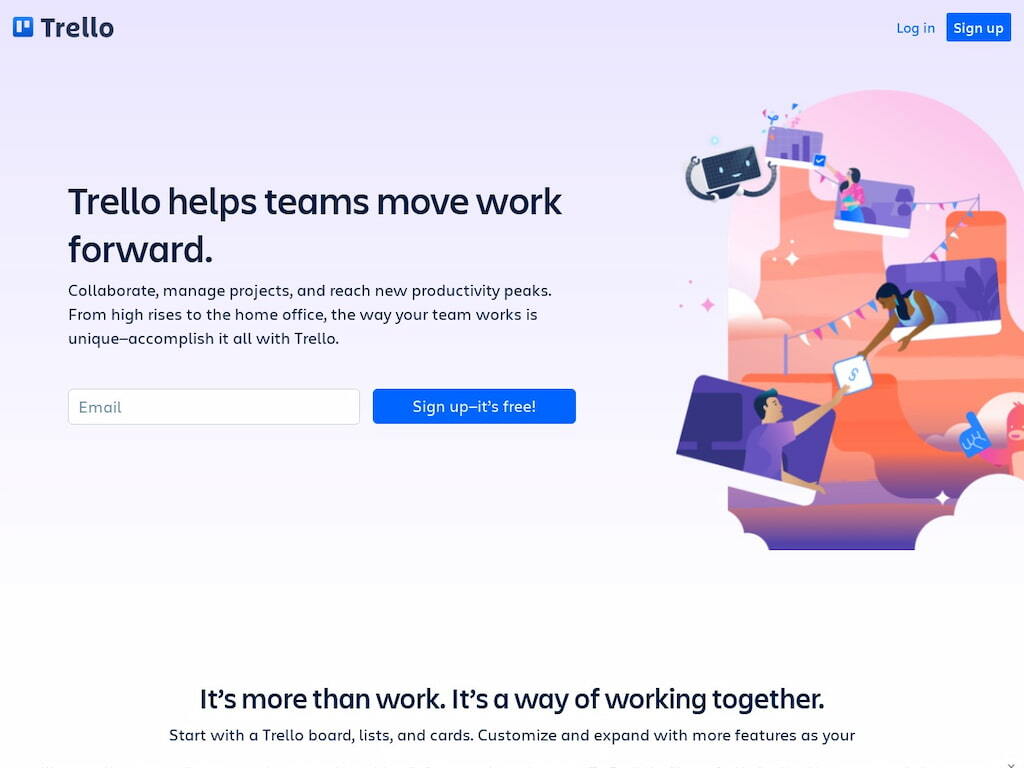 ❗ Key features
The typical workplace project will have a million different moving parts, and staying on top of it all can be exhausting. If you are looking for a project management solution that will make it easier than ever to collaborate and manage projects, Trello may be the solution for you. Trello has a wide range of key features that makes it a standout for project management. Trello allows for the easy organization of tasks through boards, with areas for to do, in progress, and done. Teammates can post links, comment, and communicate in an easy-to-use work forum. Trello also has productivity metrics and calendars.
💰 Pricing
Trello has several different payment plans. The free plan is best for individuals or smaller teams, a $5 monthly Standard plan best for teams that tackle a significant amount of work, a $10 monthly Premium plan for teams up to 100, and a $17.50 monthly enterprise plan for complete access.
🔧 How to install
Trello can be downloaded for mobile on the Apple App and Google Play Store and supported on browsers like Chrome, Firefox, Safari, and Explore.
Todoist – Best for Organizing To-Do List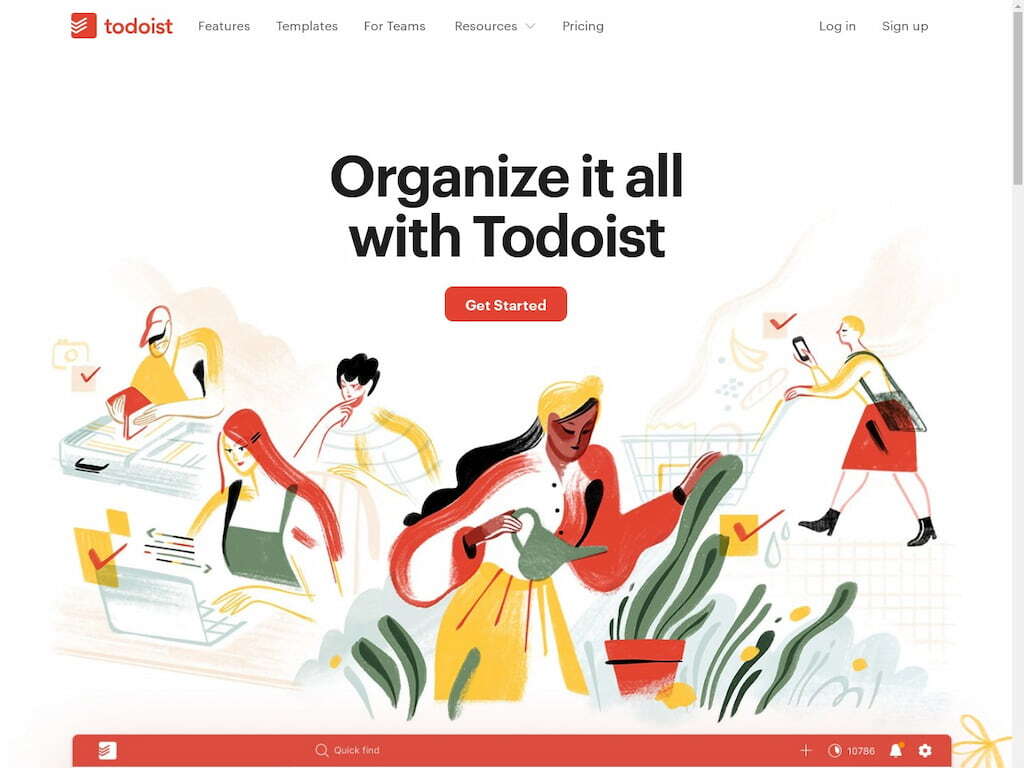 ❗ Key features
While a simple note or reminder on your phone can help, it isn't a sustainable solution, especially if you've got a lot on your plate. Todoist is one of the best personal organization software options on the market. It provides users with a central database where they can effectively organize their to-do list, setting categories, sub-tasks, and recurring reminders. You can also add priority levels and share tasks with others.
💰 Pricing
Like most Todoist alternatives, it has different pricing plans but is an affordable option. There is a Free plan, which allows up to five active projects and five collaborators per project. The Pro plan costs $4 per month, with 300 active projects and 25 collaborators per project, with a reminders feature. The Business plan is $6 per month.
🔧 How to install
Todoist can be found on the Apple App Store or Google Play Store and integrated with Google Chrome, Amazon Alexa, and much more. It is one of the best apps for work productivity around.
MindMeister – Best for Mind Mapping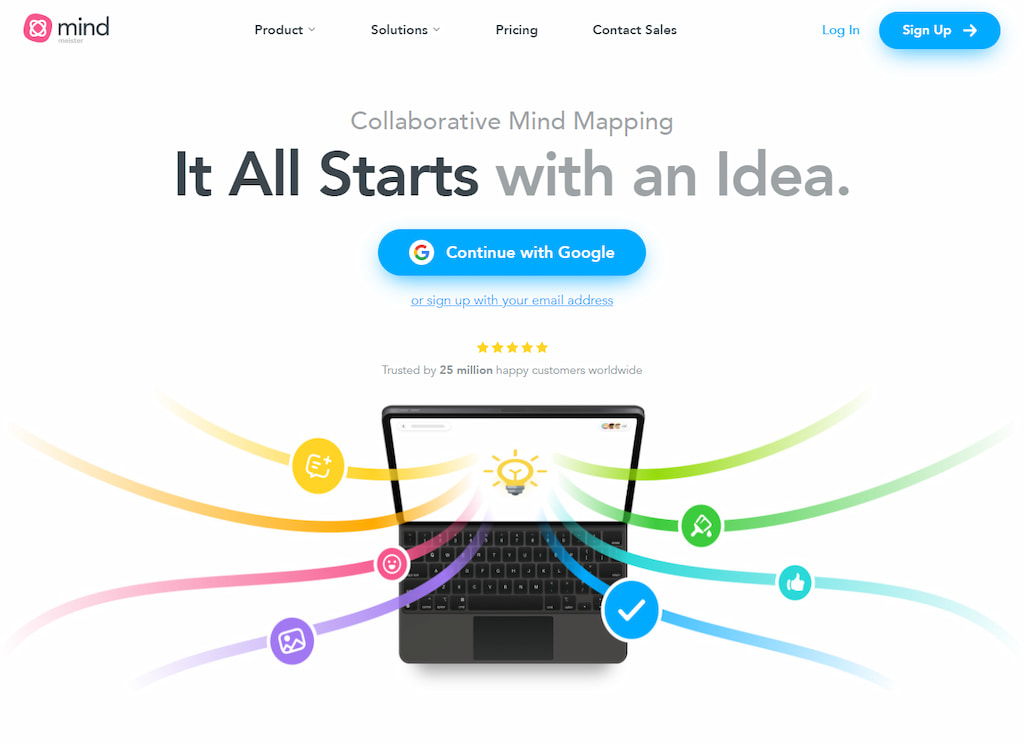 ❗ Key features
If you are searching for a software solution that will enable you to illustrate your thoughts in a cohesive, easy-to-comprehend way, the MindMeister app may be for you. This app allows you to virtually expand on ideas and concepts using color-coded, customized layouts. You can embed media, share these mind maps with others, and collaborate. It is one of the best work apps for those looking to expand on their next great idea.
💰 Pricing
There are several different pricing plans for MindMeister. There is a Basic pricing plan for free that allows for up to three mind maps. The Personal pricing plan opens the door to unlimited mind maps for $4.99 a month, and the Pro plan costs $8.25, with a range of other features available.
🔧 How to install
MindMeister can be found on the App Store and Google Play Store and added to computers or mobile devices. It can be integrated with email notifications and synced across devices.
Due – Best for Managing Due Dates
❗ Key features
With Due, you can have one of the best productivity apps to help ensure you don't let anything slip past due. The Due app has a range of features that make it capable of ensuring you don't miss any due dates. This includes an interface that makes it easier to set specific due dates and times, repeated notifications of upcoming or overdue reminders, and the ability to manage notifications without opening your phone.
💰 Pricing
Due can be purchased for $7.99, with the opportunity for in-app purchases. This one-time payment gives you a broad range of features without needing a subscription model.
🔧 How to install
Due can be downloaded on the Apple App Store for iPhones or Mac computers. It can also be downloaded with the Setapp. It is a valuable resource for ensuring punctuality.
Hypercontext – Best for Streamlining Meetings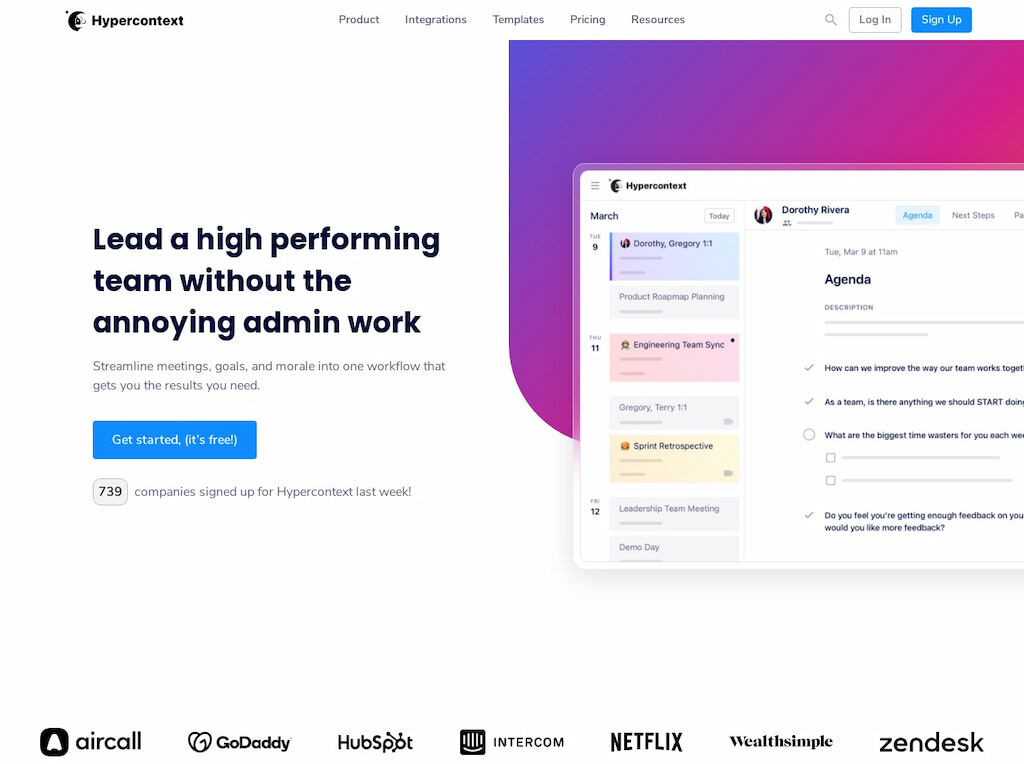 ❗ Key features
Hypercontext is an app that helps better organize meetings for more efficient results. It has features that allow meeting organizers to set agendas, take notes, share feedback, assign next steps, and set goals. The tool gives management the ability to better organize conversations for simpler collaboration and communication. It is one of the best productivity software options for that reason.
💰 Pricing
There are multiple pricing plans for Hypercontext. There is a free Basic plan for smaller scale usage of the platform. The Pro plan costs $5.60 a month and gives access to a wider range of features, including AI-powered conversation insights. The Business plan costs $8.80 a month and gives you access to the entirety of Hypercontext's features.
🔧 How to install
Hypercontext can be downloaded on the Apple App Store or the Google Play Store and has numerous integrations. It can be integrated with Slack, Microsoft Teams, Google Meet, and more.
Be Focused – Best for Ensuring Focus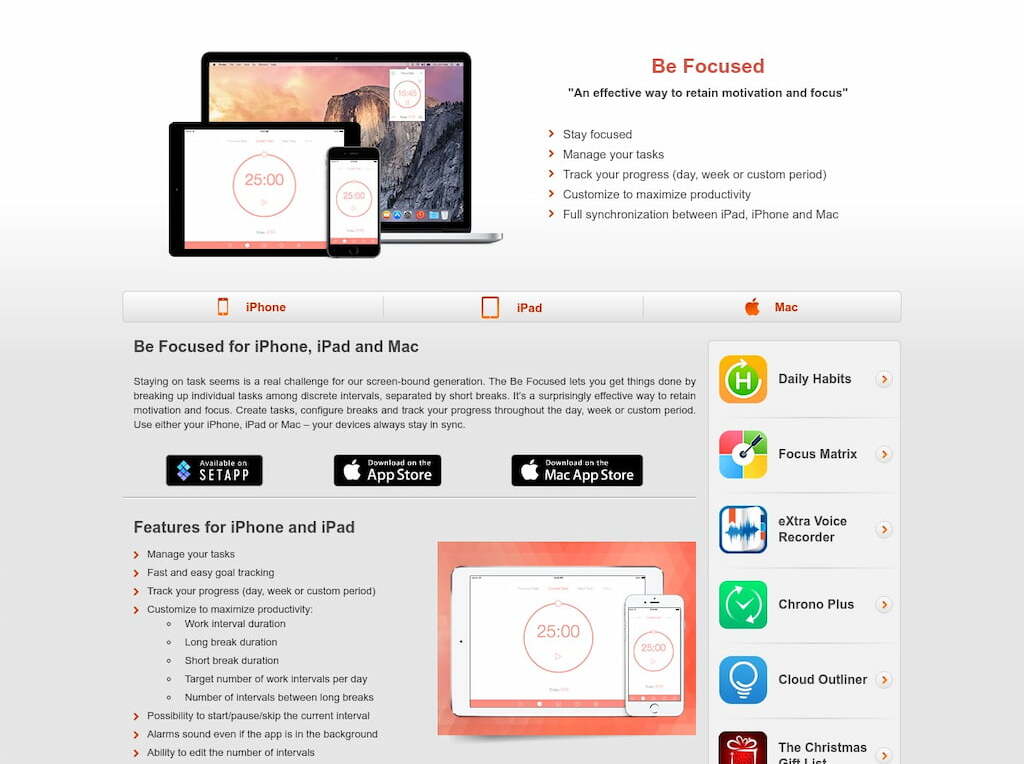 ❗ Key features
We now have constant access to a virtual world filled with distractions, and managing to keep your focus when spending the vast majority of your day on screens isn't easy. Introducing, Be Focused. This is one of the best apps for work productivity because it keeps you on task. Be Focused allows you to manage your tasks, set work durations and break durations, and customize and structure your workflow. It gives you a clear reminder of the times you should be working and the times when it is okay to turn your attention elsewhere.
💰 Pricing
Be Focused can be gotten for a free basic plan that doesn't give you access to the full range of features. It can also be purchased for the Pro plan at a one-time cost of $4.99, which will let you enjoy everything this app has to offer.
🔧 How to install
The Be Focused app can be found on the iOS App Store, the Mac App Store, Setapp, or downloaded for Windows PCs.
Habitica – Best for Building Healthy Habits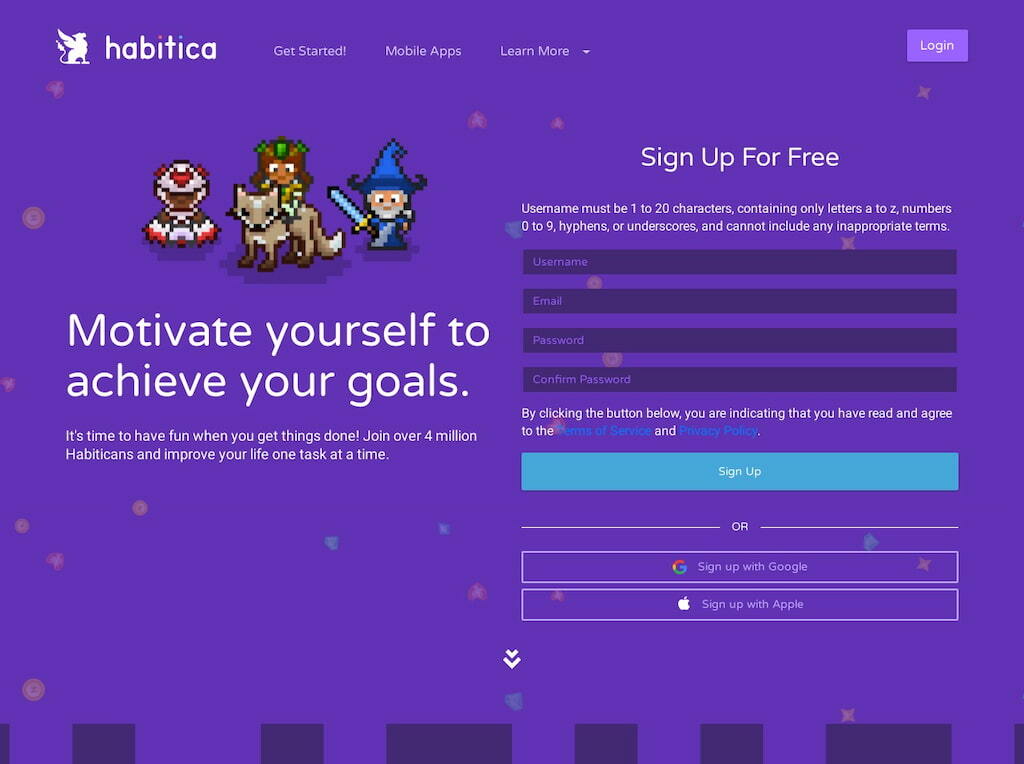 ❗ Key features
Gamification is a helpful tool to incentivize people, and Habitica is built on this concept. The purpose of the app is to help you establish healthy habits that will improve your productivity and well-being long-term by turning the pursuit of self-betterment into a game. The features of Habitica allow you to track your habits, goals, and to-do list on the app and earn points for each of the tasks you manage to accomplish. These points can be used in the game to better your character, and you can connect with friends to spur each other along the way.
💰 Pricing
Habitica is completely free to download. However, there are in-app purchases the app offers. You can still enjoy the experience without any need for purchases.
🔧 How to install
Habitica is a great way to get you on track to building long-term habits for success. It can be found on the iOS Apple App Store or the Google Play Store
Flow – Best for Notes and Drawing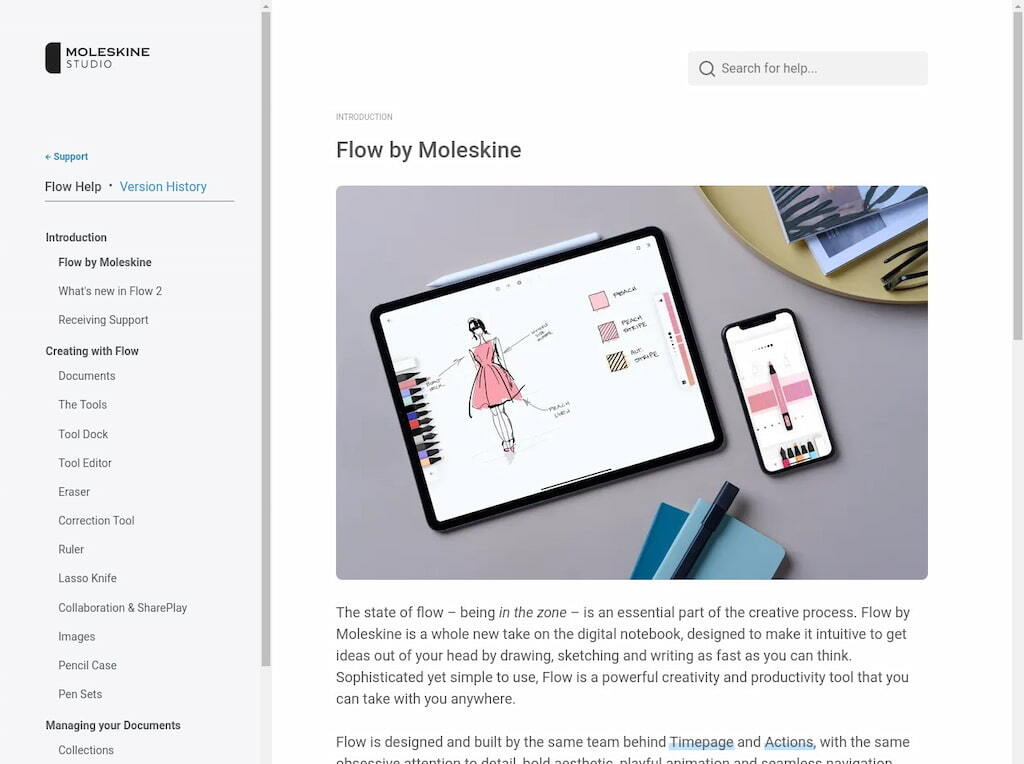 ❗ Key features
There's something inherently valuable about getting your thoughts out on papers, and there aren't many tools on laptops, tablets, or smartphones that actually improve the notetaking experience. Flow by Moleskine may be an exception. With Flow, you can draw and scribble notes on your device with an Apple-Metal-based drawing engine that can display massive drawings with high-definition rendering. Gone are the days of paper strewn all over, as, with Flow, you can organize your notes more efficiently. You can also switch between writing tools seamlessly.
💰 Pricing
Flow can be downloaded for free. However, to continue your use of the app beyond a one-week free trial, you'll need to pay for a plan. You can subscribe to the Flow monthly plan for $4.99 a month or pay for the annual plan for $29.99 a year.
🔧 How to install
Flow can be downloaded on the Apple App Store. It isn't available on the Google Play Store.
Mailbird – Best for Email Management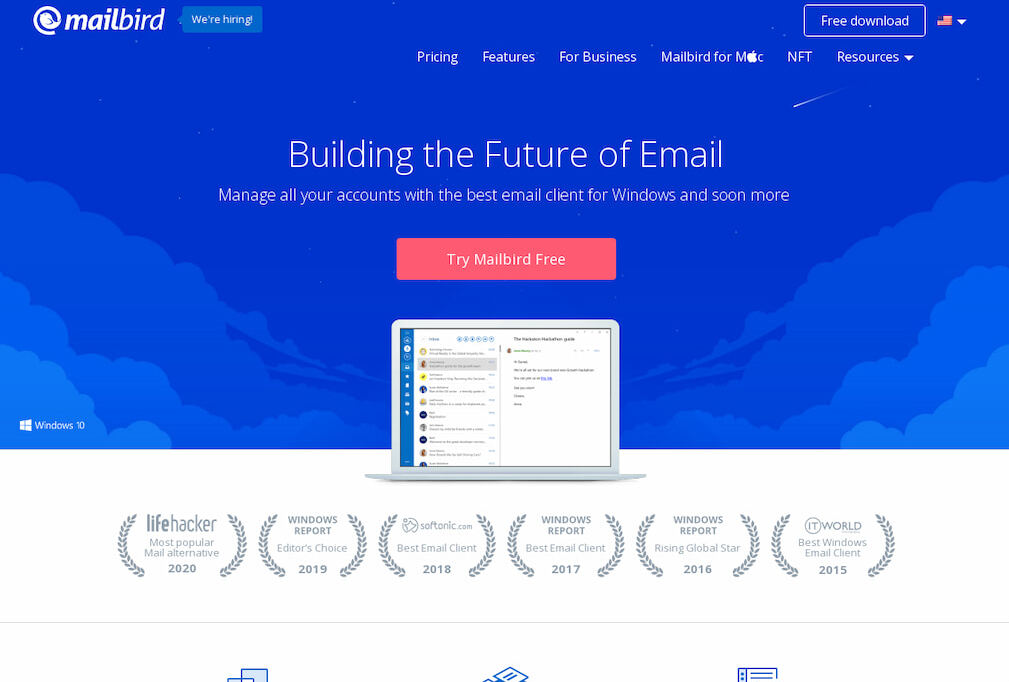 ❗ Key features
Mailbird is a perfect email client for Windows 11 users who want to advance productivity. With its clean, unified inbox, Mailbird makes multiple email accounts management a breeze. What is more, it's packed with tons of useful features (such as a speed reader and email tracking) and integrations (among others, Slack, Whatsapp, Asana, Dropbox, and Google Calendar).
💰 Pricing
Mailbird's prices start at $39 a year for individual users and $59 for business plans. They also have Pay Once plans which offer significant savings. There's a free trial and a fourteen-day money-back guarantee as well.
🔧 How to install
You can download Mailbird for Windows and use it for unlimited email accounts on up to 3 devices.
Best Productivity Apps: Bottom Line
Productivity is something that will always come from within. However, the best time tracking apps and productivity apps are capable of making it easier for you to perform at your highest level. Today, the average worker is under so much pressure, and there are more things to juggle than any one person could handle alone. That is why productivity apps exist. They lighten the burden of workers through technology.
Whether it is enterprise communication, project management, or time tracking, there is a productivity app out there that can simplify your processes. Tackling bigger projects faster is a recipe for success, and the best works app will enable you to do this. There are a huge number of top-notch options available; go explore the ones that will heighten your work and day-to-day productivity.