In a remote work culture, holding employees accountable can be tricky. When the workforce is scattered, and there's no central hub for work, you set your goals and intend on tracking progress with project milestones, but you can't be sure just how much time each worker is spending on making that happen. However, the best time tracking app will provide you with a host of tools you can rely on when you need an update on your team's progress on a task or project.
When employees have access to the best productivity apps and a time tracker on their home desktop computers, they will almost feel as if their superior is there in the room with them periodically checking up on their progress. This accountability is crucial for keeping workers on task since distractions can be rife in the home working environment.
Join us as we take a look at some of the best time tracking apps for consultants, freelancers, and users of all the major operating systems.
Everhour – Best for Teams
💻 Platform: Cloud-based, iOS (beta)
💰 Pricing: Free, Monthly – $6/10 per month (Lite/Team plan); Yearly – $5/8.50/month (Lite/Team plan)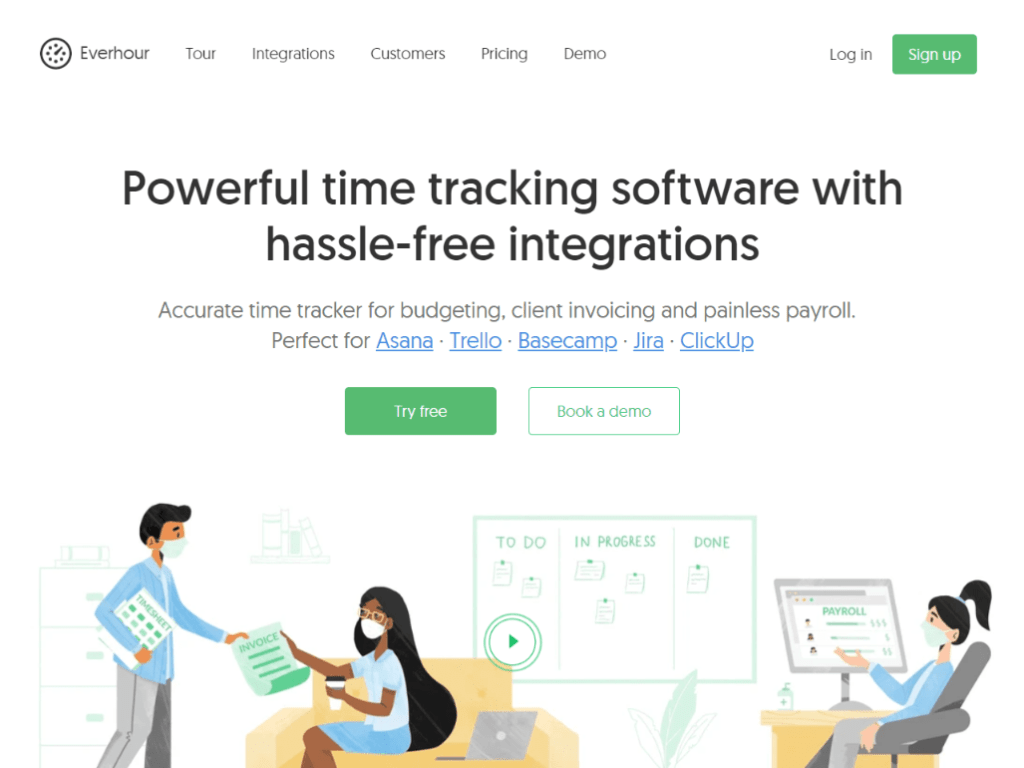 Working in a team requires people and time management on a level that's hard to reach without the right tools at your disposal. If you're at the head of a team, you need to know exactly what your colleagues are working on every moment to ensure you're all heading in the same direction. That's why you need powerful software like Everhour to track time and hold your team accountable for the time they spend during work hours.
With Everhour, you'll have access to real-time updates giving you key insights into how your team and the individuals within it are performing moment to moment. What's more, Everhour becomes a digital Swiss army knife capable of taking care of all your project management needs with its third-party app integrations.
Each integration complements the software, contributing to an arsenal of tools that'll see you through every important work project and task. Integrations include top project management tools such as Asana, Trello, Jira, Basecamp, and many more.
TimeCamp – Best for Freelancers
💻 Platform: Linux, macOS, Windows
💰 Pricing: Monthly: Free – $0, Basic – $7/month, Pro – $10/month, Enterprise – customizable; Yearly: Free – $0, Basic – $5.25/month, Pro – $7.50/month, Enterprise – customizable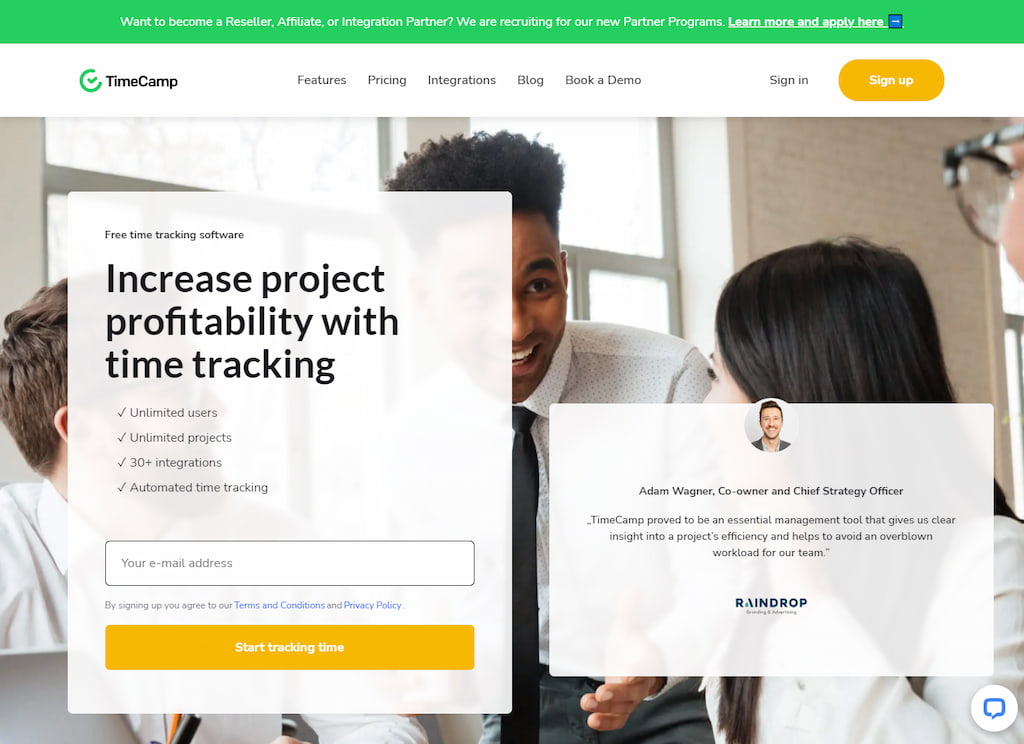 For freelancers, time is precious. Not only is there a mounting pile of work to get on top of, but there's also the business side of things to tackle. As such, it's important to streamline processes and automate wherever possible to lighten the load.
One way to go about this is to invest in time management software like TimeCamp, so as to free up time and simplify billing and invoicing. It's tricky to keep track of how many hours you've worked on a project, which can make billing clients a nightmare and more of a guessing game than an accurate estimate.
With the TimeCamp app, the best time tracking app for freelancers, you can step up your professionalism by tracking your projects, using timesheets to monitor the time you spend on various tasks, and making the most of 3rd party integrations. Integrations range from project management tools such as Asana and ClickUp to organization apps like Google Calendar and utility software like Google Docs.
✨ Features
Create reports
Billing and invoicing
Time Analytics – Best for Consultants
💻 Platform: iOS, Android
💰 Pricing: Monthly: Free – $0, Starter – $4.99/month, Optimum – $6.99/month, Premium – $12.99/month; Yearly: Free – $0, Starter – $4.29/month, Optimum – $5.99/month, Premium – $10.99/month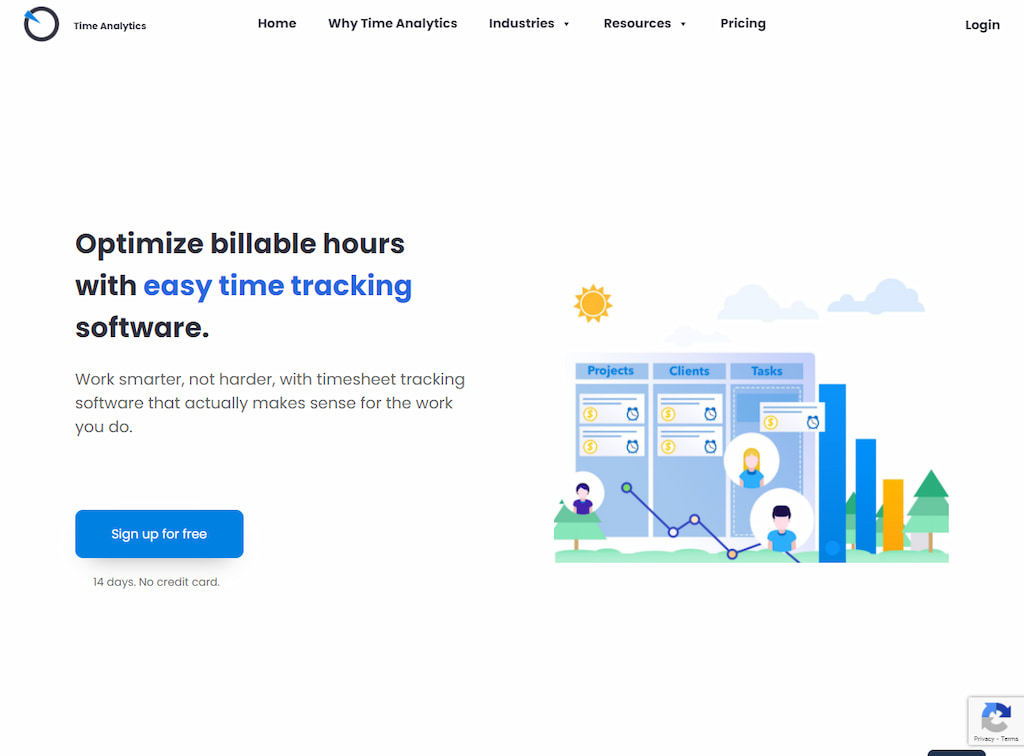 As a consultant, it's your job to go into a business and turn things around or improve productivity levels throughout the organization. It's much easier to do this when you have data to draw upon such as the time employees spend working on projects.
Time Analytics provides just that, and much more beyond. As one of the best time tracking apps for consultants, the app goes the extra mile to provide the kind of data you need to have a positive impact on any company or team.
This is a software tool that allows you to monitor a company's profitability by factoring in individual productivity and other KPIs. It allows you to see whether your clients are on track to hit their goals, whether they are operating within their budgetary constraints, and if every worker is on the same page.
✨ Features
Timesheets
Workflow logging
Time review
Billing
Productivity management
Forest – Best for Personal Use
💻 Platform: Android, iOS, Chrome, and Firefox
💰 Pricing: iOS: $1.99; Android: Free with $1.99 'Pro' upgrade; Browsers: Free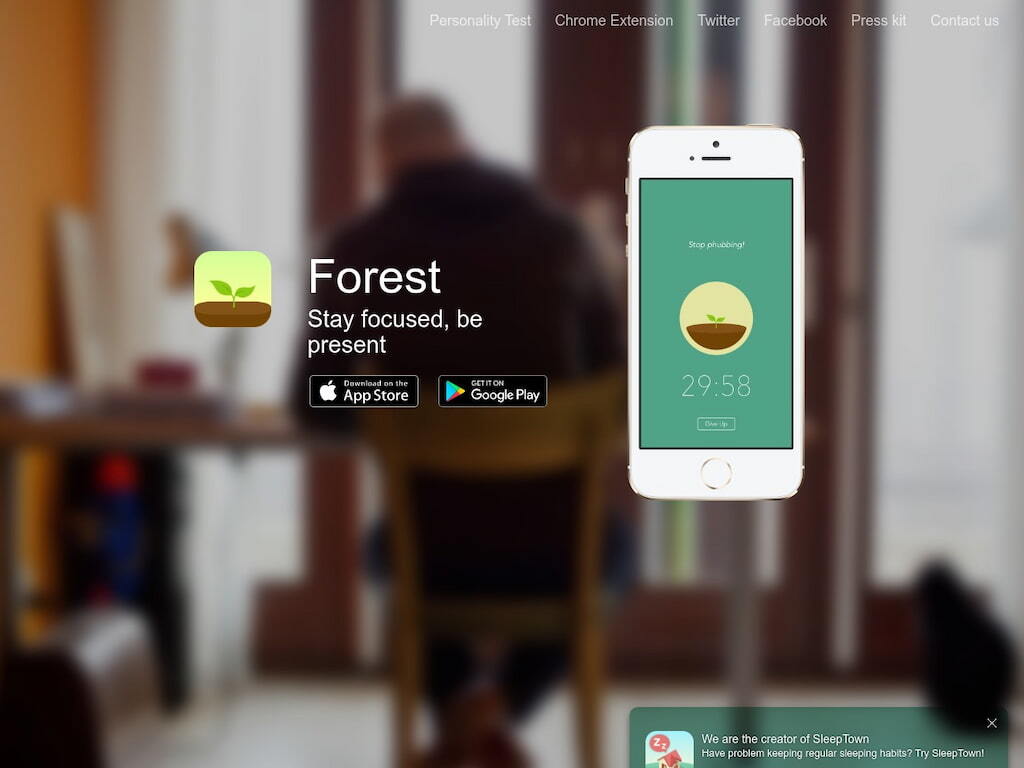 If you want an interesting way to stay on top of your time, why not choose an app that allows you to create your own forest and fill it with all kinds of different trees?
Forest is a visually impressive app that achieves what few time tracking apps do, it makes the process of wrestling back control of your time a joy. Hands-down the best personal time tracking app for anyone who wants more for their money, the app rewards time spent productively with a visual feast, as you select the trees that you grow from a wide selection and watch as your own forest starts to take shape.
It's the perfect solution for your personal time tracking needs since it incentivizes productivity with the satisfaction of creating something beautiful. Forest gamifies time tracking and is built on the foundations of the Pomodoro technique. That is to say, you select an amount of time to work for and to rest, and then get started. It's useful for revision sessions for an upcoming exam, writing sessions on that unfinished novel, or any other task that requires your full attention.
✨ Features
Productivity timeline
Pomodoro-based time tracking
Visual progress
Built-in reward system
Timetag – Best for Free Use
💻 Platform: iOS
💰 Pricing: Free; Business: $5/month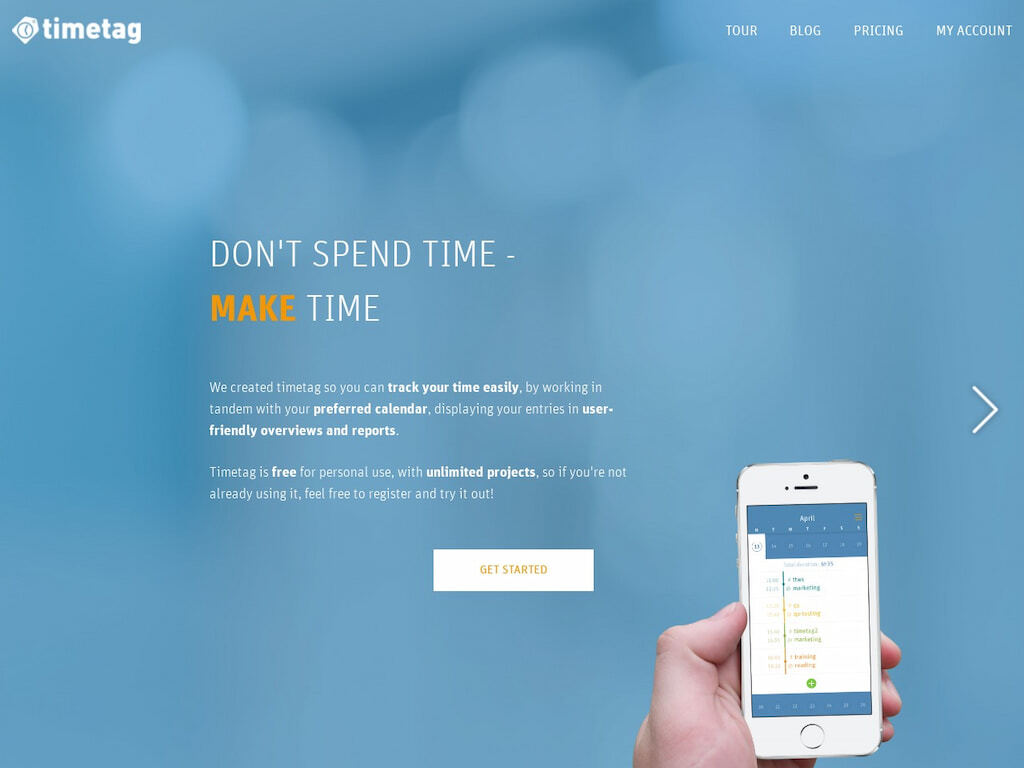 While there's no doubt that software tools can add a lot of value to a lot of companies and working professionals, they can also eat into your finances. Sometimes the thought of paying yet another monthly or yearly fee is enough to make you dismiss the idea and potentially miss out on the benefits. Yet it doesn't have to be that way.
Timetag is arguably the best free time tracking app, boasting plenty of features you can use to manage projects within your team or company. There is a premium option, too, for a minimal monthly cost of $5, but the free version is comprehensive for most time tracking needs. So what do you get for free with Timetag?
A simple yet effective time tracking solution that allows you to create detailed project reports and use data from any calendar on any of your devices. You can use the app to improve productivity and performance using KPIs and export your findings into a PDF or Excel file for easy digestion.
✨ Features
Create and export reports
Sync with any calendar
Time estimates
Timing – Best for Mac
💻 Platform: macOS (from El Capitan 2015 to Monterey 2021)
💰 Pricing: Yearly: Professional – $6.40/month, Expert – $8.90/month, Connect – $11.90/month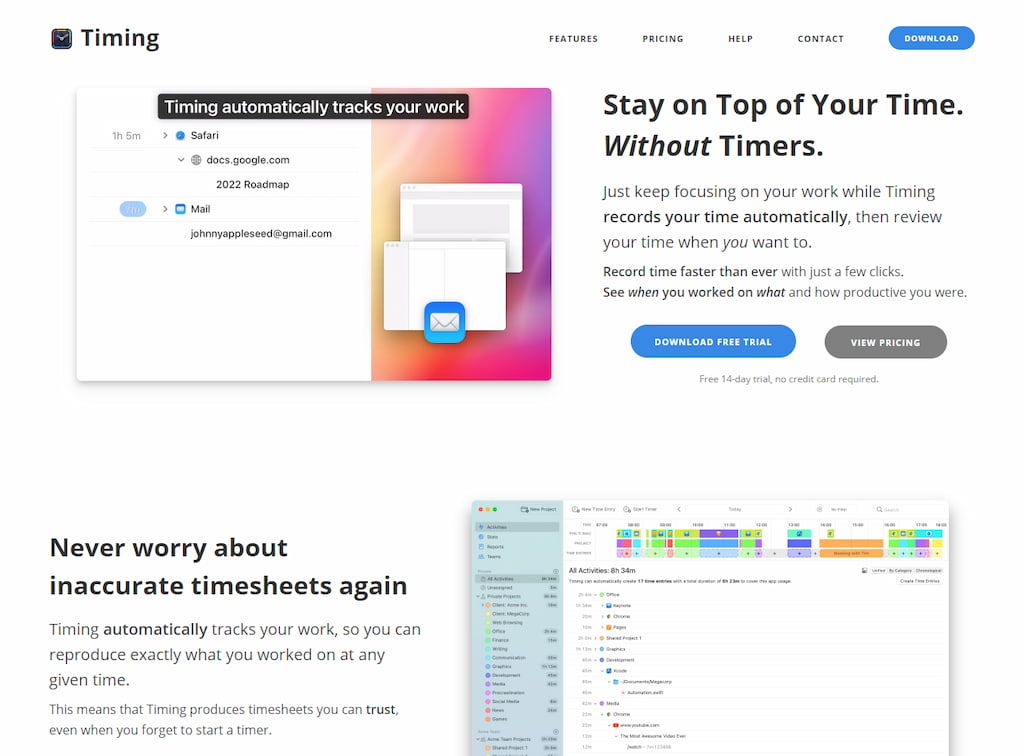 If you're a Mac user and you're interested in tracking your time, you could do a lot worse than installing the Timing app on your desktop, which is in our view the best time tracking app for Mac.
Timing is a time-tracking solution that understands the value of visuals. In the software, you'll have access to key information about how you spend your time in the form of colorful grapes and displays.
The main reason to pick Timing is that it's a time tracking app that never clocks off. That's right, the app never stops working, even when you do. As a result, there isn't a moment it won't capture, so if you're a data analyst at heart you'll have plenty to work with.
Timing will even categorize your time for you, so you know exactly how much time you're spending on what really matters. While this might lead to some shocking revelations about your computer use habits, it's this kind of information that can spark real change and motivate you to make the most of your time. This is especially true of freelancers and remote workers who spend the majority of their time at a computer, and are constantly looking to optimize how they use their time.
✨ Features
Automatically tracks time
Categorizes time spent
Colorful graph displays
Smart suggestions
Life Cycle – Best for iPhone
💻 Platform: iOS
💰 Pricing: Free; Premium: $9.99/year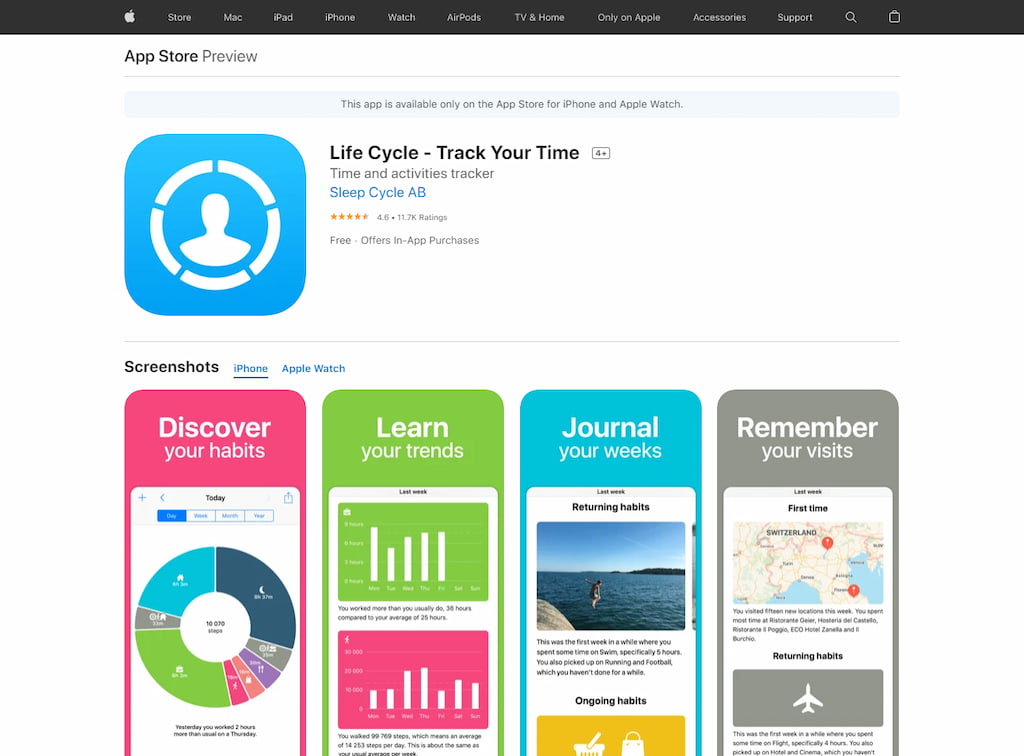 Time tracking solutions are often presented in the form of a desktop app, which is fine for use at work when you have access to a computer, but what about when you're using your phone?
Life Cycle is one of the best time tracking apps for the iPhone. It allows you to optimize the time you spend on your phone, so you can spend less of it on digital junk food and more of it on quality journalism and productivity tasks.
While most smartphones will give you basic information about how much you're using your phone each week, they won't give you a detailed breakdown of how you're spending that time or suggest trends. Life Cycle will, though, as it automatically tracks the time you spend and divides it into habitual activities, the places you go, and more. As such, you will have access to insights based on your personal activity.
Life Cycle will let you know how much time you spend sleeping, how many steps you managed for the day, and how much time you spent on your commute to work. You can then use this information to work towards creating a perfectly productive day.
✨ Features
Automatic time tracking
Insights shown in graphs
Trends
Integration with Apple Health
Comparing data with friends
TimeTune – Best for Android
💻 Platform: Android
💰 Pricing: Free; Premium: $9.99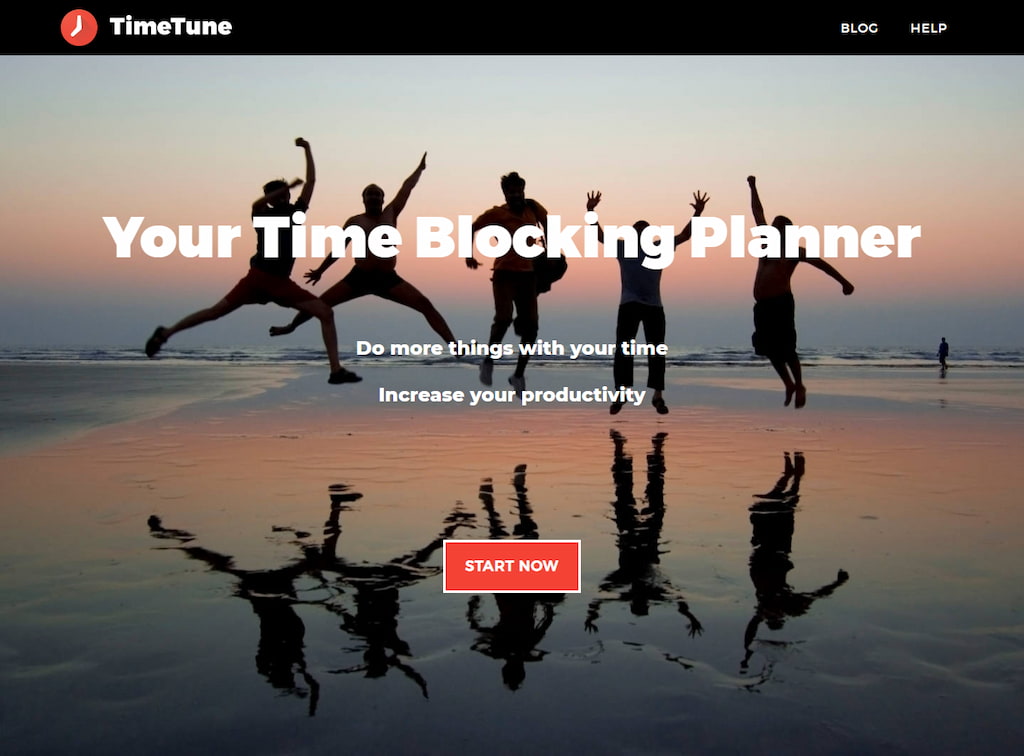 TimeTune is a simple time tracking solution for Android users that features plenty of customization options, access to statistics and templates, and the ability to schedule your routines and projects. The best time tracking app for Android, TimeTune provides everything you need to stay productive.
If you're looking for a one-stop shop for basic time tracking and project management needs, TimeTune is an excellent option for Android. With the app, you can carve out time blocks for various activities to hold yourself accountable, plan your days with templates, and then analyze your activities to see if there's room for improvement. You can even set up custom notifications in the app to alert you when you have upcoming meetings or obligations.
✨ Features
Time blocks
Custom templates
Custom notifications
Activity reports
Closing Thoughts
Time tracking is an essential process for many individuals and organizations, as it provides useful data for streamlining workflows and improving productivity levels.
Without it, we're reliant on old-fashioned timesheets, which work as intended, but can leave us open to human error. When we look to time tracking and best time and attendance software as a solution, we are able to greatly reduce the risk of making costly mistakes when billing clients or estimating project budgets. With automated time tracking and other project management features, it's much easier to focus on the work itself. You can also go with the best free time tracking apps, to see if they're fit for you at all!
Regardless of which platform you use or what you need to track time for, you should find the right software tool for your needs in this guide.