Knowing how to write in an invoice is an important skill for any freelancer, startup or small business. While it may seem that the big guns have got it figured out, if you're just starting out or have a small business, you'll need to know how to effectively bill for the work you've done. 
This is our quick guide on to how to properly invoice for your work. In this article, you'll discover:
How to write an invoice effectively (including a FREE invoice generator)
What you absolutely must include
The best way to schedule your invoices
Why personalization matters (including FREE invoice letter templates)
How to handle 'bad debts'
Feel free to skip ahead to the section that suits you or read the whole article to find out know everything about invoicing your customers and clients.
How to Write an Invoice Effectively – First Things First
Before you even get started creating your invoice system and learning how to write an invoice, you've got to figure out which method to choose – a time-proven standard blank template, specialized invoice software, or an online invoice generator. But what are the advantages and disadvantages of these types, and which is right for your business?
1️⃣Paper, PDF, Word, Excel
2️⃣Specialized invoice software
3️⃣Online invoice generators

Time

➕

May take days via post but can be sent via email

➕

Quickly and easily sent via email

➕

Easy to fill in and can be sent via email

Automatization

➖

Filled out manually and every time from scratch. May have some automatic calculation in software versions

➕

Counts everything automatically

➕

Can automatically calculate totals

Flexibility

➖

Rigid structure with little changes

➕

Easy to modify

➕

Some modification possible

Complexity

➕

Simple to fill in but complex to account for

➖Time needed to learn and set up
➕

Simple to use

Statistics maintenance

➖

Not possible for paper versions or PDFs but possible for Word, Excel and Google

➕

Possible in most cases

➖

Mostly

not possible

Necessity to install software on your computer

➕

May require some software installation. Solely paper versions do not

➖Typically

requires a mobile app or on-site

➕

No need to install additional software

Convenient access

➖

Manual file storage or access to a specific computer

➕

Computer/ laptop/ mobile phone and internet

➕

Easily accessed online

Design

➖

Only if you're good at drawing some modifications may be allowed in Microsoft Office products

➕

Professionally looking invoices, easily modified depending on your customers

➖

Standard templates, some modifications are allowed
Tip. There is no perfect one-size-fits-all invoicing system, finding the right system for your business may mean trying out several options before you find the perfect fit.
Standard paper and software templates
📄
Standard paper blanks and basic software are the old-fashioned way to invoice. Time-proven, this system is still in use. Below we've listed some pros and cons of using paper blanks and software when invoicing.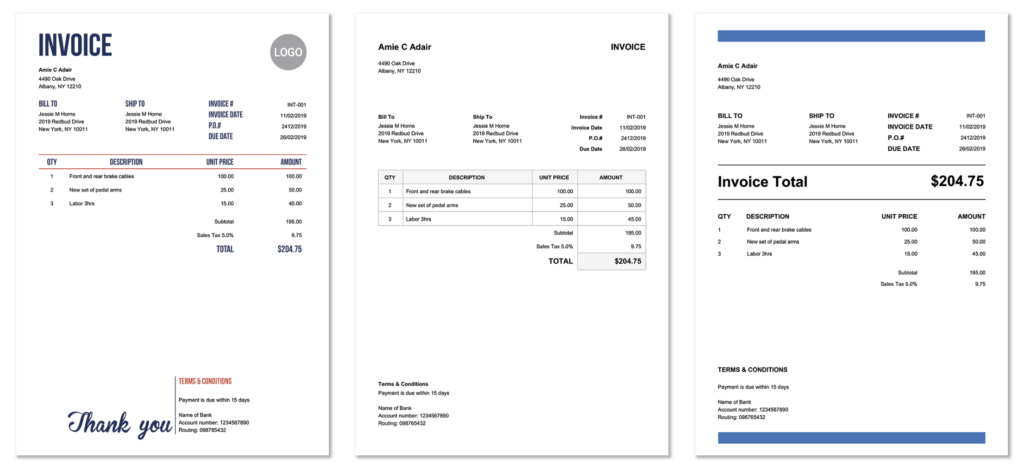 Why old-school isn't always bad
Simplicity – It's an easy-to-use method that can be applied by anyone who knows the basics of invoicing. All you need is a pen and paper, or some basic computer skills.
(Almost) Free of charge – Paper blanks do not require a yearly subscription, programs such as Microsoft Office may. But, the primary function of this type to make invoicing affordable and do-able for everyone.
Templates – PDF, Word, and Google docs provide you with a set of standard templates for invoices, so there's no need to invent everything from zero.
Automatic calculation in some programs – These can help you with calculating totals, avoiding the need for mental arithmetic or an external calculator.
All-in-one place – You can track all your invoices directly on your computer or in a secure, physical filling system.
Why tech-savvy beats manual invoicing
Long processing and delivery times – The biggest flaw of paper blanks is that they take time to get to a recipient. Waiting 3-4 days for postal delivery can delay payments, and that's before processing. Paper invoices may need to be verified before payment, which can cause further hold-ups. Emailed simple software version can make it faster but may require a scanner or a mobile app, such as Scanner for Me.
Quantity – If your business is rather large and you cooperate with more than five companies, writing invoices manually could turn into a logistical problem. Making keeping track of the status of payments, a nightmare.
High error risk – Inattention is not the only reason for mistakes to appear in an invoice. Chicken scratch handwriting can be one challenge, but it can also be hard to spot errors before printing in a PDF.
Space consuming and environmentally unfriendly – Paper written invoices require space for storage. You'll need an appropriate filing system to keep them in order. Besides, manually written invoices can boost consumption costs and be environmentally unfriendly.
Impersonal – These templates can be pretty basic, leaving little room from branding or personalization depending on business needs.
Training – These software and paper templates require no special skills when invoicing but it can make accounting tricky later, especially if you're not trained.
Rigid – You're pretty much stuck with a fixed format, making any additions inflexible – no unusual currencies, no extra fields, etc.
Specialized Invoice Software
💼
Specialized invoice generator software is created, especially for freelancers, startups, and small businesses to invoice effectively. It usually comes in the form of software programs installed on your computer, mobile apps, or sites, such as FreshBooks or QuickBooks.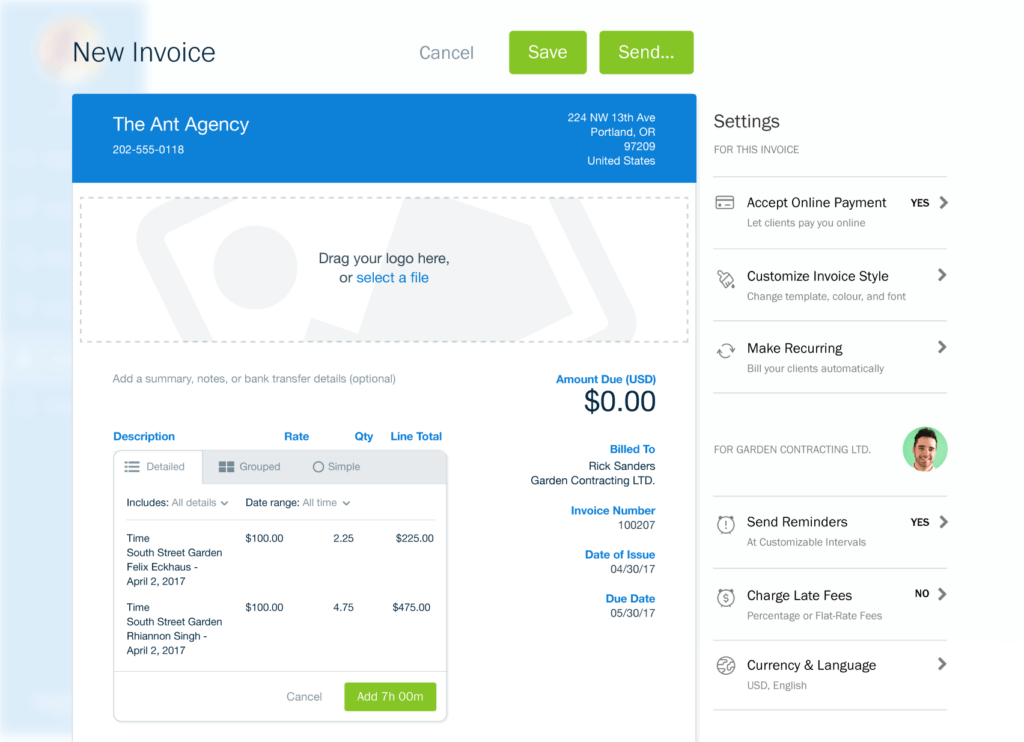 Are specialized computer programs right for my company?
Accessibility – You can access your app from any location, any time and using any device as long as there is Wi-Fi access or save your data offline for synchronization. It can also be combined with time tracking systems, such as Everhour to make billing more efficient.
Intuitive UI – Intuitive user interface with helpful popups and customer support.
Easy-to-follow statistics – Keep a watch on your invoice statistics using the devices' dashboard.
Timely notifications – Learn precisely when your clients receive their receipts.
Easy modification – Ability to modify invoices, e.g., give discounts, set send dates, etc.
100% customization – A wide range of invoice templates enables you to customize your invoices for your clients.
Multiple app access – Provides two or more employees with access to the program.
Online support – There are more ways to communicate with customers than through traditional software, for example, online customer support in live chats.
Money-saving – Various subscription plans to suit your budget. Some services can even provide free of charge invoice templates.
Why specialized computer programs might not work for you
Downtime – Unavailability due to occasional maintenance.
Bugs – Instability of the system, they may crash or be very buggy.
Traditions – Customers who are used to paper invoices or lack the knowledge of how to use specialized apps.
Spam trap – Invoices may end up in the spam box after being sent to an email address.
Poor customer support – Customer support systems can vary, so if the worst happens, you could be left with overdue invoices or a late response to your own clients – an unavoidable pet peeve.
Compatibility issues – Some apps may not be compatible with some sites or software, resulting in the failure of data exchange.
Limited number of users – Subscriptions can limit the number of users from your organization. If you want to increase the number, you may need to pay extra.
Fees – Some require payment, and this may rise with the growing needs of your business, e.g., number of users, template styles, error corrections, and more.
Online Invoice Generators
😋
Online invoice generators are a type of specialized invoice generator software, growing in popularity due to the possibility of creating an invoice for free on-demand, without the need to create an account or pay monthly fees, perfect for those getting acquainted with how to write an effective invoice.
Generally, such systems are limited in functionality but may be suitable for small companies and freelancers.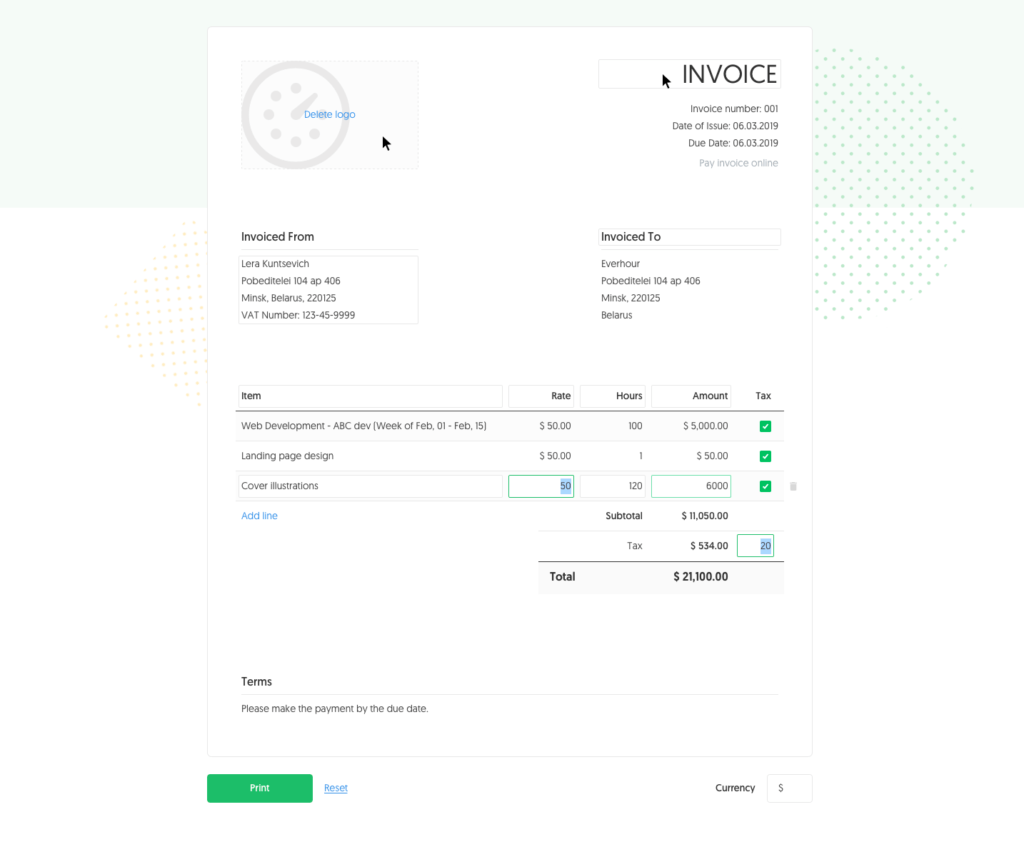 Everhour free invoice generator. Create a pro-looking invoice with a link to pay online (via Stripe or PayPal). Customize the layout or even translate the invoice. All settings are saved inside the browser. Works on mobile.
Why online invoice generators could be a good fit for your company?
The system has also addressed the downsizing issues many online generators experience, such as:
Ability to customize the invoice (within reason) – Many online generators allow you to add your logo and company details with ease and include various other factors for flexible invoicing.
Save and edit at will – When your payment details are incomplete, or you need more information, you can prepare the invoice and finish it later when you have further information.
Ability to add payment links – Directly insert links to your payment methods to simplify the process for your clients.
Paper or digital – Stick with the digital version or print a paper copy for your records, online generators offer flexibility of format.
Accessible online anywhere, anytime – As long as you have an internet connection you can access your invoicing system.
Anyone in your organization can invoice – No need to add a member to your subscription (generally) anyone in your organization can log in and create the invoices.
When online generators might not be a good idea?
You need a more complex system – Online generators are set for simplicity; some businesses may require more complex systems. Especially if tax in your region doesn't follow a simple process.
Record-keeping skills needed – You'll need to keep a separate record of any invoices generated by the online invoicing system if one is not provided.
Downtime and bugs – Your invoicing system is dependent on the provider, meaning you need to be ready to accept that bugs and downtime may impact your ability to bill.
Aside from Everhour's integration capabilities that allow you to account for billable, non-billlable, fixed price, and more, expense tracking, and more; we've created this handy and FREE invoice generator that you can use to make your company's invoicing a piece of cake.
How to Write Up an Invoice
✍️
Now that you know more about the tools available, let's take a look at how you can start to unpack how to write up your own invoices – what do you need to include in that bill exactly?
Choose an invoice template – Make it personal but professional. Your invoice represents your business and the image you present to your customers – are you a sober large enterprise, family-friendly mom & pop corporation, or somewhere in between? Whatever your style, it needs to reflect your brand's image.
Contact information – In general, this should include your and your client's contacts – business address, email, and phone number. Remember to add the name of a person who will deal with your invoice. It ensures the right person will get it, and payments can occur quickly and (hopefully) without error.
Unique invoice number – You'll need to assign an invoice number to allow you to keep proper records and find that needed invoice quickly in case of any issues. It's good practice to assign numbers in "last invoice number +1" order.
Dates – When you invoice, make sure you assign dates correctly, and include when the invoice was created, and the date it should be paid by. This creates clear guidelines of responsibility for both the client and your business.
Services and costs – Make a detailed list of the services and products provided, including costs, dates, and the amount of time spent on them (if applicable). It's essential to provide as much detail as possible and with clarity so your customers can understand precisely what they are paying for. Tracking time beforehand helps you to do just this (read more here).
Payment – Fill out the invoice total, add in discounts or taxes (if applicable) and the method of payment – cheque, online payment via Stripe or PayPal, bank (wire) transfer, etc. If appropriate, it's best to discuss payment methods in advance so that it's convenient for both parties.
Payment terms – It's important to specify all the terms and due dates in case of delayed payments or unforeseen circumstances. It can be challenging to define how to charge your client with money for a project, especially when it's not fixed-fee. You'll need to define billable and non-billable charges, and what counts. Payment terms can also help remind your client about compensation deadlines and any discounts that apply to early payment.
Comments section – It's not obligatory, but this is an excellent opportunity to thank your client for working with you as well as promote some further cooperation discounts or add necessary account information.
Tip. Depending on where your business and clients are located, you may need to adjust your invoice to consider legal factors. So, we recommend seeking consultation before sending out your first bill.
How to Schedule Your Invoices and When to Write Them ⏲️
Billing isn't something that should be left to the last minute. That's why it's vital for any business to learn how to write and schedule their invoicing accordingly. This is an integral part of business time management, and knowing the how-tos is the key to success.
Top tips of getting your invoice done on time:
Keep your projects in order.
Track time and resources spent for non-fixed-fee projects (try Everhour).
Know who needs to be billed and when.
Spare time on your invoice writing in advance. (We know this can be time consuming so allow time for this in your schedule).
One way to make sure your invoices get to the client on time is by using email – snail mail can be slow – let's take a look at how to write those invoices and send them effectively via an email system, in this case, Gmail.

Compose your business email. Remember to include your invoice as an attachment or link and a friendly message to your client (check out our useful tips below).
Go to the dropdown arrow next to the "Send" button.
To schedule your mail, choose from the given times and date to suit your business needs and client's working hours.
Click "Schedule send".
And you're done.
Now, if, for some reason, you need to cancel or switch mailing dates, this is what you've got to do:

In your mailbox, click on the "Scheduled" button.
Pick the email you want to cancel or switch to other date.
Go to the top to "Cancel send" button.
Schedule a new automatic mailing.
Tip. Be sure to get your timesheet and project data calculated on-time to allow you ample legroom to get those invoices done on-schedule. Consider integrating timekeeping into your project management app to make it a little easier.

How and Why Should You Write a Note to Your Client with Your Invoice? 💬
(FREE invoice letter templates below)
If you're just sending a bill to your client, you could be missing out on a unique opportunity to promote your brand's image and retain customers for the long term.
Depending on where you work and business etiquette, just emailing an invoice could be seen as a little impolite or carefree. That's why it makes sense to learn how to write some sort of cover letter to your clients to include with your invoice.
Cover letters are usually sent with or before an invoice to notify your client about a future payment in a smooth and polite manner. You can also include some vital information, such as:
Payment due date
Numbers of invoice or customer reference
Partial or full payment details
A thank you note for doing business with you.
These letters are useful in building customer loyalty and forging a personal connection with your client. According to Bain & Company, a 5% increase in customer retention can boost profits by up to 25%.
This is one of those make-or-break moments that define customer-business relationships. So, be sure to choose your wording carefully.
To help you get started, we've included some helpful and free business letter templates, just for you:
Invoice cover letter template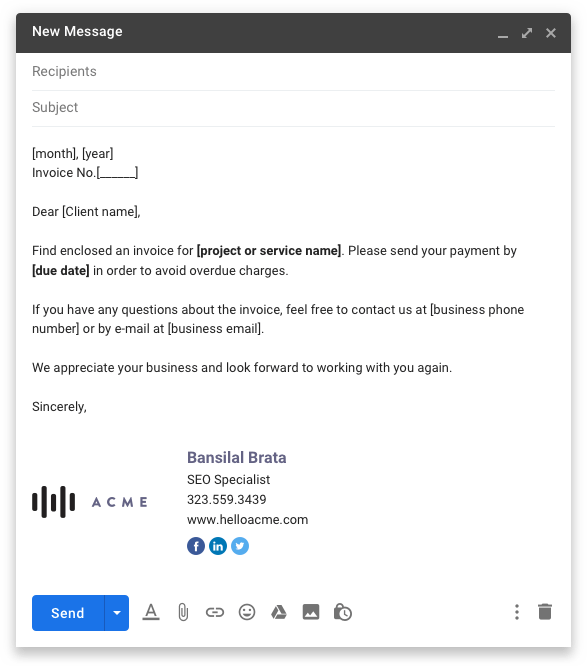 From: [your business name and address]
[month], [year] Invoice No.[______]

Dear [Client name],
Find enclosed an invoice for [project or service name]. Please send your payment by [due date] in order to avoid overdue charges.

If you have any questions about the invoice, feel free to contact us at [business phone number] or by e-mail at [business email].

We appreciate your business and look forward to working with you again.

Sincerely,
[Your signature]
Overdue invoice letter template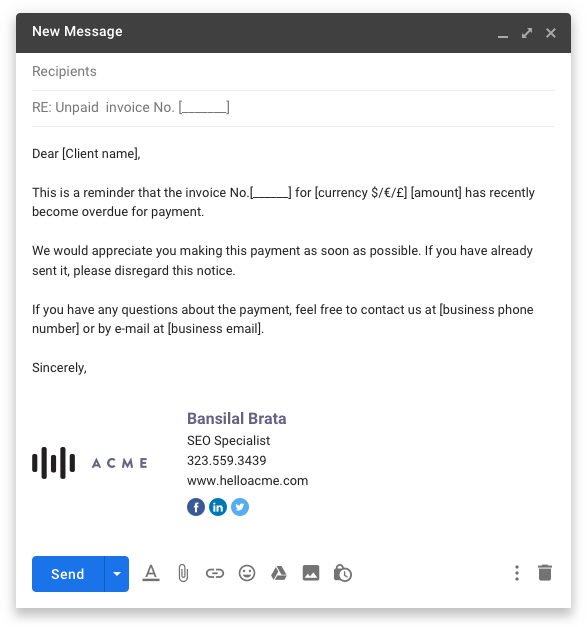 From: [your business name and address]
Subject: RE: Unpaid  invoice No. [_______]

Dear [Client name],
This is a reminder that the invoice No.[______] for [currency $/€/£] [amount] has recently become overdue for payment.

We would appreciate you making this payment as soon as possible. If you have already sent it, please disregard this notice. 

If you have any questions about the payment, feel free to contact us at [business phone number] or by e-mail at [business email].

Sincerely,
[Your signature]
To make sure that your client has seen your message and it didn't end up in spam, install one of various mailbox extensions, such as HubSpot, MailTrack or Yesware to track your letters and notify you the minute your client opens your invoice.
What to Do If Your Client Doesn't Pay? (aka Bad Debts) 💡
Unfortunately, no business is immune to customers that don't pay on time or at all, and this may turn into uncollectible invoices or "bad debt." So, how should you deal with these bad debts?
Aside from the handy reminder letter above that you should absolutely send to your client; you'll need to account for these invoices in your internal accounting system. If you've placed an uncollectible invoice sum in your accounting system, in general, there are four main steps to follow:
Keep track of it and create an account for bad debt expense
Create a separate chart for bad debt expense, here you should store all information on the company's debts that haven't been paid, so you can follow up on them later.
Create an item for the bad debt expense account
As you need to show bad debt in your company's income, you've got to identify a "bad debt expense." Usually, it's called "a non-inventory item" or " an extraordinary item" and can have the following information:
Type: other charge
Item Name/Number: Bad Debt
Description: Bad Debt
Amount: 0,00
Account: Bad Debt Expense
Create a credit memo for the customer
You need a credit memo to reduce the customer's unpaid sum. In a credit memo you need to fill out the following info:
Item: Bad Debt
QTY (quantity): the quantity you need to write off
Rate: the amount you need to write off
Apply the credit memo to the customer
Remember these steps above generally apply to app and online based systems. Recheck with your accountant to implement them into your accounting system.
Writing off bad debts is usually an unpleasant process. Firstly, you need to know all the specificities on how to do it in an app or your reports. Secondly, it's quite difficult to deduct these items from your income taxes.
This should give you a general overview of the best way to deal with bad debt. However, if you use an accounting system such as QuickBooks, you may need to adapt this how to write off an invoice example to suit your accounting style.
Tip. To avoid bad debt issues, it's a good idea to follow good project management skills and keep in contact with your client throughout the project, not just surprise them with an invoice at the end. You may also consider a pre-payment system to acquire some of the costs in advance.

Invoicing Checklist
✅
Congratulations! You've just finished reading our guide on how to invoice! Now, you're primed to make a start in the world of your business' accounting. In this article, you have learned how to:
Pick the right invoicing method for your business
Compose a stellar billing system that will wow your clients and make your accountant's life a dream
Navigate those non-payment issues with ease
Write a compelling cover letter to build your customer's trust and loyalty
Turn invoicing from an end-of-the-month nightmare into a smooth procedure
Remember, any invoicing should be backed by work-done, learn more about why tracking project time is important, or implement it today with Everhour!