Discover the best timers for work and unlock a new level of productivity with these powerful tools that are designed to revolutionize the way you manage your team's time and tasks. Our rigorous evaluation process ensures that you get the most reliable and efficient solutions for your workforce management needs.
Key Criteria for Evaluation:
1. Shift Scheduling and Allocation: Say goodbye to the chaos of manually creating and assigning shifts. These applications effortlessly handle workforce allocation, ensuring that your team is where they need to be when they need to be there. No more last-minute scheduling headaches.
2. Task and Project Management: Streamline your task and project organization with ease. These tools empower you to keep track of every detail, fostering better organization and allowing your team to focus on what truly matters.
3. Communication and Collaboration: Enhance team communication and collaboration like never before. These applications offer features that promote real-time communication, ensuring your team is always on the same page and working seamlessly together.
4. Integration and Synchronization: These tools are designed to be the ultimate team players. They seamlessly integrate with various tools and platforms, creating a cohesive and efficient workforce management environment. Say goodbye to data silos and hello to streamlined operations.
5. User-Friendly Accessibility: Accessing and utilizing these scheduling and management features is a breeze. They are designed to work flawlessly across different devices and platforms, ensuring that you and your team can stay productive no matter where you are.
Our Approach to Software Assessment and Testing:
Rest assured, our assessments are not taken lightly. They are meticulously crafted by experienced professionals who specialize in software analysis for employee scheduling and workforce management. Each software undergoes rigorous testing and scrutiny against our predefined criteria to ensure it meets the highest standards of performance and reliability.
But here's the kicker – we have a strict policy of not accepting compensation for featuring software or incorporating them into our articles. Why? Because our primary objective is to maintain the trust our readers have in our unbiased and authentic software assessments. We are here to provide you with the information you need to make informed decisions and enhance efficiency in workforce scheduling across various contexts.
So, whether you're a small business owner looking for a more efficient way to manage your team's time or a large corporation in need of a powerful workforce management solution, you can trust us to guide you to the best timers for work. Join the millions of readers who rely on us for expert insights and take your workforce management to the next level.
9 Best Timers for Work
With the tools you're about to see, you can achieve powerful results for your business. There are nine of them, so you can choose the best one that works for your team, and fits your organization's needs.
Everhour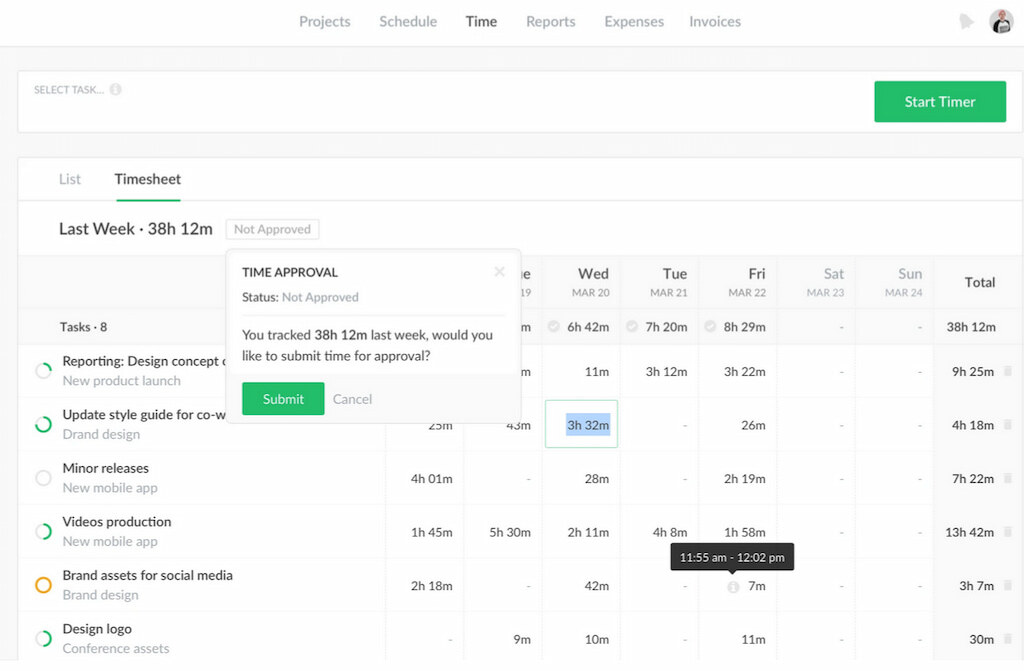 Everhour is one of the best online timers and time trackers and timers that work in various project management programs. Get set to enjoy a great deal of productivity, thanks to collaborative tools that enable you and other users to track time accurately. You can do that directly from a work application or browser without switching tabs.
For an app that tracks and captures data for time management, billing, client project management, employee scheduling, and more, Everhour is reasonably priced. Whether you are a solo freelancer or run a small team, you'll love its reliable and seamless features.
💡 Main features
Project and time management
Everhour helps you keep track of projects and the hours spent executing them. That includes employee attendance, dedicated hours, and time off from work. Although Everhour works online, users can also apply a start/stop timer or log time entry manually. Configure it to stop automatically at the end of a workday.
Everhour is an all-in-one time-tracking and project management solution, so you can manage tasks and their deadlines, and build on team assignments. Even paid time and sick days can be managed via this software.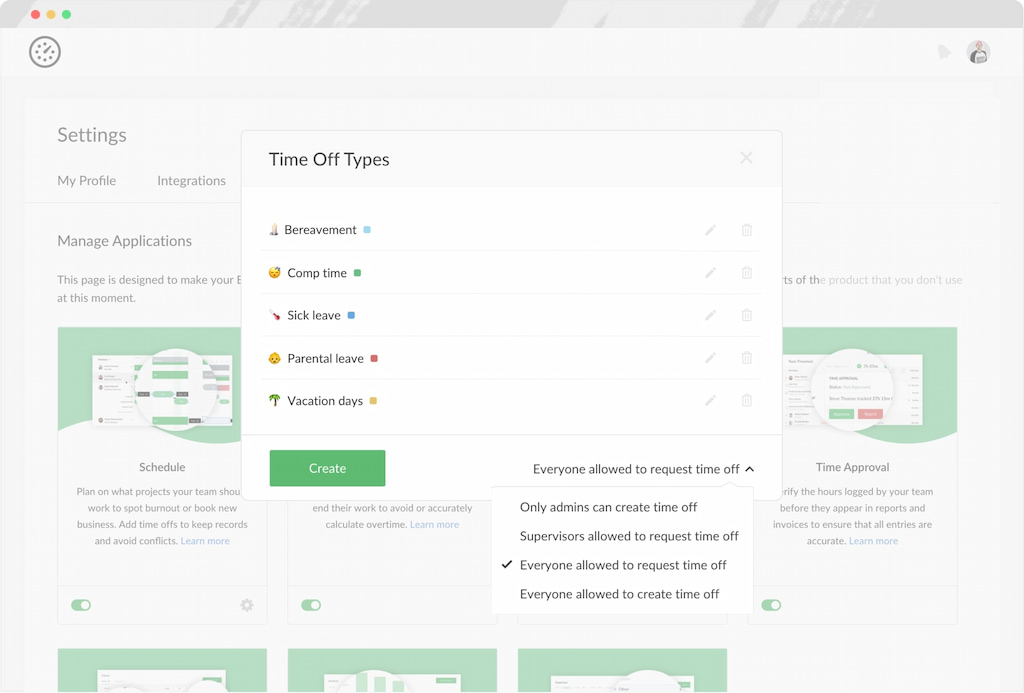 At the end of the day or at specific time managers choose, notifications come in when team members submit their timesheets for approval. The managers can also lock the team sheets to prevent further edits from team members.
Report generation
Customizable progress reports are also possible with Everhour. Get reports such as monthly timesheet reports, project milestone reports, time and task progress by members, and more. You'll find an array of columns, filters, groups, and conditions that explain the time spent by your team running different tasks. As a result, you can tailor the report to showcase what you want, especially the kind of data you need.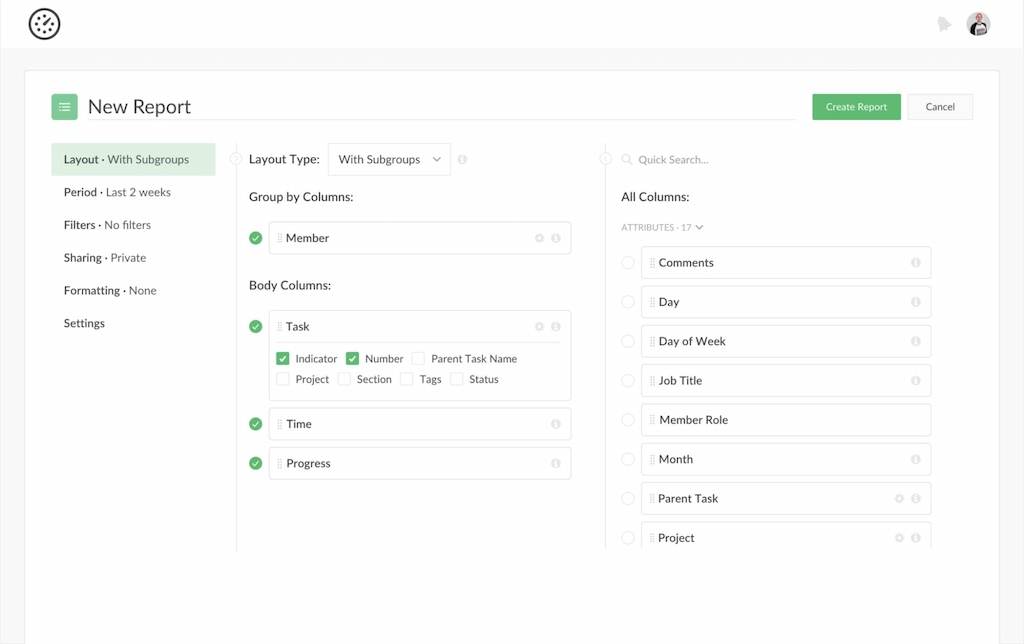 Integrations
Everhour is considered the best online timer due to its effective integration and ability to sync with many common business tools. It's a whole list of elite tools with the pick of the bunch being Asana, Basecamp, ClickUp, GitHub, Jira, Monday, Notion, QuickBooks, Trello, Hubspot, etc.
The integrations allow tasks and projects from applicable apps to sync into the Everhour platform and show up in the system so that you can track them in Everhour. Also, synced apps run the Everhour timer like a native feature, allowing the time you track to sync into your Everhour account.
Billing, budgeting, and invoicing
Since Everhour gives you an accurate view of time invested in a given project, managers and other team members can better manage client expectations, projects, and budgets. That's because Everhour supports several billing methods, including time and material, fixed fees, and non-billable time. It does so via labor cost tracking, custom task rates, and budget percentage alerts.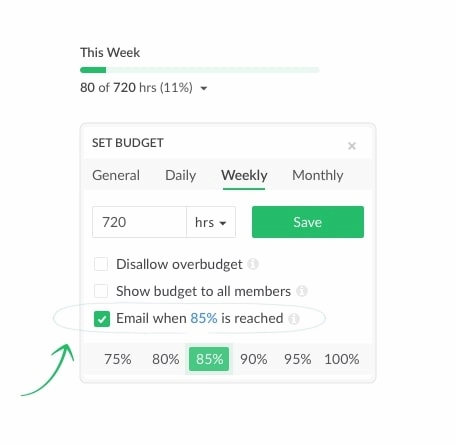 With its expense tracking features, Everhour allows you to track work-related expenses employees cover, and add expenses in budgets, and invoices. For example, you can create custom invoices, add notes, and integrate with other tools like QuickBooks and Xero.
✅❌ Pros & cons
✅ Pros
Easy-to-use reporting tools
Efficient integration with many productivity apps
A raft of modern features
Detailed time tracking
Smooth user interface
Innovative invoicing and budgeting
Timesheet tab to summarize work
Classification of clients and projects
Free plan available
Bug-free
❌ Cons
👩‍💻 How to use Everhour for freelancers
As a freelancer, Everhour gives you the upper hand, especially with its work timers. Here are a couple of significant ways you can use Everhour as a freelancer:
You can use Everhour to stay productive and focused and work with a dedicated timesheet. In line with that, you can bill your clients accurately, and account for every minute or hour spent on any task.
You can use the report feature on Everhour to learn about your most productive hours and peak distracting hours. This helps you optimize your time and ability to deliver on different tasks.
You can use Everhour to optimize your work-life balance. With clearly set working hours, you can set goals for work and otherwise.
👩‍💼 How to use Everhour for managers
For managers searching for the best productivity timers, Everhour serves a variety of needs, including the following:
You can use it to accurately track the hours associated with each project your team works on. In most cases, the hours spent working on projects determine whether you win bids to work for the government or big companies. Such organizations will want to know how many hours they can dedicate to their projects.
Everhour can be your go-to tool for general project management. It ensures your team is pulling toward one direction and remains motivated through any project.
You can use Everhour to analyze and gain insight into each team member's response and attitude to tasks within projects. That includes health and general downtime.
---
RescueTime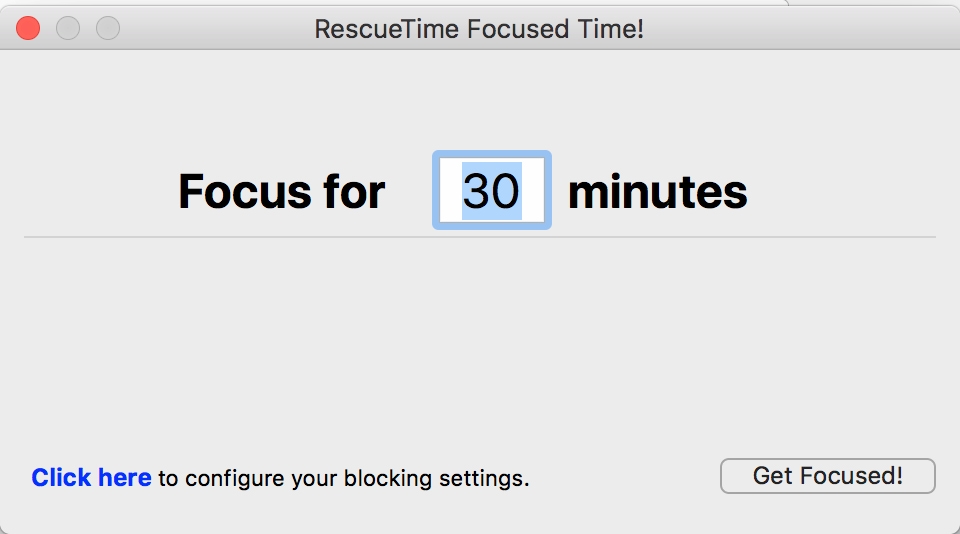 RescueTime is a leading productivity timer for multiple tasks and takes you away from the difficulties of manually starting and stopping online timers. It runs automatically, observes how you work, and provides detailed reports and insights into the websites and tools you use the most.
RescueTime runs Focus sessions that businesses can use to keep track of time and ensure employees are working with maximum efficiency. When employees are busy, distractions could affect their concentration levels. RescueTime solves that problem by allowing them to limit such distractions and focus on essential tasks.
💡 Main features
Time tracking and focus sessions
As a time tracker, RescueTime lets you use its Focus Time feature to track and categorize time spent by employees working, during breaks, and other activities. Further, the Focus sessions allow you to set goals for the length of work time, tasks worked on, and websites or apps used to complete the work.
Schedule management
With RescueTime, you can check out schedules for the day and the software displays it in a calendar view. As a result, you can easily have a quick look and set up goals for the Focus Sessions.
Daily reviews and reports
Review and reports are mainstays on RescueTime often helping businesses and teams gain extensive insights into productivity patterns and possible distractions. Users will get a summary of how they spent their time and their level of concentration. It's easier to measure productivity with such data.
✅❌ Pros & cons
✅ Pros
Tracks time on multiple devices
Reports and productivity analysis
Custom goal setting
❌ Cons
The mobile app is lacking
Reports lack visual appeal
Lack of sufficient third-party integration
---
Timerdoro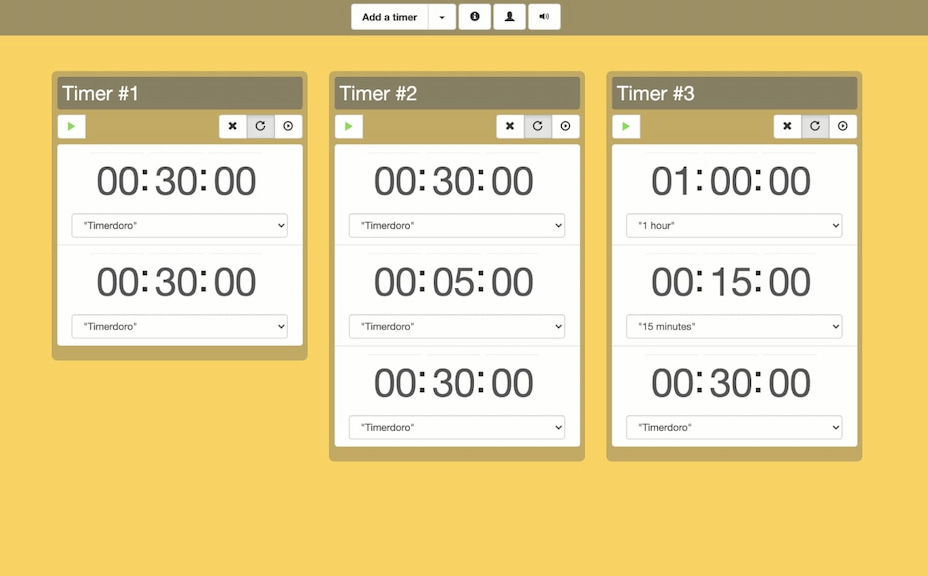 Timerdoro is a task timer online suitable for monitoring Pomodoro-style work hours. One outstanding quality it has is allowing you to define the name and time for each session. You can also use it to run many work timers concurrently.
💡 Main features
Preset online timers
Timerdoro comes with a few preset online timers such as an "eye strain" timer that applies the 20-20-20 rule to boost productivity. Also, you can use Timerdoro to balance your time between consecutive tasks with or without the Pomodoro technique. You can create a sequence of individual timers, instead of one.
✅❌ Pros & cons
✅ Pros
Simple and intuitive
Customizable Pomodoro times and names
❌ Cons
Difficult to see your timed sessions
Difficult to track productivity metrics
---
KanbanFlow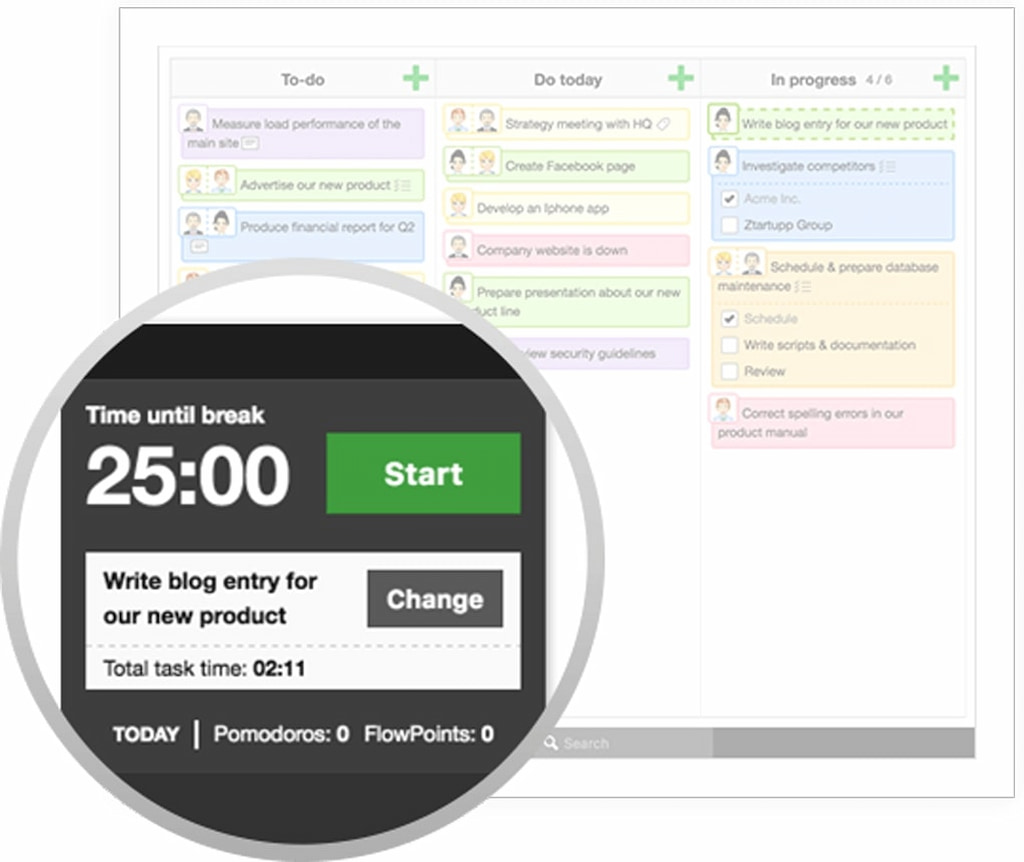 The KanbanFlow is popular for combining your task list with a simple timer. It's also one of the best ways to visualize your task list. It works by adding each task to a column, then moving it through as you progress. For example, you can create writing, editing, and published columns.
KanbanFlow has a free version, which allows you to use a simple task board connected to an online timer. With that, it's easy to customize your task list and measure how long each one took simultaneously.
💡 Main features
Time tracking
KanbanFlow lets you track the time you spend on your tasks. This helps you increase your productivity and focus on certain tasks punctuated by intervals or short breaks.
Reporting and analytics
You'll get charts, calendars, and forecast capabilities among other items to boost your reports and analysis of the general workflow. You'll have access to diagrams to analyze your workflow and identify bottlenecks hindering your team.
✅❌ Pros & cons
✅ Pros
Easy to use
Visualize your task list
A smooth connection between project management and a productivity timer.
❌ Cons
Can get complex as you proceed
More self-reporting
Limited work timer
---
Be Focused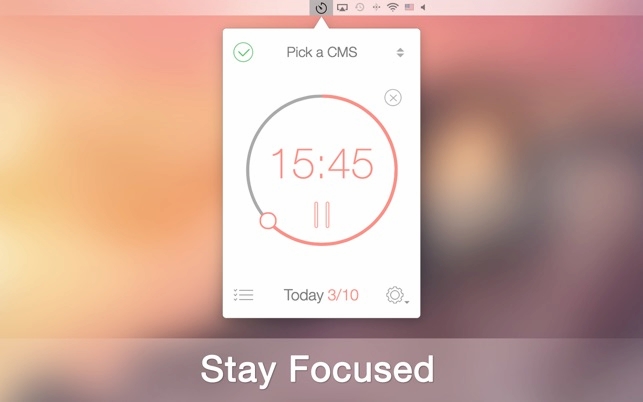 If you want a job timer to learn how you spend your time during some sessions, the Be Focused app is a good option. Set customizable sessions and assign them to your to-dos, client, or project list. For example, if you're working on a website redesign for a client, you can add "Website Redesign" as a task and start your timed work sessions. You'll have a clear idea of how many sessions you completed and how you spent your time.
💡 Main features
Task management
Manage your tasks efficiently, especially when you have a raft of them to complete. You can easily estimate the number of intervals required to complete a task and view and manage completed intervals.
Customized timer
It runs enhanced Pomodoro-inspired stopwatch app features. However, this application goes beyond its countdown timer by capturing these focus intervals and graphing their results on a bar chart, and other diagrams. The custom times let you start, pause, or skip intervals. Also, you can auto-start the next timer in a bid to maximize productivity.
✅❌ Pros & cons
✅ Pros
Easy to use
Well-designed timer utility
❌ Cons
---
Timer Tab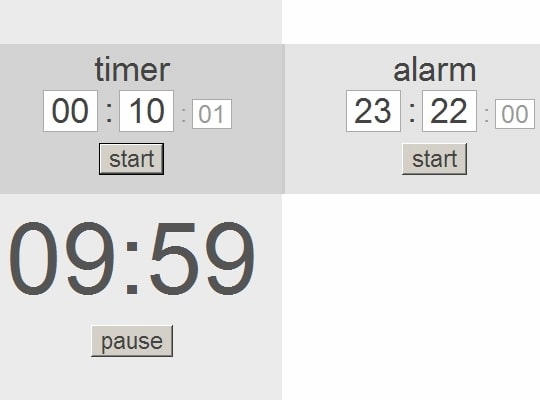 Timer Tab is an online task timer that provides a countdown for work sessions to help you focus. Unlike some of its competitors, it differentiates itself by giving you multiple options for how you time your day. There are several options you can choose from, including a simple countdown timer, an alarm clock, or a stopwatch, enabling you to stop and start tasks daily.
💡 Main features
Timer
Generally, Timer Tab has only three basic functionalities. They are a countdown, alarm clock, and stopwatch. That makes it a minimalistic solution. However, it's possible to zoom in and out to be more focused and track time in the full screen to avoid distractions. Also, you can change the theme, and share the tool with others.
✅❌ Pros & cons
✅ Pros
Flexible online timer
Simple stopwatch for ongoing tasks
❌ Cons
Starting a new timed session stops all other sessions
You can't label time or assign projects
---
Online Stopwatch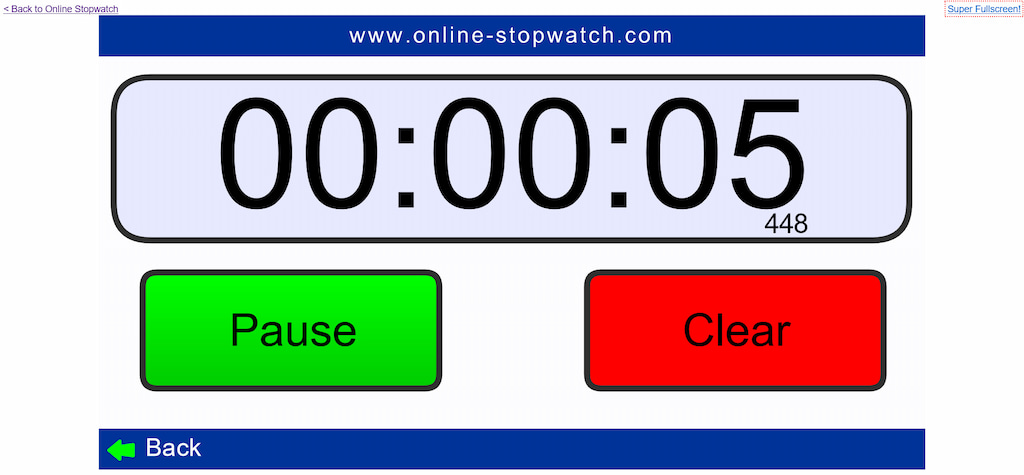 As easy as it looks and works, this is one of the most effective tools you can use, especially if you work online. Some users flat-out call it the best online stopwatch.
The Online Stopwatch is simple and doesn't waste time with unnecessary features and quirks to get your attention. Instead, it goes straight to the point, doing what it does, and offering simplicity.
💡 Main features
Time tracking
Generally, this tool functions as a work hours tracker, meaning you can use it to time all of your billable tasks. It's also useful as a countdown generator for your activities. When you and your team have multiple tasks when running a project, you can use the countdown option to stay within a time frame.
✅❌ Pros & cons
✅ Pros
Start and stop countdown on tasks
Very easy to use
❌ Cons
Difficult to measure time accurately
Might not fit advanced teams
---
TimeCamp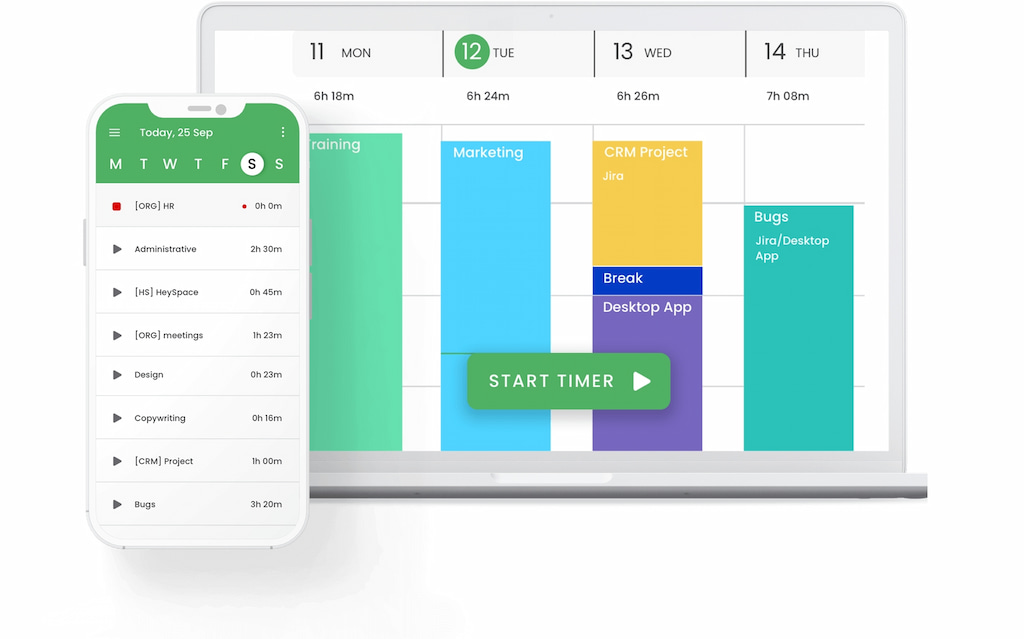 TimeCamp online timer provides a strong time tracking system you can use on the internet. It will track working hours and automatically fill timesheets using time entries, thereby reducing the time you and your team spend on administrative processes.
💡 Main features
Automatic time and activity tracking
When you can automatically track time and activities, your team gets to focus on key areas of your business. Also, you can set and track the time and budget for each task. However, it's essential to assign tasks as billable or non-billable to streamline the payroll.
Report/invoice exporting
Generate more than a picture of a timer with TimeCamp when you use its reporting and invoicing features. It ensures that your team gets adequate reports, which provide a massive help for daily performance analysis.
✅❌ Pros & cons
✅ Pros
High availability across several platforms
Custom reports and attendance tracking
❌ Cons
Difficulties loading content
---
HourStack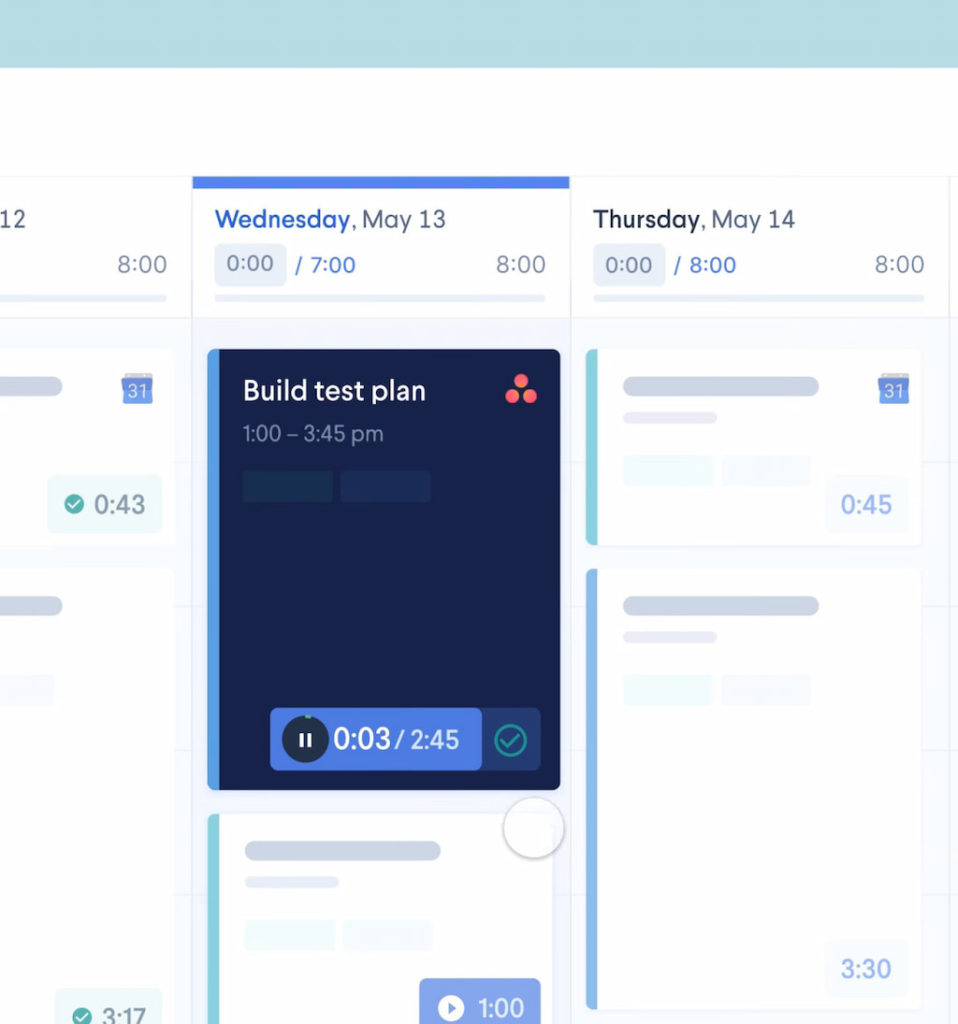 HourStack is a tasks timer offering a unique visual interface that allows you to drag and drop tasks onto a weekly calendar. It is an online timer that lets your employees create cards for all the tasks they need to work on throughout the week. For example, if you use task management software, there's a built-in integration you can use to pull your cards from there.
💡 Main features
Project and task management
With HourStack, you can take projects from planning to completion. That includes organizing such projects with flexible task views so that you can always stay on top of what needs to get done. It's enabled by switching between list, board, and calendar views of your tasks. Also, you can delegate tasks to your team, make adjustments to schedules, and easily update priorities.
Timer and tracker
While HourStack operates like a to-do list, it also ranks as one of the best task timers. Its timer and time-tracking capabilities are intuitive tools that enable users to see, track, and plan time across multiple tasks and projects. This leads to comprehensive reports and transparency among teams and in the workplace.
✅❌ Pros & cons
✅ Pros
Handy reporting and analysis features
Time-tracking
Intuitive interface
❌ Cons
Some lag with app integrations
Steep costs, especially for reports
---
Timers for Work: Conclusion
Getting timers for work is one of the best things you can do for your business and teams. Gone are the days of putting blind faith in teams or individuals without measuring actual time spent on projects and tasks. Even if you manage to get some good results, there's always room for more productivity.
So, what are the best timers for work? If you want to improve productivity, time, and project management in your business, Everhour is the best timer to trust. It immediately takes your team to the next level with core features designed to make work and projects seamless.
In addition, Everhour's time management is second to none. It helps to track and manage projects, and the hours your team spends on them. You'll have all the right metrics, including reports on employee attendance, hours at work, time off, and more. The growing list of integrations means you can seamlessly execute multiple tasks.
What are you waiting for? Get a timer working for your team! Everhour fits the bill, and will undoubtedly set the tone for effective and efficient time management in your business.