As a company or even as an individual trying to boost your work ethic and track your progress with your study sessions, time management is huge, which opens the door to the best time management apps.
While systems like the Pomodoro technique (25 minutes on and 5 minutes off) are certainly useful, nothing quite beats the integrated approach adopted by the best apps for time management.
In this guide we're going to assess some of the best free time management apps and paid management software options, to give you a clear idea of which would be the perfect fit for your needs.
---
Exploring the Top-Rated Time Management Apps Solution
Understanding the characteristics that define the most exceptional time management apps is pivotal in making well-informed decisions for your productivity. Whether you're an individual striving for efficiency or part of a collaborative team, harnessing the power of time management apps provides invaluable insights into daily, weekly, monthly, and yearly work patterns.
Relevance in Practice: Embracing time management apps ensures meticulous control over your schedule, enhancing confidence in task accomplishment. For teams, it effectively addresses the question, "How effectively are your work hours utilized?"
Key Criteria for Assessment:
Real-time monitoring: These applications seamlessly initiate, pause, and conclude time-tracking features. Data adjustment and manual entry: Easily rectify recorded time, even post-task completion, and input omitted data. Comprehensive reporting: Gain detailed breakdowns of time allocation for projects, individuals, or clients. Invoicing and data export: Streamlined functionality for generating invoices or exporting data in various formats. User-Friendly Accessibility: The software facilitates effortless timer activation across browsers, applications, and devices.
Our Methodology for Evaluation and Testing
Our evaluations are curated meticulously by seasoned professionals with extensive careers in software analysis. Each app undergoes rigorous testing and scrutiny against our predefined criteria. It's noteworthy that we firmly adhere to a policy of not accepting any compensation for app features or inclusions within our articles. Our utmost priority is maintaining the trust our readers place in our impartial and genuine app and category assessments.
Everhour – Best Team Time Management App
💰 Price: Lite plan – $6 per user (monthly), $5 per user (yearly); Team plan – $10 per user (monthly), $8.50 per user (yearly)
💻 Platform: Cloud-based, iOS
🆓 Free Trial: Free plan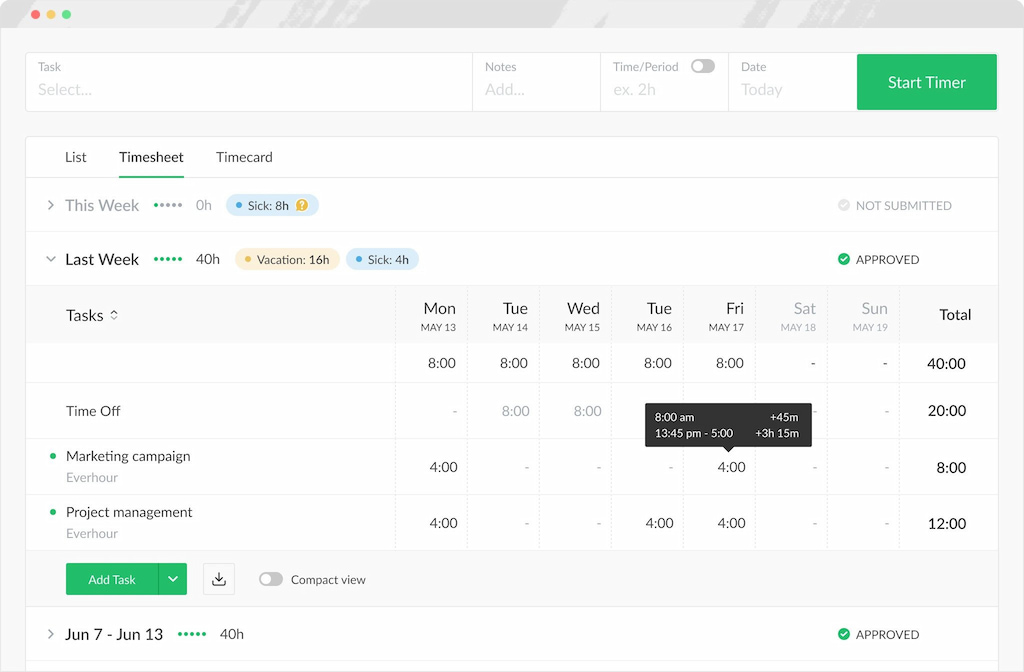 Those who collaborate closely with team members will need a time tracker that adapts to their communication and task-related needs. Everhour does just that and much more beyond. The best app for time management, Everhour brings together powerful features to help you streamline your day-to-day work and become the master of your time.
With the app, which you can integrate with your preferred project management tool, you can do everything from monitoring attendance, setting budgets to estimating tasks, and tracking time. You can also integrate it with a number of project management tools such as Asana, Jira, ClickUp, Basecamp, Trello, and many more.
If your company brings in a steady stream of projects, then you need an app that adapts to your team and provides you with the tools to complete everything that's thrown at you. Not only can you track the time each team member spends on a task with Everhour, but you can also calculate deadlines for projects to meet client expectations, and set up flexible project billing.
You can learn more how to work around Everhour's team time tracking settings in this video.
Pros and cons:
✔️ Track time in teams
✔️ Set project budgets
✔️ Create reports and invoices
✔️ Project management app integrations
❌ Can be difficult for beginners
Time Tree – Best Personal Time Management Software
💰 Price: Free
💻 Platform: iOS, Android, Web
🆓 Free Trial: N/a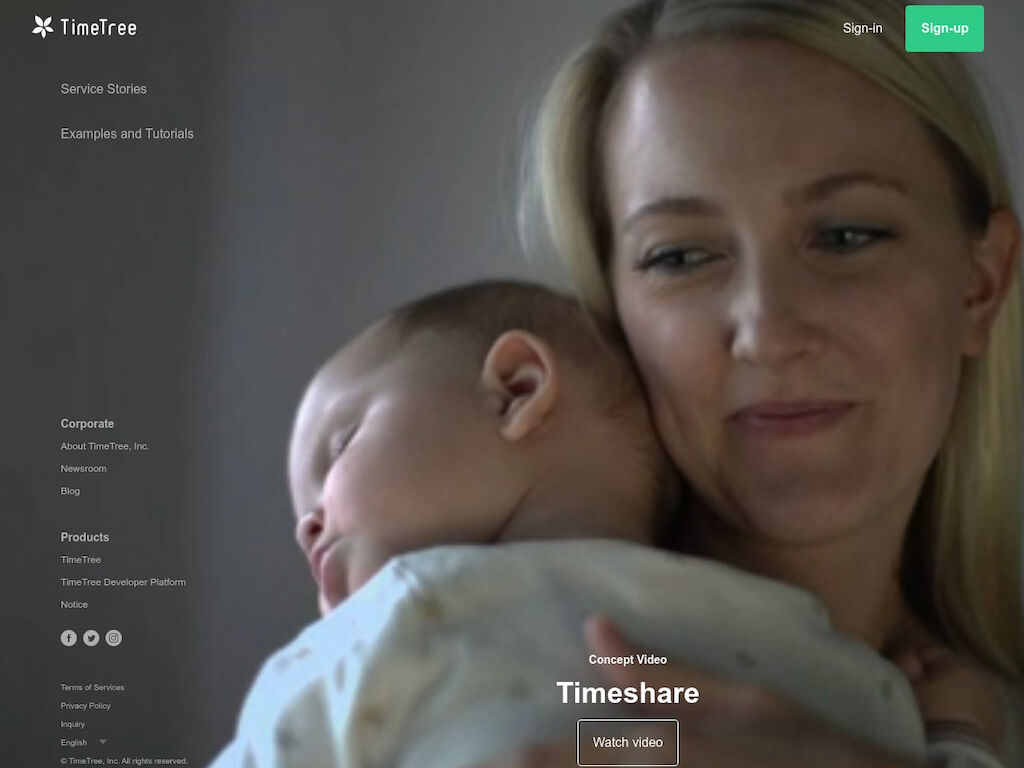 A strong contender for the title of the best time schedule app, Timetree lets you combine a work calendar with social and productivity calendars. As such, what you get with TimeTree is all of your life commitments in one easy-to-read display.
At a glance, you'll see exactly what events are coming up in TimeTree's universal calendar. You can even share your personalized calendar with friends, family, and work colleagues if you need extra accountability or a helping hand with any upcoming tasks.
Few apps let you transform your personal and professional life the way TimeTree does, so if you feel like time is slipping you by, grab it with both hands with this time scheduling app.
Pros and cons:
✔️ Combine all your calendars into one
✔️ Track upcoming events by the week or month
✔️ Share your calendar with others and collaborate on projects
❌ Offers similar features to Google Calendar
❌ Users must download the app to edit events
Toggl Track – Best Free Time Management App
💰 Price: Free, Starter – $10 per user / month, Premium – $20 per user / month
💻 Platform: iOS, Android, Web, Browser extensions
🆓 Free Trial: N/a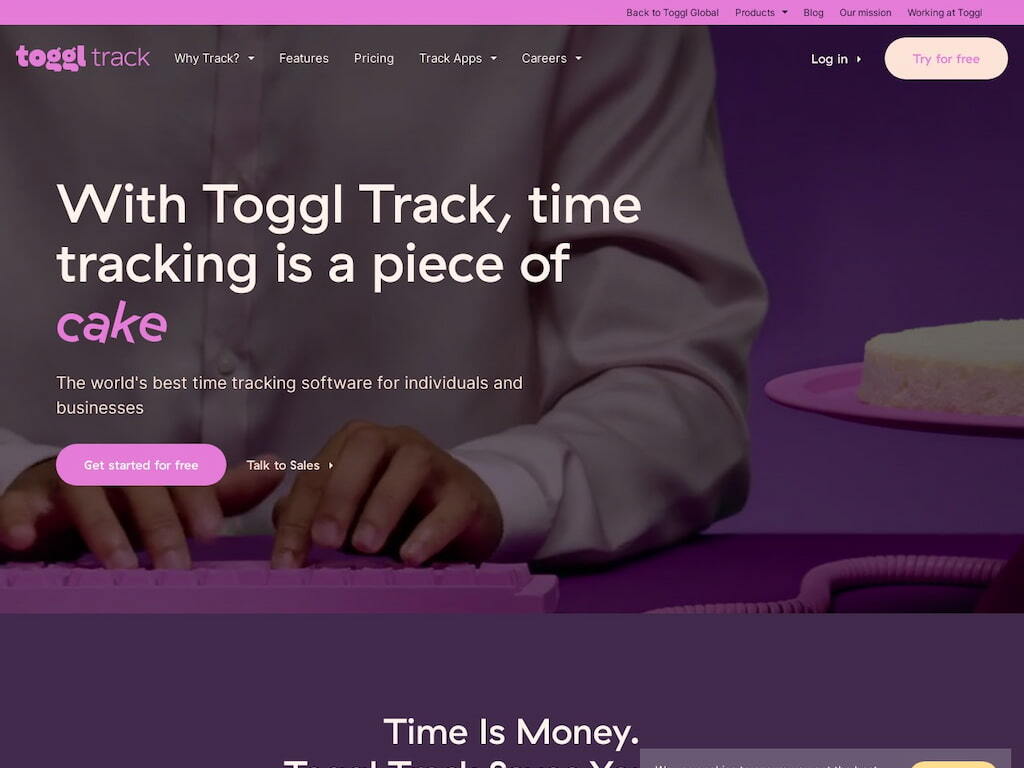 If you love using data to inform important life decisions, free time management tools like Toggl Track can be an excellent addition to your productivity toolkit. Toggl is hands-down one of the best time management software solutions around, and their free supplementary tool is well worth a try. Toggl Track allows you to monitor how you spend time on various tasks, giving you concrete information to better yourself going forward.
When you compile a list of the best free time management apps, this tool from Toggl has to rank highly. Perhaps the biggest reason to choose Toggl Track over other options is that being free, you can start using it today and see if it's a good fit for you. It's available on every platform from a mobile app to a browser extension, so you can track your time with whatever device you have handy at the moment.
Pros and cons:
✔️ The free version has enough features for most users
✔️ Quick and responsive app
✔️ Supports most platforms
❌ Lacks advanced features such as scheduling, budgeting, and invoicing
myHomework – Best Time Scheduling App for Students
💰 Price: Free version with ads, Premium – $4.99 per year
💻 Platform: iOS, Desktop, Android, Chrome extension, Amazon Kindle Fire
🆓 Free Trial: No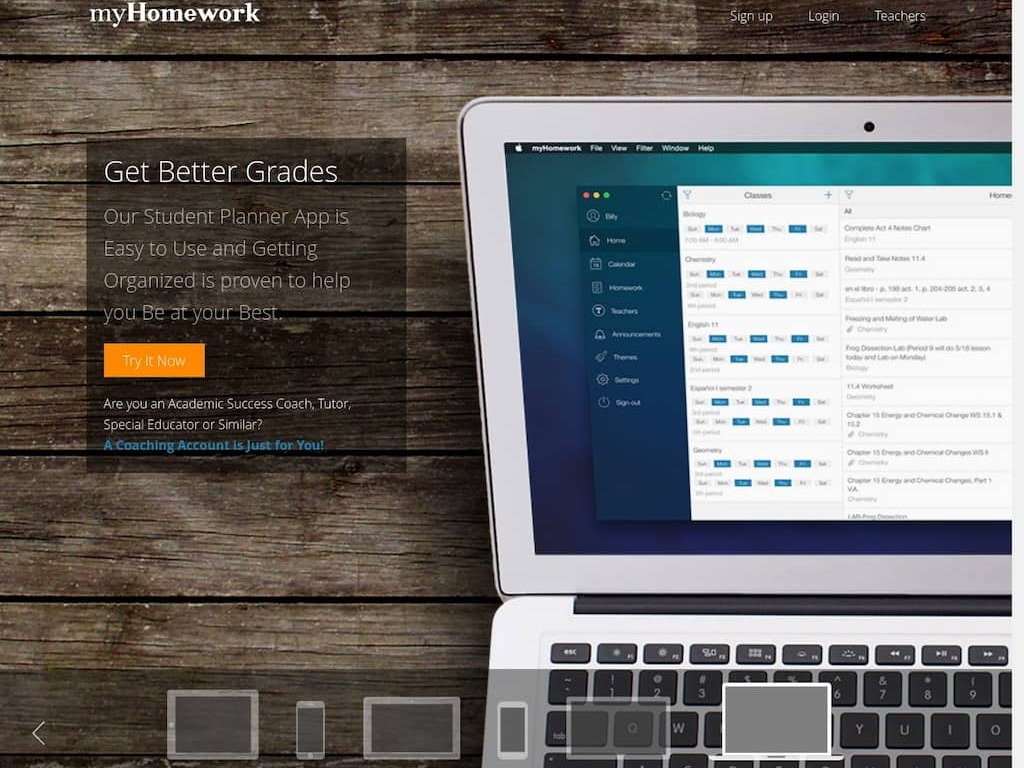 Instead of eating into study time by drawing up elaborate timetables, you could instead look into time management apps for college students. As a time management app for students, MyHomework offers a handful of useful features for getting on top of your study sessions.
When considering time management tools for students, you want software that's flexible and allows you to design your study schedule in a way that makes sense for you. MyHomework allows you to do just that.
One of the better time scheduling apps, MyHomework puts the power in your hands as the student, so you don't have to follow your teachers' or parents' revision timetables. The myHomework app lets students track assignments, tests, and other projects in its intuitive interface. You can set due date reminders, too, so you never hand in another assignment late.
Pros and cons:
✔️ Easy-to-navigate interface
✔️ Sync data across platforms
✔️ Set up the due date reminders
✔️ Track tasks, tests, and assignments
❌ Lacks support resources
Todoist – Best Productivity App for Time Management
💰 Price: Free version, Pro – $3 per month per user billed annually or $4 billed monthly, Business – $5 per month per user billed annually or $6 billed monthly
💻 Platform: iOS, Desktop, Android, Linux, Browser extensions, Wearables, Email
🆓 Free Trial: 30 days for the Business plan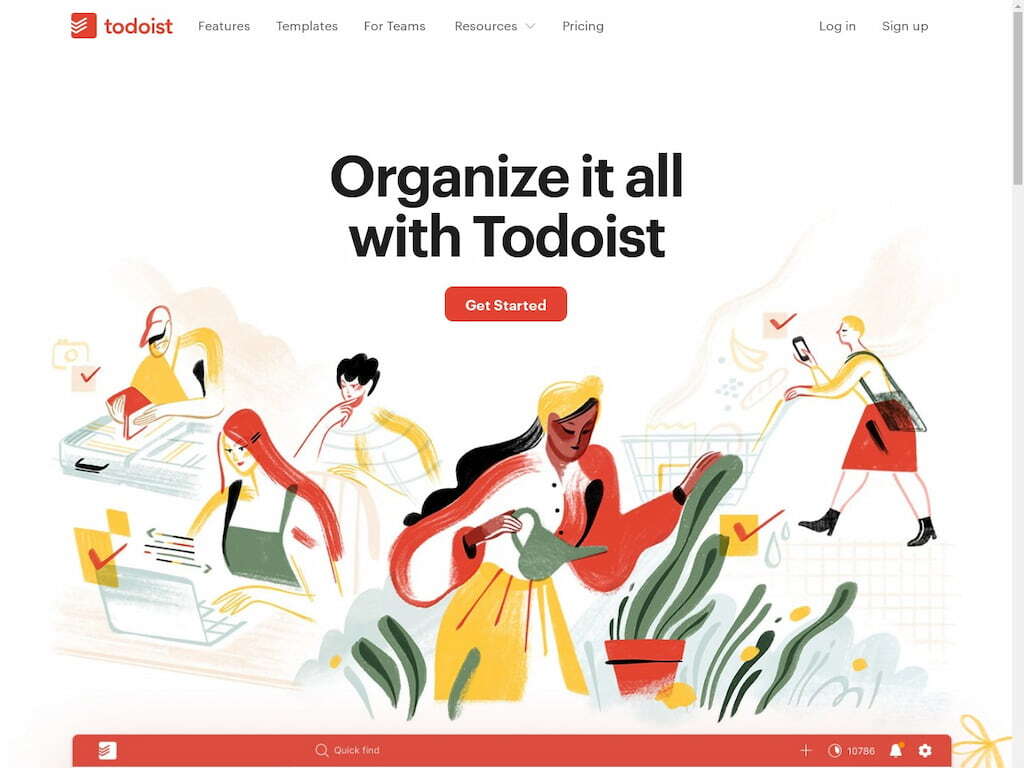 While many apps provide a system for organizing your tasks and projects, not many offer the calendar and scheduling functionality of Todoist. With this app, which can be used with a variety of productivity systems such as GTD (Getting Things Done), you can set reminders, schedule tasks, and categorize everything how you see fit.
You can prioritize certain tasks every time you access the app, and share your workload with coworkers if necessary. You can even personalize how you view your tasks, filtering them with labels, filters, and more.
Plus, Todoist is available on a wide range of platforms, including wearables such as smartwatches and browsers. As such, it wouldn't be a stretch to describe it as the best time management system app around.
Pros and cons:
✔️ Comprehensive features for organizing your work or personal life
✔️ Share tasks and projects with others
✔️ Personalize your theme and find tasks by filters and labels
✔️ Access the app on various platforms
❌ There's no way to retrieve completed tasks
Timetag – Best Time Management Apps for iPhone
💰 Price: Free version for personal use, Business – $4.99 per user per month or $39.99 per year
💻 Platform: iOS
🆓 Free Trial: Yes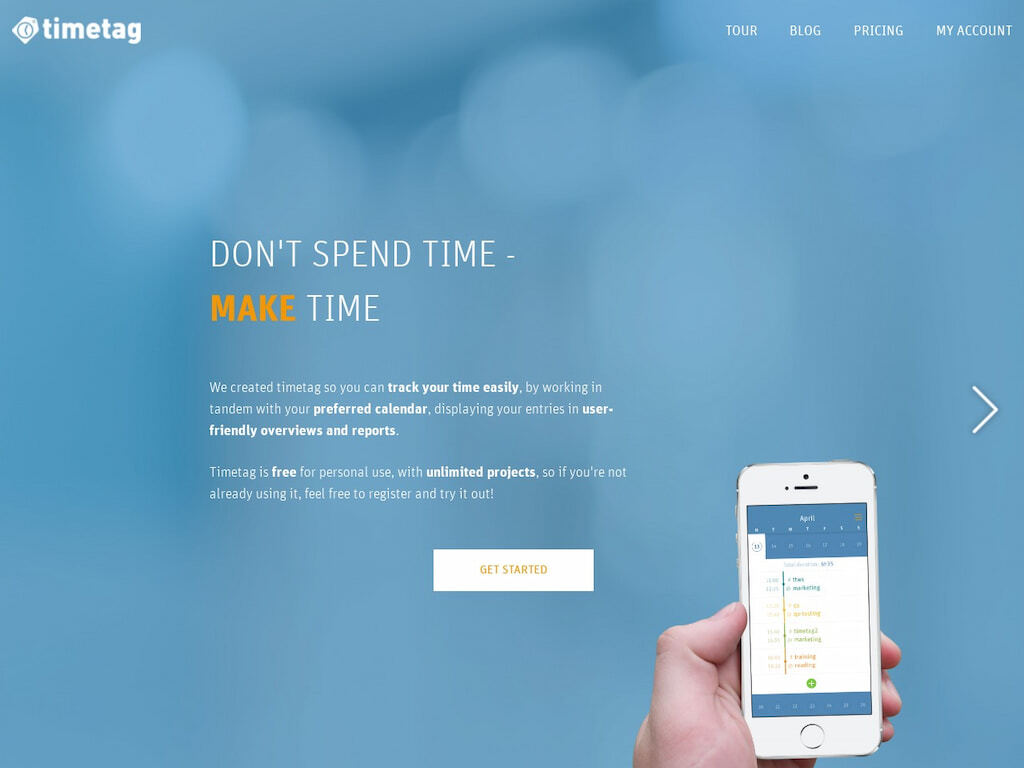 Timetag is one of the best time management apps for the iPhone which you can use alongside your digital calendar of choice. Simplicity is the emphasis of this time tracking app, as it allows users to log time spent on projects and tasks with just a few clicks.
The app syncs up with your preferred digital calendar, which means you won't need to manage your time separately in a spreadsheet. You can also view a range of in-depth statistics that inform you how you are spending your time and how you could boost productivity as a result.
Once you've tracked time spent on a particular task or project, you can then easily export the information to a PDF or Excel format for invoicing or reporting purposes.
Pros and cons:
✔️ Syncs with most calendar apps
✔️ Provides reports which can be exported as PDFs or Excel
✔️ Track time on various projects with a few clicks
❌ Lacks advanced organization features
aTimeLogger – Best Time Management Apps for Android
💰 Price: Free version, Small – $5 per user per month, Medium – $15 per user per month, Large – $25 per user per month
💻 Platform: iOS, Android, Web
🆓 Free Trial: N/a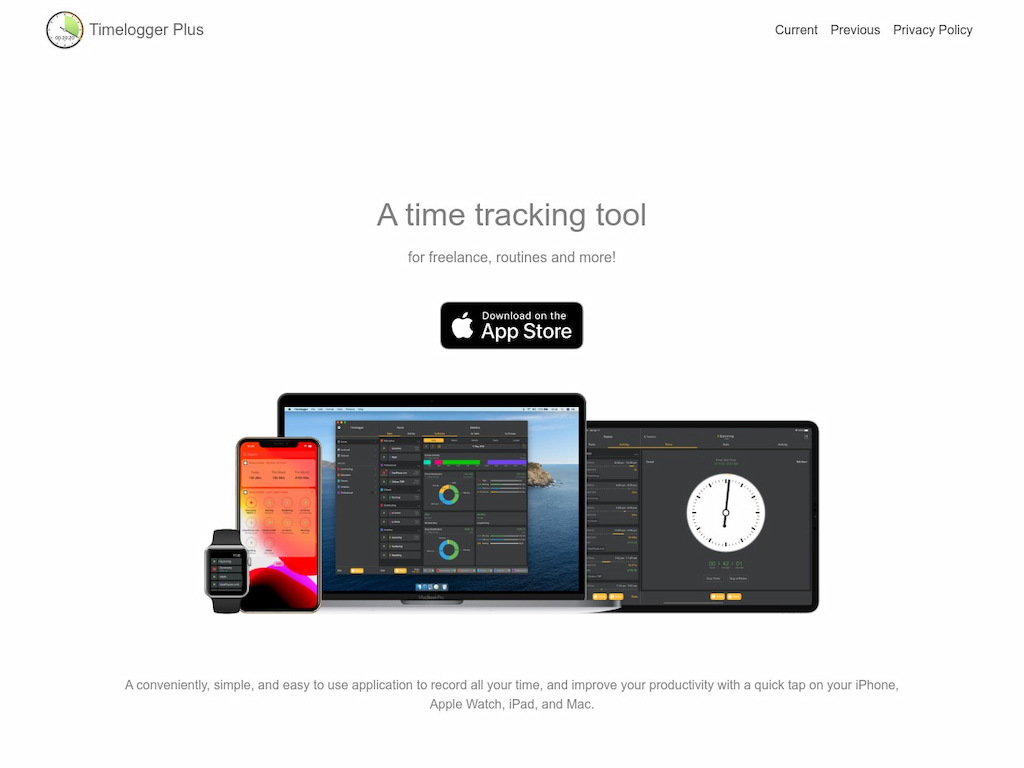 A time management app for Android, aTimeLogger lets you track time spent on tasks, set budgets and estimates, and invoice projects with data. You can also dip into relevant information about how you spend your time with reports, and the automatic screenshots will keep you honest and accountable.
While the app has plenty of features as it is, there's a lot of extra value coming down the pipeline in the way of additional functionality. Among the features the developers are planning to add, there's payroll for processing client payments, task management for staying on top of your workload, and a host of client features.
For team leaders, aTimeLogger can help you manage your coworkers as you'll receive pop-up alerts when they stray from the task at hand and daily time reports to inform your meetings. Out of the best time management apps for Android, aTimeLogger ranks highly because of its advanced finance features that pad out the functionality.
Pros and cons:
✔️ Daily reports of employee activity
✔️ Basic time tracking functionality
✔️ Set budgets and estimates for invoices
✔️ Automatic screenshots for extra accountability
❌ Many features aren't available yet
Fanurio – Best Time Management App for Mac
💰 Price: Individual – $19- 59 per user per year, Server – $39-119 per user per year
💻 Platform: MacOS, Windows, Linux
🆓 Free Trial: No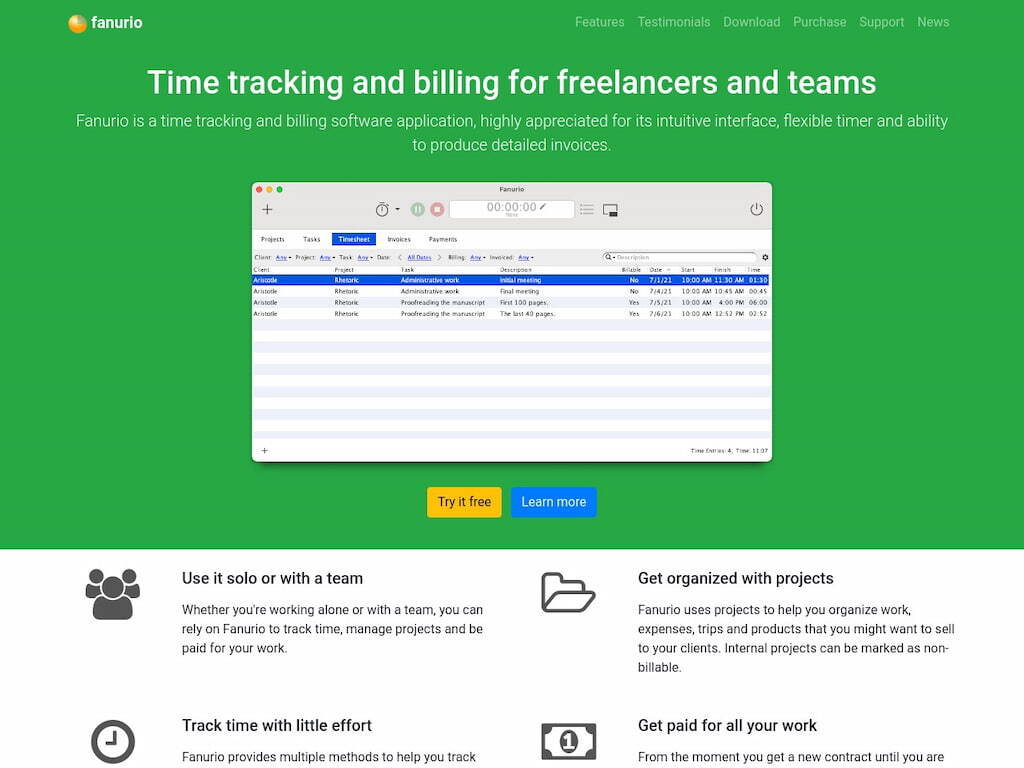 Fanurio is a software application that works just as well for individuals as it does for teams. It can help you manage your workload, figure out your expenses, and bill your projects.
There isn't just one way to track time, either, as Fanurio offers manual time entry and a timer feature. With reports and analytics, you'll also be able to assess and evaluate your performance throughout the year, to see if you're making good progress.
Pros and cons:
✔️ Access reports and analytics
✔️ Use multiple time tracking methods
✔️ Bill projects to make sure you're paid for every minute worked
✔️ Works for both individuals and teams
❌ No syncing between platforms
Everhour Time Cards – Best Free Time Management Calculator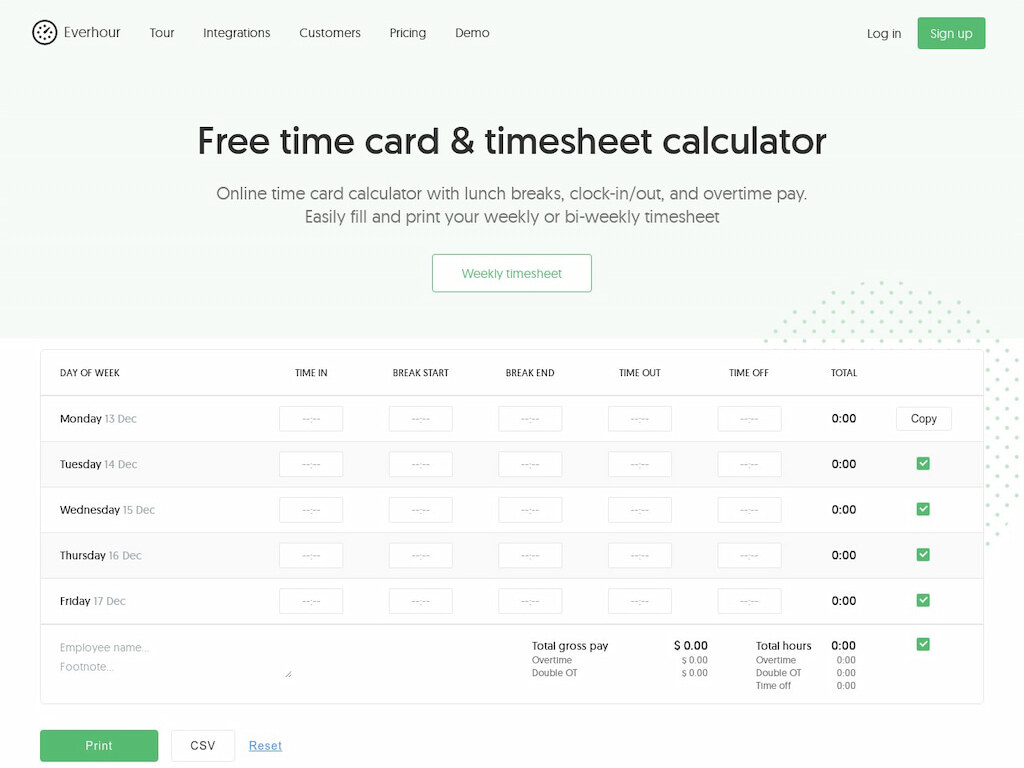 If you're interested in detailing your day in order to evaluate your output, Everhour's timesheets are just what you need. This free timesheet calculator is available online for anyone who needs to monitor their productivity levels throughout the day.
With the daytime card, you can add in the start times for each significant event or activity, from the moment you clock in to when you sign out for the day. There's even space for your lunch break, so you can see just how much time you spend eating your sandwich. With the week time card, you'll be able to fill out the relevant information on a weekly basis, which is handy for tracking output in the long term.
Additional features include the overtime pay calculator, which counts at 1.5x or 2x based on entered values, and exporting and printing which gives you easy access to the timesheet information. With Everhour's free timesheet, you can wrestle back control of your workdays, or keep track of your team's productivity levels.
Everhour Timesheet Template – Best Free Google Timesheet Template for Google Docs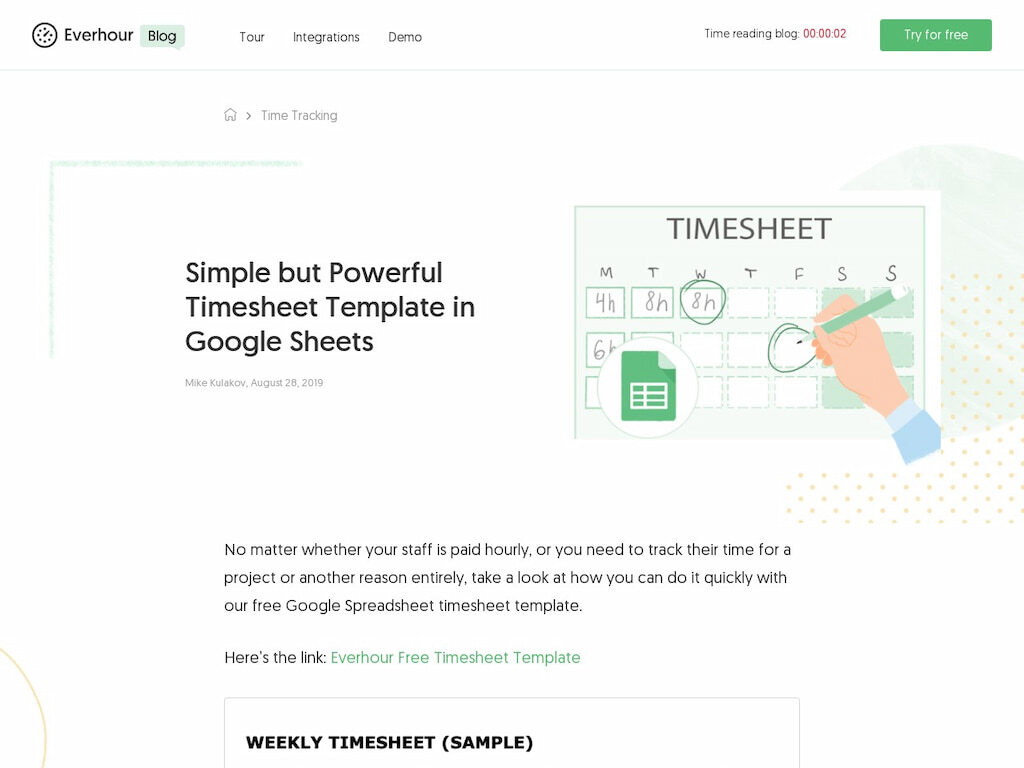 If you regularly use Google Docs for work, why not download Everhour's free Google timesheet template to track time spent doing what really matters?
The simple yet clear format of the weekly timesheet lays out your week in a way that you might not have seen before. Breaking down each day into specific time slots, such as 'breaks', 'overtime,' and 'sick', you can easily stay on top of your workload and monitor your productivity. If you manage a team, you can pull up the timesheet to calculate worker pay (including overtime pay) and see how well each team member has been working.
There's no need to register for the timesheet, and you can choose from three layouts: weekly, biweekly, and monthly. When you've filled out the timesheet for the week, fortnight, or month, you can then print it out for your records.
Everhour Time Blocking Templates – Best Free Time Blocking Templates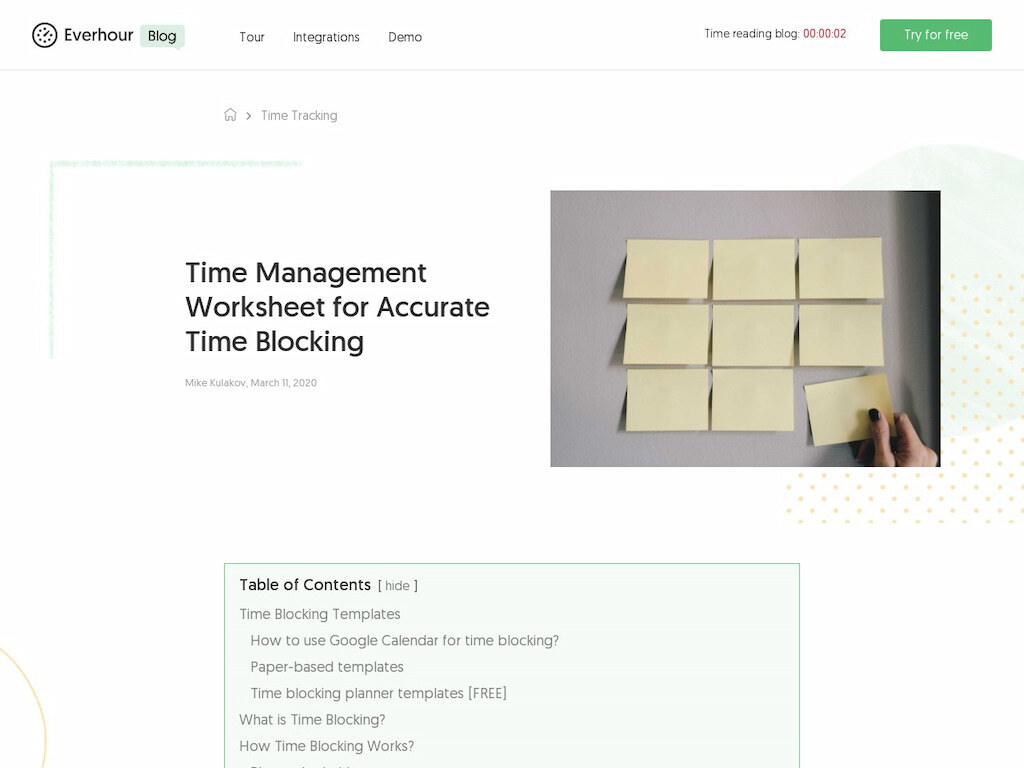 Time blocking is a well-known productivity hack for taking control of your time and maximizing your productivity. The technique involves blocking out chunks of time, usually using various colors, to denote different activities you plan on completing.
One way to do it is to take your paper calendar or agenda, grab your colored pencils, and manually shade out blocks of time. Another way is to go and download one of the six-time blocking templates available for free on the Everhour website. If you mostly work on a device, you're going to want to access your time-blocked calendar digitally.
Everhour allows you to do this with its six templates, which can sync up with your Google Calendar. The free templates include:
Daily time blocking template
Weekly time blocking template
Monthly time blocking template
Whether you need to organize your time on a micro or macro level, Everhour has you covered.
Everhour Time Management Tools With Integrations
With the top time management tools, best productivity apps and the best time tracking apps, you'll know exactly how much of your time you spent effectively. Everhour can do just that.
One of Everhour's biggest strengths is its partnership with some of the best project management tools and best time and attendance software on the market. While time tracking is essential for productivity levels, what about managing the minutiae of tasks and projects and collaborating and communicating closely with all of your team members?
For these other business needs, it's good to have access to project management software that can lighten your workload and help you develop your time management skills. Fortunately, Everhour features third-party integrations with some of the biggest names in project management software, such as Basecamp, Asana, or its alternatives.