Optimize Your Efficiency with 17 Best Todoist Templates: How to Create & Use Them
Maria Kharlantseva, May 19, 2023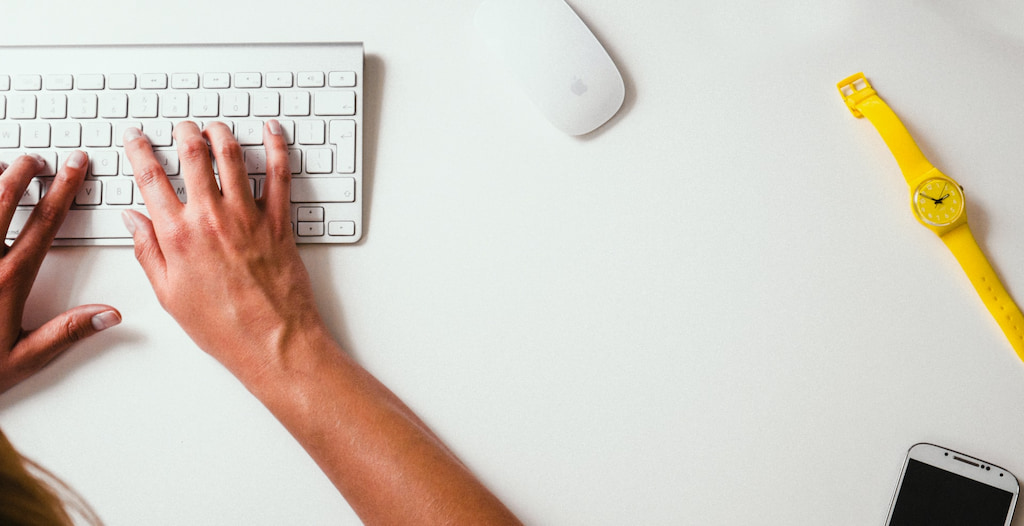 With the Todoist, you can create checklists, organize workflows, and ensure everyone on the team is on the same page. Besides, Todoist can also be used for personal use. This is all possible thanks to the wide range of Todoist templates and Todoist integrations available to every registered user.
To give you more of an idea of what is possible with Todoist, in this article, we'll take a look at some of the most popular Todoist templates. But before we do that, we want to walk you through what Todoist projects and Todoist project templates are, how you can create some of your own project templates, and teach you how to use Todoist templates.
What Are Todoist Projects?
Todoist projects are a collection of tasks and subtasks that you can personally define. For example, if you plan to conduct an SEO audit for a client's website, you can create a project in Todoist called "SEO website audit", which would become the hub for all the subtasks required for the completion of the project.
When all the tasks and subtasks within the project are finalized, you can use one of the few Todoist time tracking integrations to keep track of time and how long each task is taking you to complete.
What Are Todoist Project Templates?
There are two types of templates on Todoist. The first type of template is designed for single tasks. For example, this could be a grocery list, a to-do list for the morning, or even the points you must cover in a presentation or meeting.
Project templates, on the other hand, are a bit more comprehensive. These are templates for full-sized projects. For example, you can create a Todoist project for a "website development" project. And instead of approaching the project blindly, you can use a project template alongside a time tracker to plan every step in the process accordingly and make sure you stick within budget and schedule.
---
---
From there, you have to tweak the template to ensure it covers everything you need to accomplish. This can make the project planning phase much simpler, which is usually the part that takes up the most time.
One of the best benefits of using Todoist is keeping you and your team organized, which is especially important when it comes to larger-scale projects that must be completed on time. When everything regarding the project is in order, and you and your team are using a Todoist time tracking integration, the manager can ensure that everyone is working on something and every team member is as productive as possible while staying on schedule.
How to Create a Todoist Project Template
Making your own customized templates has a lot of advantages. You can insert tasks that are specific to your needs, name the templates accordingly, and take full control of how you'd like your template to be. Below, we'll break down the process of creating a Todoist project template from scratch.
1️⃣ Create a new project
To start, you have to create a new project. This is as easy as clicking the "+" button on the "Project" panel in the Todoist toolbar. When you click the button, a window pops up where you can name the project. After giving it a name, all you have to do is click "Add project".
2️⃣ Start adding your tasks and subtasks
From there, you can start adding tasks and subtasks. Todoist gives you full control over the project, so you can add as many tasks and subtasks as necessary. That way, you can create a project template that covers all bases of the project you're undertaking.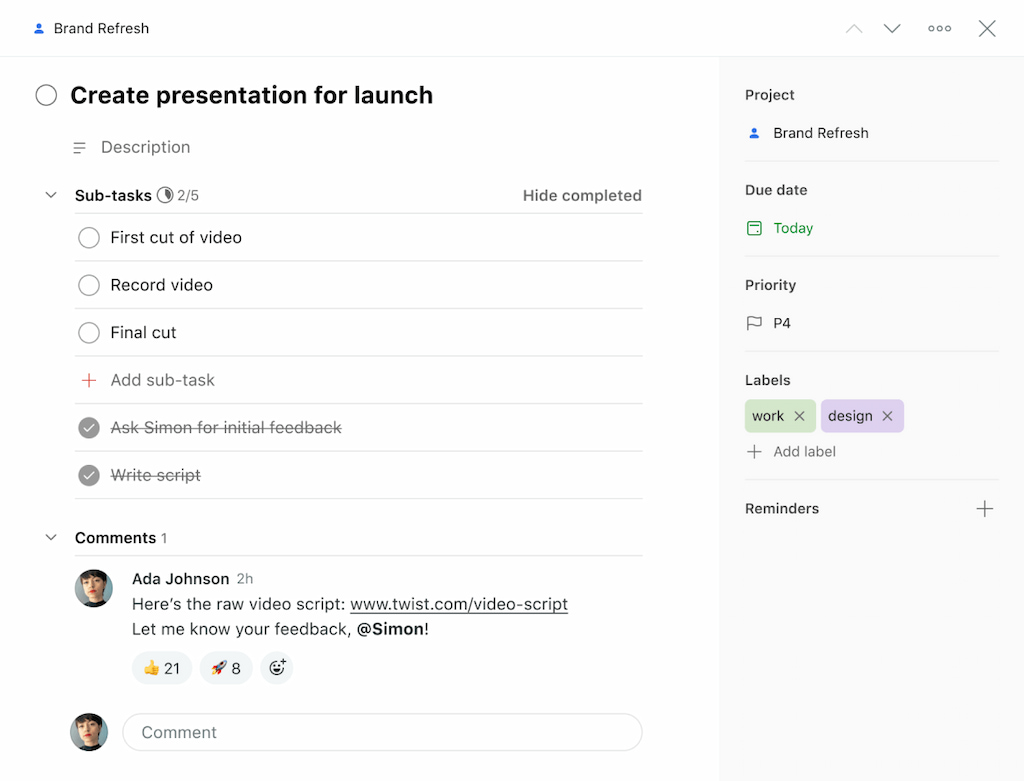 Furthermore, dividing tasks into subtasks can make it much easier to handle and stay on track when working on a project. For example, you can have a broad task such as "plan social media content for LinkedIn".
Some subtask ideas for a broader task such as the above can be "write the content", "design infographics", and "schedule the content". That way, you can ensure that tasks are accomplished comprehensively, and nothing is missed out on.
3️⃣ Export the project template
After creating the project, you can export it and turn it into a template. You can opt to export it as a .CSV file or a shareable link. When you export as a shareable link, all you have to do to use the template is log in to Todoist, then paste the link into your browser. From there, a pop-up window will appear, and all you have to do is click on the "Use Template" button.
If you export it as a .CSV, you can use it to create a new project. From there, click on the ellipses on the right side of the project name and find the "Import from template" option. When you find that option and click on it, you must find the .CSV file and drag it to the pop-up window.
How to Use Todoist Templates
Regardless of whether you use your own templates or a pre-made template, it can be tricky to figure them out at first. With that said, Todoist prides itself on its intuitive interface, so it won't take that long to get a hang of using its templates.
To use a Todoist template, you first need to find one that fits your needs. Again, you might have already made one for certain projects. If you haven't, you can check out the Todoist templates on the Todoist website and find one that suits your needs.
Once you have the template, all you have to do is import it into your project. From there, you can start editing it depending on your needs. You can further sub-divide tasks, add or remove other tasks, and transform the template into a comprehensive checklist for the task or project at hand.
The Best Templates on Todoist
Below, we'll look at examples of great project templates you can use on Todoist for your personal and professional life. And in the end, we'll take a look at two Todoist templates specifically for designers and developers.
💪 Todoist templates for work
1-on-1 Meetings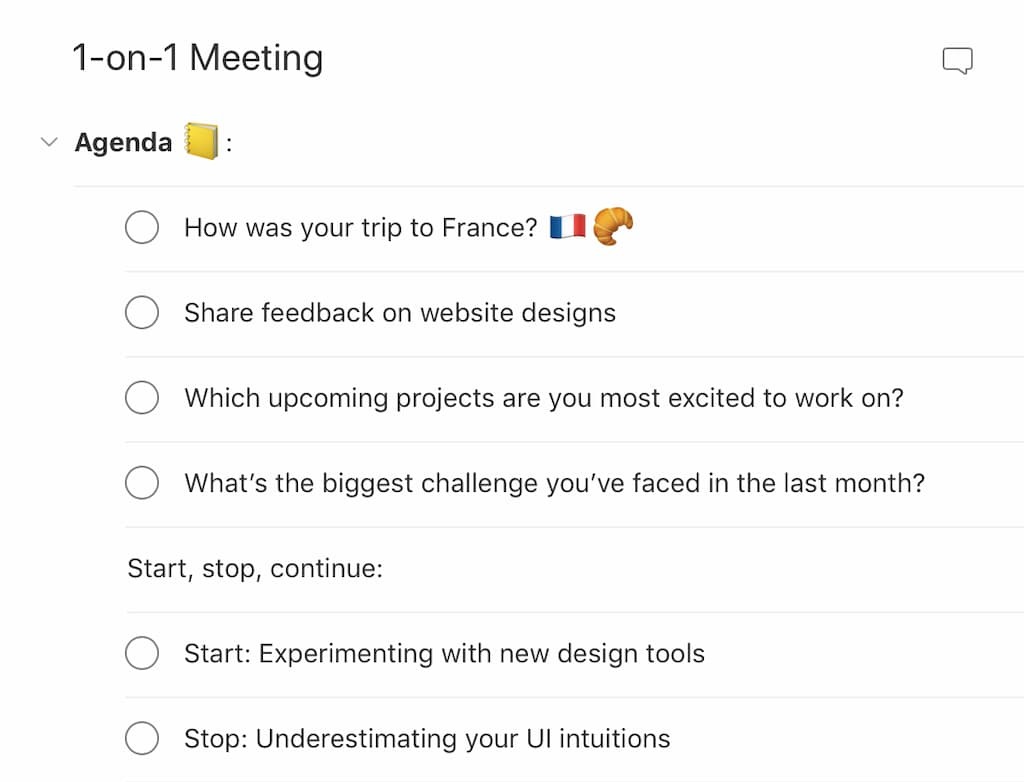 One-on-one meetings are a fantastic tool every manager needs to make use of to ensure that every team member is not only happy but is also productive and efficient with their time. And rather than going into each meeting blindly, managers can do a lot to prepare.
For one, they can use Todoist's 1-on-1 meetings template to keep the meeting organized. And if needed, the manager can also integrate their template with a time clock app to ensure they can track time and how long each meeting is taking.
---
Accounting Tasks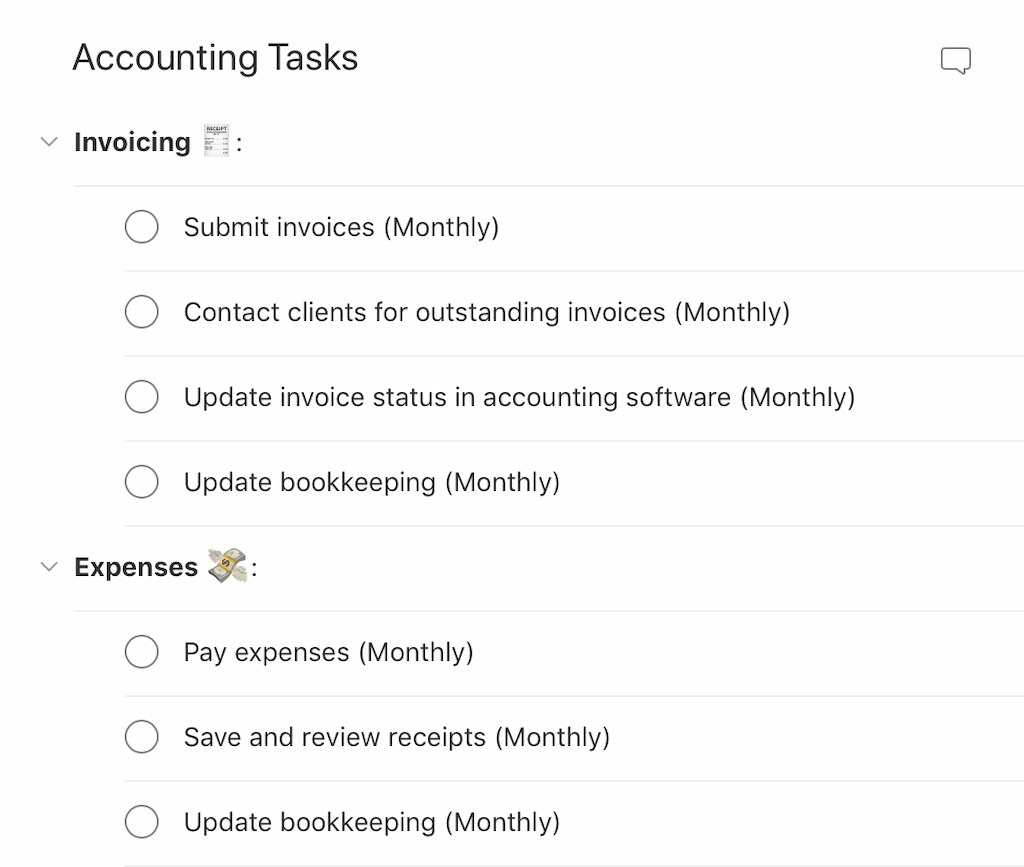 When it comes to business, your goal is to be as profitable as possible, and one of the areas where you really need to make sure you're doing everything right is taking care of your company's taxes. Company taxes are by far the biggest expense most companies have to deal with, so overpaying on taxes is something you want to avoid at all costs. As a result of that, you can make use of the Accounting Tasks Todoist template, which includes everything you could possibly need to manage your company finances and accounting.
---
Business Travel Planning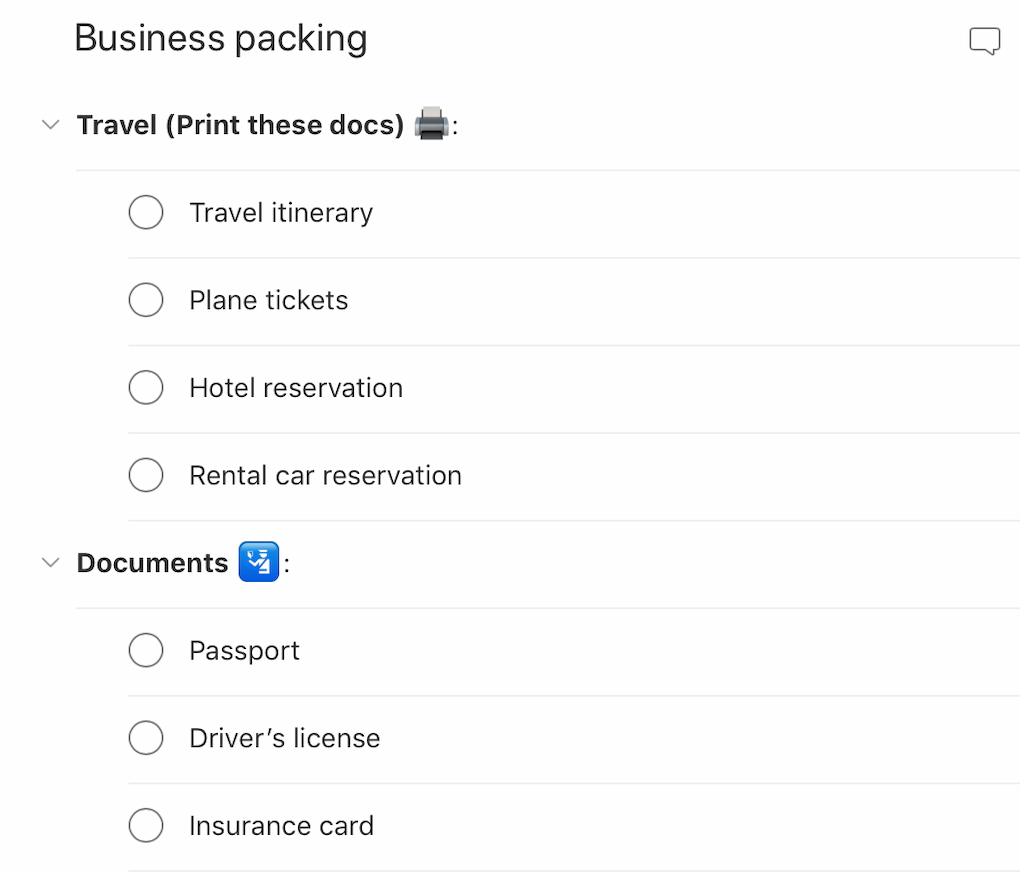 Have you ever gone on a business trip and realized you forgot many important things when arriving at the hotel? Well, this can be frustrating as forgetting something while on a business trip won't just affect your comfort, but it can also affect the meeting or conference you plan on attending. That's why Todoist has a specific Business Travel Planning template for packing and planning for a business trip, with everything you need, such as essentials, rental information, and more.
---
Class Planning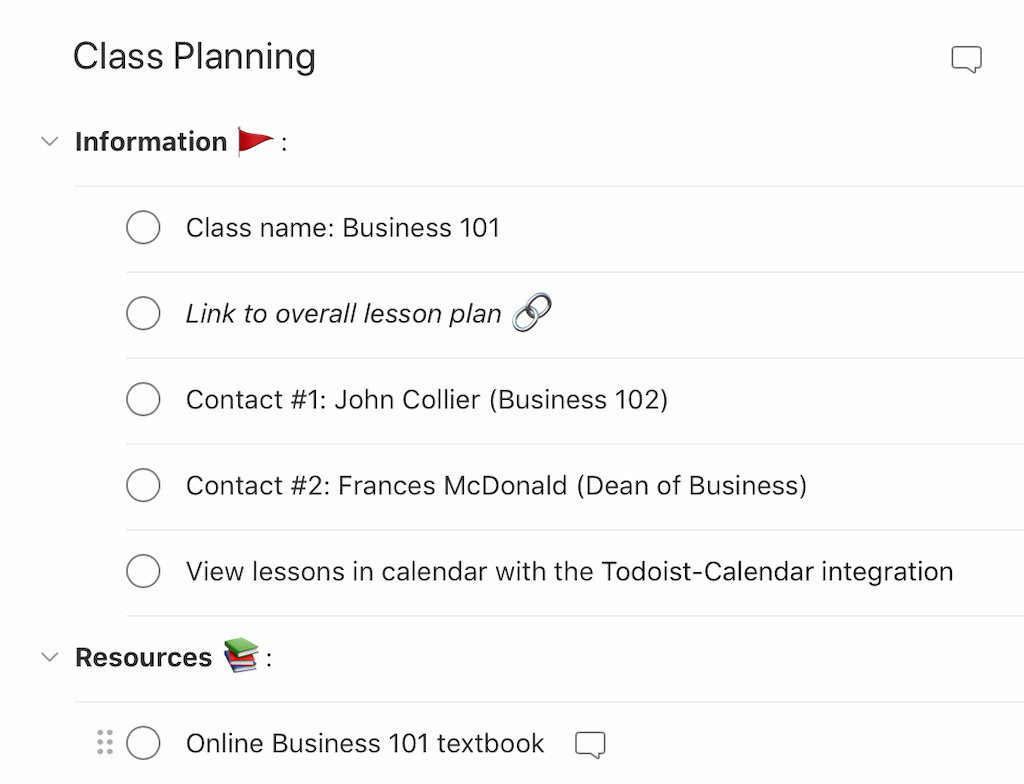 Being a teacher is one of the most difficult jobs out there. Teachers are single-handedly responsible for the education of the youth, which in a few years' time, will start to find their path into the world. As a result of that, teachers have a great responsibility over making sure that their students get to learn and remember everything that is being taught to them during class.
Researching, planning, and strategizing for each class can be quite the challenge, which is why we recommend every teacher make use of the Todoist Class Planning template.
---
Content Calendar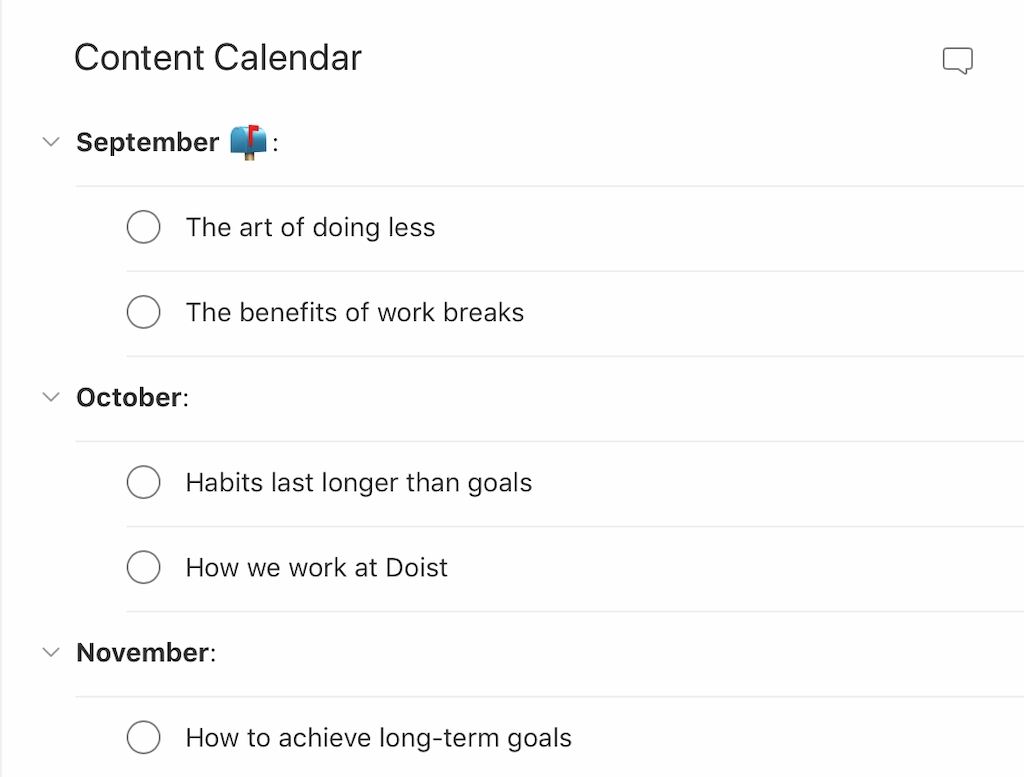 Having a content calendar is of utmost importance for any content creator who wants to achieve the best possible results. And while posting now and then isn't a bad idea, knowing what will be published on any given day of the week will give you a much better shot at making sure you extract the best possible ROI on the time you've spent planning and creating the content. Take a look at this Content Calendar template to see for yourself.
---
Deep Work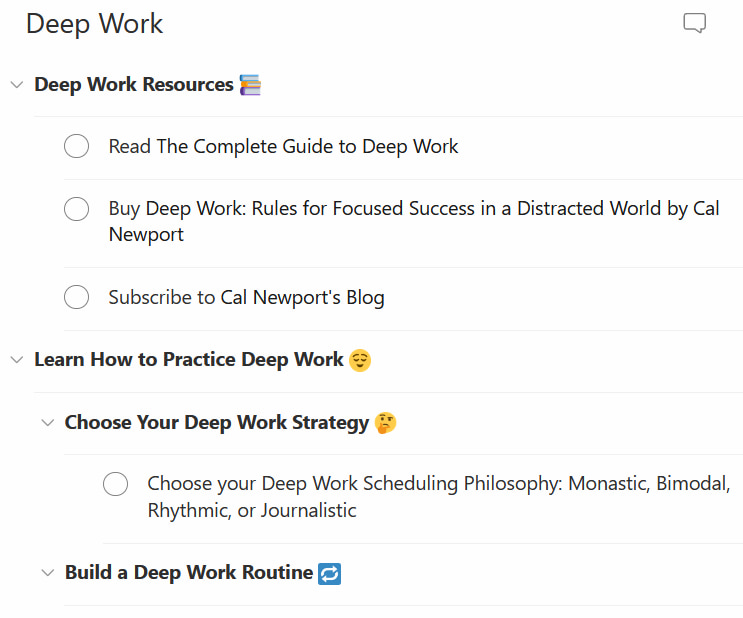 With all the distractions around us, staying focused is becoming an increasingly more difficult task. This Deep Work template is your guide to finding out how to unlock more productivity within yourself and feel better about how you approach work while using a work hours tracker to ensure you're putting in the hours. This template covers everything from what types of content you need to read to applying the concepts when you go to your workplace.
---
GTD Weekly Review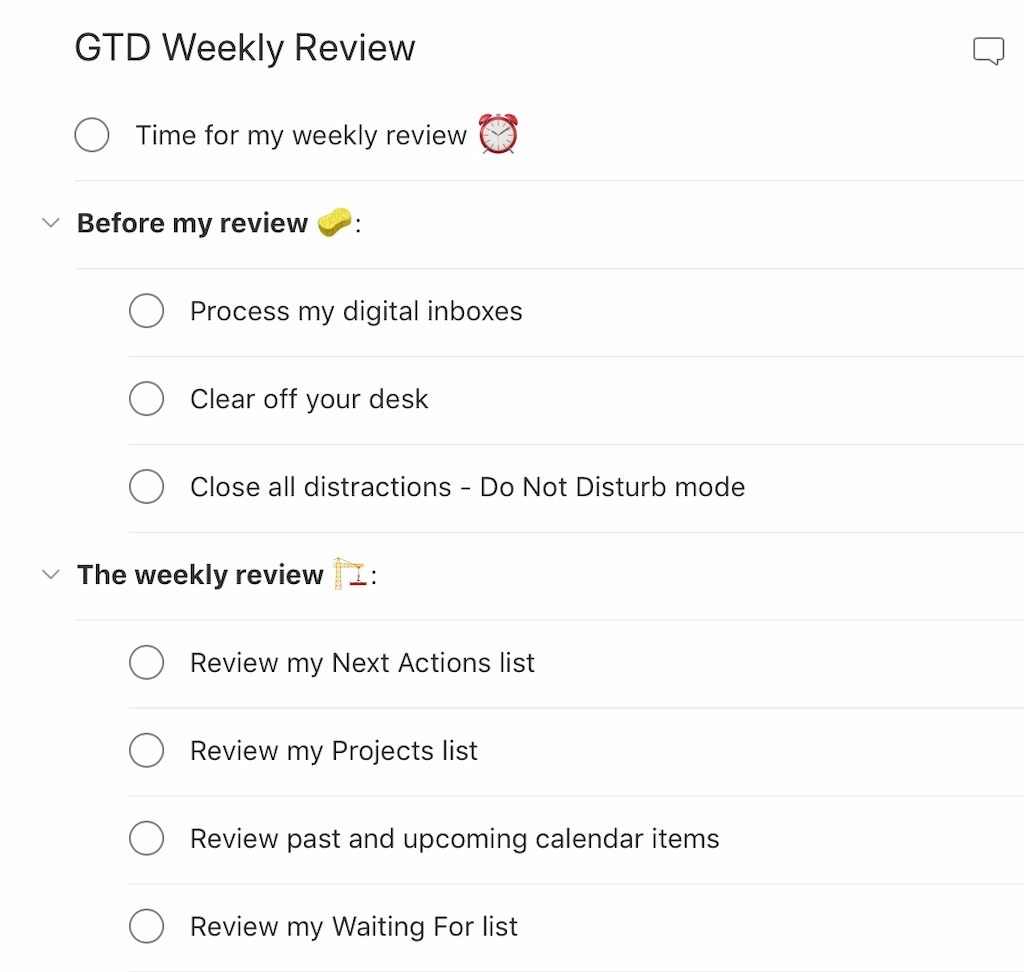 This GTD template is based on the Get Things Done Workflow. This is a method of recapping your entire week to check what you were able to accomplish and what could have been done better. This can help you organize tasks better, make sure you reply to all necessary emails, and accomplish everything before signing off for the weekend. This is great for people that tend to forget things at the end of the week or for people looking to organize their work life even more.
---
Job Hunt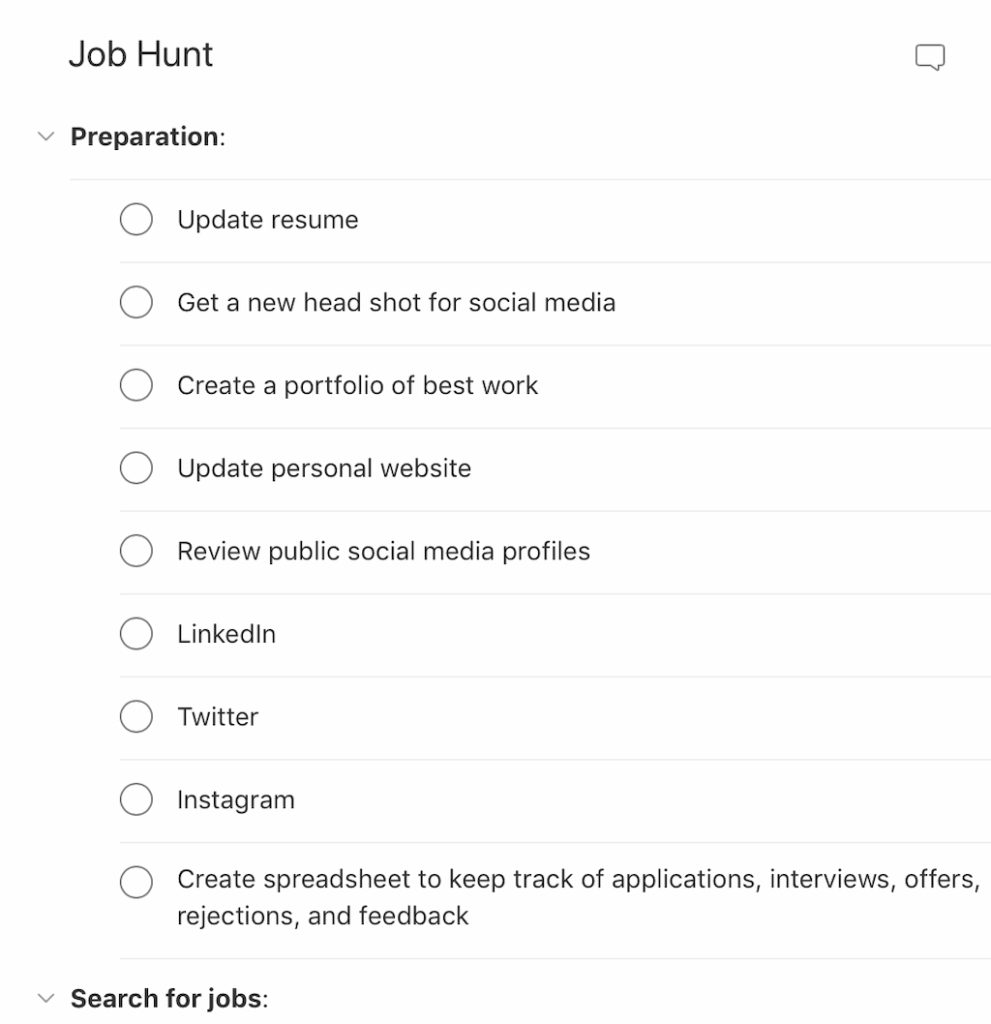 It isn't easy to find a new job. And whether you're entering the market for the first time or looking for a job for the first time in years, there are a couple of things you need to do. This Job Hunt template is there to help you make sure you give yourself the best shot at landing a job by reminding you of everything you need to get done and all you need to prepare before entering the market.
---
🏡 Todoist templates for personal needs
Annual Reviews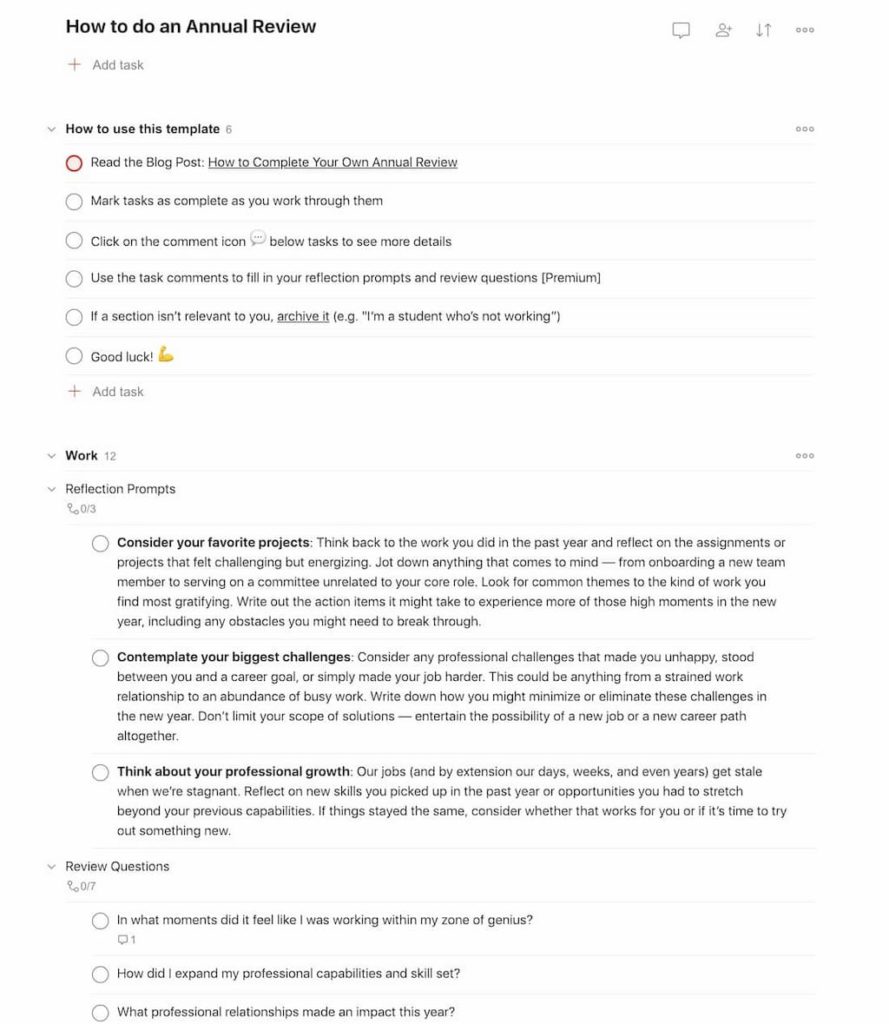 Annual Reviews is a personal template that's great for people looking to look back on a crazy 365 days. The Todoist annual reviews template is designed to help wrap your head around what happened in the past year. The template covers nearly every aspect of life, including work, personal, and others, to help you paint a clear picture. It's a must-have when the year comes to an end.
---
Appointments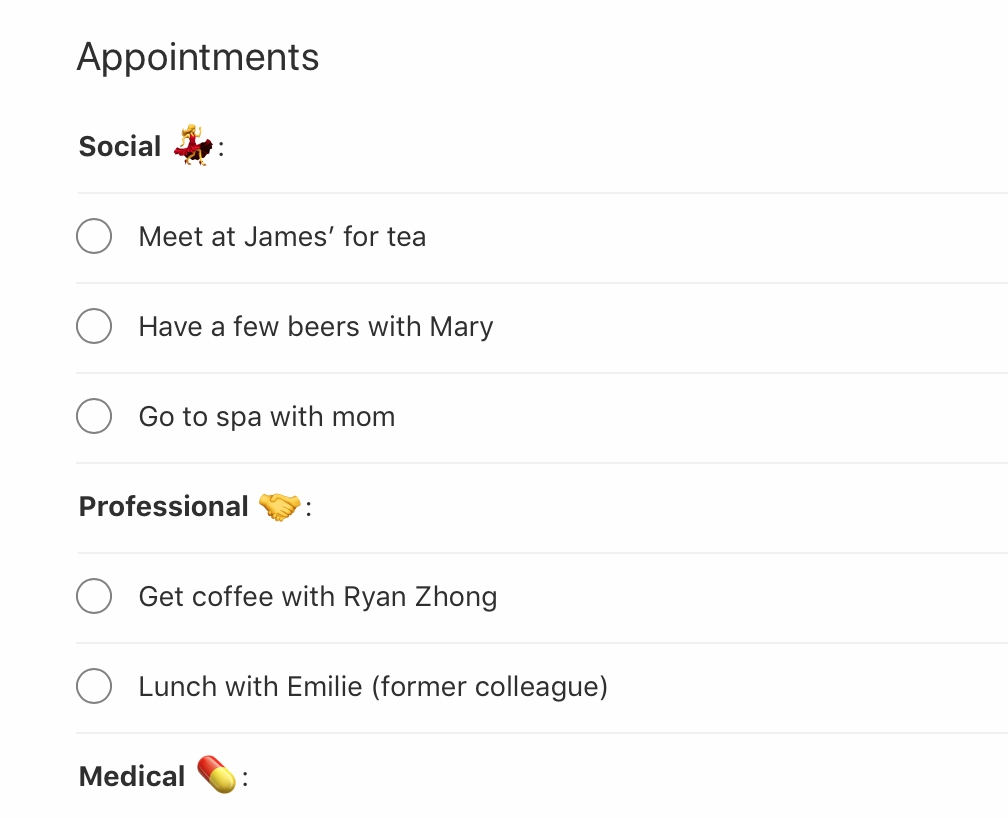 We all live in a very fast-paced environment, which can sometimes lead us to forget about certain important parts of our everyday life, such as appointments. That's why this appointment template is very convenient. With the Appointments template, you can list down all the dates and times of your appointments and divide them into different categories like social, work, health, and personal appointments.
---
Blog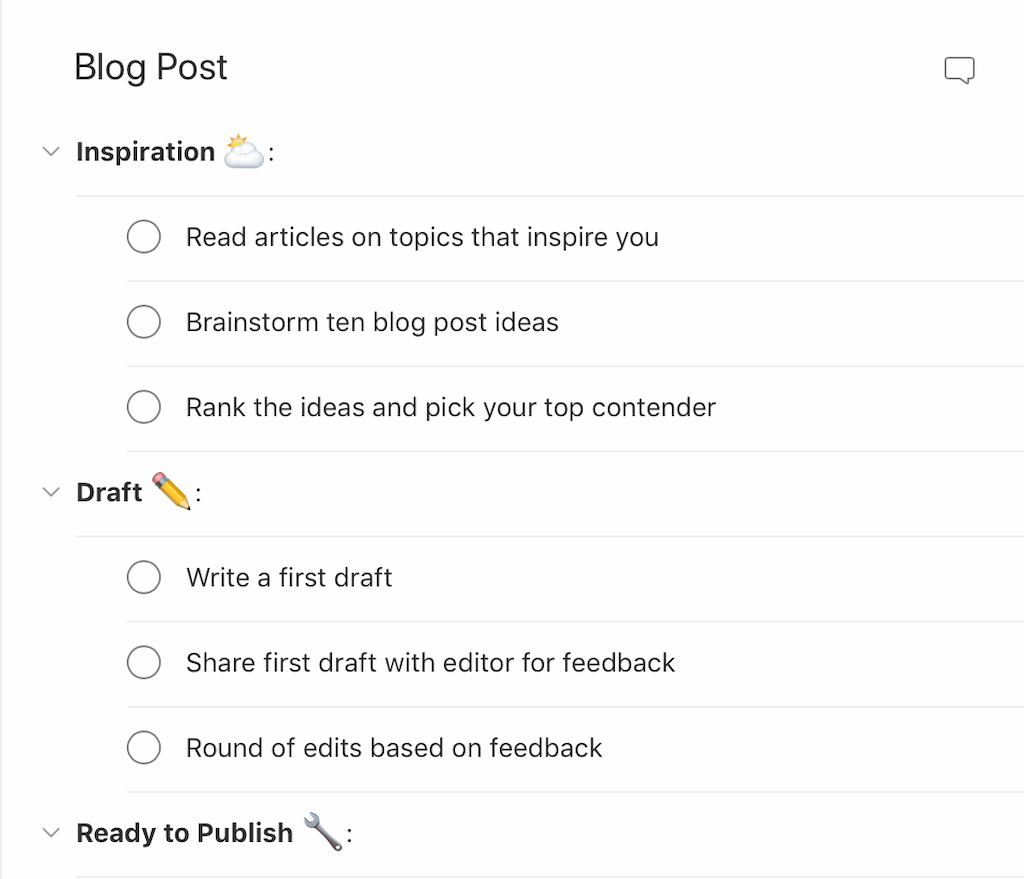 Blog posts are designed for casual reading. However, most writers will tell you that writing a blog post can be a very tough task, especially when you're writing on a technical or a topic of especially high difficulty.
When that is the case, making use of the Blog template on Todoist is a good idea as you can pre-plan everything from all the little bits of information you want to include to coming up with the best possible structure for your blog.
---
Book Writing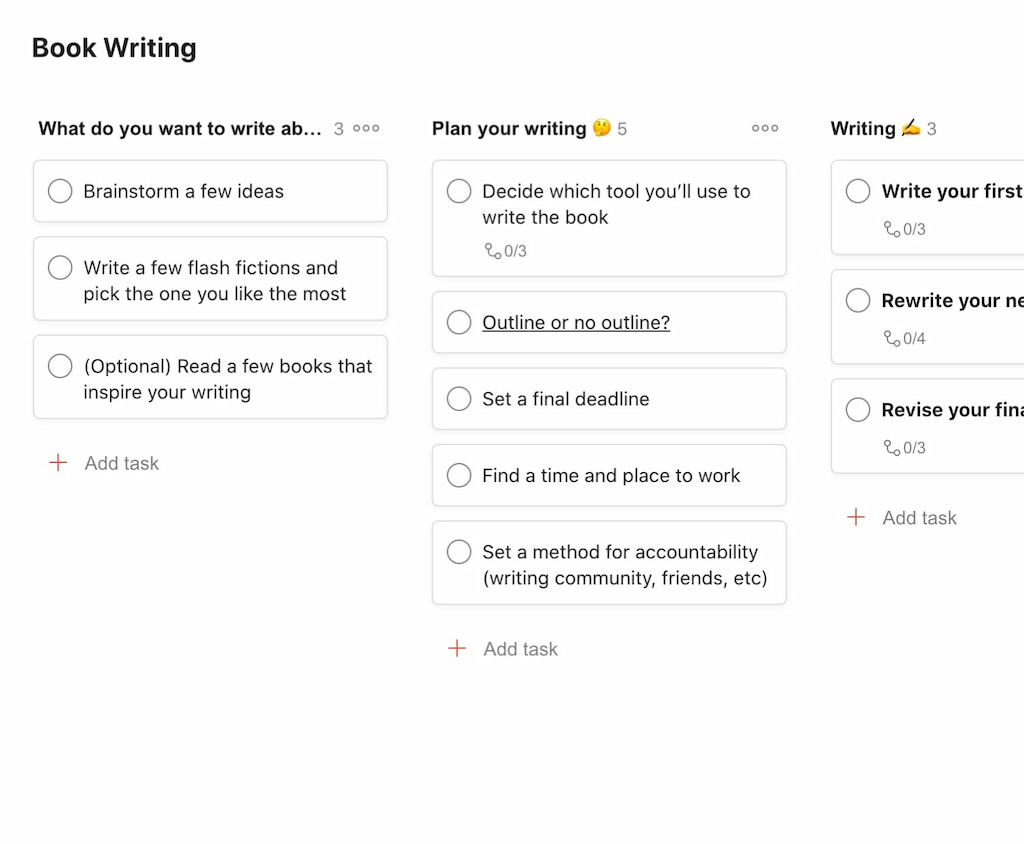 We've all heard the saying that "writing is rewriting". And while that might seem to break down the art of writing a book into a simple task, it isn't. Even if you're trying to tap into the most creative side of yourself, you need to stay organized. With this Book Writing template, it makes it easier to plan out the entire writing process and take it step-by-step.
---
Cook More at Home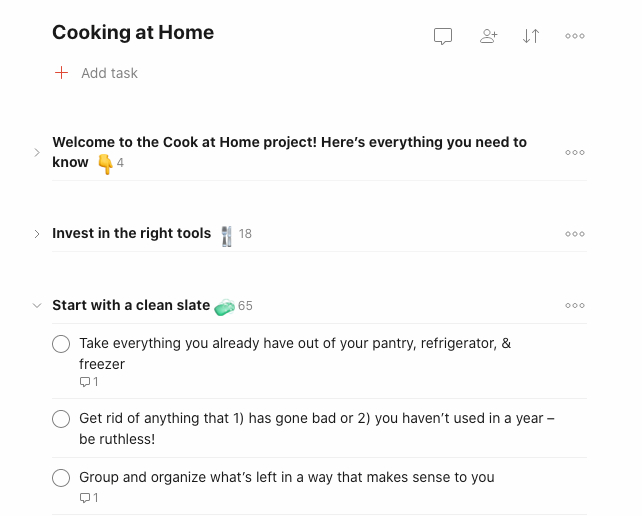 We're all guilty of eating out a bit too often. And if you're looking to cut down costs and start eating healthier by cooking your meals, this template gives you a great launching point. With this Cooking at Home template, you can break down everything you need to start cooking more meals in your own kitchen at home so you can finally kickstart that diet you've wanted to try.
---
Grocery List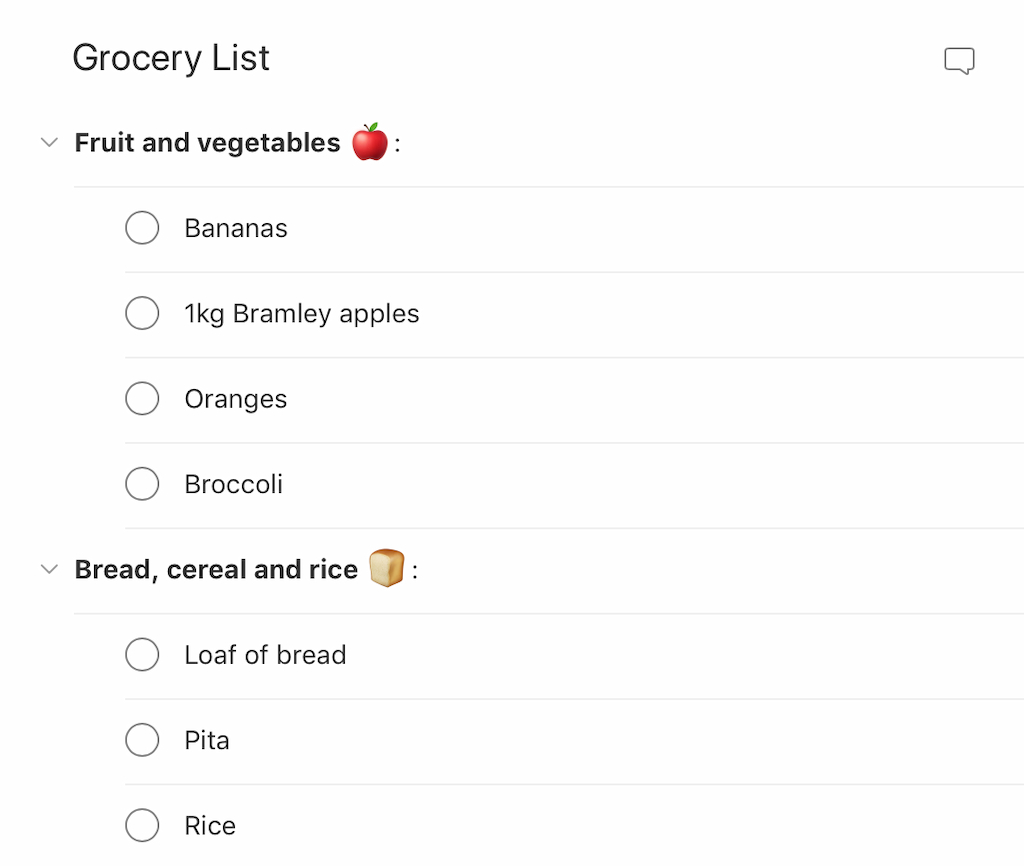 Whether you want to make sure you don't buy anything unnecessary or are trying to stick to a budget, having a grocery list is a fantastic way to stay on track. Fortunately, Todoist has one of the best Grocery List templates on the internet, which you can start using right now to ensure you have a successful shopping trip to your local supermarket.
---
Student Project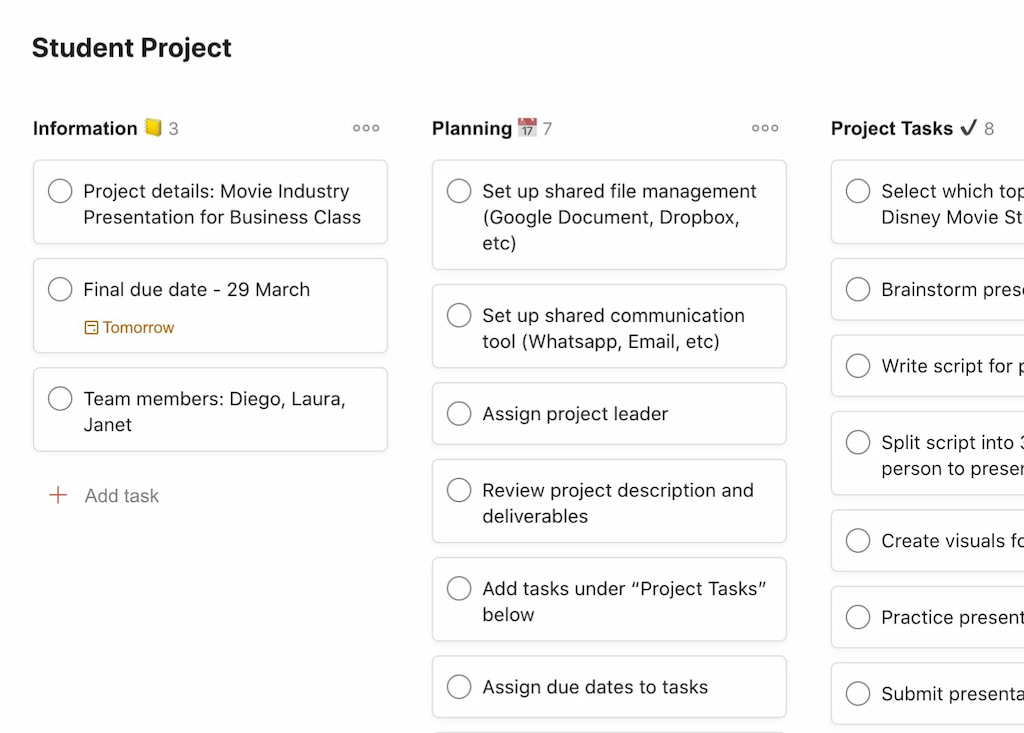 Working in a group for a school project can be challenging. Subdividing tasks and ensuring everyone is doing their job on time is no easy task. However, thanks to the Student Project template designed by Todoist, you and your group members can allocate each other tasks and make sure that everyone is doing their part. You can also customize the template and include an attendance tracker to keep track of which group members attend and which do not.
---
💎 Todoist templates for designers & developers
Bug Tracking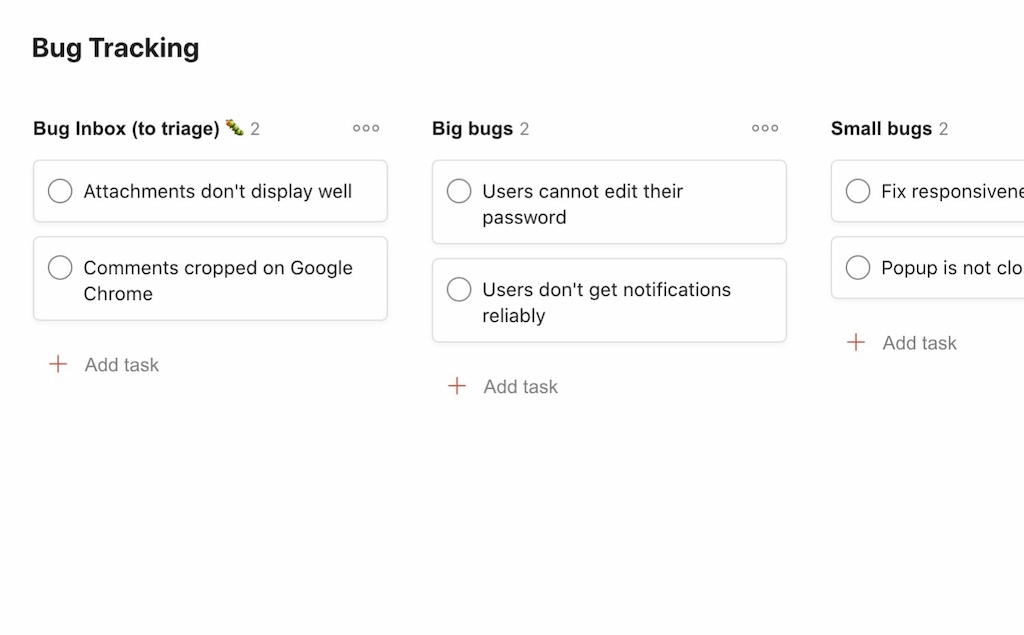 Developing a website or app takes a lot of creativity and patience. And if you're having a hard time tracking the bugs and issues that need to be fixed along the way, the Bug Tracking template on Todoist is a great choice. With this template, it will be much easier to keep everything in check and ensure that every aspect of the software or app is functioning as it should.
---
Design Requests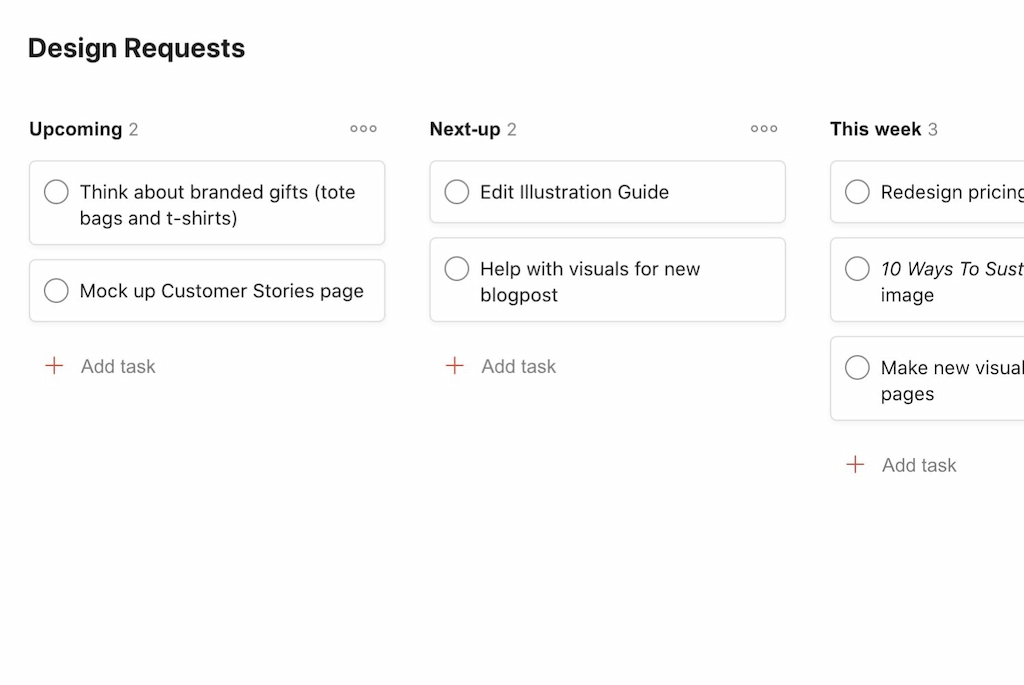 Designers constantly have a lot of pressure on their shoulders. On top of that, they are not allowed to make any mistakes, or their client's product launch can be a complete failure. For that reason, whether you're a freelancer or work for a company, making use of the Design Requests template on Todoist is a great way of keeping track and staying on top of all the design requests submitted by clients. This template can also be used alongside a timesheet app, allowing you to never miss a deadline or a request.
---
Todoist Templates: Conclusion
Todoist can do wonders for productivity in all aspects of life. Whether you're an employee, are managing a team, a student, or want to conduct a DIY project, Todoist has a project template tailored to your needs that you can start using right away.
Making use of the right template can save you a lot of time and ensure that you cover all bases. On Todoist, templates are very easy to use, which is why it's a favorite for over 30 million people from all over the world. And if it's still not working for you, you can use any of these Todoist alternatives to make it work!