Maximize Your Task Management Efficiency with the Best Todoist Integrations
Maria Kharlantseva, May 31, 2023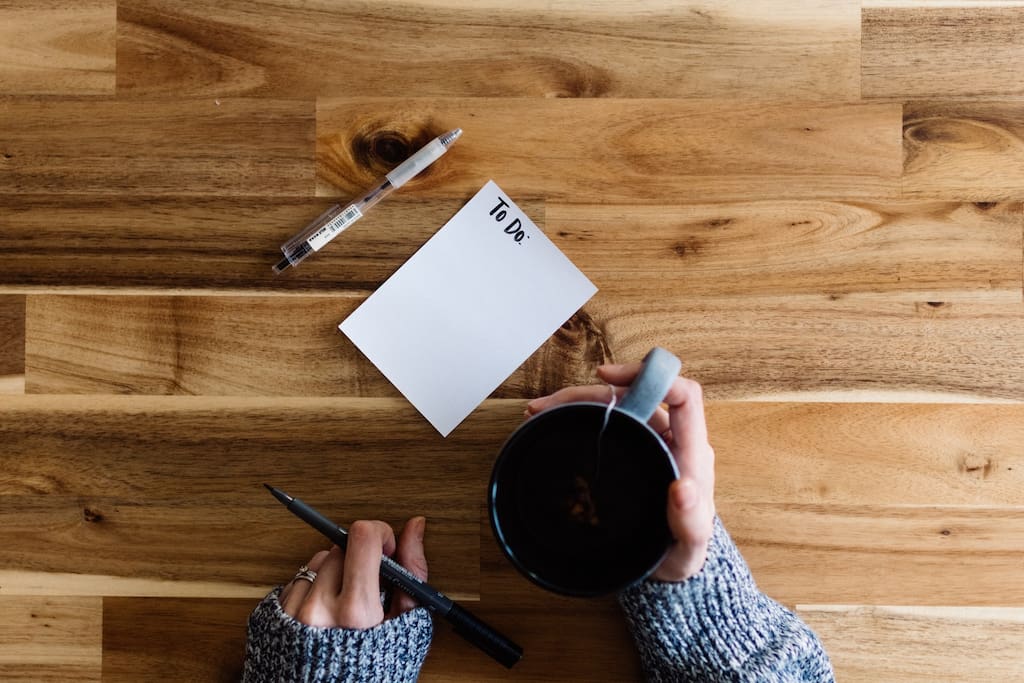 Do you struggle to organize your work or daily life? Managing a job and a busy social calendar isn't easy, and ensuring that you don't forget a meeting or a family dinner takes significant planning and organization. Luckily, we live in a world with technology that helps ensure we don't miss a thing. One of the leading task management and to-do-list software options is Todoist.
Todoist is a platform that allows people to create custom calendars and to-do lists organized into different categories according to dates, urgency, and whether they're for work or personal. It can be used on phones or computers and helps boost productivity and increase organization. It has numerous templates and key features, like Todoist time tracking technology.
There are lots of Todoist alternatives out there, and also, Todoist can be combined with numerous other applications to augment its features. There are many platforms with Todoist integrations, so users can stay organized while using other apps. Let's look at 15 of the top platforms with a Todoist integration.
Top 15 Todoist Integrations
Everhour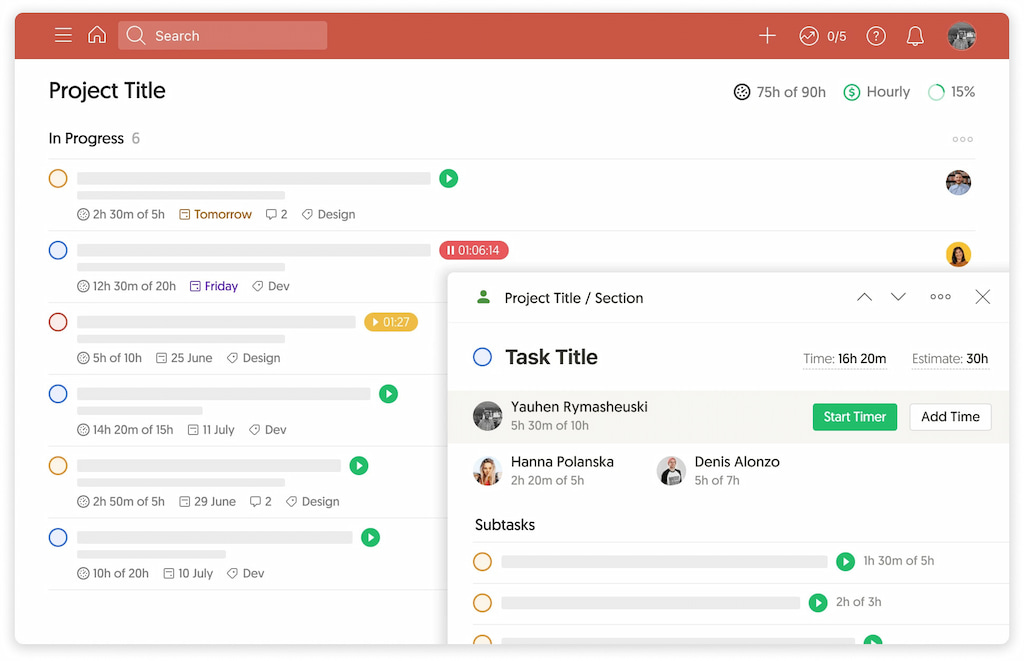 Everhour is a time tracker and project management tool that boasts a number of extra features: from reporting and invoicing to budgeting and resource planning. Its flexibility and accessibility lend themselves better to small and medium teams but it can be used for pretty much any purpose or collectives. It's super easy to integrate with other project management tools, such as Asana, Jira, GitLab, ClickUp, etc., and it provides access to such cool tools as a time clock app, a timesheet app, a work hours tracker, an attendance tracker, and many more!
Its Todoist time tracking integration will help you track your shared Todoist projects and to-do lists and cover all your budgeting, reporting, and payroll needs. It's super easy and quick to setup with all your current projects synced up immediately. Time tracking controls appear inside tasks so that you don't have to switch between your timesheet and tasks all the time.
---
Syncing happens not only when you start using the app; when you add a new project or edit the name of the existing to-dos in Todoist, it will get synced up automatically in Everhour.
On top of that, you can create your own Todoist time tracking reports using various information from your Todoist to-dos such as tags, sections, or custom fields. They can help you see the pain points in your working progress to introduce immediate changes.
💰 Everhour has a free plan along with two more advanced plans: Lite and Team. The Lite plan is $5 and $6 for yearly and monthly subscription respectively, the Team plan is $8.50 and $10 for yearly and monthly subscription respectively.
---
Outlook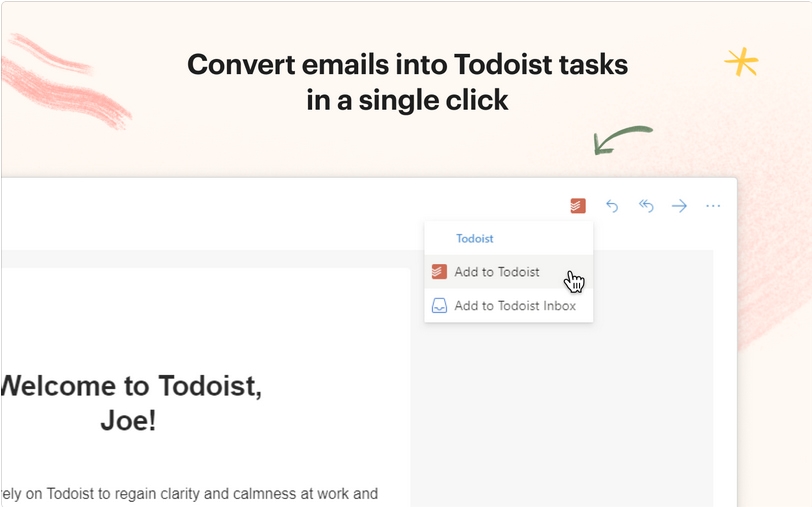 Microsoft Outlook is an email and calendar application that combines people's emails with their calendars. It protects people's private information with high-level data encryption and has quality security that detects ransomware. Outlook helps with communication and organization, and it has a smooth layout for email messages, with display pictures and profiles. It comes with a tasks feature where people can create their own tasks with specific dates. With a Todoist integration, people can combine their email and calendar with a high-quality to-do list. This will keep their planning centralized and accessible.
💰 Outlook is free to create an account on but to get the premium features, you need to subscribe to Microsoft 365, which costs $79 a year for one person or $109 a year for families. Not being able to subscribe directly to Outlook Premium is a downside.
---
Gmail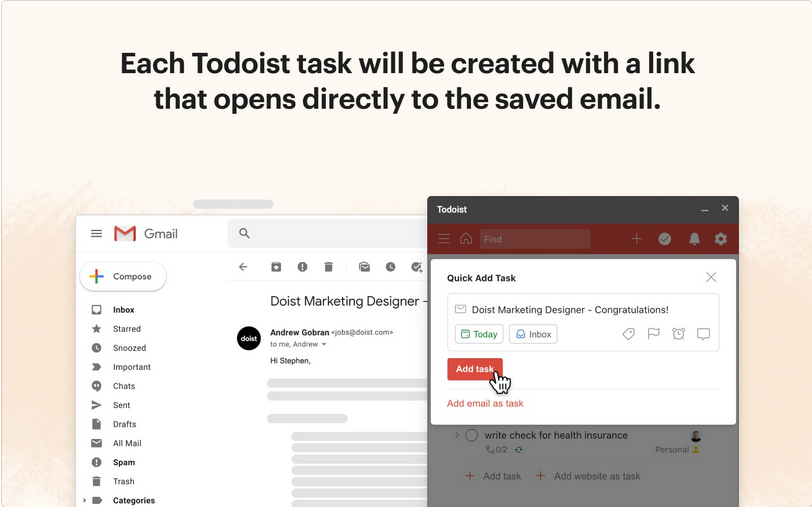 Gmail is an email platform that is one of the most commonly used communication hubs on the planet. With Google's automated suggestions and email nudges, email is simplified. It is also easy to create calendar events, find and manage trips, and organize your inbox.
The Gmail-Todoist integration is a powerful combination with several core advantages. Users can save emails as a Todoist task so they don't forget to follow up. They can also organize email assignments into Todoist tasks directly from the platform for a seamless experience. Todoist helps ensure users stay on top of their email organization.
💰 Gmail is free to use, and there isn't a Gmail premium, so users can access the full range of features. The primary con to using email is privacy concerns, as they provide information to advertisers to keep the platform free.
---
Google Calendar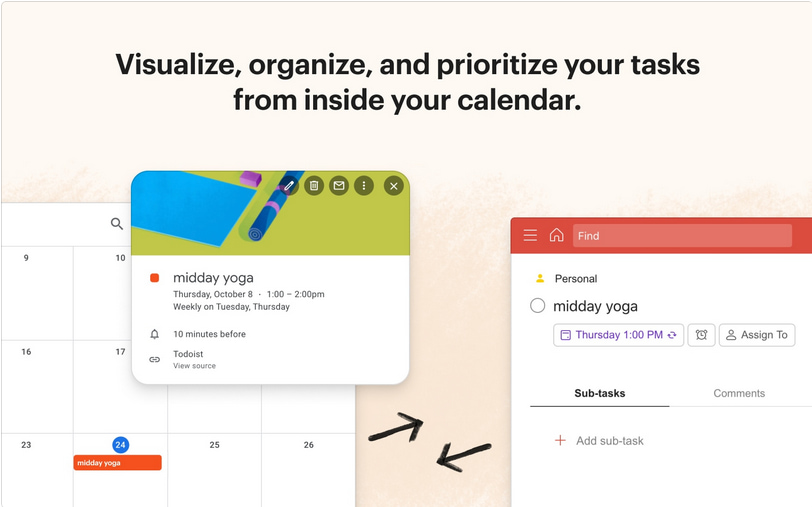 Google Calendar is an intelligent virtual calendar that helps people schedule meetings and get reminders about important dates or times. Using Google Calendar helps people stay organized and on top of their day-to-day, and it has features like quick scheduling, meeting pre-sets, and the ability to share a calendar with others.
Google Calendar integrates with Todoist, and together they keep people informed and organized. Just by typing into Todoist, users can automatically create new entries onto the calendar because the platforms are synced. Changes to each platform's calendar or to-do list are reflected on the other, and users can block off high-priority times in their calendar.
💰 Google Calendar is completely free. The lone downside to Google Calendar would be that it can look disorganized if there are too many meetings.
---
Monday.com

Monday.com is a major project management platform with several features that make it an impactful business solution. It has highly visual collaboration features where tasks can be assigned, status updates shared, and links posted. There is also a Monday time tracking tool that can be used on the platform, a project timeline board that shows due dates, and more.
With the Todoist integration, users on Monday.com can create items on Monday from tasks within designated Todoist projects. They can also sync changes from Todoist onto a board on Monday.com. These features all help projects stay on track.
💰 Monday.com has several pricing plans, including a free version with limited features. The Basic Plan costs $33 a month, Standard costs $42 a month, and Pro costs $66 a month. The primary con of this platform is that it can be somewhat difficult to track goals with so many boards.
---
Slack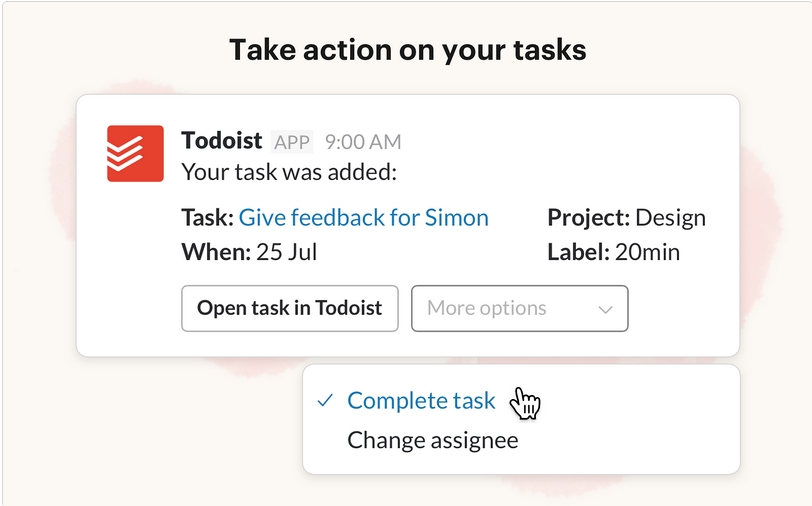 Slack is the enterprise communication platform that has taken the world by storm during asynchronous work. Slack has several features that make it a standout option. The ability to create specific rooms on certain topics and add employees helps keep communication structured, the huddles feature enables video meetings, and it has workflow automation abilities.
Todoist integrates with Slack to combine the communication and organization of the platforms. Slack messages can be converted into Todoist tasks, Todoist tasks can be created directly through Slack, and the Todoist list can be synced too.
💰 Slack has a free plan, a pro plan that costs $6.67 per user a month, and a business plan that costs $12.50 per user a month. The cons include messages getting deleted after a set period and minimum file storage.
---
Microsoft Teams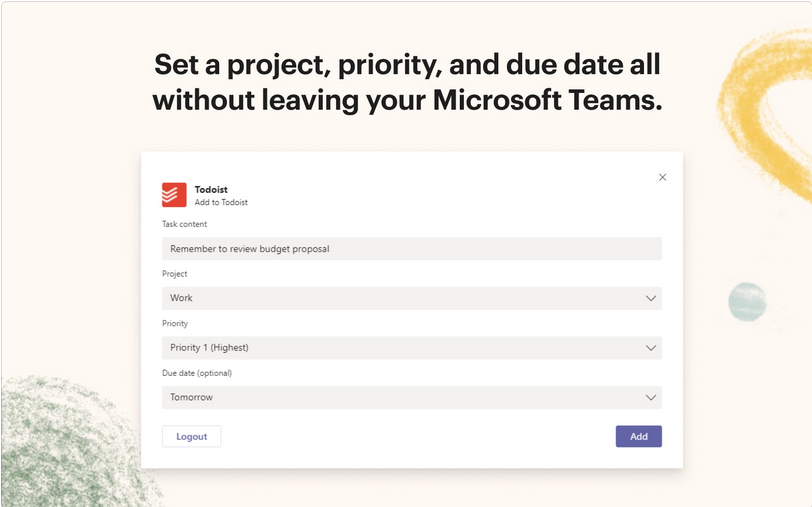 Microsoft Teams is another collaboration platform that enables teams to stay digitally connected. It hosts video meetings between groups, with features like screen sharing, video conferencing, and instant messaging chat. Employees can set custom backgrounds, host virtual events, and connect to an asynchronous office.
Microsoft Teams is one of the most important Todoist integrations. This integration allows users to easily turn Teams messages into Todoist tasks without switching back and forth between platforms. It allows you to use Todoist within Teams and share details from your list on the platform.
You can learn how to create Microsoft Teams meetings in our blog.
💰 Microsoft Teams has a free plan and an Essentials plan, which costs $5.10 per user a month. There are also Microsoft 365 plans users can pay for. Some cons of teams are how much storage it consumes and the limited number of channels.
---
Trello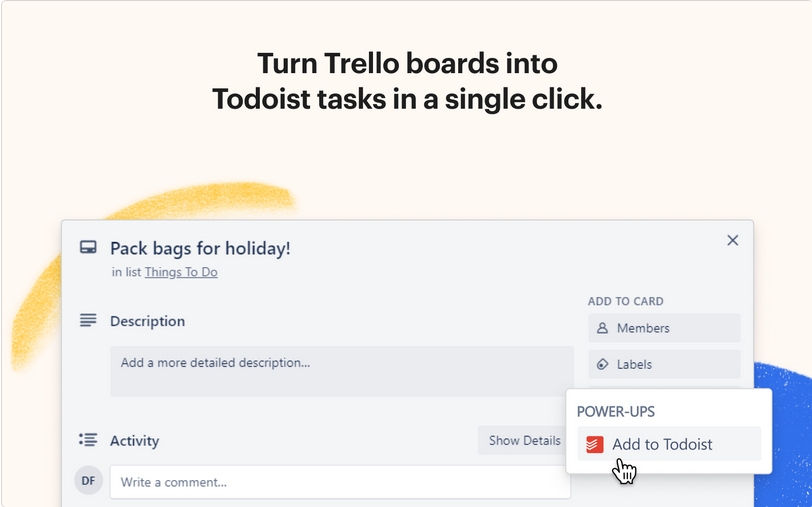 Trello is another project management platform that enables collaboration. It uses boards, where people can share information, upload links, set due dates on projects, and assign tasks. You can also use productivity metrics, have a flexible calendar, and great reporting features. It is a tool that makes collaborative work simple.
Todoist can be integrated as a Trello Power-Up. If you click add to Todoist on a task on Trello, it will be added to your list. There will also be a portal to Trello opened up on Todoist, so it is easier to cycle to and from the platforms.
💰 Trello has a free plan, a Standard plan that costs $5 per user a month, a Premium plan that costs $10 per user a month, and an Enterprise plan that costs $17.50 per user a month. The cons are that it can be overburdened as projects grow, and user permissions can be confusing.
---
Alexa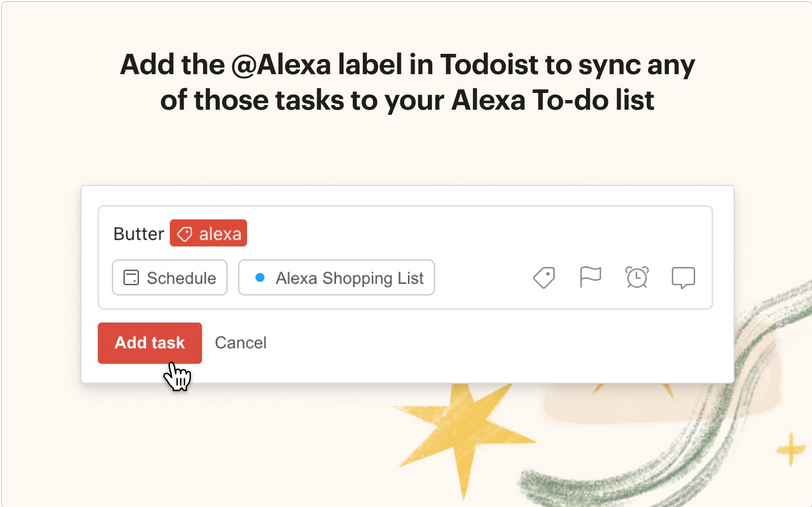 Alexa is an Amazon product that is a virtual assistant powered by speech. People use Alexa to set reminders or timers, play songs, or contact friends and family. With just a few words, there are many things that Alexa can do. Some of the core features of Alexa are setting alarms and reminders, providing weather or traffic updates, and controlling other Amazon smart devices.
Alexa with a Todoist integration allows users to do several things. Users can ask Alexa about different things on their to-do list, and she'll read them out. They can also check items off their list with just a word. Alexa will also remind users of upcoming to-do-list due dates.
💰 Alexa is completely free to use, but the cost comes from acquiring an Amazon device like Amazon Echo. The primary con with Alexa is that her voice recognition software can misinterpret things and be glitchy.
---
Jira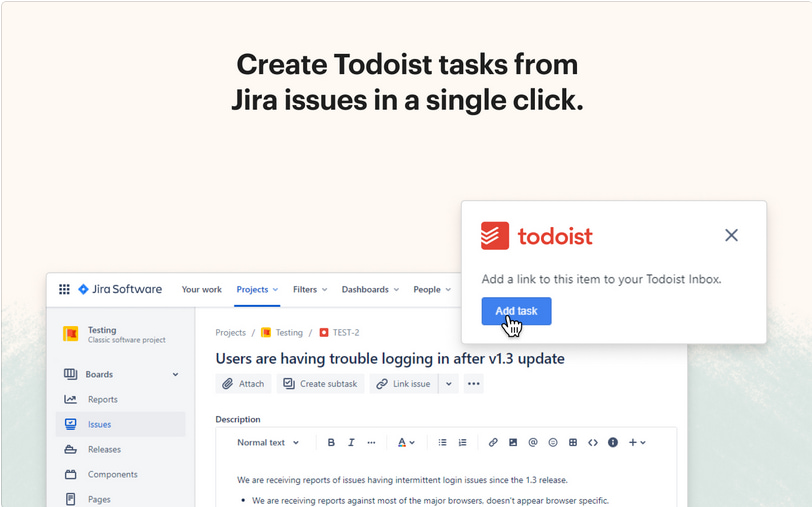 Jira is an issue and project tracking software used primarily for software development collaboration. It has a host of core features that make collective development possible. Some primary Jira features that stand out are large collaborative planning boards where teams assign tasks and post progress, progress tracking visibility, and no-code automation.
Todoist integrates with Jira to help teams stay on track with necessary problem-solving. This enables users to plan by adding a Todoist item within Jira. Users can also collaborate with other users within Jira.
💰 Jira has a free plan, a Standard plan for $7.50 per user a month, and a Premium plan for $14.50 per user a month. The largest con with Jira is that it can be confusing and take a significant amount of time to set up.
---
Zapier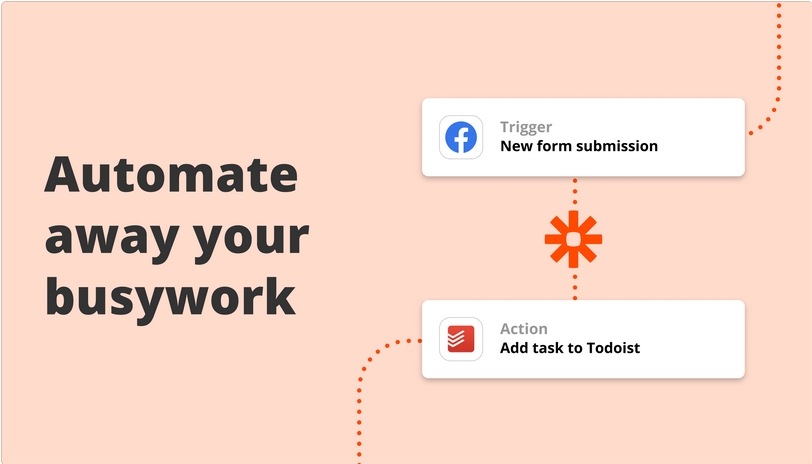 Zapier is a workflow automation software that provides a pathway to seamless integration. It integrates many applications to simplify how people use their tech stack and blend solutions. Zapier's key features include multi-step integration, when a bunch of steps in different applications are combined, and custom-designed paths.
Integrating Todoist with Zapier will allow users to receive thousands more apps with which they can integrate their to-do list. Users can set custom pathways and triggers that utilize Todoist as a part of the process. Zapier opens up how Todoist can be used.
💰 Zapier has a free plan, a Starter plan for $26.69 a month, a Professional plan for $65.43 a month, a Team plan for $399.25 a month, and a Company plan for $799.84 a month. A downside is that it can be expensive.
---
IFTTT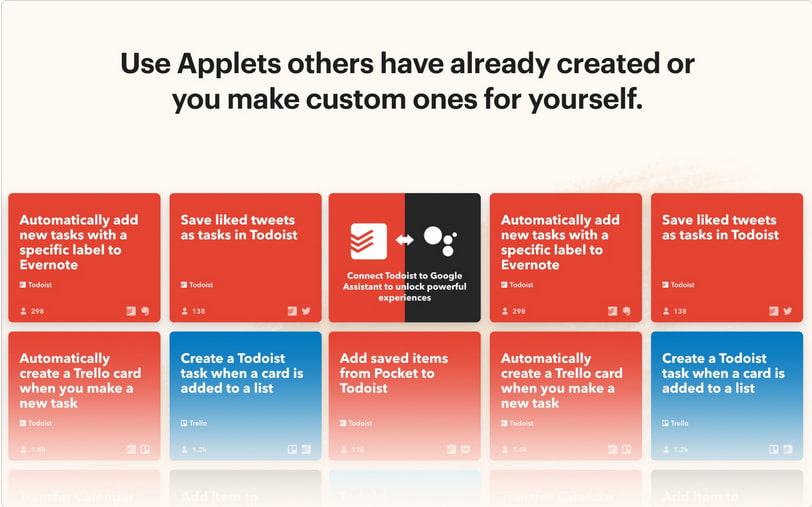 IFTTT is a no-code platform that empowers integration and automation. It is known for its features that enable users to combine different applications and set different custom rules. Users can set automation for different apps; for example, set rules for if an Instagram picture is uploaded, it should be downloaded to Dropbox.
Combining Todoist with IFTTT allows Todoist to be integrated with many different platforms. Todoist can become a part of customized automation with different results triggering different entries in the to-do list or calendar.
💰 IFTTT has a Free plan, a Pro plan for $3.33 per month, and a Pro Plus plan for $6.5 per month. The biggest con to IFTTT is that they limit users' triggers and actions.
---
Planner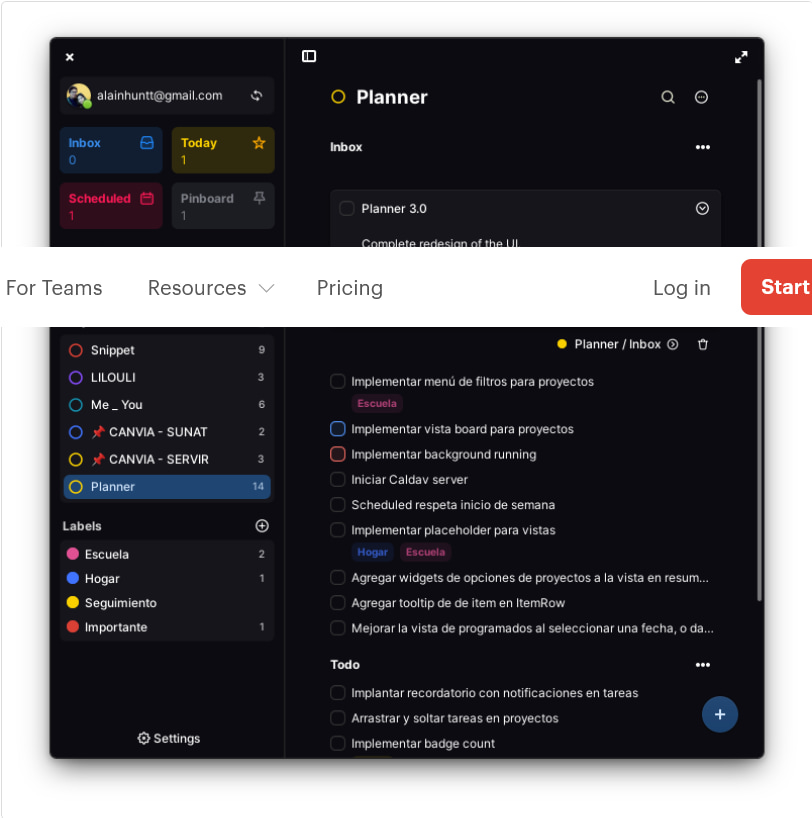 Planner is a task management program that helps users keep track of their tasks, projects, and goals in one easily-accessed space. It helps people organize their tasks with key features like Sections, which allow users to split tasks into different sections, and Calendar Events, which are customizable calendars.
Todoist integration is one of the core aspects of Planner's appeal. Connecting these platforms allows progress on projects and tasks to be synced across platforms, makes task creation simple, and gives access to a progress indicator.
💰 Planner is free to download but is only available on AppCenter or FlatHub. This makes accessibility its biggest con.
---
Akiflow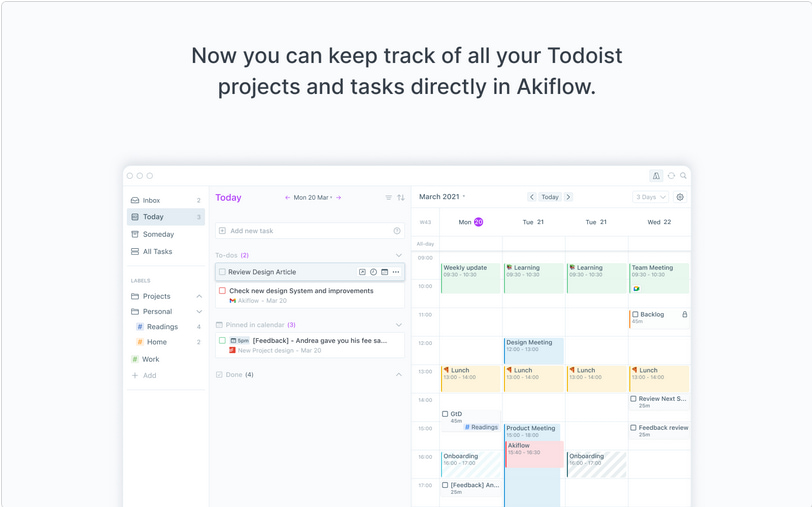 Akiflow is a calendar organization platform that allows users to centralize their schedules. It condenses scheduling and task management applications on a central hub. The notable features of Akiflow include the ability to turn conversations into tasks, important calendar notifications, and the ability to share availability for simplified scheduling.
With Akiflow and Todoist integrated, users can manage their Todoist tasks within the Akiflow calendar. Akiflow integration will provide notifications on Todoist updates on desktop calendars and also expand the number of available Todoist integrations by merging it with Akiflow's significant number of apps it works with.
💰 There is no fully free plan for Akiflow. The Pro plan costs $15 per month on a monthly contract or $12.50 per month on a yearly contract. The only con is that the user interface could use improvement.
---
Time Doctor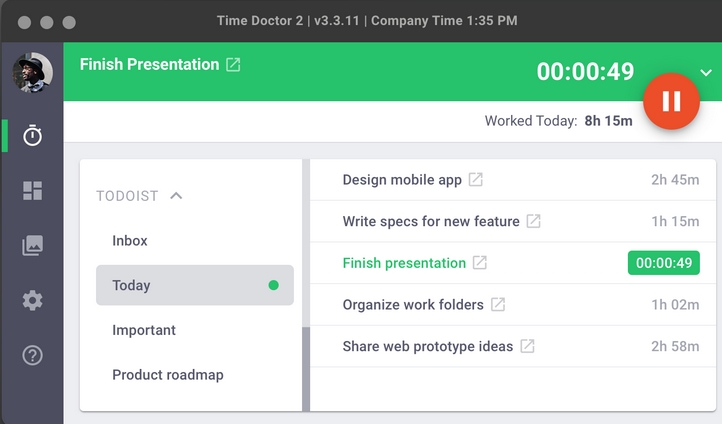 Time Doctor is a time tracker application that monitors the time spent on a project. It functions as an attendance tracker and employee time tracking software solution showing how long individuals spend on specific tasks. Time Doctor has a time clock app that can be toggled on or off and timesheet templates. It is a work hours tracker and timesheet app that provides key timing information.
Time Doctor is a top Todoist time tracking integration option. It allows users to time how long certain tasks are taking them with significant accuracy and receive access to Time Doctor's productivity reports.
💰 Time Doctor has a Basic plan for $70 per user a year, a Standard plan for $100 per user a year, and a Premium plan for $200 per user a year. A downside to Time Doctor would be the lack of a free plan.
---
TL;DR Comparison
Name
Key Features
Pricing
Cons
Everhour
– Timer and manual time entry
– Auto-stop timer
– Quick and easy sync
Free plan
Monthly: $6/10
Annual: $5/8.50 a month
Learning curve
Outlook
– Combined email and calendar
– High-quality security
Free accounts
$79 a year for Microsoft 365 Personal
$109 for families
Can't subscribe directly to Outlook premium
Gmail
– Smart features that nudge when you haven't responded
– Easy Todoist integration to ensure email follow-ups
Free
Privacy concerns
Google Calendar
– Simplified meeting scheduling
– Sync with Todoist, with changes on both reflected on the other
Free
Can have a confusing layout when too many things are scheduled
Monday.com
– Visual collaboration features
– Synch changes from Todoist onto a Monday.com board
Free Plan
Basic Plan: $33 a month
Standard: $42 a month
Pro: $66 a month
Can be difficult to track goals with so many boards
Slack
– Workflow automation
– Enterprise communication features like Huddle
Free Plan
Basic Plan: $6.67 per user a month
Business Plan: $12.50 per user a month
– Messages delete after set period
– Minimum file storage
Microsoft Teams
– Video communication between teams
Screen sharing
Free Plan
Essentials Plan: $5.10 per user a month
– Takes up a lot of storage space
– Limited number of channels
Trello
– Collaboration boards with task assigning
– Flexible calendar
Free Plan
Standard Plan: $5 per user a month
Premium Plan: $10 per user per month
Enterprise Plan: $17.50 per user per month
– User permissions can be confusing
– Can become overburdened as projects grow
Alexa
Reminders and alarm setting powered by voice recognition software
Free to use with the purchase of an Amazon device
Voice recognition software can be choppy, with miscommunications
Jira
– Collaboration boards that provide task assigning and process updates
– No-code automation
Free Plan
Standard Plan: $7.50 per user per month
Premium Plan: $14.50 per user per month
Can take some time to fully understand the software as it is a bit complicated
Zapier
– Opens up integration with a huge number of apps
– Can set custom automations and pathways
Free Plan
Starter Plan: $26.69 per month
Professional Plan: $65.43 per month
Team Plan: $399.25 per month
Company Plan: $799.84 per month
Can become quite expensive
IFTTT
– Allows users to combine different applications
– Easy no-code usage
Free Plan
Prop Plan: $3.33 per month
Pro Plus Plan: $6.50 per month
Limit users triggers and actions
Planner
– Customizable calendar
– Sections tasks can be divided by to simplify process
Free to download
Can be difficult to access
Akiflow
– Merges different calendar scheduling features
– Can turn conversations into tasks
Pro Plan: $15 per month monthly
$12.50 per month annually
User interface
Time Doctor
– Employee work hours tracking
– High-quality productivity reports
Basic Plan: $70 per user a year
Standard Plan: $100 per user a year
Premium Plan: $200 per user a year
No free plans
---
Todoist Integration: Bottom Line
There are a huge array of options for Todoist integrations. Whether you are looking for Todoist time tracking software or workflow automation, there is a Todoist integration that can augment your overall experience on the platform. These integrations expand the user experience and offer new ways to get the most out of Todoist's incredible scheduling and organization features.