Monday.com is a popular project management tool that allows users to organize their workload and collaborate effectively. Its Work OS is designed to provide businesses and freelancers with everything they need to complete tasks, measure progress, and manage their customer relations.
The software features an array of tools to assist the user. It caters to everyone in the company from those in the HR department to sales reps and marketing employees. With Monday project management, you can refine and optimize your workflows to ensure smooth progress in every aspect and streamline cross-functional collaboration efforts.
Yet if there was one thing that the software doesn't prioritize, it's the ability to track how employees spend their work time. Fortunately, time tracking with Monday.com is still a breeze as it boasts hundreds of integrations with third-party apps. You can introduce time tracking to the Work OS if that's a feature you're looking for. And why wouldn't it be?
Tracking both the billable and non-billable hours of your workforce is essential if you want to boost accountability, ensure fair pay based on work completed, and make sure that the work is indeed being done. This guide will highlight six of the best time-tracking integrations that work with Monday.com.
---
What Is Monday.com Time Tracking?
Like many Monday alternatives, Monday.com is an all-encompassing project management suite, yet time tracking isn't the main focus of the software solution. The time tracking widget that comes with the software offers users the ability to track how long they're spending on tasks within various boards they have set up in the app. If you need more in-depth employee time tracking, it's worth exploring third-party tools. Here's how to find Monday.com's time-tracking integrations:
If you head to Monday.com's website, there's a dropdown menu at the top of the page entitled 'features'.
Click on this dropdown menu, then select 'integrations'.
On this page, you'll find an extensive list of some of the integrations Monday.com offers.
For an exhaustive list of time-tracking integrations, though, you should go directly to the Monday.com app marketplace. It's here that you'll be able to browse the software's full arsenal of third-party apps and integrations.
You can either choose a category from the sidebar on the left or enter 'time' using the search bar at the top and you'll view all apps that deal with time or have a time-tracking functionality.
---
How Does Monday Native Time Tracking Work
Monday time management centers around the time tracking widget that users have access to when they invest in the software. It's a useful tool for monitoring how your coworkers are spending company time within the app.
The Monday tracking tool widget will inform you of the total amount of time that has been spent on tasks completed on one on more boards. You can get a time report for individuals or the whole team, so you can track performance on multiple levels. So how exactly does the Monday.com time tracking work?
First, select the boards on Monday.com that you'd like to track time for.
From the dashboard screen, where you see all the boards you're working with, there's a dropdown menu at the top left-hand side of the screen that says 'add widget'.
Now, click on 'Widgets Center' and search for the 'Time Tracking Widget', then add it to your dashboard.
Once you have the widget set up, you can customize and personalize the settings for your needs. For example, you can determine whether you group time tracked in columns or boards.
You can also set up individual or team time tracking, select a timeframe, and turn on alerts so you can be notified when you reach a certain number.
---
Top 6 Tools for Monday Time Tracking
Now you know about the Monday.com time tracker, let's compare and contrast it with six of the best time tracking integrations compatible with the software. That way, you can make sure you don't compromise and settle for a time tracker that isn't the best fit.
Everhour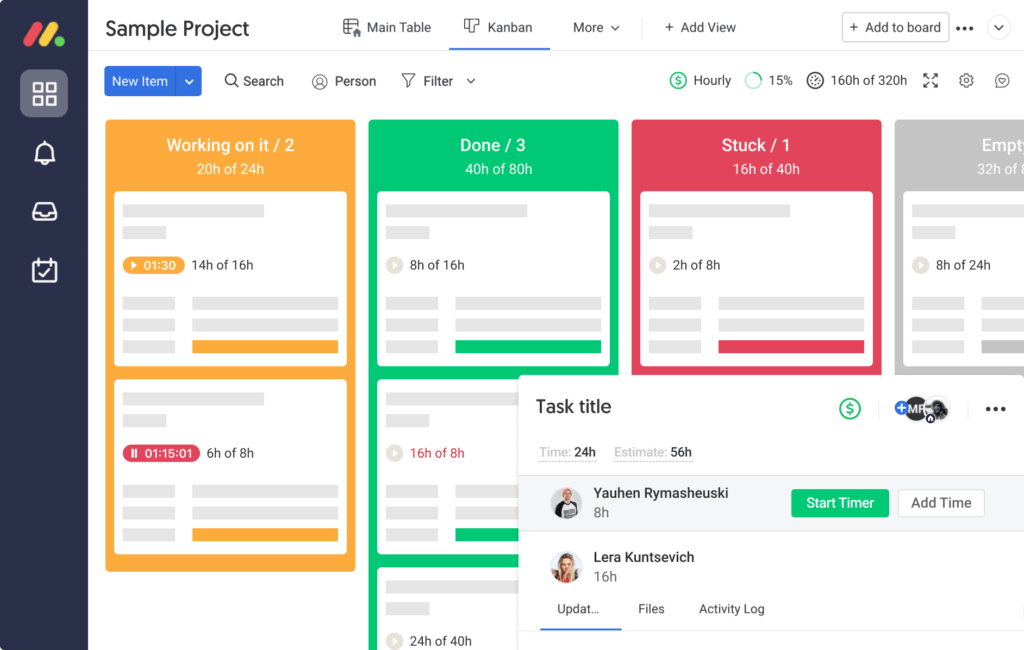 Everhour is a powerful time tracker and a timesheet app that offers seamless integration with Monday.com without the tab-switching that can be an unnecessary distraction, hindering productivity and your workflow. It's an app that's excellent for teams of all sizes. So regardless of the number of colleagues you work with, Everhour can fulfill your time-tracking needs.
Once you install the Everhour browser extension, you can go into your Monday.com Work OS while Everhour tracks time. Simply install and authorize Everhour as an app on Monday.com using the integrations page, then invite any team members to register with Everhour so you can all access and benefit from the time-tracking features.
Upon integration, Everhour will sync with your Monday.com interface and add an array of time-tracking features you can use. For example, you'll be able to configure projects as billable or non-billable, see total project hours, use employee time tracking tools, and allow everyone to see the real-time budget for a project.
You can also track time for each individual and compare these to estimates you make to see whether everyone is reaching the standards set by your company. Tracking time can either be done automatically with a timer, or you can have each team member log their time manually.
Finally, you can use the Everhour integration to generate useful time reports with the tasks and projects you complete on Monday.com. This will help you paint a clear picture of organization-wide productivity, based on time spent on work-related activities.
---
---
Timely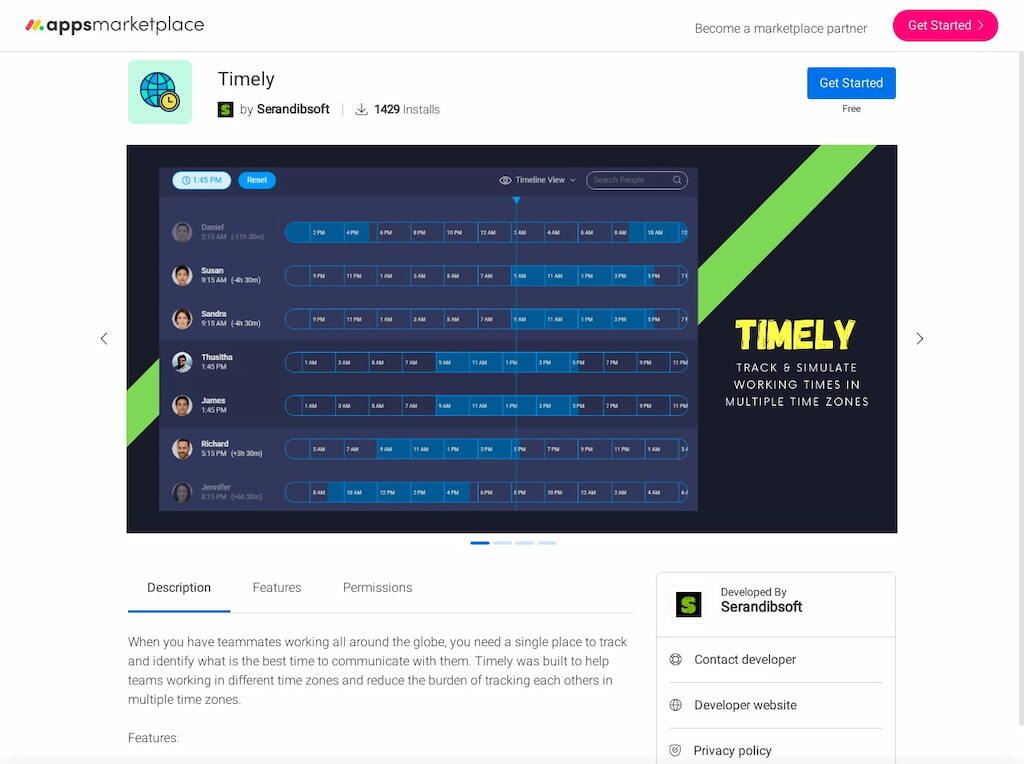 Next up, we have Timely, an integration that aims to make tracking productivity in an increasingly remote work environment easier. Timely allows users to see how company time is being spent regardless of location, and even time zone.
The primary focus of the app is to facilitate global teamwork and ensure that even if you have employees on the other side of the earth, you can still hold them accountable so you don't need to worry about being exploited.
With Timely, you'll have access to a dashboard widget that shows you the current time for all of your employees, regardless of their location. It allows you to track the time all team members spend, so you can coordinate and communicate effectively.
The simulate time feature gives you an idea of how the time changes for you and your remote employees, so you can estimate project completion times and organize meetings without constantly checking on the time difference.
There are three viewing modes, categorized as 'Timeline', 'Time zone', and 'Groups', which all offer you a different perspective of time, which can inform your decisions regarding team logistics and business goals.
Using Zapier, you can automatically connect Timely with your Monday.com account for seamless integration and data syncing.
---
TMetric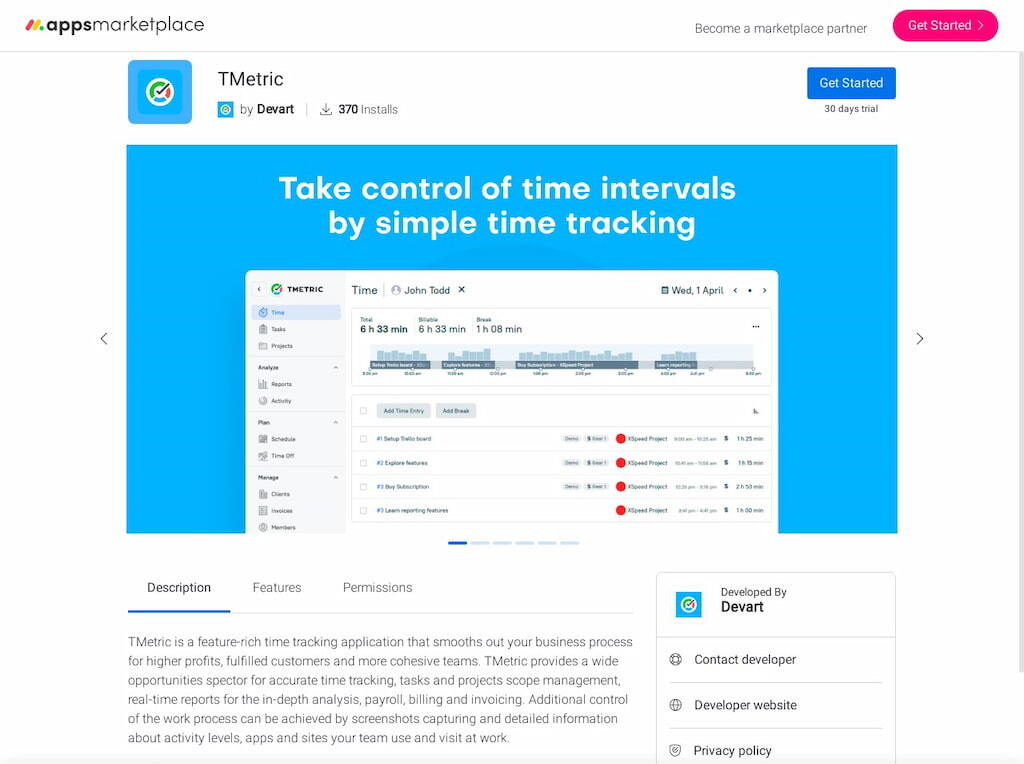 Tmetric is a data-based time tracker that provides you with a complete picture of how your company time is being used. More than just a timer, Tmetric offers everything from detailed reports to budget allocation and attendance management.
If you work with a large team or you're detail-oriented, Tmetric app can help you get a handle on the important metric of time. It even goes as far as to offer screenshot capturing, so you can receive real-time updates of what your team members are working on.
The timekeeping of Tmetric allows you to add time manually, use a timer to track it automatically and find out how much of your team members' time is idle time. The time data you gather through the app can then be fed into summary reports for performance appraisals at a glance. The reports can be exported as PDFs or CSV, and customized to include your company logo.
Setting budgets for projects can be useful for making sure you stay on track with your goals, while the attendance management features of Tmetric allow you to introduce flexible time-off policies and manage both the billable and non-billable hours of your team.
To integrate TMetric, simply sign up for an account, install the browser extension, and then log in to your Monday.com account to start tracking time.
---
Time Reporting Solution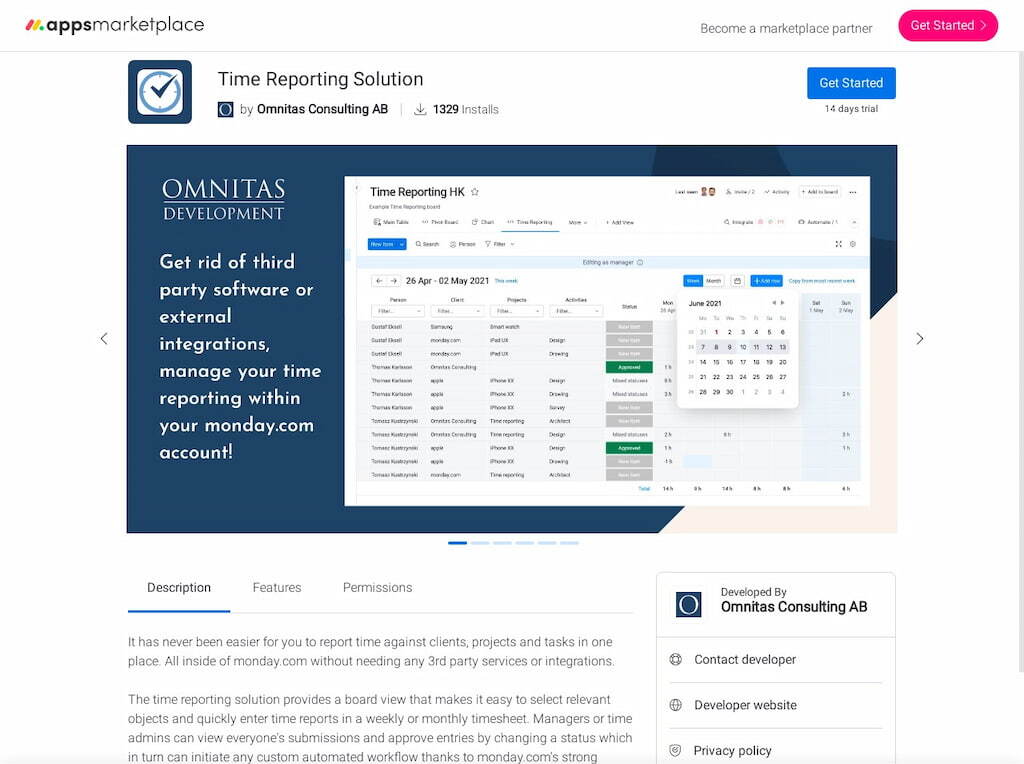 Time Reporting Solution is a straightforward time tracking tool that grants you access to a board that will make it easy to enter time reports into a weekly or monthly timesheet. Team members can submit timesheets which, when approved by team managers, can then trigger automated workflows courtesy of the Monday.com Work OS.
This simplistic time tracking solution takes all the inconvenience of navigating between tabs or browsers away, allowing you to stay on top of your time without ever having to leave the Monday.com interface.
To integrate with Monday.com download the app from Monday.com's app marketplace, then select 'time reporting' from the template center in your workspace.
---
Tracket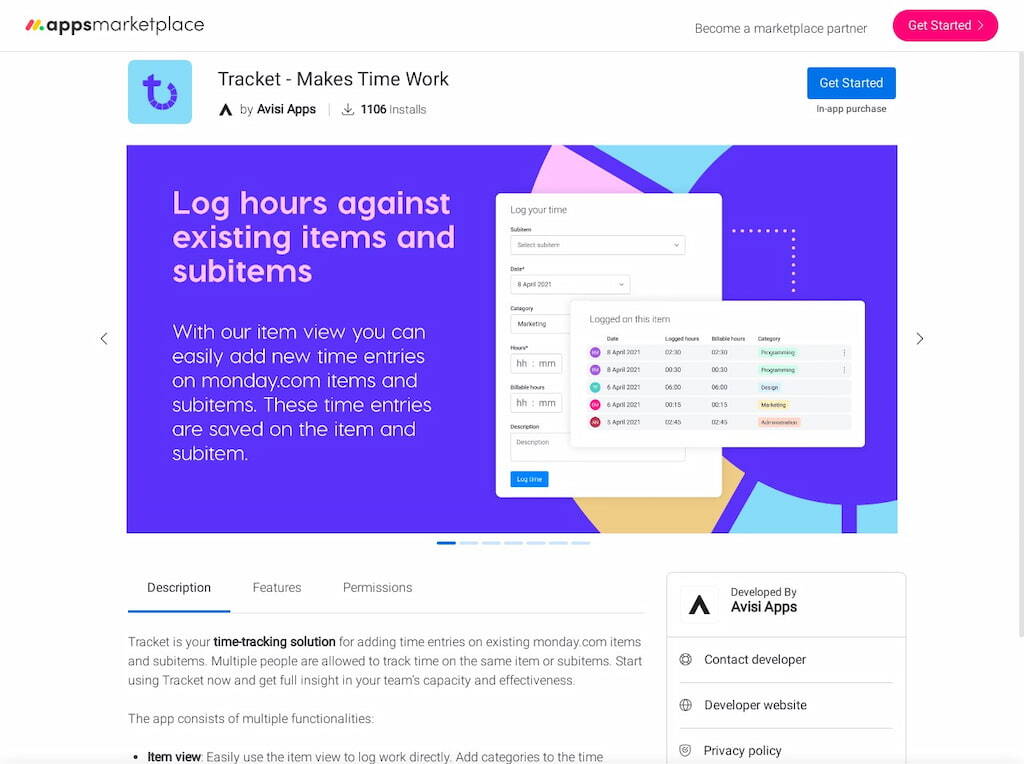 Tracket is a time tracking solution that closely integrates with Monday.com so you can monitor the progress you make on individual items and subitems created in the app. With permissions for several people to track time on items or subitems, you can glean valuable insights into where your bottlenecks are, how productive each team member has been, and whether you're hitting your targets.
With Tracket you can sort your time entries into various categories to label your work and distinguish between different activities. You can also zoom out from individual items and use the board view to see how many hours have been put into work projects for the week for a broad overview of progress.
Timesheet approval allows the team manager to reject or approve submitted timesheets, for accurate payroll and additional accountability.
---
Bottlenecks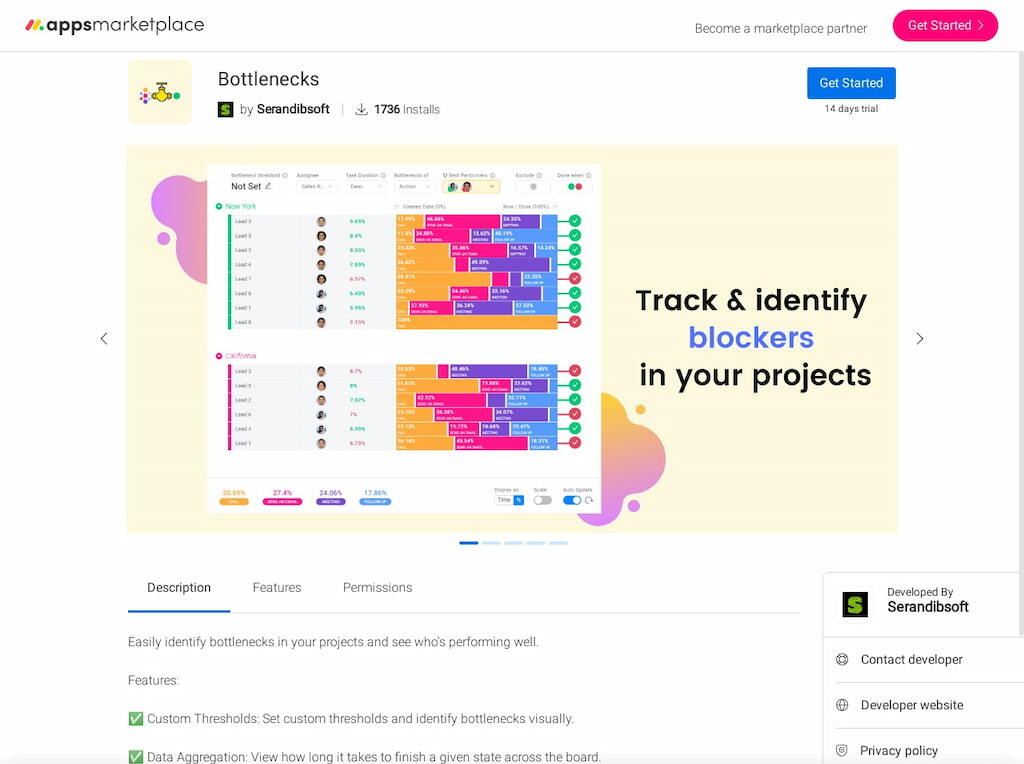 Bottlenecks isn't a time-tracker per se, but what it does offer is time tracking functionality on top of a suite of other useful team-oriented features. If you want to boost productivity in your team and identify the bottlenecks that are holding you back, this is an excellent app to use alongside Monday.com.
With Bottlenecks, you can set custom thresholds and visualize bottlenecks, so they're no longer vague abstractions but concrete visuals that you can address. You can rank team members using time data according to how long on average it takes them to complete tasks.
By calculating work hours, you can get an idea of who's thriving and who's struggling to meet standards. This can inform strategic team meetings, and help you get everyone on the same page and in the right direction.
You can even use the Bottlenecks integration to sort your tasks based on how long it takes to complete them. That way, time management becomes easier as you can prioritize how your team spends its time better.
---
Bottom Line
Monday.com has both native time-tracking functionality and a host of time tracker integrations rich with useful features for your business – big or small.
If you determine that a time clock app is best for your business, consider factors such as how many employees will use it, whether you prefer manual or automatic tracking, and if you need detailed time reports for payroll.