TMetric Key Features, Pricing & Alternatives|TMetric vs Everhour
Maria Kharlantseva, November 7, 2023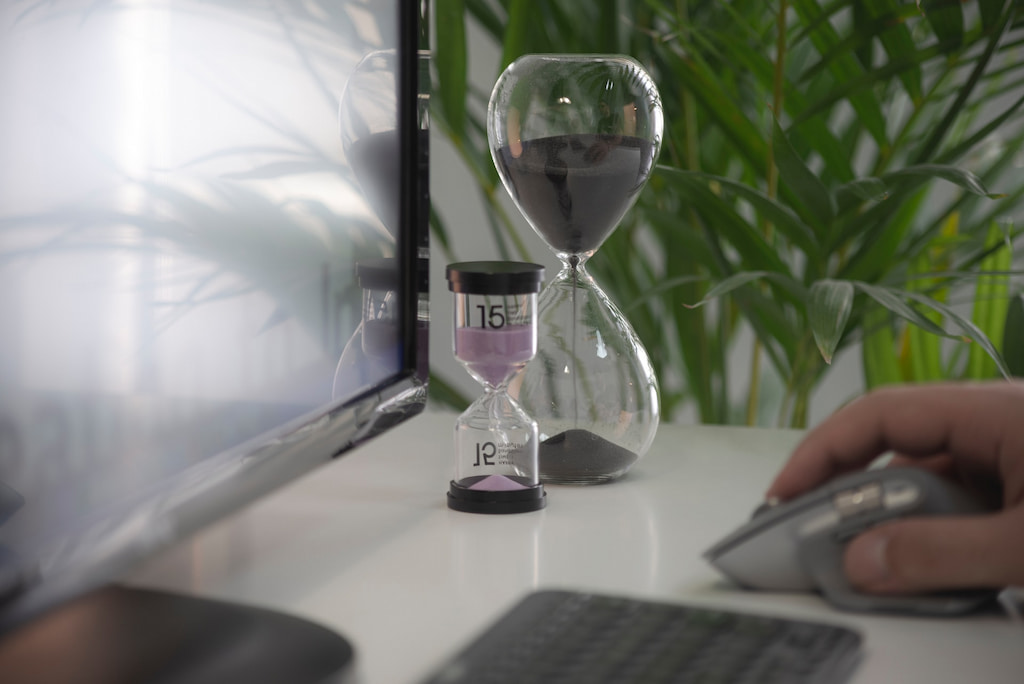 Since the pandemic began in 2020, companies have allowed more employees to work remotely. However, to ensure that productivity remains high, companies are choosing to use a time tracker for employee time tracking, managing time, and increasing employee accountability and transparency.
This article will provide an overview of two of the most popular time tracking tools on the market: TMetric vs Everhour. We'll assess their capabilities and provide you with all the information you need to make an informed decision about which is best for you. So let's get started!
What Is Tmetric?
We'll start by assessing TMetric, a time tracking tool that allows you to see work in progress and keep team members, costs, and work quality under control. Popular with freelancers and small business owners, TMetric allows organizations to optimize their business operations and increase employee productivity using time tracking, task management, billing and invoicing, reporting, and project management tools. TMetric provides users with a wide selection of useful features, which we'll explore in more detail.
TMetric Features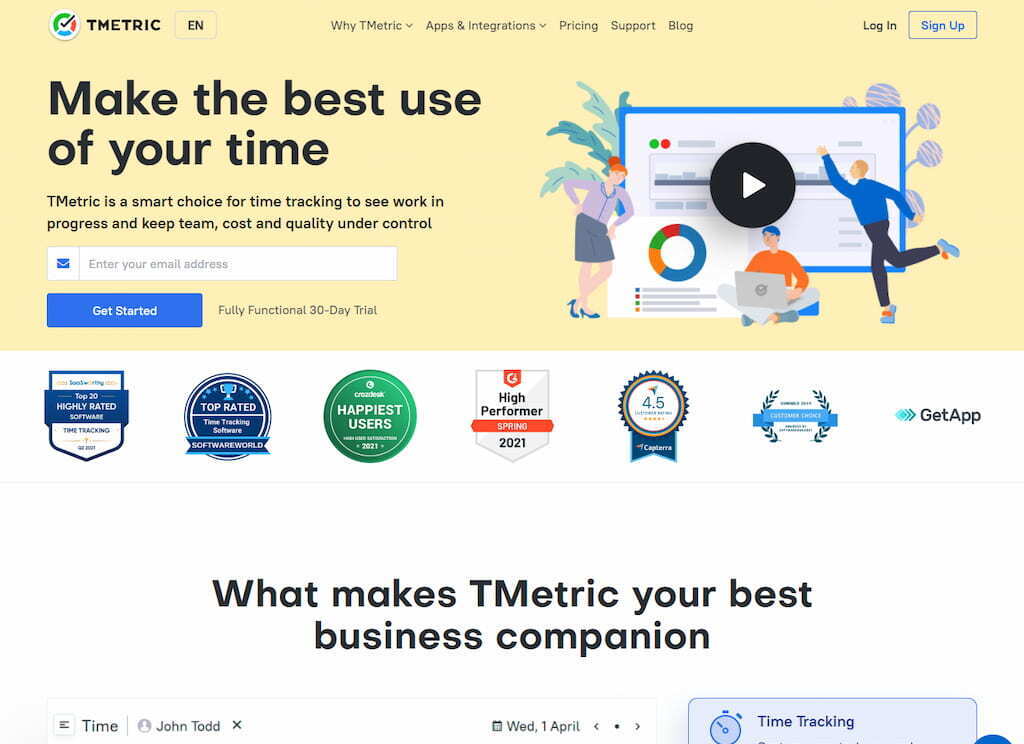 ⌛ Time Tracking
TMetric is most well-known for its time tracking feature. With just one click, you can explore a detailed overview of how employees use their time on tasks during a given time period. For an even closer look, you have the option to see which apps and websites team members are visiting most frequently throughout the day.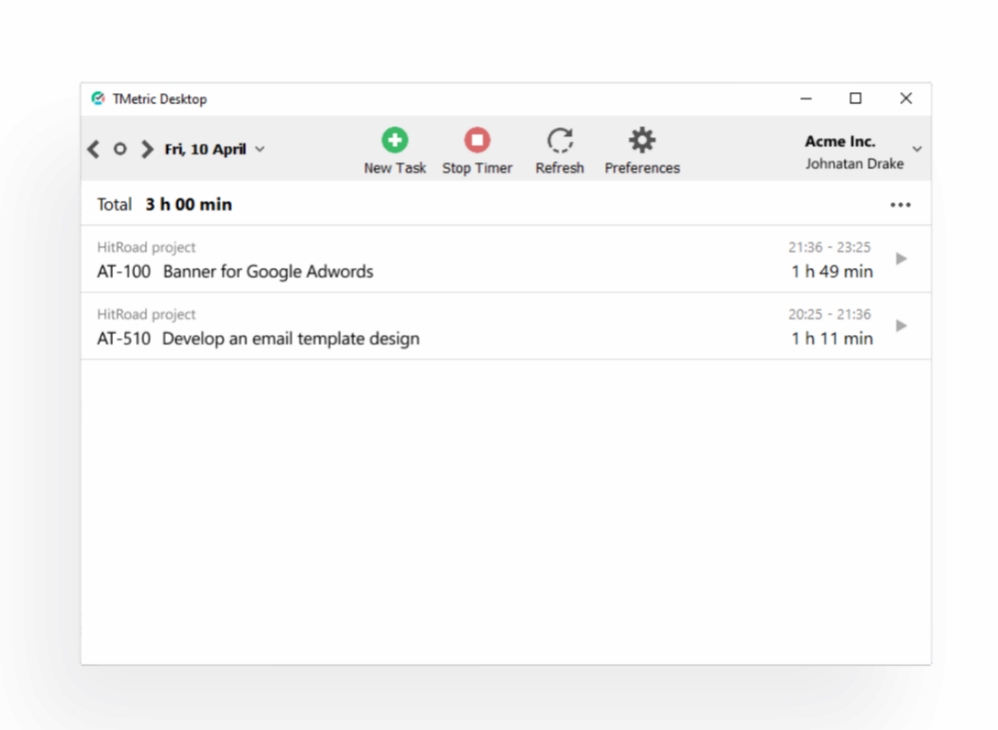 Additionally, TMetric has a zero online activity feature, which allows users to set special reminders if the app sees that there's been no activity for a given period of time. Another great time tracking feature is that you can use TMetric without an internet connection to track your time wherever and whenever you need to.
📚 Task Management
TMetric also has task management capabilities. The app enables you to stay on track with tasks and build productive workflows. With TMetric, you can stay on top of your to-do list thanks to the task lists feature. There, you can monitor tasks, see change history, set deadlines, and assign tasks to team members easily. Additionally, you can view accurate time estimates for tasks, giving you the ability to see which takes are taking longer than necessary.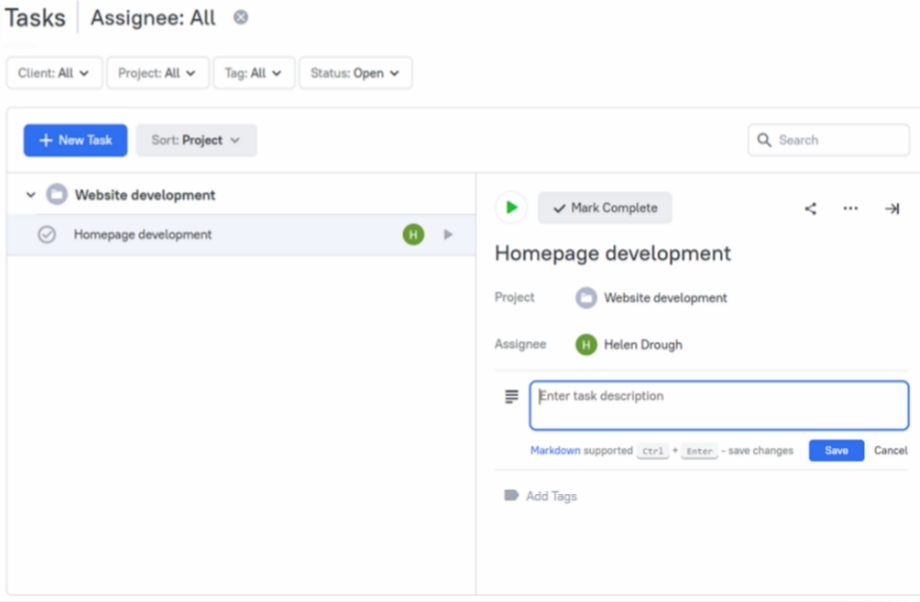 🧮 Billing & Invoicing
TMetric provides accurate billing and invoicing tools that take much of the stress of being promptly paid. You can assign billable rates to specific workspaces, clients, projects, and workspace members, allowing you to transform rates into invoices. Once you have completed a piece of work, simply create an invoice to send to the client.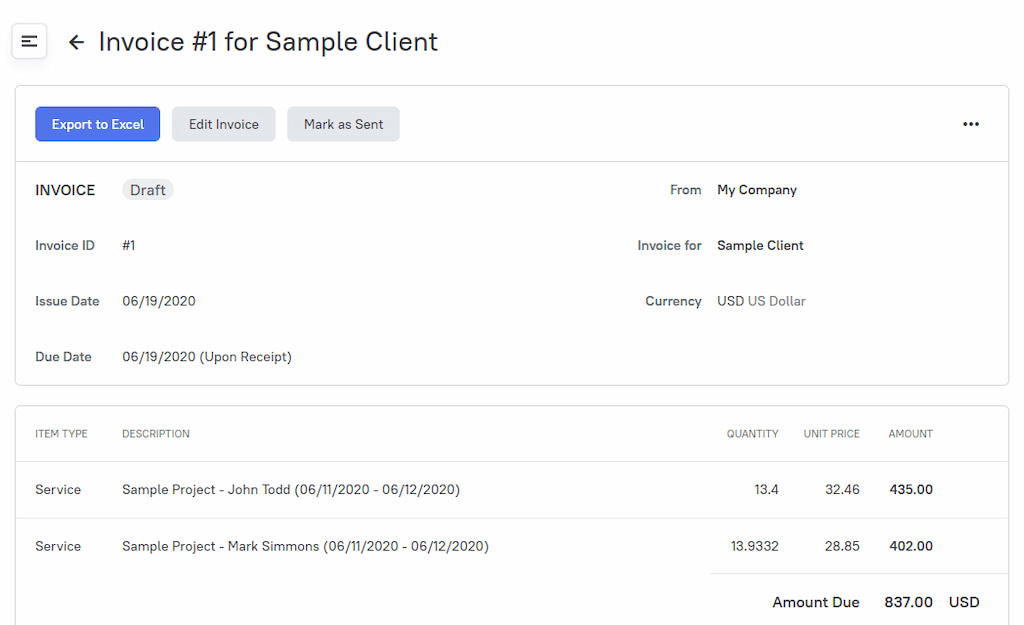 Alternatively, you can export a time report, which you then send to the client, and the time will be marked as invoiced. Additionally, with TMetric, you can customize invoices to contain your organization's name, logo, address, and the client's personal details.
📄 Reporting
With TMetric, you can review and analyze time tracking entries in reports. These reports contain detailed information about team members, projects, tasks, apps, and websites, allowing you to get an insight into team productivity and progress.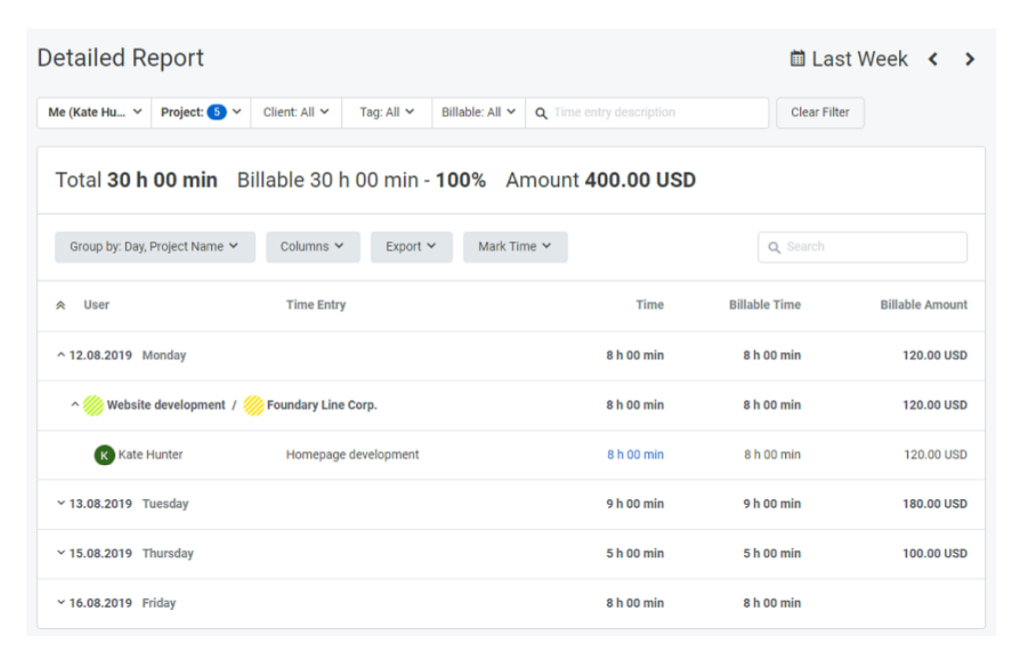 Several types of reports are available, including projects summary, tasks summary, team summary, activity summary, apps usage reports, and more, giving you the flexibility to monitor different aspects of team performance.
👩‍💼 Project Management
TMetric allows you to control projects from the moment they begin to the moment they are completed. Receive a detailed overview of how your team is coping with specific project tasks and identify tasks that may need to be moved to a different team member, enabling you to complete projects on time. In addition, you can set project budgets by time or money. When a budget is set, you can activate notifications to let you know that you are out of time or money for a specific project, ensuring that your work remains profitable and within the project scope.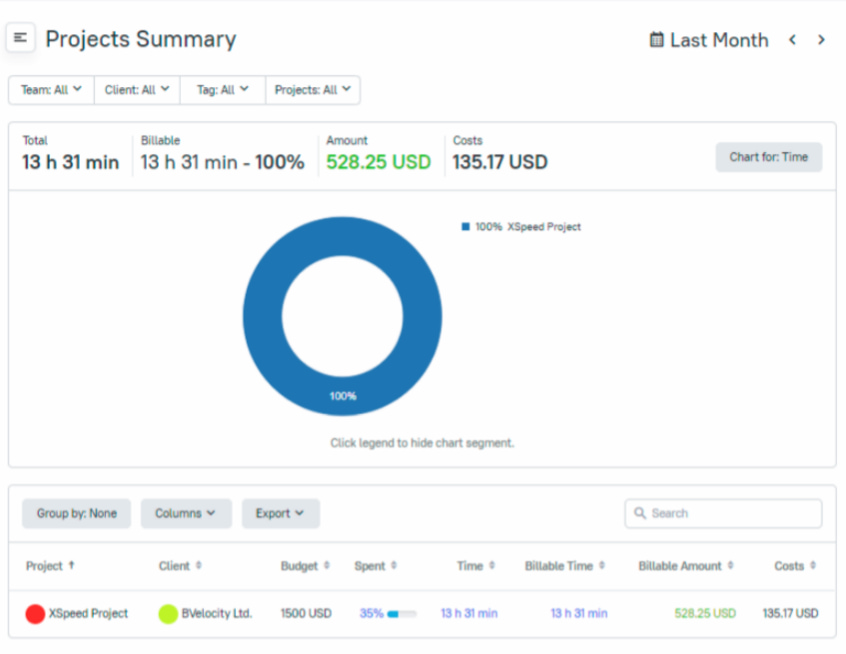 Plus, with TMetric, you can track how much money a project earned according to the time spent on said project.
🔁 Integrations
One of the best ways to make the most of TMetric is to integrate the platform with the other apps you use on a daily basis. Integrate TMetric with dozens of apps to track time spent on work, create detailed reports and monitor your team's activity.
Integration with project management tools allows users to track time on tasks within their platform of choice. In a similar vein, integration with accounting platforms allows users to track billable hours for more accurate invoices. Integrations allow users to keep tabs on their activities within their chosen platform to ensure they are using their time as efficiently as possible.
🔧 Support & Platforms
TMetric offers a range of helpful support options. Customer support comes in a range of forms, including help pages on the website with tutorial videos, user guides, and FAQs. If a user needs further assistance, they can contact TMetric by emailing their support team.
TMetric is available on several different platforms, including desktop, iOS, and Android, and the TMetric browser extension is available to use on Chrome, Firefox, Opera, Edge, and Safari.
💰 Pricing
The price you'll pay for a TMetric subscription depends on the size of your team. For example, if you are purchasing a subscription for one person, you'll pay $7 per month for the Business plan, $5 per month for the Professional plan, and $0 for the Free plan. Alternatively, if you are purchasing a subscription for a team of 10, you will pay $70 per month for a Business plan and $50 per month for the Professional plan.
❓ Alternatives
TMetric is a brilliant time tracking tool with various useful features and integrations. However, it isn't the only great tool out there. A suitable alternative would be TimeCamp, which offers many of the same features as TMetric.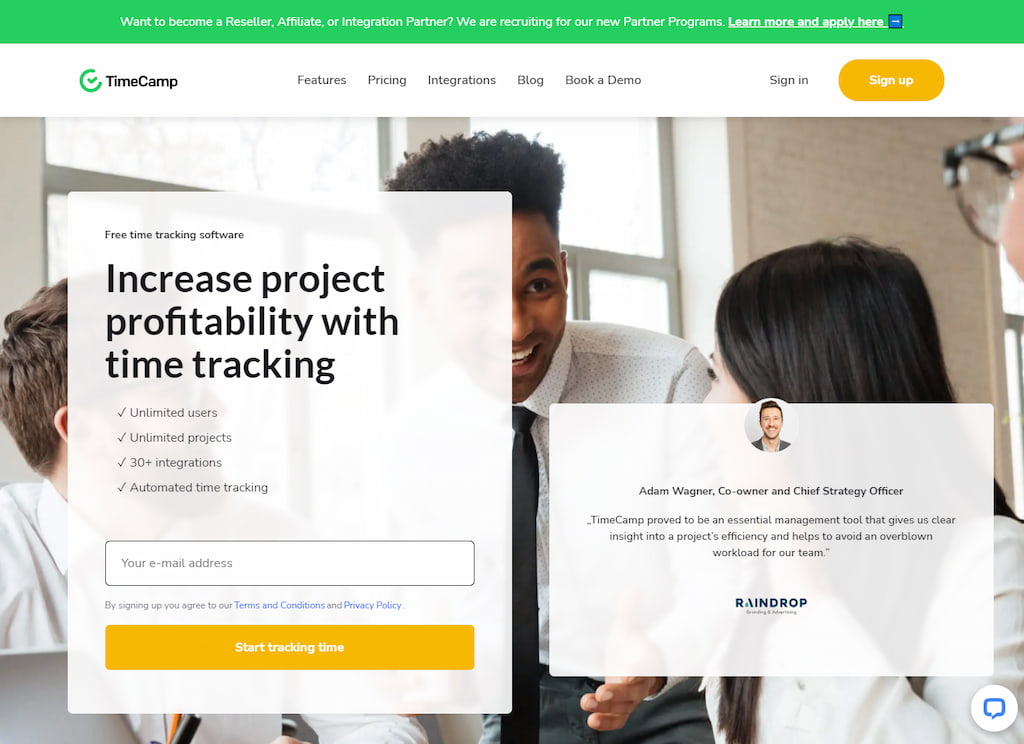 Timecamp's main features include automatic time tracking, productivity tracking, reporting tools, online invoicing, and timesheets. Timecamp is an excellent alternative to TMetric because of its easy-to-understand interface, automatic time tracking feature, and many integrations.
✅❌ Pros & Cons
Pros:
– Affordable
– Detailed reports
– Intuitive user interface
– Plenty of integrations
– Helpful customer support
Cons:
– Occasional loss of service
– Invoicing is not customizable enough
– Slow when too many projects are added
– Not mobile-friendly
The second contender, Everhour, is a powerful time tracking tool that allows users to estimate tasks, track time, set budgets, and build comprehensive reports, all inside your chosen project management tool.
Everhour Features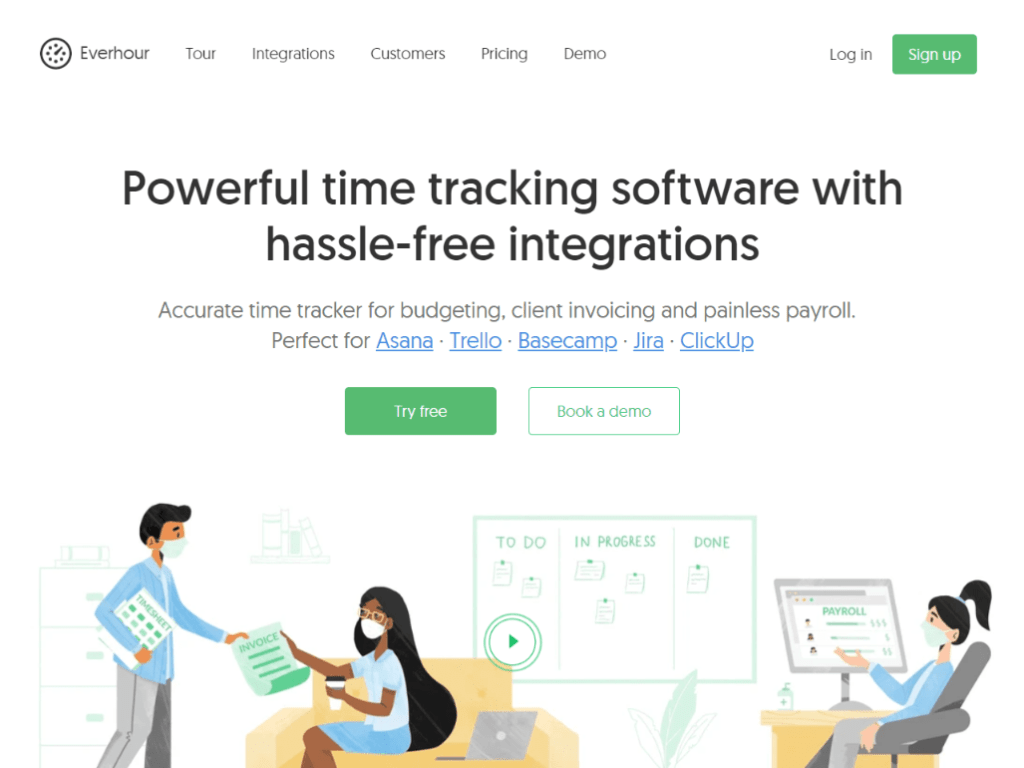 ⌛ Time Tracking
Everhour offers time tracking tools, enabling you to stop and start your timer as you complete projects or enter time manually. Additionally, project managers and administrators can review and approve timesheets (via a timesheet app) for other team members, allowing them to track work hours easily. To ensure that projects are within scope, Everhour allows you to set time estimates so you know how much time you have left to complete a project.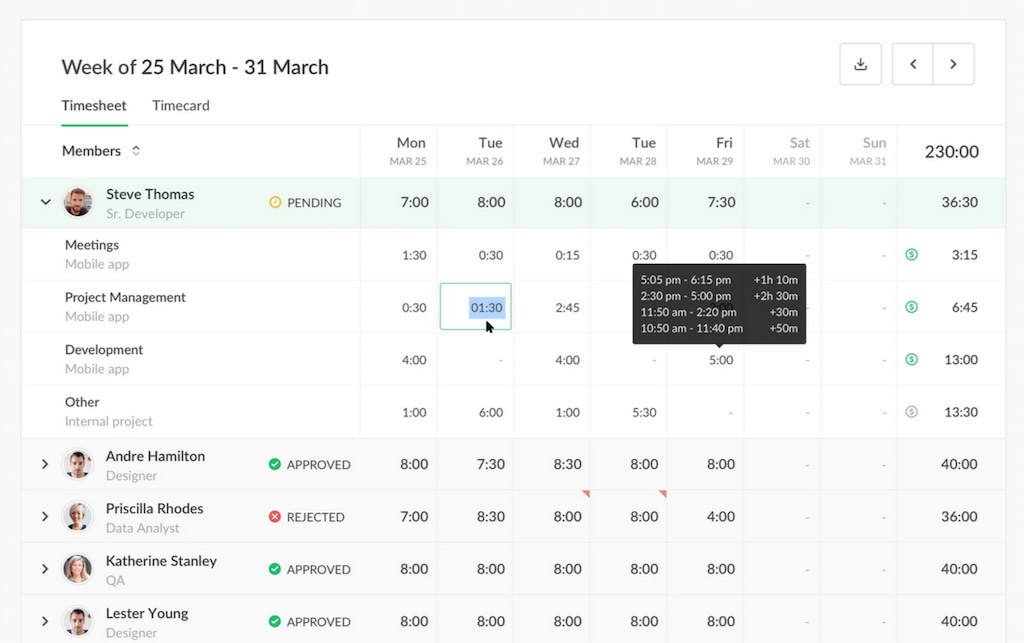 📚 Task Management
Everhour makes task management easy. You can create new tasks quickly and easily, set work priorities and deadlines, and assign tasks to team members. Make sense of your tasks by adding tags and sections to organize and add context to avoid misunderstandings.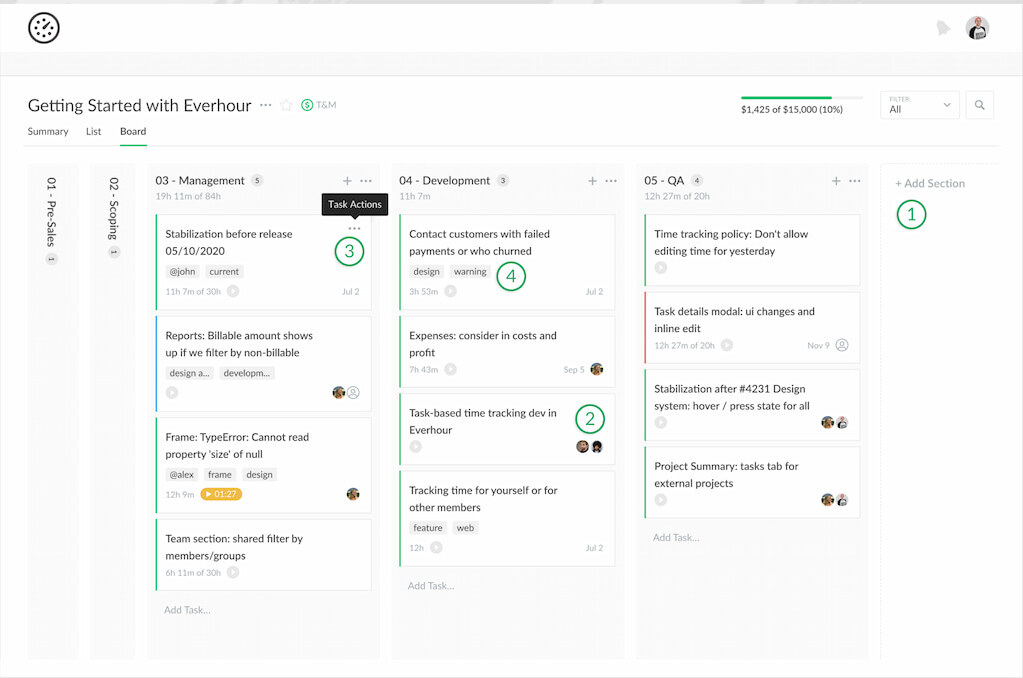 Additionally, you can choose from list or board views and copy projects with estimates and tasks to start a similar project within minutes—there's no need to waste time creating it from scratch!
🧮 Billing & Invoicing
With Everhour, tracked hours become invoices in just a few clicks, exactly how invoicing should be! The platforms' invoicing solutions allow you to create invoices based on tracked time and any expenses, add clients, assign billable project rates, and set budgets, taxes, and any relevant discounts. In addition, you can easily personalize invoices by adding your logo and business details, setting due dates, discounts, and terms, and translating invoices to the language of your choice.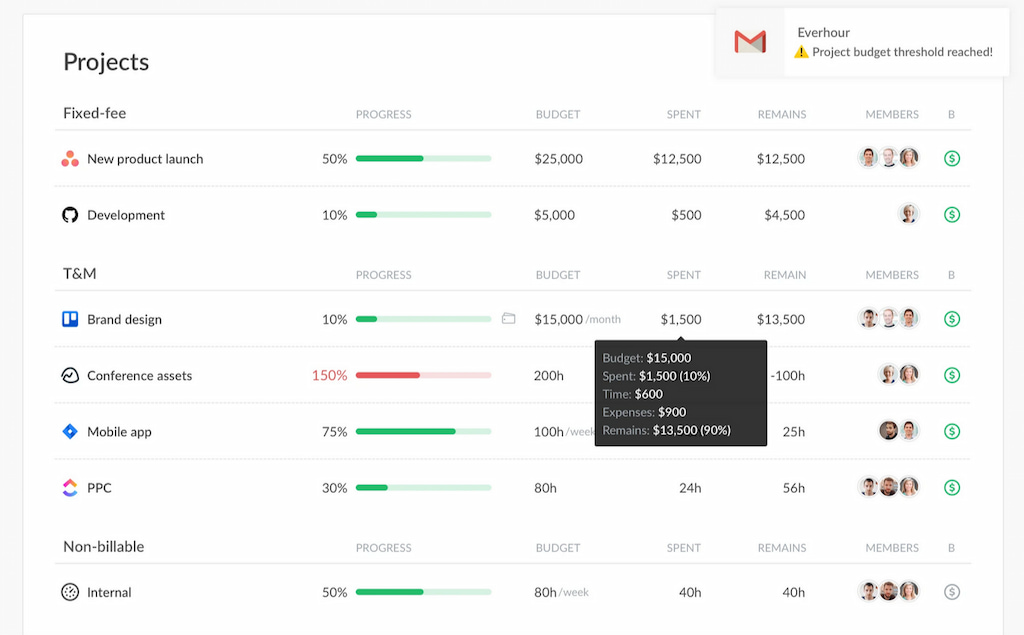 📄 Reporting
Everhour enables you to learn about your organization by accessing easy-to-generate data and charts that allow you to make changes, so your business is more transparent. Everhour's reporting toolkit consists of team timesheets which give you a structured picture of how team members spend their time.
Additionally, the live team dashboard feature allows you to see who is currently working, and member profiles give you a summary of a certain team member's work, including their top tasks and details about each time entry they make. Other reporting features include project summaries, access to metadata, constant sync, report customization, and summary emails that update you on team progress.
👩‍💼 Project Management
Project management with Everhour keeps your team on the same page by offering a combined approach to time tracking and project management. By incorporating different types of software into your projects through Everhour integrations, you can ensure that all team members are in the loop at all times. You can organize work by tasks, which ensures your time tracking stays relevant by grouping budgets, invoices, and finances by task. This will allow you to create more accurate estimates and transparent reports for clients.
There's no need to start from scratch! Simply copy a previous project and amend the tasks as necessary—you'll save yourself a considerable amount of time. Once you've created new tasks, you can see multiple views, track task progress, choose the most suitable billing types, set recurring or fixed-fee budgets, and view project summaries to ensure projects are progressing as they should be. It's project management as it should be—clear and collaborative.
🔁 Integrations
Integrate your favorite apps with Everhour to eliminate tab switching! You can integrate Everhour with dozens of platforms, including Asana, Jira, Trello, Basecamp, ClickUp, Monday, Xero, and more. It means you and your team can keep track of work across platforms – whether it's a PM or an accounting tool. You no longer need to update each platform separately. Once integrated, Everhour does it for you so everyone is on the same page.
🔧 Support & Platforms
Everhour provides a variety of helpful support tools via the Everhour Help Docs page. Detailed user guides run you through every feature on the platform to help you use the platform correctly. Should you encounter any problems, you can contact Everhour using the contact form on the company website.
The Everhour is a cloud-based solution. All you need to do is download the browser extension, which is available on Firefox, Chrome, Opera, Edge, and Safari. Additionally, the Everhour app, which is currently in beta testing, is available to download on the Apple Store.
💰 Pricing
Everhour offers three pricing options: Free plan, Lite plan, and a Team plan. Free plan offers the most basic time tracking and reporting features, while Lite plan adds invoicing, budgeting, and payroll features, and is $5 per user per month when billed yearly, and $6 per user per month when billed monthly. Team plan provides all the features you might need for a team, including time approval, expenses tracker, advanced reporting, and many more. A monthly Team plan Everhour subscription costs $10 per user per month when billed monthly, or $8.50 when billed yearly. It includes all available features, including integrations.
❓ Alternatives
Everhour is an excellent time tracking tool that allows you to track time, estimate tasks, set budgets, and build detailed reports. However, it isn't the only time tracking tool on the market. If you're searching for a similar alternative, you may want to consider Hubstaff, as it has similar features to Everhour.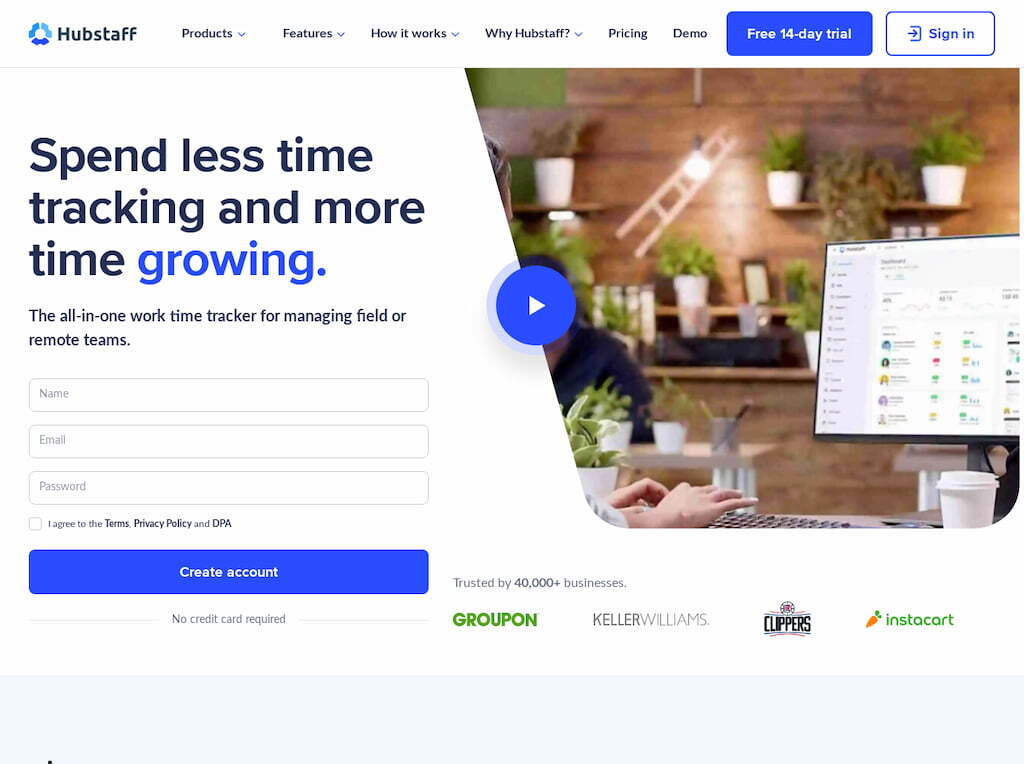 Hubstaff is a versatile time tracking and productivity monitoring app used by over 40,000 organizations worldwide. Its main features include time tracking, online timesheets, employee monitoring, productivity measurement, online invoicing, and project budgeting.
✅❌ Pros & Cons
Pros:
– Perfect for teams
– Integrates with dozens of other apps
– Easy-to-use reporting tools
– Intuitive user interface
– Affordable pricing compared to other similar apps
– Straightforward sign-up process
Cons:
– No offline capabilities
– Admin features can be difficult to find
– No Android app available at present
TMetric vs Everhour: the Bottom Line
Both time tracking applications have many brilliant features that make them stand out in the market. But they also have their pros and cons. Let's start with the pros:
TMetric:
– Wide variety of features are available
– Affordable plans for businesses of all sizes
– Detailed, insightful reports
– Easy-to-use user interface
– Plenty of project management and accounting integrations
Everhour:
– Ideal for teams
– Dozens of integrations are available
– Easy-to-use time tracking tools
– Intuitive reporting
– Cost-effective for the features you receive
But what about the cons? How are TMetric vs Everhour fare against each other in regards to them?
TMetric:
– Occasional service interruptions
– Lack of customization for invoicing
– Not mobile-friendly compared to other similar platforms
Everhour:
– No offline capabilities
– No Android availability
While TMetric focuses more on providing a wide variety of features, Everhour provides in-depth time tracking features that enable organizations to keep tabs on employee performance. So whichever tool you choose, you've made a good decision to reap the many benefits of time tracking!