Projects Get a Fixed-Fee Billing Method
October 31, 2019
Projects now have a fixed-fee billing method that does not change the billable amount if you track time into it. As a result, you are able to see the extra spent amount against the nominal fee as well as internal costs if you pay your employees by the hour.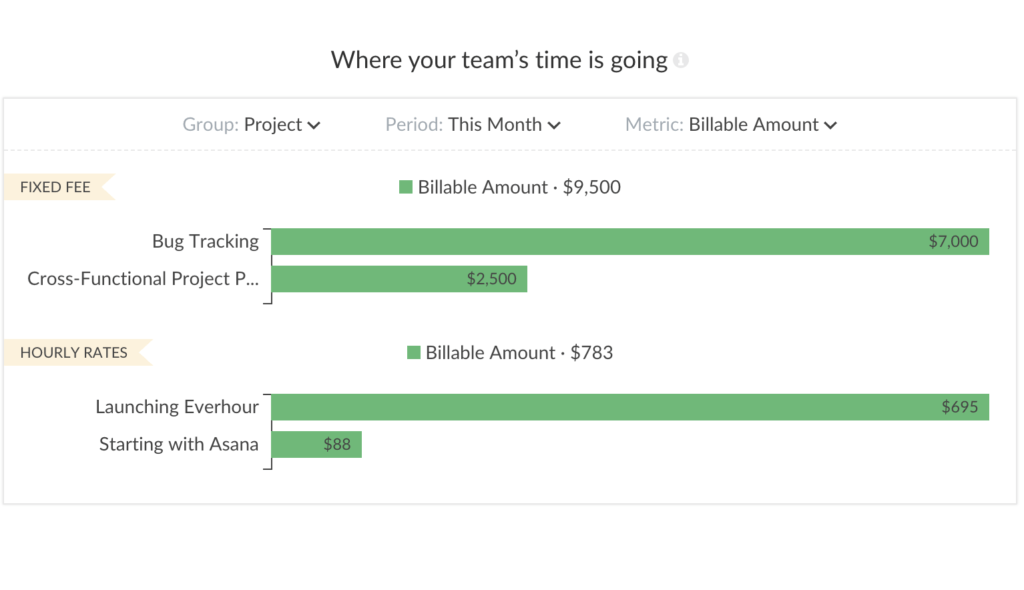 When Do You Need a Fixed-Fee Project
Up until recently, Everhour used to work best for teams that worked with hourly rates. This is simple: you track work time, send a report to a client and they pay for that time based on the hourly rates of your team. If you have an agreed budget with your client, you can track the team's progress and be alerted when the time reached the limit of the budget.
However, things get complicated when you get the same payment each month and don't charge hourly. Here is a quote from one of our customers, who explains the pain:
"We have a client who has 4 hours work PCM which is prepaid on retainer and we don't bill as such for this because it's an agreed fixed amount of support each month. If they go over the 4 hours, then we bill by the hour for it beyond the 4 hours. "
As you see, this is very important to monitor when you cross the paid line and how much you exceeded.
Changes to Set a Project Budget and Billing Method
We have combined the budget and billing method option to manage under one modal. For billing, the choices are:
Hourly project rate applies to everybody's time.
Hourly member rate takes the default rate member rate that can be optionally changed per project.
Fixed fee is a pre-defined billable amount (e.g. $5,000) that does not change with reported time.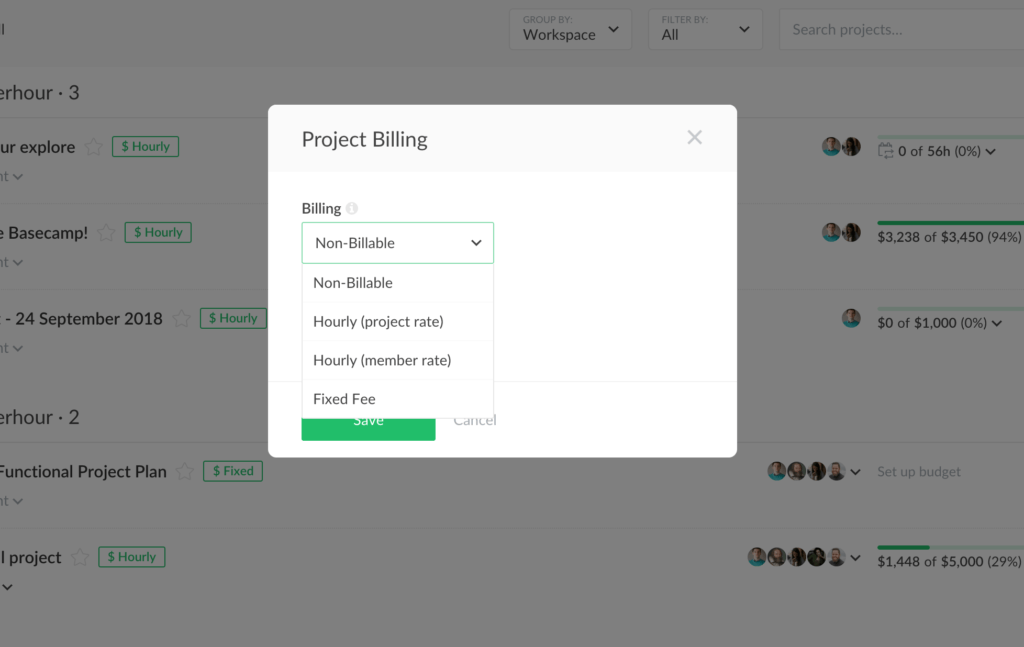 The budget has the following options list:
No budget.
Total project hours display the budget as time and show the amount and % reported from it.
Total project fees show budget and progress in money. This option applies only if a project is billable.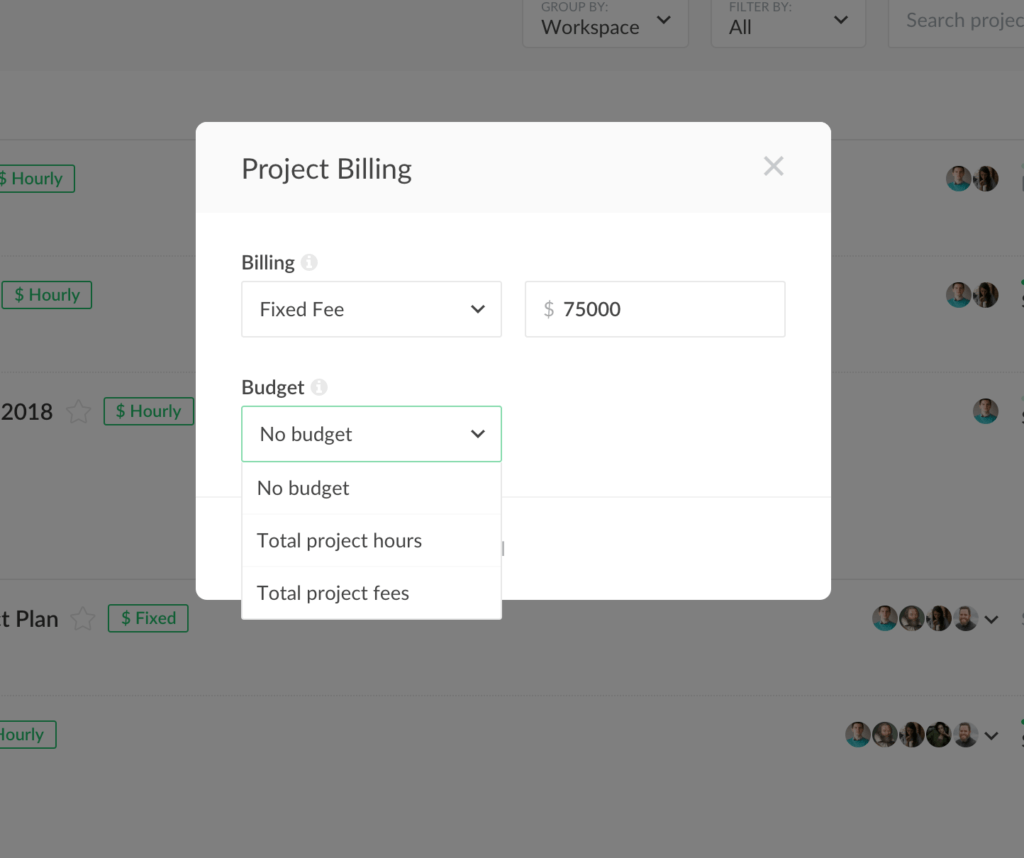 Different budget actions like alerts or sharing a budget with a team are also in this box. You could see them by clicking on "More budget actions".
How We Display Projects With a Fixed-Fee Budget
We had to rethink how to display the billable amount for 2 types of statuses. You will see these changes on Home charts, in reports, and in dashboards.
On your Home page, there is now a chart that enables you to compare the time for fixed and hourly rate projects if you filter the view by the billable amount or by profit. The fixed fee billable amount does not change with the period.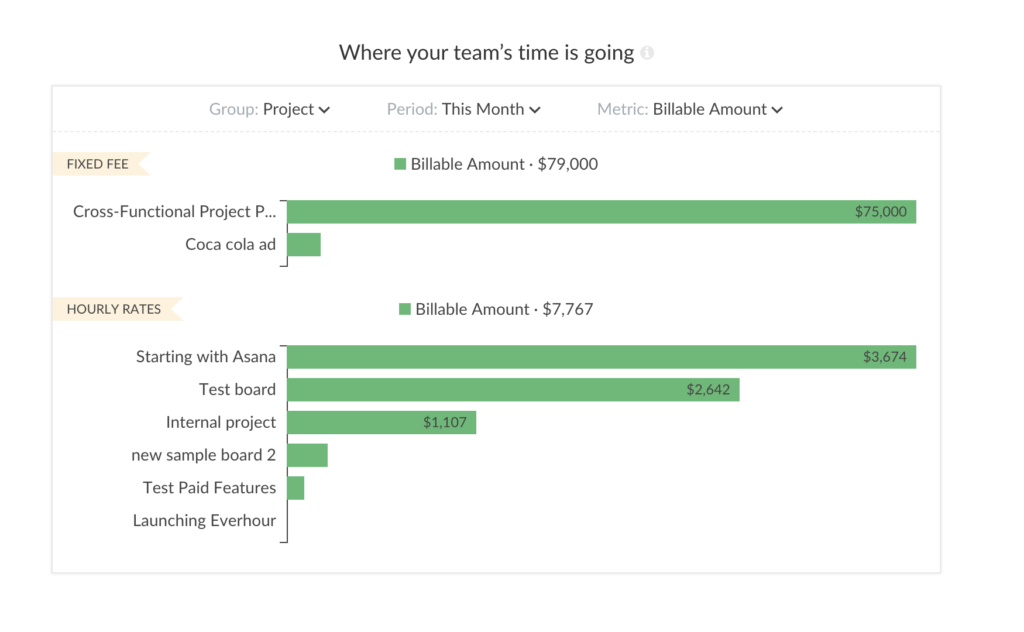 Summary dashboards of fixed projects show the total billable amount and 0 for all particular periods.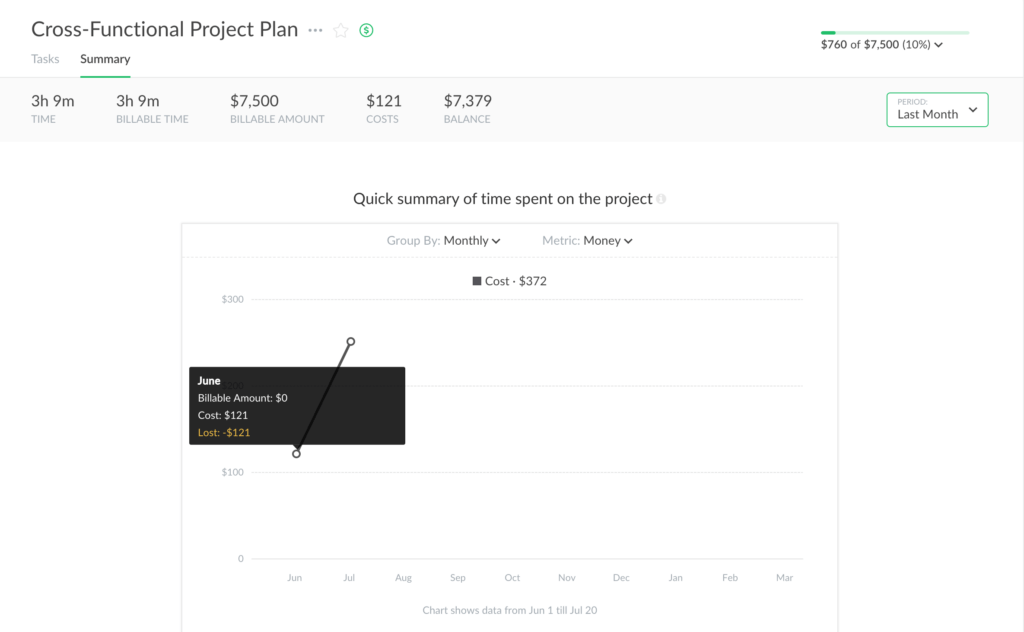 Reports show a fixed billable amount for such projects despite the period that you select in a report. If, in addition to that you show the budget as money, it will be equal to a project fee. We update what was spent and remains by multiplying your rates or costs by the billable time.
So, going back to a user example, we can select the billing method as a fixed fee. The budget is 4 hours/month. We spent 5 hours. The report shows us the time spent this month, the negative remaining time, a fixed billable amount.

From this report, we could understand what is over the fixed fee and charge our client additionally for that extra hour of work.