Time tracking is a crucial part of any project. Without proper tracking, other aspects of your project – such as billing, resource management, and more – won't be properly accounted for. You also won't know where you can afford to spend more time and where you should cut back.
In other words, to keep your daily operations efficient, you need to have the best time tracking software in your arsenal. One of the best time tracking apps in the industry right now is TimeCamp.
In this article, we'll see how TimeCamp does time tracking and compare every aspect of it to Everhour to determine which one you should choose for your time-keeping needs.
What Is TimeCamp?
TimeCamp is a powerful time tracker with the best project management on top. Let's see how it fares in the most standard aspects of a time-tracking app.
🕒 Time tracking
TimeCamp offers two options for time tracking. You can either enable the Computer Time feature, which automatically logs all the hours you spend on your computer by detecting which apps or sites you're actively using, or manually log your time for each task.
You can let TimeCamp's Computer Time run in the background even when you're offline, and it will sync your data to the cloud once you've reconnected to the network.
🔄 Integrations
However, the way that TimeCamp works is that the integrations merely allow you to import specific elements – such as individual tasks – from other platforms.
Additionally, not all integrations work the same way. Some allow you to track time from the extension, but you still have to go to TimeCamp to log your work hours. This makes actual tracking quite a hassle if you need to switch between different platforms and tabs.
💰 Billing and budgeting
TimeCamp's billing and budgeting features allow you to track revenues and costs effortlessly. With TimeCamp, you can:
Automatically create viewable reports
Set budgets and billing rates manually on the TimeCamp platform
Create detailed invoices that include specific information such as rate, hours, tax, total, issue date, PO number, and business logo
📄 Invoicing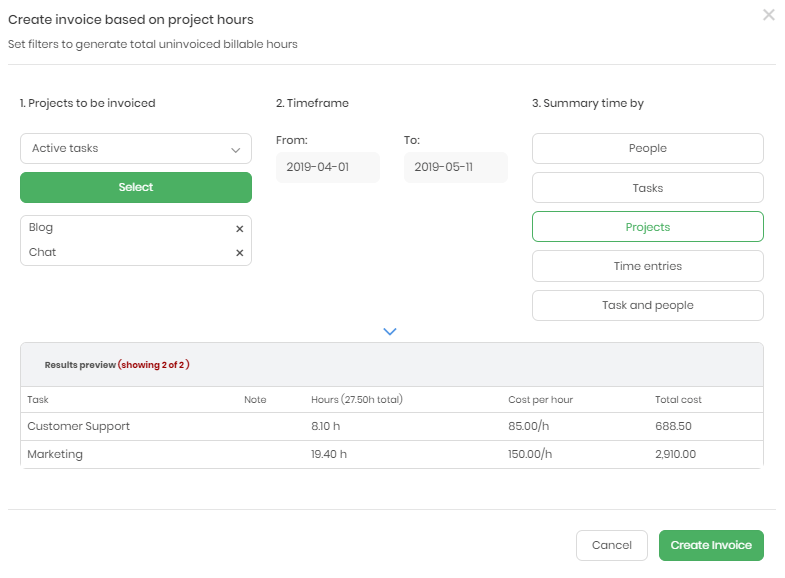 TimeCamp also offers an integrated invoicing module for your convenience. With TimeCamp, your logged work hours automatically translate into accurate invoices for different types of clients, with adjustable tax rates.
TimeCamp even allows your clients to make PayPal payments straight from the invoice document. It can also automate approvals and invoice reminders.
🚧 Project management
TimeCamp allows you to create and edit projects using the Project Management feature. You can manually create a project tree on the platform and assign project tasks to specific users.
If you want to manage tasks from another tool or software, you can import items to the TimeCamp dashboard.
📅 Employee scheduling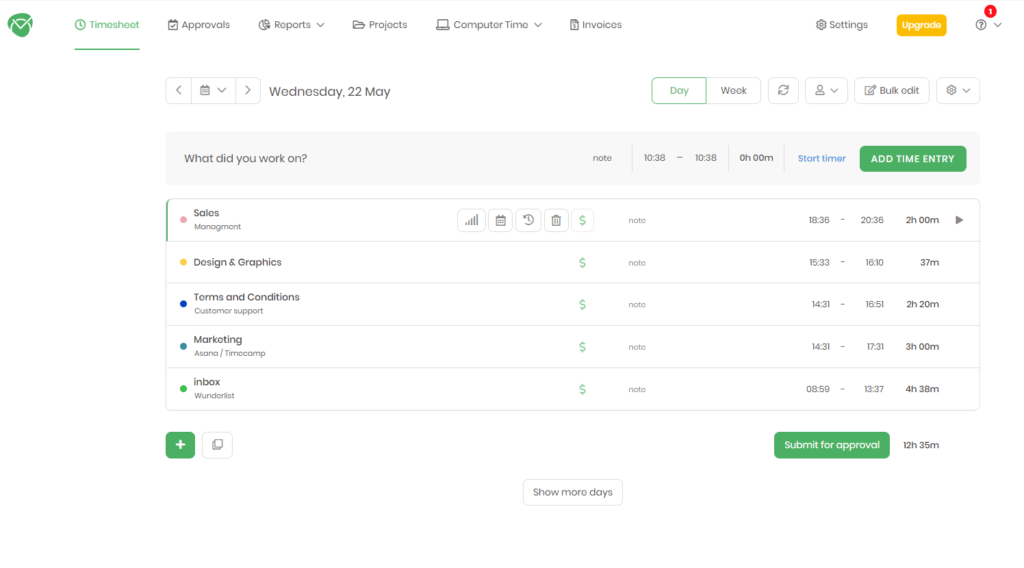 TimeCamp has an attendance module that lets you track when your clients logged into their PCs and how much time they spent working. You can view the results as a comprehensive timesheet.
One standout feature that TimeCamp has is that you can also mark vacation times, absences, special leaves, or free days.
Unfortunately, TimeCamp doesn't have a built-in employee scheduling feature like Everhour, which means that it first needs to integrate with a specific work schedule planning app.
🧑‍🤝‍🧑 Team management
The closest feature to team management in the TimeCamp software is its productivity tracking feature. This tool allows you to see all-time statistics such as websites visited, idle time, and private time.
You can also set hourly goals for your team, measure the hours they spent on meetings and other offline activities, and even initiate optional screenshots of a team member's dashboard for proof of work.
📋 Reports and dashboards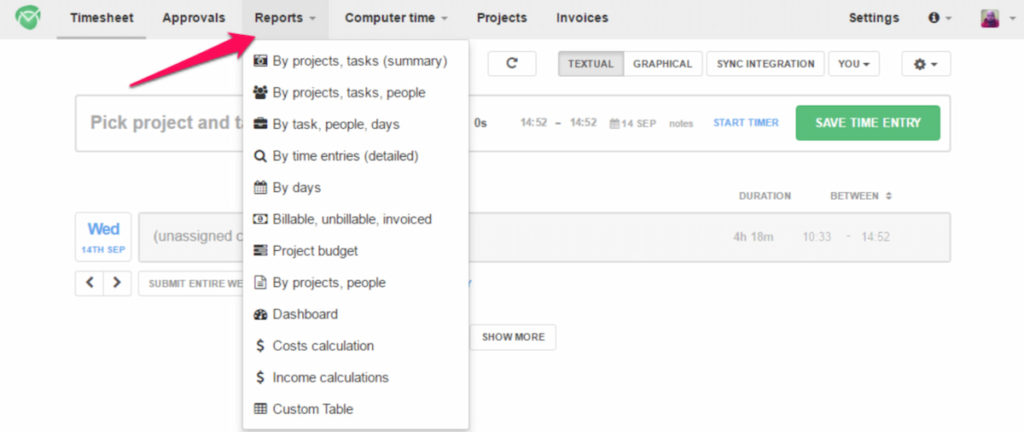 Reports are also one of TimeCamp's strong suits. Although it already has over 10 built-in report templates, it still provides users the ability to create custom-built reports.
TimeCamp's reports are divided into five main categories:
Time reports
People reports
Budgeting reports
Real-time dashboard
Computer activity data
💰 Pricing
No matter how great the features are, if the software isn't within your organization's budget, then using it may be unsustainable. That's why it's important to choose time tracking software that best suits your budget.
TimeCamp has four different tiers (Free, Basic, Pro, and Enterprise) with two subscription plans (Monthly and Yearly). TimeCamp has a free version that can accommodate unlimited users and tasks. It can only be used for time tracking, though.
For more features, you have to purchase a paid subscription. The Basic tier costs $7.00 per user for one month and $5.25 monthly per user for the annual subscription. The Pro tier, on the other hand, costs $10.00 per user for one month and $7.50 monthly per user for the annual subscription.
Lastly, if you want a solution that's tailor-fit for your business, you can opt for the Enterprise tier. You can talk to an agent to get a quote.
What Is Everhour?
🕒 Time tracking
With Everhour, you don't have to switch between tabs or even click on the extension icons of your browser just to count your hours.
For instance, if you're using Everhour with Trello, you can easily see all the timer controls (start, stop, and continue), running timer, and total time spent right on the to-do card.
You can also do this for many project management software around, making it very easy to track your time – as long as you're connected to your Internet network the entire time.
👨‍⚖️ Verdict
TimeCamp's Computer Time feature is very handy for individuals whose work can be taken offline, as long as it doesn't involve other software or plenty of website switches. On the other hand, Everhour may not have an offline version or automatic time tracking, but its seamless integration makes time tracking a lot more convenient.
🔄 Integrations
Integrations are one of Everhour's biggest strengths. Everhour can integrate with many popular project management tools, such as Trello, Jira, Asana, and more. As mentioned, you can track and control your time within the platform without having to switch tabs or toggle an extension.
Everhour doesn't just integrate with time trackers; it can also integrate with accounting, team communication, CRM, and even other integration software. Some of the most popular integrations for Everhour include Slack, Zapier, Basecamp, Xero, etc. – 15 integrations overall.
👨‍⚖️ Verdict
Both apps can be integrated with a wide variety of tools and platforms, with TimeCamp allowing more integrations than Everhour. That said, TimeCamp can't be operated straight from the integrated platform, while Everhour can.
💰 Billing and budgeting
Everhour has built-in billing and budgeting features that help you keep all your project management invoicing up to date. With Everhour, you can:
Set billing types, amounts, and rates (with customizable single and separate rates, as well as fixed fees), take care of billable and non-billable hours
View and control rates directly on the project management/work platform like Basecamp
Modify budget settings and control task assignment based on budget restrictions
👨‍⚖️ Verdict
Both TimeCamp and Everhour have features that can help you bill your customers and create budgets. However, TimeCamp's settings aren't as detailed as Everhour's. At the same time, TimeCamp doesn't have Everhour's level of integration, so you have to do everything on the platform. This can be a hassle if you just want to modify little things like rates and hours.
📄 Invoicing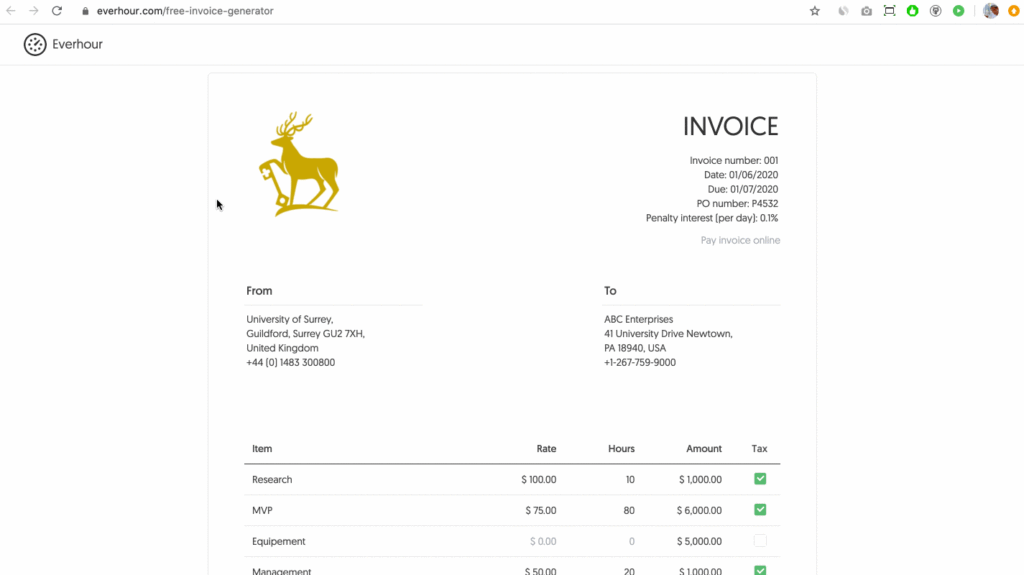 Everhour features an integrated invoicing module that keeps a detailed record of your work hours, rate, and total amount. It also shows your invoice history and displays internal notes for your team members. Additionally, Everhour features the following invoicing features:
Tracking invoice opens
Multiple invoicing language settings
Creating and editing invoice templates
Export a copy of your invoices to accounting software
👨‍⚖️ Verdict
Both Everhour and TimeCamp have robust built-in invoicing modules for a seamless invoicing experience based on logged work hours and rates.
🚧 Project management
As mentioned above, Everhour can integrate with project management software like Asana and Trello to help you with your project management needs.
This plugin will create additional buttons on the other platforms to give you on-screen access to features like time tracking and billing. More than that, Everhour admins can also create internal projects on the Everhour platform itself. You can:
Create a project template
Assign tasks to employees
Choose who can see the project
View projects in list or kanban board form
Customize project details like tasks, contributors, content, tags, and description
👨‍⚖️ Verdict
Both Everhour and TimeCamp have a project management feature that can be integrated with other tools. However, TimeCamp needs frequent tab switches to log changes in the project details. The in-app platform that TimeCamp has also doesn't have the same level of detail that Everhour does in its dashboard.
📅 Employee scheduling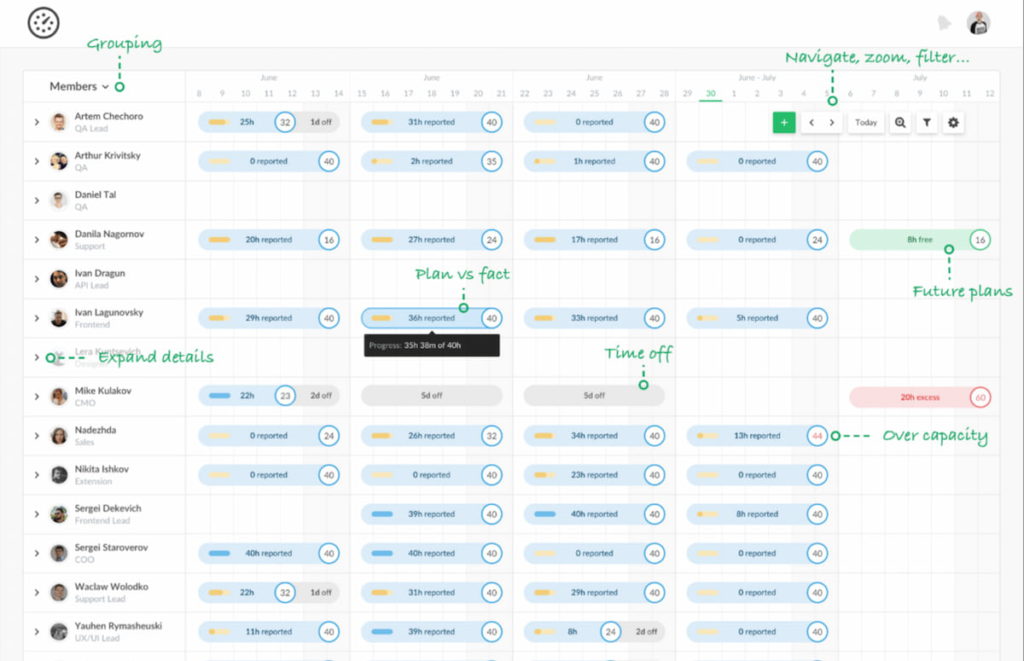 The main strength of the Everhour platform is that it gives you a comprehensive view of the employee schedules in a comprehensive calendar platform. The calendar shows you the dates, your team members, and the tasks assigned to them according to your specifications.
The tasks are displayed in an easily-understood Gantt chart-like manner, where tasks per employee are displayed as a starting line that occupies certain dates from beginning to end.
This way, you'll know exactly what tasks are due on a certain date and which employees have the most responsibilities within a period. Everhour also lets users:
Show available time slots
Modify access/permissions of various dashboard users
Cross-reference to budget and billing platform
👨‍⚖️ Verdict
If you're interested in knowing your employees' off-days, TimeCamp is a great option. If you'd rather have a built-in work project scheduling feature, though, you're better off with Everhour.
🧑‍🤝‍🧑 Team management
Everhour allows you to manage relevant team metrics straight from the home page. With just one glance, you can get deep insights into your team's current status.
For example, it displays a list of your team members with badges that shows who:
is absent
tracks their time with Everhour
is currently active but not tracking hours
hasn't tracked their time at all
The home page will also display a two-week summary of the hours your employees worked. Here, you can see actual hour distributions and filter through all of the tasks for a set period, with different comprehensive dashboard views for your convenience.
👨‍⚖️ Verdict
Everhour has everything you need for team monitoring and management. To be fair, while TimeCamp may not have a module specifically for team management, its productivity tracking feature does a good job of letting you see how your team is spending their time.
📋 Reports and dashboards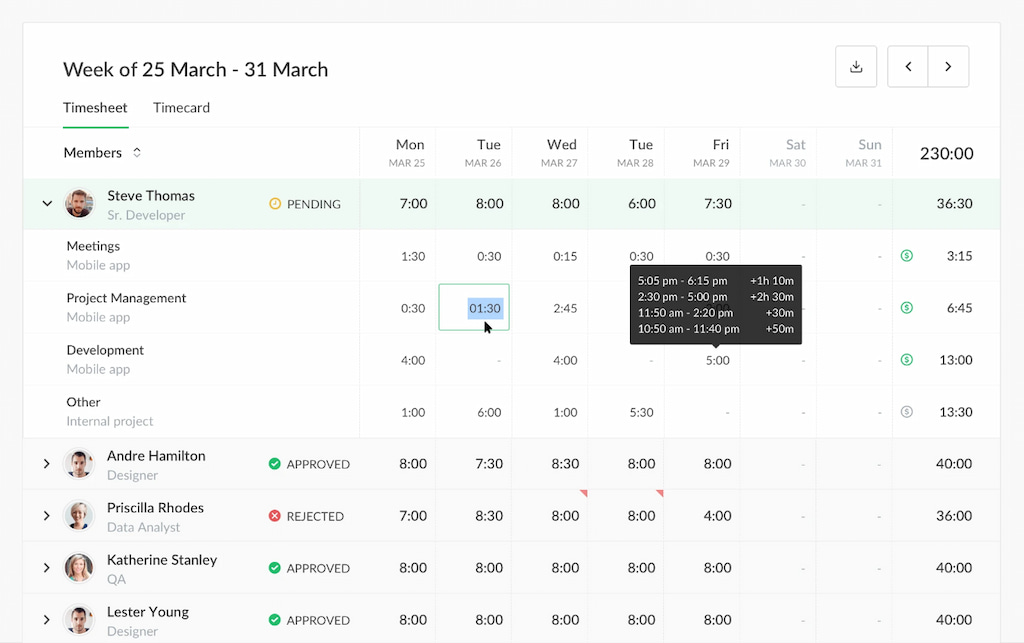 Everhour gives you both a default report dashboard and a fully customizable timesheet report that can serve any purpose you might need. With Everhour, you can expect the following:
Customizable templates. By simply toggling columns on and off, you can change formatting, content, period, time and date format, and more. Plus, you can save these into templates so that you won't have to re-do the format anytime.
Filters. The platform has both basic and advanced filters that allow you to reveal the most relevant information.
Access. Only Everhour team administrators can create reports. However, they can choose to share the reports with other members. You can also change what other members can see.
One of the best features of Everhour is that it can sync data across all its integrations, which means you don't have to manually add each entry from different platforms.
👨‍⚖️ Verdict
Both apps have the equally strong report and summary features, which is great for absolute transparency.
💁‍♀️ Customer support and knowledge bases
Onboarding to a new platform is rarely a smooth ride. Often, you need to sort out a few wrinkles and remove a few kinks to create a well-functioning system.
Customer Support
Both Everhour and TimeCamp offer adequate guidance in terms of customer support, although there are slight differences in the channels available.
Everhour. Everhour only entertains emails during business hours. There is a chat service but it doesn't work 24/7.
TimeCamp. TimeCamp allows you to contact their representatives 24/7 via chat or email.
Knowledge Base
Both apps offer in-depth and high-quality blogs, instructional texts, and YouTube videos. However, Everhour is slightly more helpful because of its Everhour Help Docs, a page that contains neatly-organized articles about setting up, specific features, and product extras. It also offers users free tools and resources such as templates and calculators to make their tasks much easier.
TimeCamp has instructional articles on its blog, but it's not arranged to be as user-friendly as Everhour.
🔨 Supported platforms
Both platforms run on the most popular desktop and mobile operating systems, such as Windows, macOS, iOS, and Android. Only TimeCamp can run on Linux, though.
Meanwhile, while both have browser extensions available on Google Chrome and Microsoft Edge (with Everhour being one of the great Microsoft Edge extensions), only Everhour can run on Mozilla Firefox, Opera, and Safari.
💰 Pricing
Everhour has two variants (Cloud and Server) with two payment plans (Monthly and Yearly.) For the Cloud variant, you need to pay $10.00 monthly for the one-month subscription or $8.50 monthly for the annual subscription.
This covers five users and gives access to all the features of Everhour, such as unlimited integrations and projects. If you want a private server, you can talk to a sales representative for a personalized quote. Everhour offers a 14-day free trial, regardless of the variant and payment plan you choose.
Everhour vs TimeCamp: The Bottom Line
There are many other time tracking tools out there, but Everhour and TimeCamp are two of the best. Both are competent trackers in their own right, and choosing which of them to use could be difficult. This article discussed their features and highlighted the pros and cons of their tools for your reference.
If you want a more individual-focused time tracking toolset that offers its most basic services for free, then you should consider TimeCamp.
On the other hand, if you require a more detailed solution for your personal, team use, or company use and don't mind paying for it, then you should try out Everhour today. In Everhour vs TimeCamp battle, the choice is yours.