Best Billing and Invoicing Software with Project Management Features
Mike Kulakov, November 15, 2023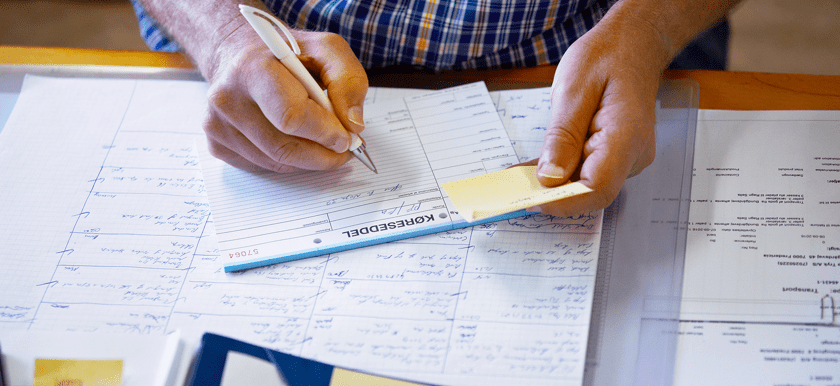 Managing your cash flow is essential to your business processes. To do this effectively, you need to document every billable item. But with a million things on your to-do list, it's easy for the little things to slip through the cracks. Milestones get missed, timesheets are inaccurately filled, and minor expenses go untracked.
One way to solve this problem is to use billing and invoicing software that also has project management features. With the right software, not only do you avoid missing a billable hour; you get to keep an eye on your team's productivity too.
Software
Key Features
Best For
Price
Everhour

Creates accurate invoices from all logged work
Easy time tracking that natively integrates with your favorite PM tool
Beautiful custom reports you can export as PDF
Project management and time estimates

Deep, custom time reports, native-looking integrations
Free
Lite: $5 per user per month;
Team: $8.5 per user per month
Harvest

Creates invoices from tracked time and sends auto payment reminders
Accept payments online
Can be combined with Forecast for better project allocation

SMBs with more complex operations
Free: 1 person, 2- projects;
Solo: $12 per month;
Team: $12 per person per month
Hiveage

Create detailed estimates you can convert into invoices
Effortlessly create expense payments you can convert into invoices
Support for more than a dozen online payment gateways, including Paypal, Stripe, and Coinbase

Fast and simple invoicing
Starter: $15 per month; Basic: $29 per month;
Studio: $59 per month;
Company: $79 per month
Paymo

Plan projects with Gantt charts and Kanban boards
Schedule resources in a beautiful timeline and manage tasks in realtime
Turn timesheet data into invoices

Project-based businesses
$14.95 per user per month
FreshBooks

Easy invoicing with credit card acceptance
Automated expense tracking when you connect your business credit card or bank account
All-in-one project management, team collaboration, and time tracking software

Agencies and consultancies
Lite: $15/month to bill up to 5 clients;
Plus: $25/month to bill up to 50 clients;
Premium: $50/month to bill up to 500 clients
Zoho

Send branded invoices and accept online payments
Client portal that lets them see timesheets, invoices, and estimates in one place
Time and expense tracking
Integration with other Zoho programs and Google apps

Businesses with heavy CRM needs
Free: invoice up to 5 customers;
Basic: €7 per month (1 user; invoice up to 50 customers);
Standard: €15 per month (3 users; invoice up to 500 customers);
Professional: €30 per month (unlimited users; unlimited invoices)
Workflowmax

Flexible invoice design
Calculate your invoice by quoted/estimated time, actual time and costs, percentage of the quoted value, or progress amount
Job management and time tracking
Create invoices and push to them Xero

Xero Integration
$15/month for 1 user;
$49/month for 2-5 users;
$110/month for 6-10 users;
$170/month for 11-20 users;
$250/month for 21-50 users
Everhour: Best for Deep, Custom Time Reports
Everhour is largely known as time-tracking software, but it is so much more than that. It integrates seamlessly with JIRA, Asana (and its alternatives), Trello, Basecamp, and other project management tools, then creates accurate invoices out of all tracked activity.
Using Everhour is as simple as hooking it up to your favorite project management tool and tracking the time. As soon as the data is captured by Everhour, you can then build custom reports, visualize the data as you please, and export this as a professional-looking PDF to send to your clients.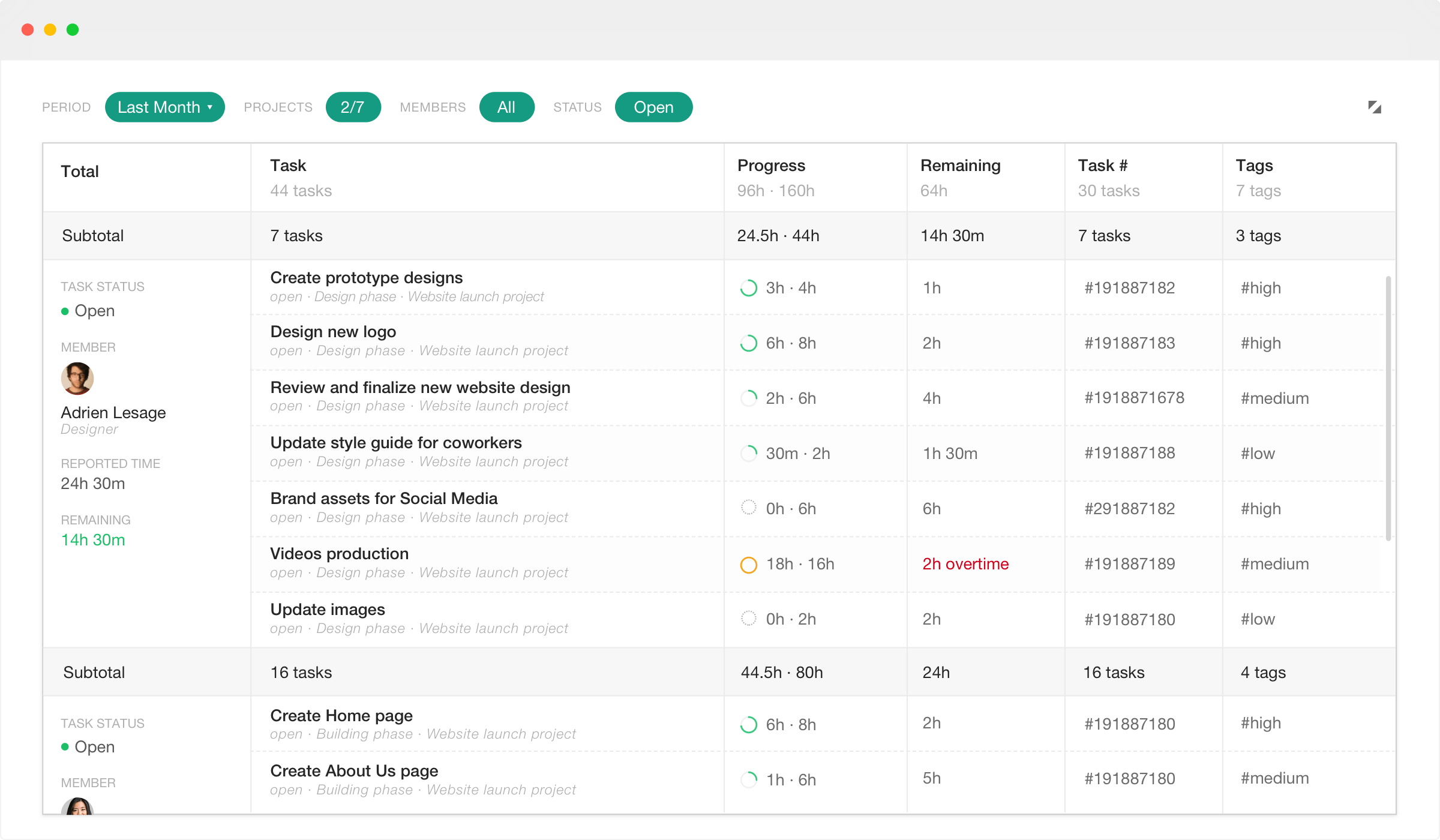 The beauty of having all this data is that it allows you to analyze all your invoiced or uninvoiced time. This gives you valuable insights into your processes and helps you find ways to make your work more efficient. With Everhour in your tool belt, you no longer have to worry about work going unbilled.
How to set up:
Invoices can be created out of all logged activity, which saves you the hassle of itemizing work done and calculating hours worked. There's a dashboard where you can see all your invoices at a glance, making it easy to keep track of which ones are paid or due.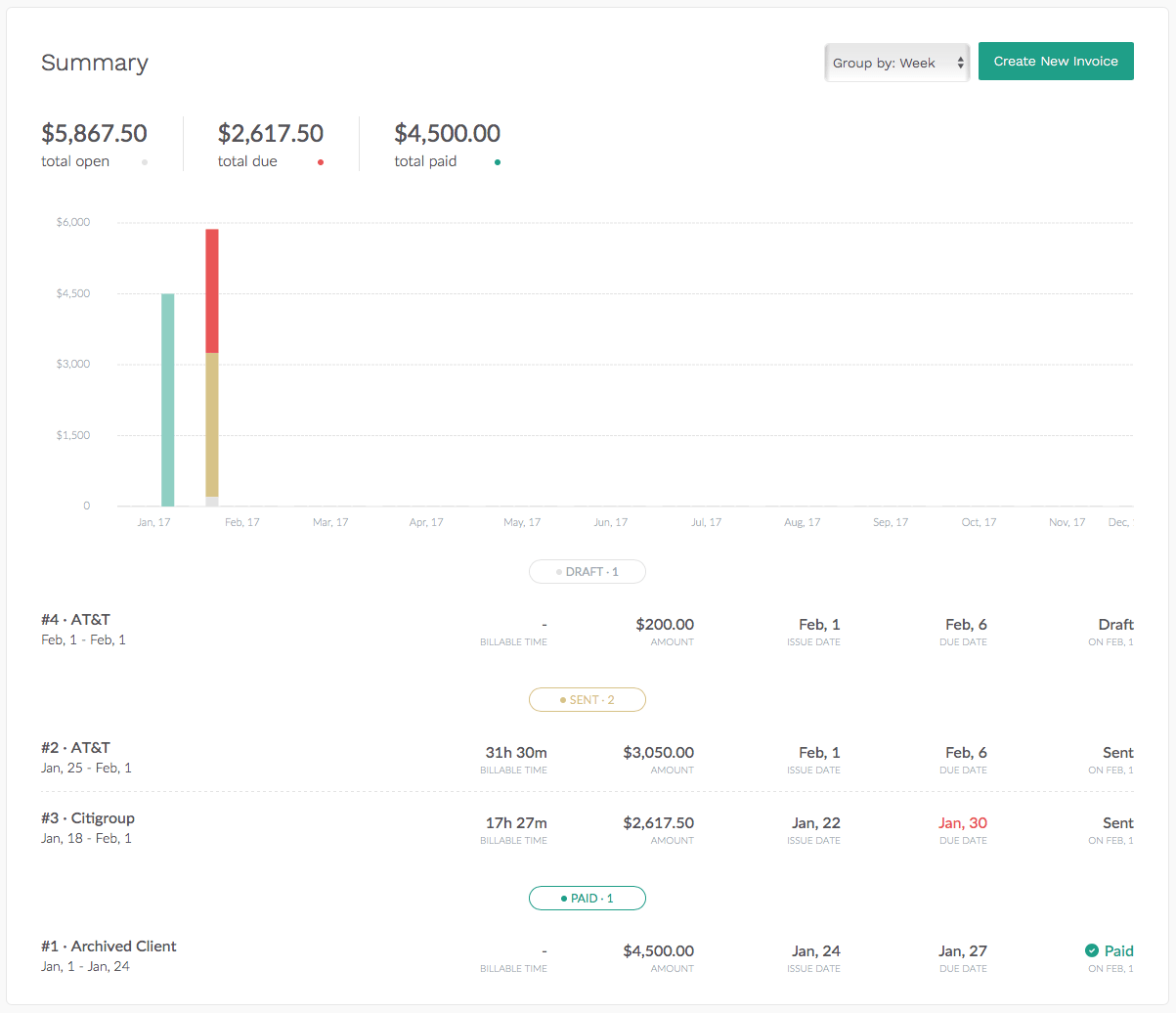 Simply connect Everhour with your project management tool, then start tracking the time. Then create an invoice by choosing your client and selecting the time period where your team worked on a project.
Everhour automatically issues an issue date and due date, which you can easily change. The number of billed items also gets imported to the invoice, depending on the settings you applied to the client. You can keep it as is, delete items, or move them to a different invoice period.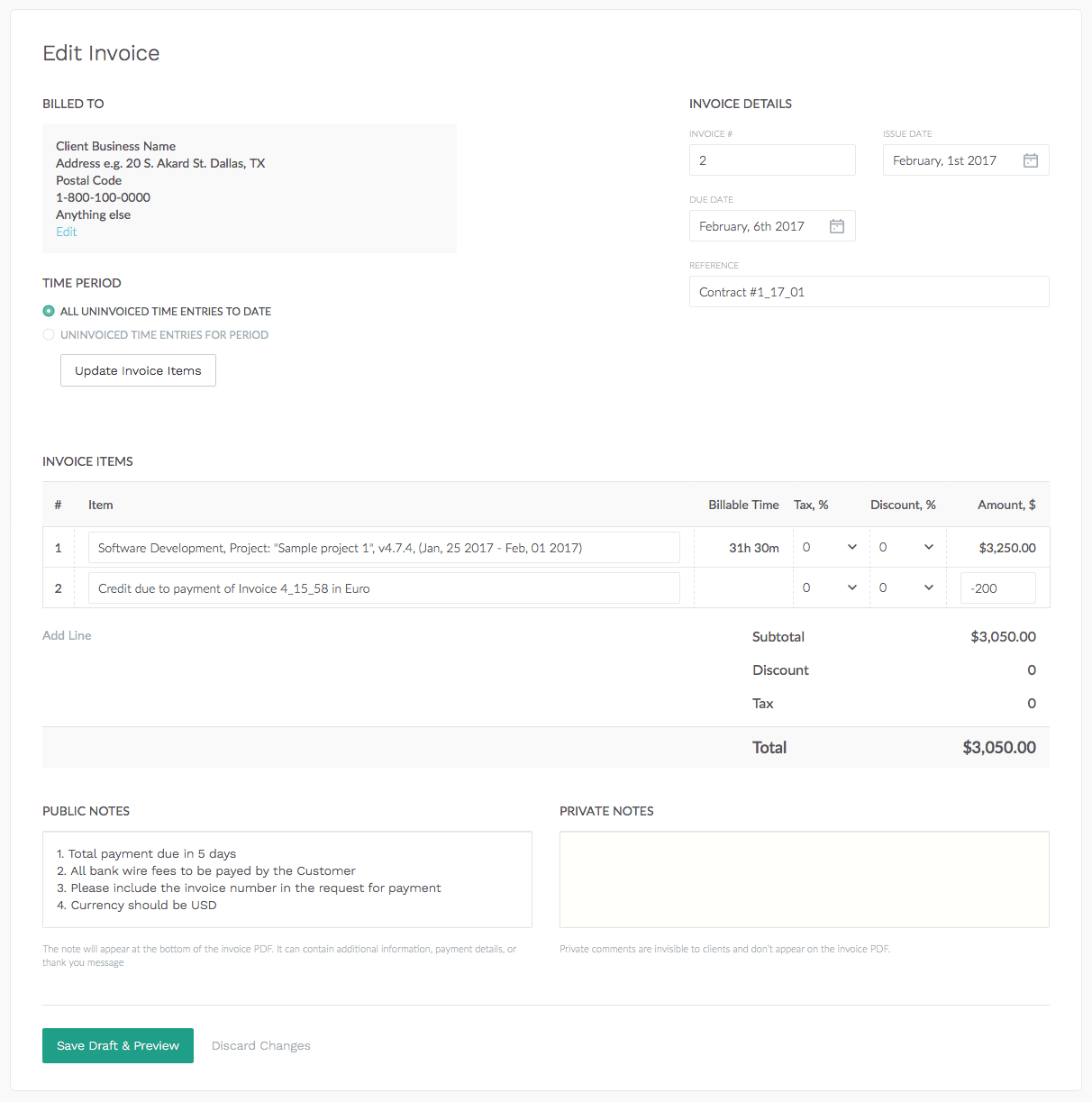 Once you've made the necessary changes, you can preview the invoice and give it one last look. You then have an option to generate a professional-looking PDF invoice that you can email to your client.
Harvest: Best For Small to Medium Businesses
Although it's been over 10 years since Harvest entered the market, a number of small-to-medium businesses still use it for its versatile project management features. Available on desktop, mobile, and web, Harvest can accommodate your team members' preferred working styles while quietly tracking their progress.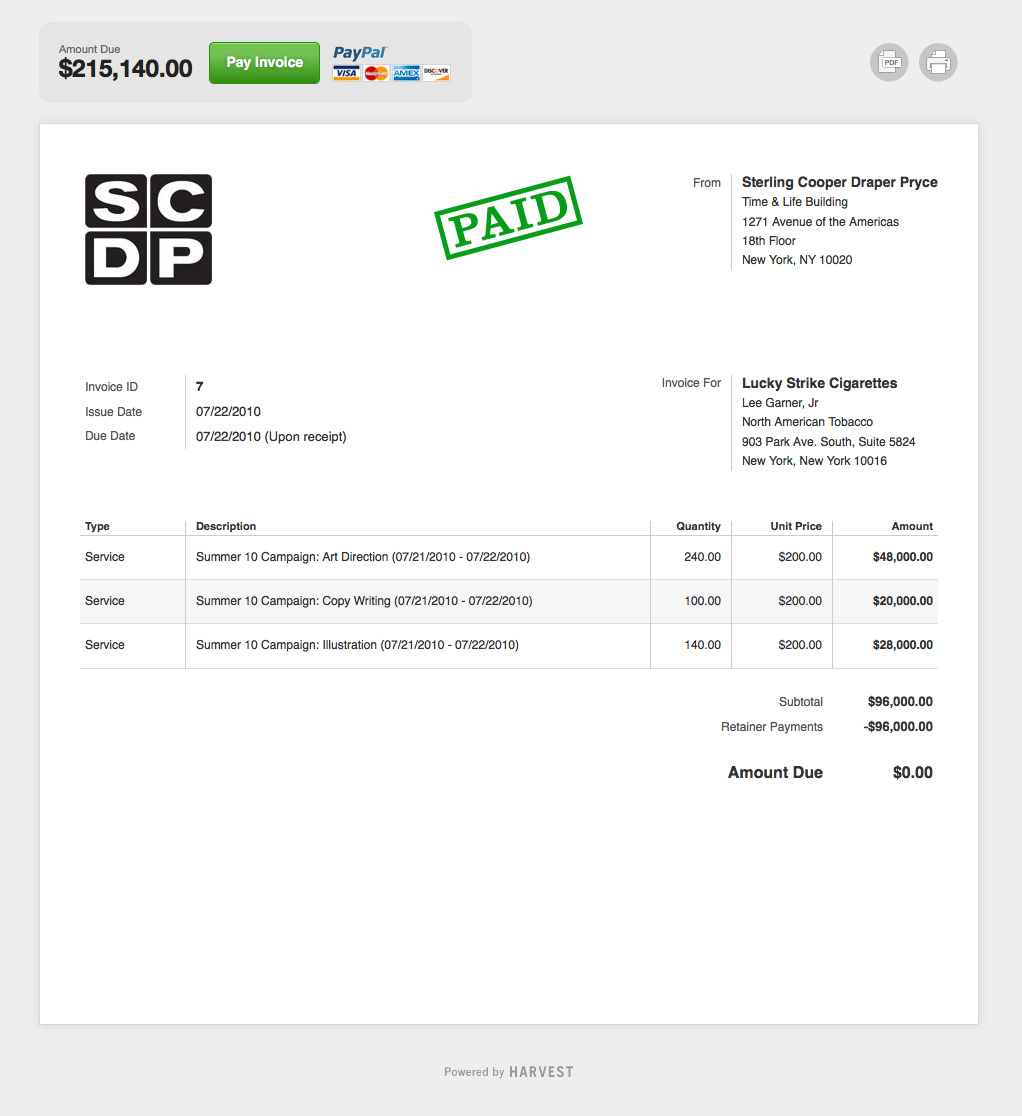 One feature unique to Harvest is the Forecast tool, an add-on that visualizes your project's progress and puts it against your remaining budget. Looking at these numbers helps you see if your hours worked measure up against the forecasted timeline. If not, then you can still course-correct and take steps to go back on track.
One shortcoming of Harvest might be their reports, which capture high-level data without going into granular detail. Although they are customizable, there are many limits to how you can visualize your data. In contrast, Everhour's detailed reporting lets you capture every single metric, and present it in a manner that's easy for your client or teams to understand. Take a look at how Harvest compares to Everhour in this side-by-side comparison.
How to set up:
In addition to time tracking, Harvest can automate a number of manual tasks, including billing and invoicing. It creates invoices out of all tracked time and lets you set automated payment reminders.
Simply go to invoices, choose your client, and choose to invoice based on tracked time and expenses. You'll then see a draft of your invoice, which you can customize by adding due dates, tax information, etc. Clients have the option to pay you online via Paypal or Stripe.
Hiveage: Best for Fast and Simple Invoicing
If you want a tool that has more robust invoicing features than project management features, then Hiveage is for you. Designed for freelancers and small teams, Hiveage doesn't try to be an all-in-one software. Instead, it works hard at helping you create sleek-looking invoices that capture all your billable work.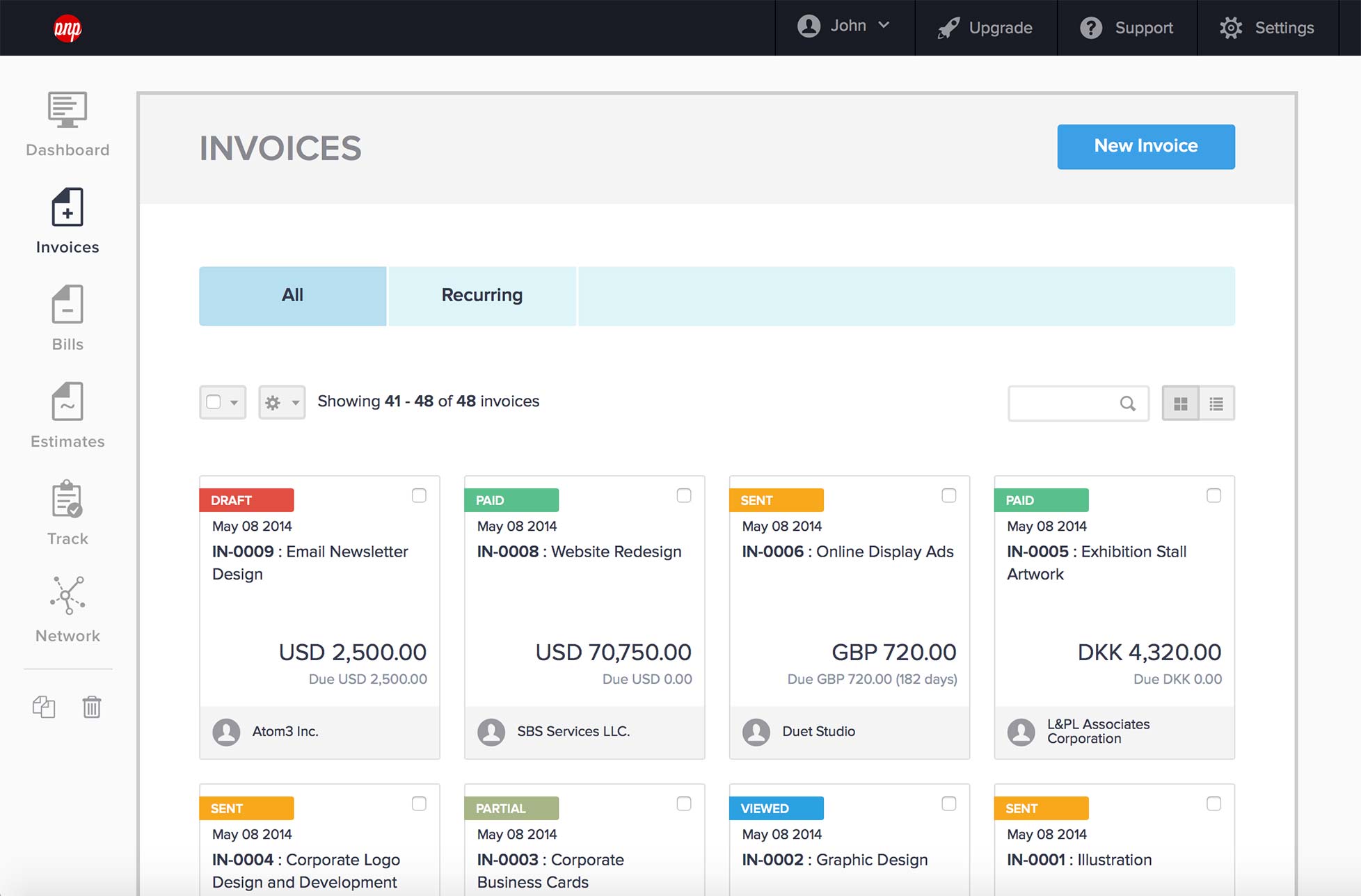 Before the project even begins, you can use Hiveage to create detailed estimates and quotations, which the client can accept with a click. Once they accept your quote, you can quickly convert the estimate into an invoice. This saves you time spent itemizing your invoice, allowing you to focus on your work.
Hiveage also makes capturing expenses and creating expense reports more convenient. Like project estimates, you can also add expenses to your clients' invoices with just a few clicks.
Finally, Hiveage has support for over 12 online payment networks, including Paypal, Stripe, and Coinbase. You can include one or several gateways to your invoice, which makes it clear and easy for clients to send payments.
Overall, Hievage is a straightforward invoicing solution for small teams and freelancers who want to spend less time doing administrative work.
Paymo: Best for Project-Based Businesses
Project-based businesses face unique challenges that cannot be solved by tools designed for product-focused organizations. There is a greater emphasis on tracking work and expenses, so you can optimize the budget for each project.
This is where a tool like Paymo comes in. From project planning to getting paid, Paymo assists you throughout the whole project lifecycle so you can focus on work that matters.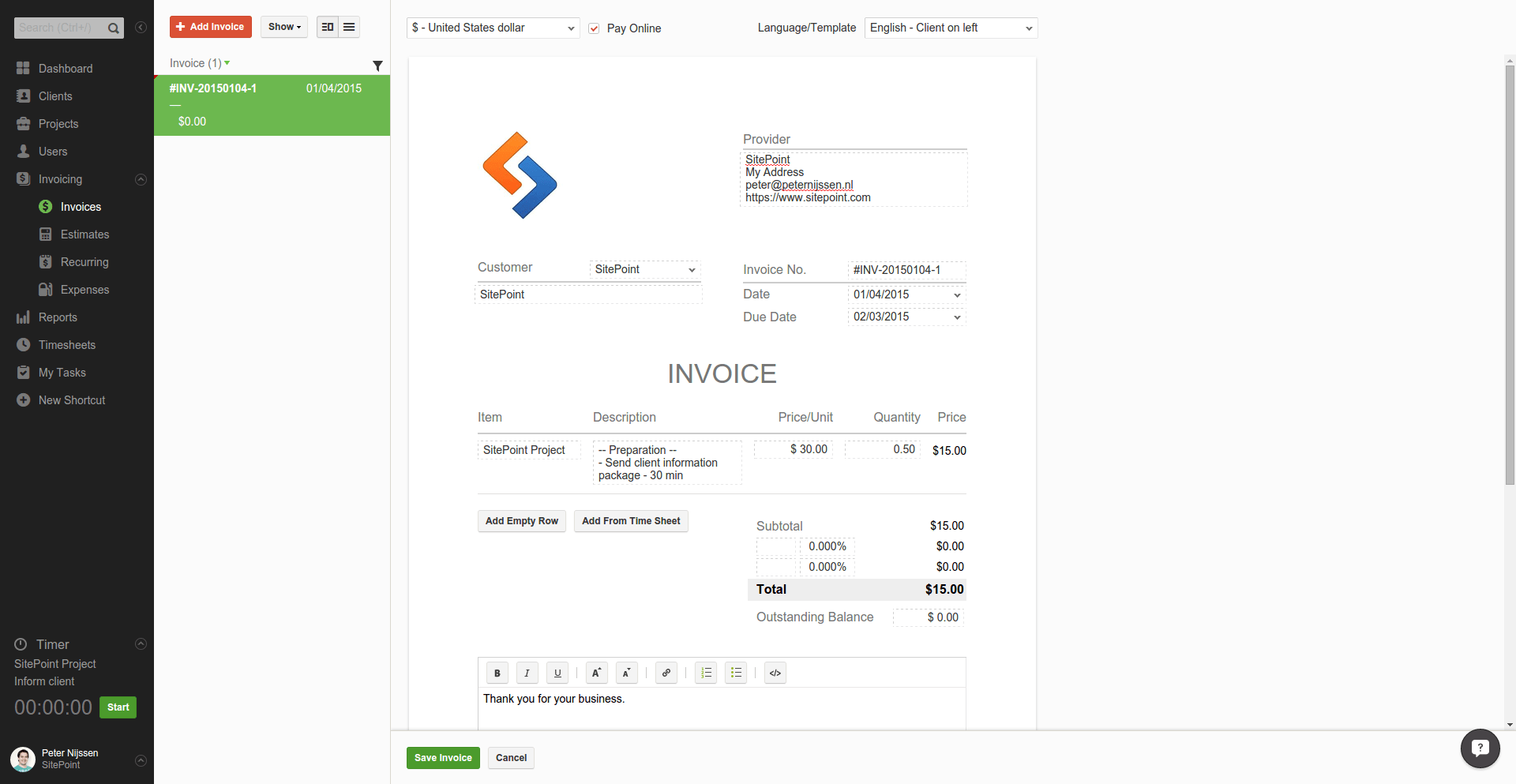 Its main project planning component is a beautifully designed Gantt chart, where you can drag and drop tasks accordingly. You can see at a glance who needs to do what and by when. Paymo automatically estimates the earliest date of completion and even calculates the critical path. This lets you see which tasks have an impact on the entire project if they are late by even one day.
You can also entrust a number of your business operations to the app, including financial management, time management, and invoicing. With a comprehensive suite of functionalities that can rival enterprise-level project management tools, Paymo can help your team become more productive than ever.
How to set up:
Tracked timesheet data and approved project estimates can be automatically converted into an invoice. After a few manual adjustments, you can then send the invoices to your client over email. Add your preferred payment gateway to make it easy for clients to pay you directly after reviewing the invoice. The moment a payment is made, Paymo will automatically mark it as "paid".
FreshBooks: Best for Agencies and Consultancies
FreshBooks was born in a 4-person design agency when founder and CEO Mike accidentally saved over an Excel invoice. Frustrated by the experience, he decided to come up with a solution that will automate the client billing process and the business's invoicing needs.
Today, FreshBooks lets you create professional-looking invoices in a matter of minutes, which you can automate as much or as little as you desire. It offers support for online payments, including credit card transactions, which means you get paid several days faster. You also have the option to request a deposit, so you never start a project without an up-front payment. Finally, you can also create invoices out of your team's tracked time or billable expenses.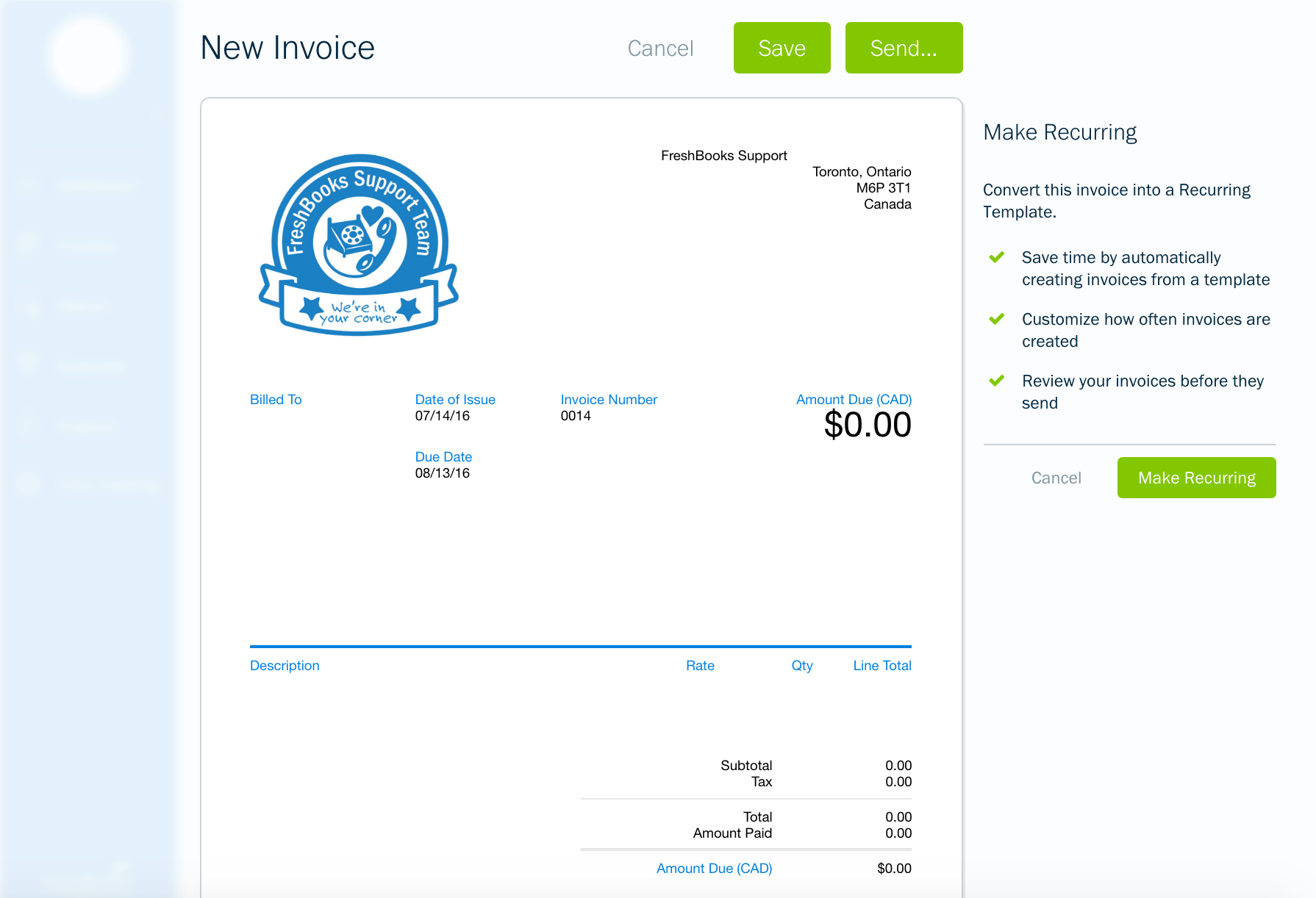 One other notable feature is the ability to sync your bank account or company credit card, which allows FreshBooks to automate your expense tracking. Your FreshBooks account gets updated daily to reflect the latest expenses, which you can categorize for easy auditing come tax time.
These functionalities make FreshBooks ideal for agencies and consultancies, who have complex invoicing and billing needs.
How to set up:
First, customize your Company Profile and add details like your business address. This will appear on your invoice. You also have the option to upload your logo and add company colors. When this is done, you can head to the Invoice tab where you can create your first invoice.
Since every invoice needs a client, you'll first be prompted to fill in a client profile. You can start by adding an email address and filling in the rest of the details later. After setting up your client profile, you'll then be prompted to add your billable items. Finish it up by adding your payment terms, then send it out!
Zoho: Best for Businesses with CRM Needs
Zoho has a great reputation for being a reliable CRM software, which has a sales and marketing component, as well as project collaboration. What most entrepreneurs don't know is that they also have a whole suite of software that can help other areas of your business operations.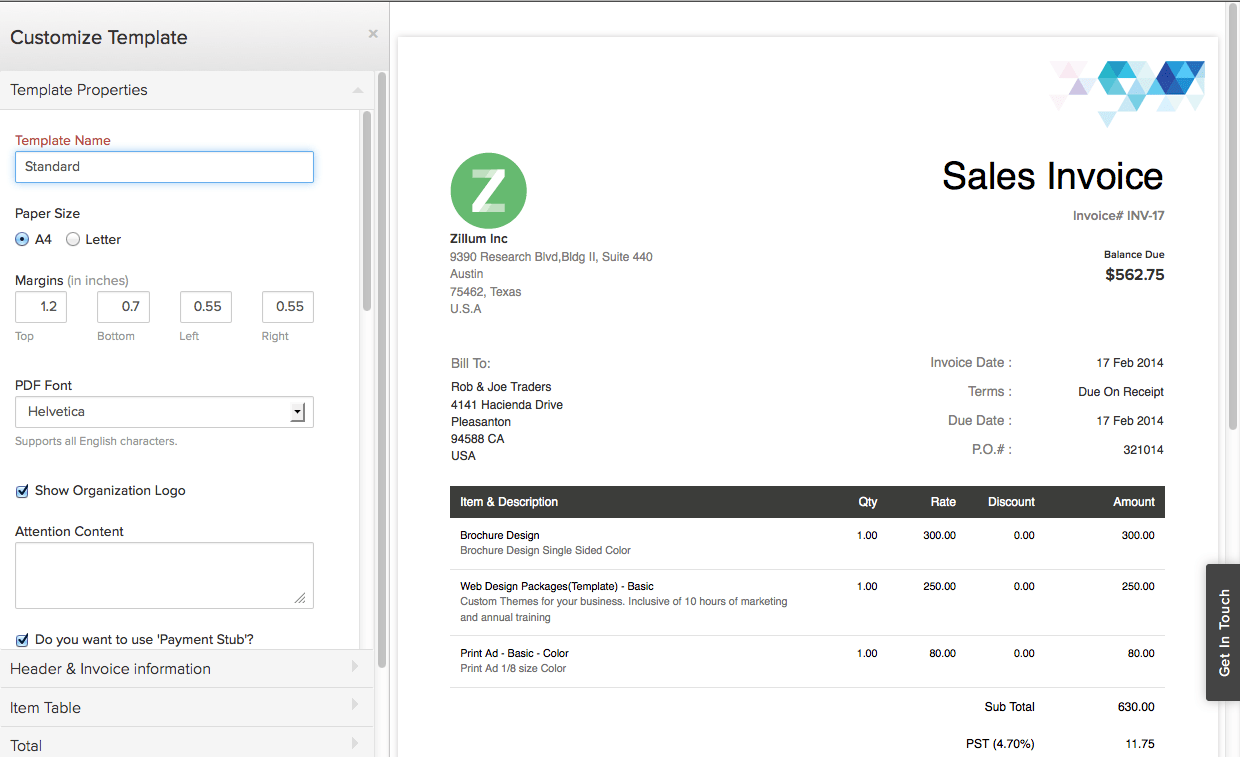 Their Zoho Invoice software, in particular, takes care of all your billing needs. Whether you need to put together an invoice in minutes, or bill clients according to time worked, Zoho takes care of this efficiently. In terms of invoicing and billing features, it doesn't fare too differently from the other software we mentioned. But if your business has a heavy CRM component, it might be worth getting Zoho to fulfill this along with your billing requirements.
How to set up:
You can access Zoho Invoice through your browser or through the Zoho Invoice mobile app. The first step is to add customer data, either by filling it out or importing a file to add in multiple clients in bulk.
When the client information is up, you can start adding your billable products or services under the Items section. The next time you need to send an invoice, you can simply select from this list.
The third step is to select a payment gateway and integrate your account with Paypal or one of the other gateways available. This adds a payment link to every invoice you send. There's also an option to receive offline payments from clients and record them accordingly.
Workflowmax: Best for Xero Integration
If your business is a heavy user of Xero's accounting software, you may want to consider getting Workflowmax to manage your jobs as well as expedite your invoicing processes. Acquired by Xero in 2012, Workflowmax has since developed additional functionalities to create a flawless integration with all Xero systems and business software.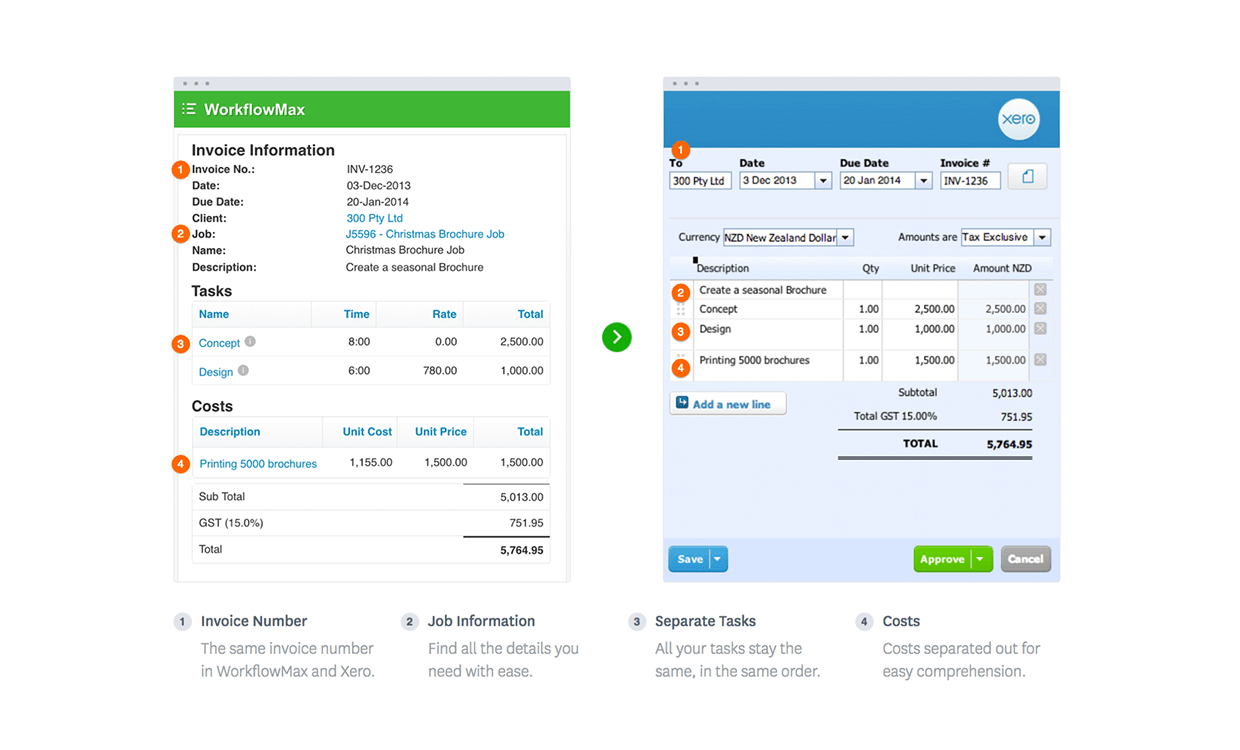 Their invoicing software is incredibly flexible, giving you complete control over everything, from the design process to how much information gets displaced. No matter how complex the job is, you can neatly display all the rates and work involved.
Workflowmax also lets you calculate your costs in whatever way you like. Most software only lets you do actual time and costs, which pulls in data from the timesheets. But you also have the option to use your quote to provide costs, invoices based on a percentage of quoted work, or split payments by project progress.
How to set up:
Because Workflowmax's invoicing is so customizable, the setup process depends on what kind of invoice you want to create. There is a whole library of video tutorials you can reference for this.
Find the Best Invoicing and Billing Software for Your Needs
At Everhour, we're all about making admin work more efficient, so you can focus on what you're good at. If you need help deciding what invoicing software to use or are looking for a way to make sure your projects are on track, give us a call. We'd be happy to give you an Everhour demo for free!