Given the unpredictable nature and scale of the projects, planning and scheduling can be challenging. Yet, project managers are required to do it because they are the ones who will be held accountable. For all components of a project to work in sync, project scheduling techniques must be applied.
A schedule is a list of all the actions that the team must complete throughout the implementation of a project within the predetermined time frame. A project schedule aids in prioritizing a task and completing it in a timely way. It also helps to streamline the effective allocation of available resources and select the best candidate for the job.
In this article, we are going to break down the main project scheduling approaches and see how to make the life of a project manager easier.
What Does a Project Schedule Include?
All the project schedules are created at a particular time when the planning activities are taking place. They are critical to the development of the plan to be used in the project.
During these stages, project managers outline the plan schedule, the baseline, requirements, and other items of the project.
The baseline schedule is then compared to the project's actual progress during the action stage of the project. To create your project schedule, you'll need to consider the following:
errands of the project
starting time
estimated end time
working calendar
working equipment
availability of working resources
analysis of the risks that the project may encounter, etc.
Why Is Project Scheduling Important?
A schedule is a calendar for your project, and it consists of sequenced tasks and milestones that your team must complete by a certain date. With a project plan, you'll know exactly what has to be delivered and when. Finding and assigning the proper people is easier with resource allocation.
The project schedule also serves as a foundation for monitoring and controlling project activity, assisting you in determining how to efficiently distribute resources to meet the project's objectives and the impact of time delays on the project.
Finally, with a project schedule, you can determine where there are extra resources that can be allocated to other projects, as they serve as a foundation for tracking project progress.
Project Scheduling Steps
Creating a project schedule is super easy because you can do it with the help of a template. The template contains samples of project schedules that guide you in developing an exemplary project schedule.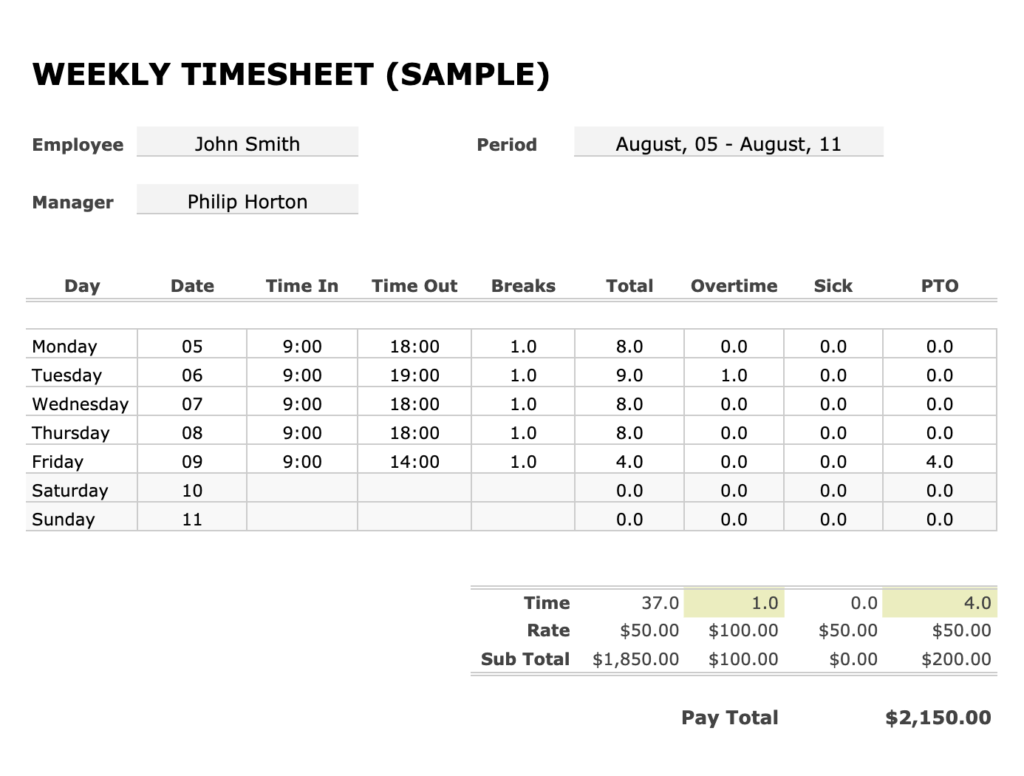 Although the template can not fully aid you in creating a complete and viable project schedule, it acts as a good starting point. The project schedule you generate is more than just a simple timetable – therefore, it can't work for all projects.
This process incorporates a variety of project scheduling methodologies and other tools for project managing. In addition, each project has its own set of resources, timelines, opportunities, and other extra exclusive characteristics that you should take into account and apply to the schedule management strategy.
The schedule is integrated with additional tools used in project management like the dashboards, Gantt charts, and reports that help you track progress and the kanban boards that control workflows when using project management software. Whichever option that you take, below are the procedures you can use to establish a good project schedule:
✅ Generate the plan schedule to use in your project
✅ Specify who is in charge of the timetable
✅ Determine when all the project activities will begin and end
✅ Define task interdependencies
✅ Arrange activities and tasks in chronological order to make a project calendar (for example, in Asana)
✅ Calculate the number of resources required and the availability of those resources
Project Scheduling Techniques
To construct work plans and track project performance, project management teams employ a variety of tools and methodologies. One of the most critical activities of any project is project scheduling, which integrates time, tasks, resources, and costs.
Work schedules are made up of a list of tasks, the duration of those activities, and the linkages between them. The most frequent project planning and scheduling approaches and procedures used for establishing work schedules are Gantt Charts, Program Evaluation and Review Technique Charts, and Critical Path Method.
Depending on the project's objectives and complexity, any or all of these network scheduling methods can be used. Project scheduling often entails a number of strategies, each of which is described in detail below.
1. Scientific analysis
The Critical Path Method (CPM) and Program Evaluation and Review Technique (PERT) are the first two methodologies utilized by project managers. These approaches can be used to compute the project's estimated commencement and finish dates regarding the project's known scope.
Critical Path Method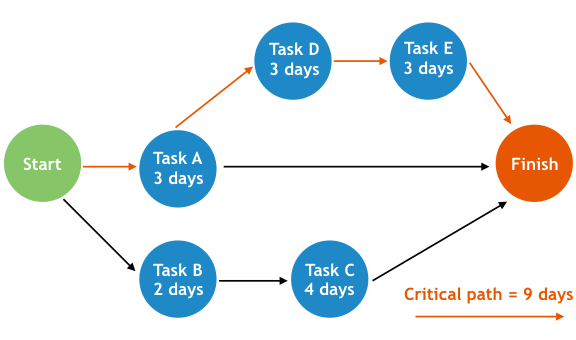 First, let's examine the CPM. Consider your critical route as a tree diagram for your project. This method can assist you in determining both the longest and shortest project timelines. You can also use the CPM to designate critical tasks and tasks that might float. The schedule will not be affected if the latter's delivery changes.
To make use of CPM, it is a must that you first determine the scope of your project and create a list of all tasks required to complete it. After that, figure out the amount of time that each and every task will take.
Following that, make a list of all tasks' dependencies. You'll be able to see which ones may be finished independently and the ones that require the completion of earlier assignments. Finally, make sure your project has achieved some milestones or has gained deliverables.
When all dependencies and deliverables are understood, the CPM may be used to illustrate how the project is flowing, therefore determining its time. If the project has a lot of unknowns, this strategy may be of no use.
Program Assessment and Review Techniques (PERT)

PERT is a method of visualizing the flow of tasks in a project and estimating the timetable based on their expected duration, just like the critical path. This methodology also demonstrates task interdependencies.
The computation of the estimated duration for each activity is used in the PERT Method to determine project completion time. The PERT approach is used in conjunction with the critical path method.
You can utilize forward and backward computations to estimate the project's critical route. PERT, on the other hand, is a time-consuming method that necessitates the use of the software.
When scheduling your project with the help of PERT, you are required to first specify all the tasks according to their order, depending on your project's milestones, exactly like you would in CPM. You can also estimate multiple timetables for a project by the confidence level:
Optimistic timing 👍
Most likely timing 🤞
Unfavorable (pessimistic) timing 👎
Although this method appears to be quite like CPM, the PERT calculates feasible timeframes using more intensive duration in ratio to guesses.
2. Compression of time
Compression of time is a method of reducing the length of a particular schedule. It could be beneficial if the project is running late and all you need is to change the timeline without compromising the project's scope. Fast-tracking and crashing are two ways that can be used.
Fast-tracking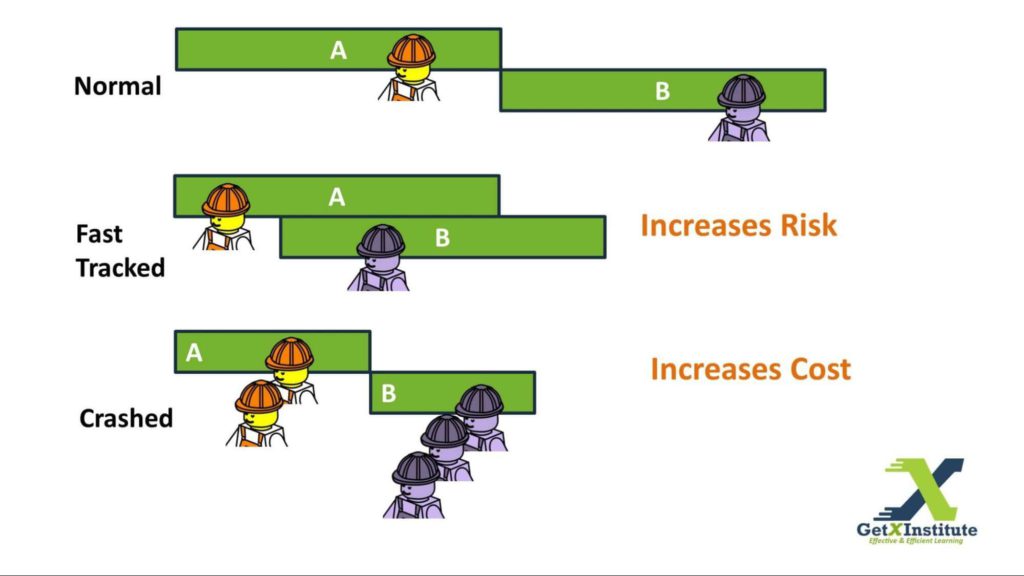 Fast-tracking assists you in identifying jobs that can be completed concurrently or overlapped partially to expedite project completion.
Assume you've begun another project and you have gathered all of the necessary information. During this particular period, you might begin the design process and only start the software development once the design is complete.
However, in case there is a need to expedite all these processes, and the most crucial designs are complete, you may begin software development. Then, while programmers are implementing materials they've already received, continue to prepare later views.
It'll be easy to make huge mistakes or forgo quality because you'll be managing numerous vital activities at once.
Crashing
Crashing is another compression approach that involves allocating additional resources to complete the project within the schedule. You'll need extra resources at your disposal for this to happen. Furthermore, adding additional resources does not guarantee that you will finish all of the tasks.
Increased communication is the result of the need to add new members to help with the completion of the project and limited task divisibility. Paid overtime is also another way to use the crashing approach to a project, but it must stay within the set deadline. Unfortunately, this increases the project's cost.
3. Simulation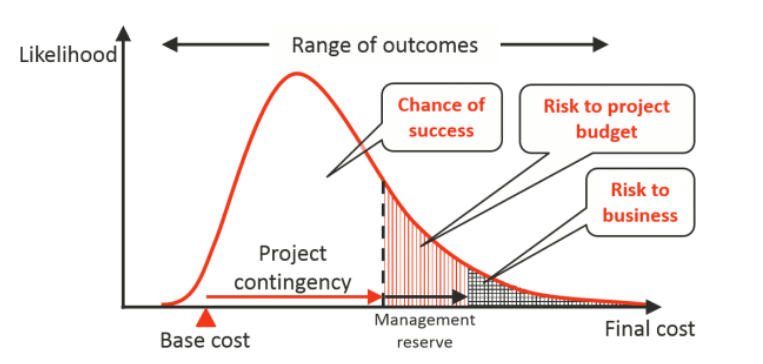 You employ separate activities in the simulation methodology to calculate project durations. It's especially beneficial when you have a lot of unknowns and variables.
You can design a timetable based on assumptions which means that a simulation can be used even without any specific knowledge if the scope ends up changing.
A Monte Carlo Simulation is among the most famous models that you can employ. It considers several theories and possible events to arrive at an anticipated duration.
This technique has some benefits of accounting for the hazards and the uncertainties, so you can adapt your plan if you decide to change the scope or add new jobs/tasks.
4. Heuristics for resource allocation

Resource leveling is the process of slightly changing your schedule and the resources to reduce delivery time or avoid under-or overuse of resources. You can employ it to modify a single project activity.
Organize or combine activities based on your resource availability to change a schedule utilizing resource leveling, ensuring that no team members are under or overused.
The project management community still debates on the application of this methodology, as it has the potential to raise the project's cost and duration. If you are willing to use this strategy, keep in mind the drawbacks.
5. List of tasks
Of all the project scheduling strategies available, the task list is the most basic. The list of all conceivable tasks in a project is kept in a spreadsheet or word processor.
This project scheduling technique is the simplest and most often used of all. It comes in handy when working on little projects. However, task lists are not feasible for massive projects with various variables to consider.
6. Gantt diagram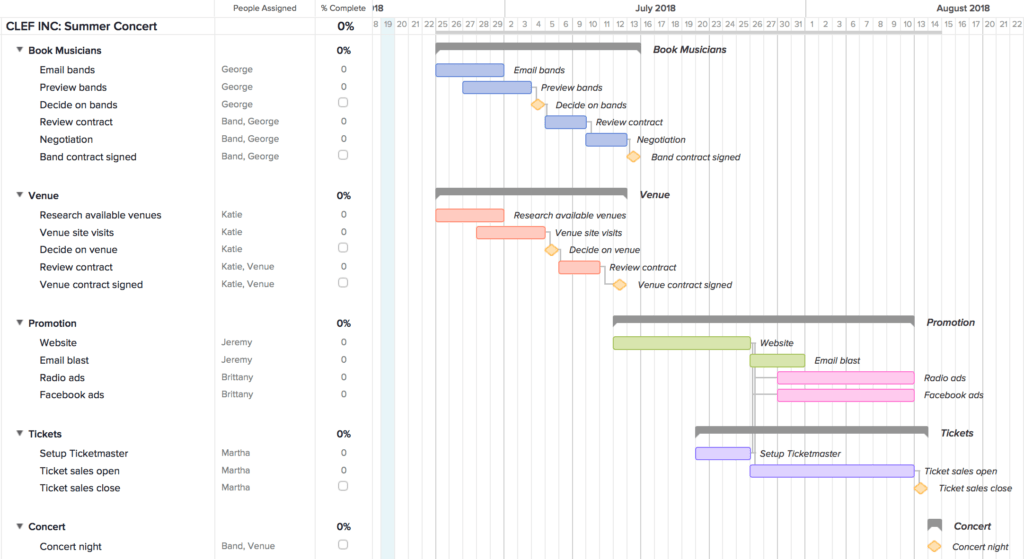 The Gantt chart is a project management visualization tool for tracking progress and reporting. Most of the time, project managers utilize it to get an idea of how long a project will take to complete.
A Gantt chart for a project schedule is a bar chart that shows essential tasks in order on the left vs. time. Each task corresponds to a bar that shows the activity's start and end dates, as well as how long it took to complete.
Project teams and stakeholders may quickly understand and manage their projects with the help of Gantt charts because they are quite easy to master. Because of its simplicity, the Gantt Chart is the most common scheduling approach.
However, updating activities, activity linkages, and managing changes as the project advances is challenging without the use of the proper software.
7. Calendar
When it comes to project requirements, many people overlook the importance of arranging work on a calendar. You can customize the majority of the calendars with unique names. In this situation, you can establish a calendar and events for each project separately.
A calendar displays the project's timeline. Since it is shareable, it may be subject to change by any of the team members. While it appears to be an excellent method for time tracking a project, it does have certain drawbacks, such as the inability to assign tasks to specific people and the inability to view task dependencies.
Final thoughts
Project scheduling software, as any social media scheduling tool, can assist a project manager in allocating means and completing a project within the allotted time frame. They also assist in the preparation of timetables for any future initiatives.
Examining your team's previous performance, as well as the roadblocks encountered while pursuing a project and ways of overcoming them, may be extremely beneficial.