Microsoft Edge is one of the most popular browsers available today, alongside Chrome (popular partly due to the sheer amount of Chrome extensions available) and Safari, Apple's web browser.
Microsoft Edge is a popular browser because it offers competitive loading speeds, simple privacy controls, and smooth integration with Windows 10 and 11. Installing extensions is a great way to make the most out of a browser. For example, Microsoft Edge and Chrome have the best extension options out of the browsers available to use today.
However, not all Microsoft Edge browser extensions are built equal. In this article, we detail the ten best Microsoft Edge extensions to make your life easier.
The 10 Best Microsoft Edge Extensions
There are hundreds of extensions on Edge to choose from; however, some stand out from the crowd. Here are the ten best extensions available today:
Everhour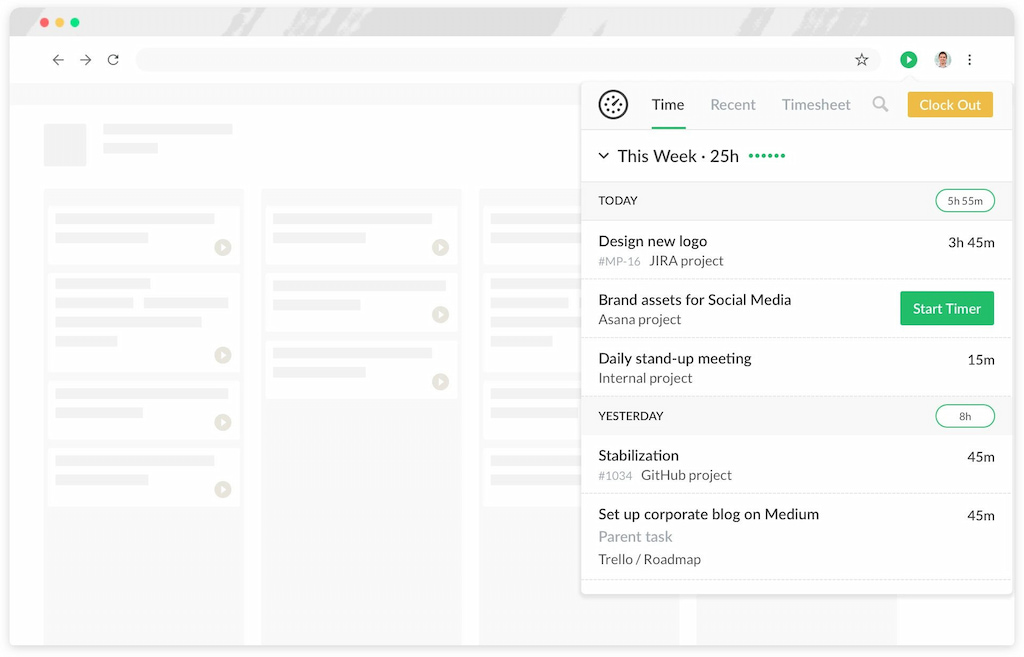 Everhour is an intuitive time tracker that allows users to track time easily, set project budgets and deal with the payroll, estimate the time needed to complete tasks, and build reports to assess progress or send to clients. Additionally, Everhour offers dozens of useful third-party integrations with project management (Asana, Basecamp, ClickUp, Trello, Notion, Todoist, etc.), accounting (Freshbooks), team communication (Slack), CRM (Insightly), and helpdesk tools, helping your organization to streamline processes to save time and money. Installing the Everhour Microsoft Edge browser extension allows users to use all the platform's valuable features.
✅ Pros
Easy-to-use manual or time clock app time tracking features
Timesheet app for effective team management
Efficient billing and invoicing
Task management features, e.g., deadlines, work priorities, new tasks, sections, and tags
Detailed reports to share internally or with clients
Third-party integrations with dozens of great apps that you can use in Microsoft Edge
Free plan available
❌ Cons
No offline version
An iPhone app is available but it is currently in beta testing
❓ How to install
Microsoft Edge now supports an option to install the Everhour extension from the Chrome Web Store but you need to enable the feature before you can install the extension:
Open the Microsoft Edge browser
Then, visit the Chrome Web Store to find the Everhour extension
You'll see the "Allow extensions from other stores" prompt
Click "Add to Chrome"
Grammarly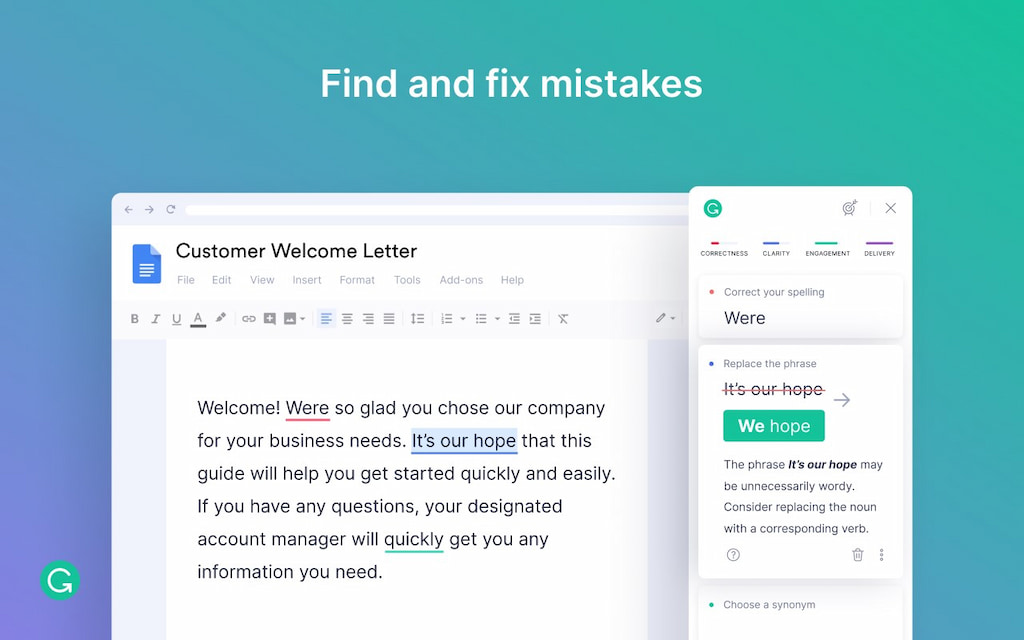 Adding the Grammarly extension to Microsoft Edge will ensure everything you write is error-free. Grammarly will check your text's spelling, grammar, and punctuation, allowing you to write with confidence. Additionally, Grammarly's tone detector helps you understand how your writing will sound to readers, allowing you to make adjustments if necessary.
✅ Pros
Real-time spelling and grammar checking
Plagiarism detection
Clarity suggestions to make the text easier to read
Explanations about specific suggestions, allowing you to improve your writing
Language, tone, and audience customization options
Automatically saves your work in the Grammarly Editor
❌ Cons
The free version has limited features
Occasionally suggestions are wrong as the app sometimes misjudges the context
Only one language is available
❓ How to install
Visit the Microsoft Store, search for Grammarly and click the "Get" button
Open the Edge browser and you'll see a message saying a new extension has been installed. Click the "Turn it on" button
Sign up or log in to Grammarly to access the app's features
Adobe Acrobat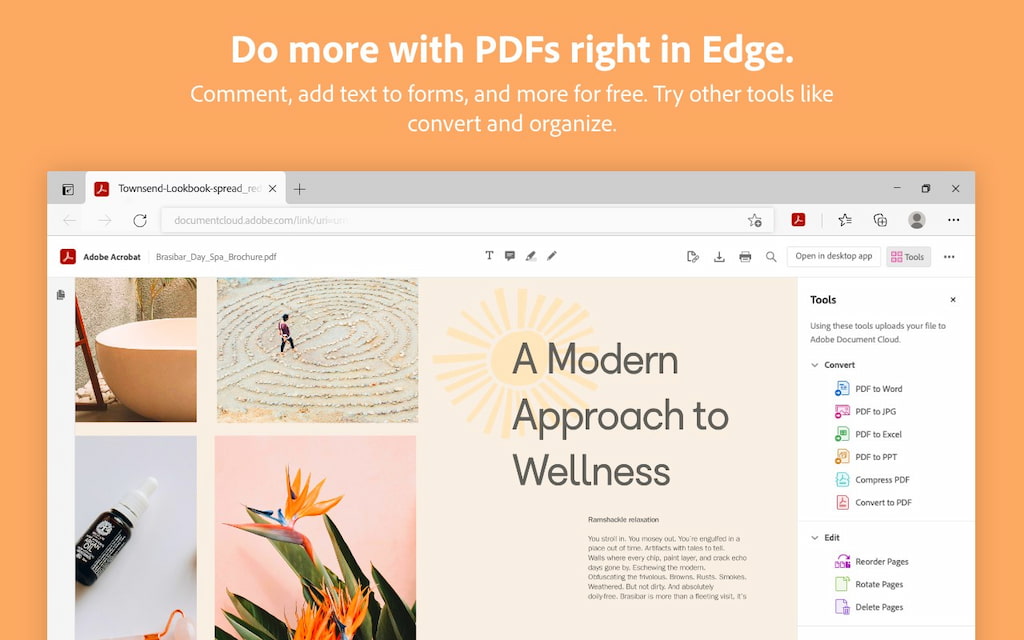 Adobe Acrobat is an application allowing you to view PDFs online or offline. You can also create, edit, convert, fill out, store, sign and print documents in a PDF format without losing the original content and structure of the document.
✅ Pros
Edit PDF files easily by combining, splitting, rotating, inserting, and reordering pages
Sign documents digitally
Customize security settings
Convert files from Word, Excel, JPG, PPT, and HTML to PDF
Share documents with others at the click of a button
❌ Cons
Potential for files to get corrupted
Limited functionality in the trial version
Complicated user interface for new users
❓ How to install
Visit the Microsoft Store, search for Adobe Acrobat and click the "Get" button to start the installation process
Open the Microsoft Edge browser, and you'll receive a message stating that a new extension has been installed. Click the "Turn it on" button to allow the Adobe Acrobat extension to operate in your browser
Pocket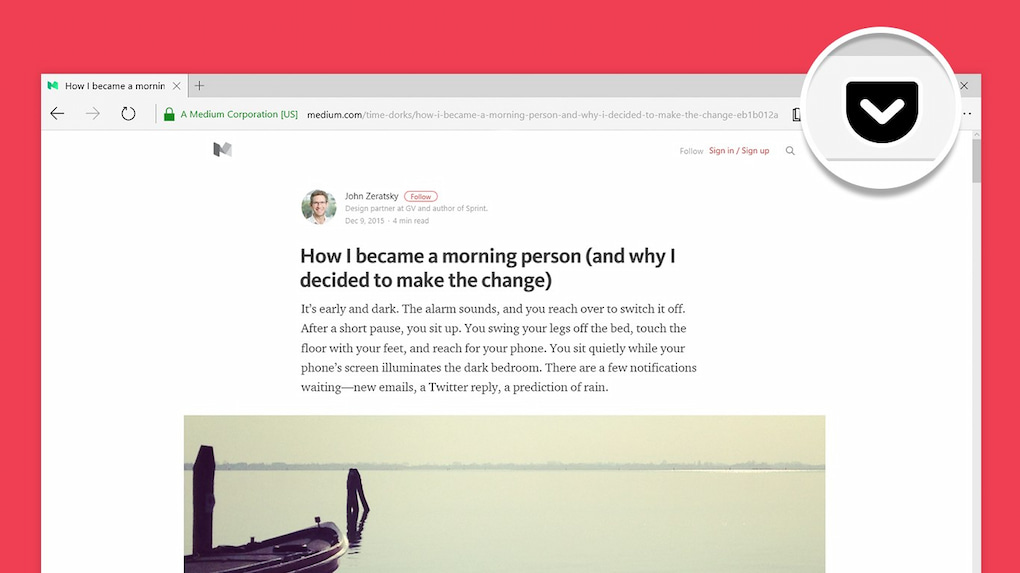 Pocket allows you to save content such as articles, news stories, recipes, interviews, and videos so you can find them easily later—there's no need to send links! It has several customization options, so it's tailored to your needs. You can change text sizes and font styles, ensuring that you have the best possible reading experience. Additionally, you can categorize saves with tags and highlight interesting text.
✅ Pros
Various ways to save content, e.g., the keyboard shortcut
Offline access
Personalized feeds to easily discover relevant content
Add tags to sort content in the app
❌ Cons
Limited scope, as you can only save content for later rather than manage tabs or organize bookmarks
Occasional image display issues
❓ How to install
Paste edge://extensions into your browser and search for Pocket and click the "Get" button
Open the Microsoft Edge browser, where you'll see a message saying you have a new extension installed. Click "Turn it on"
Open the three dots menu and right-click "Save To Pocket" and click the "Show next to address bar" button
Cold Turkey
Cold Turkey is a powerful website-blocking tool that helps users improve their productivity. Key features include domain blocking, URL blocking, keyword blocking, internet blocking, scheduled blocks, Pomodoro timers, time allowances, and much more.
✅ Pros
Block an unlimited number of websites
Block the entire internet
Blacklist and whitelist features
One-time payment system
❌ Cons
The free version lacks some useful features
Confusing support page
❓ How to install
Click the "Download" button on the Cold Turkey website
Install the desktop app, which should start automatically downloading
Run the extension installer and follow the steps to install the web app for Windows or macOS
Install the browser extension for Edge
Office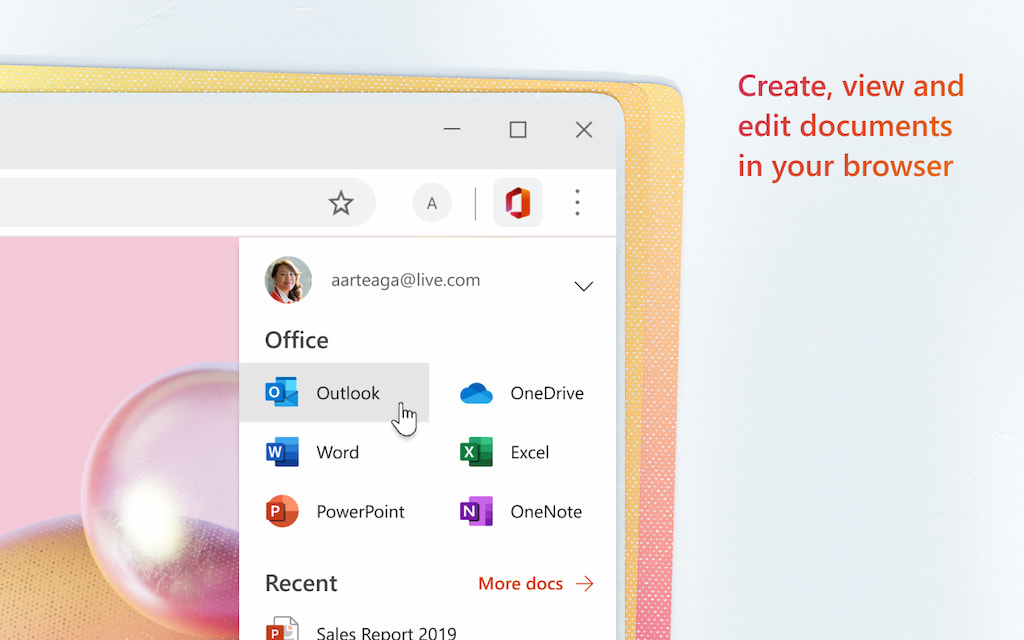 The Office extension allows you to use the most popular apps in the Microsoft Office suite, including Word, PowerPoint, Excel, OneDrive, and OneNote, without installing Office on your device. You can create, view, and edit documents directly from the Edge toolbar. Additionally, the app allows you to easily open files saved in OneDrive, meaning you can access files whenever you need them.
✅ Pros
Free to use
Share Office Online documents at the click of a button
Does not require Office to be installed on your device to work
Changes are auto-saved
❌ Cons
Occasional problems with unexpected sign-out
Limited functionality compared to the desktop applications
Doesn't support CSV files
❓ How to install
Visit the Microsoft Store, locate the Office extension, and click the "Get" button to start the installation
Open the Edge browser and you will see a message saying a new extension has been installed. Click the "Turn it on" button to allow the extension access to your browser
Taskade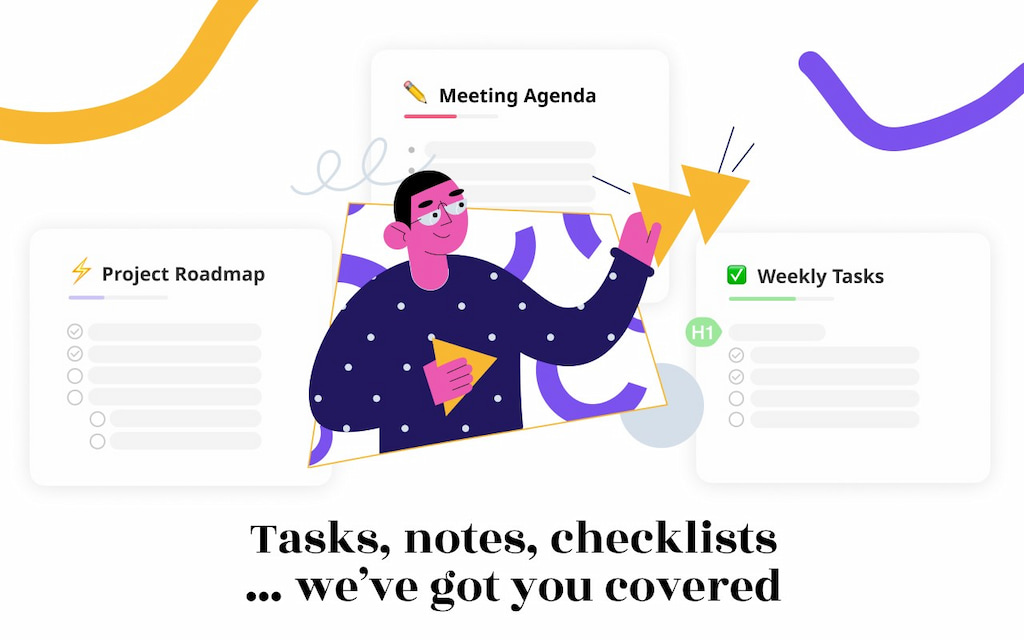 Taskade is a unified workspace where users can organize task lists, manage projects, take notes, and collaborate effortlessly with others. Customize your experience with smart project views, share tasks online in just a few clicks and manage team tasks via the team roadmap feature. In addition, Taskade allows users to track the time they spend on tasks with countdown timers, making employee time tracking a breeze.
✅ Pros
Access team task lists, notes, and video chat features to make collaboration easier than ever
Easily add text and bookmark links
Highlight text on webpages, and right-click to add it to Taskade, where you can add information to a workspace or project
Stay organized by tagging and filtering tasks using hashtags or mentions
❌ Cons
The free plan has limited features
No offline version available at present
❓ How to install
Visit the Edge add-ons page, find Taskade and click the "Get" button
After adding the extension, you should see a prompt confirming the extension has been added
Set Microsoft Edge to open Taskade in a new tab
Dark Reader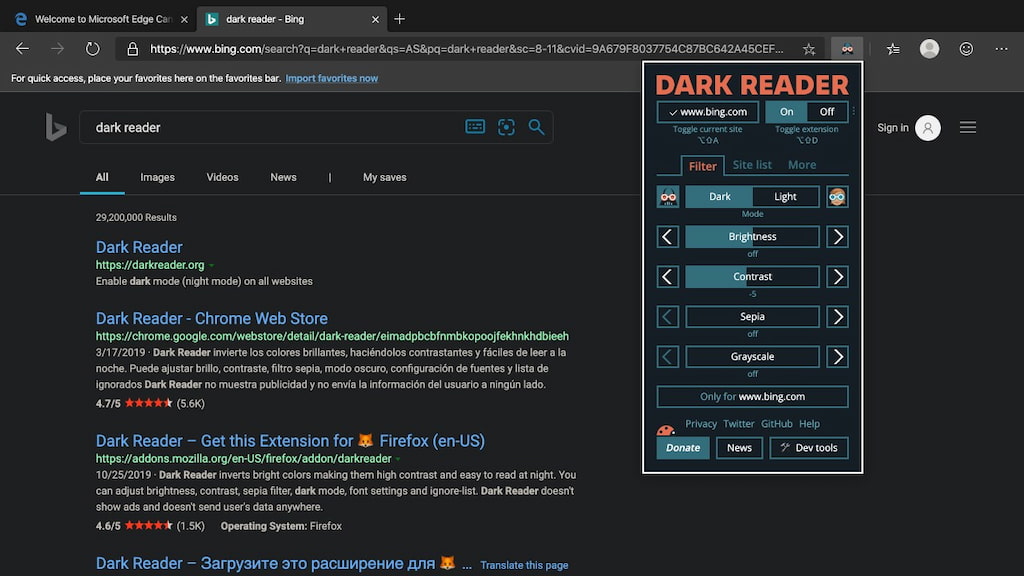 The Dark Reader Microsoft Edge extension allows users to activate night mode in their browser to make browsing at night less damaging to their eyes. The extension inverts bright colors and increases contrast to make it easier to read screens at night without excessive eye strain.
✅ Pros
Free to use
Extensive customization options, such as brightness, contrast, dark mode, sepia filter, various font settings, and an ignore list for chosen websites
❌ Cons
Some complaints that the extension slows the browser
❓ How to install
Visit the Microsoft Store, search for Dark Reader and select the "Get" button
Open the Edge browser, and you may see a message saying a new extension has been installed. Click the "Turn it on" button to activate the extension
NordVPN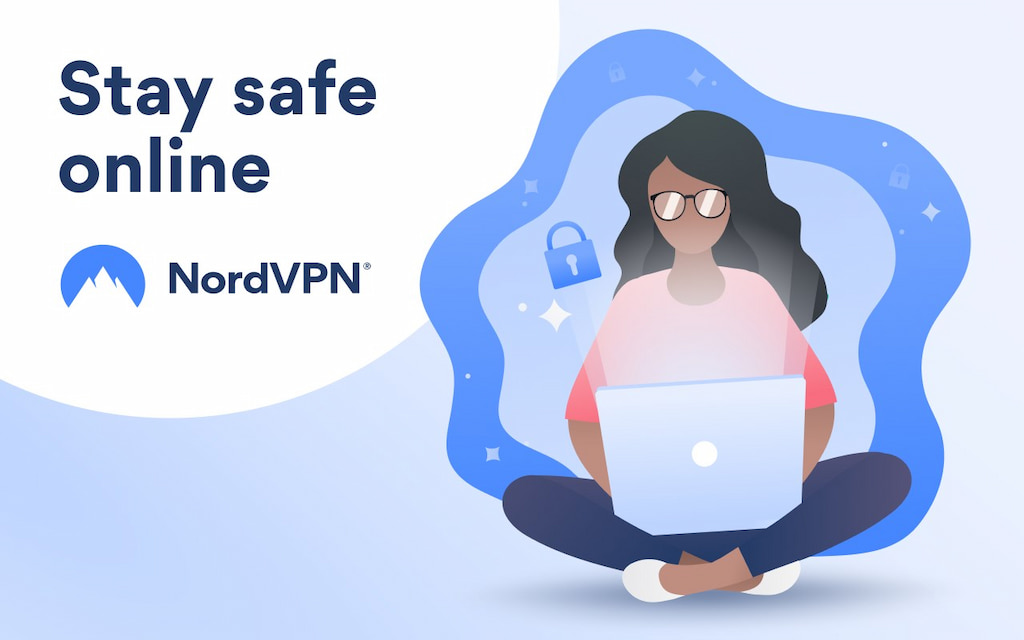 NordVPN allows users to protect their data, including IP addresses, location data, and passwords online using fast, military-grade encryption. In addition, NordVPN has threat protection features, enabling users to avoid trackers and viruses, as well as a dark web monitor that notifies users if their credentials end up on the dark web.
✅ Pros
30-day free trial available
Secures your data and protects your online privacy
Prevents you from unexpected DDoS attacks
❌ Cons
No free version, only a free trial
Slows your internet speeds
❓ How to install
Visit the Edge add-ons page and search for NordVPN. Select the "Get" button to start the installation process
A window will appear detailing app permissions. Click "Add extension"
Click the NordVPN logo, which will appear in the top right-hand corner of the browser. To use the app, login or sign up for a NordVPN account
LastPass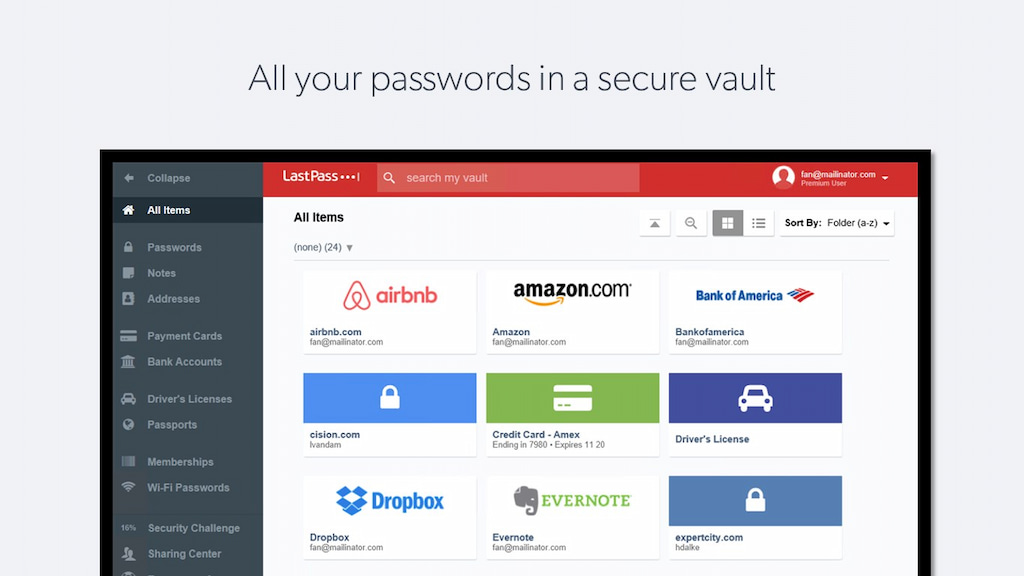 LastPass is a popular password management tool that makes it easier for web users to keep their critical information safe. With LastPass, users save their passwords, credit card details, and addresses in a secure vault, and LastPass will automatically update information fields when required. Web users can say goodbye to getting locked out of accounts because of forgotten passwords!
✅ Pros
Free plan available, including a 30-day free trial of the LastPass Premium plan
Passwordless login
Strong password generation feature
Dark web monitoring to stop users worrying about data breaches
Share passwords and notes with those you trust
❌ Cons
Occasionally has technical issues, resulting in users being locked out of their vaults
Limited live-chat support
No easy import database option from other password manager apps
❓ How to install
Visit the Edge add-ons page and search for LastPass: Free Password Manager. Then, click the "Get" button to start the installation process
A window should appear explaining app permissions. Click the "Add extension" button to allow LastPass to access your web browser.
TL;DR: The Pros and Cons of Microsoft Edge Extensions
Pros
Cons
Everhour
Automatic and manual time tracker,
timesheet template, work hours
tracker, and attendance trackers
Billing and invoicing
Task management
Detailed reports
Third-party integrations
Free plan available
Lack of offline option
iPhone app in beta testing
Grammarly
Real-time spelling, grammar,
punctuation and clarity checking
Plagiarism detection
Free version limited
Only available in English
Adobe Acrobat
Edit, sign, convert
and share documents
Customize security settings
Limited functionality
in free version
Complicated user interface
Pocket
View content
via keyboard shortcut
Offline access
Tagging capabilities
Limited scope
Occasional image issues
Cold Turkey
Block websites and
entire internet
Time allowances
and Pomodoro timers
One-time payment
Free version lacks features
Confusing support options
Office
Free
Share documents easily
Changes auto-saved
Problems with unexpected
sign outs
No CSV file support
Taskade
Great collaboration features,
including team task lists,
notes and video chat
Tag and fiter tasks
using hashtags or mentions
Limited free plan features
Unable to use offline
Dark Reader
Free to use
Plenty of customization
options
May slow web browser
NordVPN
Free trial available
Secures data and ensures
online privacy
Protects against DDoS attacks
No free version after free trial ends
Slows internet speeds
LastPass
Free plan available
Passwordless login
Strong password generator
Dark web monitoring
Share passwords
and notes securely
Technical issues
Limited live-chat support
No easy database import option
In Summary
Regardless of whether you have Windows 11 or the earlier version Windows 10, Edge extensions are plentiful. Plus, they're incredibly easy to install. For most extensions, installation takes just a few clicks! So whether you need a password manager, VPN, task management tool, website blocker, PDF editor, or a time tracker, there are plenty of excellent extensions in Edge to enjoy.