Our working lives have changed drastically these past few years and not always to the best: the average employee's workday is 3 to 4 hours longer than before the pandemic. How can we manage our personal lives in such a context unless we learn new and effective ways to save time? We've all heard common time management tips like prioritizing morning to-do lists and saying "no" more frequently but are they really enough?
What employees need for optimizing their schedules are new creative hacks that are easy to follow and can improve their time management skills. How to master them? Learn in this article.
How to Save Time at Work
Many of us want to improve productivity and save time while we work. We receive countless distractions, meeting invitations, emails, and pings that can take time away from completing tasks.
As a result, your 8-hour workday boils down to 2 or 3 hours of actual productive time. By trying the following time-saving ideas, you'll be able to devote more time to get your work done. Explore our ideas on how to save time at work.
1. Create a "virtual commute"
Before the pandemic, the average American spent 35 minutes commuting to work every weekday. While this may seem like a trivial amount of time, it adds up to 152 hours — or 19 full workdays — every year.
Rather than spending that time sleeping in or starting work later, productivity experts recommend repurposing saved time to create a "virtual commute." Harvard Business School professor Francesca Gino found that people who use their commuting time to think through their plans for the day — something they call "prospection" — were more productive once they arrived at the office than those who did other tasks.
From decluttering your workspace to task scheduling, morning rituals in the form of a "virtual commute" can help you save time by effectively gearing up for the day.
2. Use apps to avoid context switching
According to Asana's Anatomy of Work 2021 Report, we spend 60% of our time "working about work" (meaning doing tasks that are in preparation for work). This could mean scheduling tasks or answering emails but not accomplishing the things we need to get done. This leads to longer workdays and less productivity.
Instead, carve out uninterrupted time and avoid context switching or switching between apps and tasks. Thankfully there are tools out there that let you take action right inside your workspace: for example, Everhour allows you to integrate time tracking into any project management tool you use. Forget the tab switching — log time and estimate tasks with a single click within your workspace!
3. Estimate the cost of meetings
No one likes sitting in unnecessary meetings especially now that they are all virtual. If you are a proponent of scheduling too many meetings your colleagues might be experiencing Zoom fatigue which can lead to burnout. Before scheduling a meeting, ask yourself "does this need a meeting?" and follow this helpful flowchart to answer your question.
Meetings, whether in-person or virtual, are also huge time wasters. Estimate the cost of your participant's time by using a meeting cost calculator. This tool calculates how much time it is costing you to meet and helps you identify if you will be profitable from a utilization standpoint.
4. Operate on a maker's schedule
When creating your schedule it is important to think about whether you qualify as a "maker" or a "manager" and what that means for executing tasks. Makers are workers who tend to require large gaps of time to complete their tasks like writers, developers, and coders whereas managers most likely attend meetings in intervals and can accomplish tasks in hour slots.
If you're a maker, it's best to block off the time that you will need to accomplish your tasks and leave the room either at the beginning or towards the end of your day for meetings. This way you have allocated time in the middle for getting work done. If you're a manager, you will want to stack your meetings as closely together as possible to make the most of your intervals.
5. Learn keyboard shortcuts
Computer hacks can be indispensable time savers and help you fly through writing emails, opening up new tasks, and participating in virtual meetings.
One of our favorites is Quicksilver (Autohotkey for PCs) which is an open-source Mac application that makes launching software and a bunch of other tasks a lot faster. With a little bit of configuration, you can quickly crunch numbers, add items to your calendar, and search specific websites, all without touching your mouse.
Similarly, you can incorporate using keyboard shortcuts into your email. By using shortcuts for opening, sending, filing, searching, and navigating through emails, you can work through a batch of emails in no time.
Lastly, say goodbye to fuddling around for the "Leave" button on Zoom calls. With a simple Command(⌘)+W you can promptly leave or end meetings and by pressing Command(⌘)+Shift+A you can unmute yourself. These keyboard shortcuts give you the freedom to help you quickly navigate windows while simultaneously participating in meetings.
6. Use voice memos and dictation
Creating voice memos is a great way to send and save audio notes without the need to slow down and type them out. Whether you use Siri, Evernote, or other dictation apps, audio capturing can be incredibly effective, especially if you talk much faster than you write.
How to Save Time at Home
Although we spend almost a third of our life at work, it's also important to learn time-saving techniques for completing essential tasks and chores at home. Below are a few time-saving tips to increase productivity at home and help you make more time for what matters.
7. Use a meal planning app
Now that many of us are working from home, it's more important than ever to make sure our fridges are packed and prepared for meals. Some days, interrupting work to cook lunch simply can't be a priority. Instead, use a meal planner tool to generate grocery lists and help you execute meal preparation. The app Mealime offers meals that can be cooked in 30 minutes or less and generate a shopping list that can be imported into Amazon Fresh or Instacart for delivery.
8. Shop for groceries online
This takes us to our next point! Shopping for groceries online is not only safer given the current climate but a huge time saver. From sitting in parking lot traffic, walking up and down the aisles, and waiting in long checkout lines, grocery shopping can suck up time and cause major headaches. Using services like Instacart or Amazon Fresh you can easily add items to your list, track spending, buy in bulk (saving you money and trips to wholesale grocers) and shop by history!
9. Make every outing count
Now that we are spending more time at home, the few times that you do leave the house should count. Opt for batching tasks together to limit the need for multiple trips and consolidate household chores. For example, keep a large basket or bin by your front door with things that need to go out of the house. You can just grab them when you leave! This tip works well for packages that need to get shipped and items that need to be donated.
10. Get rid of clutter
If you find that your home or workspace is full of clutter, consider donating materials to charity. People in cluttered homes spend extra time looking for lost items that could be easier to find if organized. Some organizations will even pick up items that need to be donated free of charge.
11. Clean household items in the dishwasher
Keeping our homes clean and tidy is important now that many of us are telecommuting, but who has the time! Make cleaning a breeze by using your dishwasher to bulk clean items while you work. Surprising items that can be cleaned in the dishwasher include baseball hats, pet dishes and toys, plastic hairbrushes and toothbrushes, and soap holders.
The Importance of Keeping Track of Time
Hopefully, a few of these time-saving ideas will help you accomplish your tasks and free up your schedule! From leveraging productivity apps to bulk scheduling tasks find what works best for you to save time. Before you can even begin to incorporate these new time-saving tips, it's essential to track the time you are spending on tasks. Time tracking is key to understanding how you spend your time and is important for productivity and a healthy workflow.
Micro tasks like talking on the phone or checking your email might be huge time-wasters for you and by measuring the time you spend you can identify areas where you can adjust and improve. Time tracking can be simplified by using software, timesheets, or setting timers for different tasks.
To learn more about the benefits of time tracking and how it can give you more control over your workload and the workload of your employees, check out this great read next: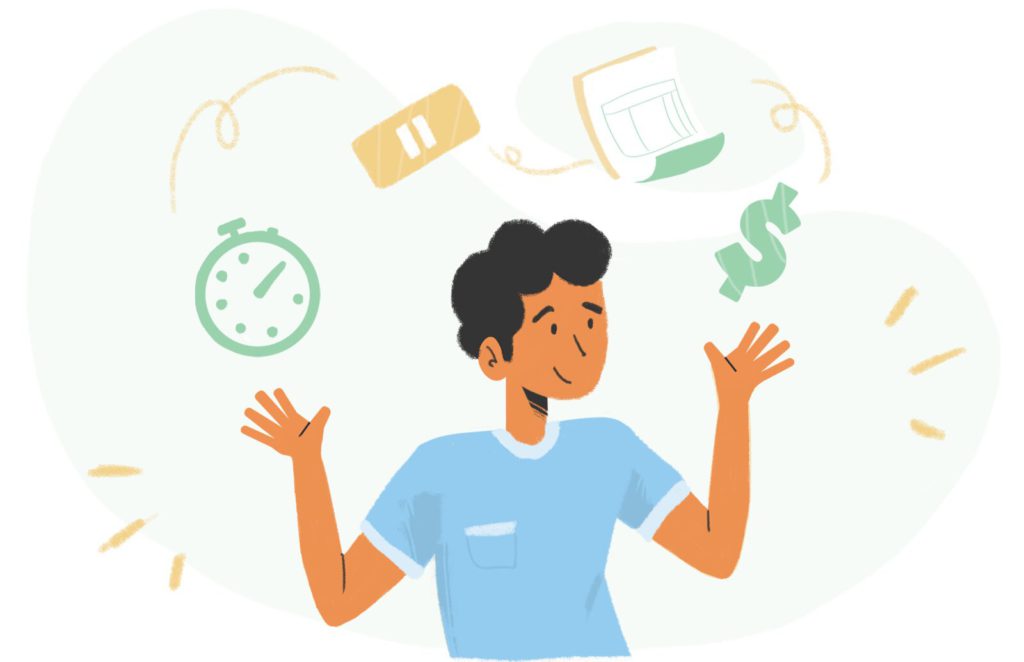 Want to know how to implement time tracking in your freelance work, business, or startup? We've gathered the most useful tips for you!