As customers place more importance on good customer service, many companies are looking to optimize customer support. How? By using helpdesk solutions, of course.
But which solutions are suitable for your organization, exactly? Well, you'll be pleased to discover there are dozens of helpdesk applications out there, each with its own unique features that will allow your business to provide standout customer service. In this article, you'll find a review of the 11 best help desk software available on the market.
What is Helpdesk Software & How Does it Work?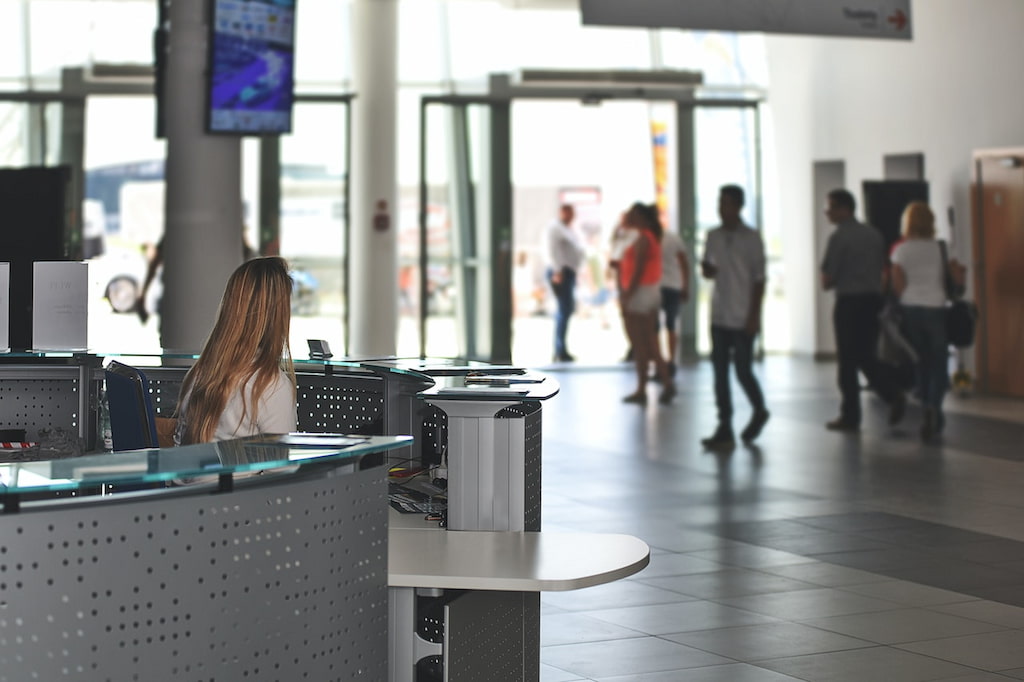 Helpdesk software is a system used to track, manage, and report customer service issues and requests. The top helpdesk software solutions all share a few key features which are essential for providing excellent customer service. For example, a good helpdesk will have a robust ticketing system, knowledge base, and self-service portal. It will also offer reporting and analytics to help you carefully track your performance and identify areas for improvement.
Why Should You Track Time in Helpdesk Software?
Offering excellent customer service takes time. But it's crucial to track the amount of time your team spends on each ticket, as this information can help you optimize your support processes and ensure your team is working efficiently. There are a few key reasons why tracking time in helpdesk software is beneficial for businesses.
🤔 It helps you identify bottlenecks in your process: If you see that specific tickets are taking much longer to resolve than others, it may indicate a problem somewhere in your process. Tracking time can help you pinpoint where the bottlenecks are so you can take steps to fix them.
⏰ It allows you to set realistic expectations for customers: If you know how long it typically takes to resolve a specific ticket type, you can prepare customers for how long the resolution will approximately take, what the likely outcome may be, and more.
❓ It lets you see which tickets take the most time: This information can be helpful when deciding what kinds of tickets to prioritize or where to allocate additional resources. For example, suppose certain types of tickets are consistently taking a long time to resolve. In that case, it may be worth investing more time and effort into addressing them.
❗ Track Time in Helpdesk Software with Everhour
If you're looking for an intuitive time tracker that integrates seamlessly into helpdesk software, Everhour is the tool for you. The time tracking software offers a host of valuable features, including a time clock app, billing and budgeting capabilities, task management features, team management tools such as a timesheet app, a work hours tracker, and attendance tracker, expenses tracking, reporting and dashboard tools, invoicing capabilities and more. So if you're considering implementing employee time tracking to optimize work processes, Everhour is the ideal tool to help your team meet organizational goals.
11 Best Helpdesk Software
Help Scout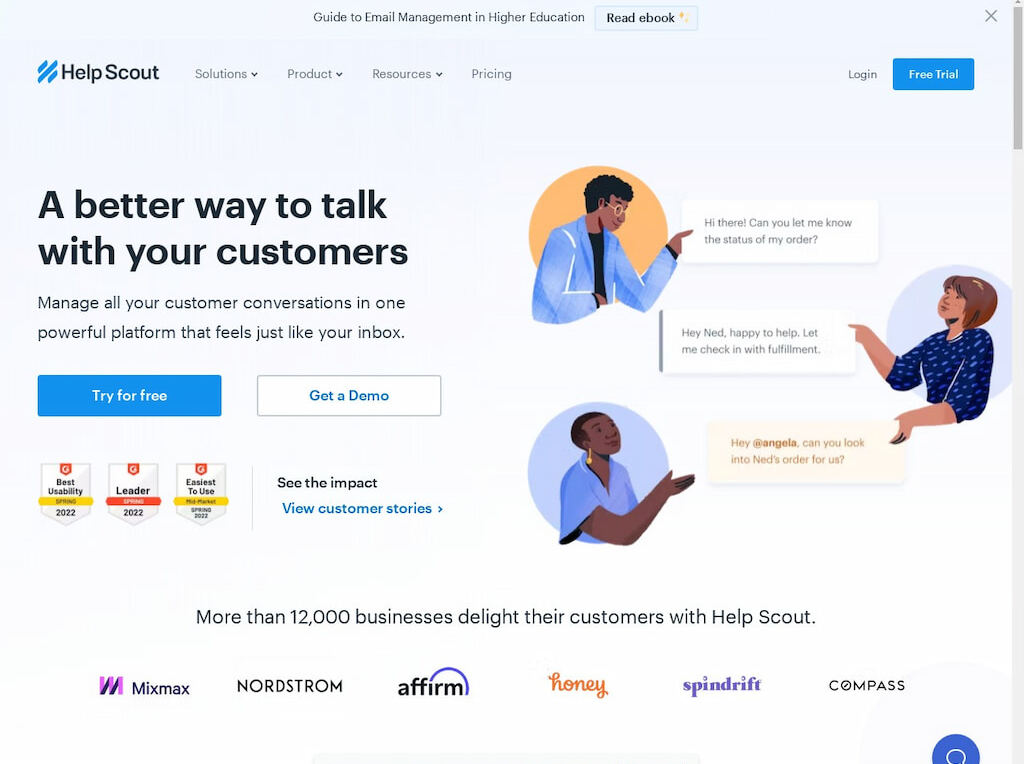 Help Scout is helpdesk software that helps to organize your communication and respond to the users easily and quickly without any issues. It's packed with standard helpdesk app features as well as some unique ones. From ticket and email management to private notes and @mentions features to make things easier for the team. It also provides collision detection so there's no duplicate responses.
You can also automate your workflows to avoid doing repetitive tasks that inevitably arise in helpdesk. Help Scout helps to personalize messages for better customer satisfaction. You can also track time inside Help Scout with the help of various Help Scout time tracking integrations.
Free Trial
Standard Plan: $20 per user per month (annual subscription)
Plus Plan: $40 per user per month (annual subscription)
Pro Plan: $60 per user per month (annual subscription)
---
Hubspot Service Hub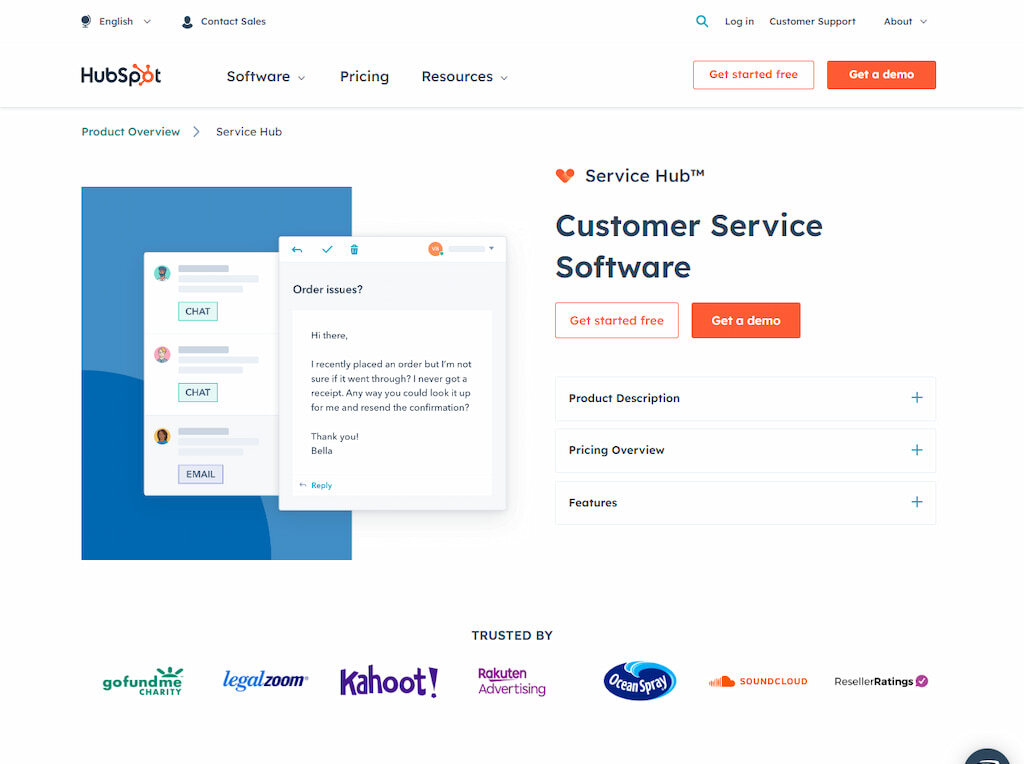 Hubspot Service Hub is an excellent option if you're looking for a comprehensive helpdesk solution. The platform's key features include a ticketing system that lets you track and manage customer support requests in one place, making it easy to keep track of your team's progress and ensure that all requests are handled in good time. Hubspot Service Hub's built-in knowledge base is a great resource for your team and your customers. It gives your team quick access to answers to common questions and allows customers to self-serve when they need help.
The live chat feature lets you communicate with customers in real-time, which is ideal for providing quick answers or resolving issues on the spot. Finally, Hubspot's time tracking, reporting and analytics features provide insights into your team's performance and help you identify areas for improvement to ensure your company's customer service is the best it can possibly be.
Pricing
Free
Starter: $45 per month
Professional: $450 per month
Enterprise: $1,200 per month
---
Intercom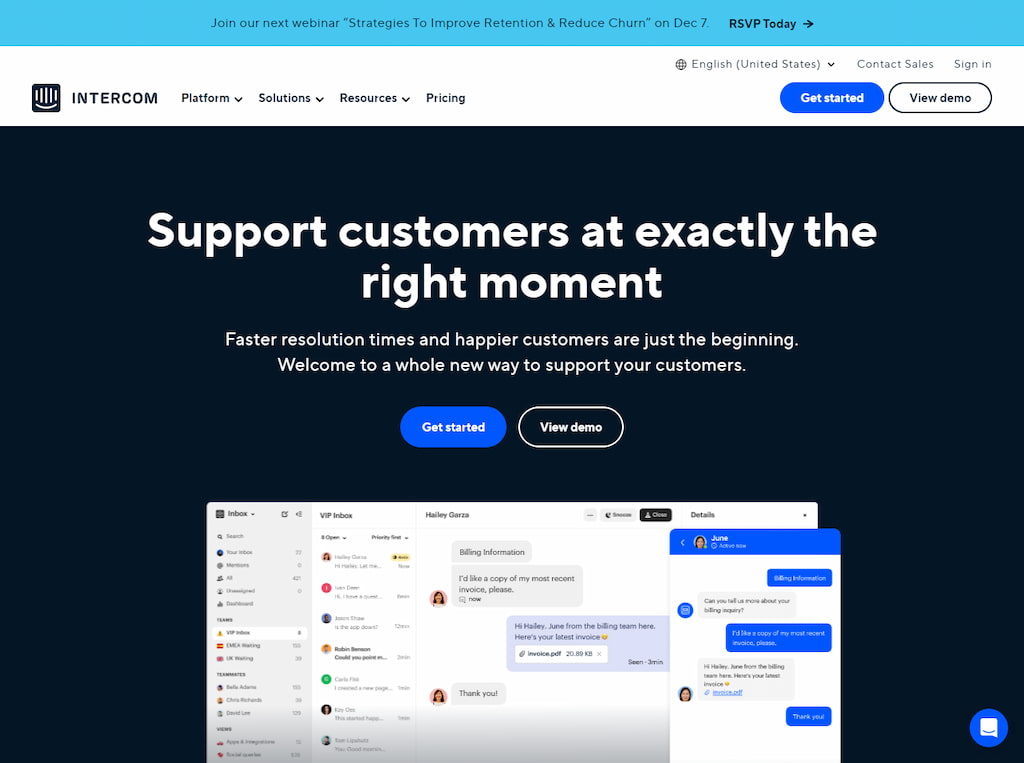 Intercom is a powerful helpdesk software that offers a wide range of features to help you optimize your support. It offers a variety of helpful features, including a live chat feature that allows you to chat with customers directly in the product and save chat history to ensure you and your customers have a record of conversations.
In addition, it facilitates code-free product tours, which allows your customers to learn everything they need about your products with interactive tours. Another key feature of the Intercom tool is the Resolution Bot, a complete self-service chatbot that uses machine learning to speed up resolution times, so customers can access the help they require, even if your team is busy or offline.
Pricing
Starter: $74 per month, billed annually.
Support, Engage and Convert Plans: Custom.
---
LiveAgent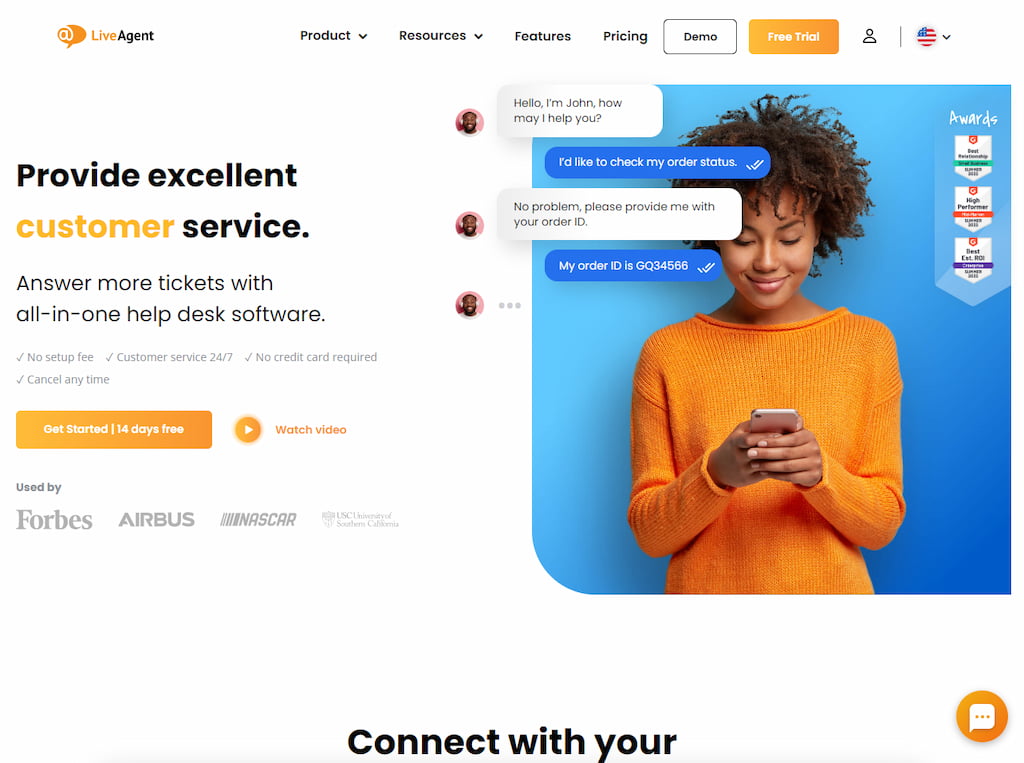 LiveAgent is the only all-in-one helpdesk software that allows you to assist your customers on all channels. Some of the key features of LiveAgent include a ticketing system that gathers customer messages and turns them into support tickets in a universal inbox. In addition, the live chat feature allows you to provide world-class customer service with a real-time typing view, canned responses to straightforward questions, and more.
With LiveAgent, you can offer your customers advanced support by setting up a call center. The software handles inbound and outbound calls, allowing for easy customer interactions and ticket management. LiveAgent's social media integrations allow you to nurture customer relationships across channels. Your customer support team can directly engage with customers on social media from the ticketing system. Finally, LiveAgent's knowledge base allows for simple self-support. You can share business best practices, helpful articles, and how-to guides.
Pricing
Free
Ticket: $15 per month per agent.
Ticket and Chat: $29 per month per agent.
All-inclusive: $49 per month per agent.
---
Zendesk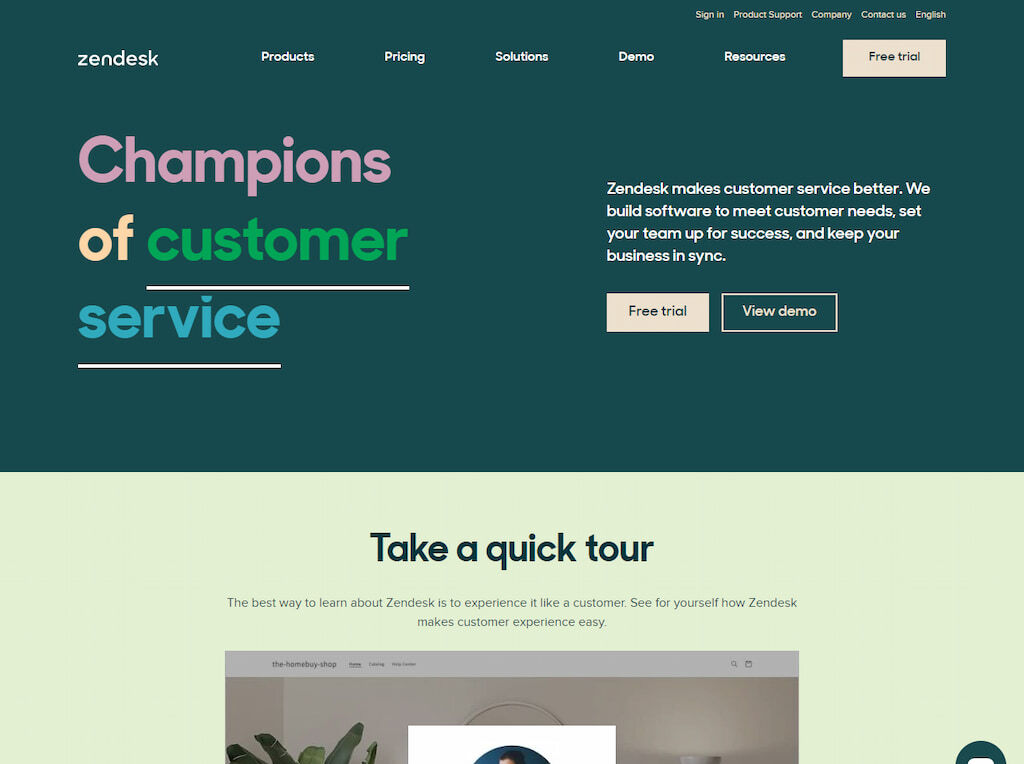 Zendesk is one of the leading helpdesk software solutions on the market, and it offers all of the key features you need to provide outstanding customer service. Zendesk's messaging feature allows you to provide support anywhere, meaning customers can always reach you when they require support. Interact with customers over messaging, social media, live chat, email, or voice to ensure you connect in a way that suits them.
With Zendesk, you can also build an integrated community forum and help center, enabling customers to solve problems at their own pace. Finally, Zendesk uses AI and bots to answer customer questions, saving your business precious time and money.
Pricing
Team: £39 per agent per month, billed annually.
Growth: £65 per agent per month, billed annually.
Professional: £79 per agent per month, billed annually.
---
Freshdesk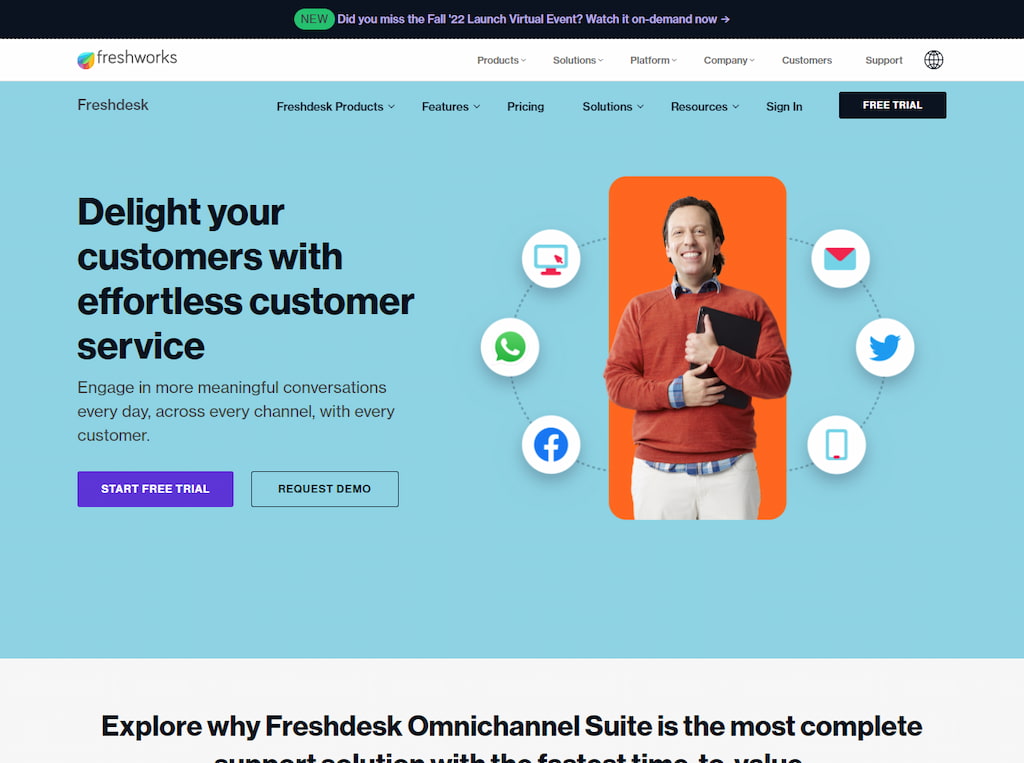 Freshdesk is another popular helpdesk software you should consider using to ensure your customers receive great customer service. Besides its user-friendly interface, Freshdesk's best features include its robust ticketing system, which allows you to keep track of all your support requests across a range of channels in one place. You can also use Freshdesk's built-in knowledge base to store articles and FAQs that your team can use to self-serve. In addition, if your customer support team needs to escalate a ticket, Freshdesk helps with its built-in workflow engine.
When it comes to resolving issues, Freshdesk stands out from other platforms because of its advanced issue-resolution features. Create team huddles to discuss parts of tickets with other experts across your organization, share ownership of tickets with other teams, and link tickets together to keep track of widespread issues while delivering consistent responses.
Pricing
Free
Growth: £12 per agent per month, billed annually.
Pro: £35 per agent per month, billed annually.
Enterprise: £60 per agent per month, billed annually.
---
Jira Service Desk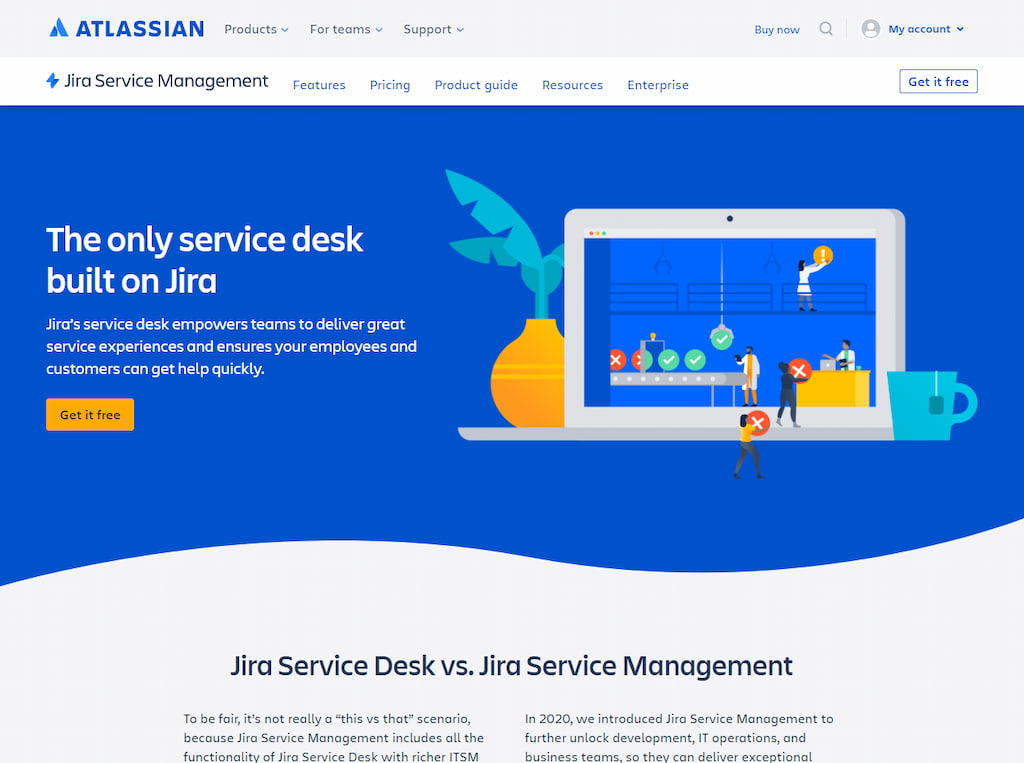 Jira Service Desk is a popular helpdesk software that allows businesses to manage and optimize their support operations. It offers a number of features that can be used to streamline support operations, including a self-service desk that makes it easy for all teams and customers to get the support they need quickly. Plus, you can bring together requests from a range of channels, including email, chat, your service desk, and other communication channels, to track, triage, and assign incoming requests to the relevant team member. In addition, Jira Service Desk gives you access to customer satisfaction reports, allowing you to better understand your customers to improve customer service.
Pricing
Free
Standard: $21 per agent per month.
Premium: $47 per agent per month.
---
Salesforce Service Cloud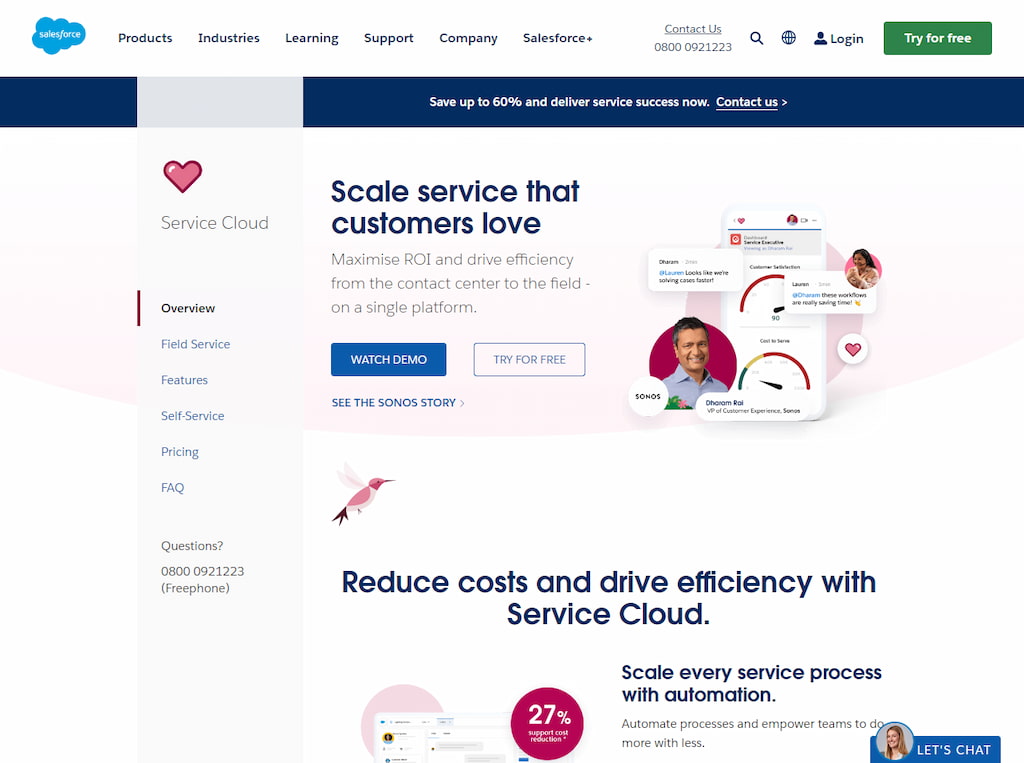 Whether you're a small business or a global enterprise, Salesforce Service Cloud is the help desk software that transforms the way you serve customers. The platform's key features include case management to streamline service processes, automation to scale your service and increase productivity, self-service tools to lower case volume, contact centers on one digital platform, and more.
Plus, popular add-ons include field service, which helps your organization cut costs using mobile apps and scheduling, as well as AI-powered chatbots that help you manage digital engagement across all channels.
Pricing
Essentials: £20 per month per user, billed annually.
Service Professional: £60 per month per user, billed annually.
Enterprise: £120 per month per user, billed annually.
Unlimited: £240 per month per user, billed annually.
---
RingCentral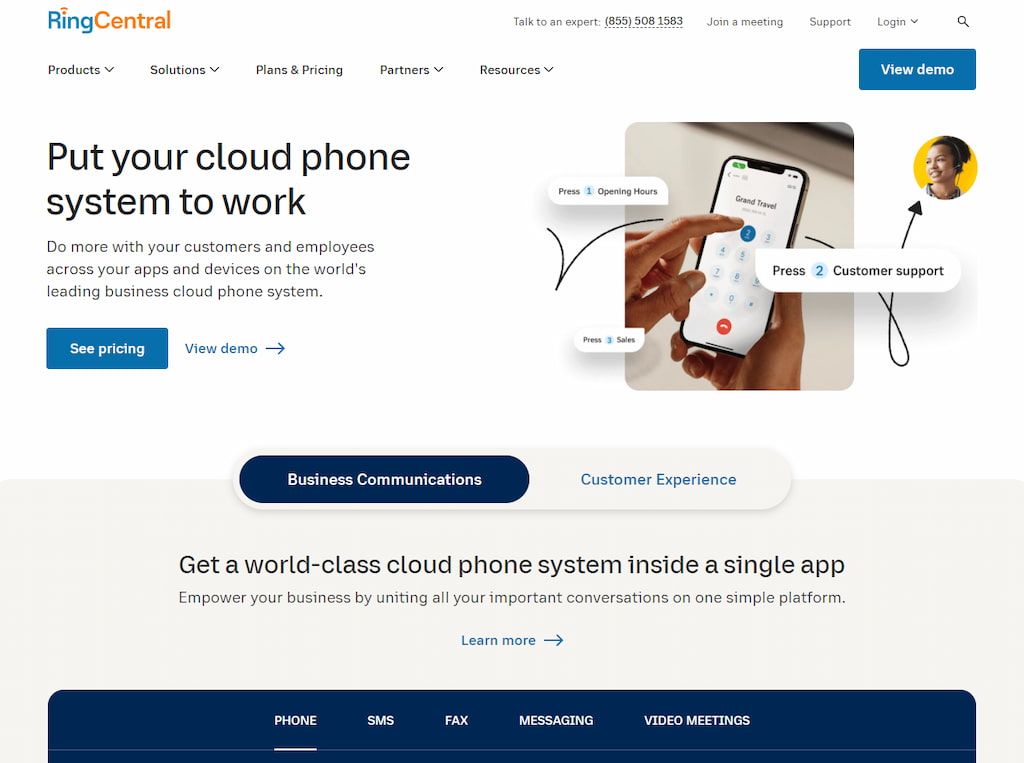 RingCentral is a cloud-based helpdesk software that provides businesses with a wide range of features to optimize their support operations. With RingCentral, businesses can create and manage tickets, track customer interactions, and generate reports on customer satisfaction. In addition, RingCentral offers a live chat tool that allows businesses to provide instant help to their customers. Other features include RingCentral's ticketing system, which lets you track and resolve customer issues quickly and efficiently. You can create custom fields to capture all the information you need and assign tickets to specific agents for follow-up.
Plus, you can easily track and manage Service Level Agreements (SLAs), ensuring that critical issues are resolved within the agreed-upon timeframe. Finally, RingCentral integrates with many popular applications, including Salesforce, Microsoft Teams, Slack, MailChimp, Pardot, and more.
Pricing
Essentials: $19.99 per user per month, billed annually.
Standard: $27.99 per user per month, billed annually.
Premium: $34.99 per user per month, billed annually.
Ultimate: $49.99 per user per month, billed annually.
---
HelpDesk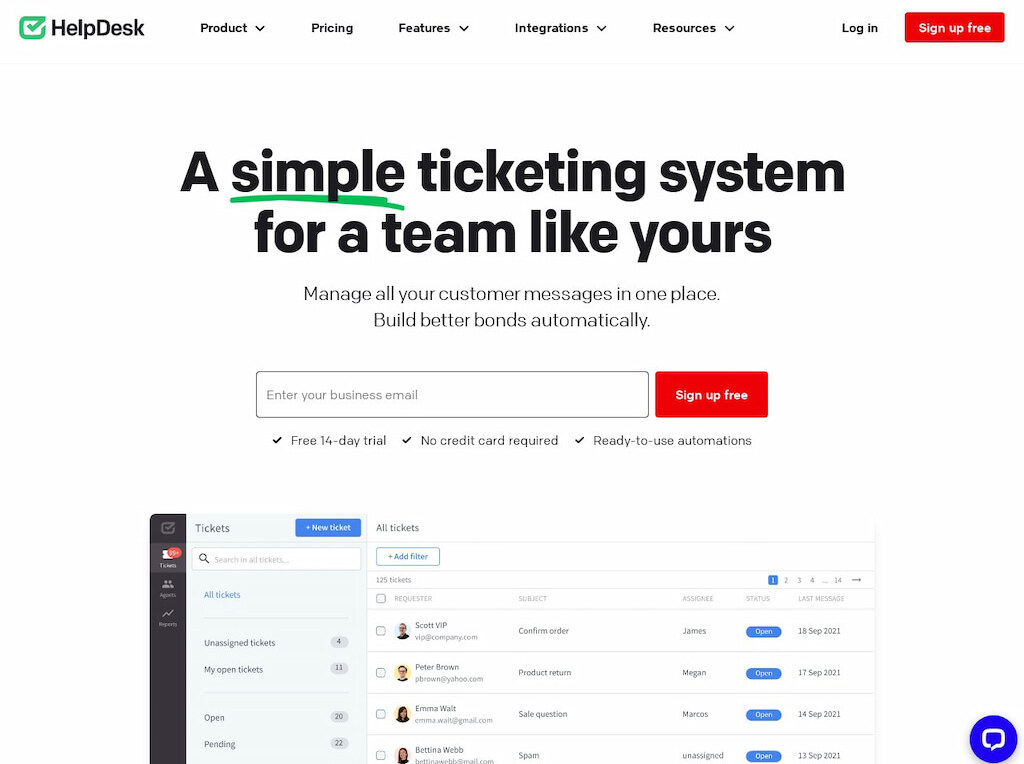 HelpDesk is cloud-based software that provides all the features you need to streamline your customer support process. It offers a variety of useful features, including ticket management to improve workflows and team collaboration features such as multiple inboxes, private notes, agent groups, role assignments, and more.
In addition, HelpDesk does some of your work for you. The platform's automation features include canned responses to repetitive questions, automated ticket assignments based on email addresses, and new ticket notifications. Finally, it creates detailed reports which enable users to analyze key insights to make better decisions to improve customer service.
Pricing
14-day free trial available.
Team Plan: $29 per month per agent, billed annually.
Enterprise: Custom.
---
Zoho Desk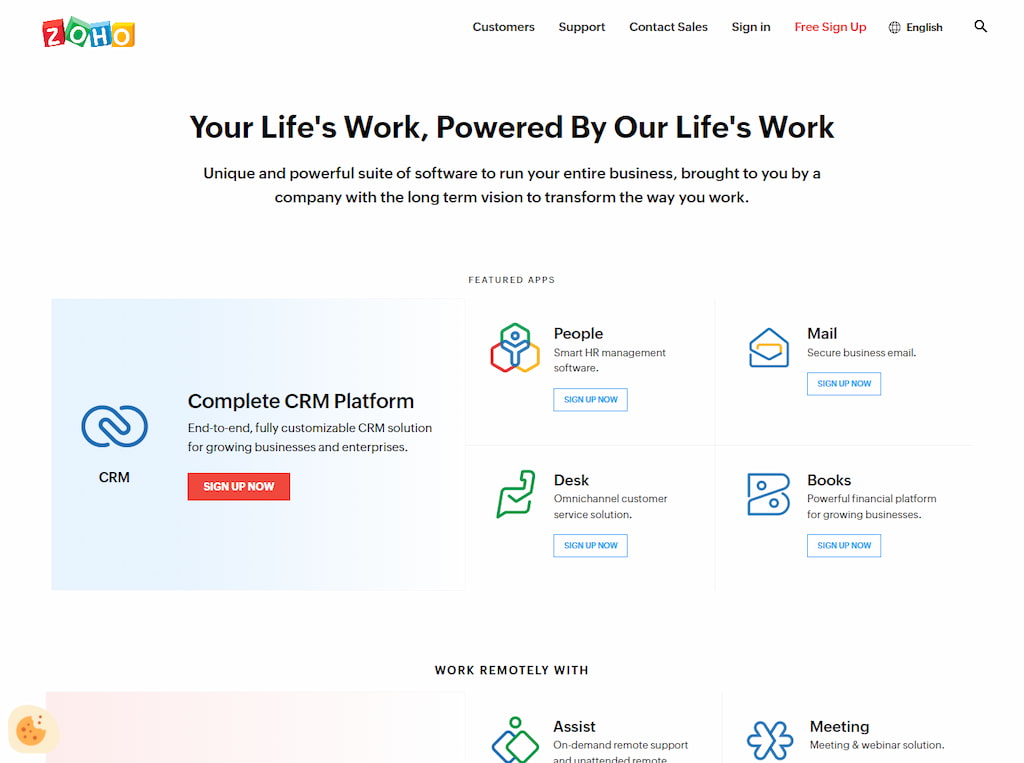 Zoho Desk offers great features and tools to streamline your support operation. The platform's key features include effective ticket management on the communication tools that suit you and your customers, contextual AI support, with a bot that shares suitable solutions from your knowledge base directly with customers. Zoho Desk also offers embeddable self-service solutions. That allows you to create a helpful repository of solutions for questions your customers might ask.
Additionally, Zoho Desk empowers customer service agents to nurture customer and team relationships with tools such as work modes to organize open tickets, response editors to craft valuable responses for customers, and team collaboration tools to ensure customer tickets are tackled efficiently. Finally, the platform offers automation tools, allowing you to automate repetitive activities. For example, ensure every ticket is assigned to an appropriate agent and automatically inform agents and customers about any progress made on their support ticket.
Final Thoughts
Customer support is a crucial part of any business and should be given the attention it deserves. With the right helpdesk software in place, you'll be able to optimize your support system and provide your customers with the best possible service thanks to efficient ticket management, AI, self-service, automation, and agent productivity features.
Once you've found the right helpdesk tool for your organization, consider integrating it with employee time-tracking software. While a helpdesk tool will optimize customer support, a time tracker will optimize time management, team management, and client billing and invoicing, ensuring that the organization runs as efficiently as possible!