With Help Scout, you get dynamic helpdesk software to use at your workplace. It's designed to help you organize and respond to all forms of communication. Whether that's from current or future customers, Help Scout time tracking is worth the use, considering the fast-paced nature of today's work environment and processes.
Responding to emails, tracking, troubleshooting problems with tickets, and other customer services are potential issues to resolve. However, an integration would go a long way to boost your business by adding seamless interactions your staff can take advantage of. Moreover, keeping track of staff activity is bound to get easier with a matching Help Scout time tracking integration.
Why Track Time in Help Scout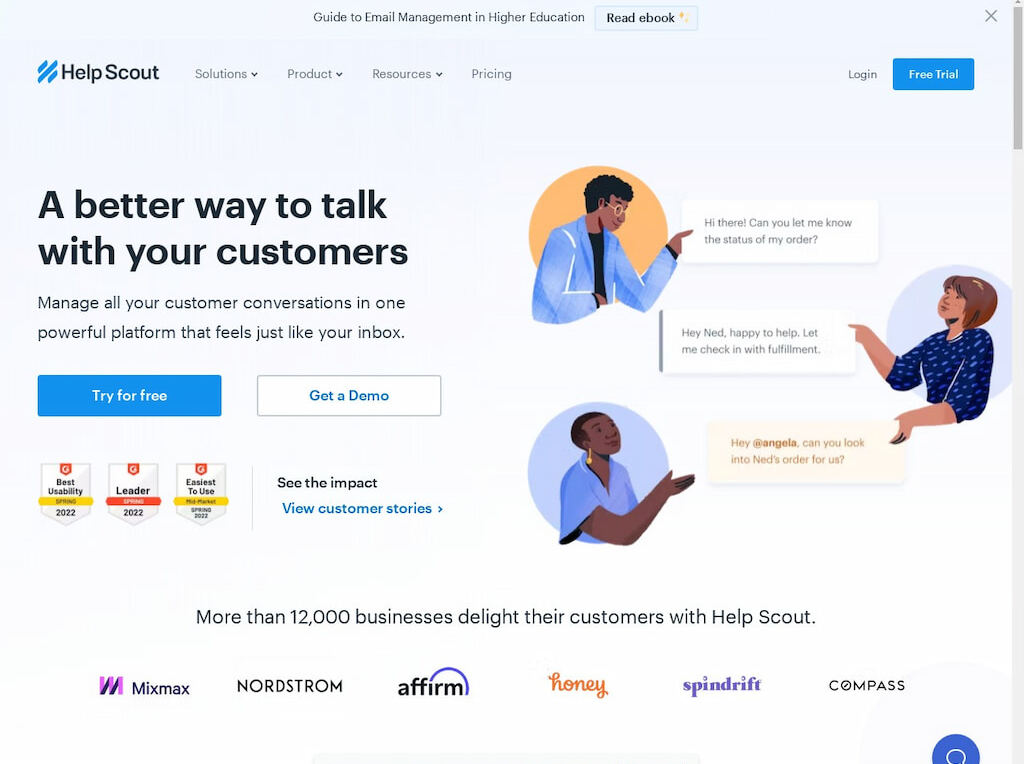 Data and exceptional customer support go hand-in-hand. If you must know how effective your customer support is at solving problems, including those with communication and tickets, Help Scout time tracking is important. However, with a quality integration, you enjoy more functions.
Help Scout appeals to many organizations because it is a dedicated customer support platform designed to help growing teams provide the best-in-class customer service. It comes with a comprehensive suite of tools optimized to help businesses boost customer service functions.
Also, Help Scout is feature-packed and includes an innovative shared inbox with features like private notes and @mentions to improve team collaboration. There's also collision detection, which helps reduce duplicate work by showing when an agent is actively working on a specific conversation.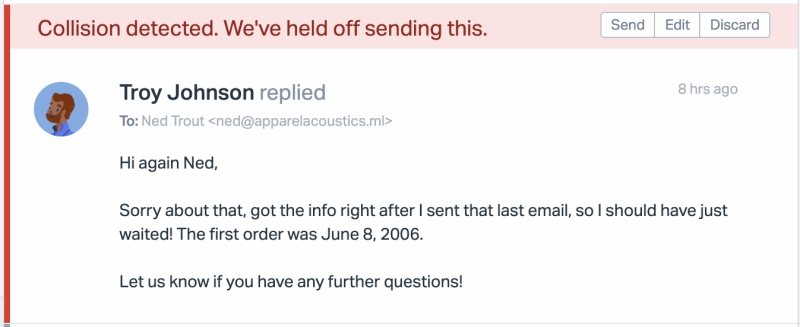 Further, automating routine tasks like conversation sorting with workflows is pretty straightforward. You can work on getting additional context with customer profiles. Building a powerful customer knowledge base is possible with Help Scout, thanks to the intuitive editor, which makes creating help center content a smooth process. You also get built-in search functionality and organization features so that customers can find the content they need.
Help Scout pricing is another solid reason people use it to track time. If you have extensive experience with customer support, you'd know that some questions are repeatedly asked. You can't reply to each question from scratch, but you can use Help Scout's smart templates to reply with a few clicks.
How to Track Time in Help Scout
You can track time on tickets using Help Scout. You can then run time reports in an integration app like Everhour for free or for a more feature-filled plan. Here are the steps to follow.
⏰ Native Time Tracking
Create an account on Help Scout, and choose the app or browser extension.
After installation, start the Help Scout timer. You have access to the timer button from all Help Scout tickets.
View the ticket name and ticking timer in Help Scout. You can pause or stop the timer from the browser extension, mobile app, or desktop.
With Help Scout, you can review time reports and timesheets and manage your projects. That's not all; you can edit past entries, invite contributors to your project, and export reports.
Help Scout native time tracking won't just automate workflow but boost the productivity of your staff, especially if they're agents working remotely. However, with a tool like Everhour, employees can click the 'start timer' button to initiate tracking so that the software tracks how long it takes to finalize the ticket.
Best Help Scout Time Tracking App – Everhour
Sometimes, many individuals and businesses underestimate the capability of Help Scout to integrate third-party applications, especially for time tracking. The best time tracker that smoothly integrates with Help Scout is Everhour, thanks to its comprehensive and easy-to-use tracker that can be used by anyone, from sole entrepreneurs to large corporations.
Everhour is an excellent, market-leading tracker app and extension for teams and small to midsize businesses. Thanks to its special time and task management features, Everhour can solve most of the issues teams face. One of them is tracking the time spent on projects using a timer or manual entry. With Everhour, you can set time estimates for tasks performed by your team members.
The bottom line is that you can save time and streamline your work processes by automating them. That includes tracking work hours, vacations, days off, sick leaves, setting budgets, creating reports and invoices, checking project progress, and much more.
Main Features of Everhour
📃 Reporting
Reports are vital to any business. That's why Everhour comes with comprehensive reporting features and tools you can customize to help you generate reports that meet your unique requirements. For example, you can include filters and columns and change orders to format or create customizable reports.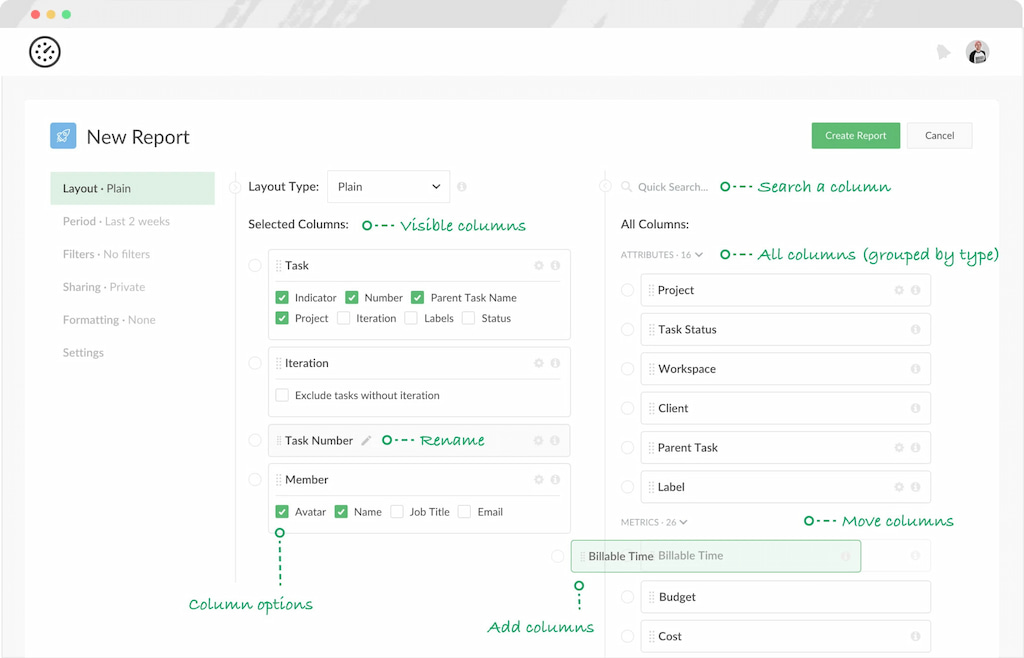 Everhour also collects data from different aspects of each project being handled by your team. That makes it easy for your team to analyze the information to derive actionable insights. With such insights, project managers can generate accurate decisions while employees perform better to complete projects on time.
🔧 Integrations
The best feature of Everhour is its ability to integrate with a wide range of project management systems. Everhour has proven to be the ideal and most complete integration for Help Scout because it's quite easy to set up and no learning curve is required. When used, Everhour eliminated the need to install different separate solutions to manage tasks and track employee time.
Thanks to the powerful integration, it's easy to deploy the solution directly into the project management software run by your team. Running Everhour with Help Scout presents a dynamic duo that takes your business to the next level.
⏳ Time Tracking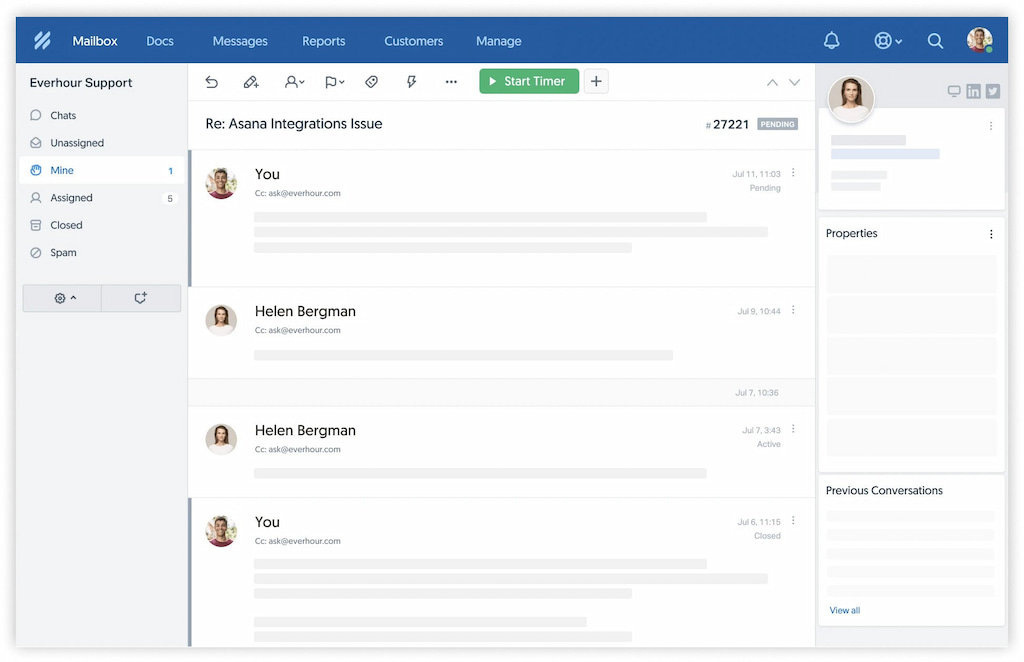 The Help Scout time tracker gets a ready boost from Everhour because the latter enables teams and businesses to implement accurate project estimates. Further, Everhour puts project managers in control of every task and team member, thus making it easy to track projects. Apart from monitoring the progress of every task, the team's overall progress is tracked as well, usually via timelines and timestamps.
📅 Task/Project Management
Help Scout is already a tool to help manage your customers with a personal touch cut across different variables. When paired with Everhour, you can develop a unique customer and task management module to run side-by-side. This will help you see customer data and learn the best ways to attend to every support request.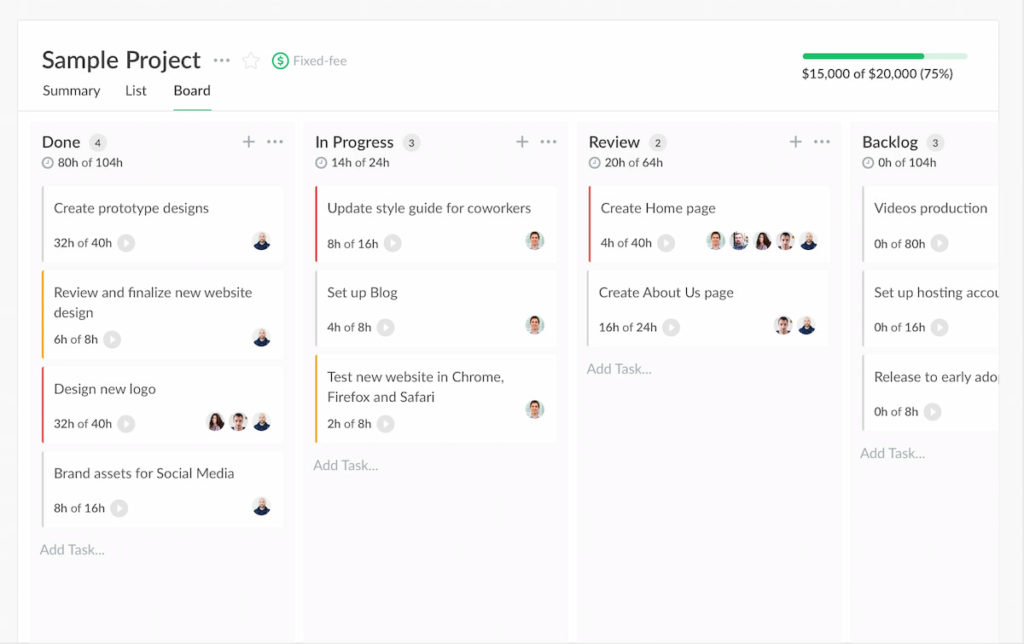 When your team is empowered with a wealth of useful information about each customer, it's easy to send better replies in less time. Internal projects and tasks are also better handled.
❓ How to Install Everhour
Everhour is a timesheet app you can use to track time and go over your team's progress on projects you've assigned to them. However, it's easy to install with a straightforward process.
Open the Everhour website and create an account before installing the app. You'll also notice a web extension you can use for your team on the website. The extension is available on many web browsers, and it's more convenient for employees.
Most workplaces prefer the Everhour browser extension, so log into the account from your toolbar if that's your choice. You can also ask employees to pin the icon on their home screen or taskbar so that it's always visible and they can see the timer counting.
You can add tasks, projects, tags, and more on the extension. If you run a help desk tool like Help Scout, the Everhour browser extension is your best bet, as it helps you to manage your team.
💰 Pricing
Whether you run a small or considerably large team, you'll find that Everhour is one of the most budget-friendly and accessible tracking tools out there. Even before making a purchase, the Everhour demo is free on the website to help you learn how it works. You can also apply the demo to your team's profile to see how it can fit into your organization.
Depending on your needs and the requirements of your business, Everhour has a three-tier plan you can choose from. They are:
Free Plan: As it says, the free plan is absolutely free, and you can use it for up to five users. Also, it comes with unlimited time tracking, report, and project planning features. At no cost, you'll have access to the app and browser extension.
Lite Plan: Naturally, you'd want a more advanced version that gives you better control at reasonable prices. That's where the Lite Plan comes in. You can get it at just $6 per month per user or pay $5 per month per user for the annual subscription. It's definitely worth it for the additional features you get, like invoicing, billing and reminders.
Team Plan: This is the most comprehensive of the plans available on Everhour. You can get it for $10 per month per user or $8.50 per month per user for the annual subscription. It's much bigger and better than the two plans above. Also, you must sign up to five users. The Team Plan contains all the features you need to combine well with Help Scout.
How to Track Time in Help Scout with Everhour
Perhaps you want to use Everhour as your sole employee time-tracking tool. Take the following steps to track time in Help Scout with Everhour:
1️⃣ Create an Everhour account: Sign up for free and install the extension in your browser. Whether you're using Chrome, Safari, Firefox, or other popular browsers, you can embed Everhour time tracking controls into the Help Scout interface.
2️⃣ Log into the extension: The Help Scout time tracker extension should be present in your toolbar now. Click on it to log into your Everhour account. Proceed to click the 'pin' icon so that it's always visible to users. It's best this way, and you can always notice if your timer is running or not.
3️⃣ Grant access to the site: You must grant access to the extension. Do that via the Help Scout website. Next up, open the Everhour extension and click on the avatar icon to access the integrations page. Search for Help Scout and enable it.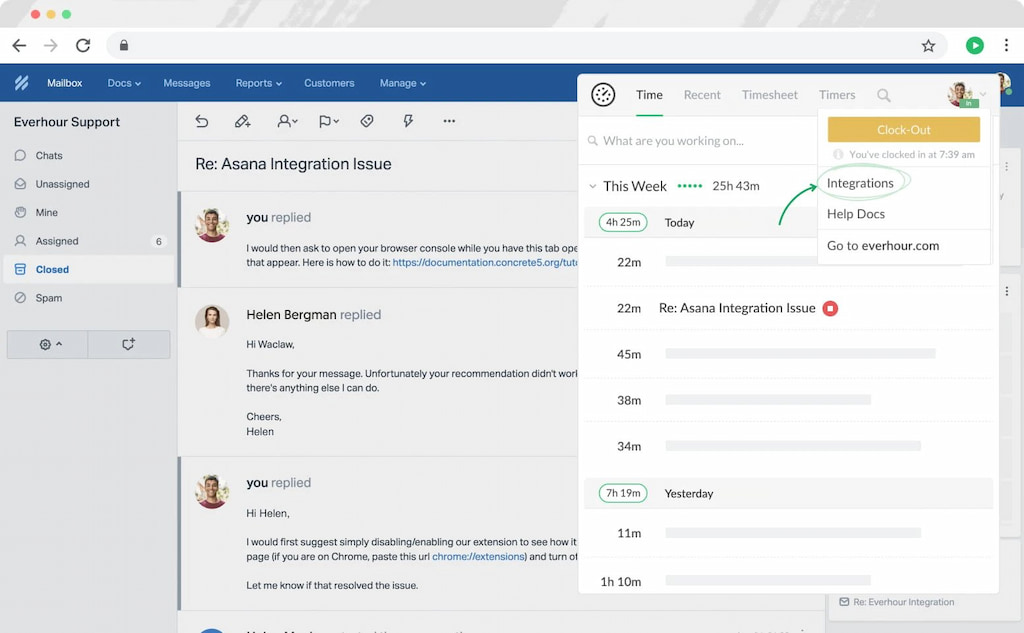 4️⃣ Track time inside Help Scout: This is the interesting part. Go to Help Scout and locate the visible 'Start Timer' button there, and click on it to start the timer. You can click the '+' button to add time manually for the current date or past date.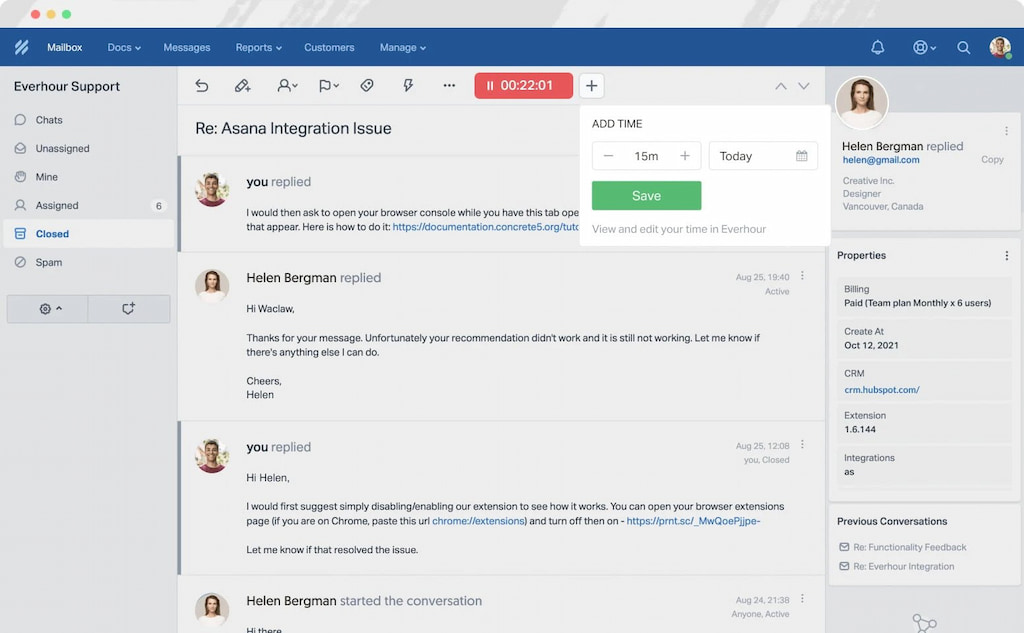 5️⃣ Review and analyze time tracking reports on Help Scout: Now, you can check time entries and other information. All you have to do is go to app.everhour.com to view the time entries. Further, when you track time from Help Scout, the ticket ID is copied along with the client name and subject to the time entry in Everhour. There's a link back to the Help Scout conversation.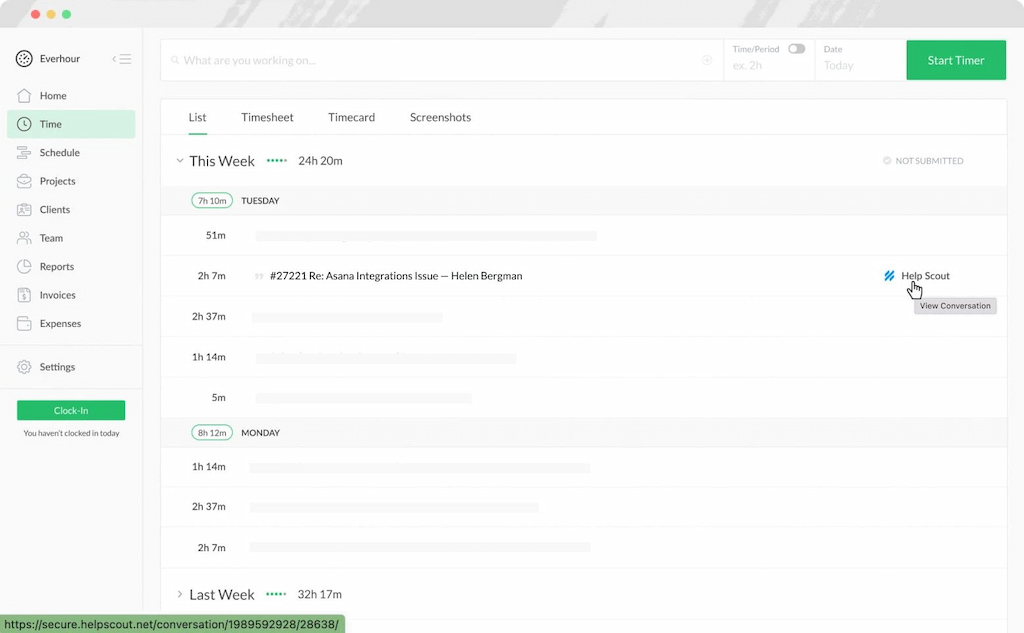 6️⃣ Run more activities and tasks: It's fully up and running at this stage, and several functions can help you achieve better results. One of them is the Timers page, which shows what your team is doing at a specific moment. Another is the Timesheet page, which helps you to view the structured picture of the time a member of your team spent for a week. In addition, there's a Timecard page useful for displaying when a user started their workday, the breaks they had, and when they finished their work. A Time-off page provides another display of all vacations, sick leaves, etc.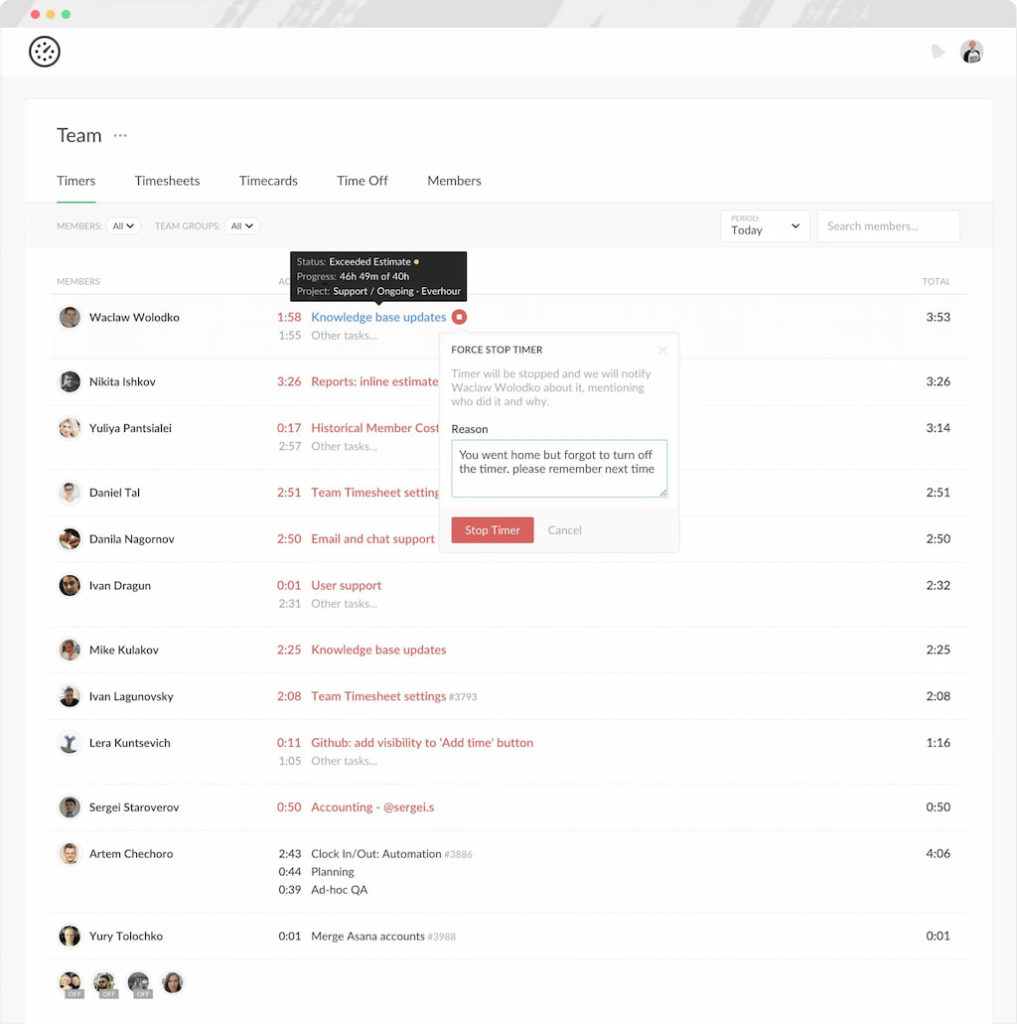 Help Scout Time Tracking: Final Thoughts
Help Scout is a top-rated tool with several powerful features that offer solid help to businesses of all sizes. It has the capacity you need to give your customers the kind of service and experience they deserve. Private notes, tagging, saved replies, reporting, automated workflows, and other attributes make the Help Scout time tracker worth using. However, you can do and achieve more when you add the best Help Scout time-tracking tool—Everhour.
Time tracking becomes easier when you add Everhour directly to the Help Scout interface. The integration enables you to start a timer from any ticket in Help Scout. That means you do not have to interrupt your workflow to track time; all the features you need to stay productive while delivering excellent support are present in Everhour.