Keeping track of time manually, especially at scale, can quickly add up. It's far from the most practical way to keep track of time within a company, but thankfully, there are solutions out there that can help automate time-tracking for you. One of the best ways to do that is to use a time entry system.
A time entry system is software that allows employees to manually or automatically log their working hours. Time entry systems are mostly designed for business managers who want to streamline employee productivity, billing and invoicing of clients, payroll, and other time-consuming tasks in the workplace.
Currently, there are hundreds of different time entry systems available on the market, and finding the one that best works for you can take hours if not days. So, what we've gone ahead and done is researched the entire market, and picked the 5 best time entry systems you should take into consideration.
How We Choose the Best Time Entry Systems
While there seem to be way too many factors for a regular person to account for when choosing time entry systems, we've broken things down. We focused on 5 features when choosing the best time entry systems available today. That way, we created solid criteria to follow when judging the different software, making it easier to create an objective list.
🔧 Features & functionality
The most important factor to consider when choosing a time entry system is the system's features. It's imperative that you get a full list of the different features a time entry system has to offer. That way, you can gauge whether or not you can use it in your daily operations and processes.
Make sure that the features of your time entry system are applicable to your organization. Again, each company operates differently, which means every organization has its own specific needs that the time entry system needs to meet.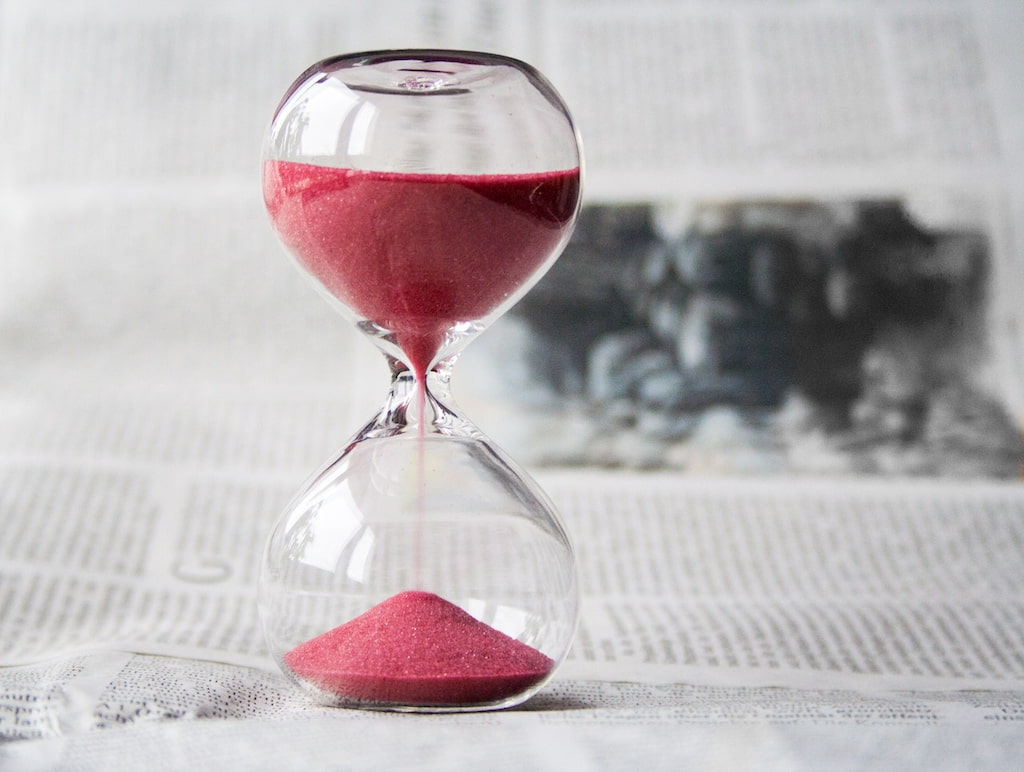 For example, if you have multiple locations and remote teams, you need time entry software that can handle multiple locations. Or, if you need accurate and timely documentation of an employee's work along with their hours, look for systems that provide you with that. That said, there are numerous features that are applicable to just about any organization and team.
When we were looking for the best time tracking software available, we made sure that they all offered online timesheets. This is because we believe this to be a core feature of any time tracker that you will need in any organization.
Additionally, we looked for time tracking, reporting, online invoicing, and project management features as they will be useful for all industries.
👌 Ease of use
It's pointless to adopt a time entry system that's complex and hard to use. You want to ensure that everyone on your team or in your organization can instantly start using your new time entry system. This is why another key consideration for us when choosing the best time entry system was the ease of use.
If your employees have a hard time adopting and using your time entry system, there's a high chance that they'll avoid logging their time altogether. This makes financing and overall business management really tough, which is why we prioritized ease of use when finding the best system available.
🔁 Integrations with other tools
Nowadays, everything is digital. Even industries that require manual labor have adopted some digital processes. This is why it would be great if your time entry system easily integrates with the other tools you use in your operations.
For example, many modern organizations use Google Docs and Google Drive for sharing files and creating documents. If your time entry system integrates with these tools, it will be much easier to track and log time without having to switch between the tools. That way, you save time and boost efficiency in your organization.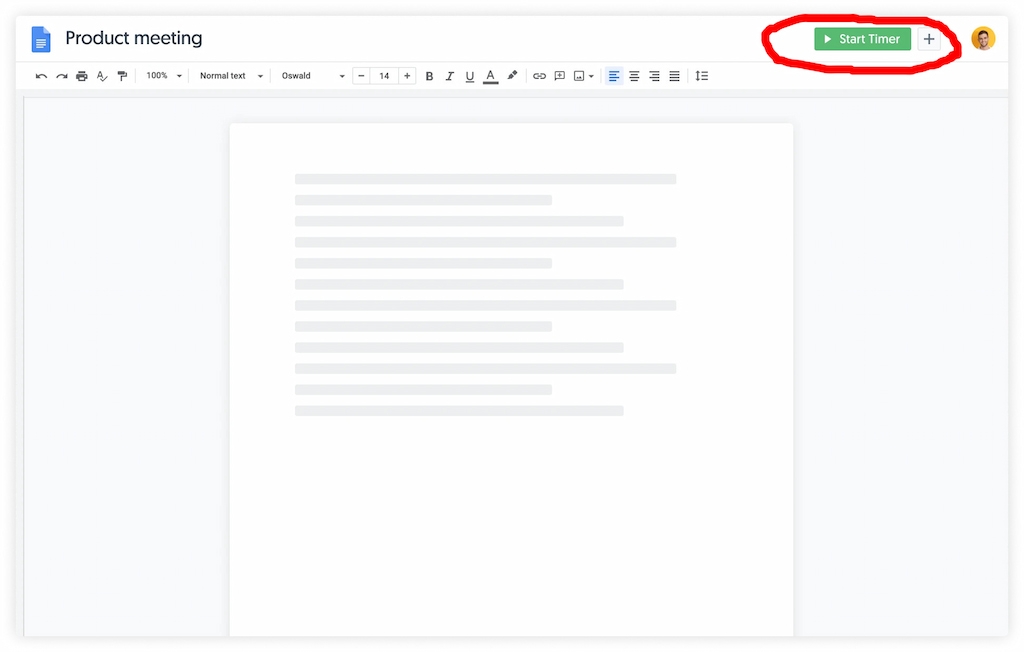 Since every company has its own set of tools for its operations, we highlighted options with a wide range of integrations. It's important that your system integrates with most, if not all, of your digital tools. So, you can rest assured that all the tools we featured on this list come with a large set of useful integrations.
🔐 Security and privacy
Data privacy and security are top priorities for companies nowadays. Data breaches and leaks can be very costly for the organization and can even result in legal consequences. Since time entry systems deal with sensitive employee data, we made sure to only feature software that keeps the client's data secure and private.
When we created this list, we put a huge emphasis on finding secure time entry systems that you can trust with your data. That way, both the company's and employee's data are as safe and secure as possible.
👩‍💻 Customer support
Even with the best tools at your disposal, you might run into a problem you can't seem to solve alone. And while problems with time entry systems are unavoidable, it's important for developers to always be ready to help customers with their issues.
So, we made sure to check out the customer support systems of the different software on this list. All of the options we featured today have great customer support, so you can easily reach a technician if you run into a problem.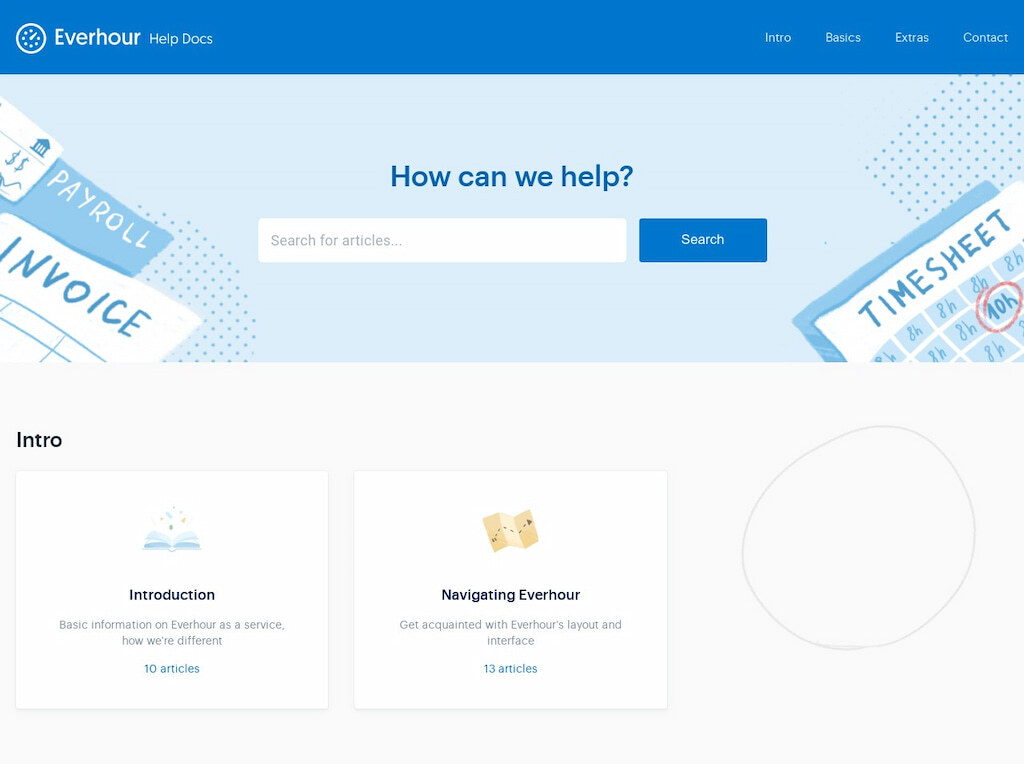 Malfunctioning time entry systems can be costly for a company. Not only do faulty systems make it hard to rely on timesheets, but it also means employees will spend more time logging time manually. This defeats the purpose of a time entry system in the first place, so it's best to use time entry systems with good customer support.
5 Best Time Entry Systems of 2023
There are many time entry systems available on the market today. And while, having options is great as it allows you to choose software that perfectly fits your company, having too many options to pick from can quickly become overwhelming. So, in the section below, we'll go over the five best time entry systems we've found, starting off with Everhour.
Everhour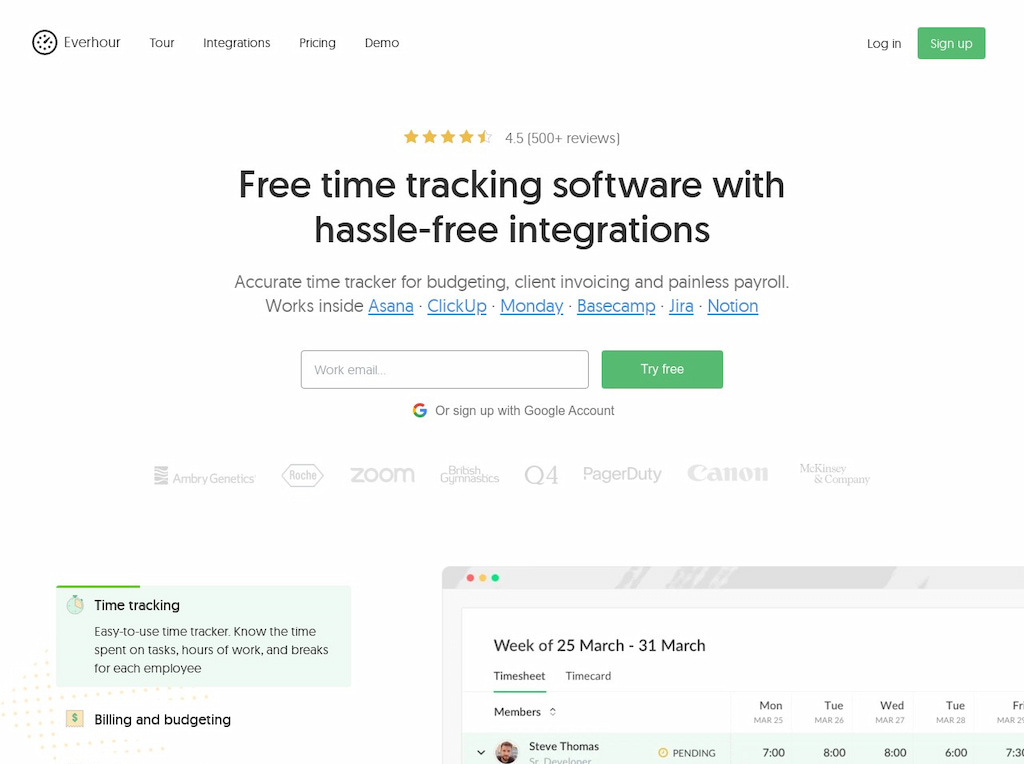 To kick off our list, we'll look at one of the best time entry systems on the market, Everhour. Everhour is jam-packed with features, ranging from assigning tasks to invoicing, project management, and more. Not only that, but it also features a simple and intuitive interface, which allows anyone to use Everhour with little to no effort. It's the perfect, all-in-one time entry solution for any business and organization.
✨ Features
Everhour's primary feature is the time tracker. It's simple, effective, and does everything you could expect from a work hours tracker in 2023. Users can either automatically keep track of time or start and stop the timer when needed.
This makes it easier for managers to ensure that everyone's working on time and reporting accurate hours, which helps with accurate billing. On top of that, Everhour gives you an accurate timesheet app, so you can see exactly how long employees spend on different tasks. That way, you can find areas of improvement or track the overall team and individual member performance within the company.
It can be hard to stick to a budget when working with large teams. But with Everhour, you can automatically create invoices and assign budgets for certain projects. That way, you can keep the team within budget and avoid inaccurate invoices or exceeding the preallocated budget. And like all the great time entry systems available, Everhour boasts a large set of integrations. That way, you can use the system along with the tools your company is already using.
👌 Ease of use
It's crucial that your time entry system is easy to adopt and use. Luckily, Everhour is one of the simplest time entry systems available. This means employees can easily log their time and track their hours using the app. That way, you won't run into that many problems when implementing the system or have to spend hours teaching your staff how to use the software.
On top of that, even managers have an easy time using Everhour. Whether you want to view the time logs of different employees, assign tasks, or get a bird's eye view of a project, Everhour makes it easy for you to do that. When it comes to ease of use, Everhour is easily our top choice.
💸 Pricing plans
Everhour is one of the more affordable time-entry systems on the market. While it comes with a robust feature set, the pricing plans are fairly affordable, making it great for small to medium businesses.
To start, Everhour has a free version for solo workers. This is great for freelancers and those that want to log their time when working alone. If you have a small team, Everhour has a basic premium plan that costs $6 per user per month. And for large teams, Everhour offers a premium package for $10 per user per month. This plan allows unlimited users and features an extensive list of integration capabilities.
---
Connecteam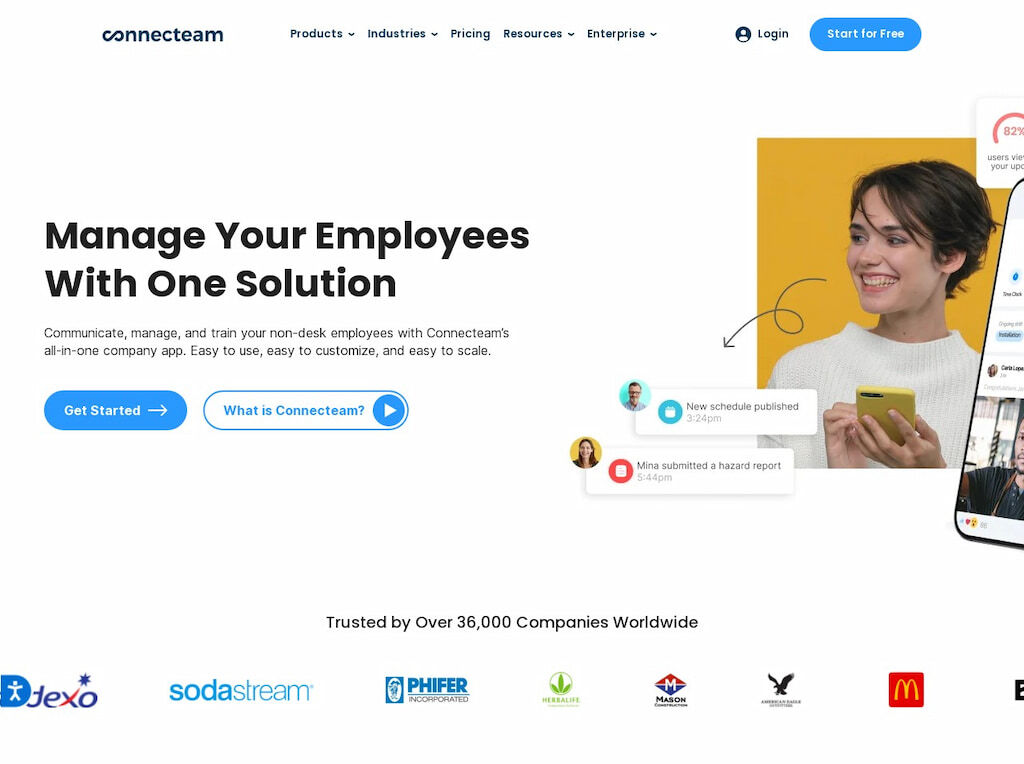 Connecteam is one of the industry's leading time entry systems. It's the perfect solution that can serve as the central hub for every staff member in your organization. Despite how simple it is to use, Connecteam has a wide range of features that will allow you and your team to streamline many of the time-consuming processes within the company.
✨ Features
The primary feature of Connecteam is the time cards each employee can use. The time card system makes viewing timesheets and the number of hours employees have spent working easier. This amazing feature also allows managers to quickly assign tasks, monitor the attendance tracker, and schedule employees.
Another cool feature of Connecteam is how the system serves as the central hub for employees. Whether they're using the web software or the mobile app, employees can log time, request time off, view assigned tasks, and more.
This is great for remote workers as it allows managers to learn where their employees are working when they're on the clock. This is a very secure system that's only on when employees are clocked in, which protects your employee's privacy. Connecteam offers all the features you need from a time clock app, so make sure to keep it in mind when deciding whether you want to give it a try.
👌 Ease of use
The simple time card system of Connecteam is one of its primary features. On top of being really useful, it's also super easy to adopt. You don't have to hold long orientations and training sessions to teach employees how to use Connecteam. This saves the organization a whole lot of time and resources, which is another reason Connecteam is such an attractive option, especially for large businesses.
On top of that, Connecteam can work through your browser, computer, and phone. What's more, regardless of the devices or platforms you use, your account will always be in sync.
💸 Pricing plan
Connecteam offers a free plan for small businesses. This is applicable for up to 10 users and gives you all the basic features. However, for a more robust set of features, you can opt for the basic plan that starts at $29 a month.
The company also offers Advanced and Expert plans available at $49 and $99, respectively. The best part about these plans is that they have unlimited users. Unlike other systems, you don't have to pay for every user on the platform.
That said, all the plans have a flat rate for the first 30 users. But if you go over 30 users, there will be a small additional monthly price per user. Despite that, Connecteam is still one of the more affordable and practical time-entry systems available.
---
Buddy Punch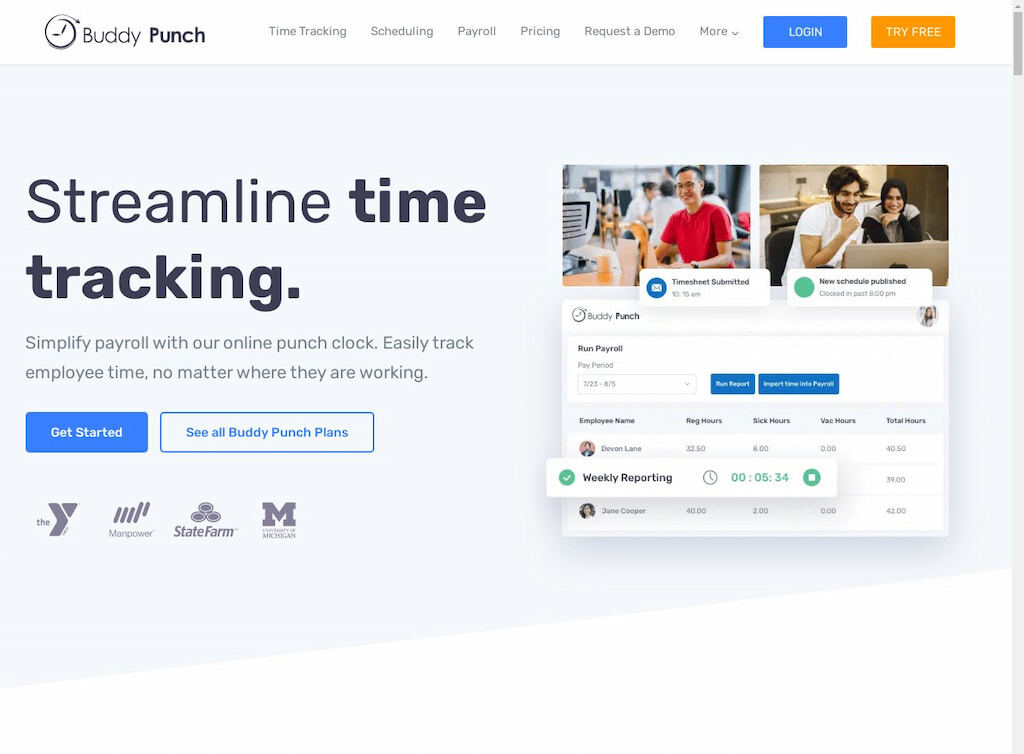 If you have a lot of remote employees, Buddy Punch is a great pick for your organization. While it comes with many time tracking and time entry features, the software shines with its data and analytics. That way, you won't have a hard time figuring out ways to boost productivity and efficiency in your team.
✨ Features
To start, Buddy Punch has all the time tracking features you will need for both in-house and remote teams. Employees can manually log their time or use the automatic time tracker when performing different tasks. That way, the organization can wave goodbye to paper timesheets and manual employee time tracking.
Lastly, you can use Buddy Punch to generate performance reports. This allows managers to spot trends, problem areas, and top-performing employees. This allows you to stay on top of your employees at all times.
👌 Ease of use
Buddy Punch is one of the best-developed time entry systems available. As a result, it's super easy to use. With features like automated time tracking and a simple user interface, managers will have a great time adopting the software in their organization.
All of Buddy Punch's features are easy to access and use. That way, you won't have a hard time navigating through the system and implementing it with your team. The ease of use alone makes Buddy Punch a very attractive option for any organization looking for a new time entry system.
💸 Pricing plan
Buddy Punch is a very affordable time clock app. The app offers three pricing plans, including Standard, Pro, and Enterprise. The Standard plan costs $2.99 per user per month when billed annually or $3.49 when billed monthly. The Pro plan costs $3.99 per user/month when billed annually (or $4.49 if billed monthly). Both plans have a $19 base fee. If you have an enterprise, you will need to get a custom quote.
---
OnTheClock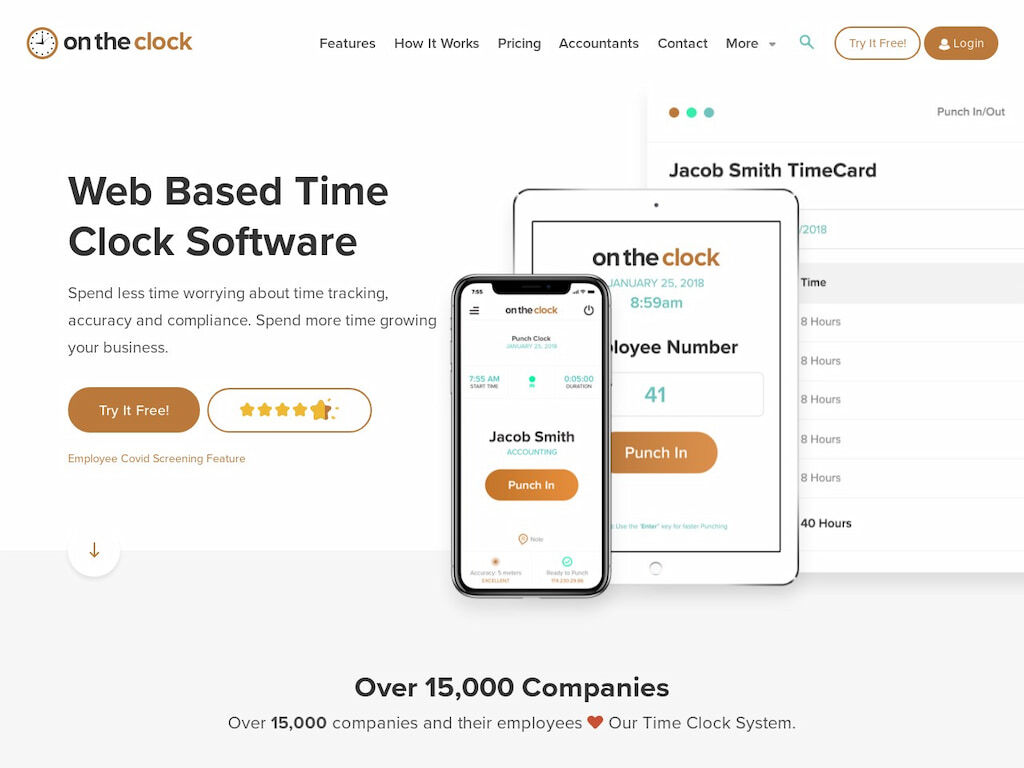 OnTheClock is one of the market's leading time entry systems, adopted by over 125,000 employees worldwide. The software is best known for making time tracking easy for small businesses.
✨ Features
The leading feature of OnTheClock is its time-tracking capabilities. Employees can track their working hours anywhere, at any time. As a result, accurately invoicing clients is made easy and quick.
That said, the app separates billable from non-billable hours. With other platforms, managers have to do this manually, which takes a lot of time and effort. But with OnTheClock, you'll save a lot of time since you won't have to separate these hours, allowing you to pour your effort into other important tasks.
The system also allows you to approve and manage requests for time off. Managing all these requests is a huge headache for many organizations, and it's great that OnTheClock puts in the effort to make things easier for managers.
👌 Ease of use
As one of the best time entry systems available, OnTheClock has a simple and intuitive user interface. While it might be a bit more complicated than other apps we featured today, it's still fairly easy to adopt. That said, if you run into trouble with any of OnTheClock's features, there are many online tutorials and guides that can put you on the right path.
💸 Pricing plan
OnTheClock is completely free for accountants. The software is also available as a 30-day trial, which you can test out for free. However, when it comes to using the software full-time (provided you're not an accountant), it will cost you $3.50 per employee per month. Do note that the minimum number of employees you can register with OnTheClock is three.
---
Bamboo HR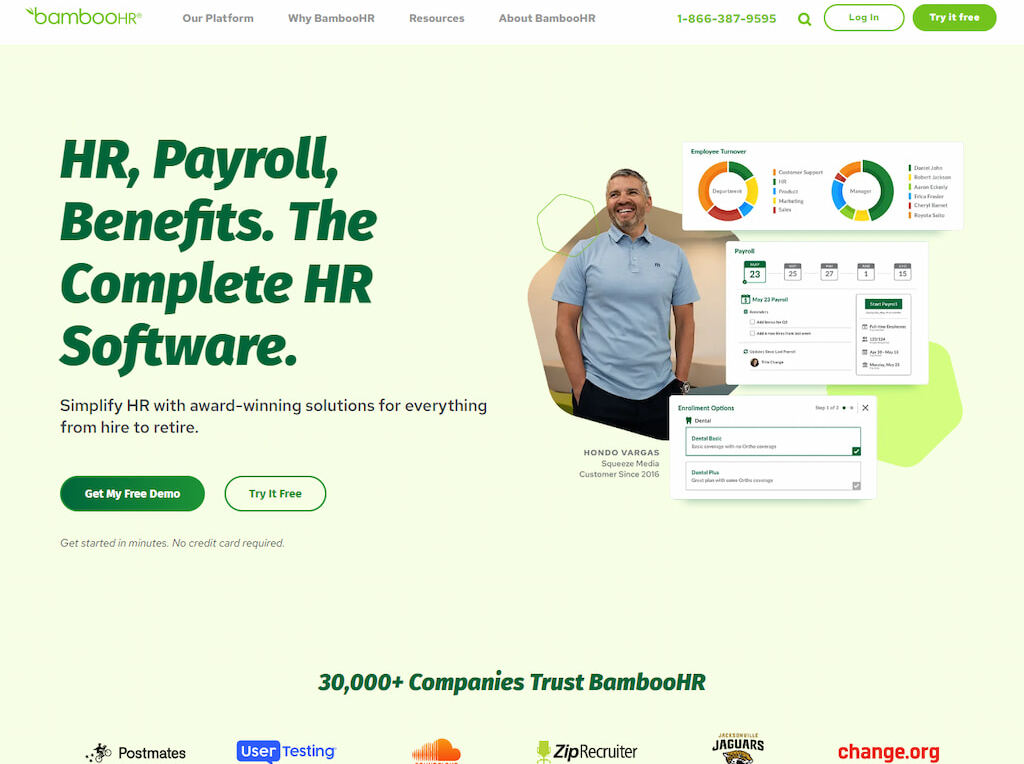 And last but not least, we have Bamboo HR. The platform is designed to automate and streamline time entry for your organization. So, it's a great choice if you're looking to boost productivity in your organization and take your staff's productivity to a whole different level.
✨ Features
One of Bamboo HR's best features is its accessibility. With the app, you can log time either through the web browser or on your mobile phone. This makes it great for teams on the move and allows you to track time easily, wherever you are.
As a comprehensive HR tool, Bamboo HR also allows managers to stay up to speed with staff's time off. That way, you don't have to hop on another app to manage employee leaves. And since time tracking is automated, you don't have to worry about time theft, which is a major concern for many organizations.
Lastly, you can track time per project, per employee, or per task. This makes billing and invoicing much easier, especially if you deal with large teams and projects. So, if you're looking for another robust time-tracking app, Bamboo HR is a choice worth exploring.
👌 Ease of use
Since Bamboo HR offers a time card system, it's very easy to use. The web app is very intuitive and you can easily access all the features you need on one page. Additionally, a lot of the features are automated, meaning you can save a lot of time and effort. There's hardly any learning curve when using Bamboo HR, meaning your staff will need little to no training to start using the software.
💸 Pricing plan
It's hard to get an accurate estimate of Bamboo HR's pricing. This is because all their prices are customized based on the size of your organization and the feature you need. So, if you're interested in Bamboo HR and would like to learn more about its pricing, visit its website, and request a quote.
Time Entry System: Conclusion
Time entry systems are crucial for modern-day businesses. Being able to track every second is essential in not only making sure that your staff does their job, but that you also invoice your clients accurately.