In this era of high competition, people will only stay loyal to a business if they have got a very good reason for that. Today a lot of businesses do pretty much the same thing. They deliver similar products at similar prices. But how to stand out from the crowd?
We've already covered top project management tools for your team. And today we are going to look at top customer support tools on the market in 2023.
Sometimes, it matters more than price. Because people are often willing to pay more in order to get the right experience. So, what tools or software to use for enhanced customer support? Our list includes Intercom, HelpScout, Hubspot Service Hub, Live Agent, LiveChat, Drift, Freshdesk, Zendesk, Zoho, Groove, and SupportBee.
Intercom
Intercom website has 2M+ monthly visitors. This is enough to just take a look at it and maybe consider it as the customer support software that you were looking for.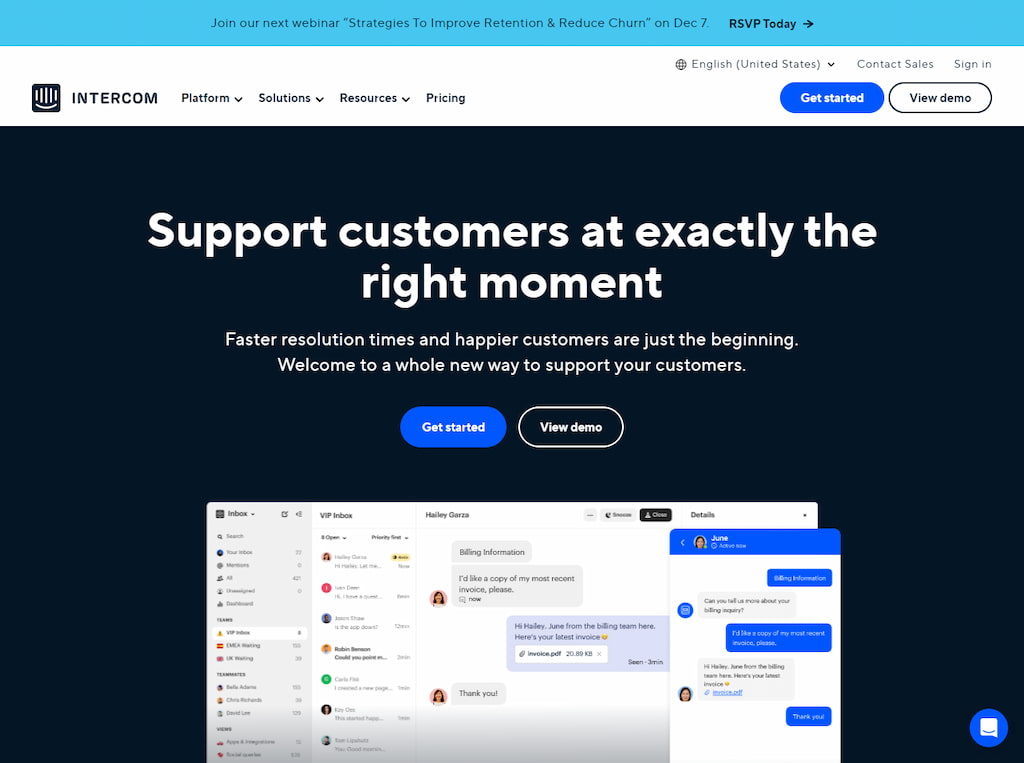 One of the best features of Intercom is its "in-app messaging." The way you communicate with your users through in-app messages is amazing. The engagement rate is high, the read rate is great and users love its usability. True to its name, is a really nice 2-way communication tool with your customers.
One more important feature that Intercom comes with is the "Intercom educate" which helps you create the knowledge base for your clients. Further, Intercom provides data insights regarding failed searches as well as article reactions. This information will help improve your knowledge base and come up with better customer support.
It also acts as a CRM that auto-updates showing you what each user has done and lets you build rich profiles. In addition, user segmentation is pretty cool. You can segment users based on actions they've taken in your app, location, signup date, etc. This way you can decide what kind of email to send to each of your users.
As for the downside, number one is the price. You'll pay quite a bit to have all this functionality in one system (especially when you have a small customer base with a very large user base). You can probably get better deals if you find different carriers for each, but the all-in-one is exactly what makes Intercom useful.
Scaling communication for a large number of users might be tricky. You can do some automation with Intercom, but building a sophisticated business logic based on combinations of events and user attributes is difficult. Sadly, there are also no insights data or consolidated reports.
Here is how and why our team uses Intercom to serve 1,000+ great customers.
HelpScout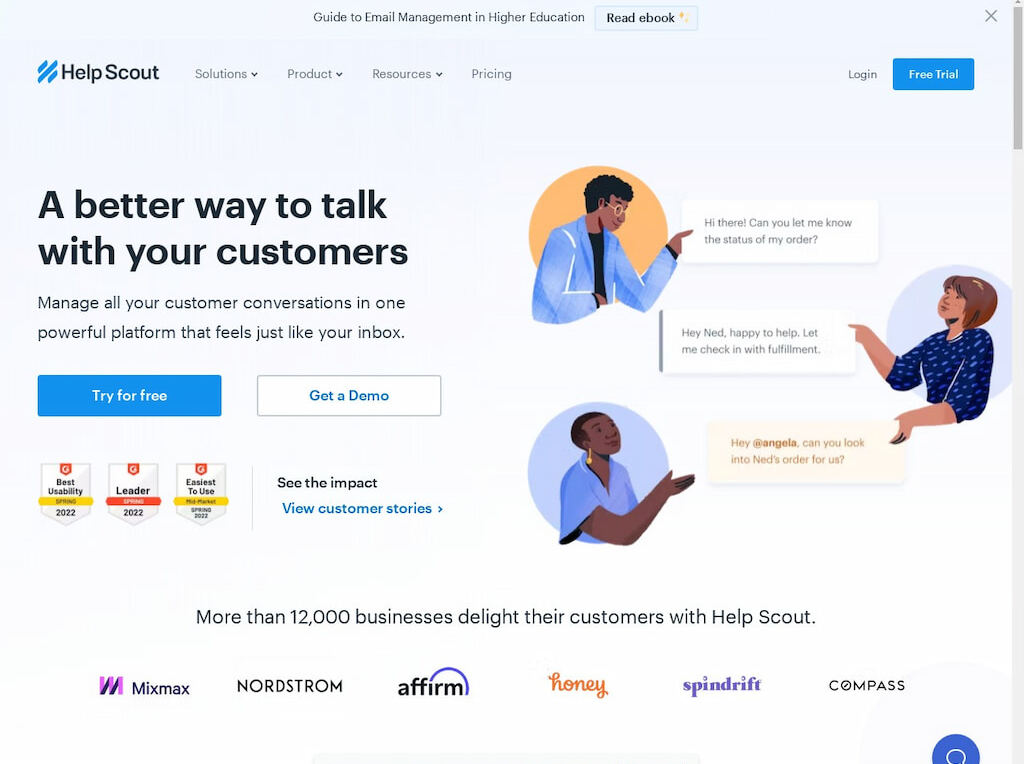 Another helpdesk software on the list, Help Scout helps to organize your communication with the clients and respond to them without failure. The app is full of "basic" helpdesk app features such as live-chat messaging and ticket management, as well as such features as collision detection and private notes and @mentions features.
Help Scout tool also makes it easier to automate your work to the point there are no repetitions and mistakes. It also helps to customize the messages to make communication more engaging and fun for the customers.
Hubspot Service Hub
Hubspot Service Hub is an option for teams that would like to have an all-inclusive helpdesk app. This solution focuses on providing a comprehensive helpdesk service, including a ticketing system that has all customer support requests in one place which facilitates tracking the team's progress and the number of successfully handled requests. With a great knowledge base at your disposal, Hubspot Service Hub provides immediate access for your team to find answers to their questions quicker thus making user satisfaction much higher.
On top of that, Hubspot provides impeccable time tracking, reporting, and auditing features to help you analyze and manage your team's performance and spot pain points to be resolved immediately.
LiveAgent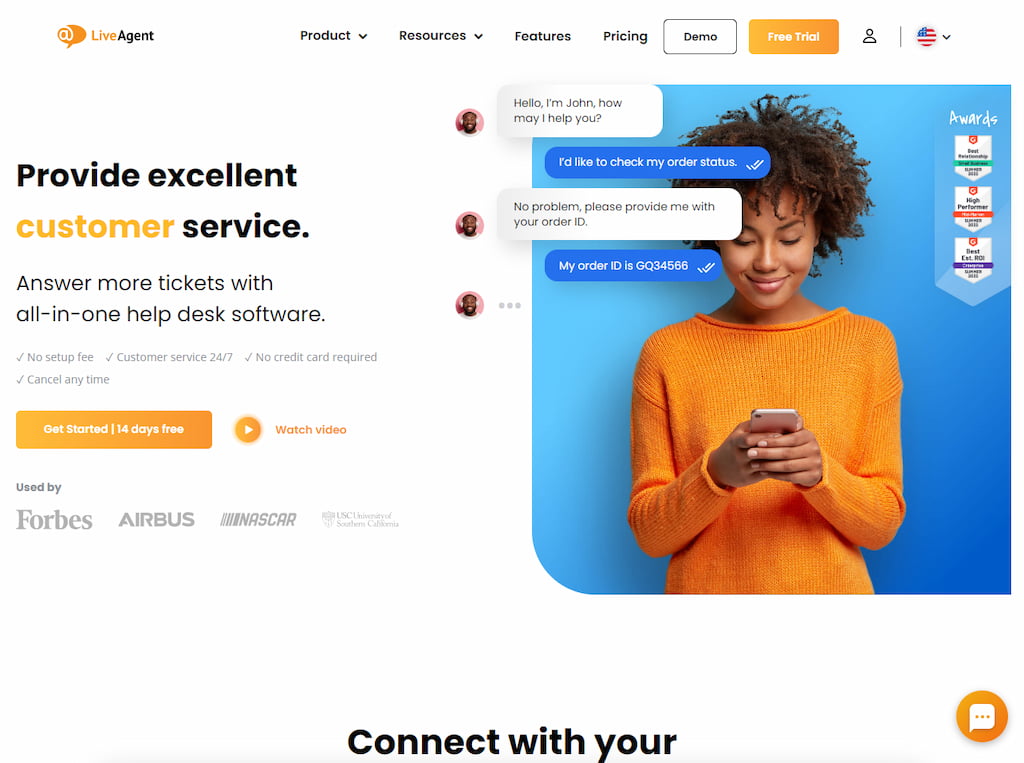 LiveAgent is a pretty unique helpdesk tool: it helps your customers out on all channels. That's not all – LiveAgent's ticketing system collects the messages from customers and turns them into support tickets in a "universal inbox" for the teams to work with. Also, there are such useful features as a real-time typing view, canned or pre-determined responses to frequently asked or simple questions, a call center that takes care of both inbound and outbound calls, and so much more.
You can easily say that LiveAgent can handle most of the helpdesk software needs. If that's not enough, your team can directly communicate with customers on social media since LiveAgent has loads of social media integrations and channels that always have some of the team members online.
LiveChat
LiveChat website has got over 10.4M monthly visitors. It's quite a lot, right? LiveChat is for everyone – startups, small and midsize businesses, and even enterprises. Over 20,000 companies from over 150 countries use the tool.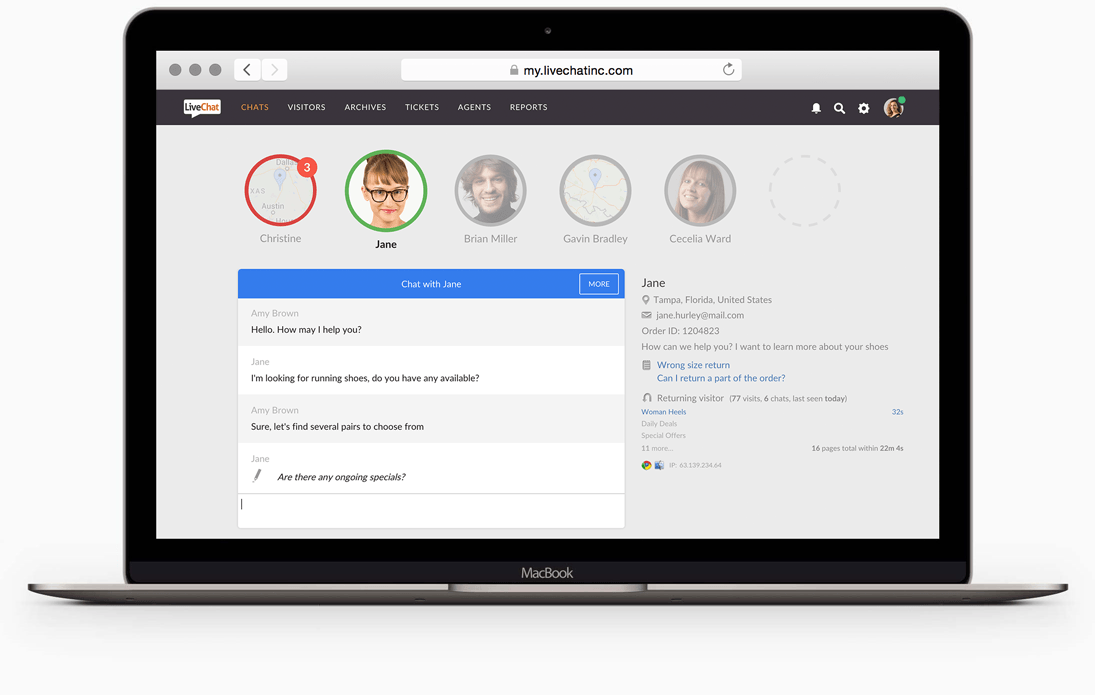 LiveChat offers a whole lot of features including but not limited to chat tools, customization of chat windows, different languages, agent profiles, social media buttons, chat and ticket reports, basic statistics, integration with MailChimp, Dropbox, WordPress, and many other platforms.
The prices start at $16 per seat per month. Also, you can sign up for a 30-day free trial.
If we were to compare Intercom and LiveChat, we could say that one of the pros of Intercom is that it integrates smoothly with other apps and does not affect the rest of the app's layout.
As for LiveChat pros, it reduces incoming customer support emails and allows for better tracking. Still, LiveChat describes itself as the fastest way to help your customers.
You should use the trial versions of both tools in order to decide which one fits your goals.
Drift
Drift has got nearly 730K monthly visitors. This is not much if compared with other customer support tools. However, it is still an interesting tool worth speaking about.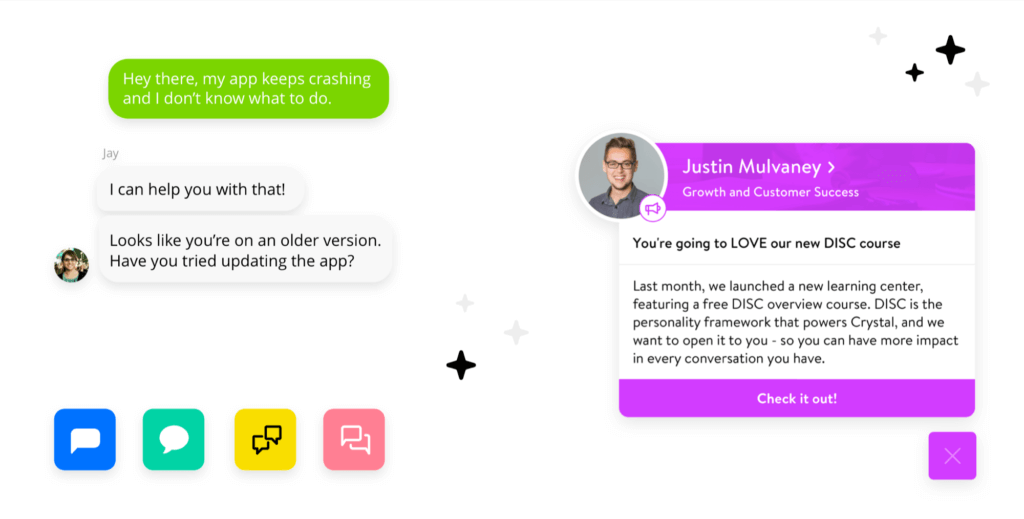 If we compare Intercom and Drift, we could say that the first one is more for tech companies running an online business. Because Intercom focuses more on lead tracking and engaging.
What's interesting about Drip is its automated AI-bot feature. Also, using Drip, your sales agents can get push notifications when leads are live on the website. So, they will never miss an online chat with them. Additionally, every agent has a free profile page and a separate URL. The lead can chat and book meetings right there.
However, Drip's interface might look complicated for some people and the analytics part is quite basic.
Still, if you want to use Drift, you can ask for a demo account. The pricing is quite simple, if you are an individual who wants to simply chat with website visitors, you can benefit from the free Starter package. The rest of the prices start at $50 per month.
Freshdesk
In case you receive 1,000 support emails on a daily basis then you need a good helpdesk system. It is used to convert the support emails into the ticket system which makes the support management process smooth and easy.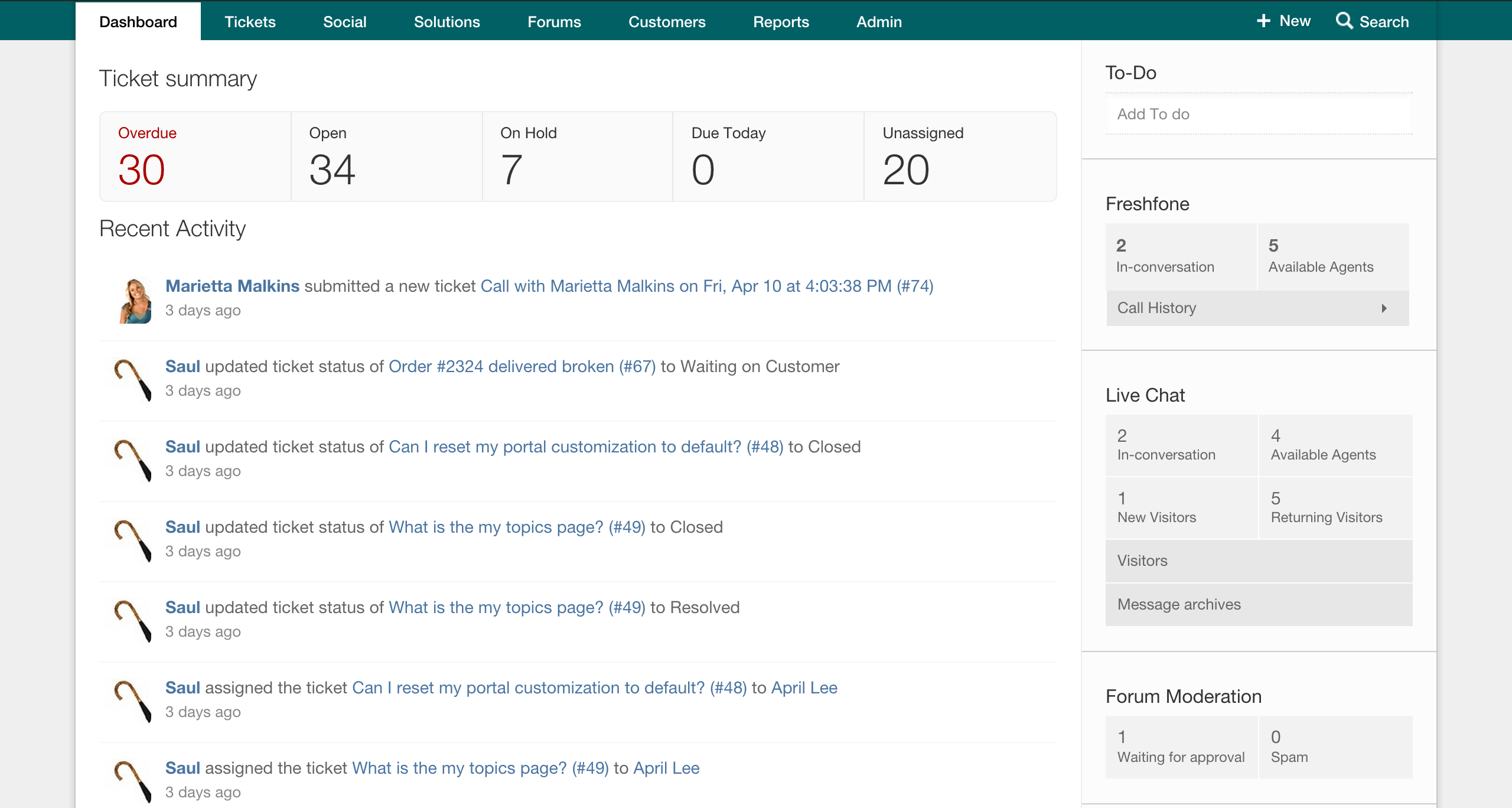 With Freshdesk, you can be sure that all your support conversations are in one place. And know that each account can have an endless number of mailboxes.
In addition, all the tickets that got generated via different channels will be gathered in one place. This will help avoid conflicts in your support team since everyone will have the big picture in front of their eyes.
Like Intercom, Freshdesk also has a live chat. You can put a chatbox wherever you want to enable real-time conversations with your users.
Freshdesk has got a mobile app version. This way, your support team will be able to take it with them wherever they go and do their job remotely if they wish to.
Its paid services start from $19 per month per agent. As you can see, a little bit different pricing strategy as compared with Intercom. If you have only 1 or 2 agents, then Freshdesk might be a great option for you.
Over 50K businesses use Freshdesk. So, if you're looking for a multi-channel support system that's also user-friendly then this is definitely the product you need to check out. You can also track time in Freshdesk easily!

Zendesk
Both startups and big companies use Zendesk. It has over 200K customers globally. It is the hit among customer support tools and it can be integrated with nearly anything: email, social media, messages, chat, etc.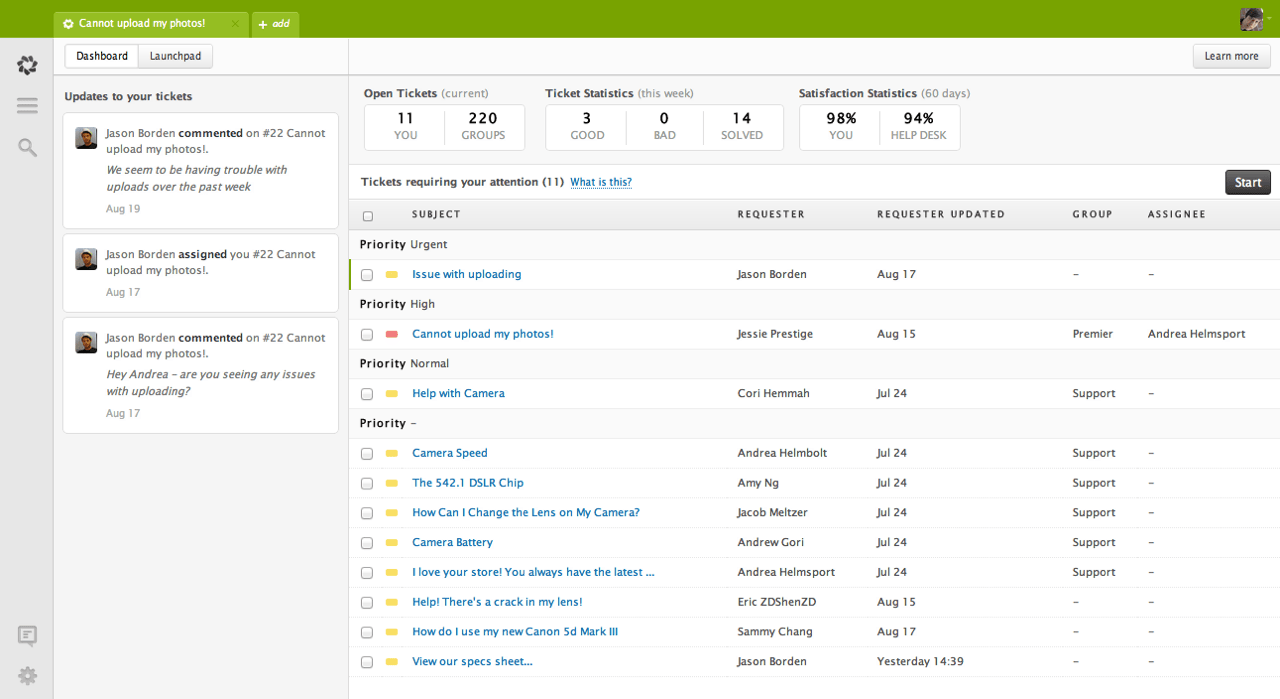 Zendesk also helps create a knowledge base and a platform for discussions. This will eventually boost self-service i.e. a lot of your customers and users can get answers to their queries without the need of contacting your support specialists. If the self-service solutions cannot help your clients, they will always have plan B in place.
And like Freshdesk, Zendesk allows having all the tickets in one place additionally offering a live chat, a shared team inbox, and integrated social messaging apps.
Comparing Zendesk and Freshdesk – both of these services are really great. Only a very slight difference. However, according to the reviewers on GetApp, Freshdesk has a higher overall rating of 4.33/5 compared to Zendesk's 4.29/5. Also, their prices are not so different. So you can choose one that is more comfortable for you.
If you ask which tool to use: Zendesk or Intercom, some will tell you that these two are completely different things and that they cannot be put in one category. What is more important, sometimes it makes sense to use both.

Originally, Zendesk was created to help answer support tickets on products and services. Now it's a tool that includes a knowledge base, community, and a live chat too. There is also a nice extra – Zendesk time tracking that can help improve your productivity as well.

Unlike Zendesk, Intercom requires you to add a script to your website or tech product. Without this element, Intercom won't function. But, as the result, it gives you a lot of information about your users: who registered, at what time, at what page, etc. Intercom is more of a marketing + support tool since it helps start a conversation with your visitors and then convert them into leads.
As for the pricing, Zendesk is really affordable. It offers as little as $5 per agent per month. Considering that Zendesk offers a whole lot of awesome features and can be integrated with nearly anything, it's a really good option for both small and large businesses.
Jira Service Desk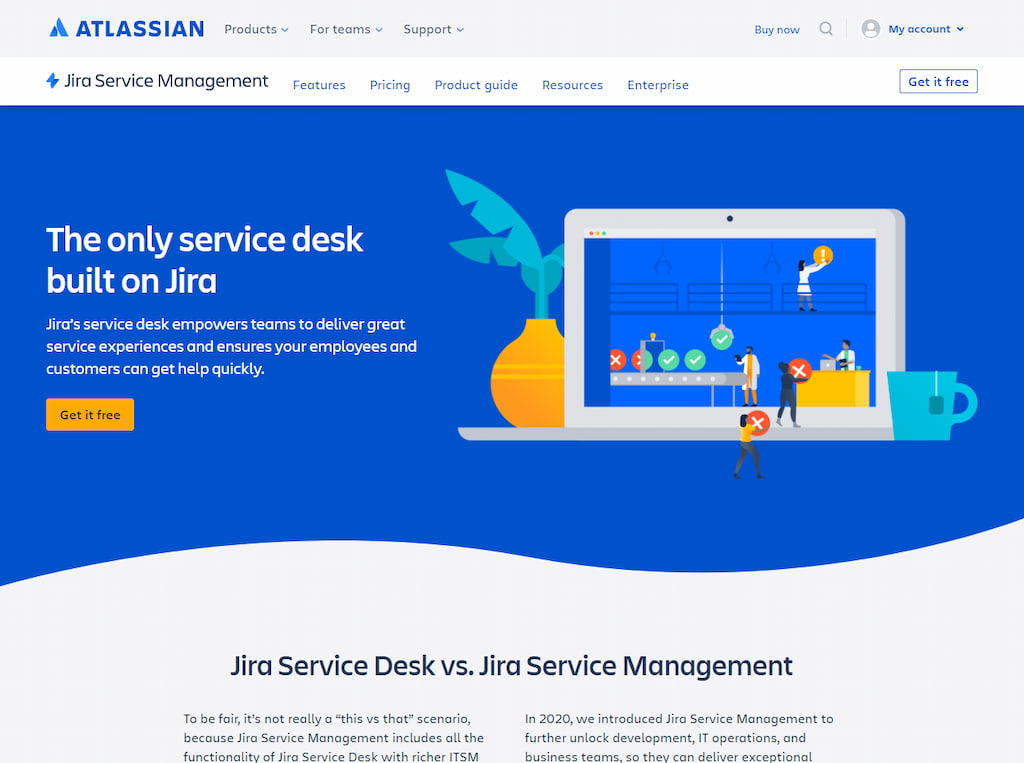 Jira Service Desk is a helpdesk tool that assists in managing customers' requests better by providing features that streamline support operations, such as a self-service desk or an extensive knowledge base. You can assemble requests from different communication channels and assign and manage incoming requests.
Additionally, Jira Service Desk provides customer satisfaction reports that can help you to see your weak points and to have a better understanding of your customers.
Salesforce Service Cloud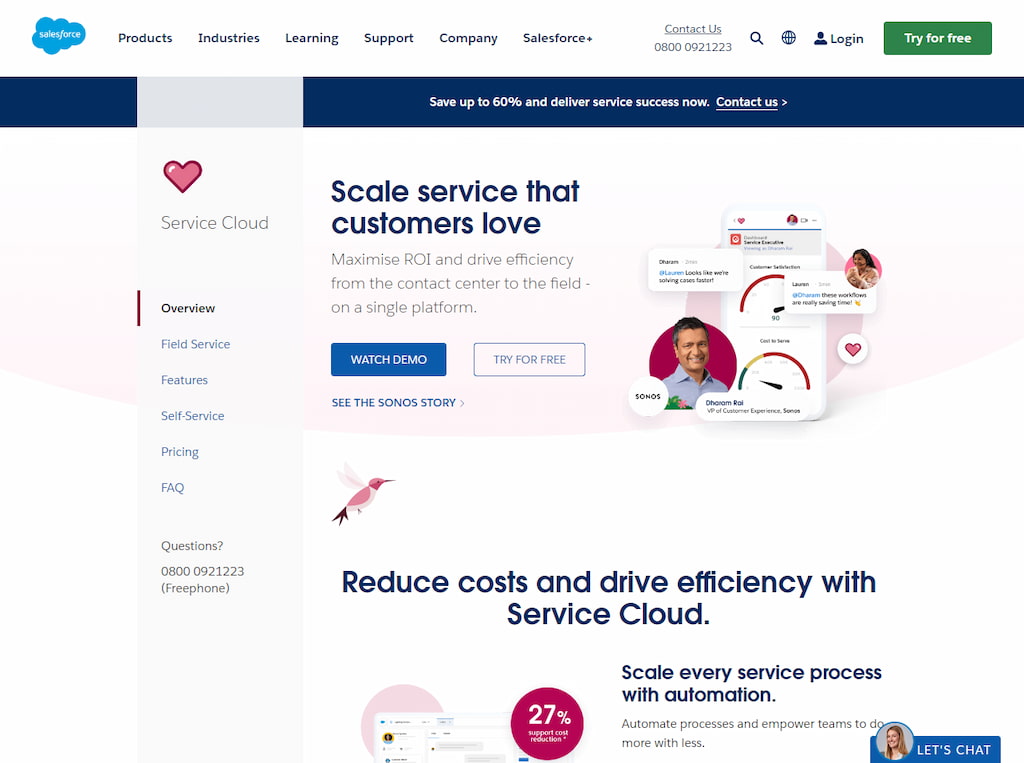 Salesforce Service Cloud is the help desk software that can revolutionize the way you work with your customers. The app offers case management to streamline working processes, and opportunities to scale your service, or, on the contrary, lower your case size. You can use omnichannel routing to bring the cases from all communication channels to one agent who has the appropriate skillset and expertise.
There are also tons of add-ons available on Salesforce Service Cloud that can give access to the extra features.
Zoho Desk
Zoho Desk is basically a ticketing system i.e. it's a customer support tool that helps manage support tickets. It does not possess all the features that the above-mentioned tools support. However, it's still awesome and can still be quite helpful for your business.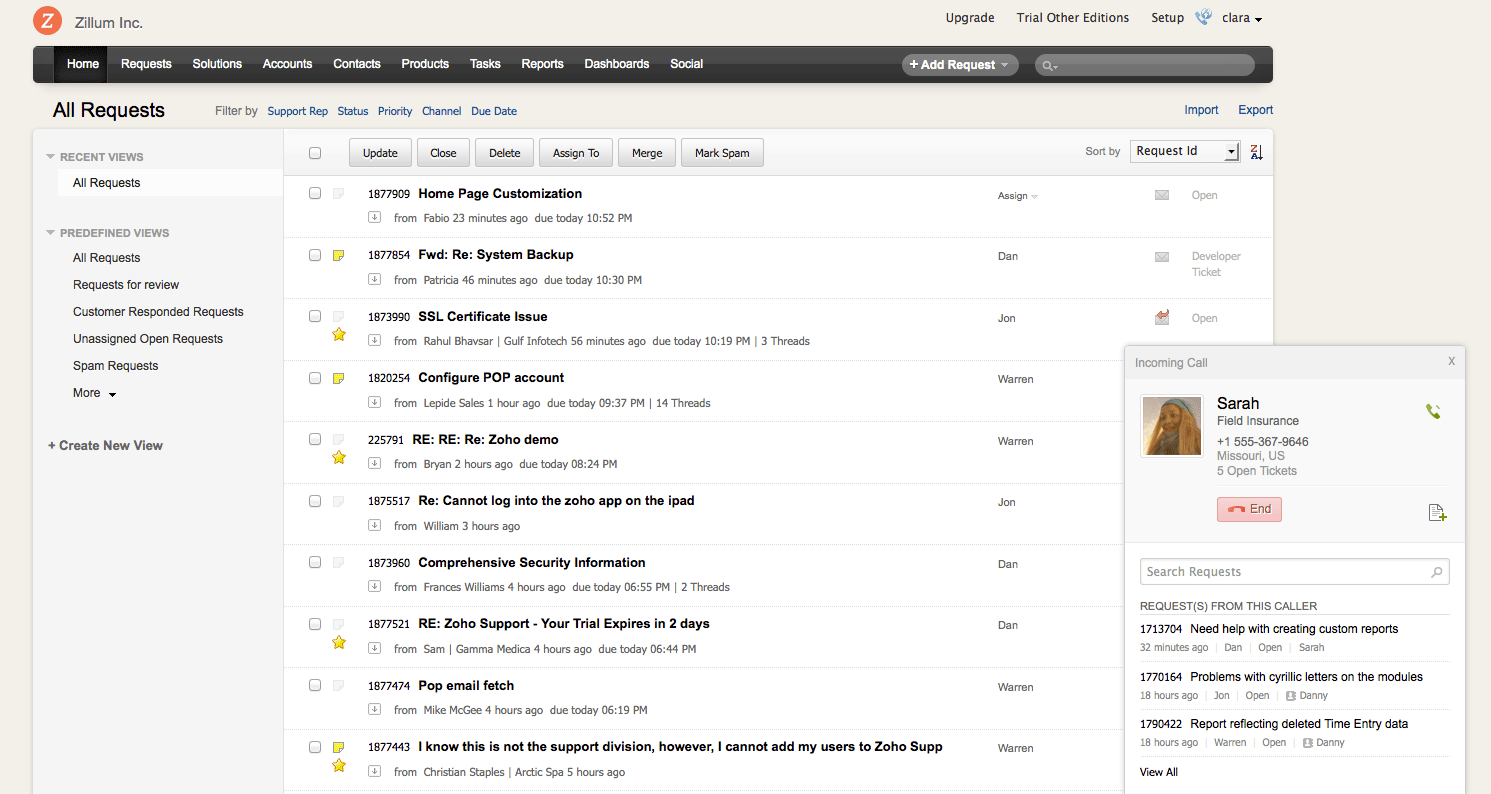 Zoho allows prioritizing tickets. It shows them based on when each of them is due. Also, there are "work modes" that help the agents see the status of each ticket.
While working on a customer ticket, your agents will get detailed information about each customer or user. This will help them manage and resolve the issue more accurately and effectively.
There is a free plan for small teams with a few customers at Zoho. For example, if you have 10 agents, then the tool will be completely free for you. And the prices begin at $12 per agent per month. You can choose among two pricing plans: professional $12 per agent per month and enterprise $25 per agent per month.
Zendesk's free version beats Zoho's, but you'll be surprised at how well the Zoho pro plan competed with Zendesk's, for only half the price! Great value for money. Moreover, Zoho has a nice custom reporting feature to really dig into your data.
So, if you do not need a live chat or a knowledge base and you just want your users to open support tickets and your agents to simply resolve them, then Zoho can be quite the tool.
Groove
Groove describes itself as simple helpdesk software. Actually, it is one since more than 6k businesses use it to manage their customer support. Among its clients are HubSpot, Metalab, Boomerang, and others.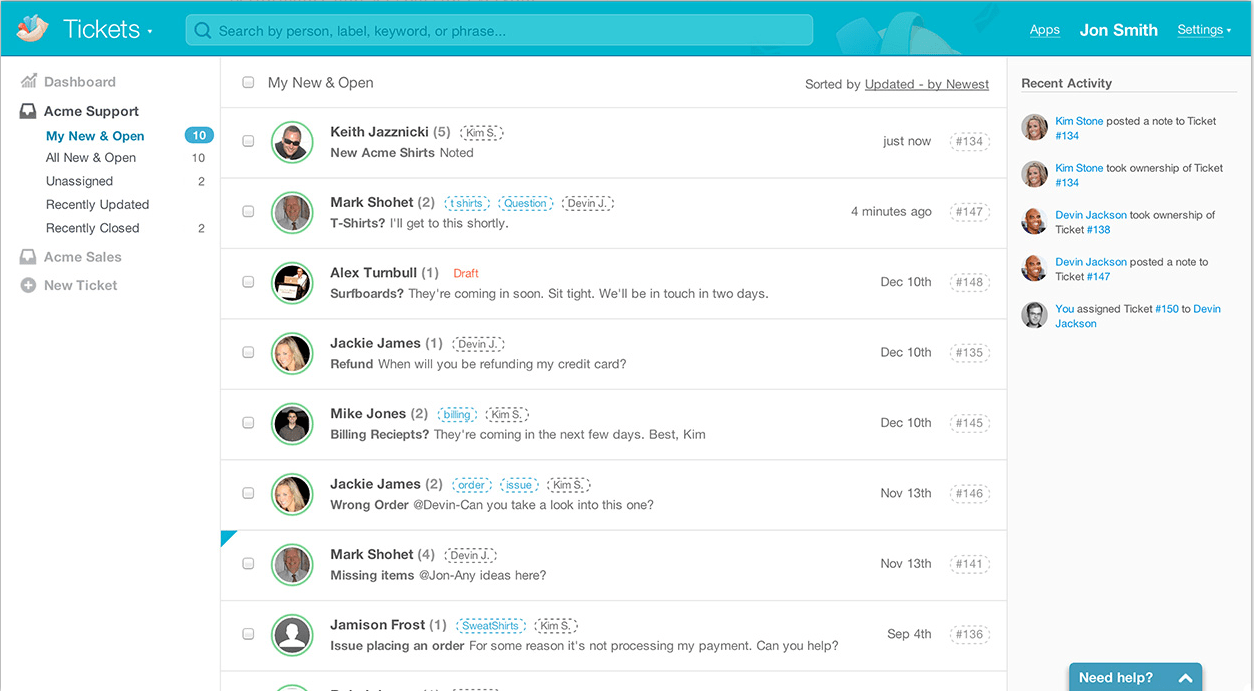 Unlike Zoho, Groove offers not only ticket management services but also support widgets, knowledge base creation, and much more. It makes sharing and discussing cases much easier. Groove allows for internal notes, auto-fills in emails, allows for merging cases, different statuses, different mailboxes within the same interface. Groove has also partnered with Olark to deliver a live support tool for your website, embedded within the Groove widget.
Their customer support is extremely friendly and responsive. And I highly recommend checking their blog!
The pricing at Groove is as simple as it can be: you need to pay $22 per agent per month for unlimited services.
I'd personally describe Groove as a simple helpdesk software primarily built for small teams that are outgrowing their shared Gmail support inbox. It's super easy to learn, whereas it may be not ideal for large (50+) teams.
SupportBee
Like many of the services listed here, SupportBee's help desk offers many of the features you'd expect. When a customer sends a message to your support email, SupportBee creates a new ticket, and the process kicks in from there. If the same customer raises multiple queries, all of them get merged into one email thread.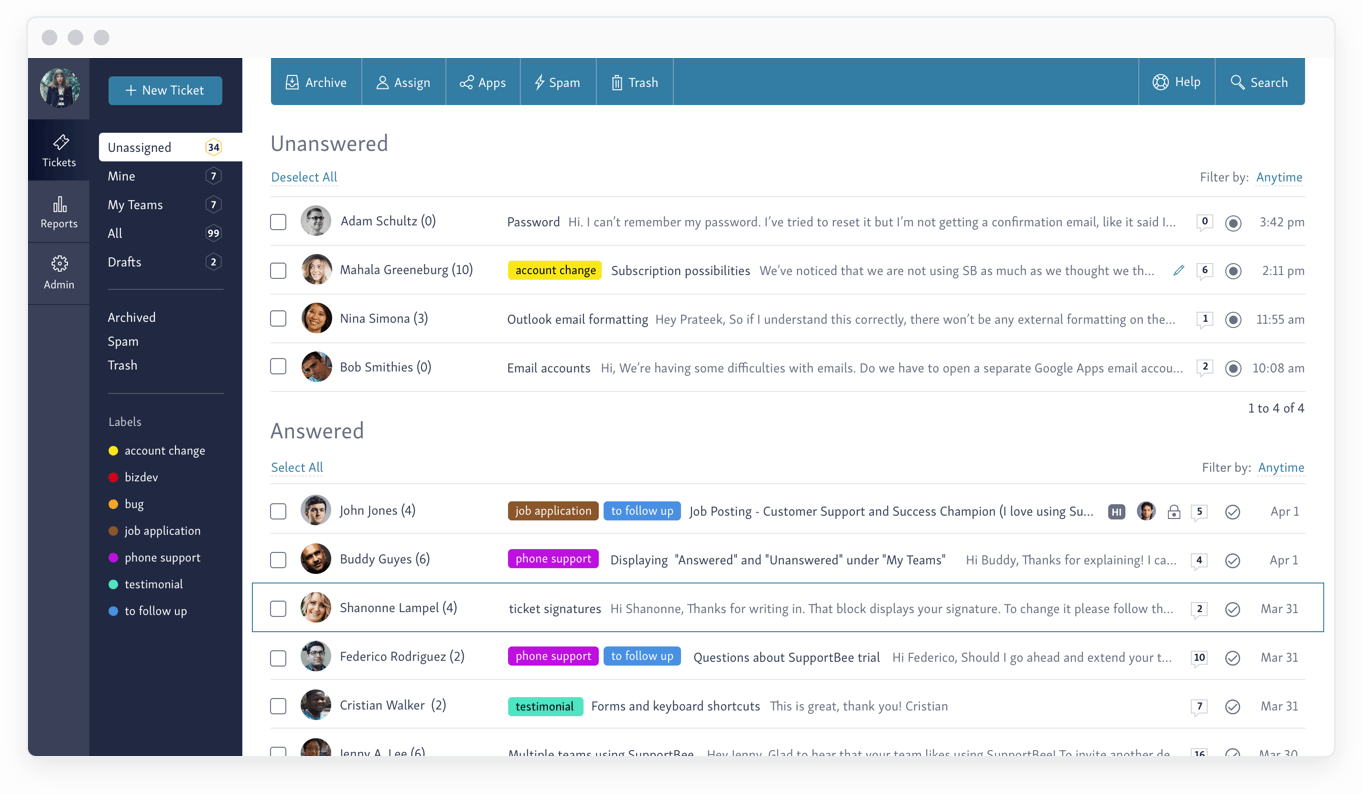 SupportBee is awesome since it can be integrated with apps like Slack, Basecamp, and Trello. This can make your life easier for sure!
Their philosophy states: "While everyone else is building a better Outlook, we're focused on building a Gmail for support."
It's a clean and email-like alternative to Zendesk. It does not require any prior knowledge or technical expertise to use. There are no branding, case ID's, or technical details anywhere that will make your conversations look impersonal.
There are three plans. The first one is FREE of charge and it's for those who are just getting started. The second one is the so-called "Startup Plan" which is $12 per user per month. And the third one is called "Enterprise" and it is $15 per user per month.
Hiver
Hiver is the world's first multi-channel helpdesk built for Google Workspace. It is used by companies around the world including the likes of Flexport, Canva, and Harvard University.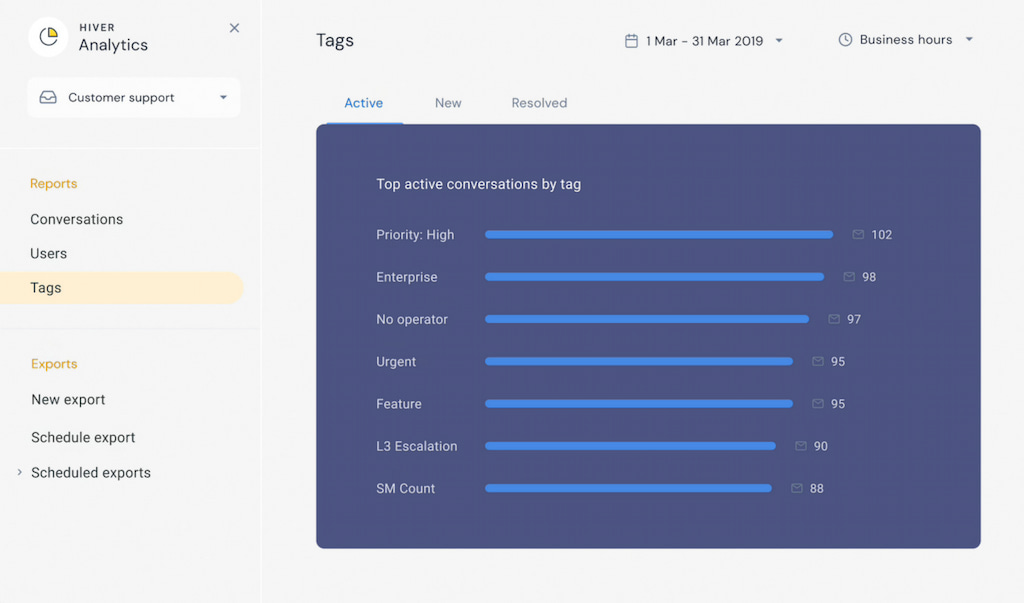 Hiver is a customer service software that helps support teams deliver fast and empathetic customer service right inside Gmail. Teams can also provide real-time personalized support with Hiver's Live Chat, which is also present within Gmail. With Hiver, you can delegate incoming email queries and live chat queries to specific agents. You can also track them till the point of resolution, and collaborate with team members on these queries. Apart from collaboration, you can also leverage functionalities such as automation and analytics to improve team performance and track key customer metrics.
When it comes to pricing, Hiver offers a 7-day free trial and has monthly and yearly subscriptions starting from $12 to $57 per user per month.
So, if you're looking for a solution to help you deliver great customer service within Gmail – a tool most users are familiar with, then Hiver would be an ideal option for you.
Final Notes
Customer support tools are so many in number and they can be of different types as well. For example, we have discussed two types of them: fully-fledged customer support tools or the so-called helpdesk tools and tools for managing support tickets. Note that there are other tools too (for example, Help Scout).
For example, those that are AI-powered or that have a completely different structure. However, these can be considered to be the most common types of customer support tools.
You can choose from this list based on your preferences, your company's size, the number of your support agents, the industry your company is playing in, and many other factors. Do not forget about the fancy part too. For example, one tool might be a bit costly but you might just like its interface and functionality. So, if you like it, go for it without even giving it a second thought. People usually work better on software that they like and feel comfortable with.
Does your company use a customer support tool? Make sure to leave a comment below. We would appreciate it highly if you could share your thoughts with us. Or maybe you have used any of the above-mentioned tools? If so, do not hesitate to write a short review below.