You've probably heard the phrase "time is money." Well, that couldn't be more true in the legal profession, where lawyers regularly bill clients by the hour. As a result, effective timekeeping is crucial. Many law firms used to track time manually. However, this inefficient method meant that timesheets were riddled with inaccuracies. Thankfully, manual timesheets are no longer the norm—a wide selection of time-tracking software for lawyers exists.
Legal time tracking software remedies many challenges, efficiently tracking billable hours, managing workloads, and improving firm productivity.
Legal time-tracking software is designed with law firms' needs in mind. These tools valuable offer features such as manual and automatic time tracking, client billing, and integration with various legal accounting systems, making them a must-have for law firms. Keeping accurate records is also vital in the legal profession for billing and auditing purposes, and these tools make record-keeping easier by storing all important information in one place.
In this article, we've hand-picked five of the best time-tracking apps for lawyers, and we'll explore how they can boost law firm productivity and efficiency.
Exploring the Top Time Tracking Software for Lawyers
Understanding the qualities that define the best time tracking software for lawyers is pivotal for making efficient time management choices within the legal profession. Whether you're an individual attorney aiming to optimize productivity or part of a law firm, utilizing premier time tracking software offers invaluable insights into managing your daily, weekly, monthly, and yearly work activities.
Relevance in Legal Practice: Embracing leading time tracking software tailored for lawyers empowers you to efficiently manage billable hours and tasks, enhancing accuracy in client billing and case management.
Key Evaluation Criteria:
Real-time monitoring: These applications seamlessly initiate, pause, and conclude time tracking features, ensuring accurate recording of billable hours. Task-specific tracking: Effortlessly categorize time spent on various legal tasks for precise invoicing and reporting. Client and case breakdowns: Access detailed reports on time allocation for specific clients and cases, enhancing transparency and communication. Invoicing integration: Streamlined functionality for generating invoices based on tracked time, simplifying the billing process. User-Friendly Accessibility: The software facilitates easy activation of time tracking timers across different devices and platforms.
Our Approach to Evaluation and Testing
Our assessments are meticulously developed by experienced professionals well-versed in legal software analysis. Each software application undergoes thorough testing and scrutiny against our defined criteria. It's important to note that we uphold a strict policy of not accepting compensation for featuring software or incorporating them into our articles. Our utmost focus is on maintaining the trust our legal readers place in our impartial and authentic software assessments, tailored to the legal profession's unique needs.
Essential Features of Legal Time Tracking Software
When it comes to seeking out lawyer time-tracking software, there are several essential features to consider:
🕔 Client-based time tracking and billing: This functionality ensures accurate billing and helps firms maintain organized and detailed records for each case they work on.
🔨 Integration tools: Because digitization has impacted every industry, lawyers now rely on tech stacks made up of different tools. They may use online client registration systems, lead generation tools, contract management systems, payment portals, real-time communications tools, and more.
📜 Advanced reporting features: Attorney time tracking software should also have advanced reporting features, as lawyers need access to detailed insights about time allocation and general productivity to allow for better resource management in their firms.
---
Top Time Tracking Software for Lawyers
There are several time-tracking software options for lawyers, but some stand out from the crowd. Let's explore our top five recommendations.
Everhour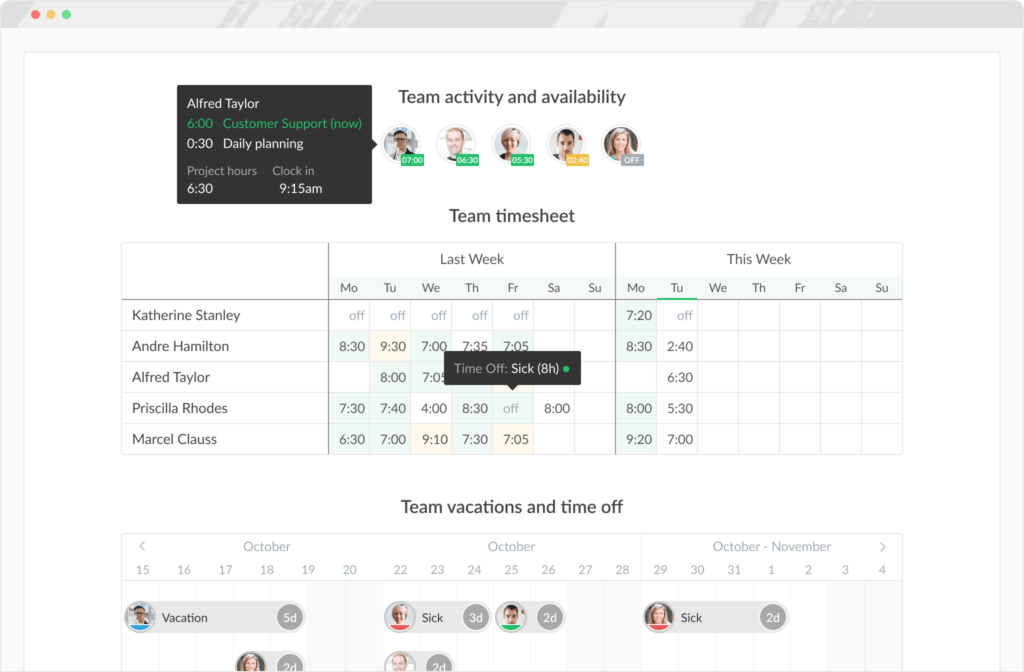 Everhour is a popular time tracker suitable for various industries, including the legal profession. The software is suitable for individual practitioners and law firms of all sizes, as it offers multiple useful features:
✨ Key features
Time management: With Everhour, employee time tracking has never been easier. Track time spent on projects with timers or manual entry, monitor hours worked with the work hours tracker or timesheet app, and clock in and out with the time clock app so you never miss billable time. Lawyers can easily track time when traveling, meeting with legal clients, or stating their cases in court.
Billing and budgeting: Manage legal clients in one place, choose from flexible billing options (such as non-billable, time and materials, or fixed fee), track labor costs, set budgets, and create alerts when users reach a certain budget percentage.
Task management: Manage tasks in one place, add sections or tags to stay organized, set task time estimates, and create and copy templates to start new projects in minutes.
Team management: Visualise team schedules, view the progress of logged time vs. scheduled time for team members, evaluate team progress with summary charts, approve timesheets, monitor resource availability, and keep a close eye on attendance with the attendance tracker.
Expenses tracking: Track work-related expenses such as travel (which lawyers do regularly) and materials, attach receipts to expense entries, and switch unit pricing depending on expense categories.
Reporting: Create custom reports or dashboards using filters, add conditions, arrange columns, and include metadata to analyze tasks more deeply. Identify the top-performing lawyers in the firm by visualizing the time spent working or the amount billed within a given time period. When a report has been created, share it with team members or schedule the report to be sent to clients on a specified daily, weekly, or monthly basis.
Invoicing: Create invoices, change languages, track when clients open invoices, log invoice changes, and integrate with accounting software, such as Xero.
💰 Pricing
Everhour offers several pricing plans: Free, Lite, and Team. The Lite plan costs $5 per user per month, starting at two users, and allows for up to 10 users with budgeting, billing, reporting, and time-tracking capabilities. The Team plan costs $8.50 per user per month, starting at five users, and includes all Lite plan features plus unlimited users, time approval, expenses, priority support, and much more.
---
Clio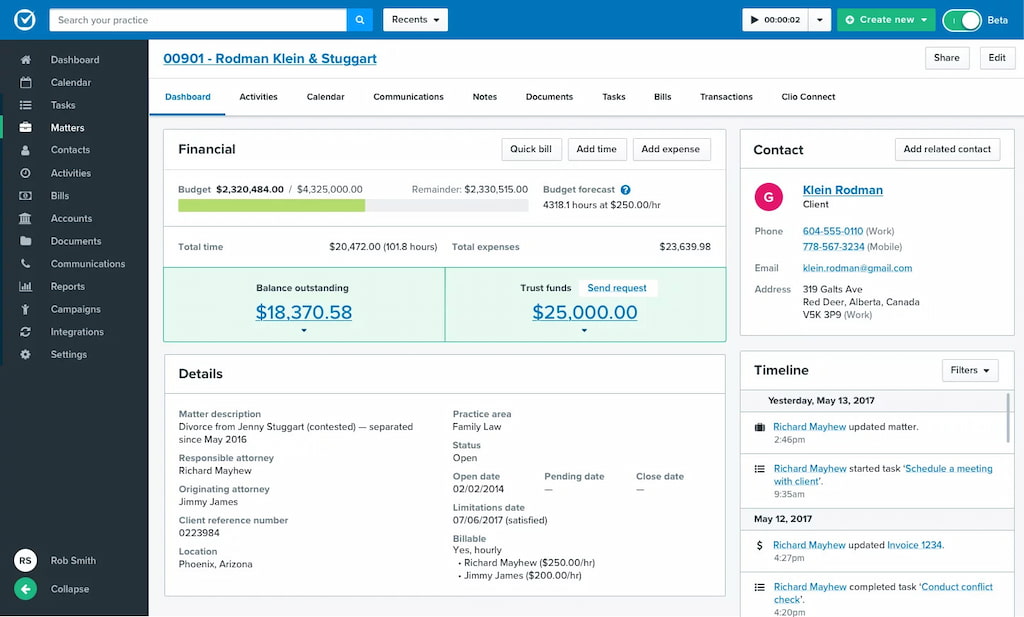 Clio is a legal software tool that offers client management, case management, payment, and billing capabilities. The software is designed to accommodate law firms of all sizes, from solo legal practitioners to large law firms with dozens of employees. Let's explore Clio's key features:
✨ Key features
Matter management: Track and manage cases to their own unique timelines. Include documents, contacts, notes, tasks, and billing all in one place.
Time tracking and billing: Track time spent on matters and generate bills from this data with customizable billing rates and a secure payment platform.
Communication: Stay in contact with clients by sharing messages, documents, and bills on the platform.
Document management: Store, share, and collaborate on documents within the platform. Prepare legal documents in seconds, create templates, and search documents to retrieve vital information.
Integration: Integrate Clio with over 90 tools, including communication, e-signature, accounting, file storage, email marketing, and document management tools, to ensure lawyers' tech stacks are seamlessly connected.
💰 Pricing
Clio has several pricing plans: Standard, Premium, and Suite. The Standard plan costs £59 per user per month and includes time tracking, invoicing, document storage, integrations, custom fields, and e-signature capabilities. The Premium plan costs £79 per user per month and includes all Standard plan features, plus matter budgets, access to a secure client portal, advanced reporting, priority support, and more. The Suite plan costs £99 per user per month and includes all Premium plan features plus client intake forms, email automation, legal CRM, and account set-up.
---
MyCase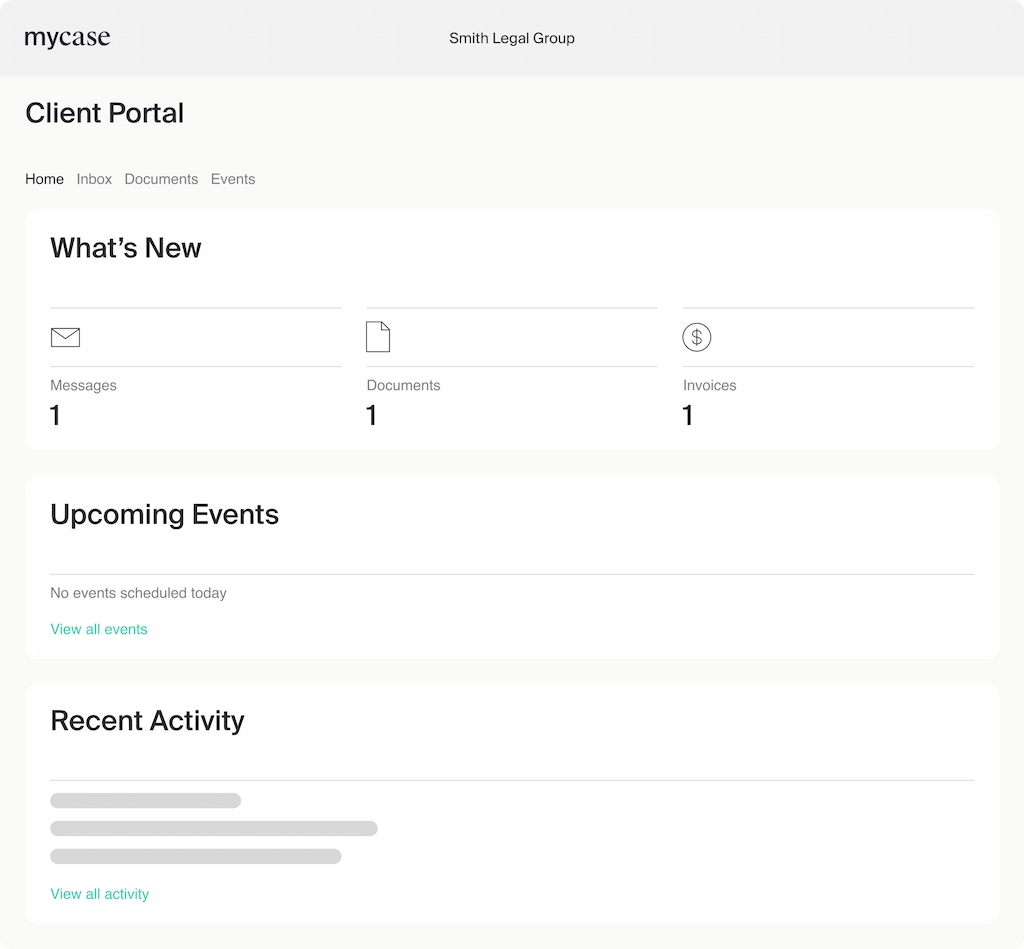 MyCase is legal management software designed to help law firms manage leads and cases, track time, automate billing, and communicate with clients seamlessly. Let's explore the platform's key features in more depth:
✨ Key features
Client intake and lead management: Customize client intake forms for every practice area, sign documents with eSignatures, improve firm efficiency with CRM, and build firm websites that connect directly with MyCase.
Case management: Manage deadlines with calendars that can be integrated with Google Calendar and Outlook, automate task, event, and document creation, manage documents and gain insights into case data.
Billing and payments: Track employee time seamlessly, automatically create and send invoices, collect payments with LawPay legal payment software, carefully track finances, and integrate with QuickBooks to ensure all your tools work together.
Client communications: Share messages, documents, tasks, and events with clients, text clients, and save records on case communications.
Document automation: Integrate with Woodpecker, a document automation tool that saves as much as 90% of drafting time!
💰 Pricing
MyCase has numerous pricing plans: Basic, Pro, and Advanced. The Basic plan, which costs $39 per user per month, includes case and contact management, task management, client portal access, time and expense tracking, billing and online payments, and legal calendaring capabilities. The Pro plan, which costs $69 per user per month, includes everything in the Basic plan, plus custom fields, two-way texting, client intake management, unlimited eSignatures, and advanced billing and invoicing capabilities. The Advanced plan, which costs $89 per user per month, includes everything in Pro, plus access to the file management system MyCase Drive and full-text search capabilities.
---
TimeSolv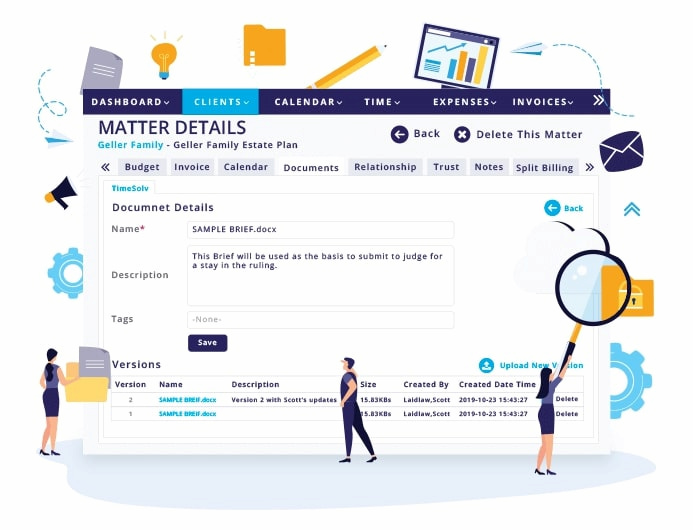 TimeSolv is a timekeeping software for law firms but is also ideal for solo practitioners and billing managers. The platform has numerous valuable features:
✨ Key features
Time tracking: Track time anywhere, on any device (even when offline), run multiple timers, sync time, and create hours limits to stay on budget.
Invoicing: Create flexible billing templates, divide an invoice between multiple payees, receive payments online through client portals, batch-create invoices, and schedule them to increase the chances of clients paying on time.
Reporting: Create 31 different types of reports in 10 formats, group accounts receivable by the client, view the budget vs. the amount billed, see how resources are allocated, and view task summaries to monitor performance.
Budgeting: Estimate matter costs, quote fixed fees to clients, and create budget reports to show matter progress against budgets.
Expense tracking: Track expenses from wherever you are, even if you're offline, track vital KPIs for business expenses, create custom abbreviations to save time while making entries, and attach receipts.
Document management: Save documents at the matter or project level, create custom documents, organize documentation using folders and subfolders, create custom tags, and store and view multiple versions of documents.
💰 Pricing
Lawyer timekeeping software TimeSolv has a pricing structure that is built around the number of users accessing the platform with volume discounts. For example, one to four users would incur the monthly price of $43.95 per user, while over 15 users would cost $39.95. The plan includes all TimeSolv's advanced features.
---
PracticePanther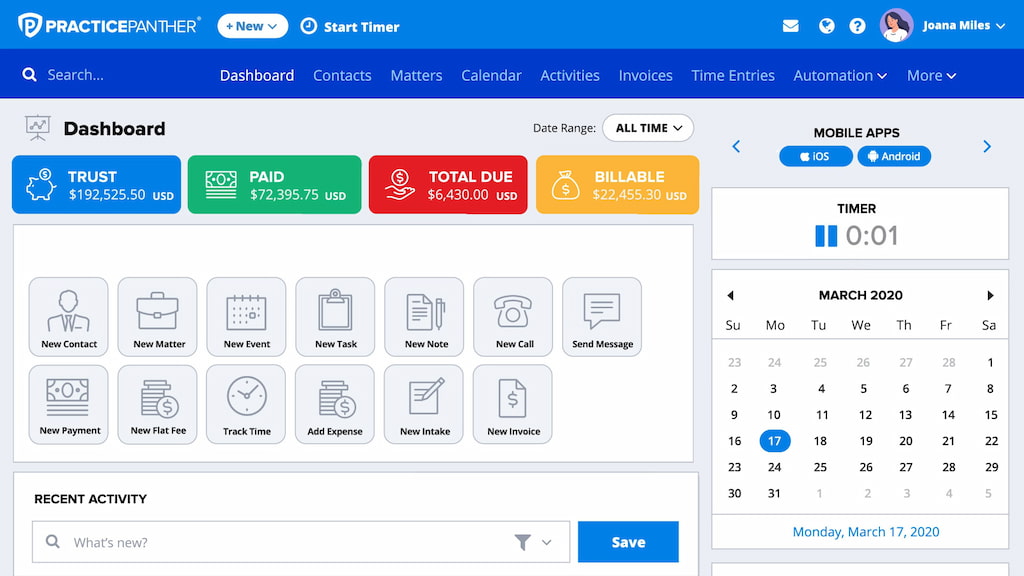 PracticePanther is a law practice management tool designed to automate tasks, allowing teams to get more done. Let's delve a little deeper into the platform's key features:
✨ Key features
Case management: Organise case management details to get a holistic view of the statuses of cases in one dashboard. Standardize firm processes with triggered tasks, checklists, and events, and utilize cloud storage to back up data in real-time automatically.
Billing: Accept online payments with PantherPayments and get paid 70% faster, track billable time and expenses, use multiple timers or turn calendar events into time entries.
Client communication: Batch create and send documents to clients in one sitting, sync client information from intake forms to streamline the traditionally time-consuming process, and send automatic appointment reminders, document requests, and invoice payments to clients from within the platform.
💰 Pricing
PracticePanther, the time and billing software for lawyers, offers several pricing plans: Solo, Essential, and Business. The Solo plan costs $59 per user per month and includes internal chat, real-time notifications, a daily agenda email, document templates, task and event workflows, and native payments with PantherPayments. The Essential plan, which costs $79 per user per month and includes everything in the Solo plan, also facilitates custom fields, custom security roles, and invoice read alerts. The Business plan, which costs $99 per user per month and includes everything in the Essential plan, has native 2-way texting, intake forms, unlimited native eSignature sends, attorney revenue reports, and free data migration.
---
Best Time Tracking Practices for Lawyers
Adequate time tracking for lawyers relies on accurate entries.
⏰ Use time trackers: Legal professionals should use timers for real-time tracking wherever possible and ensure that time entries have detailed descriptions of the work completed to justify the hours billed to the client.
📰 Review and clean entries: It's also good practice to periodically review and clean up time entries to flag and fix mistakes before the client is billed.
📚 Keep detailed records: Ensuring that records, including time entries, are as detailed as possible will make auditing processes significantly easier.
---
Integration with Legal Practice Management Systems
By integrating attorney time and billing software, legal firms can significantly streamline workflows and boost productivity. Integrating time-tracking tools with legal practice management software creates seamless data flows, which removes the need for repetitive data entry and, vitally, reduces errors.
Legal practice management systems such as Clio, MyCase, and PracticePanther offer integrated time-tracking solutions, allowing firms to manage cases, track time, and bill clients within a single platform. However, don't discount the other two platforms. Everhour and TimeSolv both facilitate and encourage integrations with other tools, such as accounting, communications, and project management platforms.
---
Mobile Time Tracking Solutions for Lawyers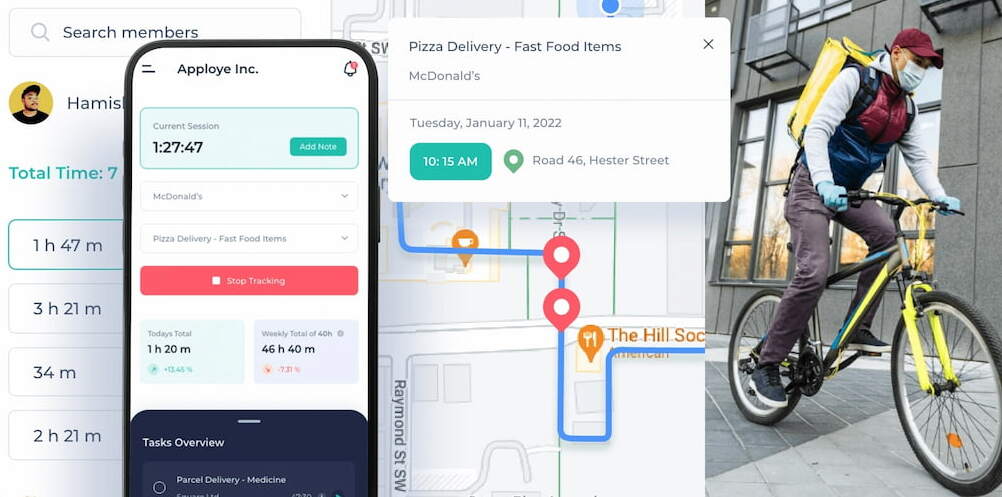 Lawyers do a lot of work on the go, so having access to mobile-friendly time-tracking tools is essential. With these tools, lawyers can track the amount of time they spend away from firm headquarters, for example, time spent out and about traveling, on the phone with clients, in meetings, and in court. Time is money, so lawyers need to ensure no billable hour goes unnoticed. Clio, MyCase, and TimeSolv allow users to track time on the go.
Mobile time-tracking solutions typically have a specific set of features. For example, user-friendly interfaces, start-stop timers, and automatic cross-device synchronization to reduce the amount of set-up time—lawyers are busy enough as it is! Some law firm timekeeping software even includes GPS tracking and geofencing features that record when/where work was completed, meaning lawyers can go about their day without having to excessively tweak time entries. For example, Apploye allows lawyers to track time at job locations through its GPS tracker.
---
Data Security and Confidentiality Considerations
Data security and confidentiality are absolutely essential in the legal profession. Every day, lawyers handle sensitive client information and court documents that must remain confidential. Lawyers will favor time-tracking platforms that use encryption to ensure sensitive information is not compromised. For example, Clio uses both in-transit and at-rest encryption to secure the firm's data, MyCase uses 128-bit SSL encryption, PracticePanther uses 256-bit military-grade encryption, TimeSolv transmits data via SSL, and all Everhour accounts use SSL-encrypted connections, the same level of security as online banks.
Another vital component of data security and confidentiality is access controls. For example, law firms won't want junior associates with no connection to client cases to be able to access highly sensitive case files or billing information that does not concern them. All the legal time management software we've explored gives users control over permissions and access. Law firms must also comply with relevant regulations that apply in their country. For example, law firms in Europe are guided by GDPR. In contrast, American law firms are guided by the American Bar Association's Model Rules of Professional Conduct on the confidentiality of client information.
---
Which Is the Right Time Tracking Software for Lawyers?
When it comes to choosing time-tracking software for law firms, decision-makers need to take several factors into account. Namely, ease of use, customization options, reporting capabilities, and the support available. For example, a larger law firm might prefer Clio, which is a legal software solution with integrated time-tracking capabilities. Clio's Suite plan is also well-suited to large firms because it offers legal CRM tools.
---
Time Tracking Software for Lawyers: Final Thoughts
Choosing the right time-tracking software will allow lawyers to enhance productivity and, therefore, profitability significantly. Solo practitioners or law firms seeking out a suitable time-tracking solution should consider the unique needs of their business, the available software features, integration options, and whether the tool can be used on the go. There is no shortage of options with dozens of excellent time trackers that will make life easier for busy lawyers who know that time is money!