Traditional punch clocks are a distant memory thanks to digital clock-in clock-out systems. In this article, we run through what those systems are and recommend the seven best intuitive apps to help you keep better track of your team, wherever they are based.
Exploring the Optimal Clock-In Clock-Out Software Solution
Grasping the attributes that define the finest clock-in clock-out software holds paramount importance in making well-informed business choices. Whether you're an individual professional or part of a small team, leveraging clock-in clock-out software offers invaluable insights into daily, weekly, monthly, and yearly work trends.
Relevance in Practice: Incorporating clock-in clock-out tracking ensures meticulous compensation accuracy, bolstering confidence in payroll management. For teams, it effectively addresses the query, "How have work hours been allocated?"
Crucial Evaluation Factors:
Real-time monitoring: These applications facilitate seamless initiation, pausing, and termination of time-tracking processes. Data rectification and manual input: You can effortlessly rectify recorded time entries, even post-task completion, and input omitted data. Comprehensive reporting: Enjoy intricate breakdowns of time distribution for projects, individuals, or clients. Invoicing and data export: Streamlined functionality for generating invoices or exporting data in versatile formats. User-Friendly Accessibility: The software streamlines effortless timer activation across browsers, applications, and devices.
Our Approach to Assessment and Testing
Our evaluations are meticulously curated by seasoned professionals with extensive careers in software evaluation. Each app undergoes rigorous testing and scrutiny against our predefined criteria. It's essential to highlight that we maintain an unwavering policy of not accepting any compensation for featuring apps or integrating them into our articles. Our foremost focus is upholding the trust our readers vest in our unbiased and authentic app and category appraisals.
What Is A Clock-in Clock-out System?
Clock-in clock-out systems allow team members to log their work hours as well as breaks, vacations, and overtime, usually on a desktop or mobile app. These systems enable organizations to manage team members' workloads and track the time worked.
Clock-in Clock-out System Types
Manual time tracking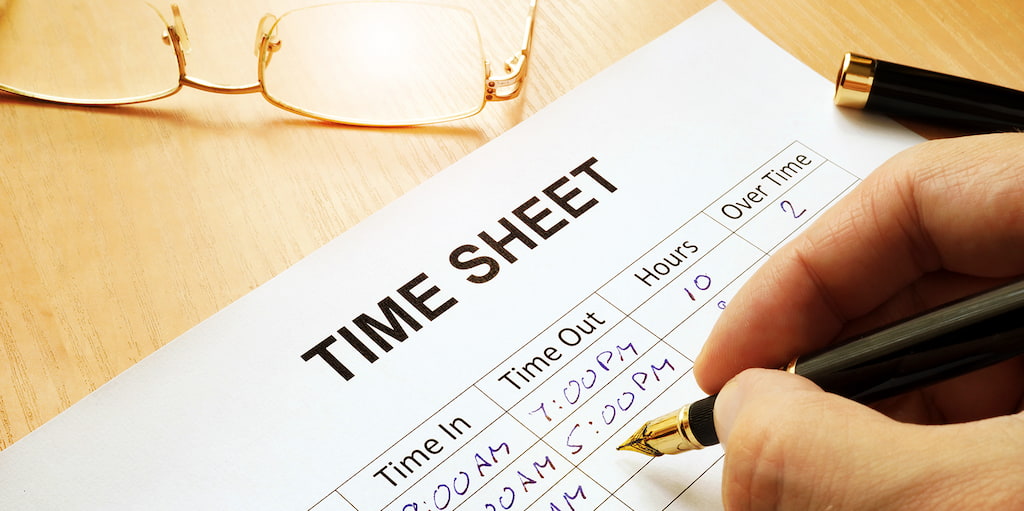 Some people like to log time manually using written timesheets or a spreadsheet where team members log their work hours, breaks, and overtime. Some employees use personal time tracking apps to track their work time better, which they then add to the spreadsheet. More organizations are trading manual time-tracking methods for automated solutions to save time and reduce errors.
Time tracking software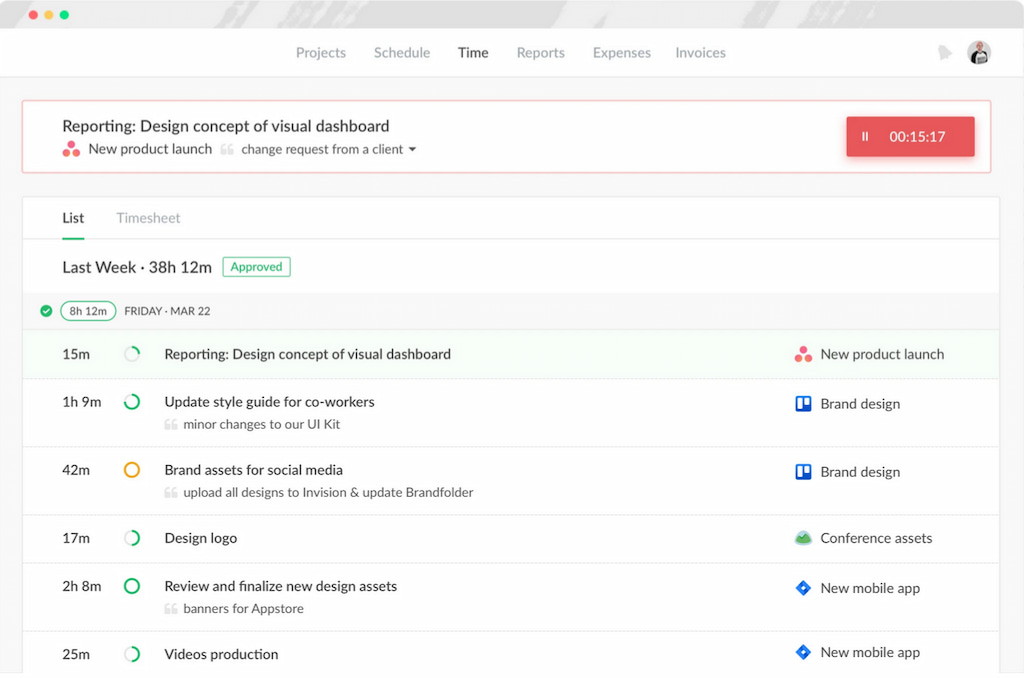 One of the most popular employee time tracking methods businesses use is time tracking software. However, time-tracking apps differ in their approach. For example, automatic time trackers record work hours but can be edited afterward for accuracy. Some time trackers offer a manual option, where team members can add their work hours later.
Electronic timesheets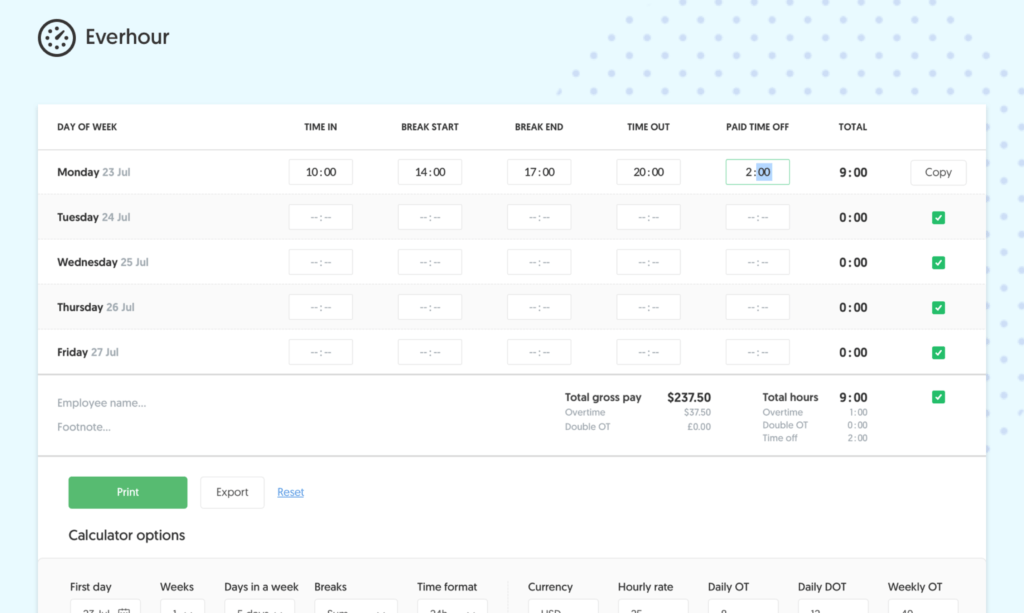 Some organizations prefer electronic timesheets, where time is added manually. Team members add the time they spent working to a calendar, including breaks and vacation time. They are a great solution for businesses looking for a simple and intuitive clock-in, clock-out timesheet system. If you want to learn more about timesheets, check out our article on why using a timesheet app.
Why Use a Clock-in Clock-out System?
Clock-in clock-out systems have several benefits for organizations of all sizes. When used properly, these systems increase work efficiency by optimizing essential processes such as logging work time, vacations, breaks, and overtime. Say goodbye to buddy punching and say hello to accurate timesheets, better resource allocation, easier payroll processing, accurate client billing, and increased productivity.
The 7 Best Clock-in & Clock-out Apps of 2023
There are several great clock-in and clock-out systems to choose from, but not all apps are built equal.
Everhour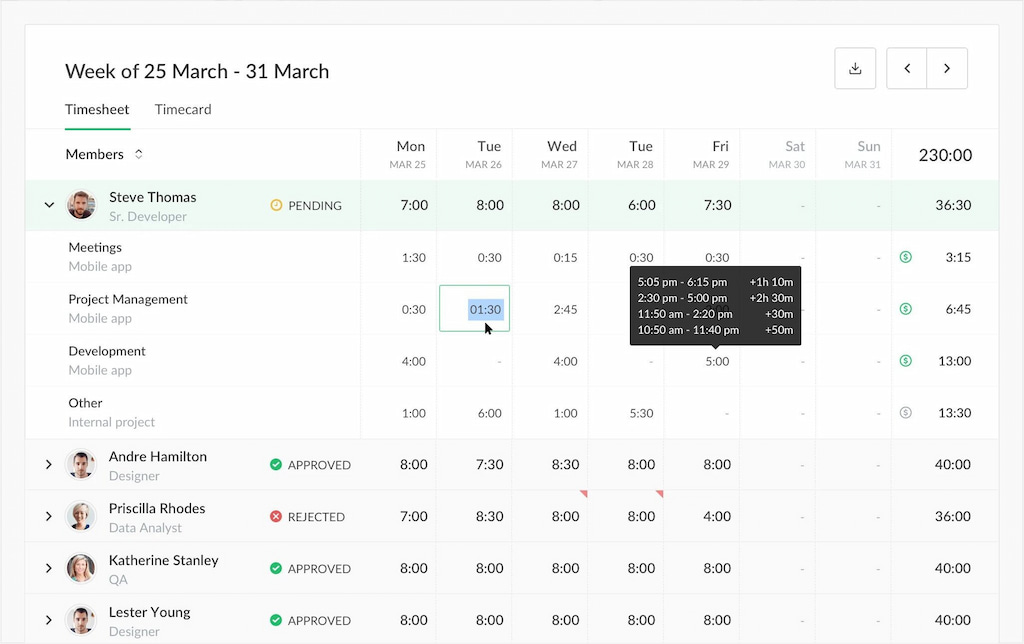 Everhour is a simple time tracker that takes all the work out of monitoring employee working time. The employee time clock app has a clock-in and clock-out functionality to record data for billing and payroll and track employee working hours to reduce the chance of burnout. Everhour's time clock app is available on the mobile or web and is used by home-based and office-based teams worldwide.
With the intuitive time tracking tool, you can track employee working time, bill clients more accurately, monitor the progress and budget of projects, and calculate time off, breaks, and vacation days efficiently.
Logging time on individual projects is a good way for companies to track client work and improve future project proposals, but not every business runs that way. With the Everhour clock-in and clock-out feature, team members can record their work hours without having to log time on specific tasks. Plus, team admins can view how many hours they have worked and use the information for accurate payroll.
How to clock in
Users can clock in by going to their Everhour account and clicking the 'Clock-In' button using the menu in the upper right corner. Alternatively, any users can clock in by using the 'Clock-In' button inside the Everhour browser extension.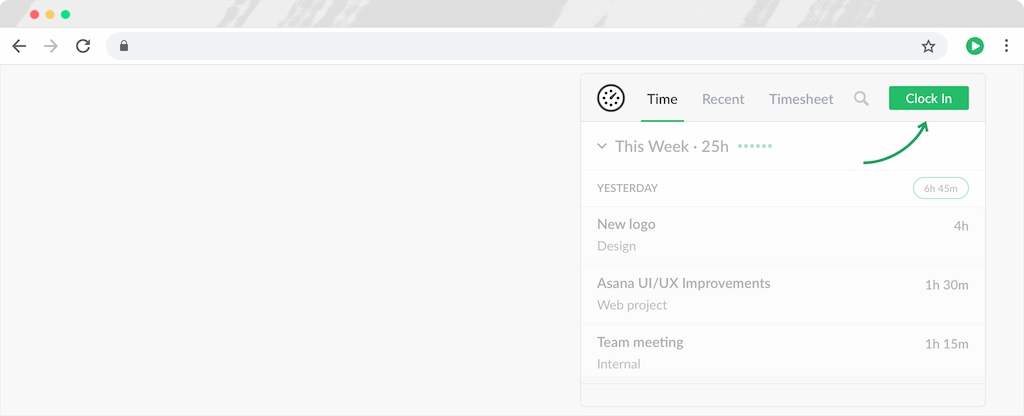 Click on the timer to track your time, and you'll be automatically set as 'Clocked-In'. To enable this, go to your profile and choose the option "Clock in/out based on your time entries".
How to clock out
Users can clock out manually by going to their Everhour account and clicking 'Clock-Out' in the menu or the Everhour browser extension. If a timer was running, it will be stopped.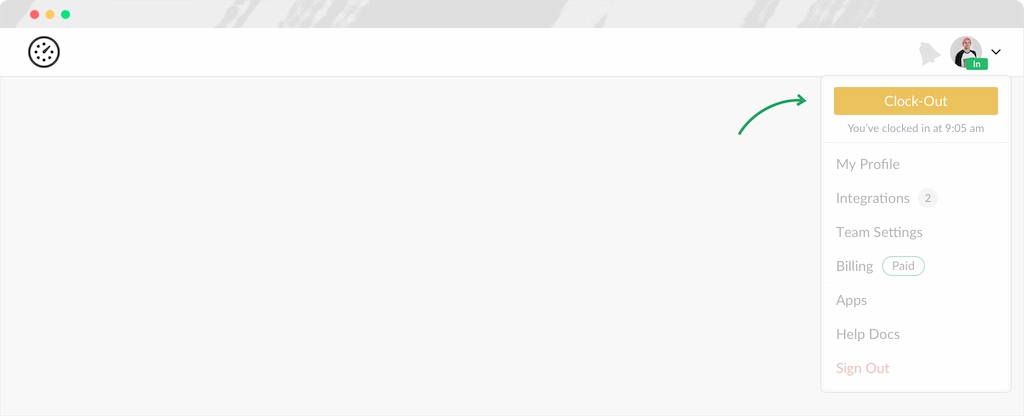 If you forget to clock out, Everhour will do it for you. 4 hours after the specified working hours, set in on the 'team settings' page, and you will be automatically clocked out for anyone not using a running timer.
How to log breaks
Everhour users must clock out before taking a break and clock back in when they return. Your personal Timecard displays the total breaks. The total work hours per day is the difference between the time of the first clock-in and the last-clock in, minus all break time.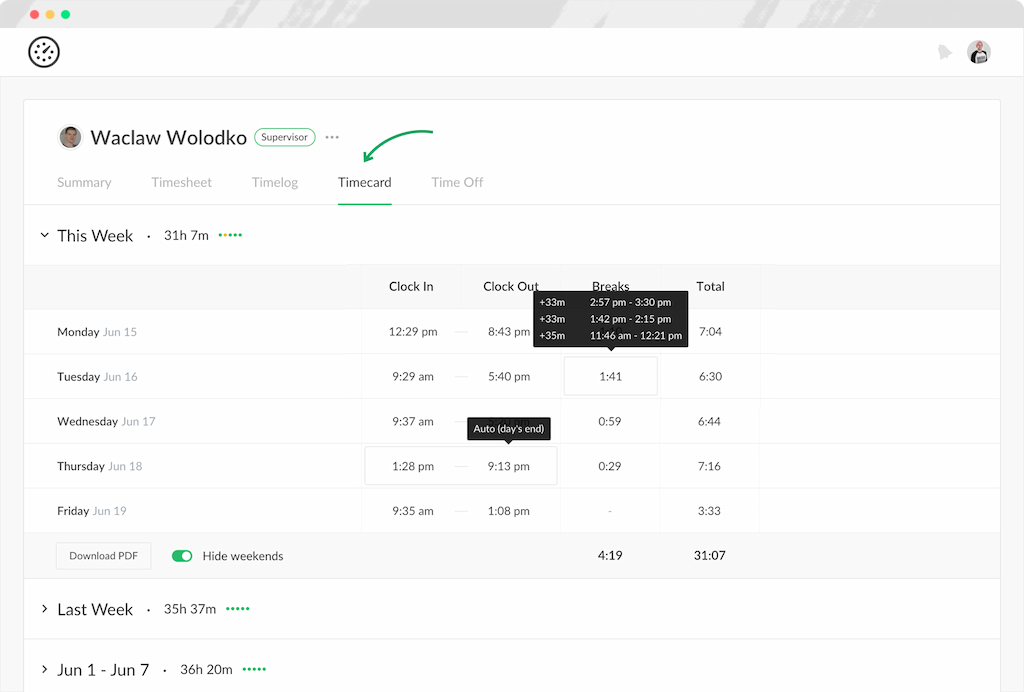 💰 Pricing
Everhour offers several subscription plans: Free, Lite, and Team. The free plan is available for up to five users and provides simple time tracking and reporting capabilities, perfect for small teams and freelancers. The Lite plan costs $5 per user per month when billed annually, starting at two users, and includes everything in the free plan, plus budgeting, invoicing, reminders, scheduled reports capabilities, and more for up to ten users.
Finally, the Team plan costs $8.50 per user per month when billed annually, starting at five users. The plan includes everything in the Lite plan, plus unlimited users, native integrations, time approval, time cards, time off, expenses, scheduling, and much more, making it the perfect solution for teams and companies that need all features, plus best-in-class integrations.
---
Inch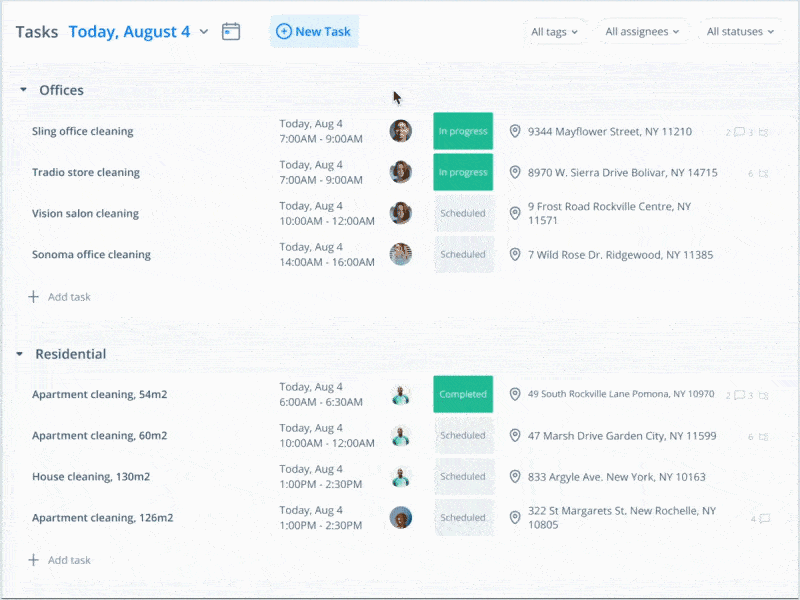 Inch is a workplace management tool with clock-in and clock-out features. Team members can clock in and out of their shifts from their phones or from a designated terminal in the workplace or a vehicle. On-site and remote team members can also work from shared task lists, receive reminder notifications, and communicate with managers—all in one place.
Additionally, Inch allows users to set up geofences around certain locations. When a team member steps outside of the specified location, they will no longer be able to clock in or out, giving organizations peace of mind that timesheets are accurate.
💰 Pricing
Inch is free to use.
---
Timesheet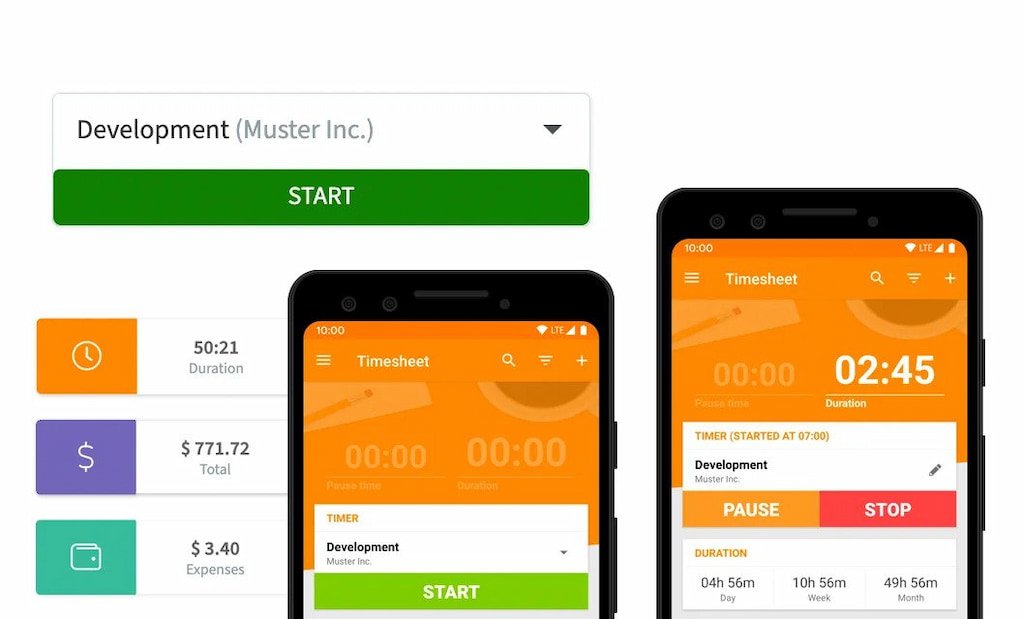 Timesheet is a mobile time clock app used by organizations to keep track of employees via mobile. The app has several useful features, such as a reminder system that regularly nudges team members to clock in and out after their shift ends. Once a team member finishes a shift or a week's worth of shifts, their hours can be quickly approved to reduce payroll delays.
Timesheet is a great app for businesses with employees spread across a wide area. However, it is also suitable for freelancers, students, and contract workers who would benefit from a work hours tracker.
💰 Pricing
Timesheet offers several plans: Basic, Plus, and Pro. The Basic plan is free, but with limited features, the Plus plan costs €4 per month with a couple more features than the free plan, such as cloud backup. Finally, the Pro plan costs €8 per month per user and includes all features, such as time tracking, unlimited projects, cloud backup, web access, multiple users, and the ability to generate PDF invoices.
---
Time Clock Wizard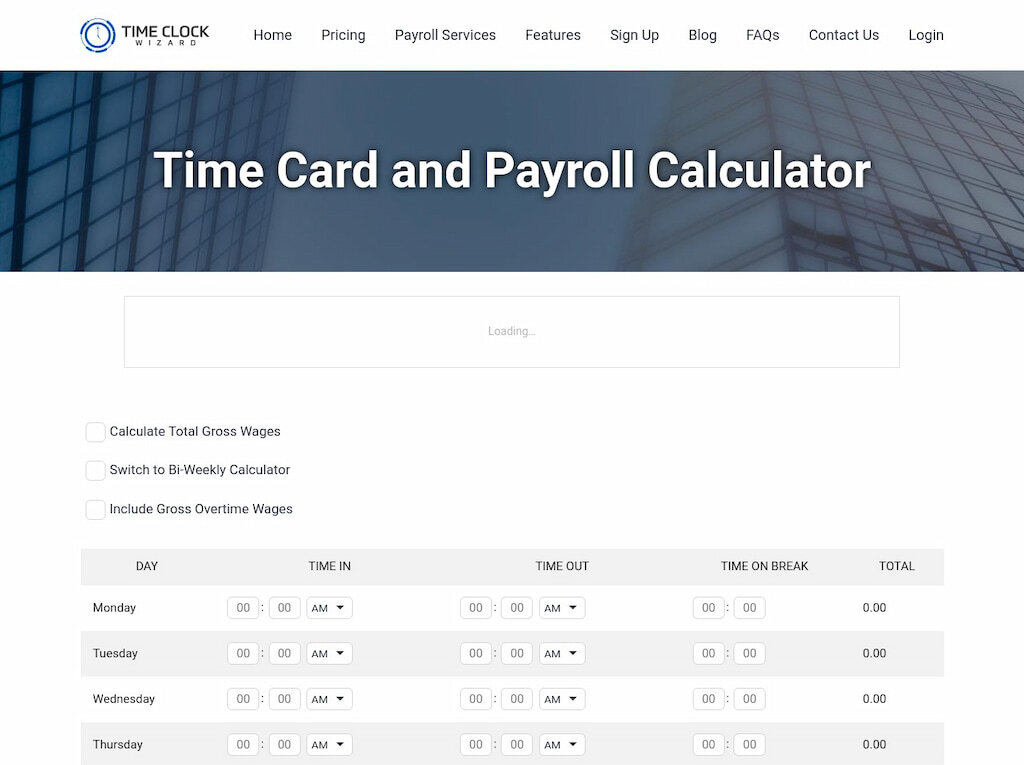 Time Clock Wizard is a clock-in clock-out tool that gives users insights into employee attendance and the time they spend on specific tasks. Additionally, the app streamlines payroll processes by paying team members correctly for the hours they work. Employee scheduling is a breeze with Time Clock Wizard, as users can log alternating work days, adjust pay rates, and log reimbursements to ensure they are paid correctly every time.
Furthermore, employees can clock in and out from multiple locations from their own devices, giving them the freedom to work where is best for them. Other useful features include instant alerts for employees and managers.
💰 Pricing
Time Clock Wizard offers several subscription options: Free, Value, Pro, and Enterprise. The Value plan costs $19.95 a month for unlimited users. The Pro plan for $39.95 for 50 users and the Enterprise plan costs $179.95 per month for unlimited users.
---
QuickBooks Time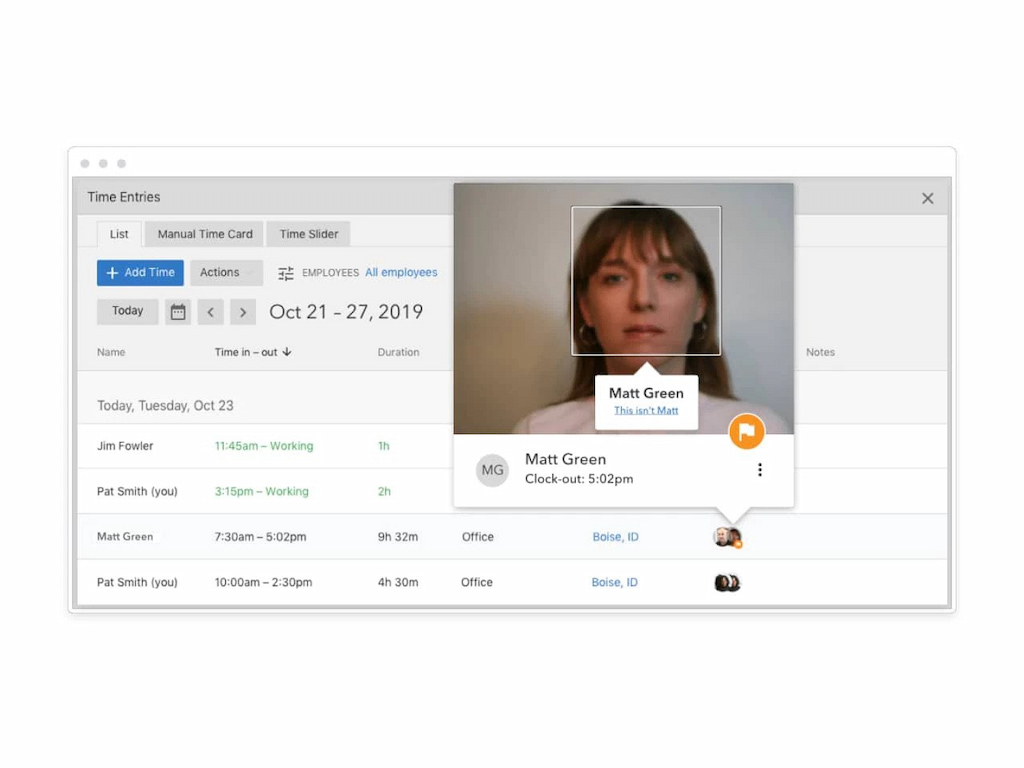 For those looking for a clock-in clock-out solution with automated time tracking capabilities, QuickBooks Time is the best option. The app includes a clock kiosk with facial recognition, GPS tracking, and reporting capabilities. Plus, the tool is easy to set up and works on any device without an internet connection. So wherever team members are, they can log their hours accurately.
💰 Pricing
QuickBooks Time offers users a 30-day free trial. There are also two paid plans to choose from Premium and Elite. The Premium plan costs £6 per month per user, plus a £16 base fee per month and 20 percent VAT. The Elite plan costs £8 per month per user, plus a £30 base fee per month.
---
Deputy

Deputy is a rotas and timesheet app aimed at businesses looking to increase efficiency. Key features include scheduling team rotas with shift swapping capabilities, a clock-in clock-out system to ensure team members are paid correctly, and a communication platform to ensure all team members are on the same page about shifts, training, and company policies.
A key advantage of Deputy is that the app makes it easy for staff members to record their exact hours and breaks—users simply clock in and out of work via an on-site tablet, phone, or computer, which creates an automatic record. Plus, with GPS location stamps and facial recognition capabilities, employees can show their managers that they were in the right place at the right time. Finally, managers can save hours on employee admin by approving timesheets either individually or in bulk and exporting information to payroll software in just one tap.
💰 Pricing
Deputy offers a 31-day free trial, giving you time to try the platform before you commit to a paid subscription. If you decide you like the platform, there are several subscription options available. The Premium subscription, which costs £3.50 per month per user, billed monthly, includes scheduling, time, and attendance features. Alternatively, you can opt for the Scheduling plan for £2.50 per month per user, billed monthly, or the Time and Attendance plan for £2.50 per month per user, billed monthly.
---
Hubstaff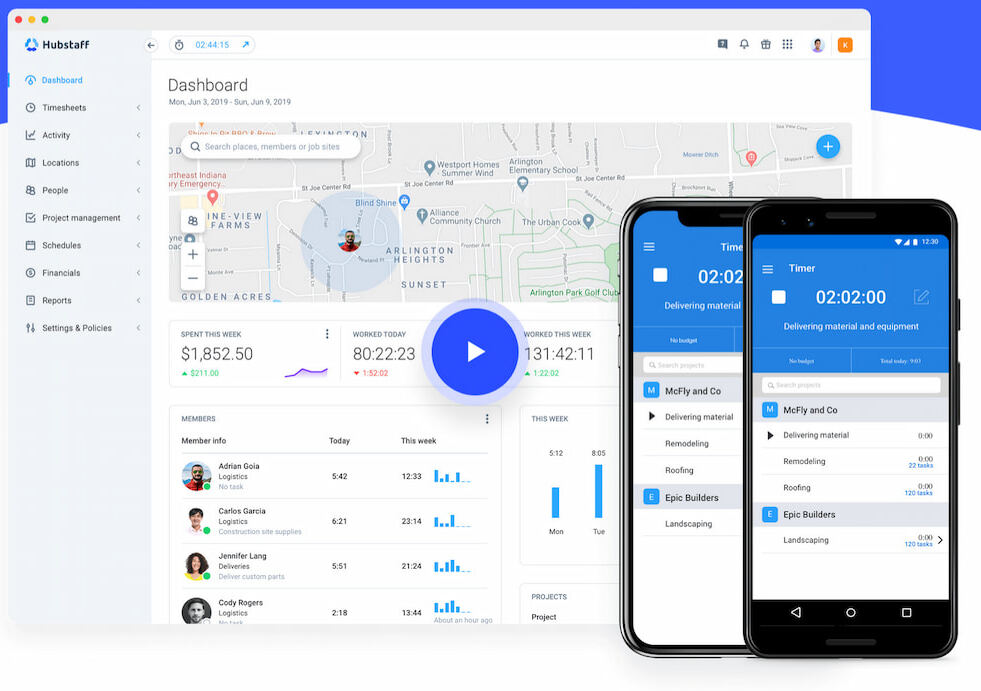 Hubstaff is a popular time-tracking and productivity tool which is most commonly used to manage field or remote teams. The platform provides various useful features, including time tracking, productivity monitoring, reporting, GPS tracking, automated payroll, and online timesheets. Hubstaff's clock-in, the clock-out system allows users to automatically clock in or out based on their location or on their own terms by allowing them to manually start the timer at the beginning of their workday or shift.
With Hubstaff timesheets, users can see daily and weekly timesheet views, set weekly budget limits, and mark hours as billable or non-billable. Additionally, timesheet approvals are easy with per-user timekeeping settings, automated approval workflows, and lockable time to avoid late changes to hours.
💰 Pricing
Hubstaff offers a wide selection of tailored subscription plans. For organizations requiring GPS location tracking and plenty of team management capabilities, Hubstaff Field is best. There are three Hubstaff Field plans to choose between Pro, Desk, or Enterprise. Pro costs $10 per user per month when billed annually and includes time tracking, timesheets, mobile GPS tracking, and much more. Desk Field costs $12.50 per month per user and includes all Pro features as well as activity levels, custom idle timeouts, app tracking capabilities, and unlimited screenshots. Finally, the Enterprise plan offers everything in the Desk Field plan, plus VIP support, concierge setup, higher limits on public API, etc. The price of this plan varies by organization.
---
TL;DR: The 7 Best Clock-in Clock-out Apps
Key Features
Pricing Plans
Everhour
Mobile or web time clock app
Accurate billing and invoicing
Monitor project budgets and deadlines
Free
Lite – $5 per user per month,
starting at 2 users, billed annually
Team – $8.50 user per per month,
starting at 5 users, billed annually
Inch
Clock-in and out on mobile or workplace terminal
Geofences
Communication tools
Reminder notification
Free
Timesheet
Clock-in and out on mobile clock app
Clock-in and out reminders
Quick timesheet approvals
Basic – Free
Plus -€4 per month
Pro – €8 per month
Time Clock Wizard
Time clock app can be used from any location
Accurate payroll and invoicing
Instant alerts for employees and managers
Free
Value – $19.95 per month for unlimited users
Pro – $39.95 per month for 50 users
Enterprise – $179.95 per month for unlimited users
QuickBooks Time
Time clock kiosk
Facial recognition
Track time even with no internet connection
Premium – £6 per month per user with £16
base fee per month and 20 percent VAT
Elite – £8 per month per user with £30 base fee per month and 20 percent VAT
Deputy
Rotas and timesheet creation
Swift swapping
Accurate payroll and invoicing
Training and company policy documentation
Premium – £3.50 per month per user, billed monthly
Scheduling – £2.50 per month per user, billed monthly
Time and Attendance – £2.50 per month per user, billed monthly
Hubstaff
Clock-in and clock out app for field and remote teams
GPS tracking
Automated payroll and invoicing
Weekly budget limits
Automated approval workflows
Pro – $10 per month
per user, billed annually
Desk – $12.50 per month per user, billed annually
Enterprise – Price varies by organization
In Summary
There are plenty of clock-in & clock-out attendance trackers available today, each with a wide selection of useful features. The difficulty is finding the best time clock app that is right for your organization's specific needs. For example, if your team are shift workers primarily working remotely in a range of locations, your organization may benefit the most from Hubstaff Field. 
Alternatively, if your team works in a hybrid or remote environment and requires payroll, invoicing, and reporting tools as well as dozens of app integrations, Everhour is a good fit. However, all of the tools listed will help your organization keep track of team members, get employee payroll right every time and allow you to bill clients more accurately. So whichever app you choose, you're already on to a winner!