The prevalence of remote work in the wake of pandemic-enforced changes has led to many companies seeking to adopt new technologies to keep productivity levels high. Project management tools, cloud-based file storage solutions, and communication tools have risen to the top of many businesses' agendas.
Yet, to track one of the most important metrics for productivity and time, a different type of tool is required. A time-tracking app provides companies with an easy way for employee time tracking; to see when they clock in and clock out, and what they spend their work hours working on. This can provide a complete picture of productivity levels within the company, and inform you as to whether your employees are giving their all in every moment.
In this guide, we're going to break down two popular time-tracking tools, QuickBooks Time vs Everhour, focusing on Quickbooks Time, with the aim of providing you with a clear idea of which one may be a better fit for your business.
What Is QuickBooks Time?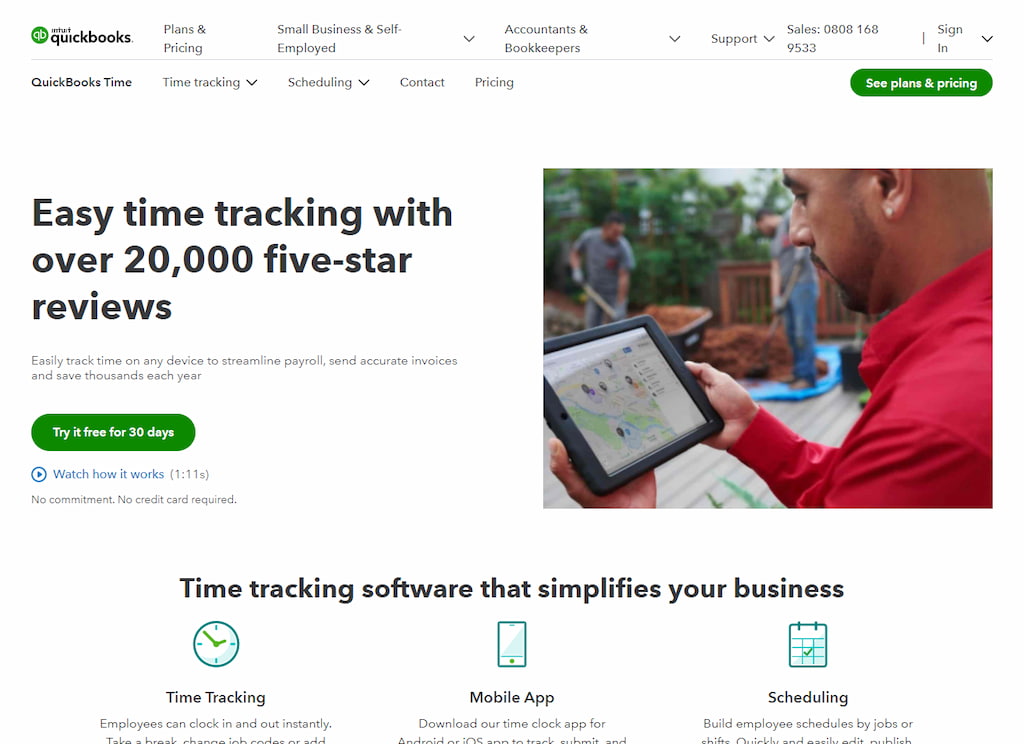 You may have heard of QuickBooks for its accounting features since that's what it's best known for. Yet, did you know that under the umbrella of QuickBooks exists a software solution made for time-tracking?
QuickBooks Time, as it's called, provides time-tracking features to help users calculate accurate payrolls and send correct invoices. As such, the time-tracking software extends the functionality of QuickBooks for those who already do their accounting through the app or website. That's not to say you can't use QuickBooks Time app on its own, but it is best used when synced with QuickBooks' accounting features.
💡 Best for: QuickBooks Time is undoubtedly best for HR reps and managers in charge of a company's financial responsibilities. Since it falls under the QuickBooks umbrella, with QuickBooks Time sign in, you'll gain access to the ecosystem, and use the accurate time data you've collected to inform the accounting portion of the software. The software can also be useful for freelancers and contractors who want to build up a reputation of professionalism and send out 100% accurate invoices to clients based on concrete time data.
QuickBooks Time Tracker: Pros & Cons
QuickBooks Time is available for desktop and as a mobile app, which provides flexibility in how you use it. It offers various features, each designed to help you stay on top of your time, invoice correctly, and budget accordingly for your projects. Here are some of the top features:
Timesheets and time scheduling
Time clock kiosk
GPS and geofence time-tracking
Notifications and reminders
Smart reports
Even though the QuickBooks Time tracker may be loaded with features, it has its drawbacks. Here are some of the pros and cons most commonly noted by the software's users.
Pros:
✅ Allows for easy, accurate payroll with QuickBooks integration
✅ GPS geo-tracking lets you see where your employees are during work hours
✅ Smart reports provide insights into employee time data for monitoring productivity
✅ Alerts let you know when you're approaching overtime and to let staff know about shift changes
Cons:
❌ Occasional errors with GPS location-tracking can cause issues
❌ Manual time entry can be laborious, and, ironically, time-consuming
QuickBooks Time: Integrations
To maximize the utility of any software, third-party integrations are essential. With QuickBooks Time, you'll plug yourself into a network of useful software solutions that you can use with the time-tracking functionality.
These integrations vary from project management and payroll tools to sales software and cloud-based file storage. Here are some of the most popular integrations: Asana, Dropbox, Google Drive, Square, and Salesforce.
With the integrations, you'll be able to easily plug your time data in, and streamline project workflows, create payrolls, or develop detailed productivity reports for your employees and teams.
QuickBooks Time: Project Management Features
Creating a system for pushing projects along the pipeline is essential if you want to streamline workflows and get things done efficiently. Project management features, then, can be instrumental in inspiring productivity and boosting collaboration among teams and departments.
So, what does QuickBooks Time have to offer users besides time-tracking? QuickBooks Time allows you to manage your projects with the following features, some of which overlap with QuickBooks:
👩‍💻 Inventory tracking: If you work for a customer-facing business, and you sell physical goods, tracking inventory is essential. With this feature, you can account for all of your inventory, receive alerts when you're running low, and create purchase orders.
🚀 Project and location tracking: QuickBooks time lets you know how much you're making on each project, including information on expenses, invoices, and bills. It also lets you track non-billable hours with location tracking, so you can ensure employees are spending the right amount of time on the job.
💲 Budget management: Going over budget is a common problem and one which can be easily avoided. With QuickBooks Time budget management, you can create a budget from scratch and run budget reports for your projects.
QuickBooks Time: Payroll
One of QuickBooks Time's greatest strengths is the role it plays in the QuickBooks software ecosystem. If you're not familiar with the software, QuickBooks is designed to make accounting easy for freelancers, small business owners, and even enterprises. It equips you with the tools to input all your invoicing and billing data, pay employees, and more. So how does QuickBooks Time fit in?
QuickBooks Time allows you to sync up time data with your accounts in the software. So, for example, if you want to pay employees according to the exact number of hours they've worked, the two tools combine to make that possible. You won't have to spend time entering data into accounting software or providing it to the relevant person, as it'll all be housed under the QuickBooks umbrella.
QuickBooks Time: Reporting
Time data is useless if you can't visualize it in a report, chart, or overview. QuickBook Time features various reporting functions that allow you to implement time data into your budget management strategy, payroll calculation, and expenses tracking.
Project reports allow managers to track billable and non-billable hours related to projects, which can help establish accurate budget and timeline predictions for future projects. The payroll report lets you see at a glance how many billable hours each employee has contributed, which of course informs payment.
QuickBooks Time: Customer Service & Support
QuickBooks has a reputation as an all-encompassing tool with a steep initial learning curve. The same applies to QuickBooks Time to a lesser extent, but the good news is, there are plenty of resources to guide you through the software.
QuickBooks Time support is extensive, as the company has put together a wealth of video tutorials and webinars informing users how to use its software. This includes a comprehensive resource center with FAQs, and an 'ask the community' feature that puts your queries to experienced users.
You can also reach out to QuickBooks Time customer service directly to resolve any issues that arise with online chat or by phone.
QuickBooks Time: Pricing
QuickBooks Time pricing comes in the form of two different plans: Elite and Premium. There's also a third plan designed specifically for accounting professionals, called ProAdvisor.
| | Billed Monthly |
| --- | --- |
| Elite | $40/month (1 admin) + $10 per user per month |
| Premium | $20/month (1 admin) + $10 per user per month |
| ProAdvisor | Free for accounting professionals |
The Premium plan offers users features such as streamlined payroll and invoicing, QuickBooks integration, and real-time reports. The Elite plan builds from the Premium plan, including all of the latter's features, plus mileage tracking, project estimates, geofencing, and more.
QuickBooks Time: Alternatives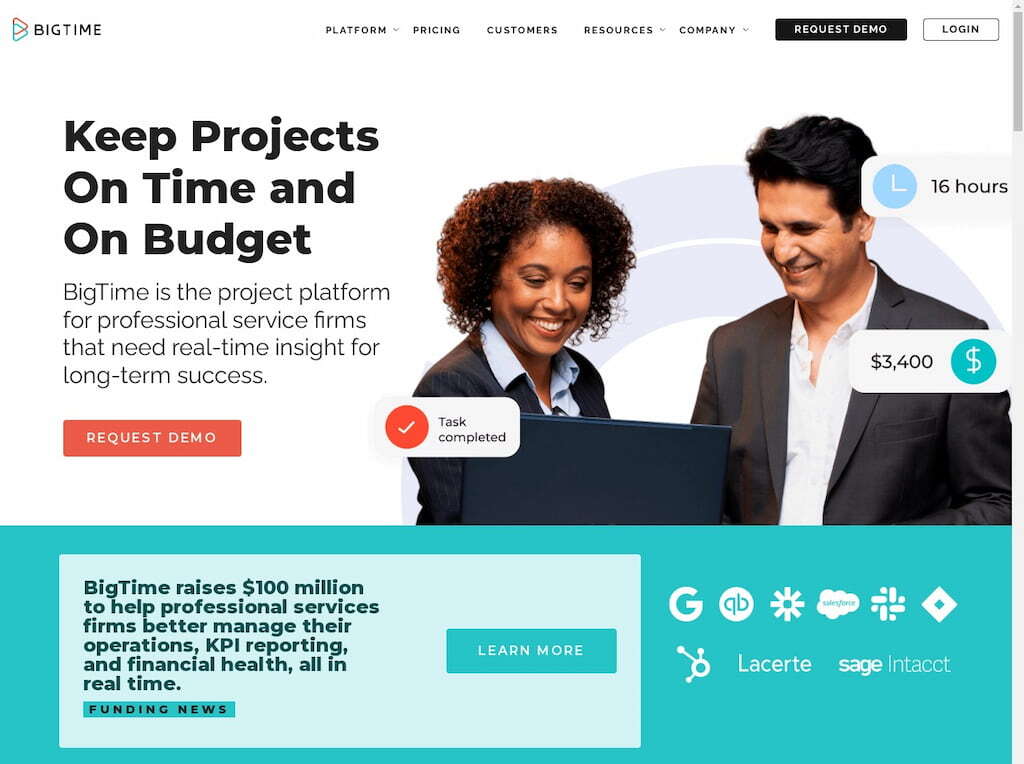 BigTime is a similar alternative to QuickBooks time, offering time-tracking features to assist with users' payroll and accounting needs.
BigTime is another app that features integration with QuickBooks, and it's geared toward business people, entrepreneurs, and contractors. It also has its own accounting features and allows for payment processing. There are project management features, too, including budget and expense tracking and Gantt charts for time data visualization.
Another strong alternative is Everhour, which we'll examine in detail next, assessing its features, pricing, and customer support.
What Is Everhour?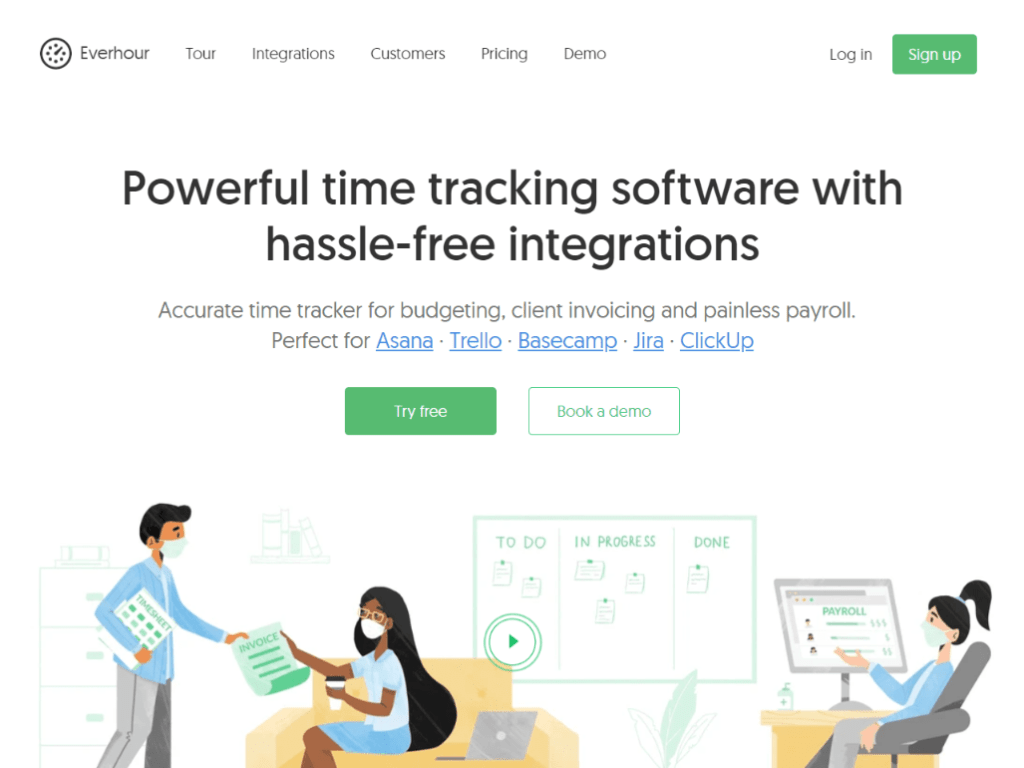 Everhour is a dedicated time-tracking tool that is bolstered by an arsenal of popular integrations. Whereas many time-tracking tools, such as QuickBooks Time, are add-ons for existing software, Everhour was designed with time-tracking in mind. As such, it offers the user a host of features for monitoring time data and integrates well with many apps.
Of the many integrations, Asana, an industry-leading project management tool, lists Everhour as its number one add-on. Such high praise for the time-tracking tool speaks to its effectiveness, and compatibility with other software.
💡 Best for: Everhour is best for teams trying to coordinate with upcoming deadlines, shared projects, and more. Time management is crucial in a team dynamic, as the leader or manager needs to know what each team member is working on at every moment. Everhour lets you stay on top of your time, and hold your coworkers or employees accountable. It also ensures each team member gets paid according to the number of billable hours they worked. Once integrated with project management and communication tools, Everhour can become an indispensable tool for team-driven productivity.
Everhour Time Tracker: Pros & Cons
Everhour is available for iOS and desktop, but also as a browser extension which makes using it with integrations a breeze. It comes full of time-tracking features, each of which can add to the utility of other software tools you use. Here are some of the most useful features:
Now let's take a look at some of the main pros and cons of Everhour according to its users:
Pros:
✅ The software is intuitive and easy to use
✅ Detailed client reports help organize payroll
✅ The wealth of integrations help users streamline workflows and use time data across software tools
✅ Simple to start and stop tracking time
Cons:
❌ The mobile app isn't as polished as some time-tracking apps
❌ Integration is fine-tuned to each app, which can make third-party app updates interfere with the time-tracking functionality
Everhour: Integrations
Everhour's primary strength lies in its excellent time-tracking features and dedicated focus on reports centered around time data. Yet it also has a wide variety of integrations with industry-leading software in categories from project management to accounting.
Currently, Everhour offers time-tracking integration for ClickUp, Asana, Jira, Trello, and Basecamp. What's more, due to the browser extension functionality of Everhour, you can easily sync data and make the most of the time-tracking features of whatever app you're using. You can power up your Jira work experience, Asana project management or GitLab time tracking! It's also among the top GitHub time tracking tools which can be incredibly useful for developers' teams.
Everhour: Project Management Features
Everhour focuses on time-tracking, but it doesn't stop there. The software offers various task and project management features to help you stay on top of your workload. Here are some of the most popular project management features on offer:
📰 Task tracking: With Everhour, you can track tasks on your plate and see how team members are getting on with theirs. You can also choose how to view tasks and projects, with both list and board views available within the software.
📋 Templates: Developing a project estimate can take a while, so having the ability to copy an existing template to use for your next project can be a real time-saver.
❓ Estimates: You can draw up time estimates (or the so-called critical path) in Everhour to see if you stuck to your initial expectations, spent too much time on a project or finished with time to spare. This is valuable feedback for individual employee performance, and planning future projects.
Everhour: Payroll
While Everhour doesn't have a direct payroll service, it does offer integrations with apps that do, such as QuickBooks, Xero, and FreshBooks. The software also has plenty of features designed to facilitate seamless payment to employees, factoring in expenses and billable and non-billable hours.
Everhour also makes it straightforward to send invoices to your clients, as you'll have all the time data necessary to provide an accurate estimate of what you're owed for each project.
Everhour: Reporting
Data analysis is super easy with Everhour. Through custom reports and dashboard overviews, users can interpret time data with regard to employee productivity, budget estimates, and more. You can then share the reports you create in the software with colleagues, to facilitate payroll or promote discussion concerning performance evaluation.
Everhour: Customer Service and Support
Everhour offers users a number of ways to resolve issues and reach out with queries. The 'Help Docs' page features a compilation of in-depth articles, FAQs, and more. Here you'll find answers to the most common issues, and should be able to fix any issues yourself.
For reaching out, Everhour has a live chat feature on its website and offers email support. You can also try the Everhour product demo, which can give you hands-on experience with the software to inform your decision.
Everhour: Pricing
Everhour offers three pricing options. There is a free option for up to 5 users which offers the basic time tracking and reporting features. The Lite plan is $5 when billed annually and $6 when billed monthly, and it includes the features the Free plan provides along with invoicing, budgeting, payroll and billable rates, and reminders. The Team plan is $8.50 when billed annually and $10 when billed monthly, and it includes unlimited users, unlimited projects, unlimited integrations, all features, and fast customer support.
| | Billed Monthly | Billed Annually |
| --- | --- | --- |
| Free | $0 | $0 |
| Lite | $6/month per user | $5/month per user |
| Team | $10/month per user | $8.50/month per user |
Everhour: Alternatives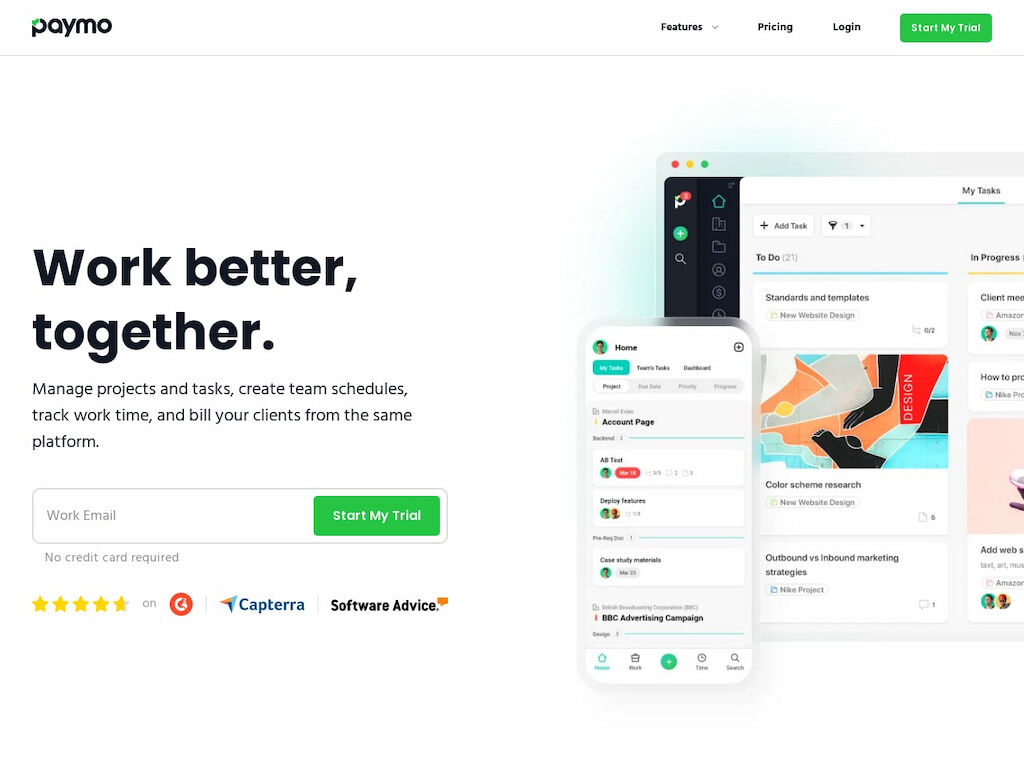 Paymo is an alternative to Everhour which is geared more toward accounting and general project management. Paymo features common project management features such as Gantt charts and Kanban boards, which provide team members with visual representations of time data. It also includes the humble, yet ever-important, to-do list.
In terms of time-tracking, Paymo allows users to create timesheets and track time through a browser, app, or website. Real-time active timers and automatic time-tracking make it easy to oversee projects and assess employees' use of time.
QuickBooks Time vs Everhour: On a Final Note
It's clear that both QuickBooks Time vs Everhour have a lot to offer the user looking for time-tracking functionality.
Whereas QuickBooks Time is fit for those already in the QuickBooks ecosystem, Everhour is a dedicated time-tracker that works well with many integrations. Both tools offer an array of features from expense tracking to project management, making them versatile options.