Finding project management software that will simplify key business processes is an important way to make life easier for your entire team. Whether it is a large-scale collaboration or a smaller project, utilizing software that takes certain responsibilities off your team's hands will help you finish projects more quickly and with more accuracy. But there are a lot of different productivity apps out there, and picking the right ones can help a project process go from good to great. Two project management tools that have similar usage are Everhour vs Timely.
These are both apps whose primary function is to keep track of the amount of time spent working on a project and neatly organize these into clear reports that effectively convey important information. Both platforms focus on time tracking and management, but while there are similarities, there are differences too.
Let's break down some of the core similarities and differences between Everhour and Timely, covering everything from their features and integrations to their pricing and support.
Timely vs Everhour: Product Features
Here are some of the product features that both Everhour and Timely provide. Let's explore what they provide within their four core features of time tracking, task management, billing and invoicing, and reporting.
⏰ Time Tracking
Everhour is a time tracking app allows users to set timers on different projects to keep track of how long they are spending on different projects. The time spent working can be organized according to project, dates, tasks, and various other guidelines. It allows teams to provide customers or managers with accurate, backed-up data of their time on a project.
Timely has a similar tool with its time tracking features, albeit with a different look and layout. They also utilize a timer device that will keep track and provide organized, up-to-the-minute reports on how long users have spent working on projects. Timely uses a drag-and-drop interface for their time tracking.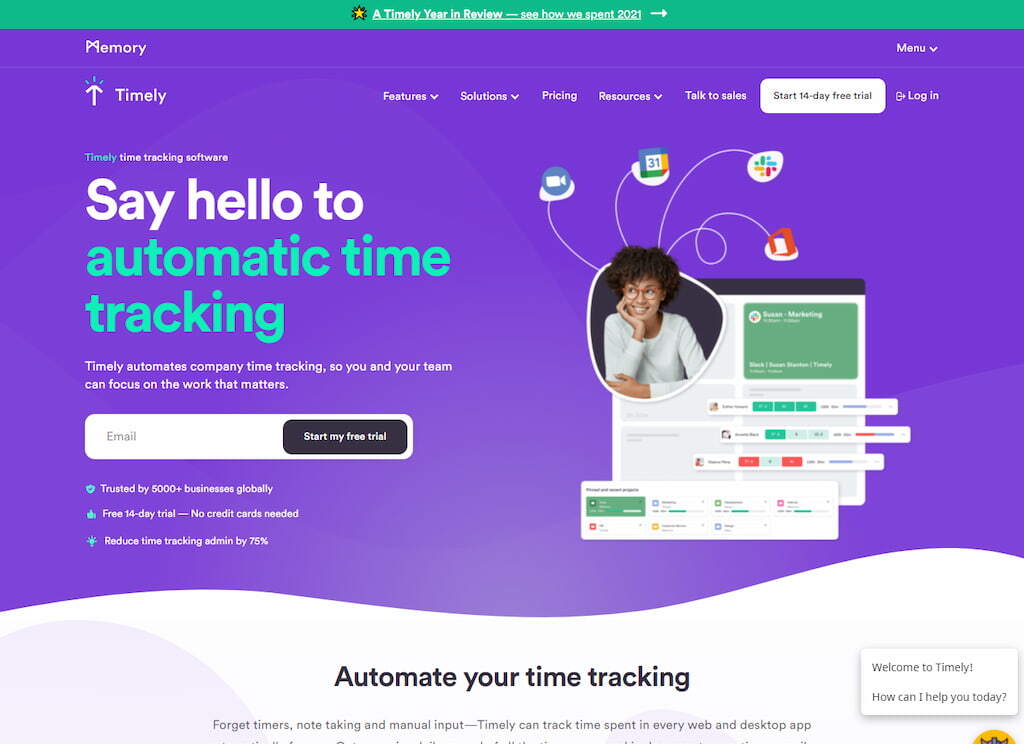 🧩 Task Management
Everhour has task management tools that allow teams to create tasks for different projects, organize them, allot time for each task, and then use the time tracking features to keep track of the time spent on each task. People can work on those collaboratively so teams can keep track of progress and ensure the right amount of time is spent on each task.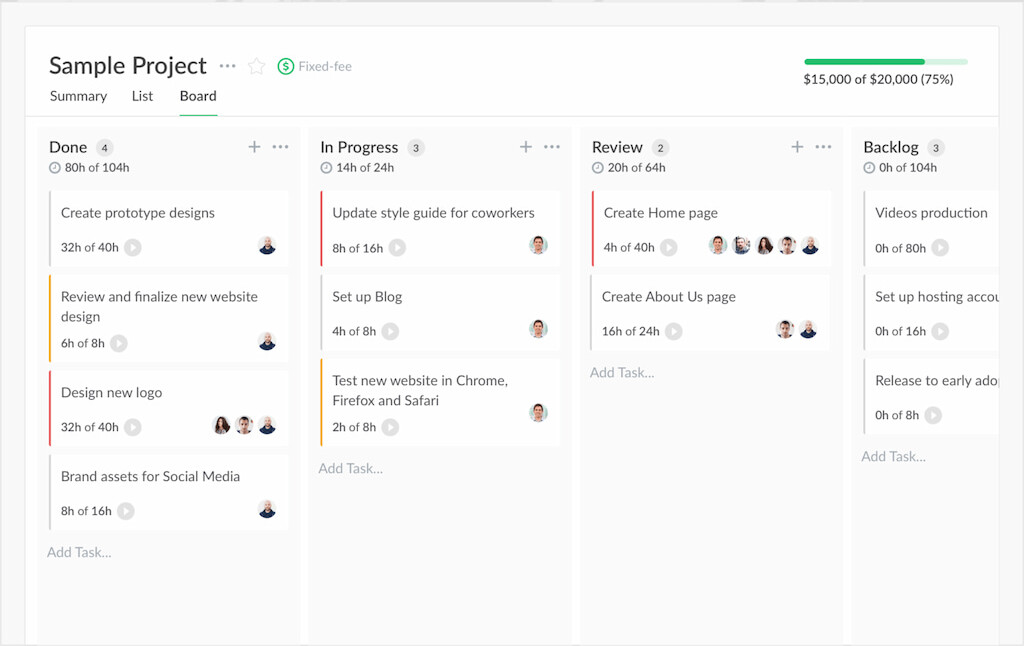 Timely has team dashboards and calendars where teams can keep track of their day-to-day. The drag-and-drop interface can be used on calendars to schedule and allot time for certain tasks and create plans. The features are color-coded and add a clear, visible way for businesses to set tasks, and the automatic timing feature will allow them to ensure tasks are on-time.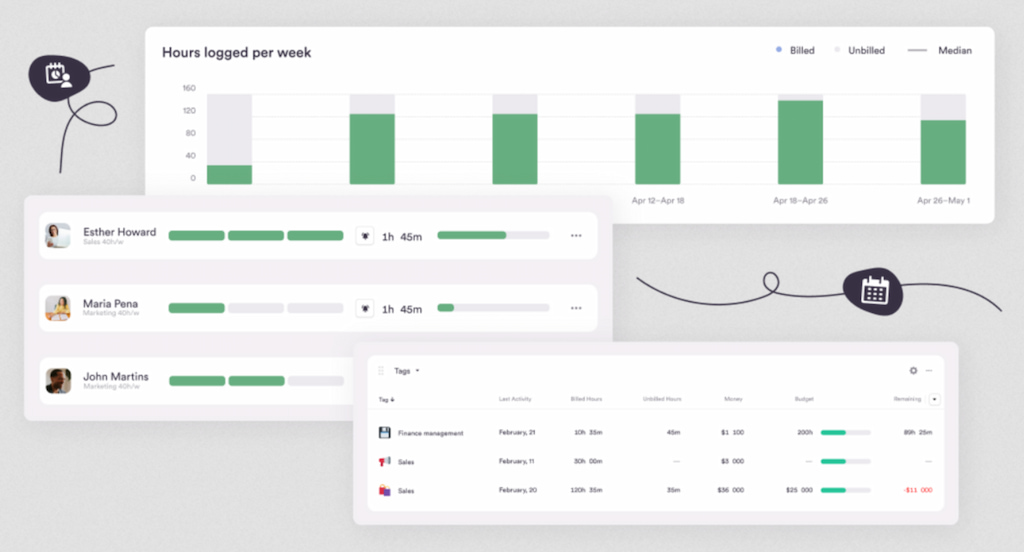 🧮 Billing & Invoicing
Everhour has billing and invoicing software that simplify sending customized invoices based on the amount of the time tracked for a project. Everhour can connect with QuickBooks, Xero, or FreshBooks to make billing clients a substantially easier and more practical process. Everhour's billing features allow companies to plan and implement the budgeting process and gives supervisors increased capabilities to supervise the billing and budgeting process. 
Timely doesn't have the same billing and invoicing features, although they can be integrated with QuickBooks. Timely does have billing features in that they keep track of the amount of time each employee spends on each project, which allows companies to more effectively invoice with accurate detail.
📄 Reporting
Everhour has reporting features that allow businesses to create customizable reports on the amount of time spent on projects and tasks. You can add different guideline columns, including the day of the week, month, member role, project, parent task, additional comments, and much more.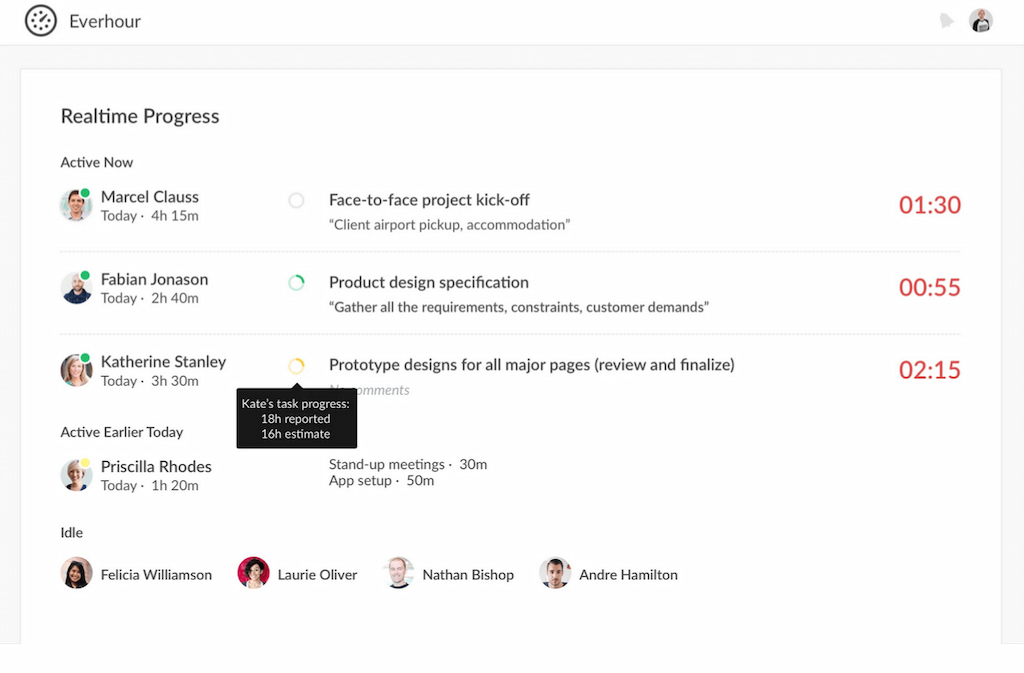 Timely also has significant reporting options, which you can customize through filters. Reports can be filtered and changed according to certain periods, projects, employees, and more. There are interesting insights into project planning and time logging, and the reports paint an accurate look at how a project turned out.
🔋 Project Management
Both Everhour and Timely don't just function as time tracking software. They are both comprehensive platforms that help with the delegation of key roles, monitoring project outcomes, and collaboration. In an asynchronous work environment, powerful project management software helps everyone. Let's explore how both platforms function as project management assets.
Everhour uses several standout project management features to give users and managers the ability to stay atop their tasks. For starters, they offer templates (for example, a timesheet template), which can be filled in and customized, making it easier to use the existing framework to develop new projects. There is also task tracking software, which allows managers and team members to assign tasks and monitor the progress of others. There are also visual planning features that show each member of the team's schedule throughout the day, making communication far simpler. Everhour also integrates with several well-known project management tools that will streamline processes even further.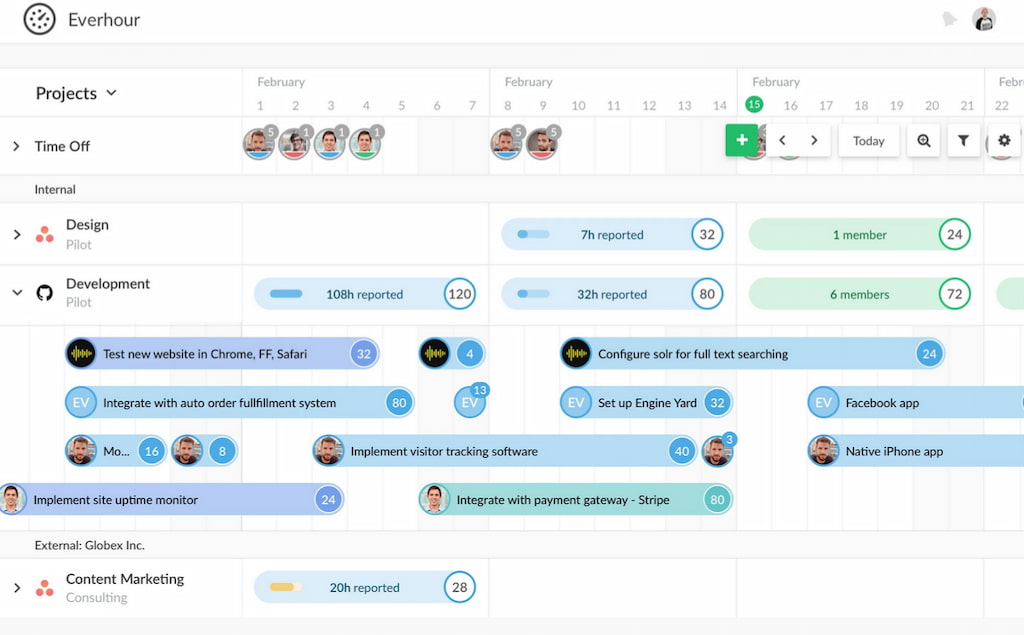 Timely also deploys several top-notch features that allow project managers to visualize budgets and worker activity in real-time. It notifies team members of critical budget movements, allows for the scheduling of different tasks and the creation of highly effective visual timelines, and has tools that help teams adjust on the fly. Timely also clarifies exactly what employees are doing with clear visual guides that show how team members have tracked their time.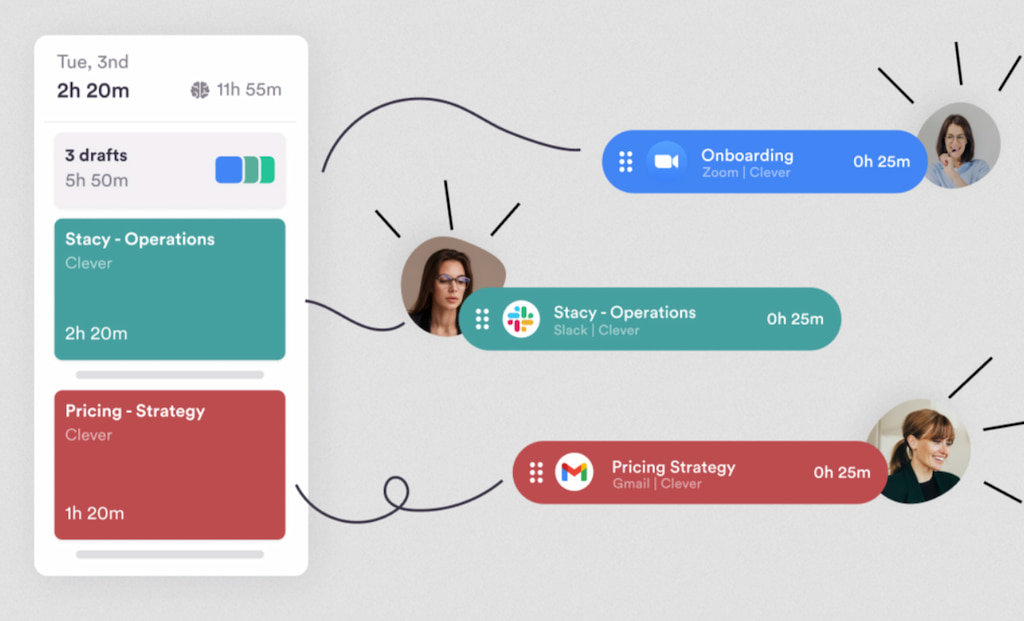 🔄 Integrations
While both Everhour and Timely are high-quality, effective time tracking and project management options, they likely aren't the only part of your tech stack. Suppose you are using software to handle multiple aspects of your business. In that case, you need something that can work well and function alongside the different platforms and technologies you already rely on. This is what integration is centered around. Both Everhour and Timely are designed to work in conjunction with certain other software. Let's look at what they are.
Everhour integrates with 16 different software options that cover a range of categories, including accounting, communications, and project management. Some of the most widely circulated software that Everhour integrates with is Asana, Trello, ClickUp, Jira, and Basecamp. It also integrates with three different billing/invoicing programs, FreshBooks, QuickBooks, and Xero.
Timely integrates with 15 different software, including several that Everhour doesn't, that the average worker frequently uses daily. There is also a wide range of categories that their integrations encompass, including project management, communications, and productivity.
💚 Support
Good tech support is the difference between lost productivity and a seamless process. With software solutions, there must be a team working around the clock that is available to help should you encounter an issue, or at least options to help you bypass your problem. Let's explore the support options available with both Timely and Everhour.
Everhour has several different ways for customers seeking support to find the answers they are looking for. One of the options they offer is their Help Docs Support Page. This page provides comprehensive breakdowns of various topics ranging from how to integrate Everhour to how to use it to manage projects. There is also an FAQ page. From there, they provide a Contact page, where users can input their email and any problems they are dealing with and receive a prompt response from a support staff member.
Timely brings several great choices for a user who requires assistance. For people simply looking to have a question answered or find information on how to start, the Timely Ultimate Time Tracker Guide is the place to go. Here, you'll find the lowdown on time tracking, ranging from things like how to do it and core features to tips on how to encourage employees to use the software properly and how to ethically time track. There is also a chatbot available at certain times and a separate help center.
💰 Pricing
Businesses operate on a budget, so making sure that the software implemented is on budget and provides value that matches or exceeds costs is critical. Every piece of productivity software will have different pricing options; let's look at how Everhour and Timely stack up here.
Everhour has two primary pricing options. The $10 per user a month option is at a starter rate of five users. This is for people that want to pay monthly rather than commit to a year. Users can be added as pleased, accumulating the $10 per user price. If you have less than five users, this fee still applies at the five-user rate. This gives you access to all features, integrations, and projects without limits. There is also the yearly package, which is the same, except it is paid once at a rate of $8.50 per user, with the same minimum user rate applying.
Timely also has several different pricing plans. They have three primary pricing options that can be billed monthly or yearly. The yearly option is more affordable than their month-to-month options. The three options for their yearly and monthly plans are the Starter, Premium, and Unlimited plans.
The Starter plan offers up to fifty projects for up to three teams and is $8 a month yearly or $10 a month monthly. The Premium plan has unlimited projects and unlimited features but doesn't offer unlimited features. It costs $14 a month yearly or $18 a month monthly. The Unlimited plan allows for unlimited projects, teams, and features. It costs $20 a month yearly or $26 a month monthly.
🤷‍♀️ Alternatives
Everhour and Timely could certainly serve as alternatives to each other, as they have many similar functionalities and features, although there are a few critical differences. However, these aren't the only two productivity options for those seeking software solutions to streamline project management and avoid social loafing. Let's look at two different options businesses can deploy as alternatives to Everhour and Timely.
ATracker is a time tracking software solution that fills a slightly different role than Everhour and Timely. Although you can use it for teams, it is less for work and project management than individual time management. ATracker also uses time tracking features that can be used on mobile, tablet, or computer format. It reports time spent on different projects and tasks to individual hobbies like reading or the gym. It provides feedback in easy-to-read charts that you can customize according to user preferences.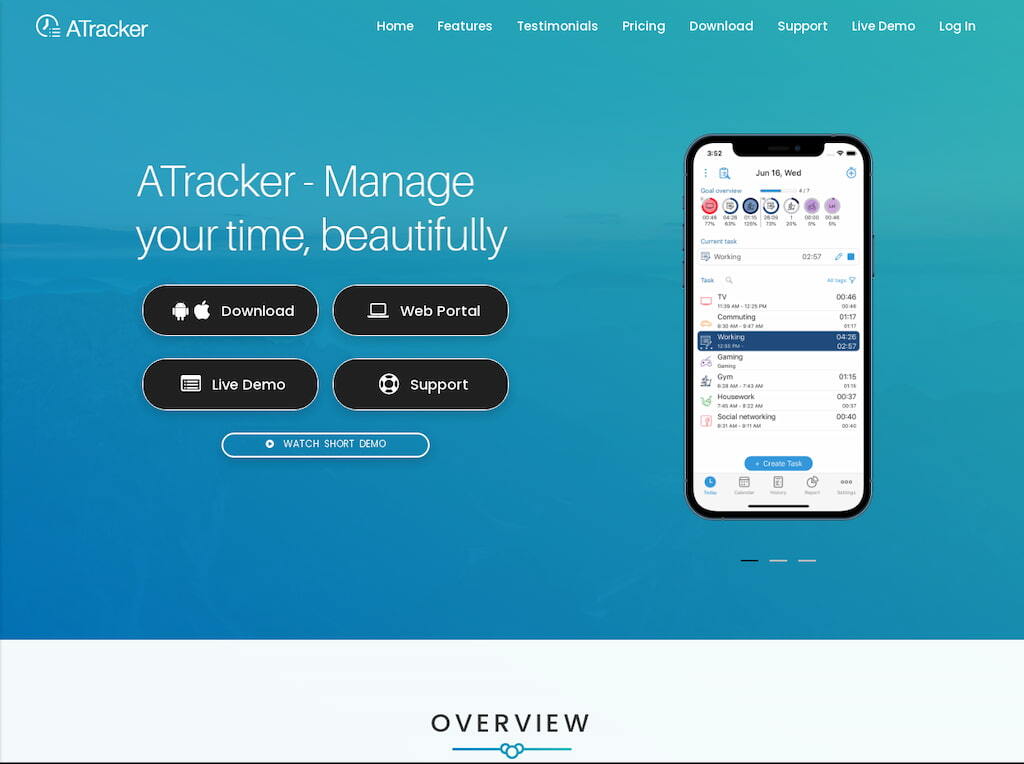 TrackingTime is a software that allows teams to track and monitor their workload and have it reported back in easy-to-digest formats. TrackingTime provides comprehensive timesheets that will give management great insight into employees' current tasks and their time on projects. It is a great way to monitor your team's productivity, provide more accurate billed hours, and keep your projects on time and budget. You can also assign employees schedules and more easily delegate and collaborate. It is an effective enterprise software option.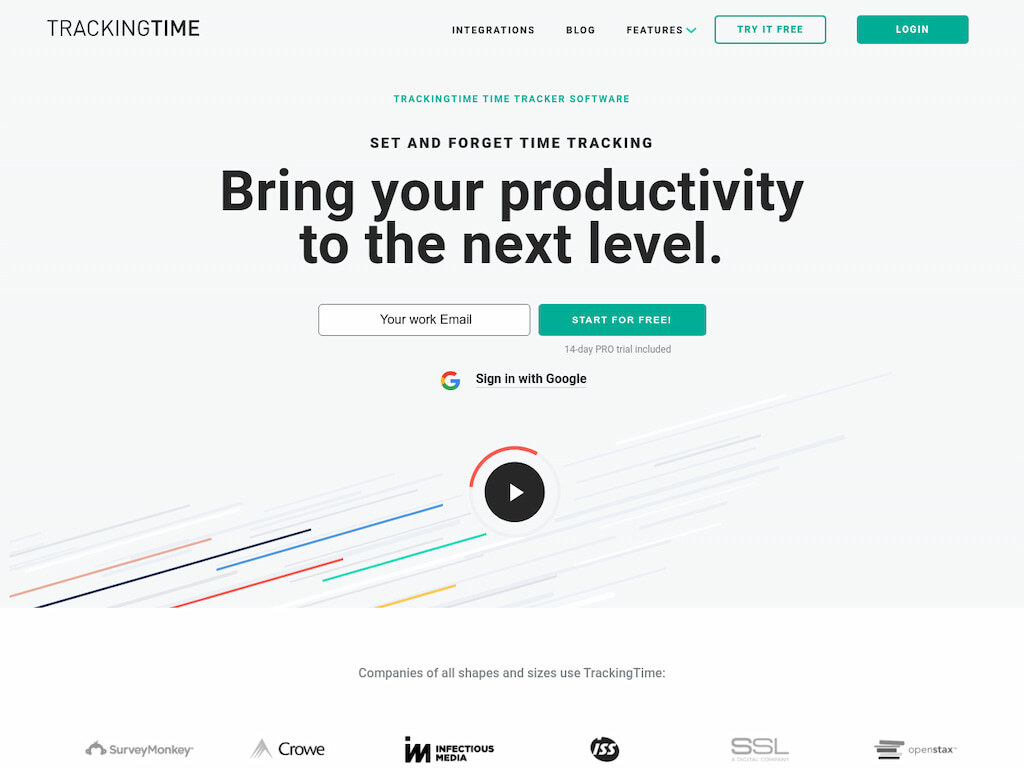 ❗ Pros & Cons
💚 Everhour
✅ Pros:
– Advanced billing and invoicing features and integration with more accounting software
– Comprehensive customer support options with a search toolbar to save time
– Great project management features that allow for visual planning and communication
– Great option for small to medium-size teams
❌ Cons:
– No free plan available to users
– No live chat customer support feature
💜 Timely
✅ Pros:
– Integrates with Gmail, Outlook, Zoom, Office365, and Google Calendar
– Great drag-and-drop interface with clear color coding for delegation and scheduling
– Multiple customer support options
❌ Cons:
– Lacks invoicing integration options
– Not as in-depth project management features
Timely vs Everhour: On a Final Note
There is no clear-cut winner when choosing between these great software options. Both tools provide various features centered around time tracking and project management. There are differences in what they offer, although not in a way where one could seem more valuable, as they both provide a high-value proposition.
Timely has more payment plan options and integrates with different software, while Everhour has better invoicing and billing capabilities and slightly more project management features. All in all, in the Timely vs Everhour competition, both tools shine.