Everhour vs TrackingTime vs HourStack: Which Tracker Comes Out on Top?
Maria Kharlantseva, April 28, 2022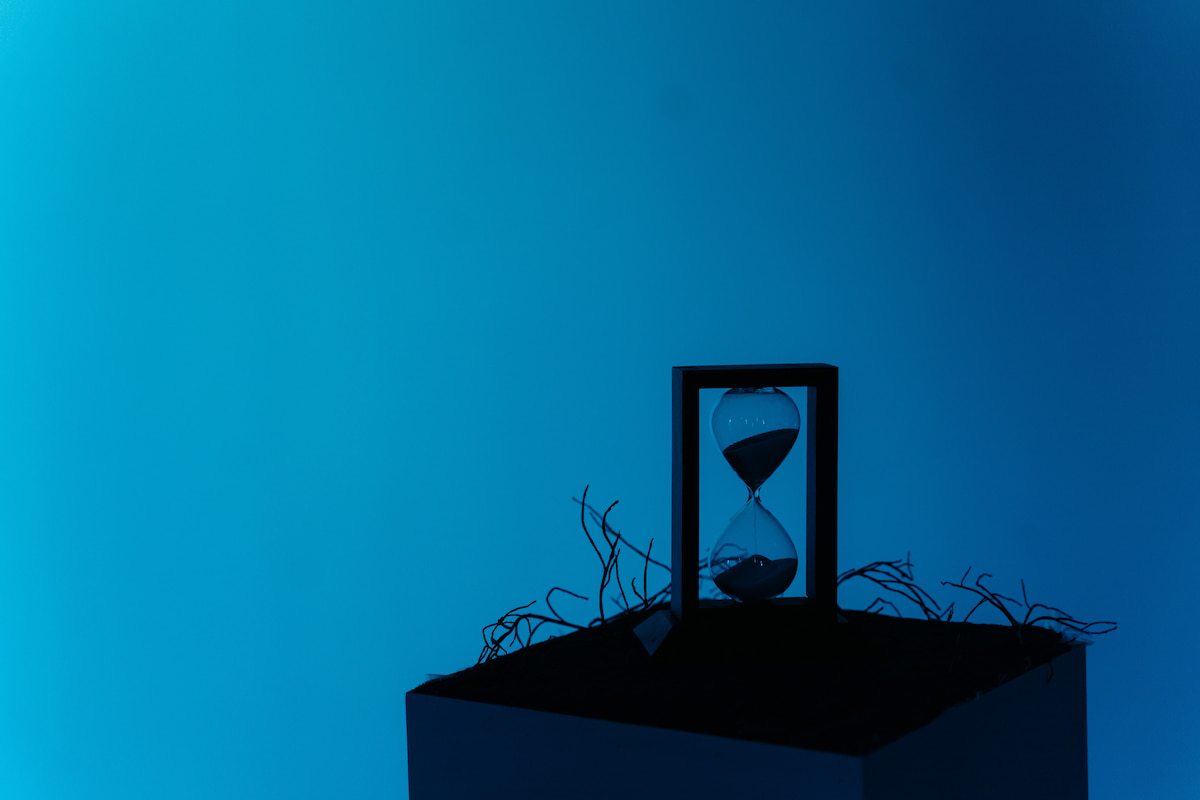 Even as the pandemic subsides, millions of teams across the world continue to work remotely. Consequently, a growing number of companies are seeking ways to keep productivity as high as possible. Most teams use project management tools, such as Asana, Jira, Trello, Basecamp, or similar tools to keep track of projects and optimize productivity.
However, most project management tools do not include time tracking tools. As a result, organizations are using employee time tracking apps, such as the HourStack app and TrackingTime app, to monitor and optimize productivity in the workplace.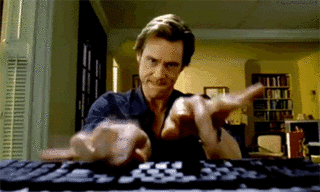 In this guide, we will explore three popular time tracking tools, Everhour, TrackingTime, and HourStack, to determine which one is the best fit for your business.
💡 Everhour vs TrackingTime vs HourStack
Everhour Review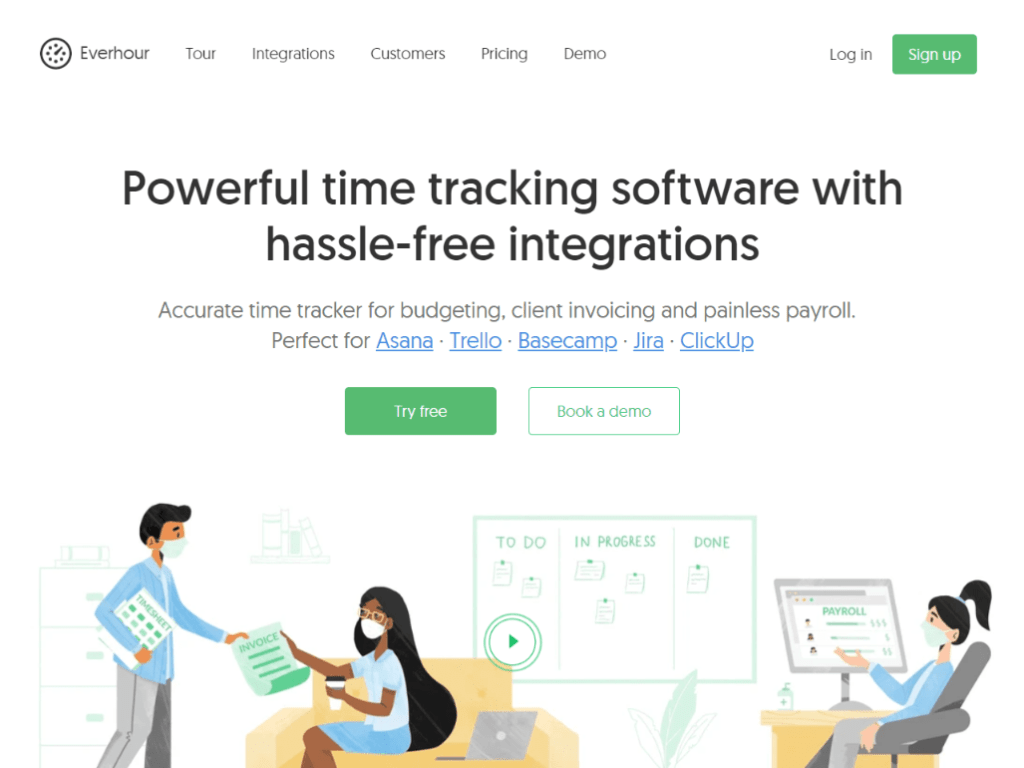 Let's start with Everhour. Everhour is a time tracking app that is popular with organizations of all kinds because of its large collection of integration options. In addition, the time tracking tool is used by remote teams that need to effectively collaborate on shared projects and monitor their time as they work.
Everhour offers a host of valuable tools that make team collaboration infinitely easier. For example, the platform's time management capabilities allow users to track time spent on projects. Additionally, Everhour works as an attendance tracker, monitoring hours worked, vacation days, and sick days. Everhour's billing and budgeting tools enable organizations to avoid debt and boost revenue with precise project billing and budgeting—because your organization needs to stay profitable.
Everhour was created with integrations at the forefront. By integrating Everhour with project management tools such as Asana, Basecamp, Trello, Jira, and others, users can effectively manage tasks and set time estimates on tasks to ensure work is progressing exactly as it should be. Furthermore, Everhour provides comprehensive reporting tools, enabling users to create custom reports to distribute internally or send to clients.
TrackingTime Review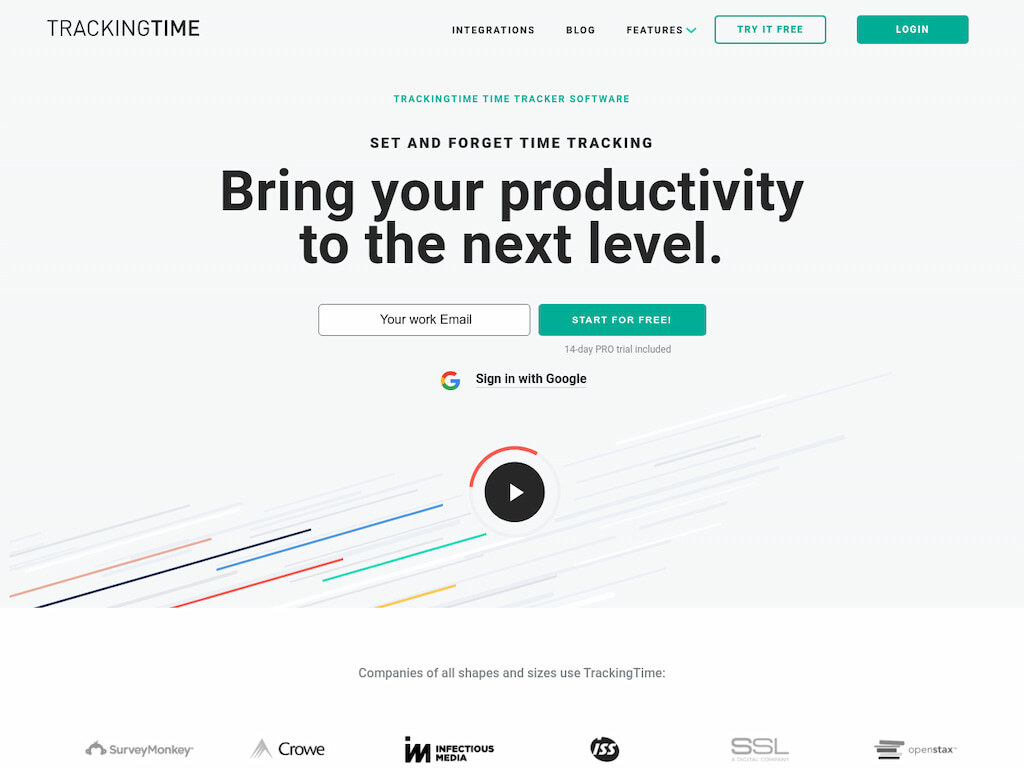 Next, let's discuss TrackingTime. The tool was created to provide the features that your chosen project management tool is missing. For example, time tracking, billing, productivity analytics, and real-time team workload management.
TrackingTime offers various helpful tools to improve productivity in the workplace. The app's functional time tracker enables users to track time in real-time, set due dates, and automatically sync tasks and projects with employees' calendars. The tool also enhances project management by allowing users to organize work by assigning tasks, delegating responsibilities, and monitoring the progress of projects.
Additionally, TrackingTime integrates with project management tools such as Asana, Trello, Todoist, and Smartsheet, enabling users to track the time they spend on projects within the productivity app of their choice.
HourStack Review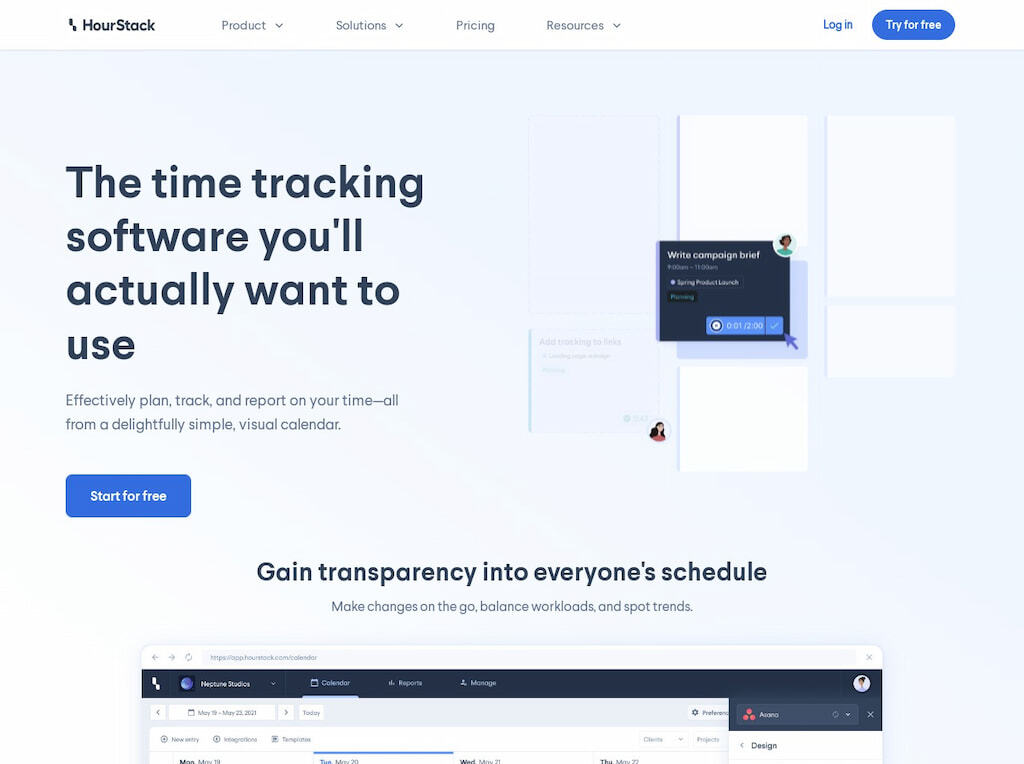 HourStack is an intuitive time tracking and scheduling tool that enables users to see, track and plan team time across tasks and projects and produce comprehensive reports to monitor team productivity. With HourStack, users can schedule and track tasks, gain transparency into team schedules and gain actionable insights by creating customizable reports that can be shared with team members and clients.
HourStack also allows users to integrate seamlessly with their favorite tools to include time tracking functionality, including calendars, communication, developer and productivity tools, and project management platforms.
⌛ Time Tracking
Everhour
Everhour's intuitive time tracking tools enable users to keep track of work effortlessly. Choose from a timer or manually enter the time you spent on tasks and projects, set time estimates for tasks, and set reminders about long-running timers. Additionally, you can use the time clock app to clock in and clock out of work, and track paid time off, sick days, and vacations. Plus, all changes and estimates made to task times are logged and can be revised if necessary.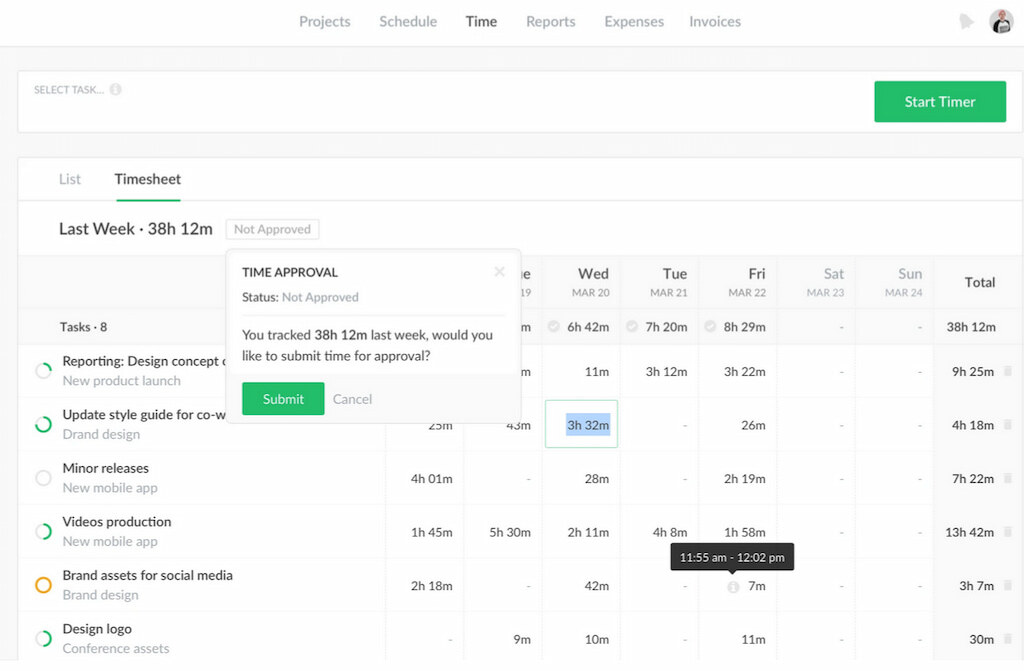 TrackingTime
With TrackingTime, you can track work in real-time by using a manual timer. You can also clock in and clock out of work, add and edit time entries for your team and create professional-looking timesheets to make payroll easier. Additionally, you can set due dates to prioritize tasks and projects and then automatically sync them with your team's calendars. As a result, your team will never miss a deadline again!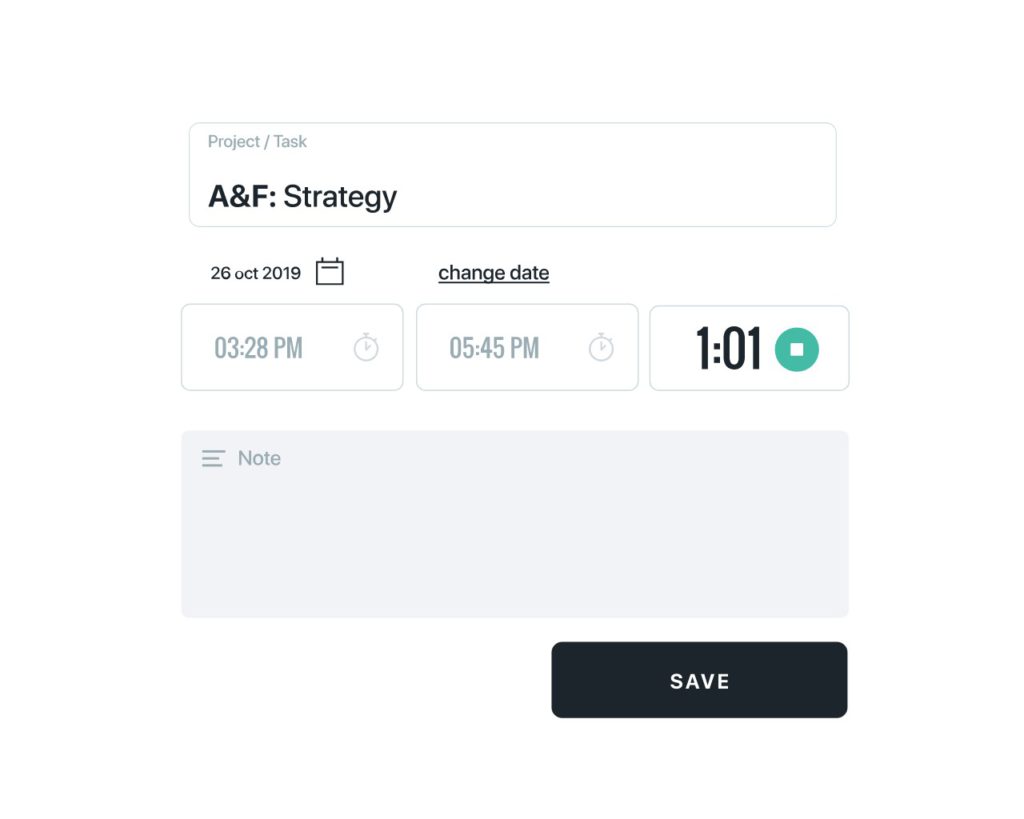 HourStack
HourStack makes tracking work easy by allowing users to plan, visualize and track team progress across a range of tasks and projects. Timers are available for every task or project entry, and you can adjust logged time against the scheduled time. Plus, the unrestricted manual entry feature allows you to add time if you forget to log time using the timer. Furthermore, you receive updates when your team members update time entries, allowing you to easily keep track of team progress wherever you are.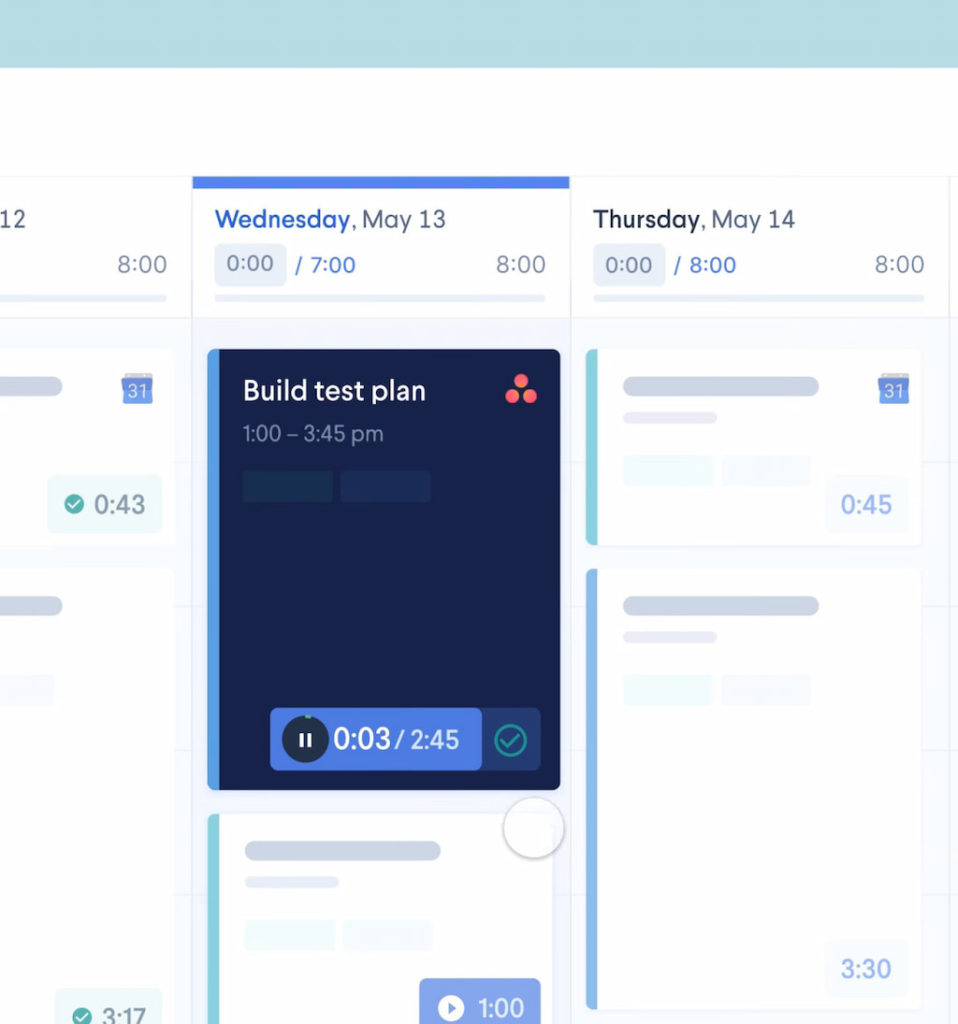 🔁 Integrations
Everhour
Everhour was created with integrations in mind. As a result, you can integrate Everhour with dozens of your favorite apps, including but not limited to Asana, Basecamp, Trello, Monday, GitHub, and ClickUp. By integrating with other apps, you can estimate tasks, set budgets, and create customized reports directly in your project management tool.
TrackingTime
There are over 30 different TrackingTime integrations available, allowing you to improve your time tracking and increase productivity in the process. Available app integrations include TrackingTime Asana, GitHub, Gmail, Monday, Outlook, and many more project management, accounting, and customer support apps.
HourStack
With HourStack app integration, users can power up their workflow by integrating with a variety of calendars, communications, developer, productivity, and project management tools, including Asana, Google Calendar, Slack, Trello, Todoist, and Zapier.
💰 Pricing
Everhour
Everhour offers simple pricing with no extra hidden fees.
When purchased on an annual basis, an Everhour subscription costs $8.50 per user per month, starting at five users.
Alternatively, if you'd prefer to pay monthly, the subscription costs $10 per month per user. The plan includes all features, unlimited users, projects and integrations, and fast and responsive support should you have any queries or issues.
TrackingTime
Free: Includes time and task tracking features, basic reporting, and collaboration for up to three users for free.
Pro: Includes unlimited collaboration, advanced reporting, and access to time management tools. The subscription costs $5 per month per user when billed annually. Plus, a 14-day free trial is available.
HourStack
Personal: Includes complete time tracking, bulk entry and editing actions, unlimited entries, projects, clients and labels, customized resorts, and more for $9 per month per user when billed annually.
Team: Includes everything in the Personal plan, plus unlimited teams, workspace guests, team and member management, customizable workspace roles and permissions, team report views and data exports, and more for $12 per month per user when billed annually.
🔧 Support & Platform
Everhour
Everhour provides a variety of support tools via the Everhour Help Docs page. There, you'll find user guides introducing the platform and explaining basic and extra features in detail. Should you encounter any problems whilst using Everhour, you can contact the team using the contact form on the Everhour website.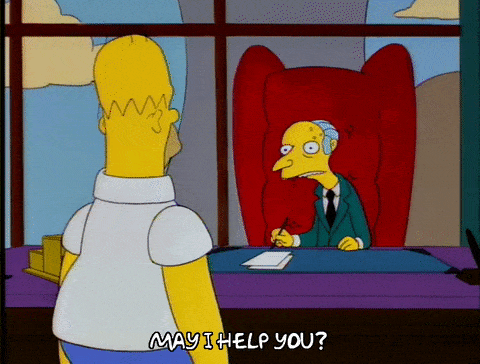 Everhour is a cloud-based platform that is available on multiple platforms. Simply download the Everhour browser extension, which is available on Chrome, Firefox, Edge, Safari, and Opera. Plus, an Everhour app is currently in beta testing—you can download it on the Apple Store.
TrackingTime
TrackingTime offers various support services should you run into any problems. Your first port of call is to find advice and answers from the TrackingTime team on their website. If the detailed user guides do not provide a solution, you can contact the TrackingTime team via email using the 'contact us' button at the bottom of the TrackingTime website.
TrackingTime provides a web app, time tracking apps for Windows and Mac, an iPhone app, and an Android app. Additionally, you can install the TrackingTime Chrome extension, as well as Firefox and Safari extensions.
HourStack
Should you encounter any problems with HourStack, you should consult the HourStack product guide. However, if you cannot find a solution to the problems you're having, you can contact the HourStack team on their website.
HourStack is a web-based application and Android and iPhone apps are available for users to download should they want to use the tool on the go.
👩‍💼 Project Management
Everhour
Everhour's project management tools enable your team to stay on the same page by offering a combined approach to project management and time tracking. By incorporating a range of different software into your projects using Everhour integrations, you and your team can collaborate remotely more effectively. You can create tasks, track time, and update team members on progress all in one place, meaning your projects stay on schedule.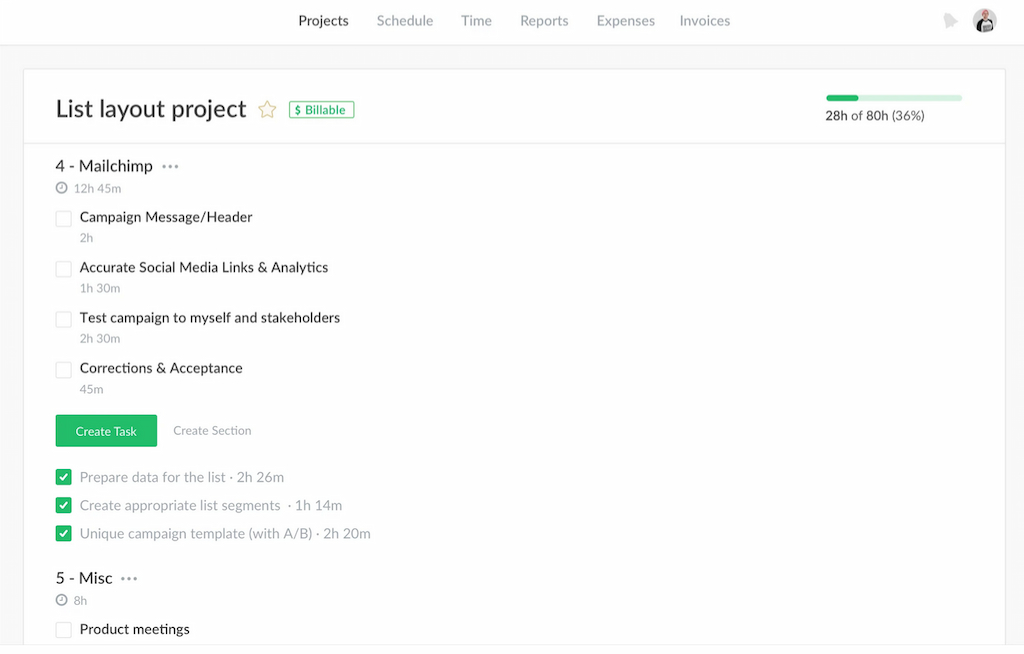 TrackingTime
TrackingTime allows organizations to improve teamwork through effective project management tools. With TrackingTime, you can organize your team's communication, work, and leadership in one place. You can assign tasks, delegate responsibilities to team members, and monitor the progress of tasks and projects to ensure projects are completed on time and within scope.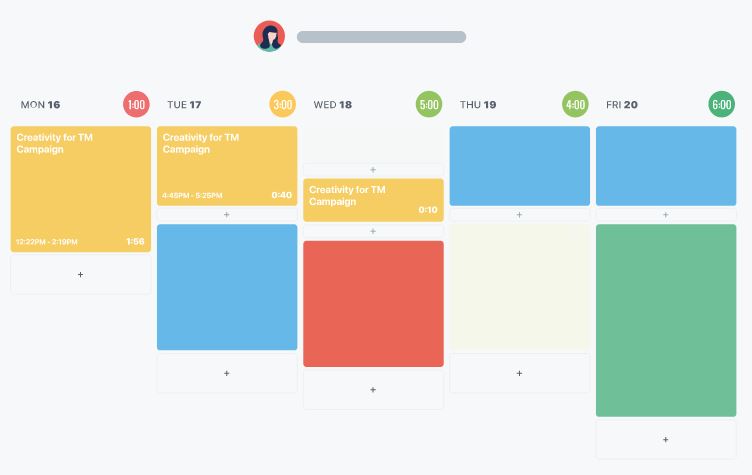 HourStack
Through integrations with tools such as Asana, you can use HourStack to create the ultimate project management tool. By integrating the two, you add time tracking functionality to tasks, enabling you to see exactly how team members are spending their time. That way, you can identify areas where efficiency improvements can be made to streamline workflows.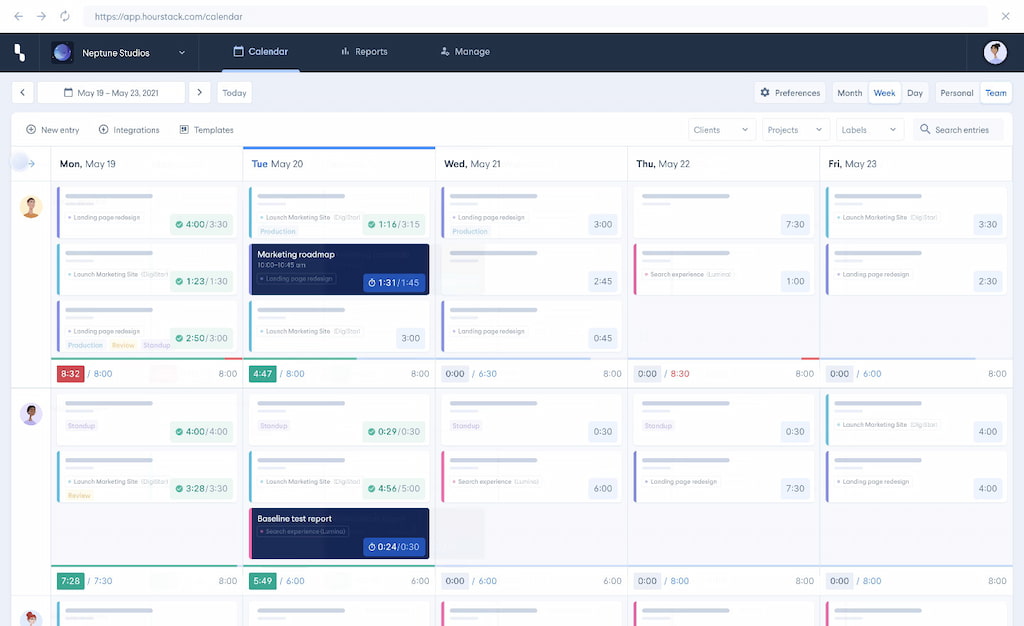 🧮 Billing and Invoicing
Everhour
Everhour simplifies billing and invoicing. The platform's invoicing solution allows you to quickly create invoices based on logged time. Additionally, you can include any expenses, add relevant clients, assign billable or non-billable hours, localize invoices to the language of your choice, personalize invoices, set budgets, and apply taxes and discounts.
TrackingTime
Show your clients the work they are paying for by presenting them with detailed timesheets that show every hour your team has worked on relevant tasks and projects. Creating an invoice couldn't be easier—you can create one directly from the timesheet app and mark billed hours automatically in the currency of your choice.
HourStack
Using HourStack's time tracking tool enables you to create customizable reports which display the hours worked. Then, you can export reports in multiple formats and send them to clients to show them exactly what they are paying for.
📄 Reporting
Everhour
With Everhour, you can utilize analytics to aid team members and help clients or investors. Create reports from easy-to-generate data to learn more about your business and increase efficiency and transparency. Everhour's reporting toolkit includes team timesheets, live dashboards to see who is working at that moment, member profiles where you can see summaries of a team member's work, and project summaries where you see visualizations of the time and money spent on a project.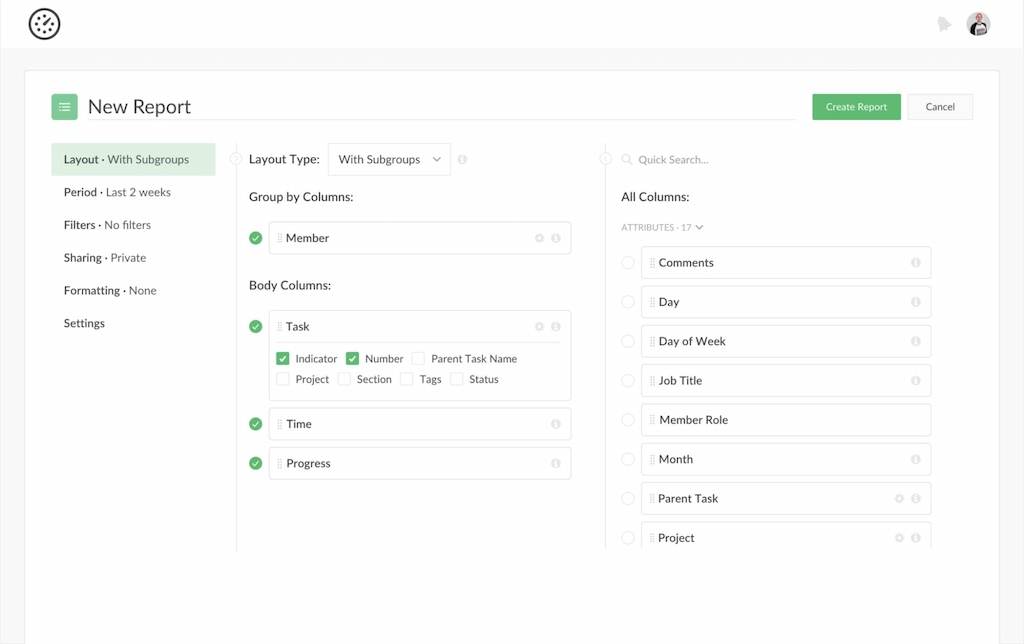 TrackingTime
TrackingTime provides flexible reporting to improve billing and payroll. With company-wide timesheets, you can analyze the time your team spends on customers, projects, and employees. Plus, receive an overview of all running projects, active clients, and a breakdown of your services to analyze company profitability, which allows you to make changes to operations if necessary. Finally, TrackingTime creates detailed employee timesheets that can be sent to payroll or clients to facilitate accurate billing.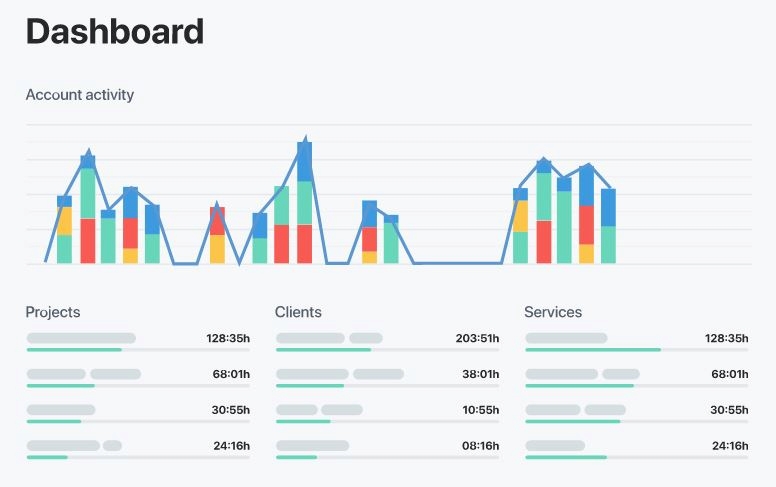 HourStack
With HourStack, you can generate actionable reports within minutes. Using the detailed reports, you can identify work trends and understand if team members are using their time efficiently across clients, teams, individuals, and projects. Plus, reports can be easily exported in multiple formats, allowing them to be shared with the relevant individuals, be it team members or clients.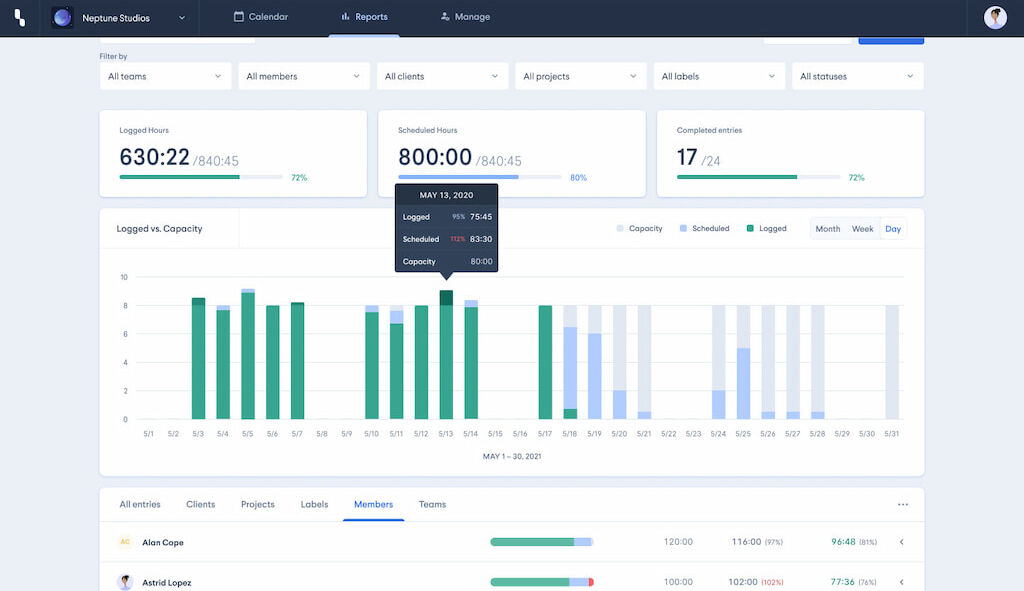 ⏱️ The Verdict: Everhour vs TrackingTime vs HourStack
All three time tracking tools offer a range of excellent tools that enable organizations to increase efficiency and transparency. However, the right tool for your organization will depend on your budget and specific needs.
For example, if you're looking for a time tracking tool that provides the most integrations, you should use Everhour. Alternatively, if you're looking for a tool to monitor team productivity and workload in real-time, TrackingTime is a great fit. Finally, if you're looking for a tool with easy-to-digest task and project visualizations, HourStack is ideal.
Regardless of the time tracking tool you choose, you'll soon see the myriad of benefits that time tracking tools offer. We hope that this guide helps you find the right tool for your organization's needs!