Trello vs Jira remains a relevant debate for companies that need project management software tools. However, this is not a marketing war between two project management software companies since both tools belong to Atlassian.
Belonging to the same parent company doesn't mean that the features for Jira and Trello are the same. They vary considerably, and there's a lot to learn about both software tools.
Having hands-on experience with multiple project management software programs, here's what we have concluded about the Trello vs Jira debate. Let's start with a brief introduction to how to use Jira and Trello.
---
What is Trello?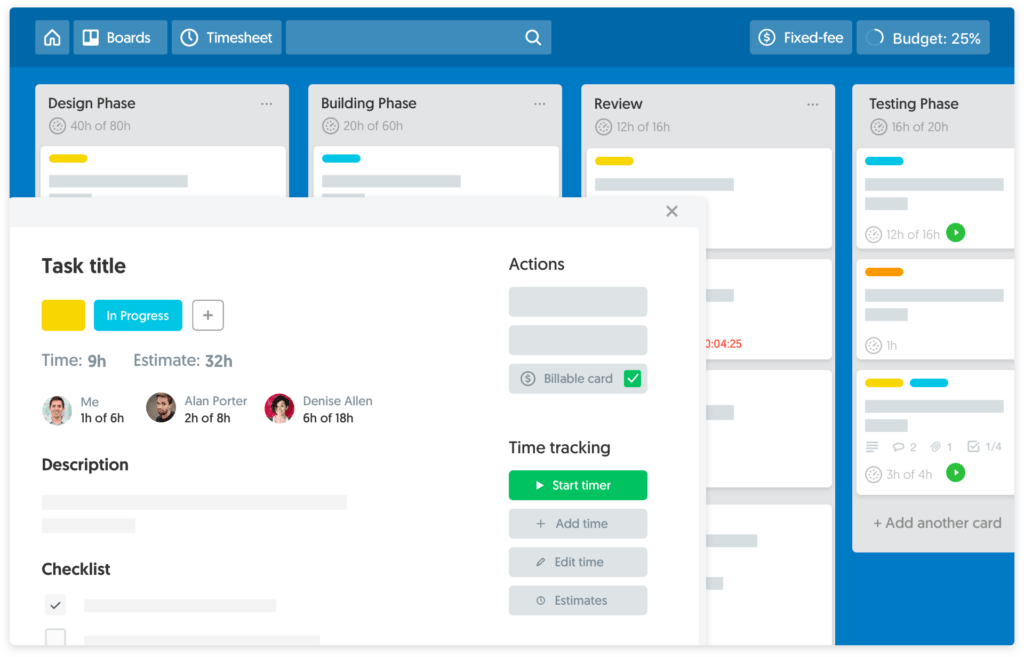 Trello is a collaboration tool immensely popular with professionals. The software solution is prevalent worldwide due to its user-friendly interface and tracking and debugging features.
Trello offers a Kanban-based project management solution where you can see which projects are in the pipeline, who is performing which tasks, and the overall performance of a project through visual charts.
---
What is Jira?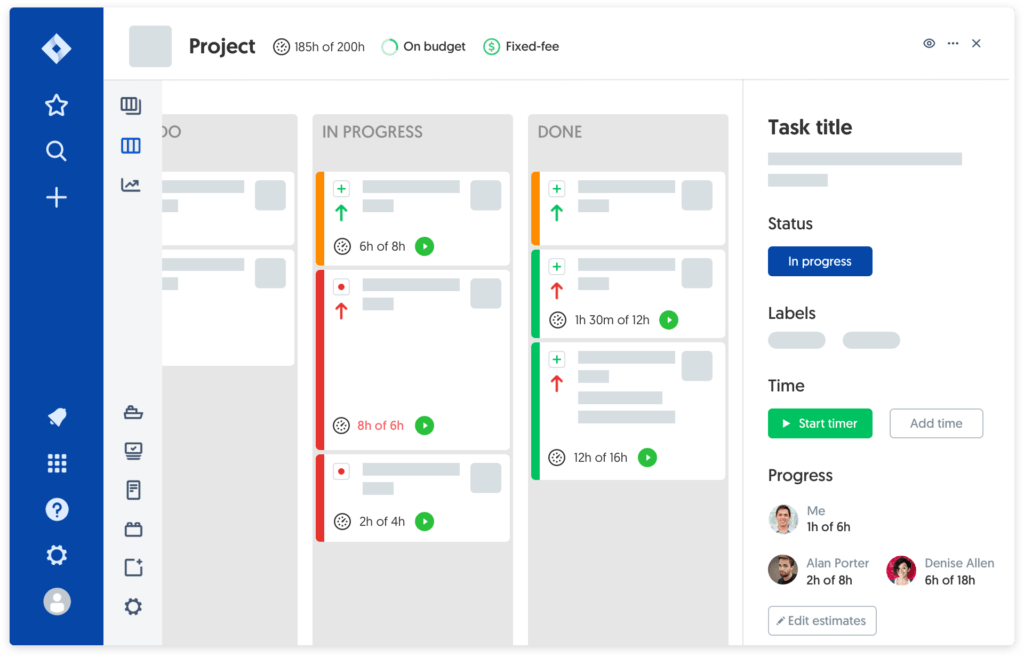 Jira is a family of project management tools with many power-packed solutions for teams working on agile projects. The software uses Kanban, scrum boards, and sprint methodologies to break down projects into smaller, more manageable chunks.
There are actually three different products that belong to the Jira family: Jira Core, Jira Software, and Jira Service Desk. Each of these offers varying features and hosting options. Obviously, they differ in prices too.
Jira Core offers Jira features that business teams need to manage their work. On the other hand, Jira software is specially built for agile teams. In short, Jira core doesn't have agile functionalities while Jira software does.
While the first two are perfect for teams, the Jira service desk is meant for end-users. It's designed to allow them to submit tickets to a help desk team.
In this post, we'll focus on the comparison between Jira Software and Trello. But since Jira Core and Jira Software share similar features, some parts of this post may also count as a Jira Core vs Trello comparison.
---
---
Jira vs Trello: Breakdown
Jira is great for teams that need to work in an agile environment while Trello remains a favorite in work environments where simple task breakdown can speed up performance. Let's see how they fare in terms of the most basic features PM tools can provide.
What is the difference between Jira and Trello?
The primary difference between the two tools is that Trello exclusively provides Kanban boards, whereas Jira offers a broader range of board options including Kanban, Scrum, and sprint boards. Both Scrum and Kanban boards are employed to visually monitor a project's task progression.
🔨 Key Features
Since they are two different project management tools created for different teams, the best way to start our face-off is to compare the Jira board vs Trello.
Trello is packed with Kanban boards that you can drag and drop to your convenience. The task breakdowns can also be tagged on the cards, which allows the users to communicate while working on a project.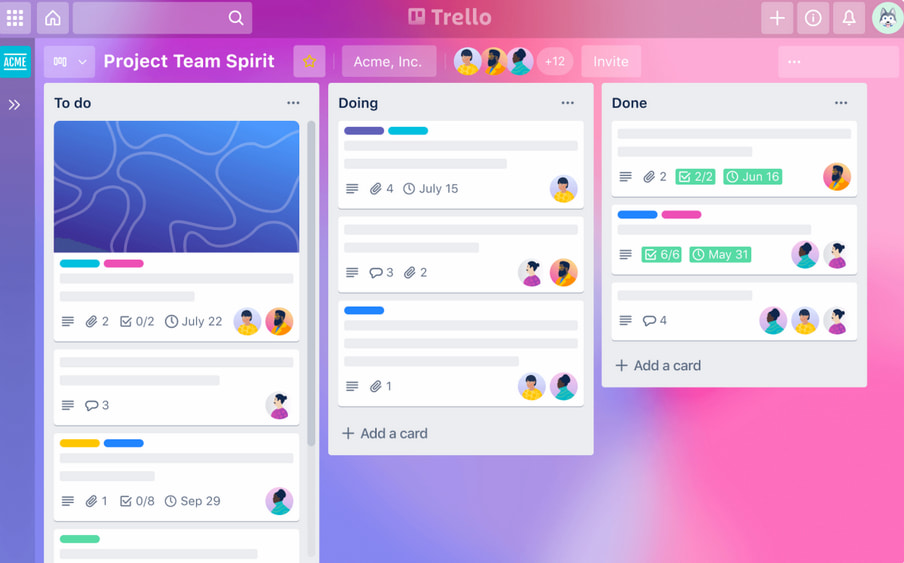 Jira, on the other hand, takes Trello's task breakdown features a step ahead. The software uses a mix of Kanban and Scrum to break down tasks, and the robust burn-down charts provide the user with reports of the project progress.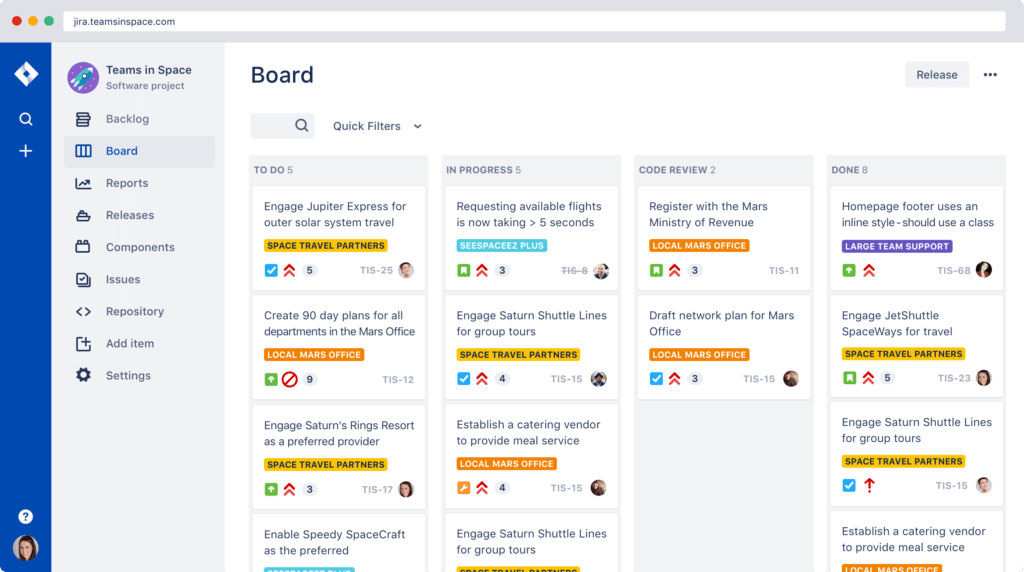 💡 TL;DR Trello is faster, Jira is provides more features
---
🔄 Agile Project Management
Trello is a Kanban-based software tool, but it's not meant for agile teams. Instead, we can take it as general software for project management that doesn't offer agile solutions like sprint management and scrum boards.
On the other hand, Jira is specialized software for teams that need to manage every step of the software development process. Using user story backlog management and Kanban methodology, Jira allows users to easily manage their sprints. These features make Jira a clear winner in terms of agile management.
💡 TL;DR Trello doesn't support agile management while Jira is tailored specifically for that
---
⛅ Hosting
A project management software usually has two hosting options: cloud-based or on-premise. To put it simply, cloud-based hosting stores data remotely while on-premise hosting has everything set up in-house.
Trello is cloud-based software, but Jira offers both on-premise and cloud-based hosting. So if flexible hosting is high up on your priority list, Jira is for you.
💡 TL;DR Trello is cloud-based, Jira can be accessed both as on-premise and cloud-based
---
📃 Reports
Reporting the progress during a project makes the overall project tracking a breeze. Despite being so popular, Trello lacks reporting features. Jira, meanwhile, has a power-packed report generation module that includes a cumulative flow chart, burn-down chart, sprint report, and velocity chart. These charts show team performance at any specific instance, this makes tracking your team's performance relatively easy.
You can also sync up Trello and Jira with a time tracker of your choice if you want to set up your Trello or Jira time tracking. You can use Everhour to do that in both tools – along with employee time tracking, attendance tracker, timesheet app, and many more, that you can use right in your project management tool!
💡 TL;DR Trello doesn't have extensive reporting features, Jira has a range of reporting modules
---
🤝 Collaboration
Communication is essential when working on a project. A lack thereof can cause several roadblocks, which can lead the project to fail. That's why almost all project management tools nowadays have collaboration options.
In Trello, you can mention your teammates on a card, get their direct feedback through comments, and come up with better solutions at every step of the process through notifications and messaging options.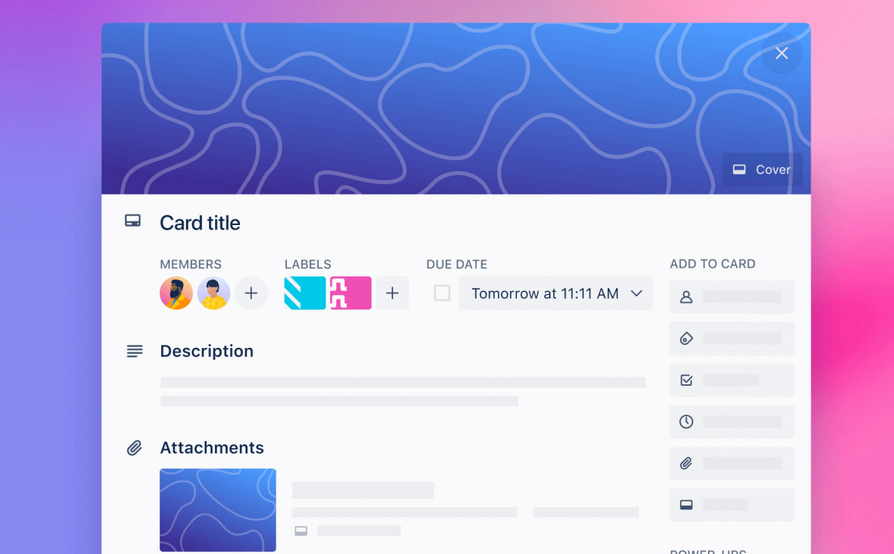 Similarly, Jira also has collaborative file-sharing options, team member task assignments, and messaging between teams.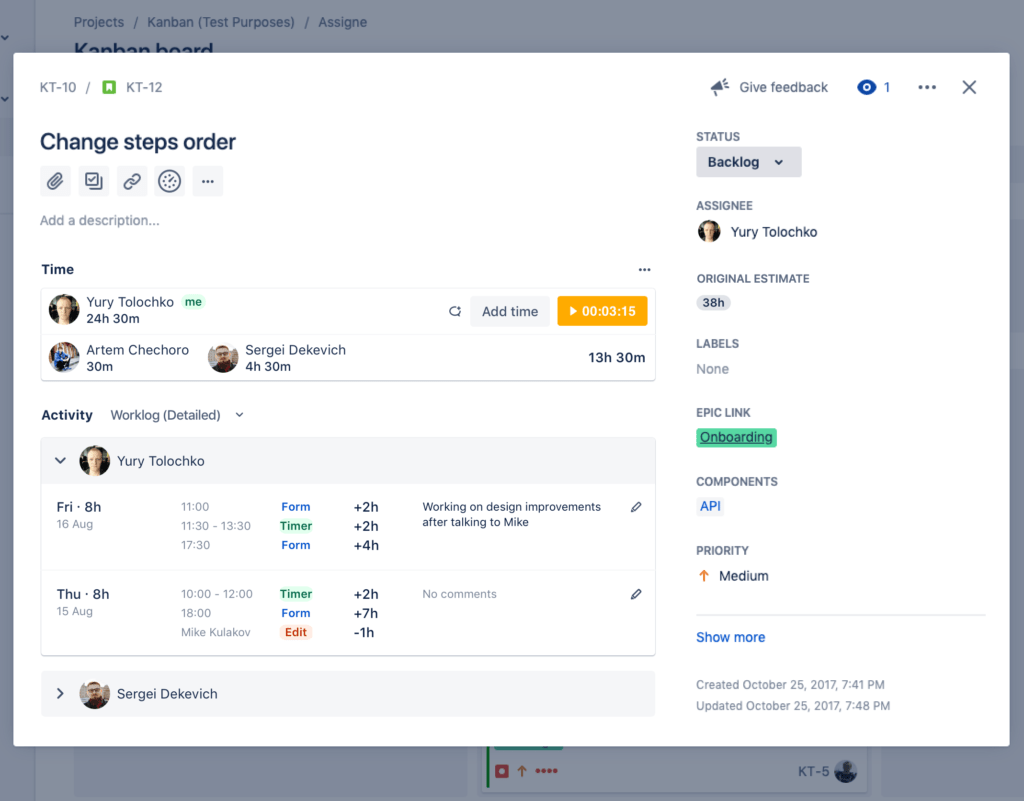 💡 TL;DR Both tools provide communication features sufficient for effective team collaboration
---
🔁 Integrations
Trello and Jira have opposite integration approaches. Trello doesn't allow more than three free integrations on its paid version, while with Jira, you can integrate with as many other software programs as you want to.
This lack of integration in Trello makes its users complain of its functionality limitations. It also makes the software program much pricier, especially if you need to integrate with paid apps.
💡 TL;DR Trello doesn't allow many integrations at once while Jira welcomes having as many as you'd like
---
---
🔌 Adaptability
When it comes to adaptability, Trello has the edge over Jira. This software is useful for both simple tasks and complex projects that need to be broken down into more convenient chunks. Jira, on the contrary, is a much more specialized software suitable primarily for agile software development teams.
In addition, Trello is simpler to understand and anyone can easily navigate the software without any training involved. For Jira, however, your team may need training, and it usually takes some time for users to get used to the software.
💡 TL;DR Trello is super flexible and adatable while Jira has a more specific purpose
---
💻 Trello vs Jira Work Management
On Trello, you can use lists, boards, and cards to assign and manage daily tasks. The kanban boards are the primary unit within which you can have lists, and the cards under those lists.
For example, you can make a board of event management, under which you can have lists of decor, invitations, supper, etc. You can assign each list to a team member through a card.
That's why in the Jira work management vs Trello race, Trello is the winner. Its work management is reasonably simple and allows users to customize it according to the project at hand.
Though Jira also has the option of lists and boards, it uses workflow maps to show a project's progress. Users can customize the workflow maps according to their business needs (you can design the process whichever way you want).
💡 TL;DR When it comes to the management of work, Trello is clearly the winner.
---
💰 Jira vs Trello Pricing
Both Trello and Jira have four pricing tiers, detailed below:
Trello Price Tiers:
Free: The free version costs nothing. Anyone can use it as long as the number of boards utilized remains under 10. That may seem like a problem for big organizations, but small businesses can manage well enough to this limit.
Standard: Available for $5 per month per user and the users can avail unlimited boards.
Premium: This version is available for $10 per month per user with features like dashboard view, admin and security features, and much more.
Enterprise: The enterprise tier is priced according to the size and needs of the business. You can get a quote directly from Atlassian's website if your organization needs a project management tool for more than 100 employees. The estimated quote per user for a 25-member team is $ 17.5 which may vary according to the business needs.
Jira Price Tiers:
Free: Small firms can use Jira's free version forever if they want to. There's no subscription fee for using up to 2 GB of storage space. However, the only downside of this version is its cloud-based hosting which may not be an ideal option for all businesses.
Standard: At $7 per month, up to 10,000 users can use this Jira alternative and can utilize 250 GB of storage. This tier gives additional benefits of live customer support for the local clients.
Premium: At $14 per month, this price tier provides unlimited storage space for 10,000 users simultaneously on one site. In addition to all the standard features, this tier also includes management insights and multiple project automation.
Enterprise: The enterprise solutions have customized pricing options that you can get from Atlassian. In addition to all the Premium tier features, this tier offers multi-site connectivity (10,000 users per site), which makes it ideal for organizations with global team members.
---
Trello vs Jira: A Quick Summary
Features
Trello
Jira
Pricing
Three-tier: Free, Business Class ($12.5 per month per user), Enterprise (Get a quote)
Free, Standard ($7 per month per user), Premium ($14 per month per user),
Enterprise (Get a quote)
Basic Features
Kanban boards, lists, cards
Kanban boards, Scrum boards, Jira Sprints
Collaboration
Messaging, SMS, push notifications, comments, mentions
Team task assignment, messaging, file sharing
Reporting
No reporting
Burn-down charts and more
Integrations
No free integrations
Unlimited Integrations
---
👍 Advantages
Both Trello and Jira are extensively used software tools with unique advantages and downsides to them. Let's first have a look at the advantages of both:
Trello
User-friendly
Highly adaptable
Simple pricing plan
Real-time project management
Jira
Agile options
Unlimited integrations
Reporting
Highly customizable across industries
👎 Disadvantages
Trello
No agile option
Limited integrations
Too simple for large organizations
Jira
Takes a bit of time to get used to
Its features and navigation can be too advanced for some users
---
🙌 Other Alternatives
In addition to Trello and Jira, some more project management tools are proving their worth. So if Trello or Jira doesn't suit your needs, here are some worthwhile Jira and Trello alternatives:
1. Asana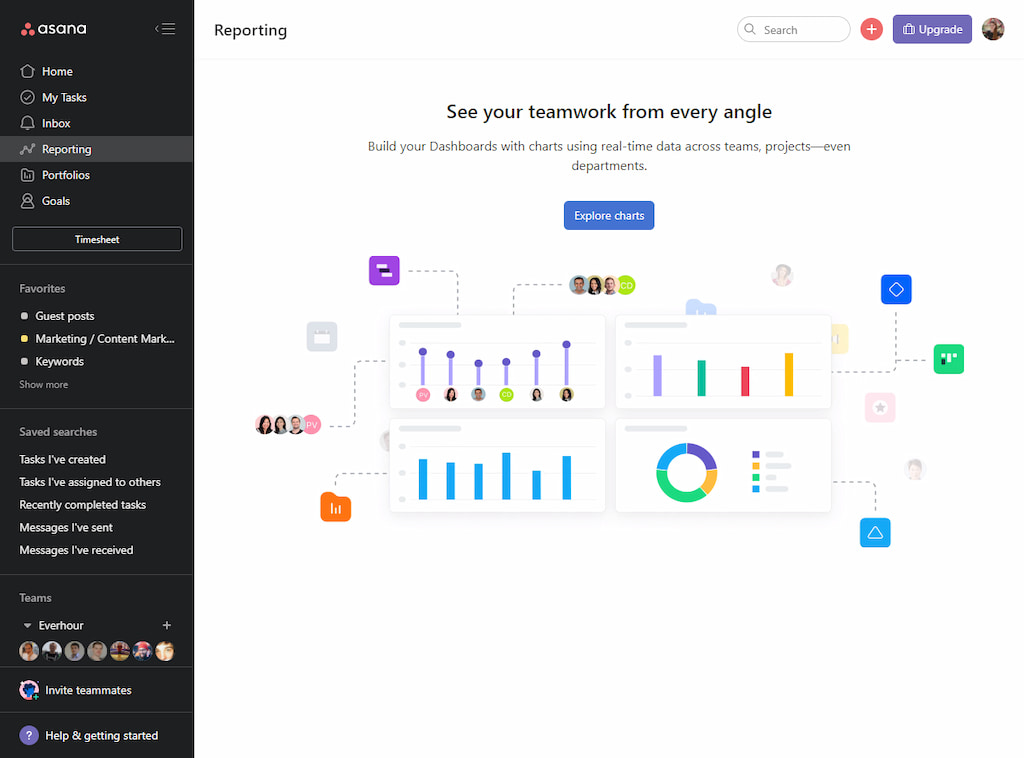 Asana is a SaaS-based project management tool that provides solutions for managing teams and tasks.
The tool is available in four pricing tiers; basic, which is free for up to 15 users, premium, which charges $10.99 per month per user; business, for $30.99 per month; and enterprise, for customized prices. The software is suitable for individuals as well as businesses.
2. Monday.com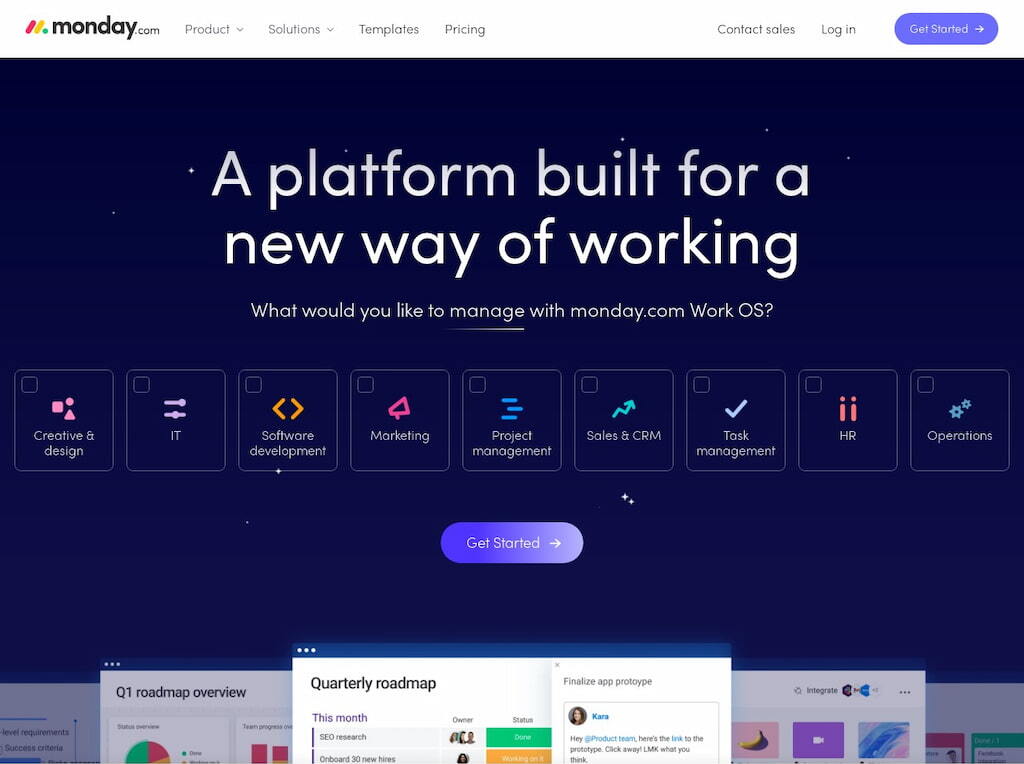 Monday.com is a cloud-based project management tool with highly customizable features that make the tasks easier to manage.
The pricing of the tool has five tiers; Individual available for free for up to two users, basic available for $8 for unlimited users and a 5 GB storage limit, standard for $10 per month for unlimited people and 20 GB storage, pro for $16 per month with 100 GB storage space and enterprise with custom quotes.
The higher tier options are best suited for large organizations, as the tool is highly customizable and provide a lot of automation options.
3. Basecamp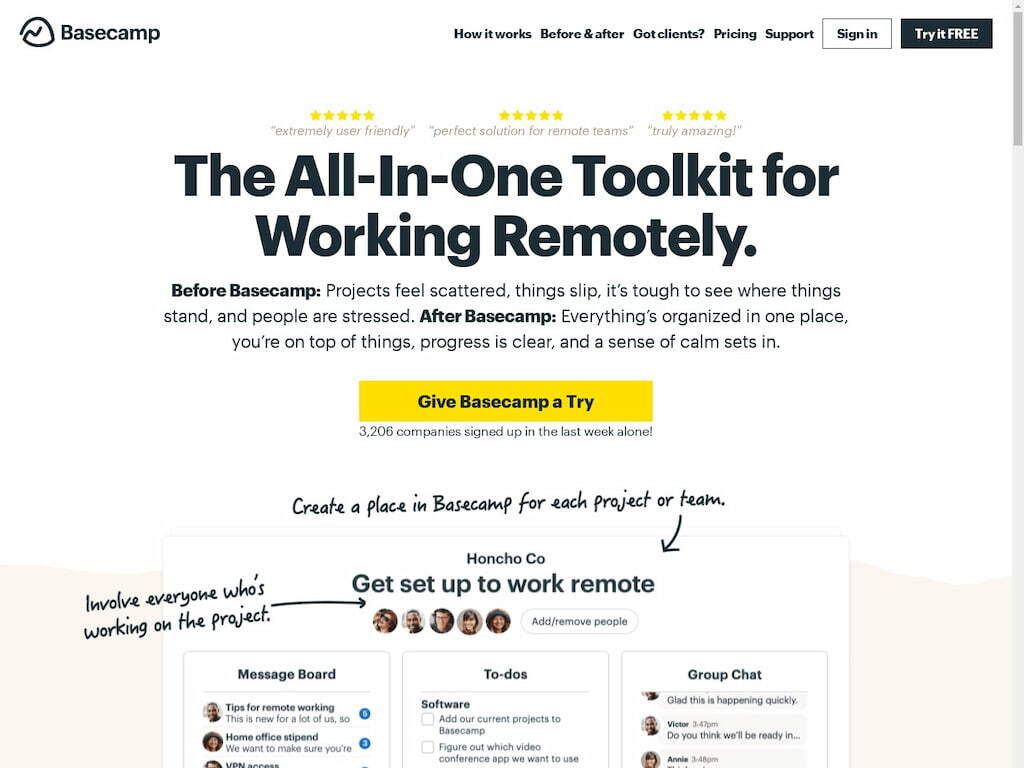 Basecamp is another option in the project management tools. The software has basic features of file sharing, to-do lists, etc.
You can use this tool for a flat price of $99 per month for unlimited users. However, the personal version is available for free for 20 users and up to 3 projects. This software is also a good option for medium and large businesses.
4. ClickUp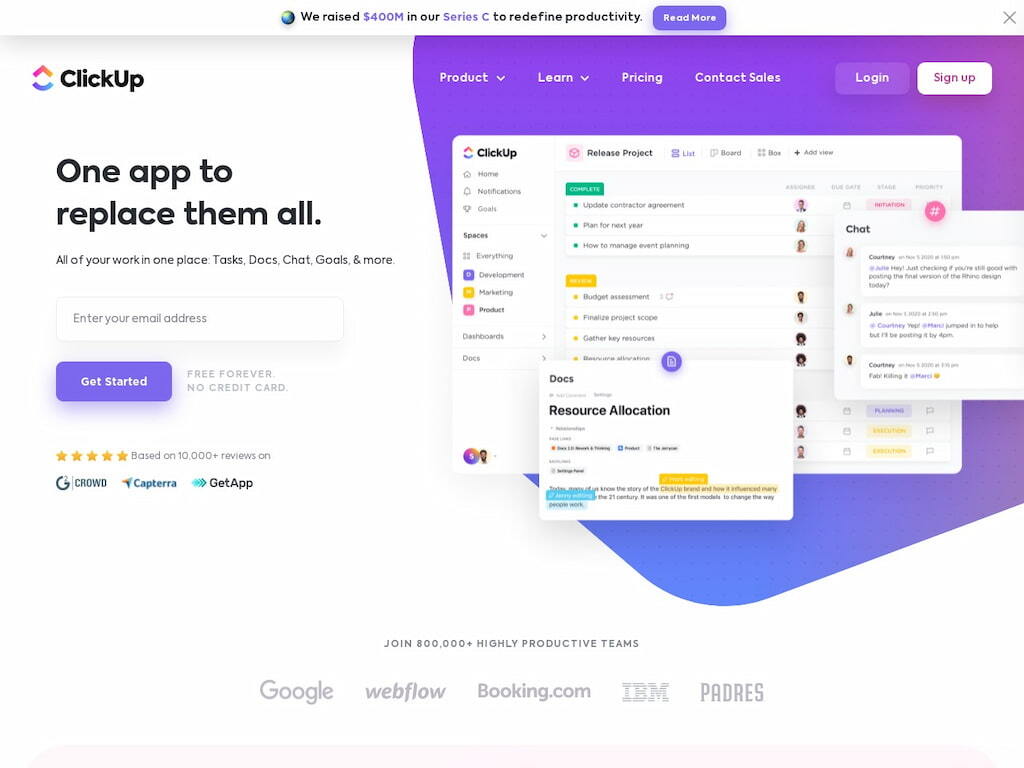 ClickUp is also a cloud-based project management software, just like Trello. The software offers features like collaboration and communication tools, alerts, and a task management toolbar.
There are five pricing tiers of the tool: free forever, unlimited for $5 per month per user, business $9 per month per user, business plus $19 per month per user, and enterprise at a customized price. Different pricing tiers are suitable for various types of users.
Which Tool Is Right For You?
Trello is more suitable for startups and small/mid-sized companies that do not require super-enhanced features such as tracking, reporting, etc. Jira, meanwhile, is more suitable for mid-sized companies to large corporations that require super-detailed requirement tracking, reporting, etc.
You can choose one of the two based on the hosting type they work on. For a more stable, secure option, you can select the on-premise solution from Jira. On the contrary, to give access to a more scattered team that only requires simple project management functionality, you can work with the cloud-based hosting of Trello.
If you are specifically working in the agile software development field, Jira is your best bet. However, if your team doesn't require industry-specific customizations, Trello is a much more practical choice.
All in all, both software programs are highly flexible and provide excellent support to the users. The critical difference remains in their functionality, with Jira emerging as the winner since it has much more options than Trello.