Among project management software tools, Trello is arguably one of the most popular. Its simplicity is its greatest draw – allowing users to play around with basic functions to create increasingly complicated systems. That said, Trello is not perfect. One of its many imperfections is the lack of a comprehensive built-in time tracker. Fortunately, there are plenty of easy – and more reliable – fixes around that, such as using Everhour Trello time tracking integration.
With Everhour, you get the ability to track your time spent on every Trello task seamlessly. In this article, we'll discuss how you can make time tracking of Trello or Trello alternatives easier and improve your overall experience using the Everhour browser extension.
How Does Trello Work?
Before we discuss how Everhour manages Trello time tracking, it's essential to understand what Trello is in the first place and how can you use it to manage multiple projects. To learn how you can use Trello for your project, here's a list of all its major features.
📌 Boards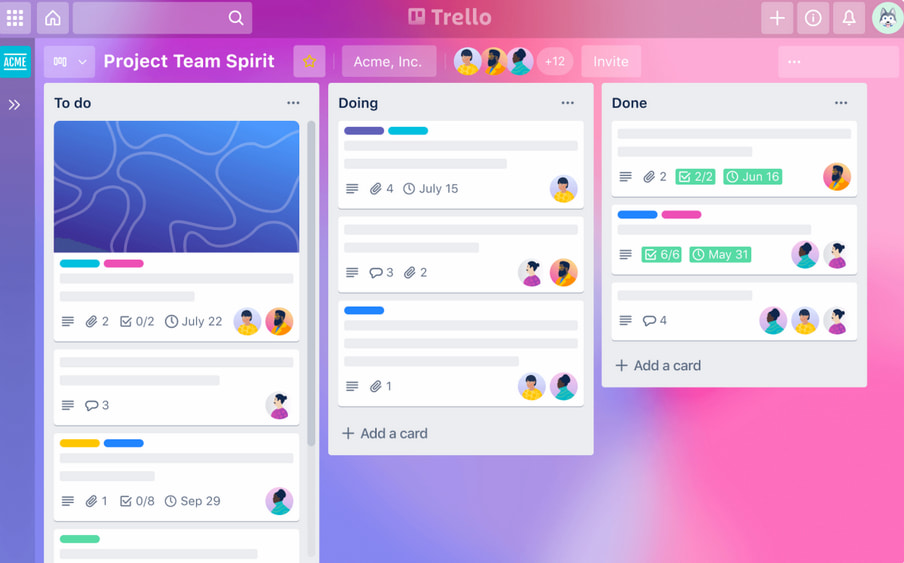 The board is the primary platform where everything is located. In other words, it's the ''home" part of your project – your workflow, ideas, and to-do lists can be found somewhere on your board. The best thing about this is that you can have multiple boards on Trello. This feature is handy for teams working on several projects at once.
Boards are also customizable to some extent. You can add or remove collaborators on the board so only teammates who need to be there have access. The background can be changed as well, and you can even add quirky stickers. There is also an activity logger that will record everything on the board.
📃 Lists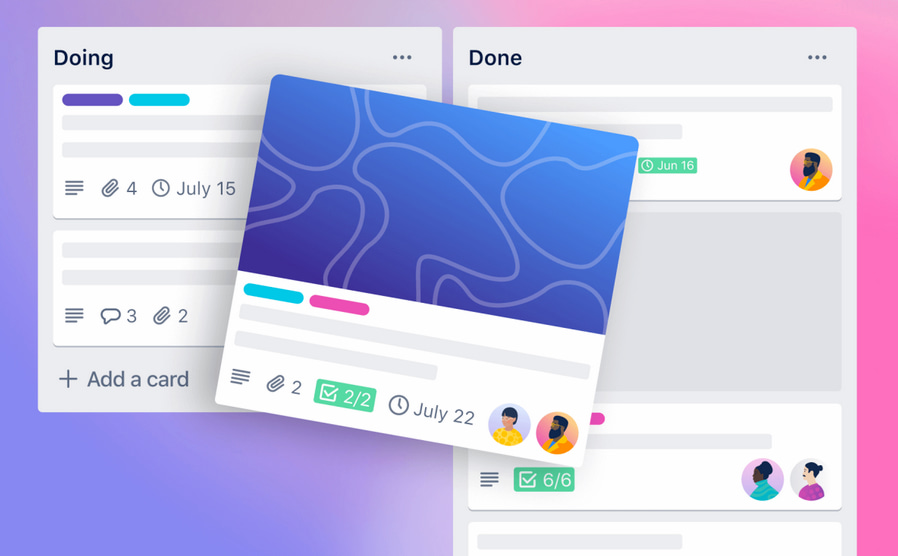 Lists will organize all the other items on your board. A list acts like a subfolder that can house several pieces of information. Here, you can add tasks, need-to-know information, announcements, notes, and whatever you think should be displayed on the board. It can even hold images and files.
One of the most common ways to use lists is as workflow organizers. You can easily make three lists labeled To-do, Doing, and Done.
🗂️ Cards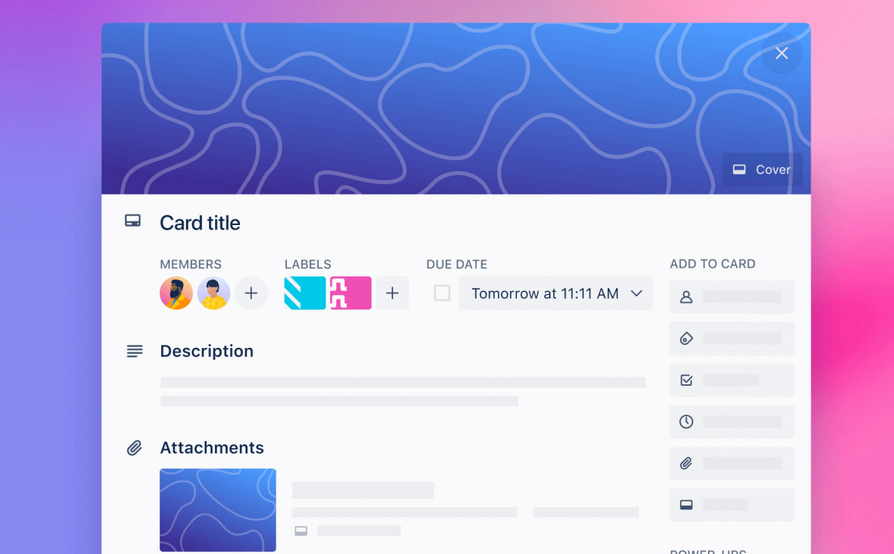 Cards are the smallest units within your boards. These units will contain all the actual information you need, such as texts, files, and photos.
One of the best features that Trello has is the ability to transfer cards from one list to the next. This means that cards can be used for any purpose, whether as a source of information or an indicator in your workflow. You can also add an unlimited number of cards.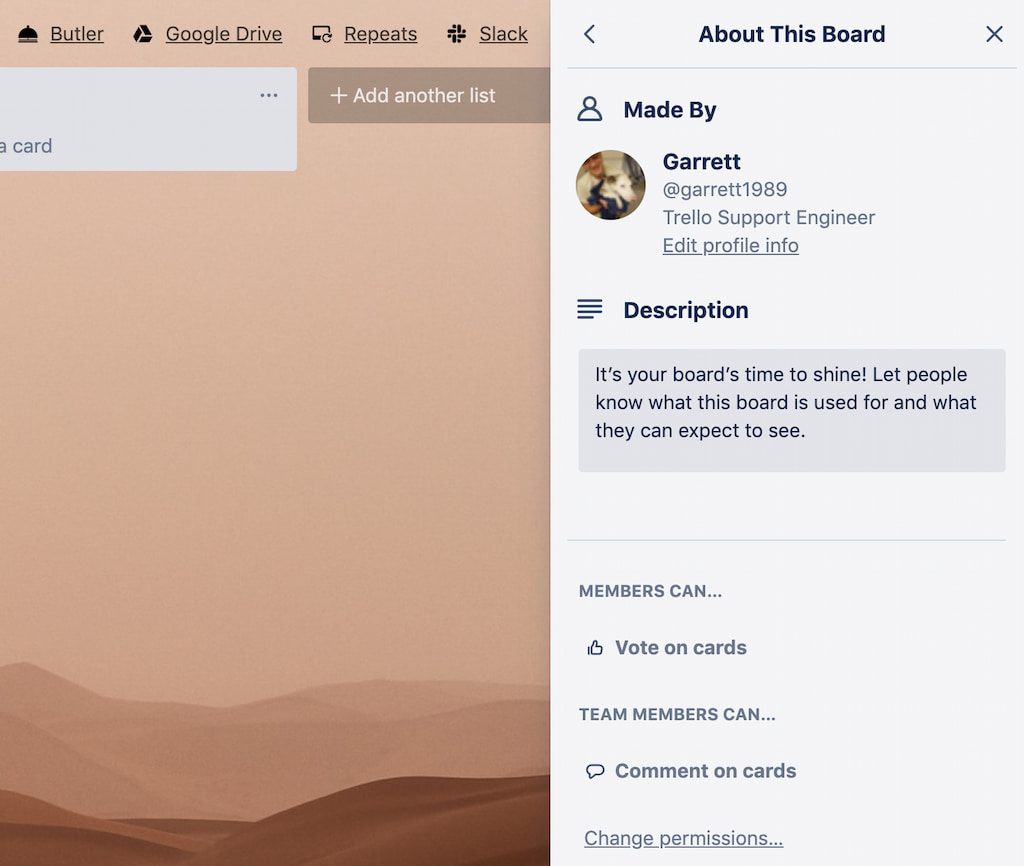 You can control settings on your board using the board menu. This is a pop-up section where board-wide options are visible. The board menus contain the following settings:
Permissions. You can change which team member has access to what board to keep things organized.
Control settings. Here, you can customize visibility, profile information, access status (public or private), and more.
Search cards. This tool is a search function for all the cards listed on your board.
Power-ups. These add-on modules improve your Trello workspace by adding new functionality. While they work like integrations, power-ups don't necessarily import or export information into another service; sometimes, they are simply additional functions.
Automations. Trello can automate certain tasks, such as card listing and transferring. You can find this option here in the board menu.
Activity log. This part records everything that happens on the board so that users can stay informed.
⚙️ Other features
More than its regular features, Trello also has a premium package that gives you more functions compared to the basic access tier. Trello Premium is Trello's most popular access tier next to Standard. It costs $10 a month, billed annually, while standard costs $5 a month, also billed annually.
Premium has many great benefits, especially for teams who want to improve their access and security. For example, you can add another board administrator as a backup, let new admins control board membership and access, restrict membership by domain, and more.
How Does Everhour Extension for Chrome Work?
As great as Trello is for organizing and managing your projects and workflow, it doesn't have any time tracking features. Not having a proper time tracking tool means two things. One, that you won't know how much time you're spending on a specific task. Two, that budgeting and invoicing for your Trello projects will be needlessly complicated.
However, Everhour is a pretty good workaround because it works seamlessly with Trello. You can download the extension from the Chrome Web Store, install it, and sync up all the projects and tasks immediately!
Besides time tracking, Everhour's integration with Trello can take care of a whole range of issues arising when managing projects. This section will examine why Everhour is the best Trello time management integration.
🔧 How can you use the Everhour browser extension?
One of the best things that Everhour offers is the ability to be seamlessly integrated with Trello. And it doesn't just import and export information from the tool – you can also operate Everhour from within your Trello Board itself. Here are the Everhour tools you can use straight from your Trello board.
Timesheet app. This button can show you all of the time records you kept for the day or week. You can also add comments and more time logs with this button.
Header. This lets admins designate projects as billables. They can also create budgets, see the total hours worked, and set estimates. However, most of this information is only available to admins; normal members won't be able to see anything about finances on their Everhour account.
Billable and Non-billable. Everhour lets you set projects as billable or non-billable straight from Trello. Non-billable projects will not be included in the invoicing calculation.
Total Task Time. Everhour lets admins apply employee time tracking and see how much time every employee has been reporting for the task.
Time Start Buttons. You don't have to go to the Everhour platform to start or stop time tracking. With these integrated buttons, you can do it straight from your Trello cards.
🧑‍🤝‍🧑 Manage permissions
Trello's permissions are crucial to its functionality. This feature lets board administrators decide who has access to what on their workspace. Fortunately, Everhour has a corresponding system that works well together with Trello. This means that your permission settings on Trello will also be automatically reflected on Everhour.
For example, if an administrator removes a team member's access to a certain board, the member can't track time from there anymore; his Everhour functionality for that board will be disabled. However, they can still see his time tracking history including that board, but they can't add to it.
There are also other admin-only features for Everhour available on Trello. Here are a few.
Manage budget and invoicing. Only admins can modify budgets and mark tasks as billable or non-billable on Everhour.
Member delegation. Admins also have an exclusive say on work assignments. They can assign tasks to specific members for time tracking and add or remove other delegations.
Birds-eye view of all your time logs. On the Everhour platform, admins can see all of the time logged on the team's Trello platform, regardless of whether they have access to that board or not.
Normal members will still be able to use several Everhour functionalities while on Trello; it's just that admins will have more functions available to them.
🚧 Troubleshooting
Occasionally, updates on the Trello platform may cause the Everhour extension to stop working properly or completely. When this happens, Everhour provides full support to teams and admins experiencing this difficulty. A dedicated team will listen to your problem and attempt to fix these issues as soon as possible. You can reach Everhour by sending a ticket from the website or shooting an email at ask@everhour.com.
Keep in mind that most extension malfunctions occur when the Everhour extension is not updated. Our regular updates should be enough to meet the latest changes in our integrations readily.
In other words, the easiest way that you can prevent bugs from happening is to update both your Trello time tracking plugin and your Everhour extension whenever an update is available.
How You Can Track Time in Trello With Everhour
Setting up the Everhour timer for Trello is quick and easy. Here's a step-by-step guide on how to do it.
1. The first thing you need to do is log in to your Everhour account.
2. From the Everhour dashboard, go to the Integrations page. You can find this on the Settings page, right after My Profile.

3. You will then see a list of all the integrations you can add to your Everhour tool. Trello should be one of them, under the Project Management Tools category.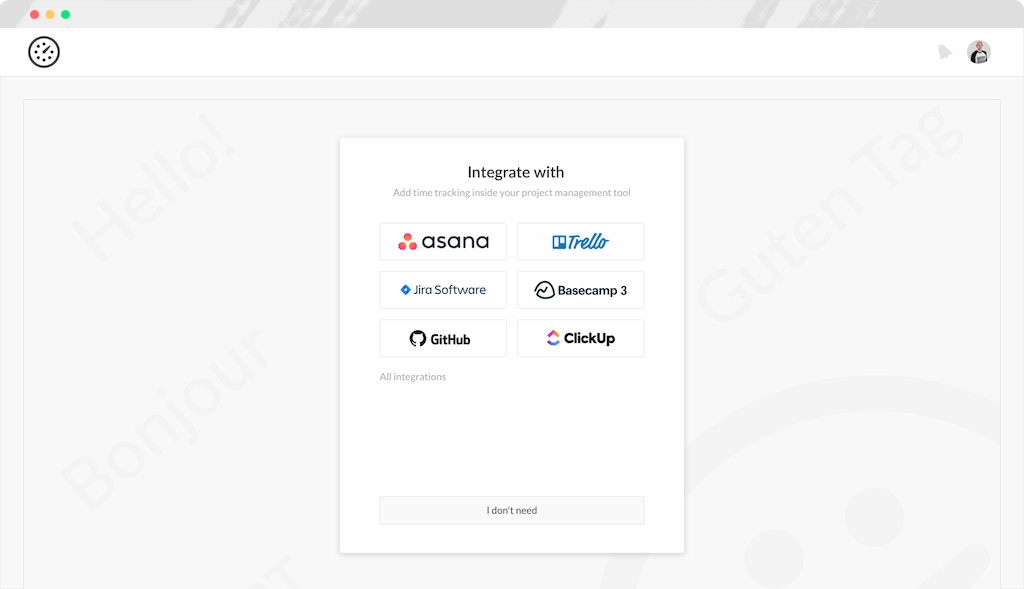 4. Click on the green CONNECT button under Trello.
5. You will then be asked for your Trello credentials. Input your login details, and then allow Everhour's access to Trello by clicking the Allow button on the bottom of the permissions page.
6. Once that's done, Everhour will then automatically sync with Trello's boards and cards. Wait for this process to finish. You can set up instant sync manually from the Integrations page.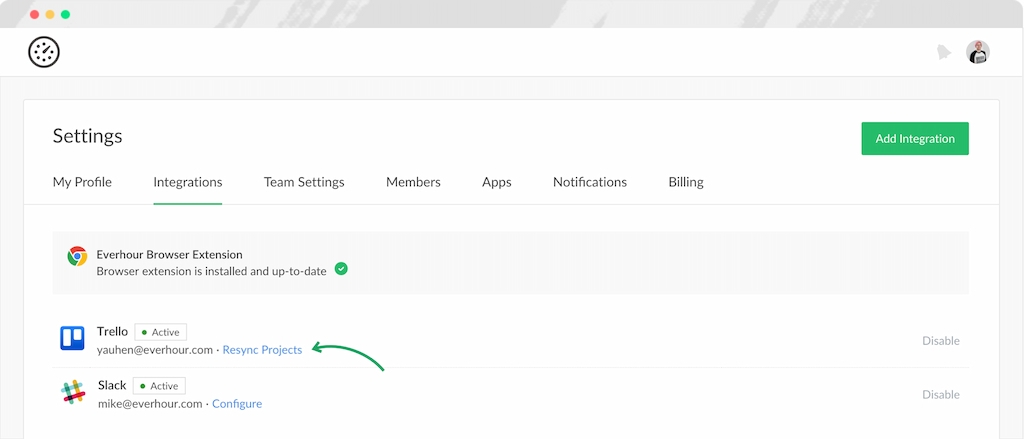 7. If you haven't already, install the Everhour browser extension by clicking the green Install button at the top of the Integrations page.
8. Everhour will then automatically redirect you to the browser extension page. Add Everhour to your browser and grant the necessary permissions.
9. With that done, you can now go to your Trello board. The Everhour controls should already be there. If not, refresh the page.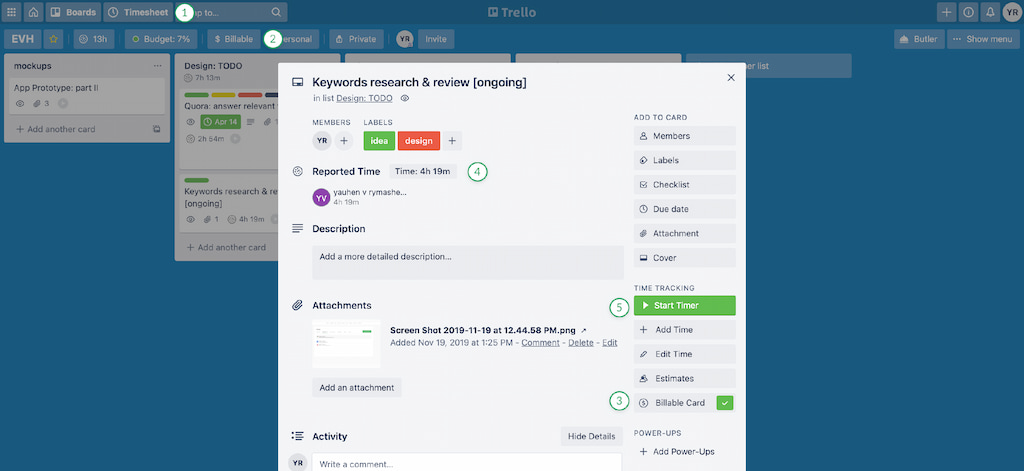 10. As an admin, you should see an Everhour toolbar at the top of your Trello board. Here, you will see options such as project billing, etc.
11. Members can now also see the Everhour timer button on every card. You can also click on a Trello card and see more time tracking controls such as add notes, add time, edit time, add estimates, and more.
Tips for Tracking Time in Trello
Everhour is a simple yet powerful work hours tracker for Trello. Not only can this integration boost your productivity, but it also makes crucial tasks–such as invoicing or setting budgets much easier to do. Here are a few pro tips for maximum productivity while using Everhour for Trello.
Team members frequently forget to log their time because switching between two tabs to start and stop a timer is such a hassle to do. This is especially true when working on tasks with a list of to-dos. A certain task might take an unpredictable length of time, and it's simply impractical to keep on switching tabs for each small task. Everhour solves this problem by integrating the buttons right on the Trello workspace.
With these integrated buttons, all you have to do is click the respective tool beside each card, and Everhour will automatically record the task details and run the timer. This way, you can better manage your to-do lists by knowing exactly how much time you spend on each task.
⏰ Provide estimates and comply with deadlines
Deadlines can be crucial, especially for tight project schedules. However, to have a reasonable and mutually-beneficial deadline, you first have to provide an estimate for your client. This can be difficult to do without the right tools on hand.
Everhour has a specific focus on providing Trello time estimates and complying with deadlines with its readily-accessible button on every Trello card.
🧮 Calculate Trello earnings
Teams often use Trello to work on billable projects that have specific rates. This function complements Everhour's billing capability. Administrators can easily set rates for hourly work and then calculate earnings from the Trello boards itself the Everhour dashboard for a more comprehensive look.
📰 Create transparency reports with Everhour data
Working with clients and stakeholders will require high levels of transparency and accountability. Thankfully, our time and attendance software can provide a detailed account of every hour you spend on Trello.
Team members can also quickly log their time without going out of their way. This means that they can easily remember to record their tasks, which, in turn, means more accurate time tracking.
Administrators can then look at all these compiled information from the Everhour dashboard and can export any specific data from Trello by using Everhour's report builder tool.
Tracking Time on Trello With Everhour: Wrap-Up
With this software tool's seamless integration and well-designed and comprehensive time tracking tools, teams who use Trello can now function at a higher level even without having to leave their Trello boards.