With the rising popularity of project management tools, it's good to know where you should focus your money and attention. In the Trello vs Monday stakes, for example, there are a lot of factors to consider. Both software options include various useful features for systematically working through tasks and projects as an organization.
We've already covered the main differences between Trello vs. Jira, Asana vs. Monday, Basecamp vs. Trello, and Asana vs. Trello. In this guide, we're going to break down the main features of both Monday and Trello so you can make an informed decision.
Monday vs. Trello: Overview
When comparing any two software tools, let alone Trello vs Monday.com, you need to have an idea of what they're offering. This is where software feature comparisons come in handy:
Monday
Team Calendar
View projects in various ways
Mobile app support
Check reports and analytics for projects
Trello
Collaboration tools
Task scheduling
Create custom kanban boards
Mobile app support
Monday.com is a versatile tool that allows users to view their projects in a way that makes sense to them. You can create projects in the form of kanban boards, or use calendars, charts, timelines, or map views to see them.
The main dashboard interface is simple yet stylish, letting you check the status of your projects and your current to-do list. Projects are color-coded, too, so you can see at a glance which ones you need to get stuck into next.
Monday.com also offers users access to data and analytics, which they can use to assess key performance indicators (KPIs) and evaluate a project's progress accurately.
The main appeal of the software is the customizable kanban boards, which you can use to set up project timelines through a series of lists. This interface is excellent for those who enjoy visualizing a project moving from start to finish.
---
Trello Overview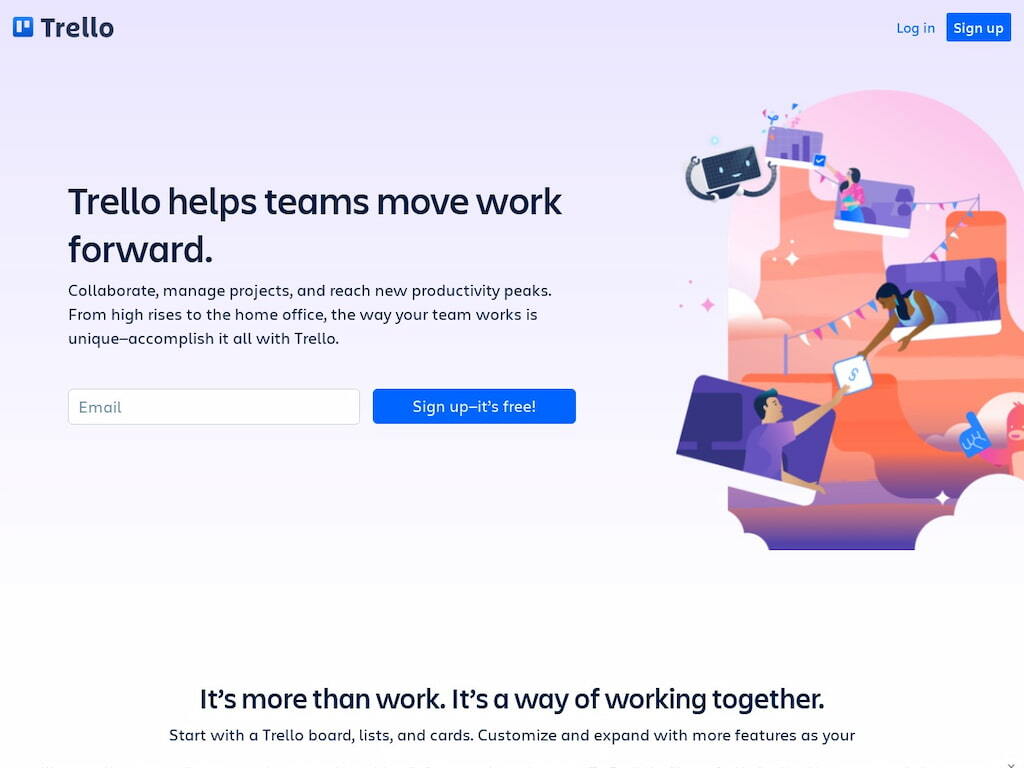 Trello adopts a minimalist approach to its aesthetic, with nothing but kanban boards, lists, and tasks. This simplistic take on project management is a breath of fresh air in a market oversaturated with multi-purpose tools.
Perhaps best of all, Trello offers users a free version complete with kanban boards, task management, and more. As such, you can try it before you buy it, making it a relatively risk-free option.
---
Monday Overview
Monday.com is all about vitalizing the work week with colorful organizational tools and a playful approach to task completion. Monday project management tool isn't afraid to make the mundane beautiful, and it does so with aplomb.
From the animated confetti indicating the completion of a task to the vibrant colors and visual charts, Monday.com brings a unique flavor to the project management table.
While you'll have to pay a premium for the extra bells and whistles Monday.com offers, it's an intuitive option that can help you streamline your company's workflow.
Monday Support vs. Trello Support
To get a good idea of how easy it is to navigate Monday.com vs Trello, customer support is a useful barometer to use:
Monday
Online video tutorials and webinars
Online knowledge base and community forum
Email help tickets
Personalized onboarding (enterprise plan users only)
Trello
Online video tutorials
Online guides and community forum
Priority support – email tickets with responses within 24 hours (premium users only)
Monday support
Monday offers comprehensive support for its users, with several resources available. For example, you'll find a 'Knowledge Base' full of guides to getting started and mastering the software's features on the support page.
Then, there's a wealth of video tutorials for those who prefer visual learning, and there's also a community forum that you can head to if you still have queries. Finally, email help tickets guarantee you personalized support should you require it.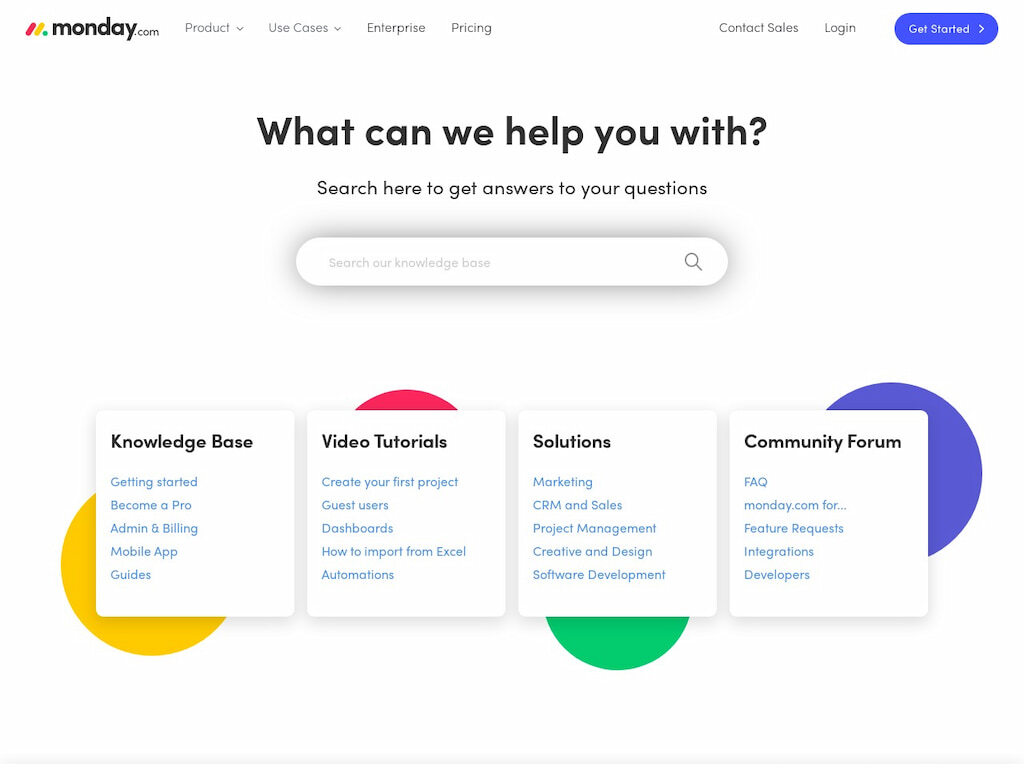 Trello support
Trello, in line with its "less is more" principle, has fewer support options for users. This isn't necessarily something that should count against the software, though, since the tool is arguably more straightforward to use than a lot of its direct competitors.
With Trello, you can access the 'Knowledge Base' for guides, watch online video tutorials, and send email help tickets if you're subscribed to the premium plan.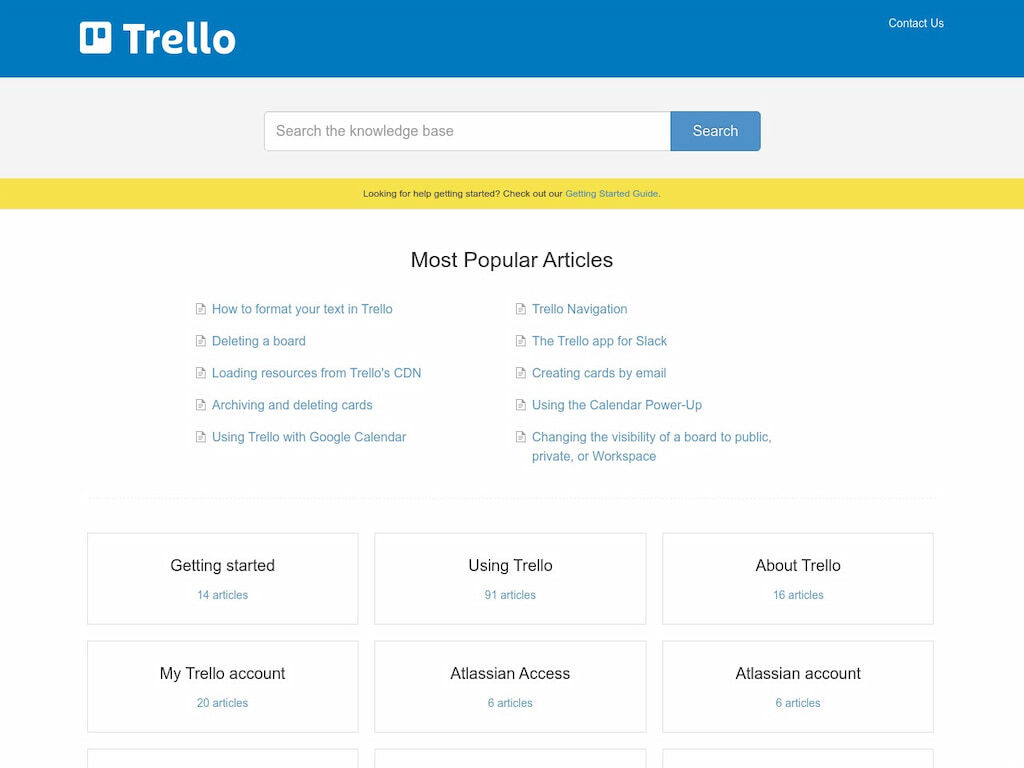 ---
Monday UX vs. Trello UX
Monday
Use Kanban boards or Gantt charts to display tasks
View progress with color-coded tasks
Trello
Quick task and project navigation
Drag and drop tasks into different lists
Personalize board backgrounds
Monday UX
When Trello vs Monday race comes to ease of use, both of these tools excel.
The two project management tools are both user-friendly in that they provide simplistic interfaces, visually pleasing task and project tracking, and easy-to-check progress updates.
Monday has the edge when it comes to options, as it allows the user to view their tasks either as kanban boards or as Gantt charts. That way, each user can see progress in a way that makes the most sense to them. The color-coding of the software is also an excellent way to keep users in the loop about ongoing projects.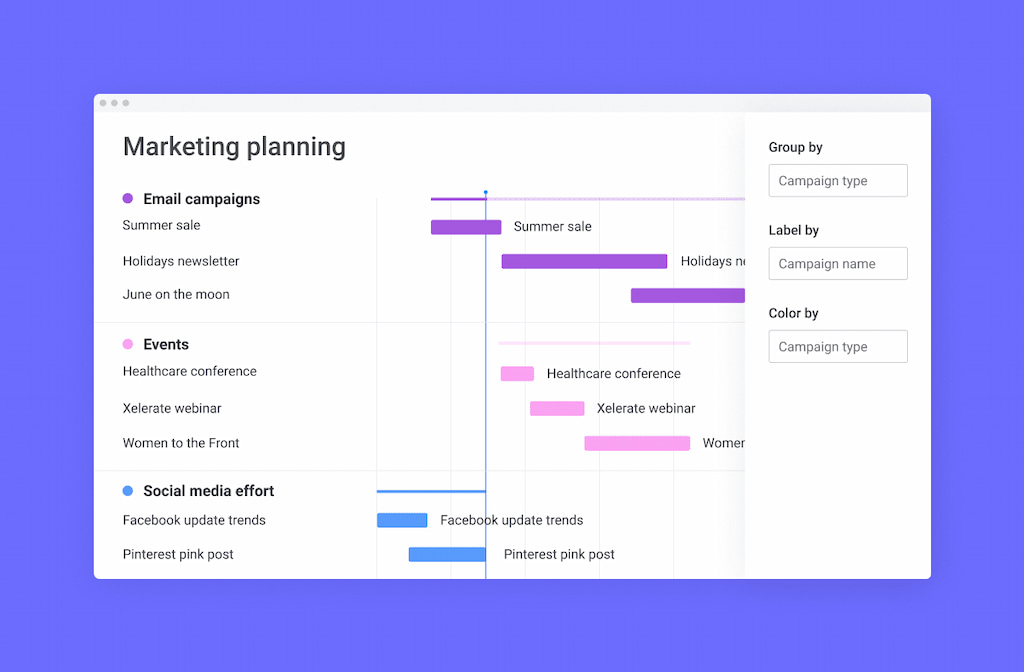 Trello UX
Trello, on the other hand, has a highly intuitive kanban board system that lets users drag and drop tasks from one list to another. This is a satisfying approach to task completion that closely replicates the feeling of ticking the boxes off your to-do list as you work through your tasks.
The background of each board can also be customized with a preset image, or with an image that you upload. This means users can create meaningful boards that are both fun to navigate and easy to use.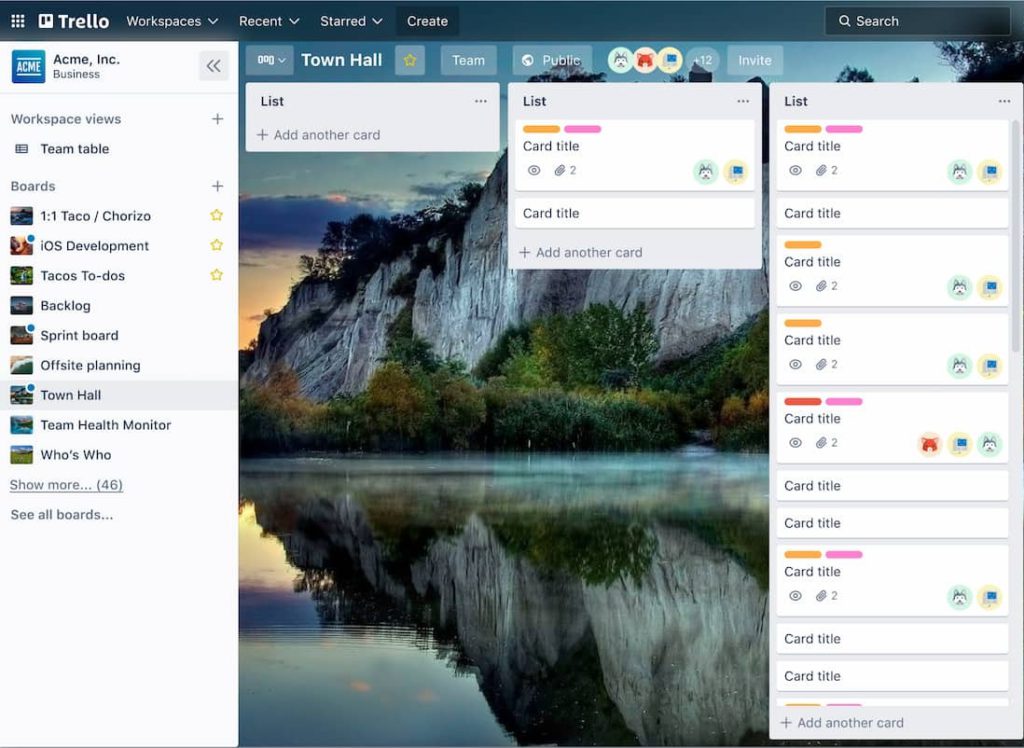 ---
Trello vs. Monday Pricing
Monday
Basic – $49 per month
Standard – $59 per month
Pro – $99 per month
Enterprise – quote-based price
Trello
Free
Business Class – $12.50 per month
Enterprise – $20.83 per month (Price per user drops after 300 users)
Monday pricing
Monday has four pricing plans, though there's no free option.
1️⃣ Basic: the Monday.com basic plan comes with unlimited boards, more than 20 different types of columns, 5GB of storage, a week-long activity log, and iOS and Android app support.
2️⃣ Standard: the standard plan includes a variety of features: add up to four guest accounts, view projects as a timeline or calendar, use custom forms, access an advanced search, navigate three dashboards, use storage, and make the most of an unlimited activity log.
3️⃣ Pro: the pro plan removes limits for how many guest accounts you can have, adds time tracking, 10 dashboards, unlimited storage, formula columns, and private boards.
4️⃣ Enterprise: the enterprise plan is priced on a quote basis, and adds extra features such as user session management, more account permissions, one-on-one training, audit logs, access to a customer success manager, and 25 dashboards.
Trello pricing
Trello has three pricing plans, including a free option.
1️⃣ Free: the free plan from Trello offers users unlimited cards, up to 10 team boards, a 10MB limit for file attachments, and personal boards.
2️⃣ Business Class: the business class plan removes the limits for team boards, and adds advanced checklists, team board Trello templates, power-ups, priority customer support, and increases the file attachment limit to 250MB.
3️⃣ Enterprise: the enterprise plan from Trello starts out at a fixed monthly price, but drops per user added over 300 users. It also adds power-up administration, permissions across an organization, boards that can be seen and shared within an organization, public board management, and removes attachment limits.
---
Monday.com vs. Trello Integrations
Monday
Marketing
CRM
Software development
Project management
Trello
Add-ons
Browser extensions
Connectors
Power-ups
Trello to go
Monday integrations
Monday offers integration with many third-party apps and tools. The integrations are separated into different categories, which are as follows:
Marketing: the collaboration with popular marketing tools helps users develop cold email campaigns, receive feedback to inform marketing strategies, and overhaul marketing strategies. Apps like Mailchimp and SurveyMonkey can help users land more customers and reach their sales goals.
CRM: the CRM tools that pair with Monday help you to streamline your sales pipeline and customer support. CRM apps include Zendesk and Salesforce.
Software development: the software development tools give users access to powerful tools which they can use to create building blocks for better software. Integrations include Jira, GitHub, and GitLab which allow you to track bugs in Monday.com, sync features across platforms, and more.
Project management: the project management integrations help you to sync your tasks between various tools such as Basecamp, Asana, and Todoist.
Trello integrations
As for Trello, there are five categories of integrations, which we'll explore now.
Add-ons: the add-ons for Trello allow you to do everything – from tracking time on your tasks to creating recurring cards that you can use for various boards. You can also have access to Everhour which can help teams to track time in Trello spent on tasks, Plus Trello which adds reporting functionality, and Trello Calendar Connector to sync your projects up with your calendar.
Browser extensions: as for browser extensions, you can expect visual upgrades to your boards with Gantt charts, cross-board access, and more. Some of the browser extension integrations include YoCoBoard for recording productivity, SnipHero for dragging and dropping content, and Ultimello for adding the ability to sort labels among other functions.
Connectors: Trello connectors are integrations that simply connect two platforms together for ease of use. They include Zenaton, Pipedrive, and Trello for Gmail.
Power-ups: Power-ups in Trello let users see their cards in a calendar, add communication channels, and more. Among the most popular are Time in List which tells you how long cards have been in a list, Corrello which helps to manage agile projects, and Google Hangouts which lets you see a chat from Hangouts in Trello.
Trello to Go: Trello to Go integrations allow you to take Trello's features and functionality over to another software platform. Examples of Trello to Go integrations include Trello in Confluence, Trello in Microsoft Teams, and Trello in Dropbox Paper.
---
Which Tool Comes Out on Top?
In the Trello vs Monday battle, it's hard to choose a definite winner. Both Monday and Trello are excellent project management tools in their own rights, but they do offer slightly different propositions.
While Monday.com is arguably better suited for established businesses and organizations looking to streamline their day-to-day operations, Trello is a solid choice for freelancers and small businesses.
Also, Monday.com takes the prize for better features, as it provides users access to color-coded views to track projects and detailed reports and analytics. It also offers more comprehensive customer support than Trello and more integration options.
However, if you're looking to save money and the main thing you're concerned with is tackling tasks and organizing projects, then Trello is sure to be a hit with your company.
Trello also features Everhour integration – you can stay on top of your team or company's productivity by tracking the time being spent on individual tasks.