A big project lands on your (virtual) desk with a looming deadline and all of a sudden you're scrambling to break it down into bite-size tasks and delegate them effectively. Without the right project management tools, you'd be left to figure out all the logistics yourself and face mounting pressure from various directions. It doesn't have to be that way.
Remote work is the new norm in 2023. 97% of people would like to work remotely in some form for the rest of their lives. With that being the case, it makes sense that we now have access to more software tools than ever before. These tools range from time trackers to project management suites, and they are proving more essential by the day to many businesses.
In this guide, we're going to take a look at 14 of the best project management tools. These are the tools that allow you to streamline your workflows, delegate tasks with just a few clicks, and ultimately, let you tackle that large project without feeling overwhelmed from the moment you receive it.
44% of people claim that they don't use a project management tool to make their deadlines visible. This shows that there's a big opportunity for business owners to boost efficiency in their companies by using project management tools to clarify deadlines so tasks and projects are completed on time.
So now that you've identified the pivotal role a project management tool could play in your business, let's take a quick look at the must-have features.
What Are the Must-Have Features for Project Management Tools?
If project management tools are new to you, or you're only used one before, it's worth knowing what you should be looking out for in terms of features. The following must-have features will help you stay on top of your workload and streamline collaborative workflows:
⚡ Task management
One of the best features for a project management tool is the ability to manage tasks. A project, when broken down into small achievable tasks, can go from seeming like an impossible undertaking to something much more straightforward.
There are various ways PM tools can provide these features, such as the following:
Kanban boards: Kanban boards, made famous by the likes of Trello, are easy-to-interpret lists and cards that allow you to easily delegate and organize tasks with simple drag-and-drop functionality.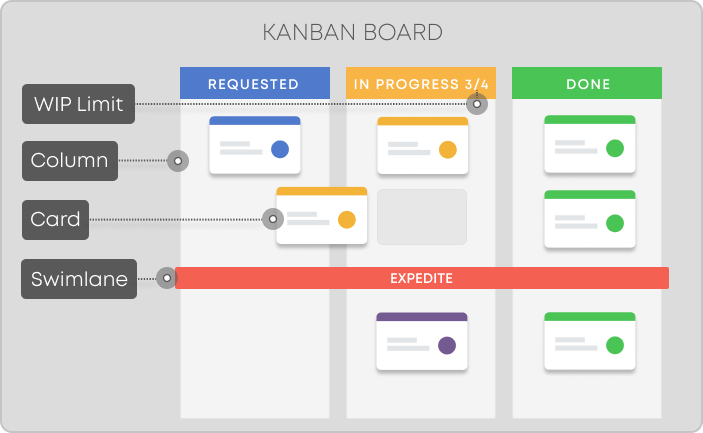 Scrum boards: Similar to Kanban boards, Scrum boards also feature lists and cards, but the goal here is to take a task from 'to do' to 'finished' in a sprint, which means as fast as possible.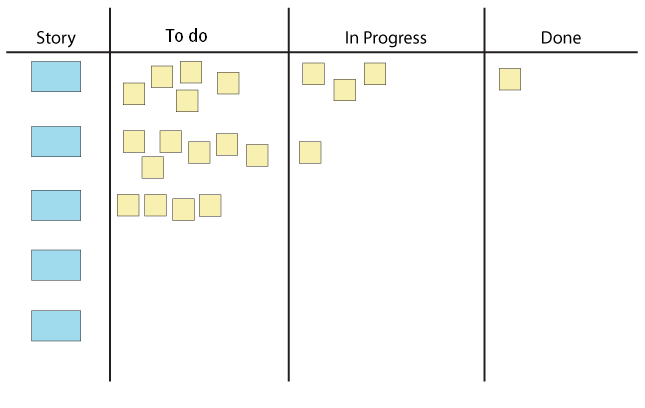 To-do lists: To-do lists are a straightforward methodology for working through any outstanding tasks on your plate.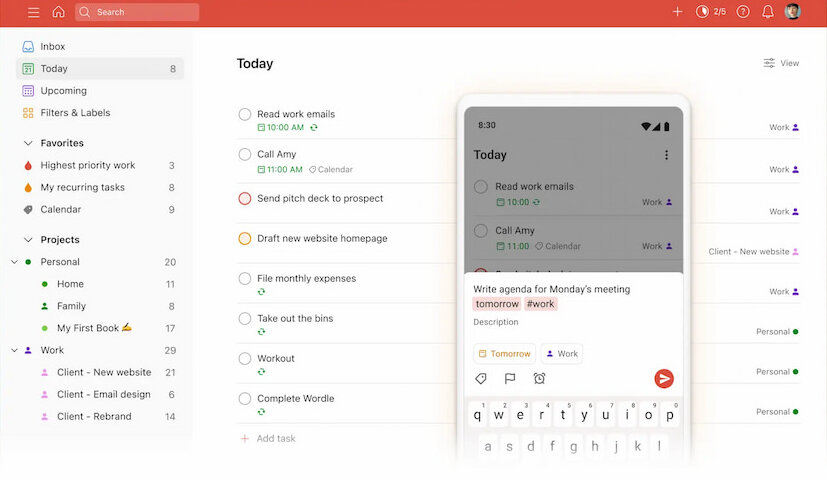 🗣 Communication
Without built-in communication tools, your project management software would be practically worthless. Why? Keeping the lines open between the project manager and team members is crucial to the success of just about any project. If there are hiccups along the way, you want a quick way to address them so they don't impede your progress.
By communication, we don't mean video calls, but instant messaging features or the ability to add labels or comments to tasks and projects. These are the small touches that can make a project management tool much more effective, and keep tasks flying through the pipeline.
⏰ Time tracking
The ability to track time is essential, as it's what tasks and projects are built from. The investment of time in a particular task or project will tell you how productive your teams are, which can help you get the most out of every employee.
Not every PM tool comes with time management apps or features, so it may be that you have to find a third-party integration. Everhour, a powerful solution and one of the best time tracking apps out there, integrates with many of the most popular project management tools, including Asana, Trello, and Basecamp.
📃 Reporting
Using a project management tool to handle tasks is one thing, but what about after the project is finished? In order to effectively drive business growth and scale sustainably, you need access to fresh data and insights. That's why the best PM tools boast reporting features that let you track exactly how long it took you to finish a task or project, how much you spent versus how much it eventually cost, and more metrics that will help inform future decisions.
14 Top Project Management Tools
1. Asana
Asana is a web-based software tool used to help with team collaboration. Its main benefit is that it allows users to manage tasks or projects online without having to use email.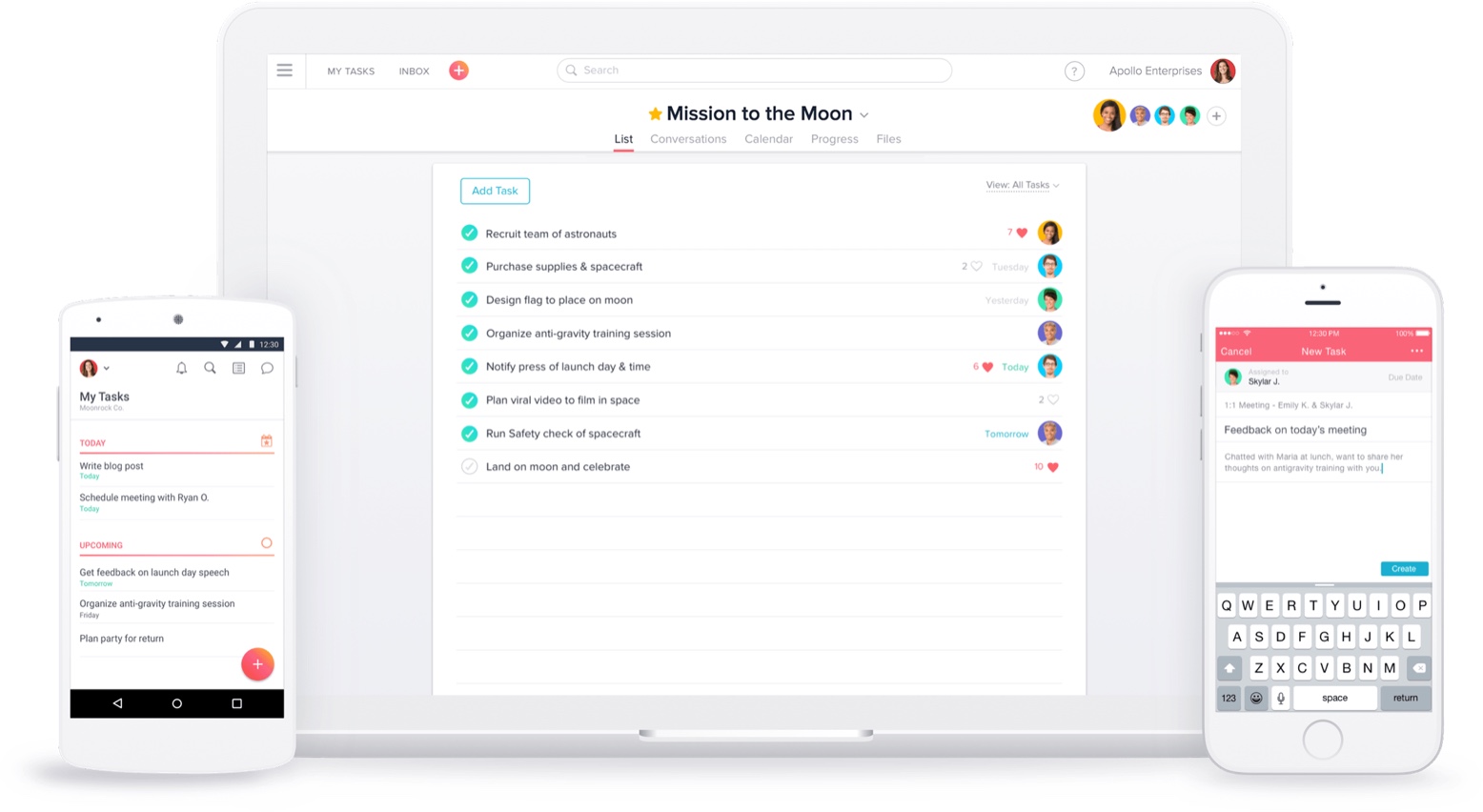 Each team is given a workspace, and within that workspace are specific tasks. Under each task, users and team members can follow the projects they need to so that if anything changes, followers of that particular project will get updates or changes sent to them automatically.
Tasks tracking is implemented marvelously there. The ability to enter/modify tasks at the speed of thought helps get thoughts down before focus is lost.
Asana also allows companies to use the product at an enterprise scale.
Key Features of Asana 👍
Extremely customizable: Between workspaces, projects, sections, tasks, and subtasks organization is a breeze. There are a lot of Asana integrations to tweak the process however you want. Asana project management capabilities are unparalleled.
Set recurring tasks: Easily set recurring tasks for things that need to be completed more than once.
Limit emails: Cuts down on the number of emails and messages needed to discuss project or task details.
Calendar sync: An easy-to-access calendar synced with all of your tasks so you never lose track of what needs to be done.
Shortcomings of Asana 🤔
No multi-person tasks: Unfortunately you cannot assign multiple people to the same task with Asana.
UI delays: With so many tasks and documents in the same place sometimes the UI can get a bit slow
Heavily text-based: Since the program is heavily text-based, it's easy to accidentally break structure, remove a task, or change its naming.
No time tracking & estimate functionality: There is no way to track time with Asana, unfortunately. However, this can be remedied with the Everhour add-on, which integrates seamlessly, giving you the ability to track hours and estimate the duration of tasks (see in action below).
Compare ⚖
Take a look at these Asana alternatives and comparisons: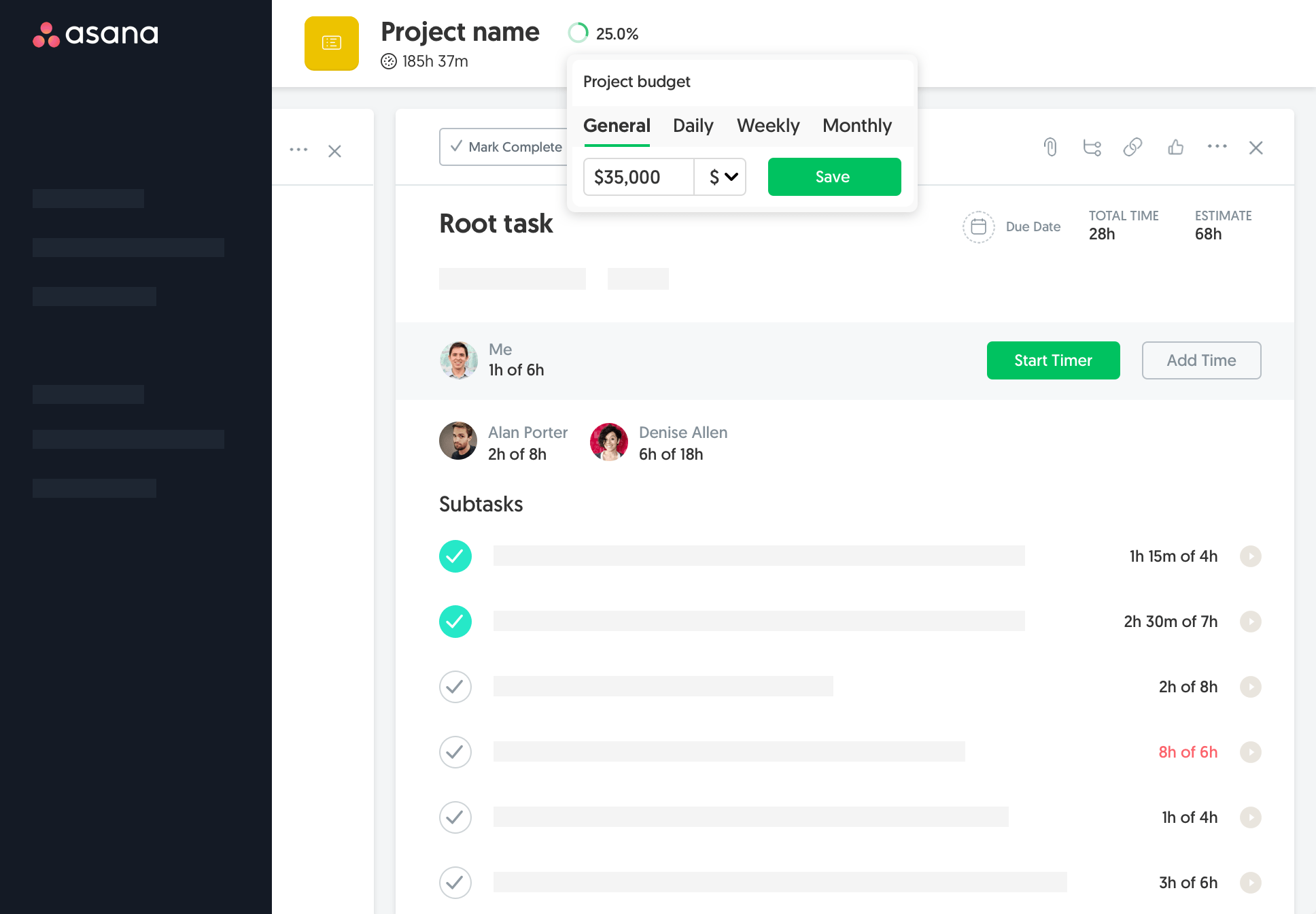 2. Trello
Trello is another popular software tool for office collaboration, and it's an efficient one too as it makes use of the Kanban paradigm, first popularized by Toyota back in the 1980s for the supply chain management.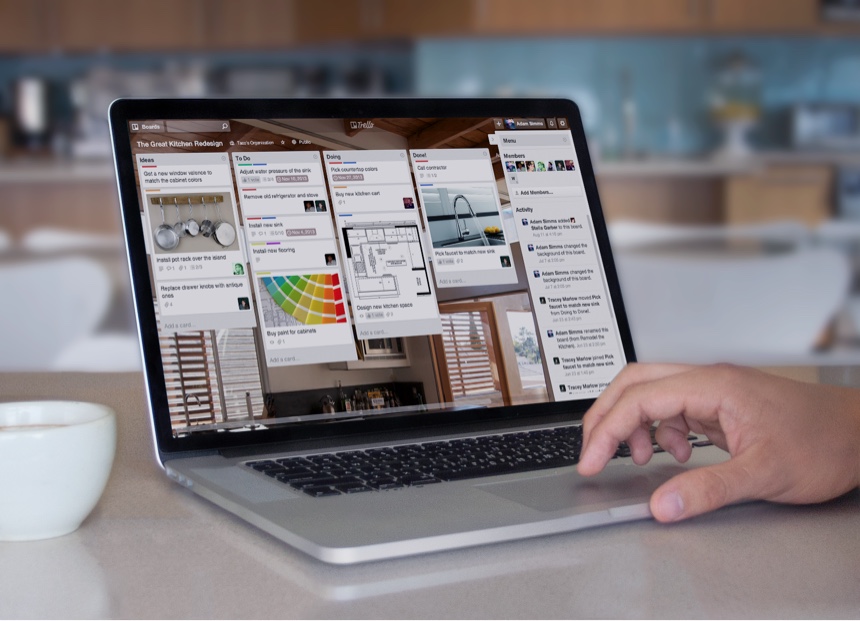 All projects within Trello are represented by "boards," which contain lists and cards that allow you to drag and drop and progress from one task to the next, mirroring the flow of a feature from idea to execution.
Users can then be assigned cards that contain their tasks or projects, and these cards can be moved, updated, and even be used for communication about a specific task. Cards hold comments, attachments, checklists, and even due dates that sync automatically with the calendar.
It's a pretty simple methodology, but it sure has proven to a lot of companies why using Trello is beneficial.
Key Features of Trello 👍
Visual progress: The easy-to-navigate boards make it feel like you always have everything you need sitting right in front of you.
Simple access: Invite outside members, create closed boards, or add public boards.
Horizontal: This "horizontal" tool is multi-purpose, meaning you can handle everything with it;
Task calendar: All of your tasks can be set with a due date, and once set all tasks sync with your calendar for each board.
Seamless integration: Paying users can integrate with Slack, GitHub, and Salesforce and loads of Trello Power-Ups.
Shortcomings of Trello 🤔
Crowded: While items can be organized into specific tasks and cards, once the board collects a large number of cards it can easily get crowded and cluttered.
No time tracking & estimate functionality: Unfortunately, Trello does not have time tracking capabilities either. There are loads of ways to track time in Trello, as well as loads of Trello time tracking tools and integrations.
No overview: There's no way to add a project overview or any sub-task functionality.
Compare ⚖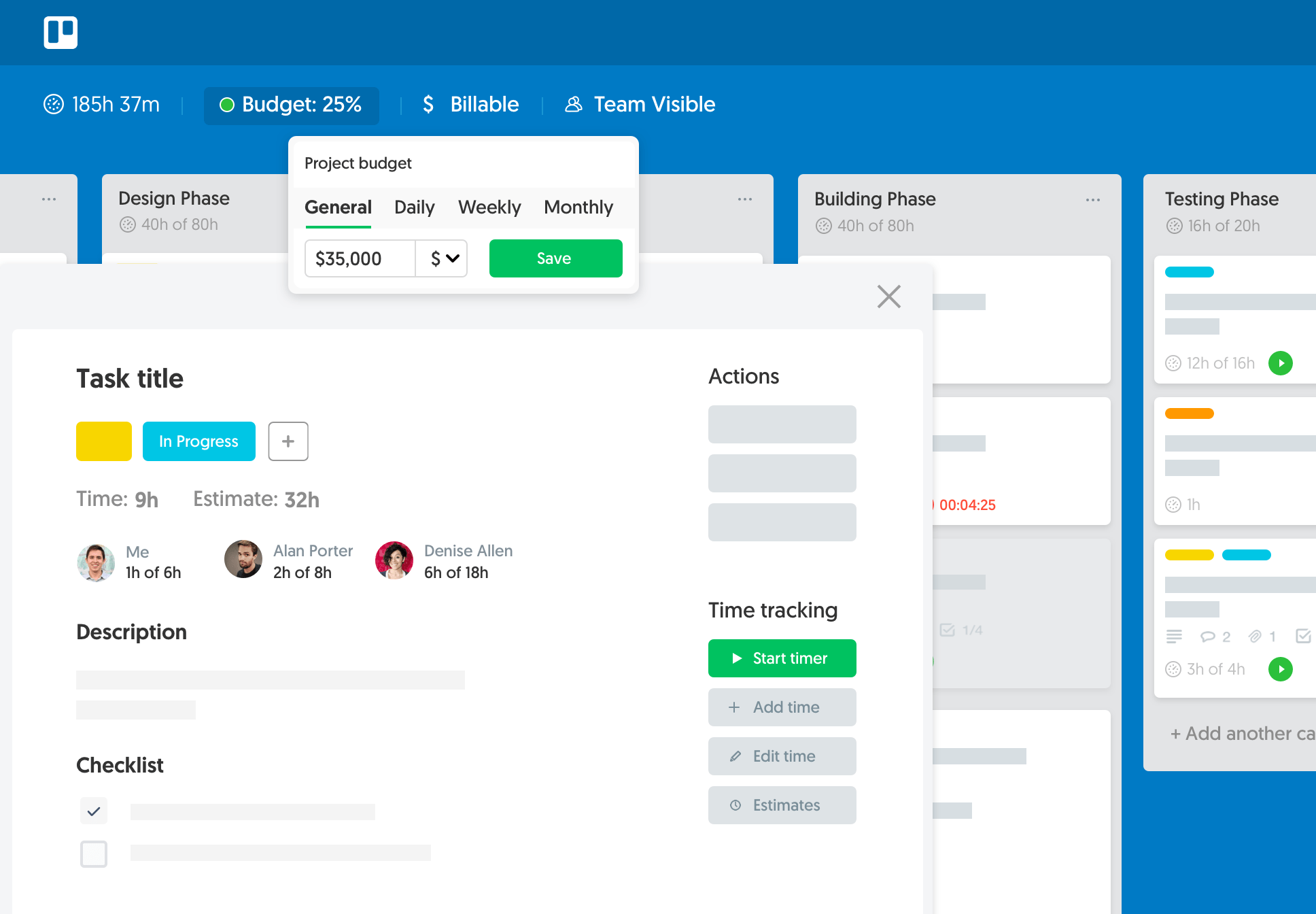 3. Basecamp
Basecamp is a great project management tool for handling small projects very well, and its simplicity makes organizing and finishing projects a breeze.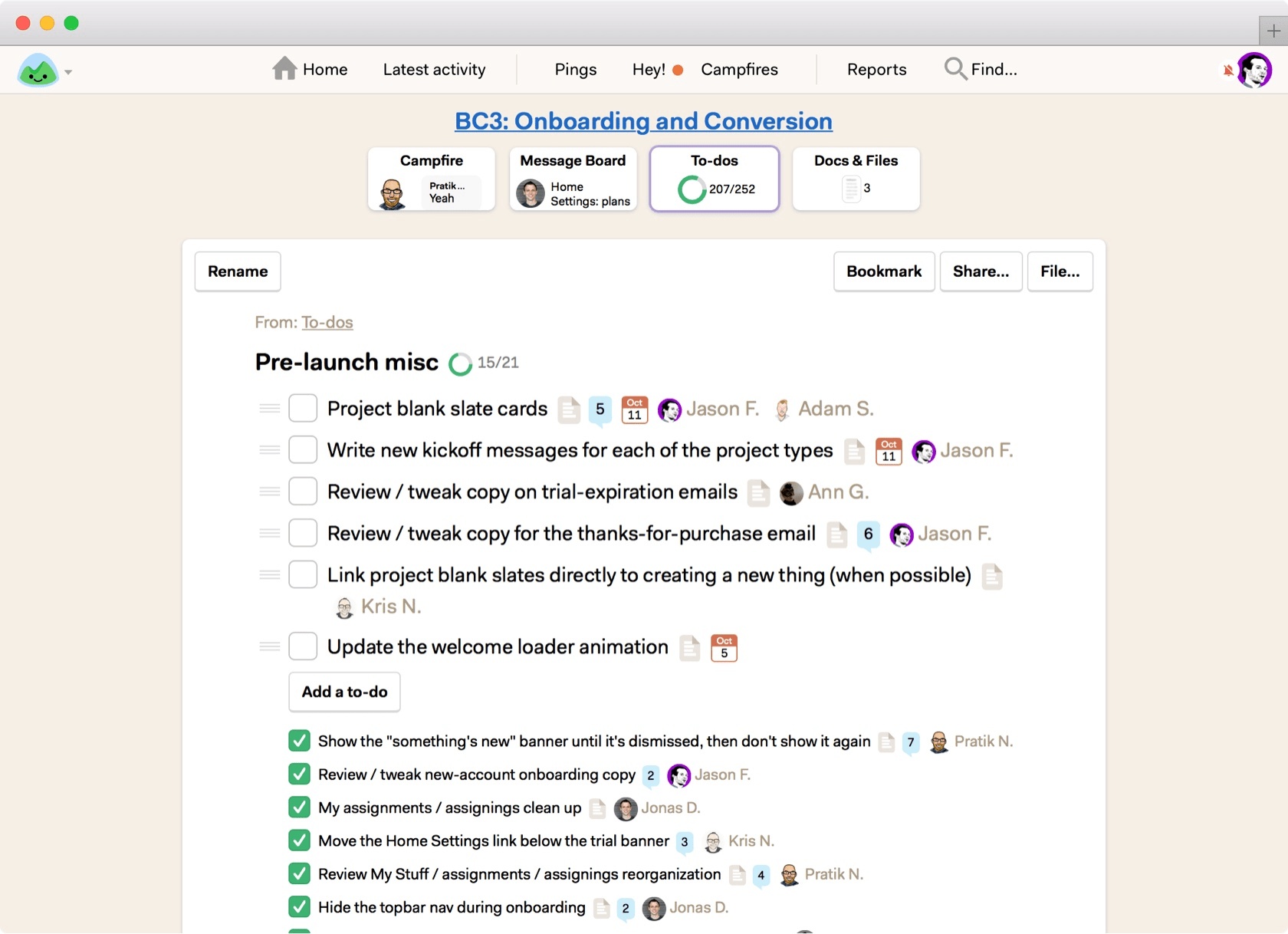 Within Basecamp are several different tools, including a message board, chat room, schedule & calendar, docs & files library, and even one for check-ins.
With Basecamp it's all about efficiency and communication, as its combination of tools gives businesses and their employees everything they need to collaborate and get the job done, which also makes it a great tool for remote employees.
It is more about team communication in Basecamp, rather than just task tracking as Asana or Trello.
Key Features of Basecamp 👍
Simple interface: Basecamp built its reputation on its simplicity, and the user interface is exactly that — simple.
Quick setup: The setup to get everything going on Basecamp is as simple as can be and the support is excellent if there is any trouble along the way.
Communication: With Basecamp it's easy to maintain communication with employees, clients, or any other contact.
Automatic check-ins: Automatic check-ins help you keep track of who is working on what and when.
Shortcomings of Basecamp 🤔
No time tracking or reporting: There is no way to track time or any reporting features, but Basecamp does integrate easily with Everhour, so time can be tracked, any reports you need can be compiled, and even professional invoices can be created.
Cluttered: The organization of the documents and attachments can become a bit cluttered and sometimes finding what you're looking for can be difficult.
No tags: Unfortunately Basecamp also does not have the capability to use tags.
Too much simplicity: Now of course in most situations, simplicity is great, but not when it leaves out other basic features that the majority of other project management tools have.
Compare ⚖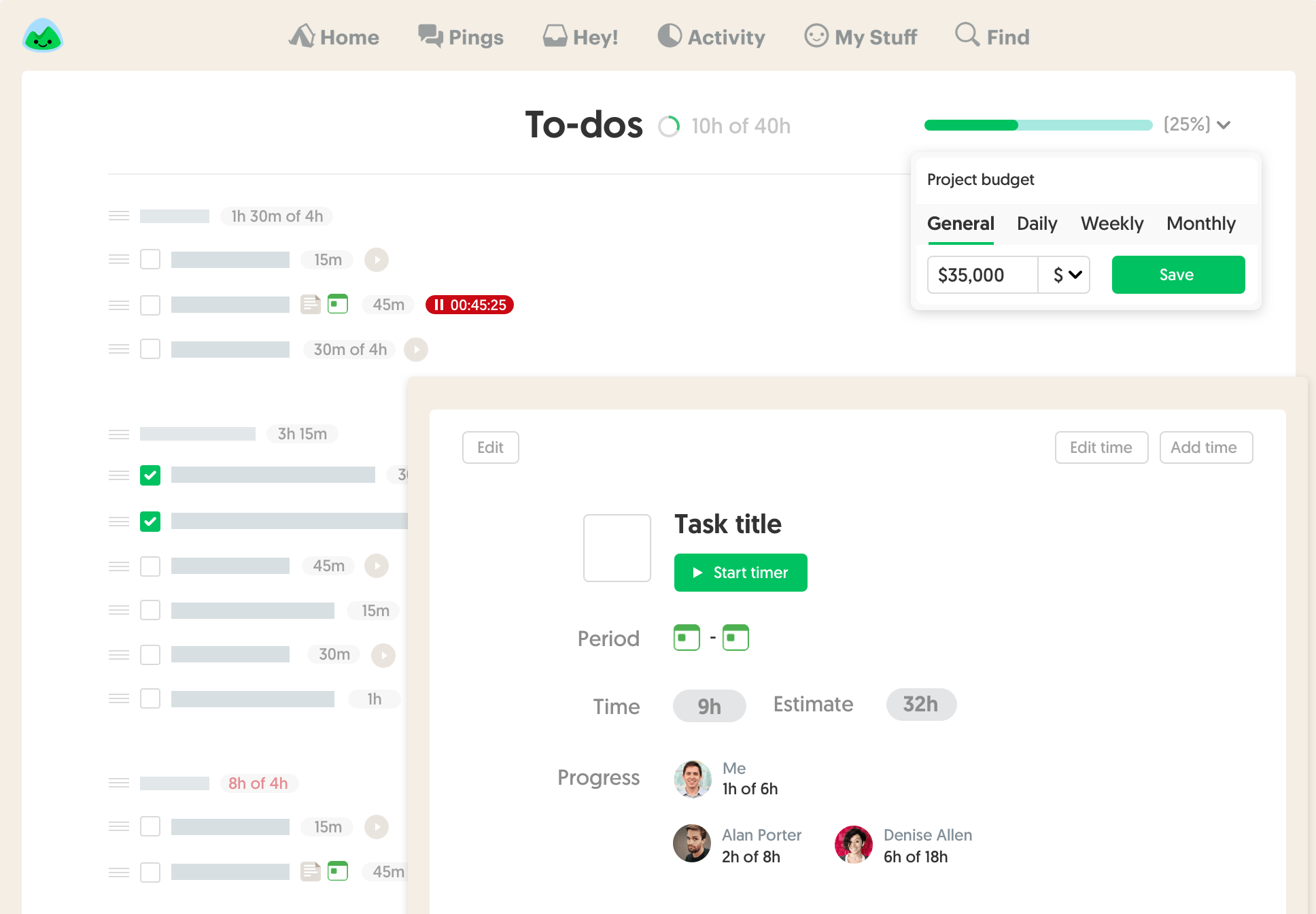 4. TeamWork
TeamWork projects is a very user-friendly project management tool that's easy to use and has a nice eye-catching design. It is similar to Basecamp but with more features.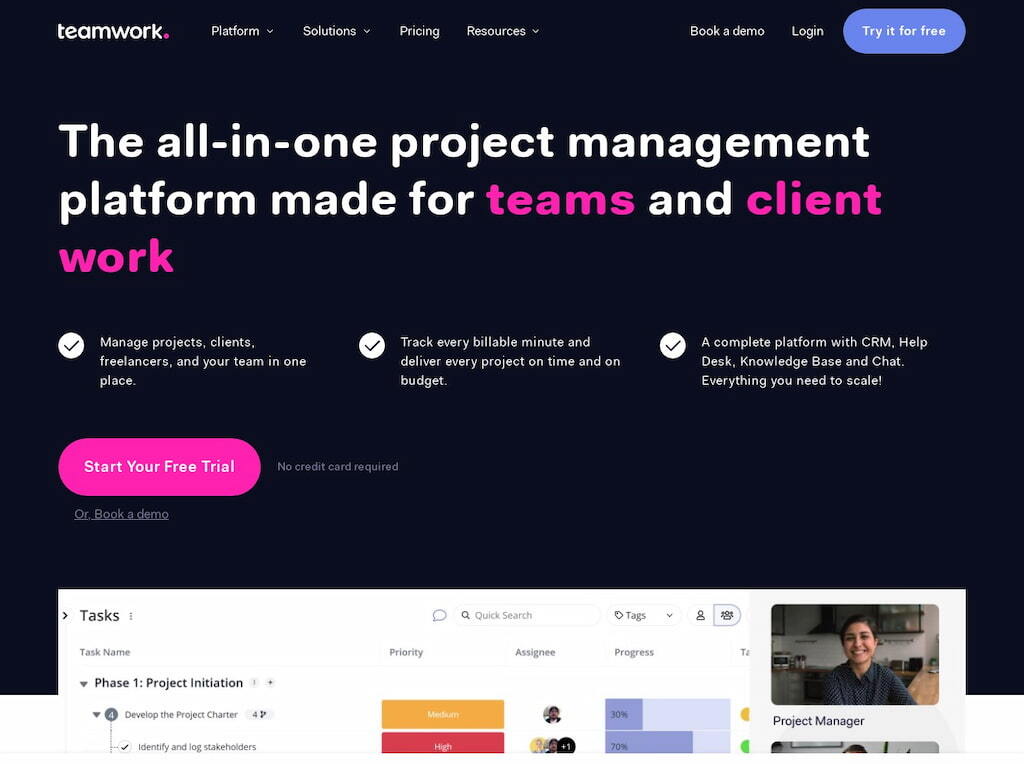 In addition to the built-in analytic tools, TeamWork gives users collaboration tools that you won't find anywhere else, including sending messages and shareable notes, the ability to give tasks priorities, assign tags, create milestones and invoices.
TeamWork also integrates with your email, and not just normal integration, you can actually create and assign tasks via email.
With TeamWork, it's more about managing everything, not just tasks like with Asana or Trello.
Key Features of TeamWork 👍
Tons of features: Time tracking, Gantt charts, subtasks, reports, etc.
Easy integration: Communicate and even send tasks via email. Also integrates with Microsoft Outlook, Google Calendar, and iCal.
Robust document management: Document management systems link with NTFS, FTP, SVN, SV3, Dropbox, Google Drive.
Mobility: A mobile application is available for iPhone, Android, Blackberry, and Windows phones, giving users access from anywhere with internet access.
Shortcomings of TeamWork 🤔
Tedious: There are a lot of features and it might be a disadvantage as well as an advantage – it can be tedious to get to where you need to be.
Can be overwhelming: May require a learning curve.
5. Podio
Podio is a web-based project management tool that is completely customizable to suit your project needs.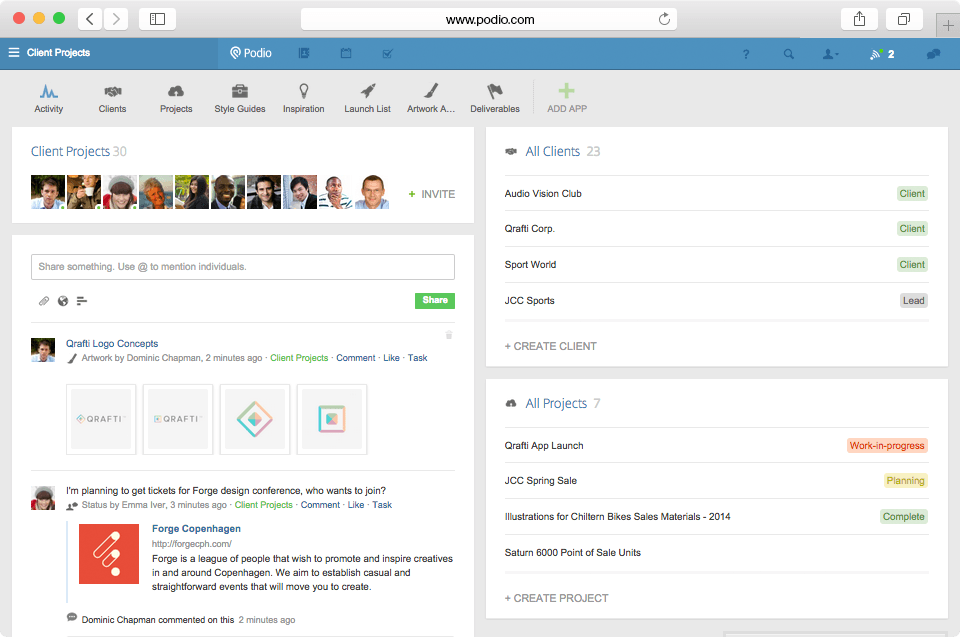 Organizations can have different workspaces for different departments, or one workspace for the entire organization depending on preference. Within the workspace, different tools and apps provide direction and user flow, and within these apps are multiple items that provide details on each individual contact or project.
These items can then be broken down into a checklist, or different tasks, and can then be assigned to selected employees to complete.
What makes Podio different is that Podio is used to build custom business Apps. For example, you can create a Projects App and a Tasks App and connect them to each other. Or create your own CRM workspace.
Key Features of Podio 👍
Communication tools: Instant messaging and video chat give users the outlets they need to quickly and efficiently communicate about projects and tasks.
Smart tracking: Automated progress reporting and calculations provide an insight into your operational efficiency.
Complete compatibility: Android, iPhone, and iPad Apps are available so you can access it no matter where you are.
Shortcomings of Podio 🤔
Can be confusing: The program is very robust, but with increased functionality comes hard usability, and Podio can be a little tough to get the hang of.
No time tracking functionality: Just like most other project management tools out there, Podio doesn't have a time tracking feature.
6. Wrike
Wrike is one of the few project management tools that's embracing email as others are trying to limit the number of emails sent, and the software centralizes around individual tasks.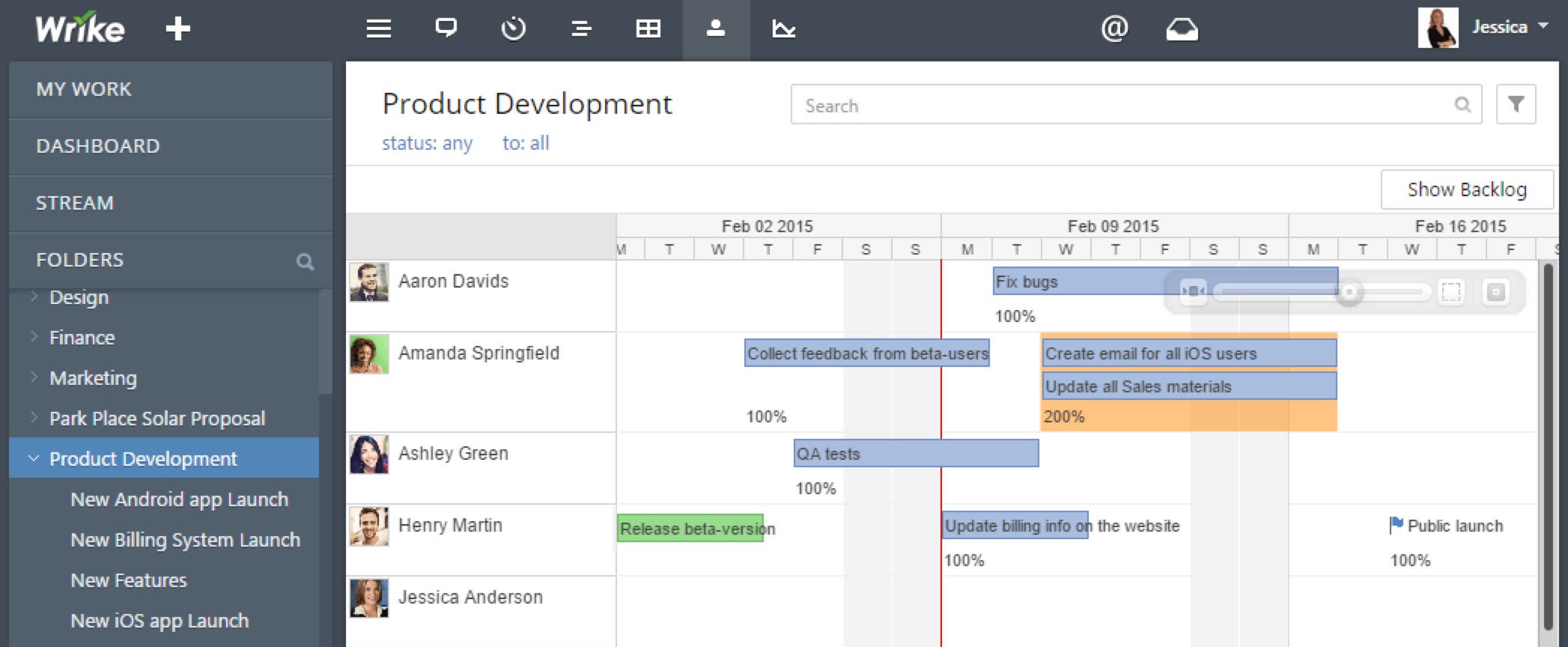 Both collaboration and file sharing take place at the task level, and each task can essentially be looked at as a mini-project.
Wrike also keeps all users in the loop at all times with customized desktop notifications, so if anything is updated, changed, or added to a task, all users within that task get a notification. It also integrates with your email and makes it incredibly easy to tag or email other users about a task or project.
And chances are that if it works for the Hootsuite marketing team, it'll probably work for you too.
Key Features of Wrike 👍
Easy collaboration: Through the use of tasks, collaboration amongst teammates is effortless as everyone is notified of every project detail.
Seamless integration: It can integrate with your email and allows you to quickly tag other team members and send updates on tasks or projects.
Multi-projects assignment: It is possible to relate one task to multiple projects — without duplication. This is very useful when a task is relevant to concurrent goals or when due dates are applicable to multiple projects.
Gantt charts: Wrike provides built-in Gantt charts. For example in Asana, you have to integrate with Instagantt.
Shortcomings of Wrike 🤔
Tasks are difficult to break up: With everything broken into tasks, there can be a lot of files, comments, etc that build up within a task and there is no good option to break them up.
Cluttered: This is a very in-depth program and can become very cluttered and somewhat difficult to navigate if you aren't familiar with it.
7. Shortcut
Shortcut is another easy-to-use project management tool and is especially useful for software development teams. Instead of being crammed with a bunch of fancy features you'll never use, Shortcut has everything you need with a simplistic user interface.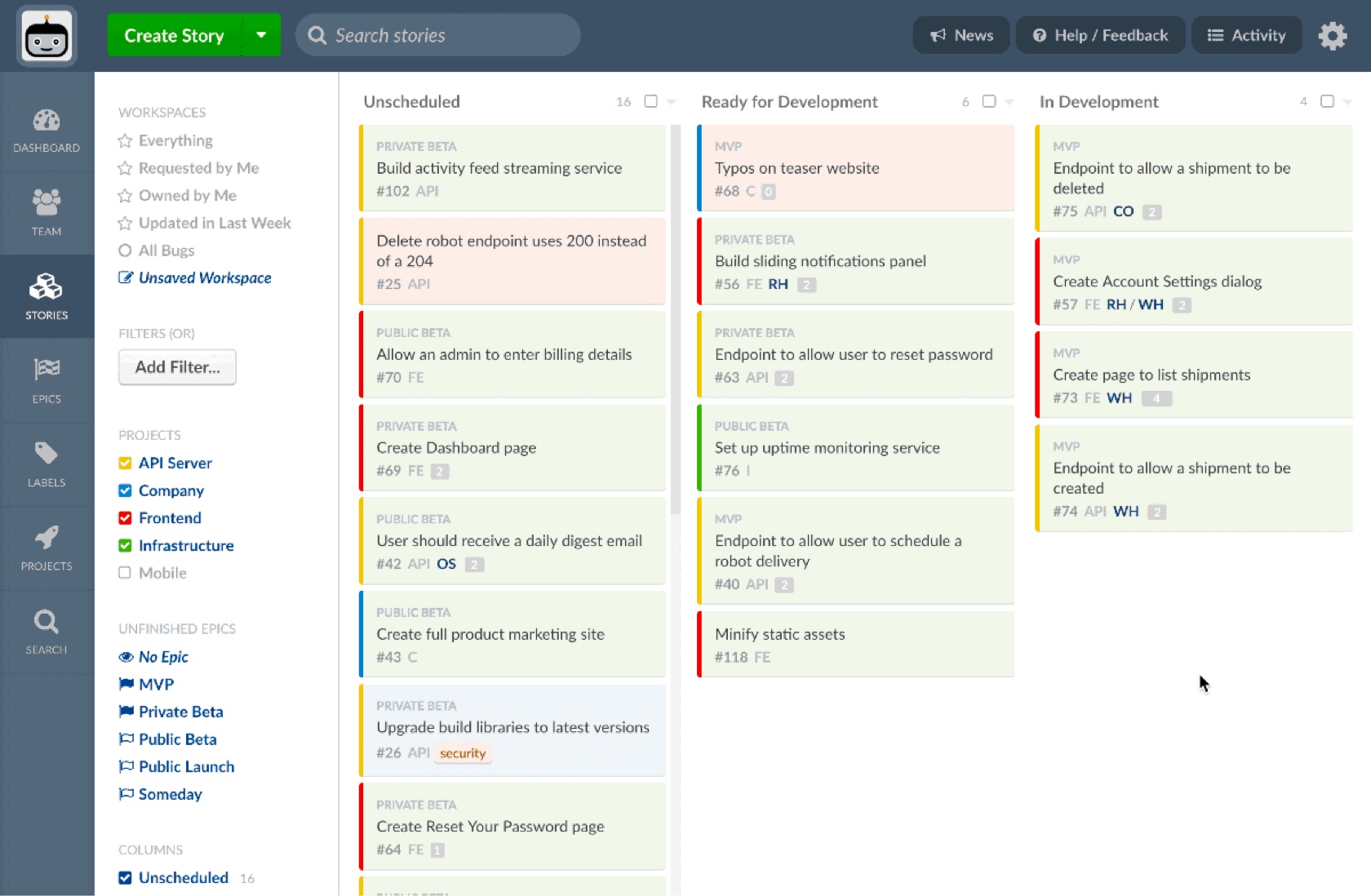 It also allows for easy progress tracking and predictive analytics, perfect for software developers. Here is why Geckoboard team moved from Trello to Shortcut.
Key Features of Shortcut 👍
Сoncept of epics: Cards can be linked
Flexibility without complexity: It's quick and simple to set up the workflow for your company to make tasks move as fast as possible.
Customizable dashboard: See all work across multiple projects and epics, or drill down quickly using a wide range of filters.
Shortcomings of Shortcut🤔
No cutting-edge features: While not being bogged down with useless features is nice, some innovative features never hurt anyone either.
No time tracking: While it does have progress tracking and predictive analytics, unfortunately, Shortcut does not offer any time tracking functionality.
8. Flow
Flow is one of the more visual project management tools, and its main goal is to give everyone on the team high-level transparency into everything the team and/or company is working on.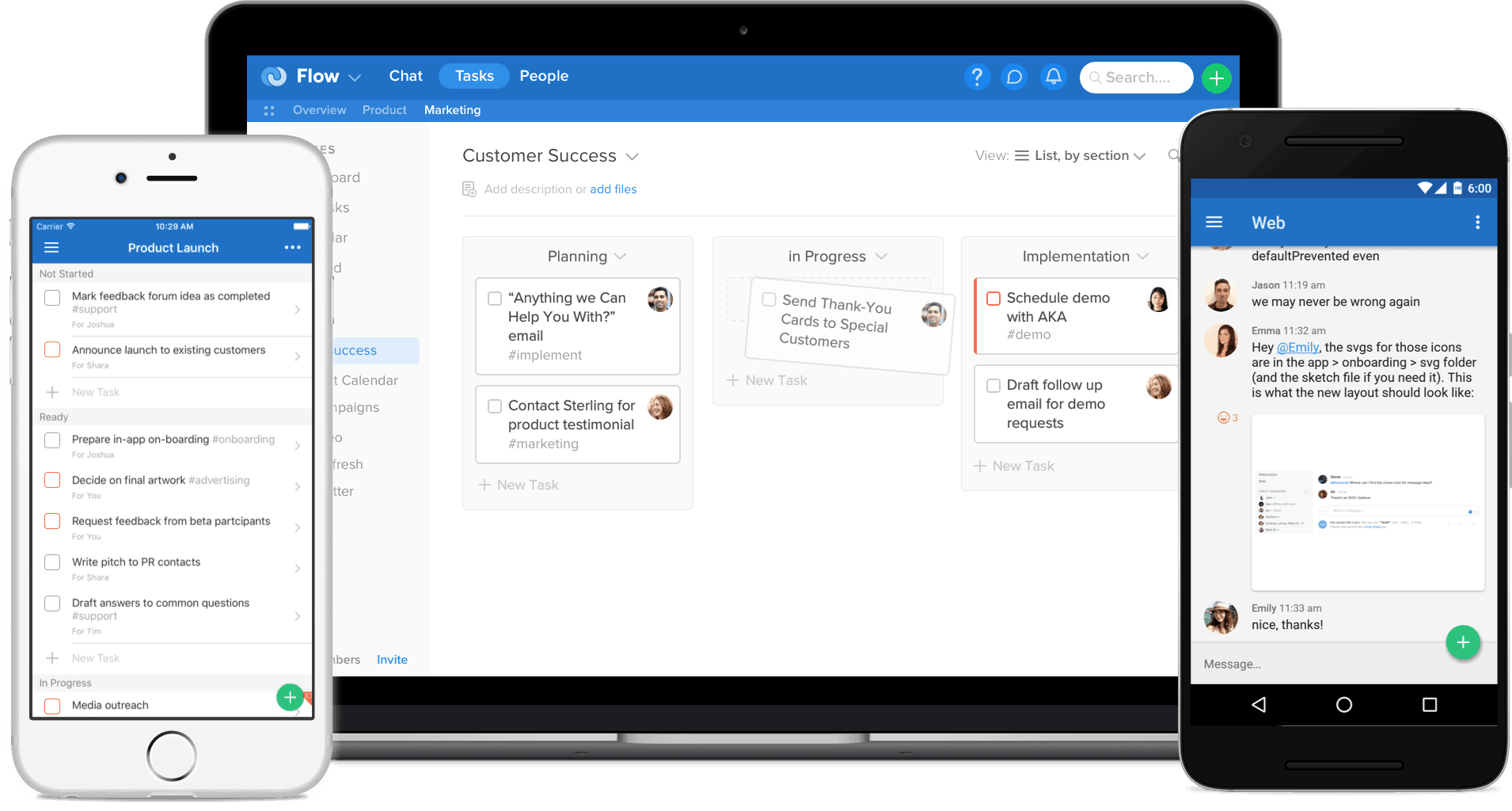 It covers everything from day-to-day personal tasks to projects with your team at work. With Flow, you can organize your entire life in one place instead of having to jump around between different apps for personal, work, side projects, etc.
Flow is gorgeous. The guys at MetaLab have really paid attention to the details, and it shows.
Key Features of Flow 👍
A Mac app;
Delegating: When you delegate something, you'll be notified when they've completed the task, and everyone who is part of the project can keep track of who is working on what in a concise manner.
Catch-up feature: The Catch-up feature allows you to take a quick glance at everything you need to catch up on all of your projects.
Shortcomings of Flow 🤔
Integration: While the program itself is excellent, the integration options offered and the email integration leave something to be desired.
Organization: Being able to find all links or all recent links at one place would make things a little more convenient.
9. Redbooth
Redbooth is great project management software for those looking for something simple to organize tasks and files while improving efficiency and communication.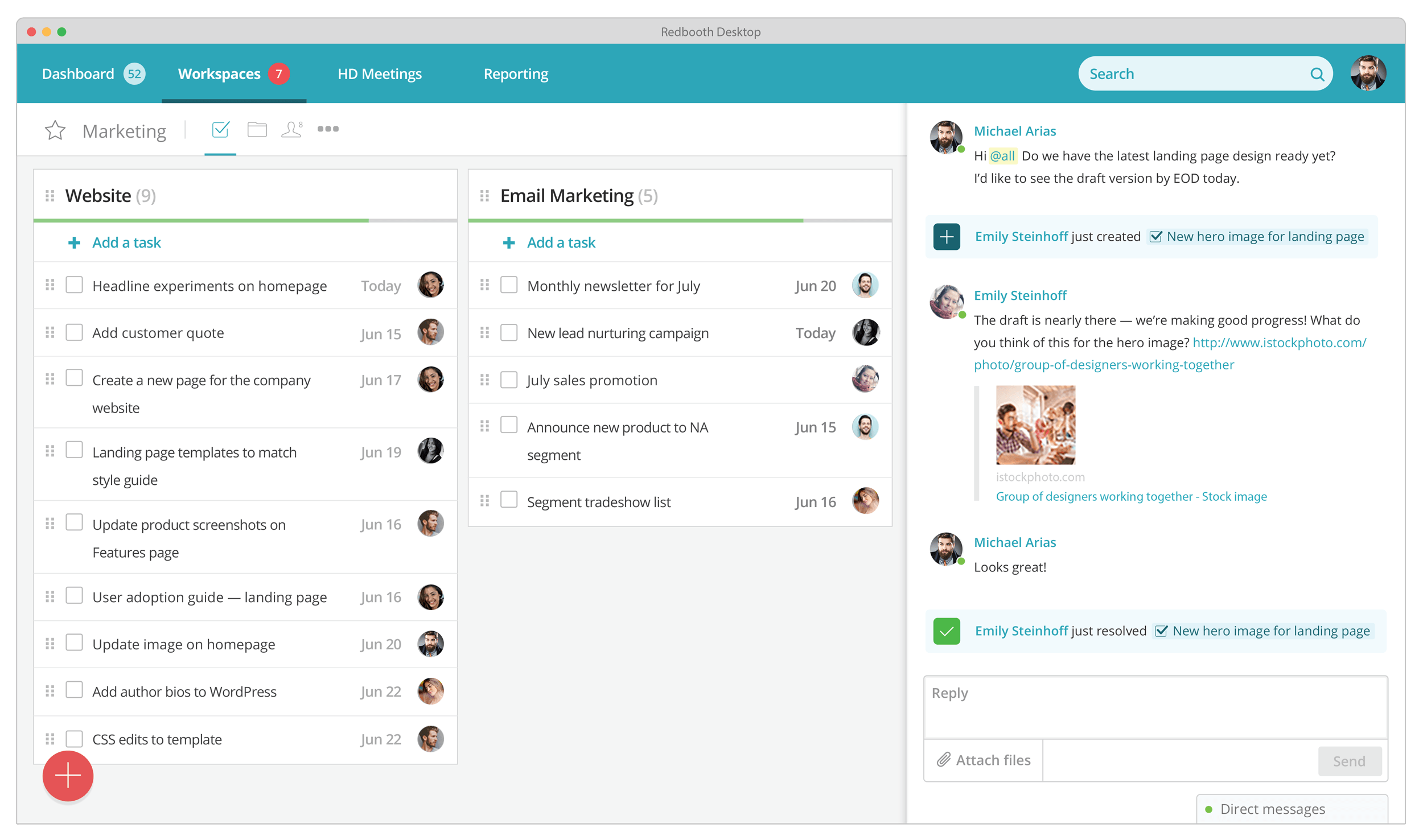 It is easy to use and navigate and allows users to easily check and update current projects and individual tasks. The program also offers an interactive dashboard for easy operation showing all tasks, and with a simple click, all details can be viewed and added including the due date, comments from team members, and attachments or files.
Redbooth also features a workload chart, allowing managers to quickly view all tasks assigned to each employee and their due dates so their workload can be managed accordingly. You can also track time in Redbooth to improve your team's work.
Key Features of Redbooth 👍
Workload chart: This allows managers to get a quick view of who is doing what and when tasks are due.
Quick access to files: A centralized file location makes it easy to find anything you need.
Integrations: Redbooth integrates with Slack, Box, Google Drive, Dropbox, Zendesk and Zapier
Shortcomings of Redbooth 🤔
No advanced task-management capabilities: Currently there isn't a way to make one task contingent upon the completion of another task, and the program also doesn't allow for recurring tasks.
Unable to customize workspaces: Customization isn't a huge issue, but some like to be able to tailor their workspace or dashboard to fit their preferences which Redbooth does not offer.
10. ActiveCollab
ActiveCollab is a great project management tool for keeping organized, and its powerful, yet simple interface always gives you a nice overview of any and every project your team is working on.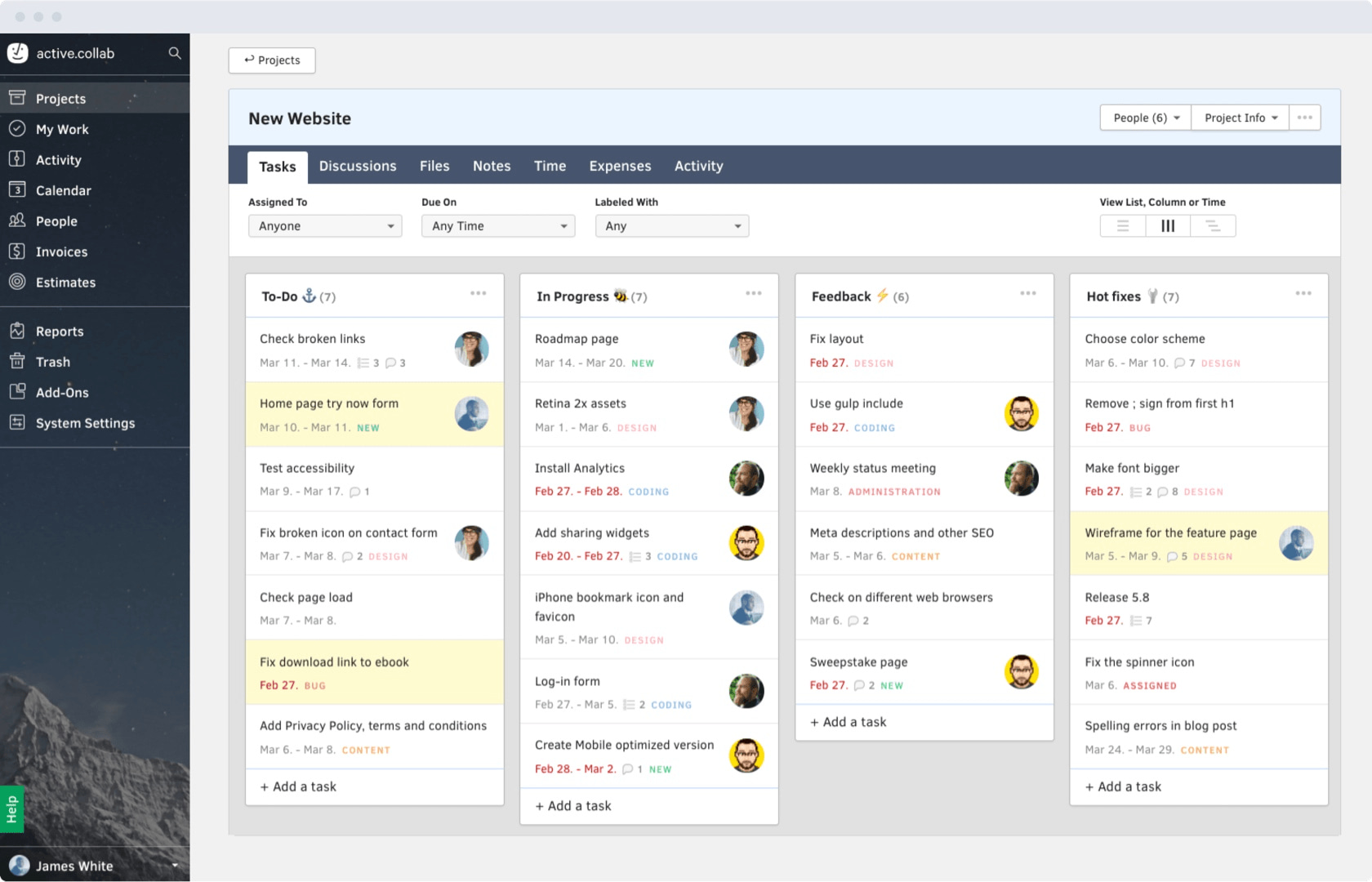 What's different about ActiveCollab is not surprisingly the collaboration features, as it actually allows you to bring clients on the board to collaborate with you on projects.
With ActiveCollab, you can easily assign tasks to a team, get detailed overviews of each project, estimate and track the time spent on each task, and even issue invoices to clients.
Key Features of ActiveCollab 👍
Time & expense tracking: You can easily track or estimate the time it takes to complete tasks.
Ease of use: The intuitive user interface makes it easy to use and learn even for those not familiar with the program.
Self-hosted plan: If security is something you're concerned about, the self‑hosted version gives you full control over your data.
Shortcomings of ActiveCollab 🤔
No check-in or check-out features: Unfortunately, there is no way to check-in or check out.
Not being able to change tags from the projects page: Instead of being able to change tags from the projects page, you instead have to go into each individual project to edit the tags.
11. Taiga
Taiga is a little different than the others when it comes to project management tools.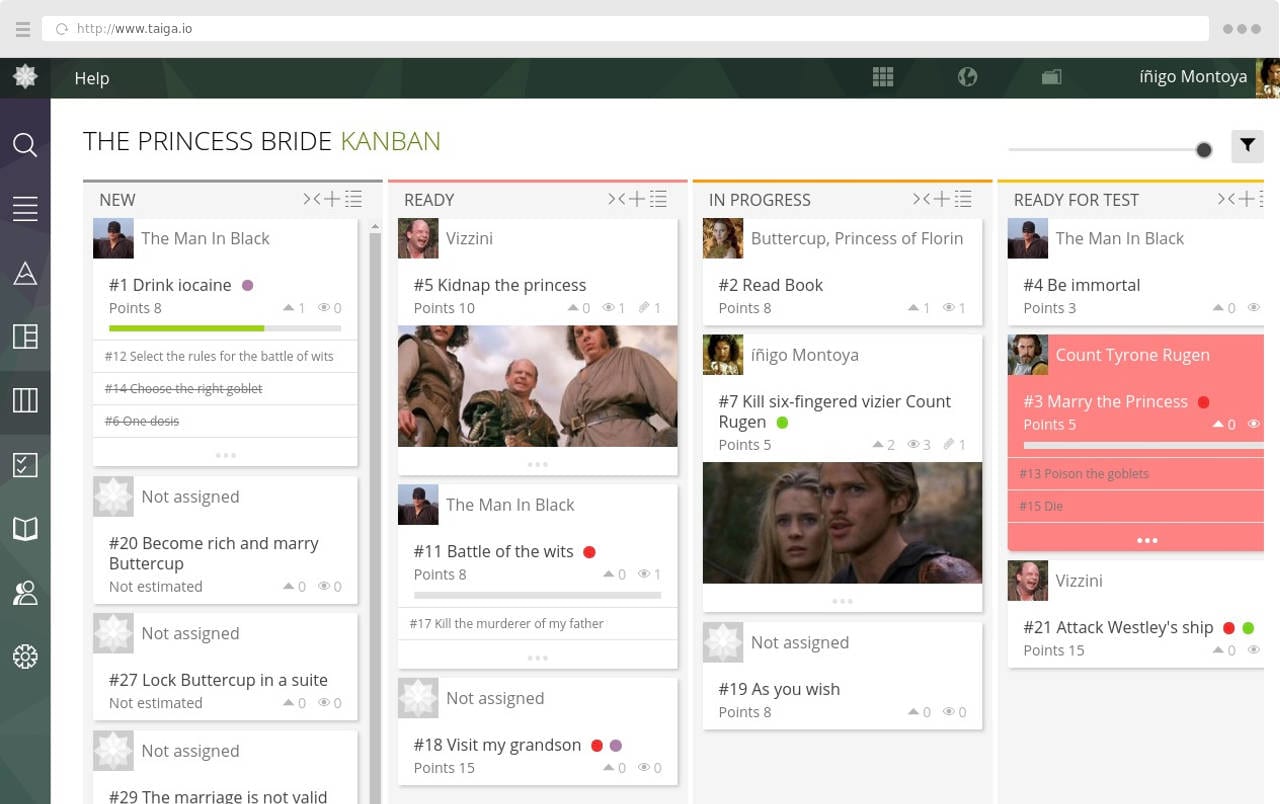 It is designed specifically with startups and agile developers in mind and is a powerful, free, open-source management platform that's great for agile implementation.
Key Features of Taiga 👍
Bug tracking: Being able to track bugs is essential to software development and the way it's done is simple and easy to monitor.
Collaboration: The collaboration features within Taiga allow the project management teams and development teams to stay on the same page.
Milestone tracking: Being able to track milestones and mark them as done always keeps you up to date.
Shortcomings of Taiga 🤔
User interface: The program is great for developers and is very clean but it's also a bit plain and the user interface is not overly friendly.
Difficulty: As a program that's made pretty strictly for software developers, if you aren't very familiar with coding and the development side of things this program can be very challenging to use.
12. Atlassian JIRA
Jira is pretty standard these days at any software development company. This is the most powerful and flexible project management tool but there's a learning curve in terms of setting the workflows up.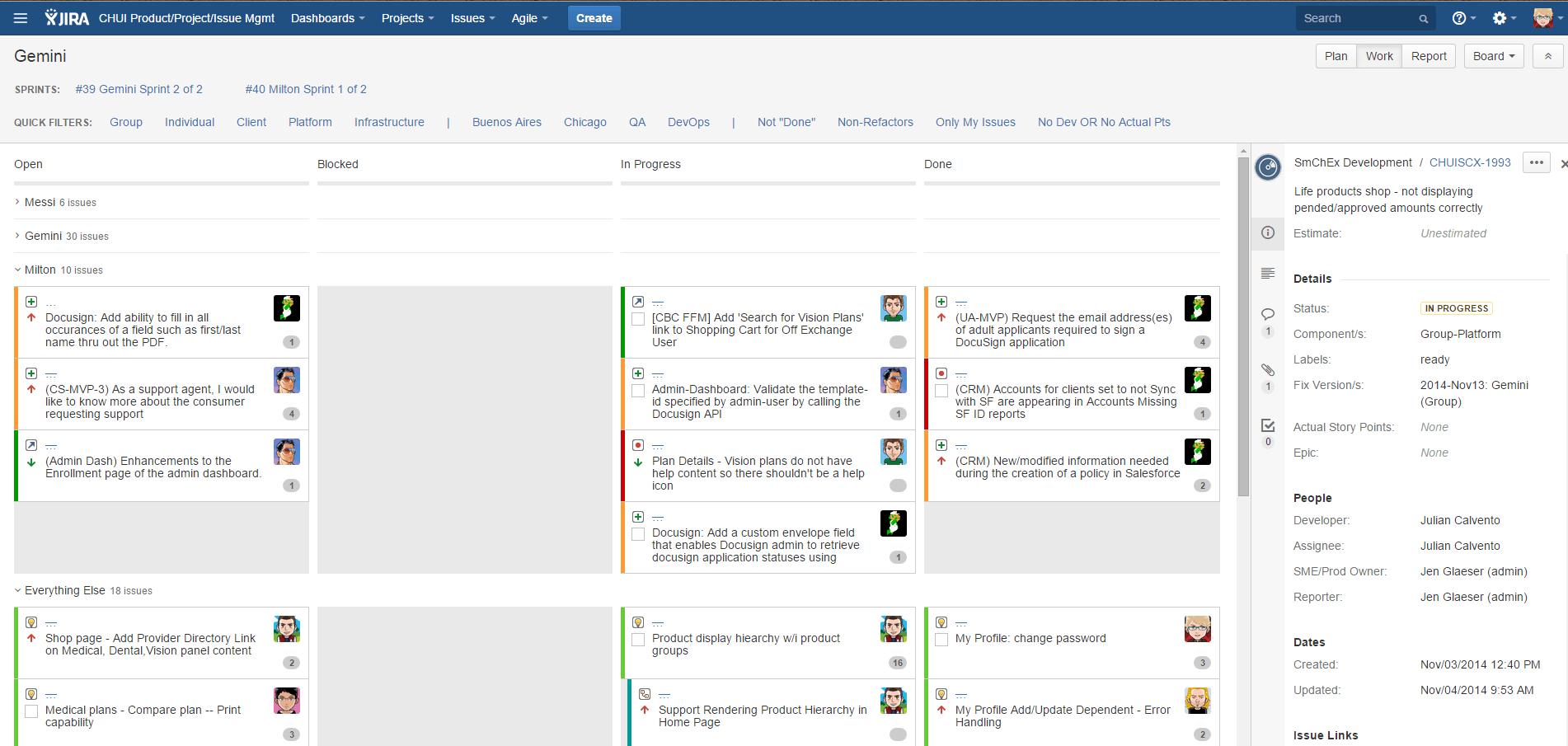 It has an extensive feature set and customizations are endless. Everything integrated into it – from Confluence, Bitbucket & Project management. That said it requires significant administration effort to use.
Key Features of JIRA 👍
Integrations: Because so many people use Jira, lots of vendors make sure that their products interface with Jira as well. Integrate Jira with Everhour to time track all issues and view beautiful and super helpful reports. Create accurate invoices from the logged work just in a few clicks.
Customizable workflows: Create custom workflows of any size that match the exact way your teams build, test, and release software.
Flexible dashboards: Create a personalized view of JIRA. Share dashboards to track project status, create custom reports, and monitor team wallboards.
Shortcomings of JIRA 🤔
Cluttered: When there are a lot of individual subtasks that are linked to the master task, the workflow can become difficult to follow.
Difficult to understand: JIRA is a fairly complex program that comes with a bit of a learning curve for most.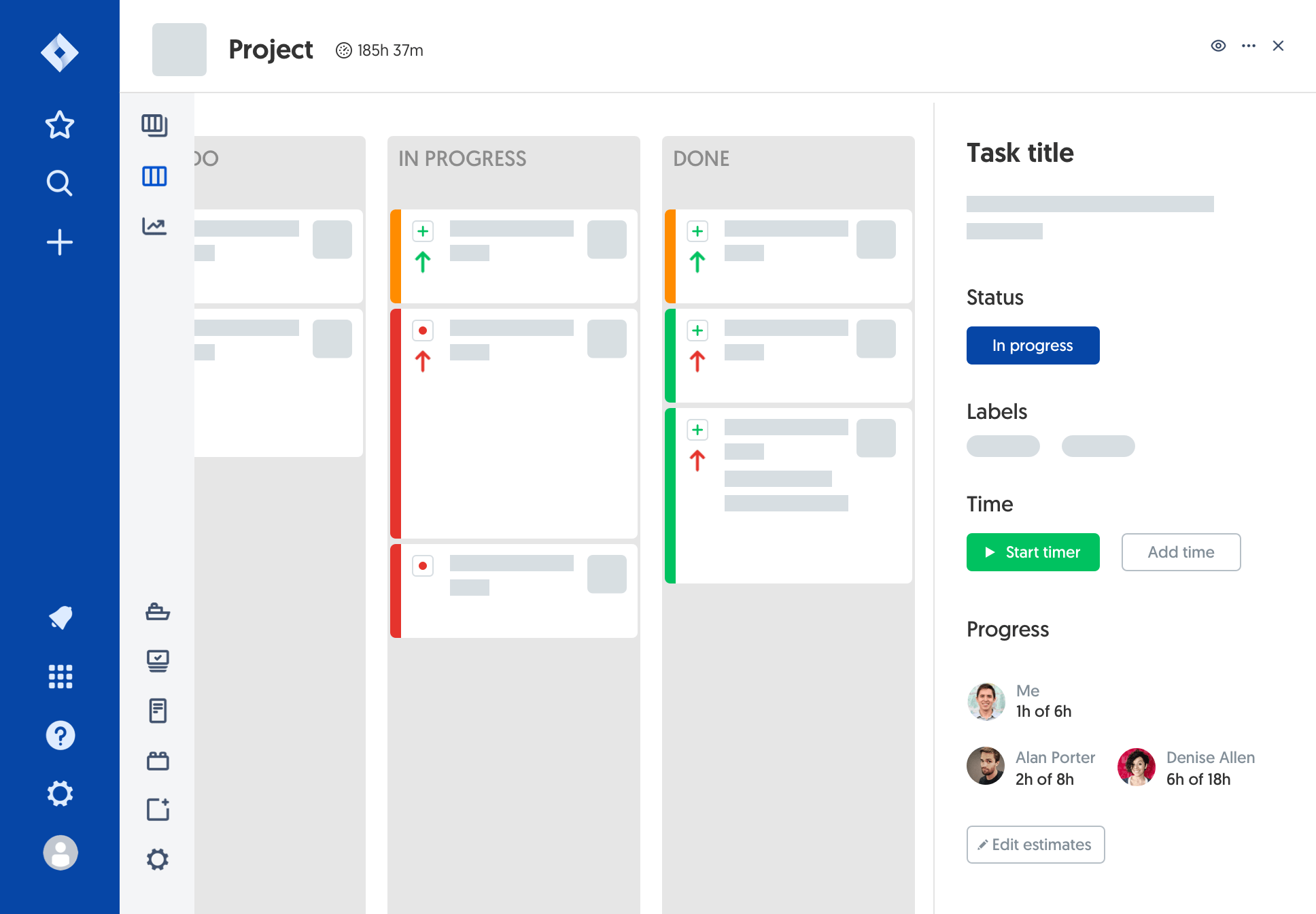 13. Pivotal Tracker
Pivotal Tracker is another project management tool made for software development, and it's a great, lightweight tool.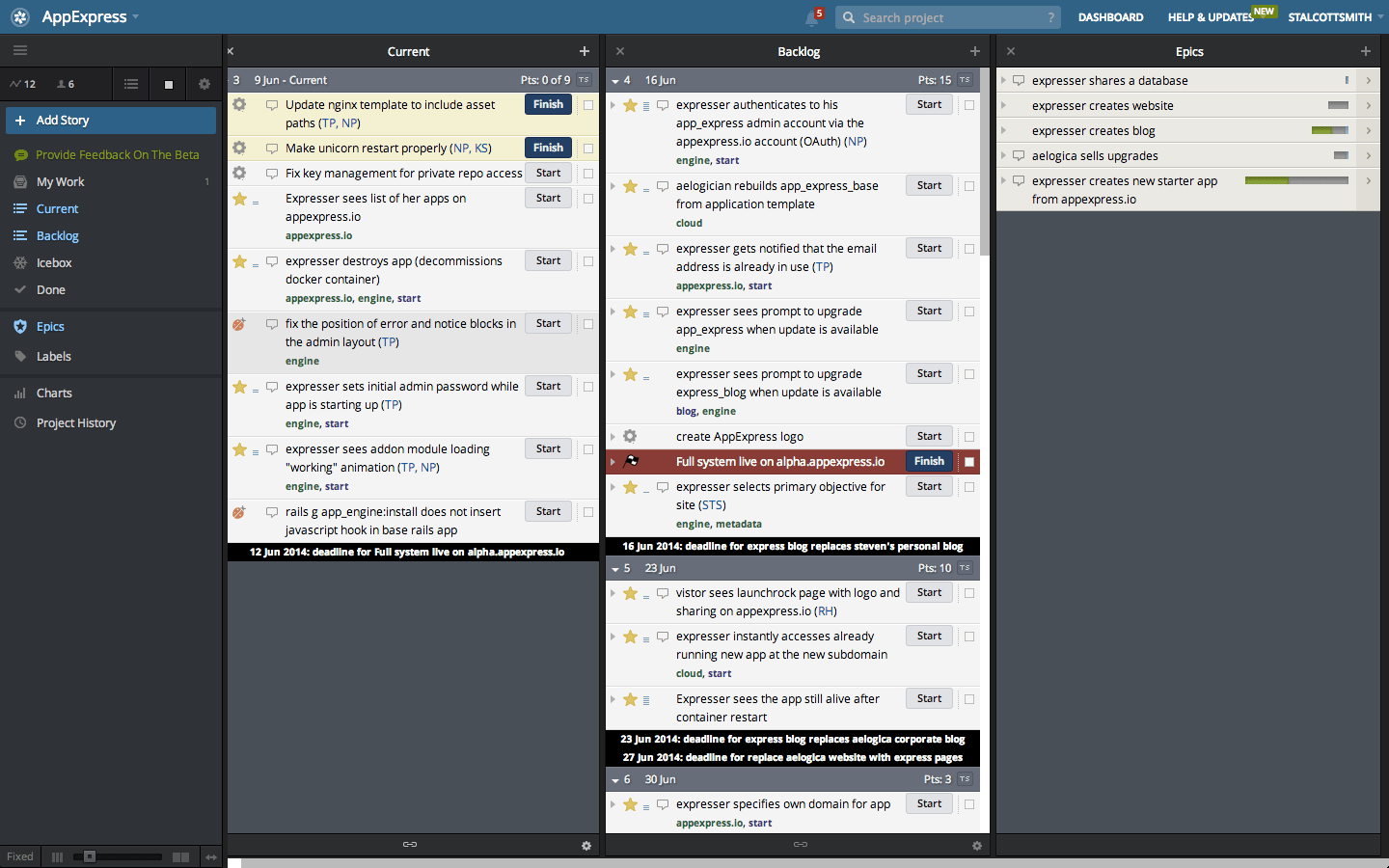 It is very simple to use for agile development and works well if you like the Kanban/iteration concepts. Developers tend to like it a lot. But it is not a great issue tracking system. If you start adding bugs to it, the project backlog and icebox quickly become very large.
Key Features of Pivotal Tracker 👍
Very in-depth: The program was clearly made for and by software developers, and the program's workflow process is excellent.
Top-notch collaboration: Communication is made easy with comments and tags so everyone on the team is on the same page.
Shortcomings of Pivotal Tracker 🤔
Opinionated: If you like to work the way Pivotal Tracker expects you to work, being okay using their vocabulary and flow, then it's a great tool.
User interface: The interface is a bit slow and isn't the best and easiest to operate, but it gets the job done.
Difficult: Estimating tickets and other tasks can be difficult to learn as a non-developer working on this platform.
No time tracking & estimate functionality: Unfortunately Pivotal does not have time tracking capabilities, although, with a simple add-on like Everhour, users can easily track the time employees spend on tasks and more.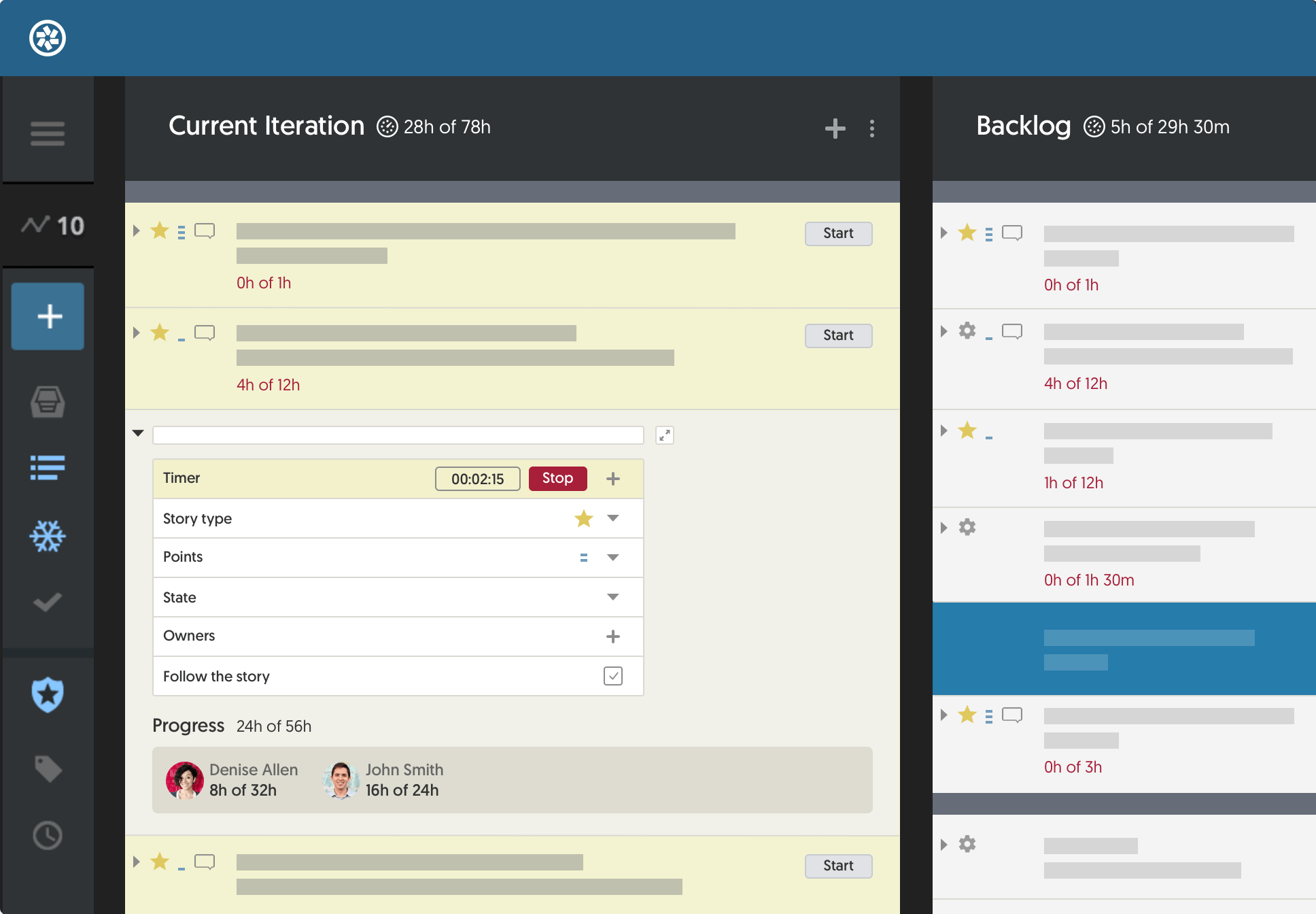 14. Targetprocess
Targetprocess is a project management tool most commonly used for software development, but it can also be used for marketing, education, and recruiting.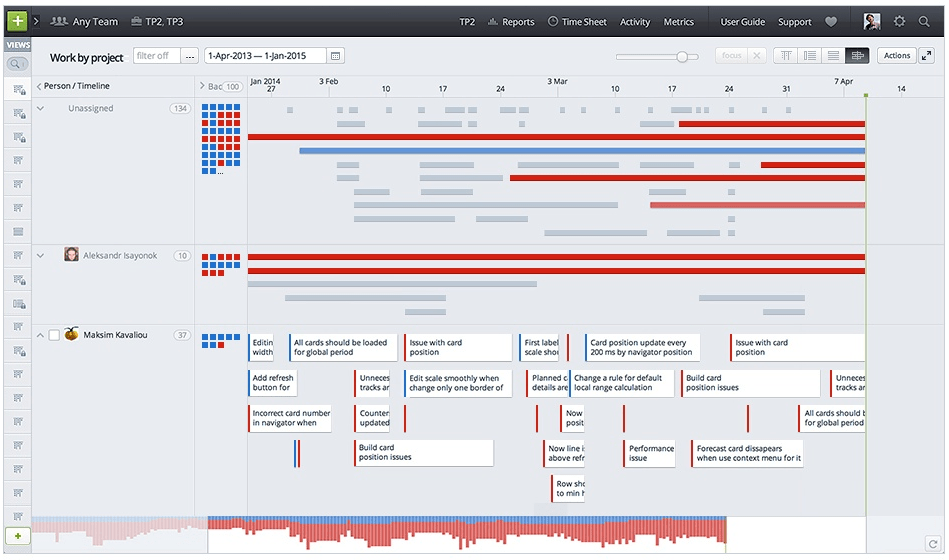 The software gives you the transparency you need across teams to manage agile projects, and its flexibility adapts to your business workflow and management approach. Through enhanced visualization functionality, you can visualize and manage any agile project.
Key Features 👍
Mobility: Both iOS and Android apps are available so it can be used on the go.
Time & expense tracking: Easily track the time spent on each project to help maximize efficiency.
Modern interface: This slick and modern interface has a nice look and feel to it.
Shortcomings of Targetprocess 🤔
Difficulty: As a very in-depth program, there is a fairly slow learning curve and a slightly intimidating interface.
Setup time: The program starts you off with a blank canvas. Setup isn't overly difficult, but it is very time-consuming to get everything working and flowing the way you need it to.
Project Management Tools: Comparison Table
*Rating is taken from Capterra
Name (link)
Focus
For Whom
Price
Rating
Asana
Focus on quick task tracking & communication
For the CEO and the product manager
Free for up to 15 members; $9.99 /month user;
4.5 / 5
Trello
Kanban boards and visual planning
Individual team members, best for collaborative brainstorming
Free or $12.50 /month user;
4.5 / 5
Basecamp
Focus on handling small projects and remote teams
Businesses with small, repeatable projects, everyday users
$99 /month, flat;
4 / 5
TeamWork
Focus on communication and collaboration on tasks
Project and task management for more experienced users
Free for up to 5 members; $11.25 /month user;
4.5 / 5
Podio
More of a platform to create and manage structured records
For large teams of experienced users
Free for up to 5 members; $9 /month user;
4.5 / 5
Wrike
Focusing on getting you out of all your other apps
Small to medium-size teams with task-based objectives
Free for up to 5 members; $9.80 /month user;
4.5 / 5
Clubhouse
Trello on steroids for software projects, great pace of development
Sits close to Trello, but more for agile development teams
$10.00 / month
4.5 / 5
Flow
Prettier, more intuitive version of Asana and imminently more usable
Project management for visual managers
$7.50 /month user;
4.5 / 5
Redbooth
Focused on quick task tracking and collaboration tools
Managing workloads and task management
$12.00 /month user;
4.5 / 5
ActiveCollab
Simple tasks that require collaboration
Task and project management for small teams
$7.00 /month user;
4.5 / 5
Taiga
Open source program for programmers to track dev tasks
Project management for experienced software developers
Free for up to 3 members; $5.00 /month user;
4 / 5
JIRA
Great for software task management
Software developers, managers
$7.00 /month user avg. price;
4.5 / 5
Pivotal Tracker
Purely focused on the Scrum agile methodology
Middle ground between JIRA and Trello, very opinionated in workflow
Free for up to 3 members; $12.50 /month user;
4.5 / 5
Targetprocess
Strong focus on information visualisation
Software developers, recruiters, educators
$20.00 /month user;
4.5 / 5

nTask
Custom fields and many useful integrations
For remote teams and HR
$3 per month per user
4.5 / 5

Template.net
Create strong visuals to gather data and put together polished presentations
For marketing professionals
Free; $2 a month billed annually
4.5 / 5
Project Management Tools: Wrap-up
As you can see there are a lot of different project management tools out there, each with a little something different to offer.
It may just come down to what you're most comfortable with and what makes the most sense for your budget. But now hopefully you have a better understanding of how some of these tools work, and how simple add-ons can make some of them that much better!