Time tracking for Pivotal
Time estimates, budgets, reports & timesheets with Everhour's Pivotal time tracker. Works in your interface! No more tab switching!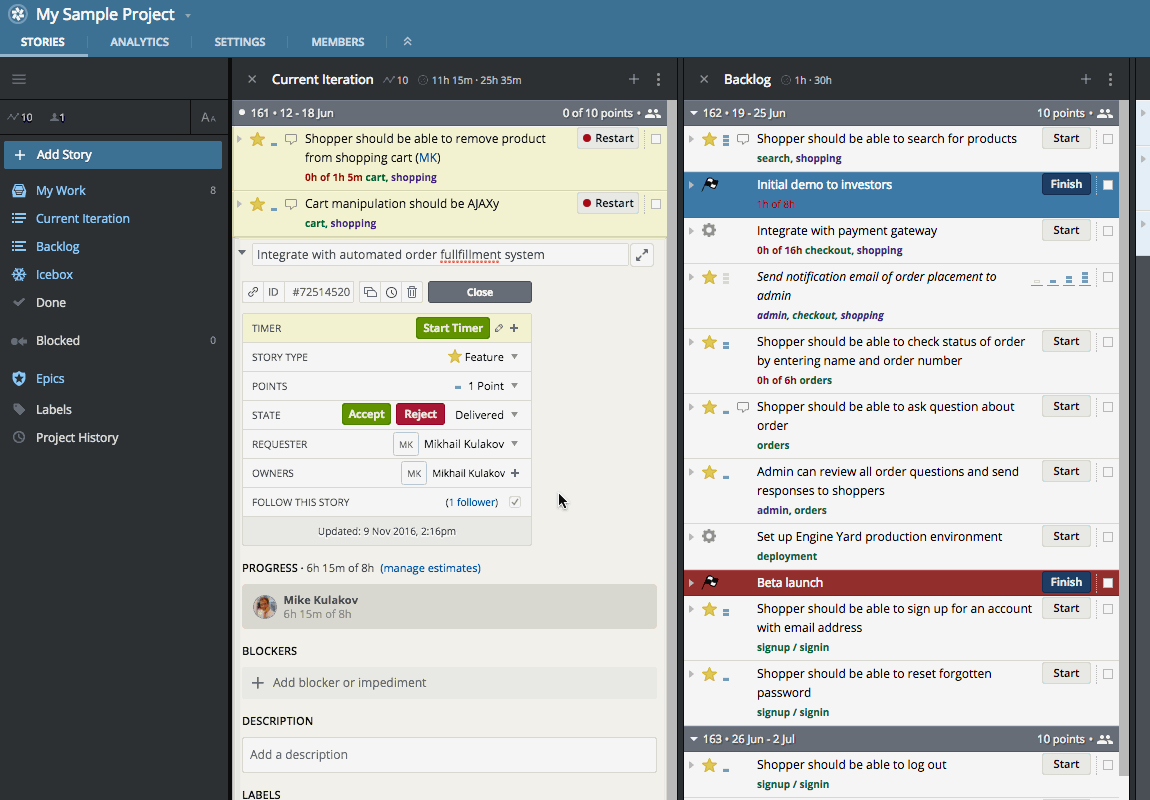 Why choose Everhour?
Here is why Pivotal + Everhour is the best time tracking integration on the market
1. Quick setup
When you connect Pivotal with Everhour, we sync all your active projects so that your team can start tracking time right away. No manual project setup is required.
2. Less employee teaching
You don't need to explain to your staff how to use additional software. Time tracking controls will appear right inside their Pivotal interface, making it easy for them to track time.
3. Accuracy
Employees often forget to track time as it's not convenient for them to switch between apps. Everhour eliminates these steps and improves time tracking accuracy.
4. Estimates are always in front of you
Everhour shows time vs. estimate beside task titles. When the entire team sees progress on tasks, they will urge you to ensure the work is done.
5. Automatic updates
When you add a new project or change the name of the existing task in Pivotal, we will sync this change automatically in Everhour. That means your reports will always show the freshest data.
6. Detailed reports
Our reports let you organize reported time using various information from your Pivotal tasks such as tags, iterations, statuses, types, etc. So you can dive deeper into analysis to get more accurate results.
How Everhour improves Pivotal Tracker?
Here are more details on how Everhour integrates with Pivotal Tracker
and what advantages it will give you
Time and estimate along with stories
With Everhour, you can easily track time in any task within Pivotal Tracker. You will see the timer and reported time next to the task title as well as the total time by the entire project.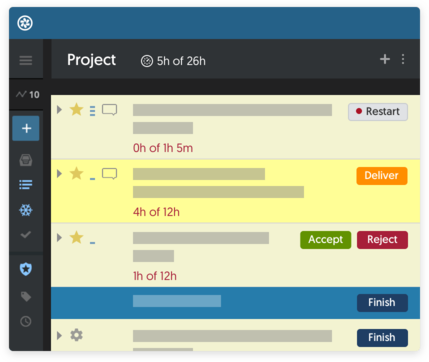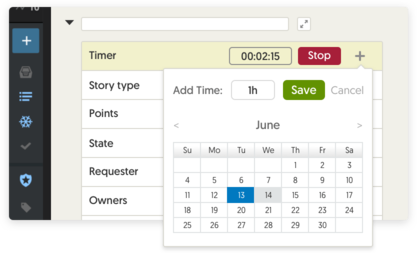 Use timer or log time manually
We encourage our users to use a live timer. This gives more accurate data, but you can always add time manually for the past date.
Track time, watch the progress
In the story details, you can see the reported time by each employee and its progress towards the original estimate.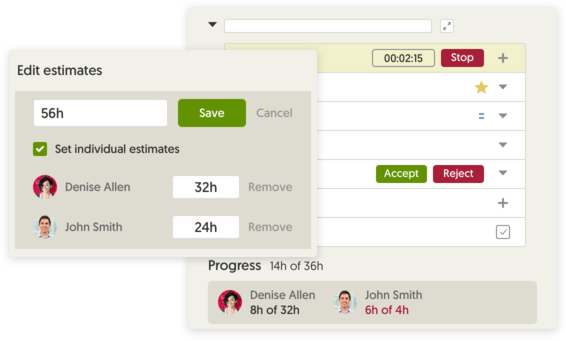 What else Everhour can do for you?
Besides controls we embed into the Pivotal Tracker interface, you will get access to
many extra features through our site
Easy-to-use time tracker. Know the time spent on tasks, hours of work, and breaks for each employee

Quickly evaluate what is going on in your team, review time reported, billable vs. non-billable time, and more

Simple and flexible projects billing. Set budgets to track progress in real time. Receive timely notifications

Create tasks, organize them in sections, add time estimates to keep everyone in the loop and on track

View your team's schedule, know how busy or available someone is, compare plan to the actual time spent

Track work-related expenses. Reimburse employees, use costs in project budgets, add to client invoices

Easily create an invoice based on tracked time and expenses. Connect with QuickBooks, Xero or FreshBooks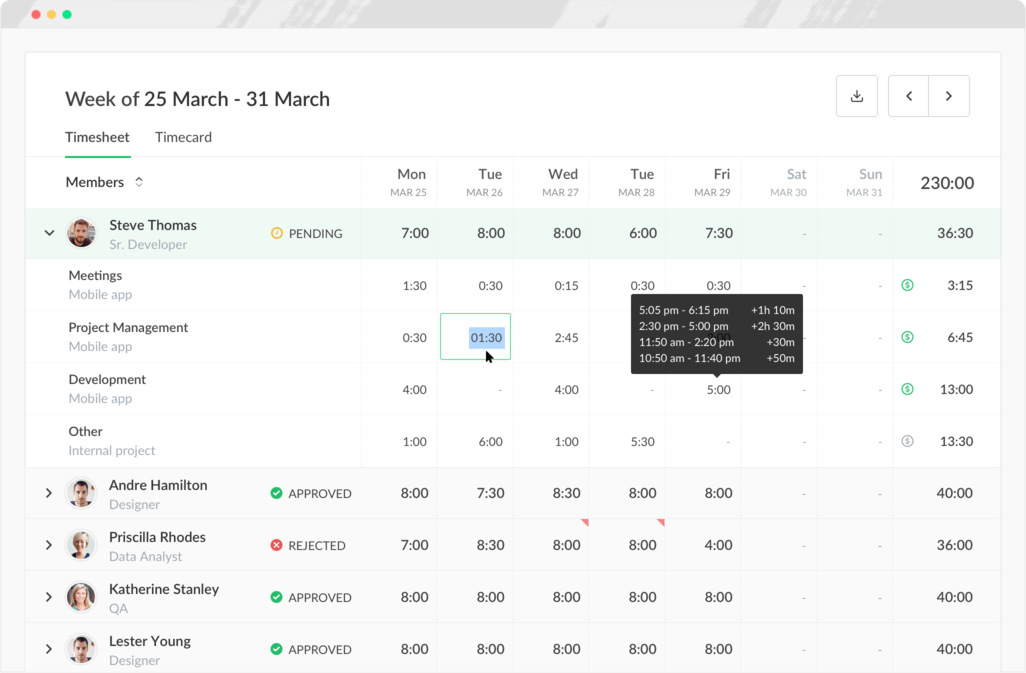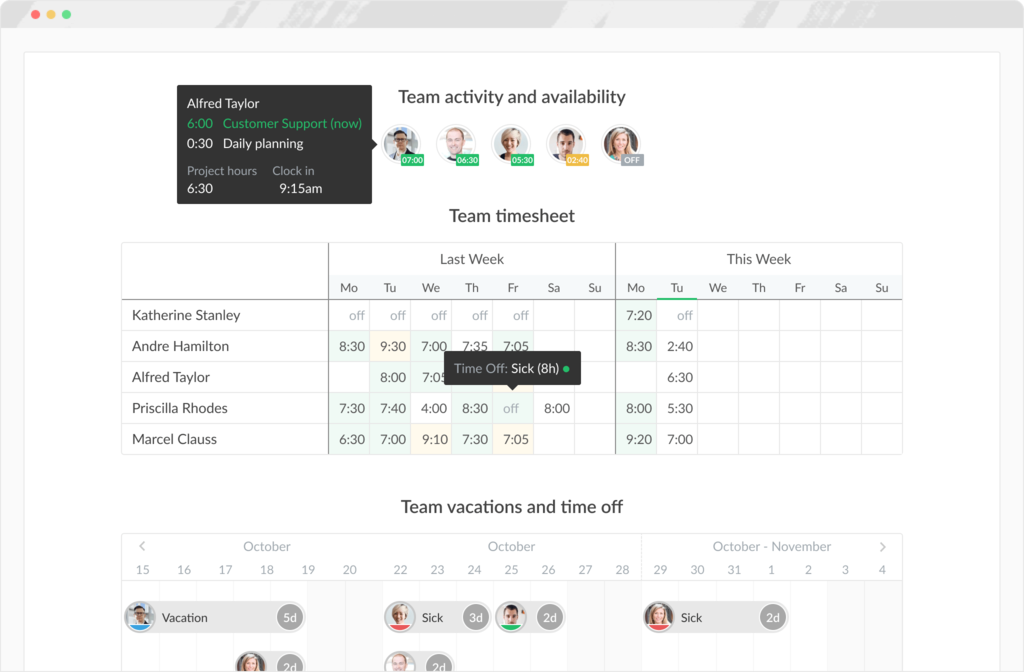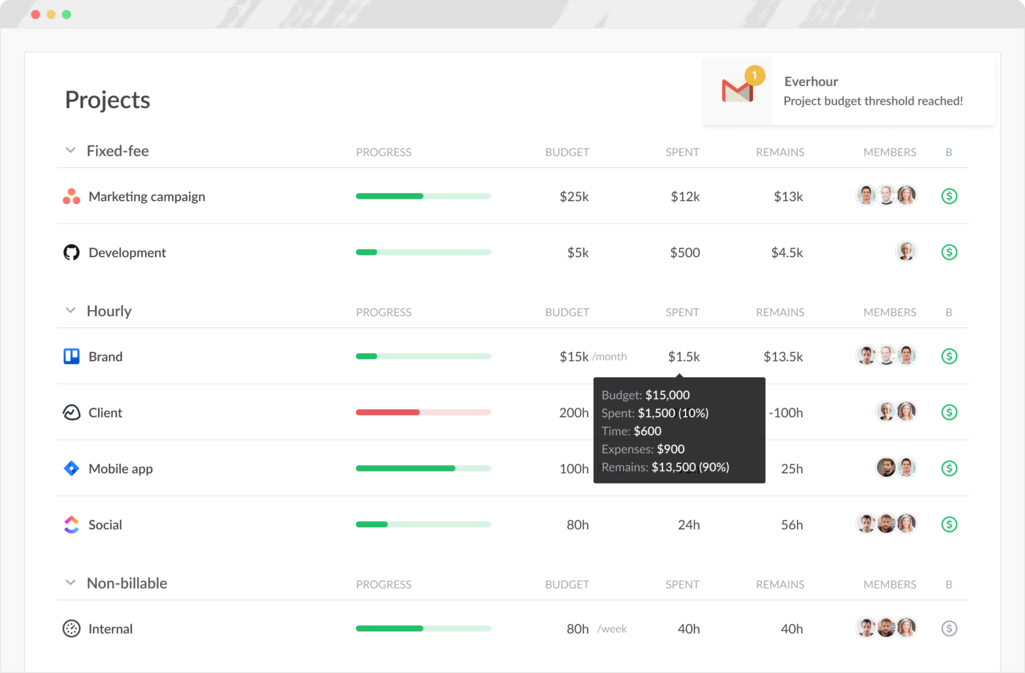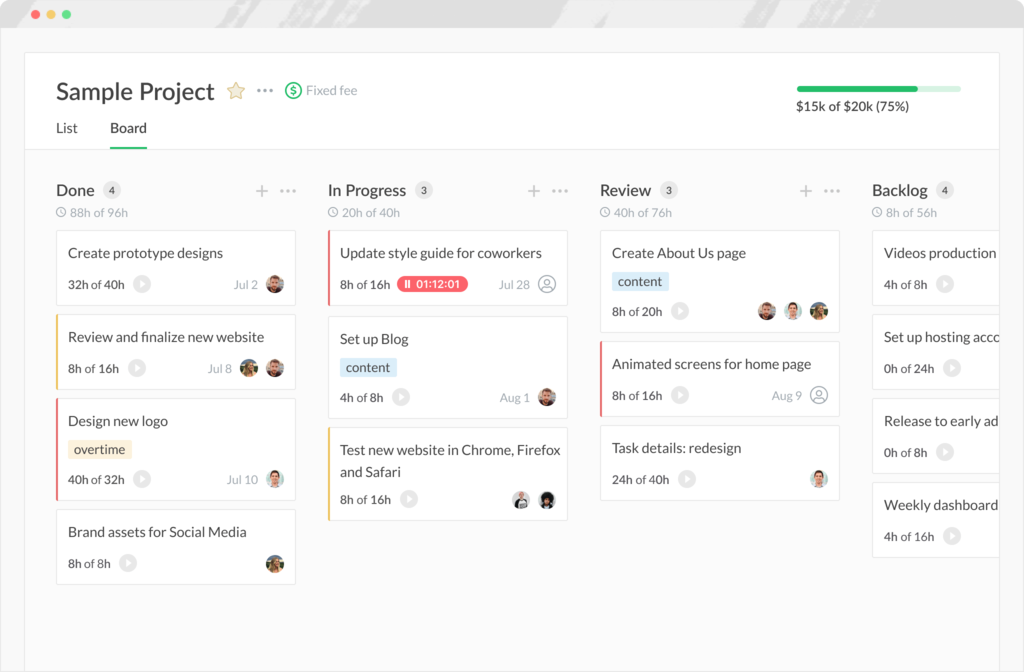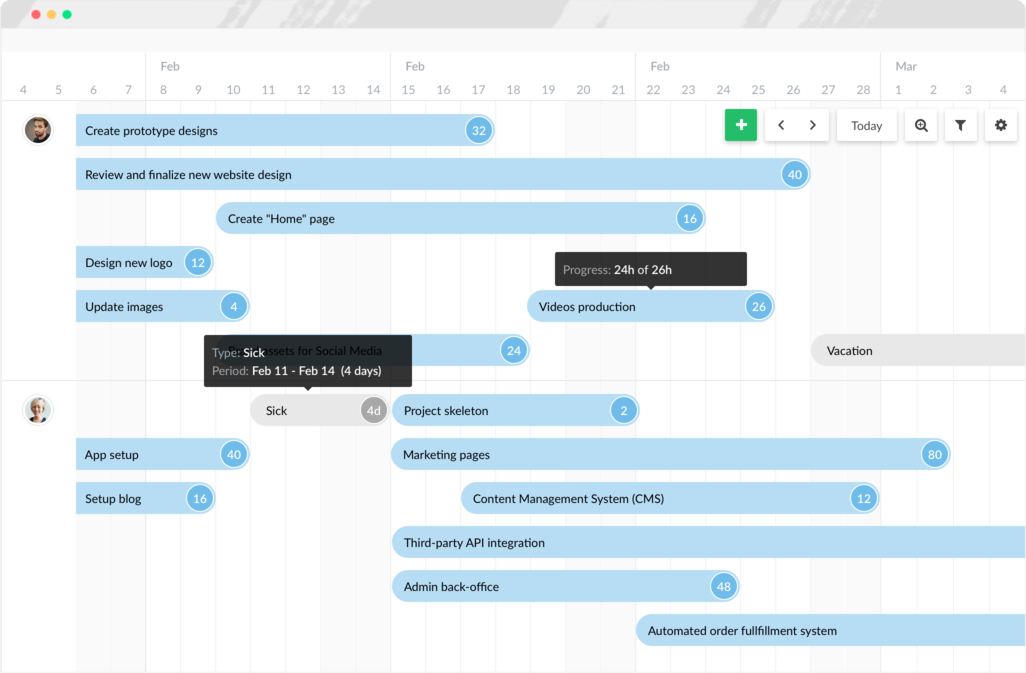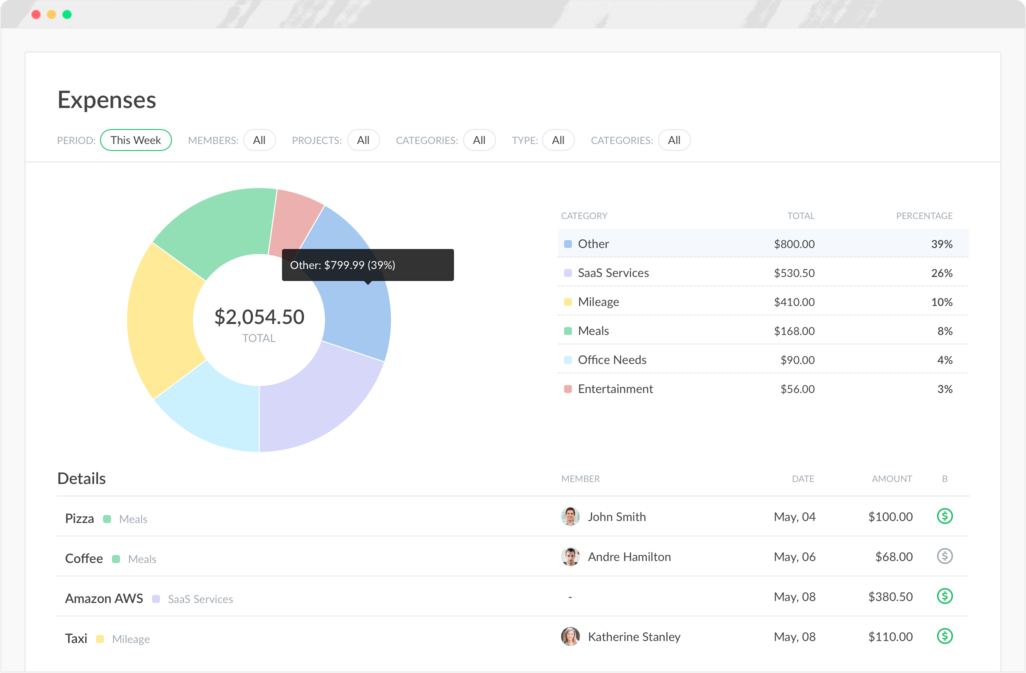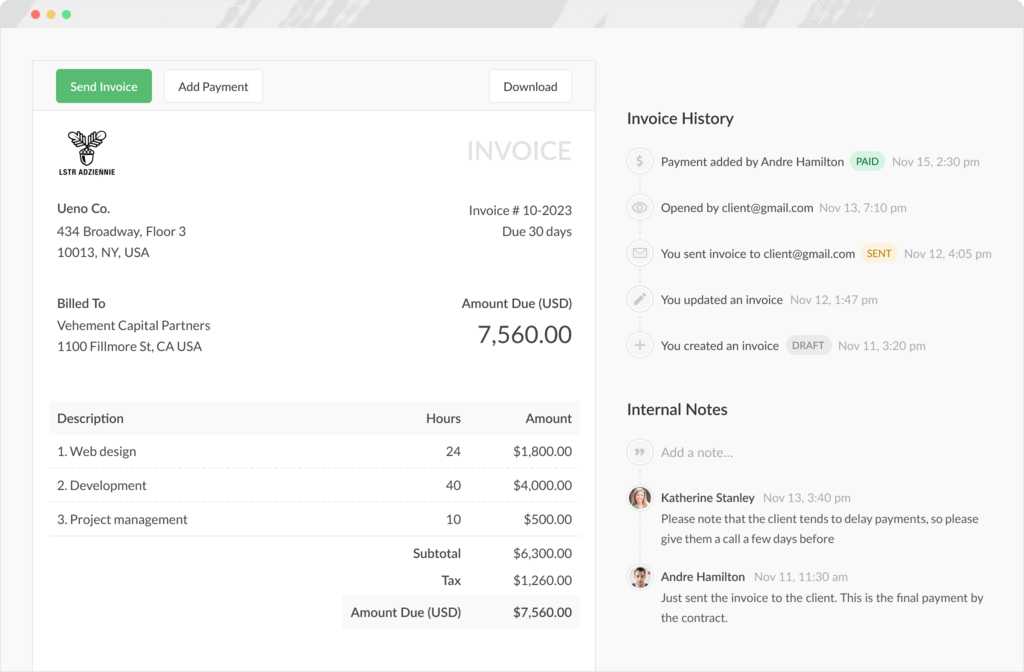 Your questions. Answered!
Here is the list of the most frequent questions. If you'd have other questions or ideas — contact us.
How to sign up?
Register an account with Everhour. You'll be suggested to connect your Pivotal Tracker account on step 2 of our signup wizard. You will need to enter your API token that you can find under your Pivotal Tracker profile.
How does sync work?
Everhour automatically syncs your Pivotal Tracker projects. It also keeps track of changes of project and task titles, in order to reflect the newest title on the timesheet. This is a striking difference with other tools where they force you to manually duplicate projects, match, and change them.
What if not all my Pivotal Tracker users need time tracking?
No problem. You can invite and pay only for those Pivotal tracker users who are going to track time and use other Everhour features.
Will someone else (like clients) see my time?
Only those people who are a part of your Everhour team and installed our free browser extension can see time-related data in Pivotal Tracker.
How to invite other team members?
After you register an Everhour account and connect it with Pivotal, you can track time only for yourself. To invite teammates, you should go to the Everhour team page and manually invite your team by entering their emails. Each employee should finish the signup flow and connect their Pivotal account.
Does Everhour work on Pivotal Tracker native apps?
Unfortunately, it is not possible due to technical reasons. Only folks at Pivotal can decide to integrate with Everhour. Other time trackers can't do this either.