Asana is one of the most effective and well-loved project management platforms on the planet. Launched back in 2008 by Facebook co-founder Dustin Moskovitz, it's available on both desktop and mobile devices to make it easier than ever to track your team's progress and to keep an eye on their performance.
Its simple design and choice of integrations turn it into a to-do list on steroids, with emphasis placed on empowering employees to communicate with each other and to hold each other responsible for getting jobs done.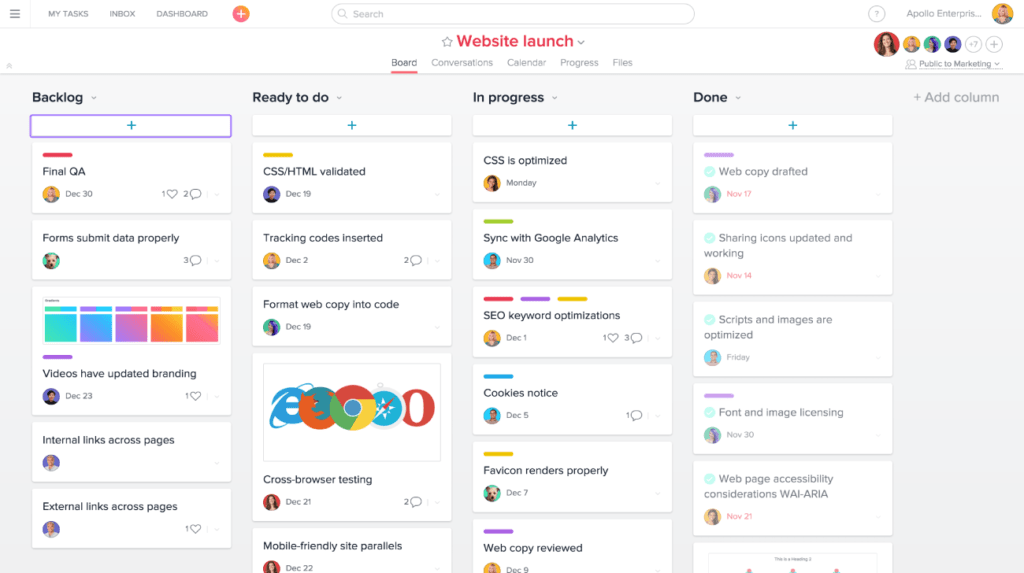 They must be doing something right because they're used by companies of all sizes, from local businesses and charitable organizations to global behemoths like Airbnb, Red Bull, NASA and the New York Times. If it's trusted by an organization that sends rockets into space then it's probably good enough for you.
There are plenty of other tools on the market of course, but Asana is a continuous crowd pleaser that's been growing in popularity since day one. We're big fans of it, which is why we've already taken a look at some of the integrations that make Asana even more efficient as a project management tool.
Today, we're taking another look at Asana to show how it can be used to track time and boost efficiency.
Why Time Tracking?
Time tracking is one of the most vital functions of any business. Many companies charge their clients by the hour and they need a reliable way of keeping an eye on who's doing what when so they can file accurate invoices.
But even product-based businesses need to know how employees are spending their time so they know when the team's nearing full capacity. Time tracking can also identify bottlenecks that are taking up time unnecessarily.
Roughly speaking, the key benefits of time tracking can be split into four key categories:
INSIGHTS: The data you'll gather from tracking time will enable you to develop a fuller understanding of what's actually happening at your company. This data can then be used as a basis for business decisions so you can reflect upon your progress and adapt your plans accordingly.
IMPROVEMENTS: When you track where your employees are spending their time, you can make changes to boost productivity by removing or outsourcing minor tasks. This will also lead to quality improvements because employees will be able to spend time where it matters instead of sweating the small stuff.
TRANSPARENCY: Everyone has a story about a colleague or a business partner whose role is so baffling that no one really knows what they do. Don't let that happen to one of your hires. Instead, use time tracking to get a handle on what people are actually doing in the time that you pay them for.
EFFICIENCIES: If you're invoicing clients based on time spent than time tracking software can usually automatically generate reports and invoices.
Why Everhour?
Asana has its pros and cons, and one of those cons is that it doesn't come with a native time tracker. There are several reasons for that, including the fact that they've put the bulk of their effort into streamlining the workflow process. That's great news if you want to use it as a project management tool, but the lack of a time tracker limits its use if you want to keep an eye on how long people are taking to do things.
We've already shared some of the benefits that time trackers have to offer, so you'd think that the inclusion of a time tracker would be a no-brainer. But the truth is that what at first looks like a weakness is actually one of Asana's secret weapons.
Like many successful tech companies, they've opened up their platform to allow third-party developers to create integrations. These developers are able to add new functionality that users can take advantage of without leaving the application.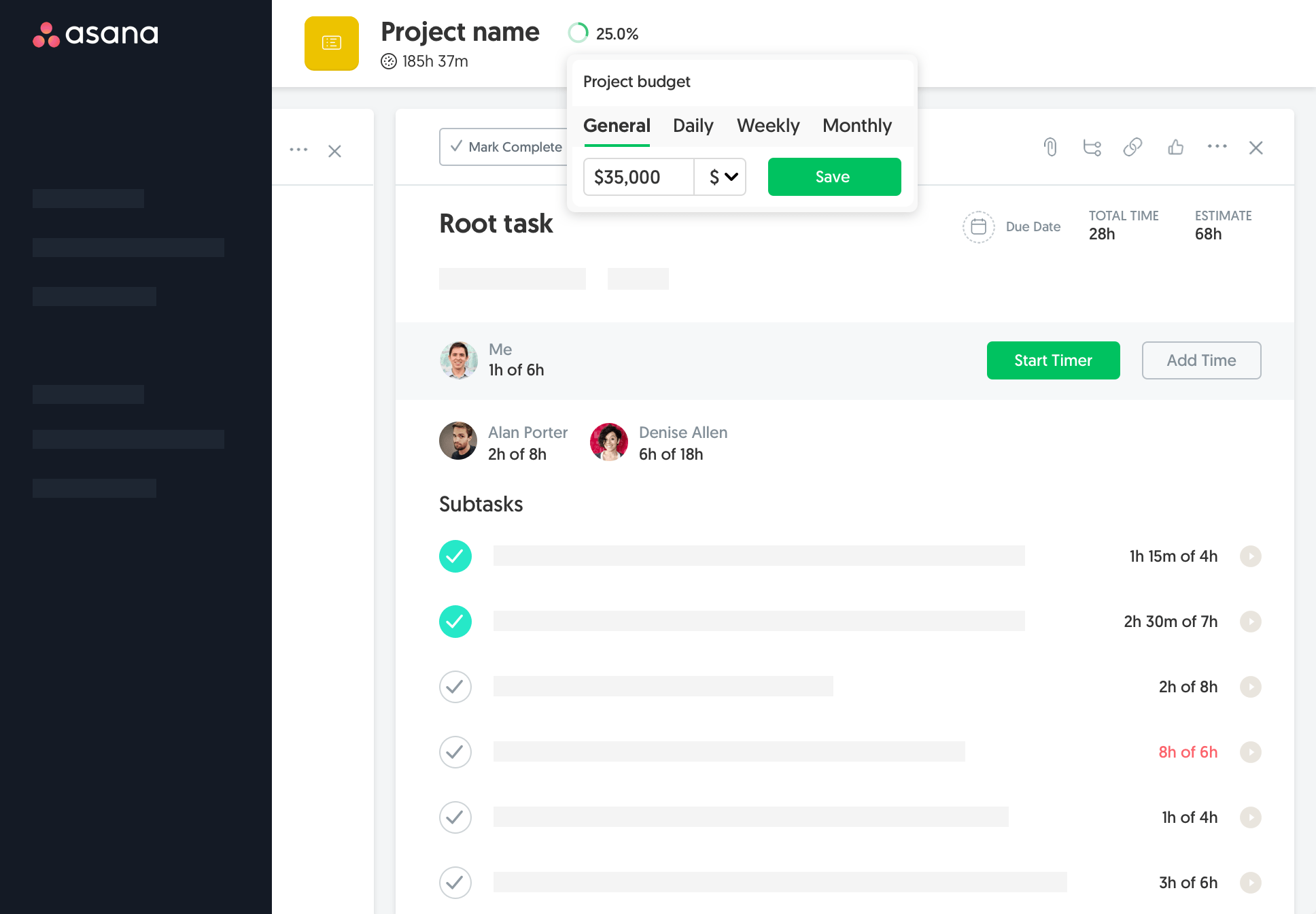 Everhour is just one of those applications, but if you want to power up Asana with time tracking then it's the way to go.
The Benefits of Everhour
There are several reasons why integrating Asana with Everhour is a good idea. Here are just a few of them:
EASY INTEGRATION: With Everhour integration, your team can track their time from right inside Asana. They don't need to switch tabs or install applications, and they don't need extra training to learn how to use it. Because it's an Asana integration, it's also designed to function as though it's a native part of the interface.
EFFICIENCY BOOSTS: There's nothing like a little peer pressure to boost workplace productivity. When your employees are able to see how much time they're all spending on different tasks, they'll find different ways to streamline their work.
BETTER ESTIMATES: When you have data that shows how long different tasks are taking, it helps you to give better estimates and to create more realistic timing plans. You no longer have to rely on gut feelings and can base your decisions on data instead.
EASIER REPORTING: Whether you're delivering updates to your board of directors or whether you're generating a report for your clients, being able to import time data will lend an extra dimension to the reports you create while automating much of the process.
MORE EFFICIENT INVOICES: When you're billing clients based on the amount of time you spend on their accounts, every minute counts. You need your invoices to be as accurate as possible because if you're underreporting your hours, you're giving away work for free and cutting into your profit margins.
How to Connect Everhour and Asana
If you're already using Asana then it's easy to get started. Start by heading over to the integration's installation page  or use the button below:
It just takes a few clicks to add the integration to your Asana set up and you'll get a free 14-day trial to get you started.
Once the integration is set up, you'll start to see time tracking functionality right there within the interface. You can add estimates to projects, keep an eye on time spent on different projects by checking out the task list and dig into different subtasks. From an employee's point of view, they can either enter time manually or use the software's inbuilt tracker to do it for them.
From an employee's point of view, they can either enter time manually or use the software's inbuilt tracker to do it for them.
The best thing about time tracking software is that you can witness the benefits almost immediately. As soon as you hook Asana up with Everhour integration, your employees can start tracking their time, your managers can start to analyze it and your company can start to run much more efficiently.
Tips for a Smarter Integration
Everhour and Asana should work together straight out of the box, which means that as long as you have projects set up in Asana you can start tracking time straight away. Still, there's plenty more you can do to get the most out of it, so be sure to invest some time upfront to set yourself up for success.
For your time tracking efforts to be as effective as possible, you need your employees to be honest with their timesheets. If they're tracking time manually then make sure that it tallies with what they're actually achieving, and if they're tracking time automatically then make sure they stop tracking for coffee breaks and emails.
If you're particularly keen to get a good idea of what employees are doing, you should take the time to create tasks for internal jobs. This will allow employees to log time for admin tasks such as checking their emails or attending meetings. A surprising amount of time is taken up by these tasks, and if you fail to account for it and to plan ahead for it then your employees will find themselves trying to do two jobs at once.
Finally, it's important to make use of detailed subtasks. While tracking time for an overall task is better than nothing, you're missing a trick if you don't split those tasks into subtasks to get a better idea of what's taking up the time. If you're developing a website, for example, then instead of tracking the overall time spent, you'll want to individually track brainstorming meetings, design, front-end build, back-end build, testing, bug fixing and more. That way, if you go over your estimate then you'll have a much clearer idea of why – as well as which employees caused the bottleneck.
Other Integrations
We've talked previously about some of our favorite Asana integrations, but because there's so much variety out there and such a huge potential for efficiency, it only feels right to revisit a few of our favorites. If you're a power user of Asana then remember to check back often because new integrations are regularly launched and existing ones are often updated.
In the meantime, get started with just a few of the best:
WEEKDONE: This reporting tool works wonders when used alongside Everhour and Asana because it provides the missing piece that you need to have a full overview of your team's performance. It effectively provides a daily, weekly or monthly dashboard that shows how many projects have been completed, how many are overdue and what your overall completion rate is.
SLACK: Slack is one of the most versatile communication methods that we've come across, and being able to integrate it within Asana helps to keep everything you need in a single platform. The integration is no use on its own, but if you're already using Slack then integrating it with Asana is the way to go.
ZENDESK: Zendesk is basically a cloud-based customer support desk, and it's super useful for businesses of all sizes. If you're a big fan of time tracking then it's vital to bear customer service in mind. By integrating Zendesk with Asana and Everhour, you can create tasks for customer service issues and log the time that's spent while still retaining all the functionality of Zendesk and its powerful platform.
Conclusion
For most companies, time tracking is a no-brainer. After all, the benefits are manifold and it's pretty easy to get started. That's especially true if you integrate your systems so that you can track your time within your project management system, no matter what platform you happen to be using.
Bear in mind, though, that the insights you gather are only as good as the data that they're based on. If your employees aren't filling out their timesheets or if they're providing you with inaccurate data, you're going to find yourself making important business decisions based on a lie.
That's why many companies incentivize the use of timesheets – or punish employees if they fail to do them. In most cases, it's best to favor rewarding them so that timesheets feel like less of a chore, because punishment will at best encourage reluctant compliance.
Consider taking the time to explain to employees why timesheets are so important. If they know what they're doing them for then they're more likely to fill them out properly.
A great example of the reward mechanism comes to us via Casa, a digital and innovation hub from JWT. They created a system in which the agency's beer fridge would only open after everybody filled out their timesheets on Friday afternoon.
This is a reminder that incentivization works, but it also emphasizes how keeping timesheets is important for the entire team. If just one employee is letting you down, it can have a dramatic effect on the quality of the reporting. That's why you should create a culture in which everyone understands why time tracking is so important – and where employees hold each other responsible for helping to make the business as a whole more profitable.
Good luck.