In the realm of task and project management, Asana has long been a prominent name. It's hard to say what useful feature Asana lacks. Intuitive interfaces? Check. Advanced collaboration tools? Check. Asana time tracking integration? Check.
However, the landscape is vast, and there are alternatives to Asana that might better suit your team's unique needs. If you're looking for Asana alternatives, you've come to the right place!
Asana Project Management Alternatives
If you're thinking about switching to one of Asana project management alternatives, you have loads of tools to consider, each one of them with its own set of pros and cons.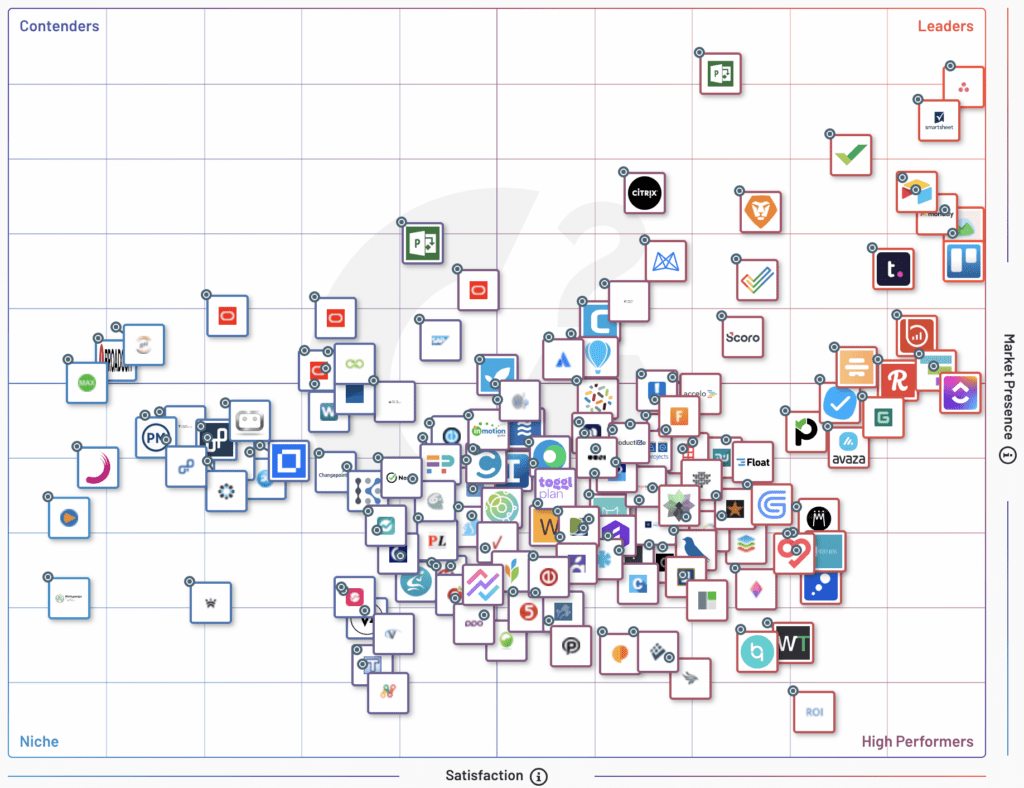 Some apps are excellent for team communication such as Trello or ClickUp. Others handle complex projects perfectly, such as Jira. Some started as apps for specific professional needs such as Basecamp. And others act as a database that businesses can use for CRM, task management, project planning, and tracking inventory such as Airtable.
The market for project management tools is a vast universe of functionality and design. It can be easy to get lost in debating one feature over another. That's why we created this ultimate list to unwrap the mystery and restore the universe. Without further ado, let's dive into Asana alternatives!
---
Asana vs Trello
When it comes to the comparison of Asana vs Trello, many PMs realize that both suit well for small and medium-sized projects. But the main difference between these two is in their workflow organization specifics. Let's compare Asana and Trello and see what they are all about!
The main idea of Trello is a Kanban board that visualizes the working process. It suits projects that use the Agile methodology.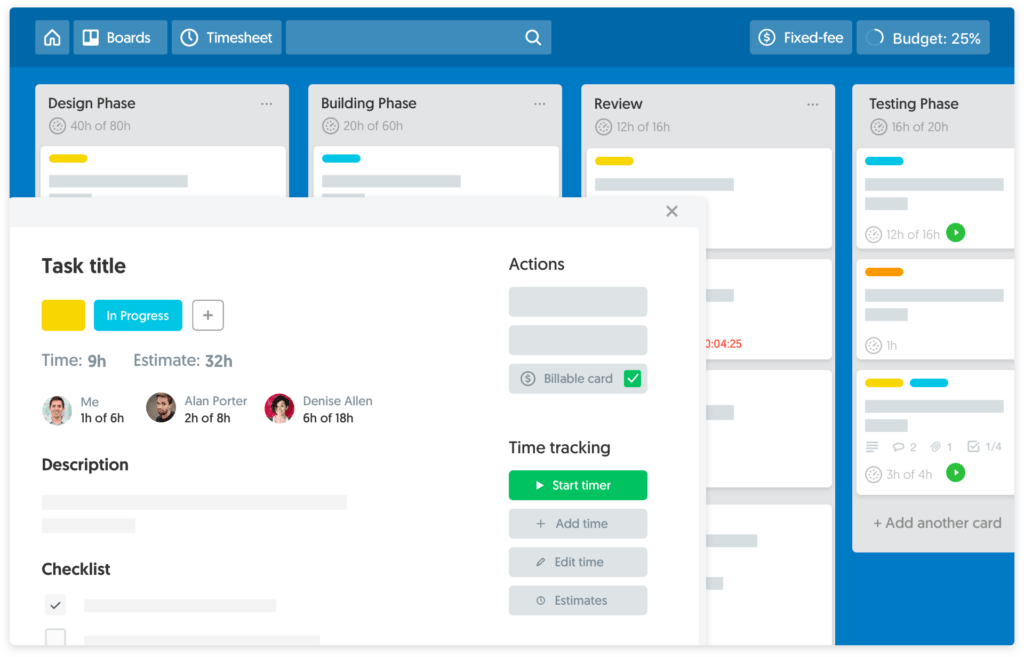 Why using Trello, you may ask? Trello organizes all tasks in a 'to-do' style list – separating them into upcoming, in progress, and done categories. A user creates a card with tasks or checklists. This card goes through all the stages as the team works with it until it goes to a done section. You can add, rearrange or change board categories, adapting Trello to a variety of projects, also Trello supports lots of Trello time tracking integrations such as Everhour (you can read more on how Trello time tracking works in detail). There are also numerous Trello Power-Ups that also help to gain a more wholesome working experience.
In short, the main difference between Asana vs Trello in project management is that Asana focuses its users on in-task processes and communication. It has a much broader set of features when it comes to organizing and exchanging lots of details within the task, and you can overview the bigger picture on the project board. If some of your tasks are so complex that they're basically stand-alone projects, Asana is hard to beat.
When to choose Asana?
If you need a more traditional, task-centric list-based approach. It helps to organize the team's work around individual projects and keep everyone up to date.
When you're managing larger or more complicated projects and you need to delegate tasks.
If you have a team of up to 15 people. Asana offers a free limited version for small teams.
When to choose Trello?
If you enjoy working with Kanban boards and visual planning.
If visualization matters for your team. Trello is intuitive even to a non-technical user and it's suitable not only for project management–you can visualize everything.
If you need a decent free solution (with the flexibility to go Pro). A lot of the system is free. Perhaps this is one of the most generous offers on the market.
If Asana and Trello aren't exactly what you're looking for in your business, there are lots of alternatives you can find online. You'll find all these alternatives to Asana and even a little bit more compared further in the article.
---
Asana vs Jira
Jira is a leader in the IT project management tools industry. In fact, it's a giant. The company behind this behemoth, Atlassian, has been developing project management and bug-tracking service since 2002.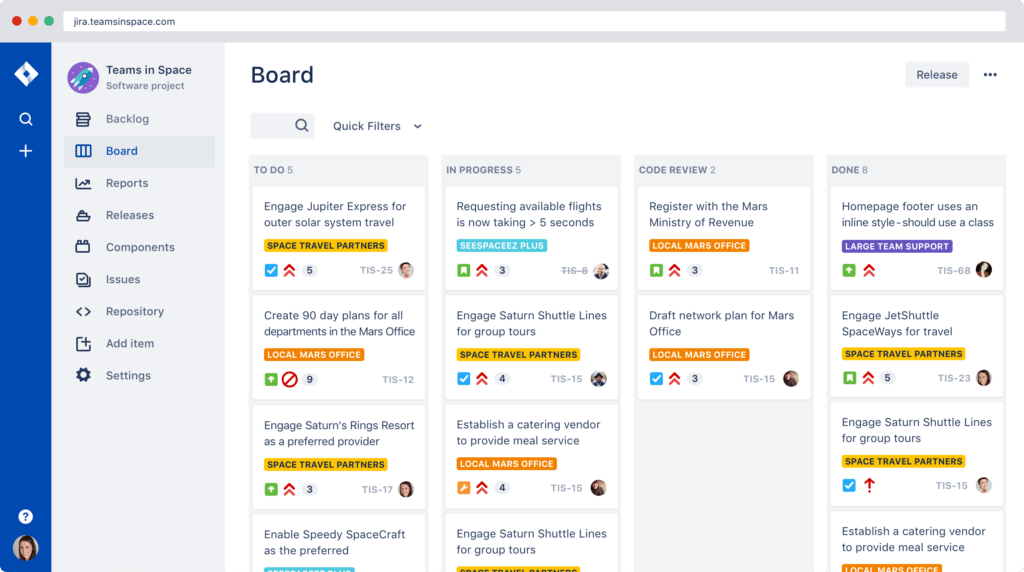 All the processes in Jira are focused on building, developing, testing, and analyzing IT products. And it uses Agile methodologies at its core. Simply, it's a powerhouse for project management. Check out our article for an in-depth view of the Jira project management software tool.
Like Asana it can be implemented for a wide variety of projects. But when it comes to pure IT, Asana starts losing points in the Asana vs Jira comparison. On the flip side, it's hard to imagine someone using Jira for something other than IT projects. Especially when there are many choices from project management tools on the market. 
When to choose Asana?
If you need a communication-friendly task manager that supports teamwork.
If you love simplicity. Asana aims to make project management a smooth process. Its visuals and UX are user-friendly and uncomplicated.
If flexibility is at the top of your list. Jira is great for established processes, but Asana works well for teams that are still making their processes or thrive on flexibility.
When to choose Jira?
If you need a robust project management system with an intense focus on software development teams.
If QA and software development make up the majority of your tasks. Jira makes it simple to deal with technical tasks.
If your team is diverse and you need to add plugins – ZenDesk for Support, Aha! for roadmaps, Everhour for Jira time tracking; no matter your need, Jira has a plugin for that.
The bottom line: When comparing Jira vs Asana it would be a mistake to say that one app is better than the other. That is to say, both tools are great for tackling all their responsibilities. The main point here is to what project type you apply these tools.
---
Asana vs Basecamp
Basecamp resembles a social media networking site and a project management tool mix. Basecamp focuses its users on collaboration over a project.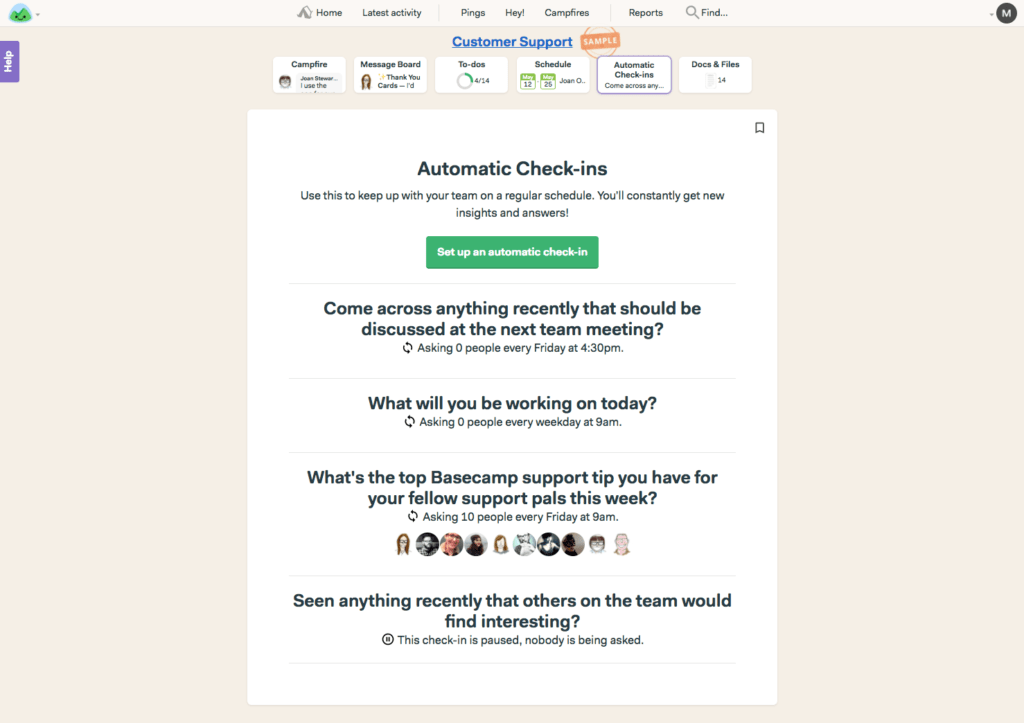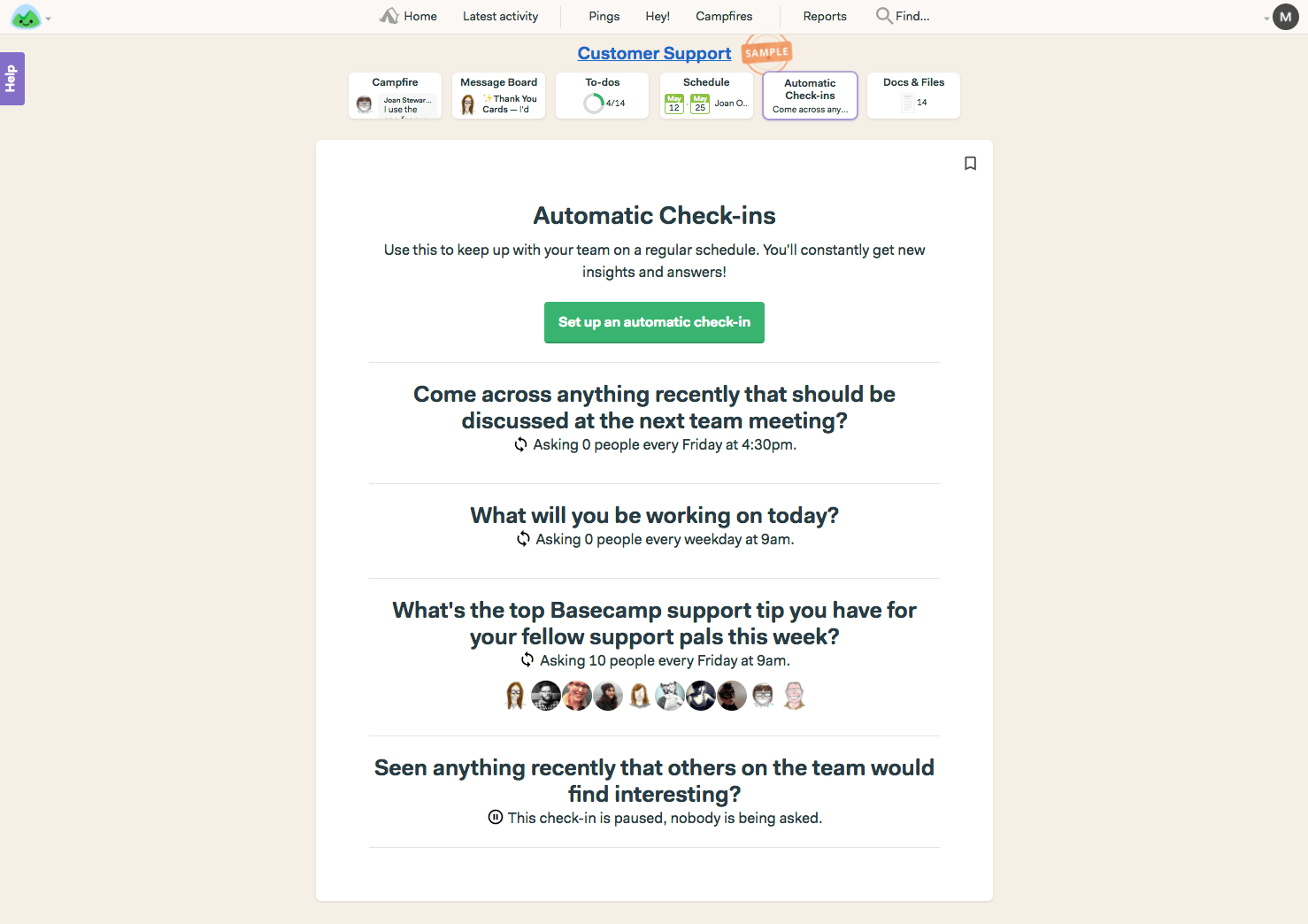 In Basecamp you can upload and work on documents in the app, use chats for project discussions, put announcements on public boards, make checklists to monitor project development, and much, much more.
Basecamp suits small and medium-sized enterprises and offers enough functionality to manage projects successfully.
Why choose Asana?
Asana is perfect if you need to set sub-tasks for projects that depend on one another.
It integrates with Gantt-style charts, which can be a benefit if you use this view to organize your work.
Freemium allows you to try out Asana for up to 15 people, and it gives you the capability to subscribe at any time to grow beyond that and manage complex projects.
Why choose Basecamp?
Basecamp is great if you need multiple assignees to work on a project at a given time.
Communication-focused, Basecamp doesn't place as much emphasis on task dependency but instead treats each task as important and individual.
Workflow is essential to Basecamp. The platform helps you build healthy processes into your business.
The bottom line: In the Basecamp vs Asana comparison, Asana will pick up all the awards due to its range of functions and the Asana integrations. Yet, if finding project solutions in lively discussions is what you opt for then it's worth considering Basecamp as one of your Asana alternatives.
---
Asana vs ClickUp
ClickUp and Asana are tools specially designed for project management and look pretty much similar. That's why online you can run into heated discussions of their supporters on which one is better.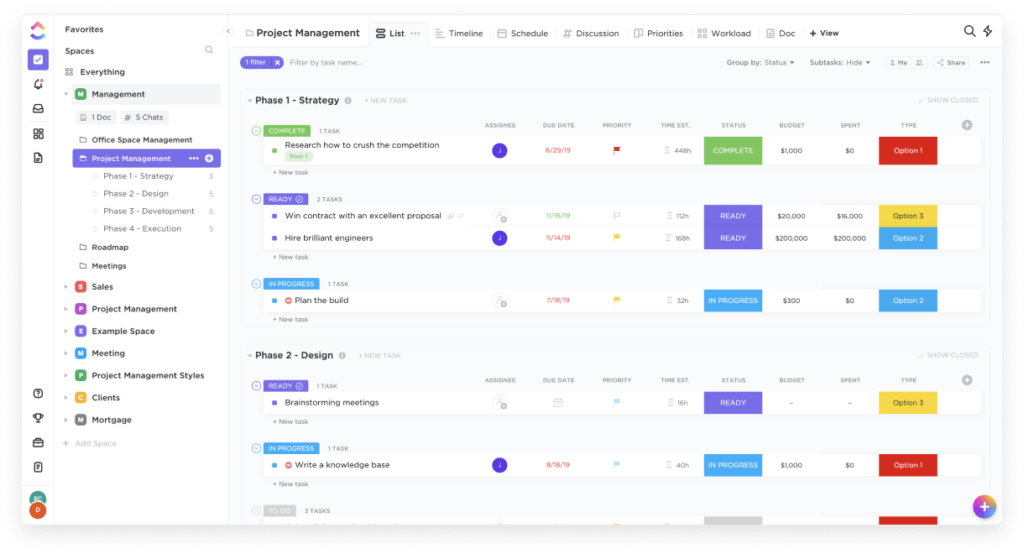 But luckily there's a simple solution to help you decide – try their freemium plans for yourself before opting for one. That way you can see in practice which is more likely to work for you.
In the meantime, let's take a closer look at some of the main features and differences between ClickUp and Asana.
Why choose Asana?
Intuitive and easy to get to grips with, Asana is perfect for teams that have little time to teach their employees about project management software.
In-app communication allows users to add creativity to tasks and be productive at the same time.
Perfect for developing teams and those just starting to implement processes in their work, Asana grows with you.
Why choose ClickUp?
Takes into account your team's individual productivity styles, so that your team can work in a way that suits them.
Embedded views. Unlike Asana, ClickUp allows you to embed a view from other apps, such as Airtable. See your work in a different light.
Integrated reporting and analytics features to boost productivity and help keep the team on track. Lots of integrations, including ClickUp time trackers.
The bottom line: ClickUp was founded in 2016 and since then it's been gaining momentum in its functionality and service. Now it competes with such big project management names as Asana and other ClickUp alternatives. So, if you want to consider a project management tool that's similar in style to Asana for a better price, you should look into ClickUp. Perhaps, it might be the tool you're looking for.
---
Asana vs Monday
Asana vs Monday is another interesting comparison. Once you get to grips with Asana and think of something more customized and fancy for your projects, it's time to think about Monday.
Monday.com is a major player in the project management tools market. It grew up from another big project – DaPulse. And like any big-name project management tool, it'll offer you all the main functionalities PMs often use in their work.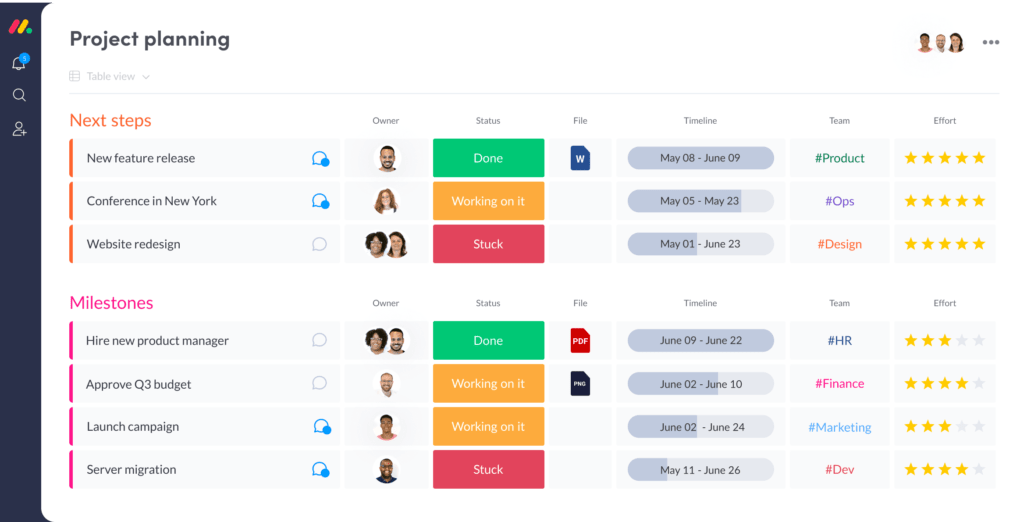 So, how does Monday work? The app lets you create a board where you can add different tasks, called Pulses. You can set various data types for each Pulse such as city, person name, telephone number, task priority, tags, prices, and many more. You set a color for each data section, making the information and tasks more comprehensible, even at a glance.
Switching between the dashboards represents the data in various styles: Kanban, pie charts, maps, timelines, and calendars. At the same time, you can see all the tasks presented below, meaning that you don't have to switch between the tabs in search of the needed data.
Choose Asana if:
Simplicity. In terms of task management, Asana allows simple assign functionalities that get the job done.
Clear workflow. The working view in Asana, like the entire platform, is straightforward. At the click of a button, you can see tasks as Kanban boards, calendars, and more.
You need communication-friendly software that integrates with a number of external components.
Choose Monday if:
Like some other Monday alternatives, it offers different views including Chart and Map views, whereas Asana offers more traditional lists, timelines, and boards.
Monday offers true Gannt charts natively, whereas Asana requires integrations to achieve true Gantt charts.
It's hard to beat the free version of Asana, but for more advanced true workflow & Monday project management, the clear winner is the more robust Monday.
The bottom line: Monday.com and Asana offer classical functionality for project management just in their own way (for example, Monday time tracking is much better than that of Asana). If you have a standard small or medium-sized project you won't go wrong choosing either of them.
---
Asana vs Wrike
At first sight, Asana and Wrike have much in common. Both apps provide major project management functionalities, team tasks, and project discussions, and project progress outlines. Yet, they are not identical.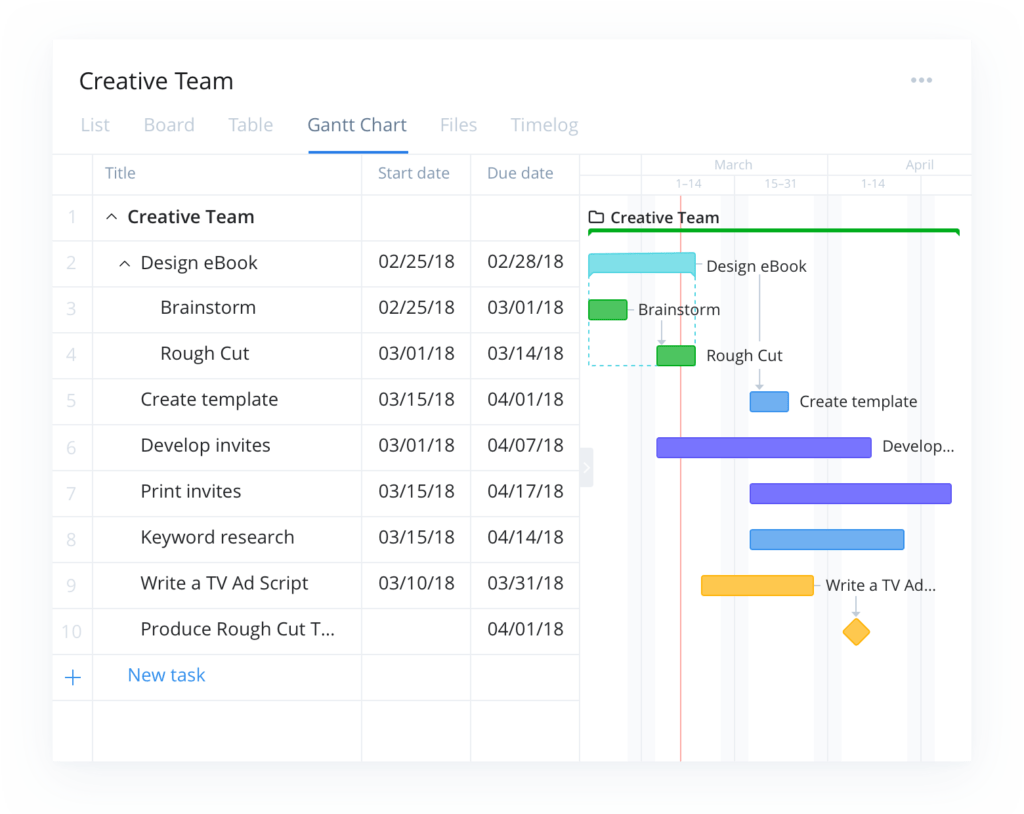 The main Wrike feature that differentiates it from Asana is that it allows you to work on any file straight from the app. Meaning that your team can upload, change, and comment on any document or visual materials in Wrike in real time.
Asana saves you from the email box, organizing and streamlining your tasks. While Wrike provides you with all the necessary tools for an immediate start, saving you from a heap of apps.
When to choose Asana?
You need a strong freemium to get started. Asana offers a freemium mode for teams of up to 15 people. Perfect to get you started. While Wrike clocks up only 5 free members.
Easy-to-use PM tool. Asana values Zen and simplicity. It helps keep your project straightforward and visual.
Mailchimp, Trello, Adobe Creative Cloud, Slack, Everhour, Google software, if these are tools you are using Asana is the perfect companion to getting work done.
When to choose Wrike?
Wrike trumps Asana in the reporting and budgeting department. To get these functionalities with Asana, you need to add integrations that drive up the cost of your solution.
Extensive software. Wrike isn't simple, but it does offer a whole bunch of features. If you like tailorability, Wrike is for you.
Salesforce, Tableau, Microsoft Teams, do these sound familiar? If these are your jam, put your money on Wrike to perfect your workflow.
The bottom line: If you want something more than just a project management tool. Something that aggregates and consolidates your work in one place. Then Wrike is just right for you.
---
Asana vs Airtable
Airtable resembles spreadsheets or relational databases with a decent user interface. In Airtable you'll be able to organize and classify your table entries according to your business needs. These entries can be a set of customers, projects, or various ideas specifically connected to your organizational needs.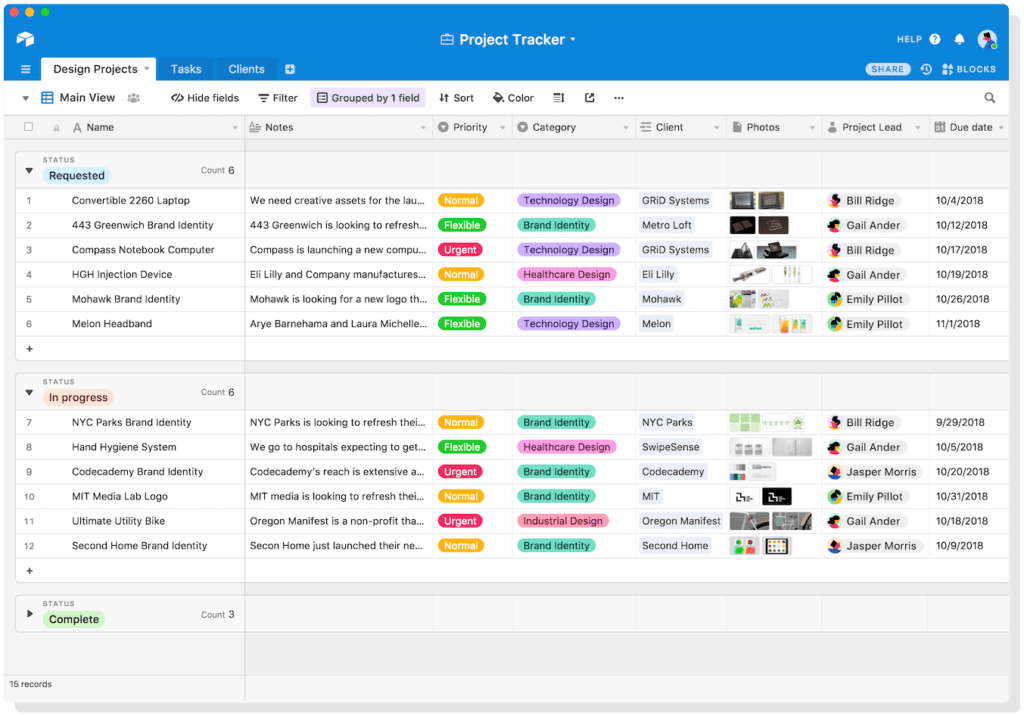 Each cell in the table allows different formats of data. Each line can be organized in groups, on a timeline, in the form of a gallery, or even a Kanban board. This way, Airtable can be modified into a CRM or HRM system, project management tool, or even a questionnaire form integrated into your website.
When to choose Asana?
From Boards to Calendars to Lists, with Asana you can view your projects in various ways to get the results you need.
With Asana you can keep priority in tasks as the main focus, allowing you to focus your team on your greatest needs.
This tool allows various teams within an organization the flexibility to tackle individual business areas. Project management simplicity for the win!
When to choose Airtable?
A spreadsheet-database hybrid, Airtable is perfect for teams that need flexibility in their spreadsheets. You can also track time inside Airtable with the help of third-party integrations.
Airtable suits well for small and medium businesses, and specific teams within a larger organization.
A good solution if your organization deals with large amounts of data in your tasks.
The bottom line: Airtable is a great solution for companies that have to collect and systemize similar information such as phone numbers, data pools, and others. The app has great customized functionality and with linking grids, you can build complex data structures. However, Airtable doesn't offer any tools that would analyze or track project progress. Ideally, it can be used in integration with real project management tools for data collection and its processing.
---
Asana vs Smartsheet
You can call Smartsheet a spreadsheet hub with project management functionality. Smartsheet seems and sounds like a serious business tool and it has the right to do so. Its user interface may not seem simple. But if your team does learn how to use Smartsheet your business will gain lots of benefits from it.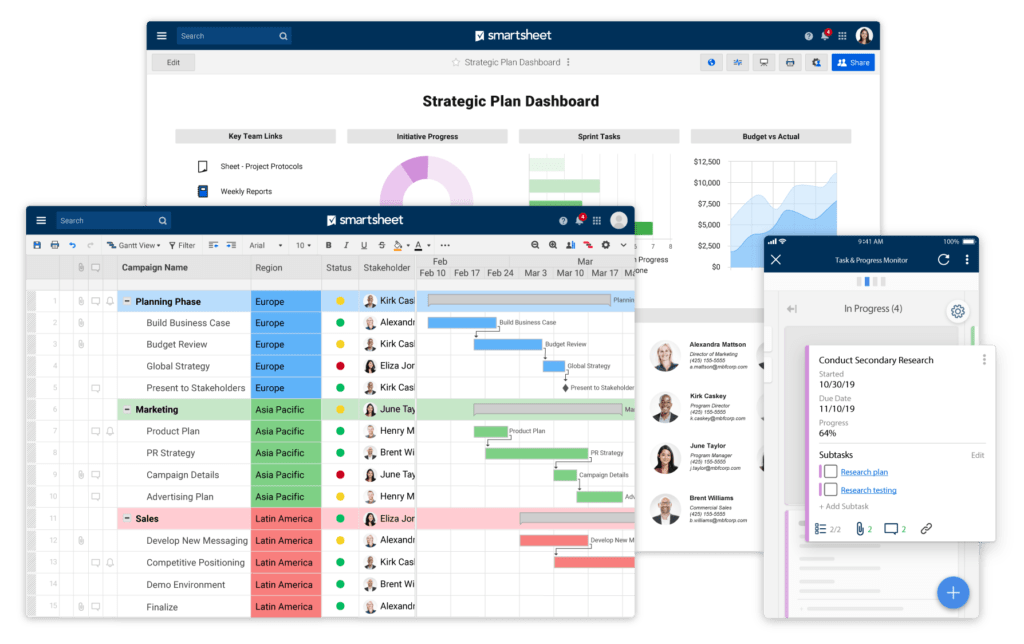 Asana and Smartsheet support all the main project management functions. Let's have a look at the main differences between Asana vs Smartsheet.
Choose Asana if:
You need a simple project management interface that suits your project needs.
The process is at the heart of your organization. When stats are second to results, Asana performs well in getting you where you need to be.
Choose Smartsheet if:
You want to see subtasks and tasks in one view without switching needlessly between them.
Spreadsheet view, filters, and charts are features you use regularly.
The bottom line: Smartsheet is a great solution for ambitious projects, big and medium-sized businesses. It provides a set of effective tools to track complex projects through a project life cycle.
On the other hand, for small businesses and startups, Smartsheet may seem a tad too smart. You need to fully understand and learn its functionalities to get to grips with the possibilities the app provides.
For those who just set up their first business or have never worked with project management tools, we'd recommend something more user-friendly and intuitive. Like Asana.
---
Asana vs Todoist
Although this app resembles Asana's main functions, Todoist has put its unique stamp on the project management world. But, there are no llamas and unicorns here, Todoist is all about the work. It's simple and quick with a minimalistic design.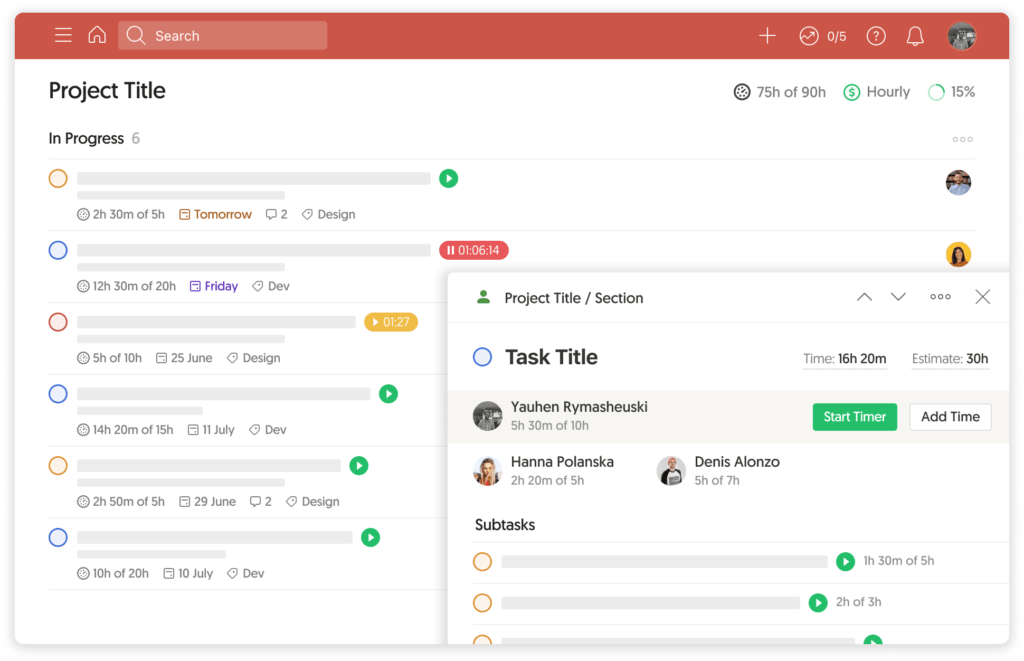 Moreover, the pricing is very attractive in comparison with other world-renowned brands. This might be an outside competitor, but it's one worth exploring. Here is a little bit more about our Asana vs Todoist comparison:
Choose Asana if:
You need flexibility in your project management.
Team communication is important to you. In-task communication gets more done.
Choose Todoist if:
Business is first and foremost. This is simple, streamlined project management.
You're on a tight budget. Todoist's pricing structure is competitive.
The bottom line: Todoist channels the essence of Asana's main features. This could suit small business enterprises and individual entrepreneurs who are just starting out with their businesses. Todoist has just enough features and a good pricing policy, so it's definitely worth a look as an alternative.
---
Asana vs Teamwork
At first, Teamwork may seem like a simple app for small businesses and freelancers. But looks can be deceiving. Teamwork provides so many features that it's possible even to run big and sophisticated projects.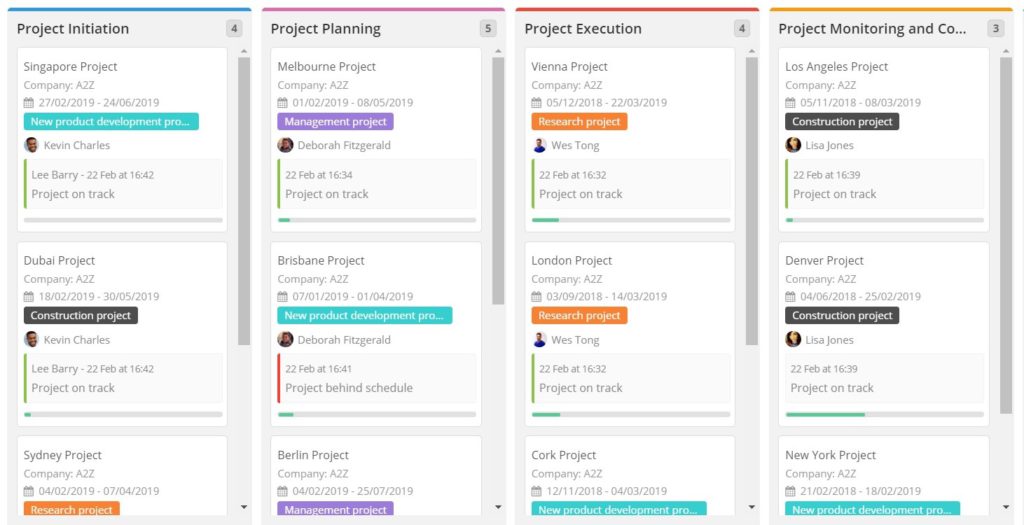 Teamwork projects and tasks are highly customizable. You can add certain settings to your projects. For example, if you choose to view "risks", you'll be able to manage them for the project you're working with. In task settings, you can log time, set privacy, and view task comments.
Teamwork offers such diverse functionality that Asana can back up only with app integrations. So, let's have a closer look at what Teamwork vs Asana can offer.
Choose Asana if:
You value simplicity and team communication. Asana speaks to the project manager's inner need for Zen.
Freemium features matter to you and your team.
Choose Teamwork if:
You're looking for diverse functionality and a variety of options for team management.
You use Windows Phone and need compatible software.
The bottom line: Teamwork is a powerful tool and worth your consideration if you have a large-scale project. The app may seem packed with functions but each is worth your time and energy. Teamwork is intuitive, so you'll need to learn the basics quickly. It's a joy to use it even for bulky projects, discovering its new features every time.
---
Asana vs Freedcamp
Freedcamp is another project management tool on our list. It resembles Basecamp in its functionality. Though its Freemium is much more attractive than in Basecamp or Asana. Freedcamp allows an unlimited number of projects and storage space starting from the Freemium plan for $0. The minimalist plan price starts at $1.49 per month for wider functionality.
Low-price access isn't the only reason why Freedcamp is worth your attention. It also offers decent functionality for project management. The basic features include task management, viewing tasks in a calendar / Kanban board / Gantt chart, files management, time tracking, milestones, and deadline setting.
Why choose Asana:
If you have a large or growing team, Asana allows an annual subscription, so you know the costs upfront.
It integrates with a variety of other software products including Dropbox, GitHub, Everhour, and more.
Why choose Freedcamp:
An extensive free plan allows you to manage projects while managing your budget.
It integrates with simple tools such as Google Calendar and Drive, with a focus on simplicity.
The bottom line: Freedcamp is reasonably priced, simple, and adaptable to many tasks. If you're ready to experiment and give it a try, you may find Freedcamp to be the best suited for your project. It's perfect for small teams, who don't need much in the way of project management. But, if you need more, then best to stick with trusty Asana.
---
Asana vs Evernote
Evernote is a service for taking notes and sharing them with others. This app makes for a perfect combination with Asana but not as a standalone PM tool. The Asana vs Evernote debate often appears online, but we believe there can hardly be a comparison here – they are just too different.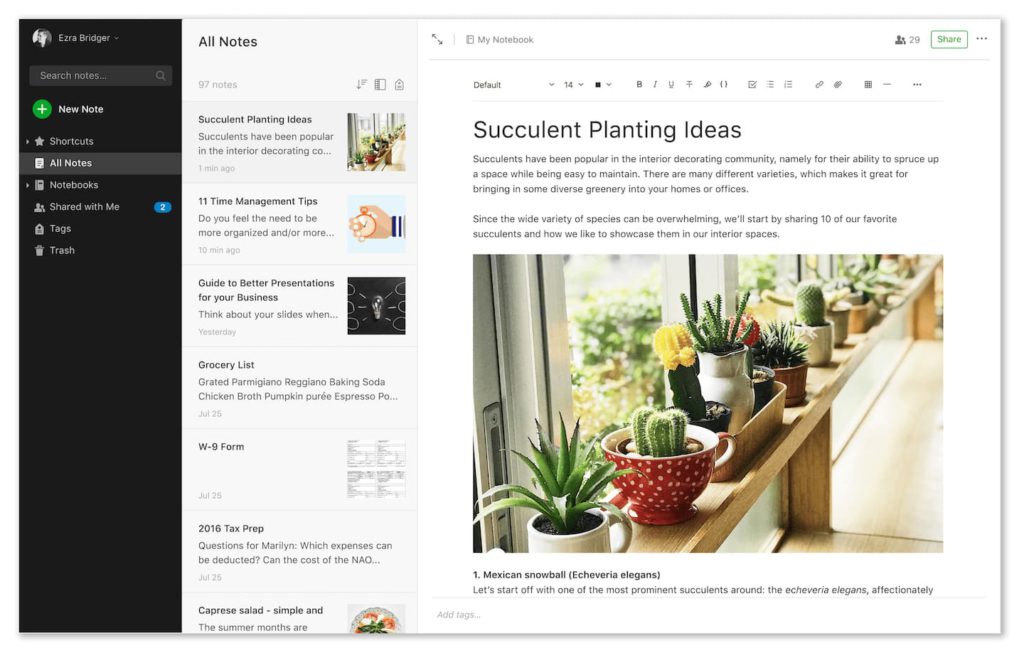 Evernote might keep you on track with tasks, but it's not really a tool for project management. Especially in medium-sized and big companies. Nevertheless, Evernote offers a function for creating projects.
These projects are a hub where you can gather your team together and share your notes. Some small enterprises and individual entrepreneurs may consider Evernote as a project management tool, but it's more a space to share the work a little and collaborate on wider projects.
We can't fully compare Asana vs Evernote as they each have a distinct use and purpose. So, instead, let's talk about the functions that Evernote could add to make Asana even better.
Evernote offers offline access to notes, this feature can help you not only remember tasks but also store them for your convenience when offline. Unlike Asana, which requires an internet connection.
The system's audio and visual notes, make it easy to get your thoughts out on the go, or when your hands are busy. Meanwhile, its auto-upload feature makes it a breeze to turn these 'thoughts' into workable tasks in Asana.
Evernote has PDF and handwriting functionalities that let you truly express yourself and store vital thoughts for later.
The bottom line: Many project management tool developers try to add as much functionality to their apps as possible. Making them more complicated and expensive. While one simple and right integration would offer a perfect solution. Evernote offers businesses the potential to keep their employees on track and productive as they integrate with Asana.
---
Asana vs Microsoft Project
Microsoft is an electronic market heavyweight that encapsulates top functionalities in its products. For this reason, Microsoft Project is a feature-packed tool. To use it you'll need additional training in project management and one-two books on how to use the service.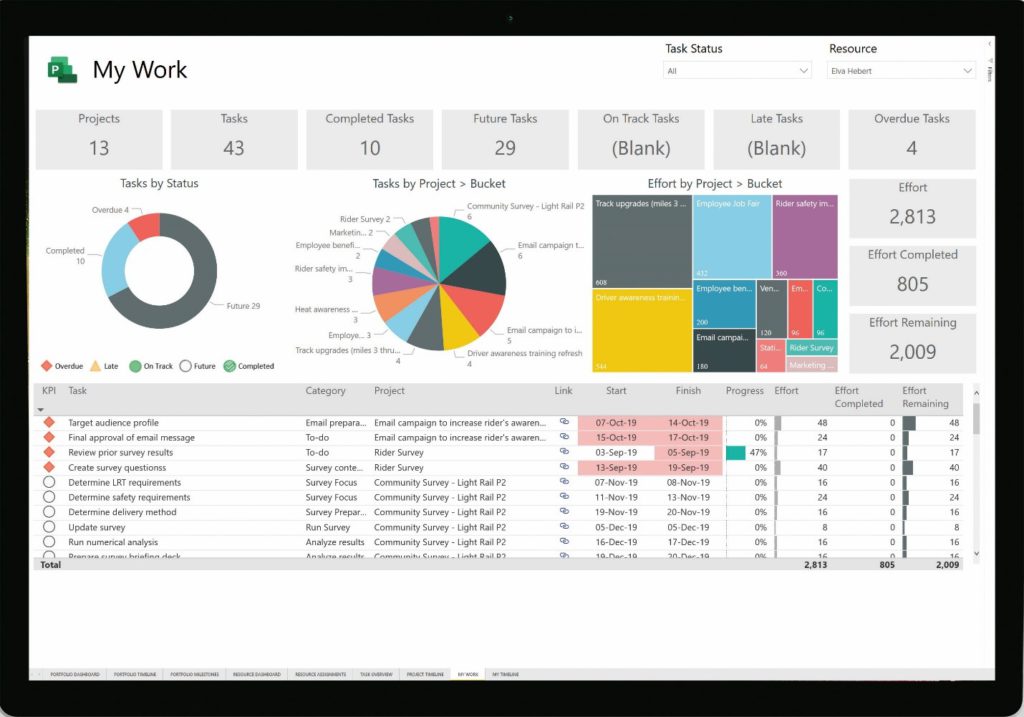 Meanwhile, Asana is ready to catch up with your projects on the go. You subscribe to it and in half an hour you'll already know all its main functions. On the other hand, when it comes to ginormous serious projects Asana starts skidding on the way.
So let's have a look at what Microsoft Project offers vs Asana. Can the computing world giant compete in the project management arena or will it go the way of Windows Vista (to the tech graveyard)?
Why choose Asana?
If you appreciate functionality and simplicity. Asana is perfect if you need a designated project management tool.
If you're looking for seamless integration with other tools such as Slack or Everhour.
Why choose Microsoft Project?
If you use other Microsoft software, such as Microsoft Teams and you want to keep everything connected.
If your team is using Microsoft software for other purposes, this cuts down on training time.
The bottom line: When choosing between Asana and Microsoft Project you need to expand your project aims first. Asana is quick to learn, intuitive, with simplified functionality, and aimed and small and medium-sized businesses.
Whereas Microsoft Project is a massive tool for massive solutions. Microsoft Project offers a full-fledged set of properties for serious project management. Paying more attention to functionality rather than UI.
---
Asana vs Hive
If you're in the process of choosing a project management tool, Hive is a great alternative to Asana. These tools are pretty similar, but Hive has some key differences compared to Asana, especially when it comes to added features.
The features that Asana doesn't have include data importing, customizable templates, and custom forms. Hive also offers time tracking, which is great for teams that need to record time spent on various projects and tasks. Hive's native email features also set it apart from Asana. This first-of-its-kind email integration lets users send messages directly from Gmail and Outlook to Hive, as well as assign tasks from within emails, which can not be done with Asana.
One drawback is that Hive doesn't offer a freemium plan, while Asana's platform is free for up to 15 users. However, Hive's pricing plan starts at only $12 per user monthly, which is a competitive price in the project management software market.
When to choose Asana?
You have a small team that does not need sophisticated collaboration tools.
Your processes are simple and don't require complex layouts or tracking.
You are looking for a freemium offer.
When to choose Hive?
Your team needs flexibility when it comes to project views.
You want to work in a single dashboard all day long.
You often use your email inbox as a to-do list.
---
Free Asana Alternatives
When the price is a consideration, you need to know which software is most economical for your business. We've gathered the Asana alternatives solutions that provide freemium and the cheapest plans out there. Our top 5:
Trello – $0 forever for unlimited personal boards, cards, and lists.
Jira – $0 for up to 10 users and 2GB of storage.
Basecamp – $0 for personal projects, students, freelancers, and light use.
ClickUp – $0 forever for 100MB storage, unlimited tasks, and users.
Todoist – $0 forever for 80 projects and 5 users per project.
---
Asana + Everhour Integration
Asana is one of the most popular project management apps. Although it isn't as complex and filled with features as Jira. However, that doesn't mean you should nix it. Asana bridges functionality gaps by smart integrations with other apps.
The Asana + Everhour integration is one of the most efficient blends. By adding Everhour to your Asana, you can: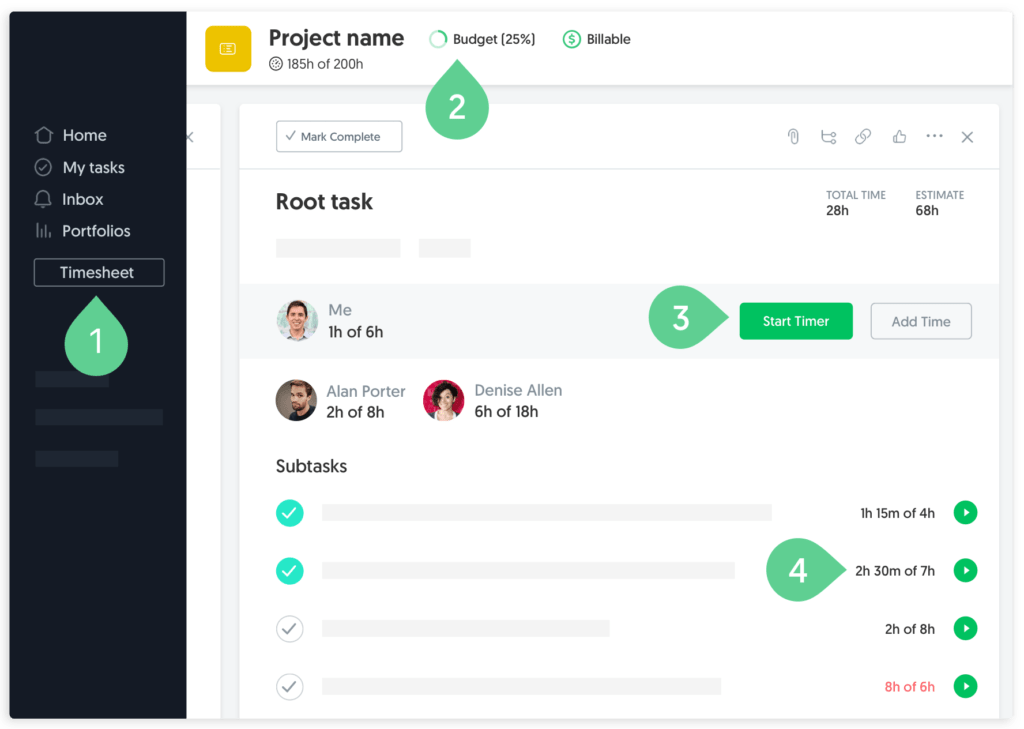 Track time. With Everhour you can track your time and the time of each team member, estimate time spent on every task, and subtask. You can enter your time manually in case you forgot to set the time.
Estimate and plan budget. Everhour helps track and estimate billing and non-billing times for you and your team. The app alerts you in emails once you reach an important threshold. It can also make invoicing your clients simple.
Keep accurate timesheets. Everhour adds the My Timesheet button to Asana. You can set your own daily and weekly timetable, add time and comments for your tasks.
Generate reports. Everhour reports in detail on time spent on tasks. You can also find time details on Asana's Portfolio page, Homepage, Timeline. Our time tracker adds a Project summary page to Asana with time and budget statistics.
All this makes tracking your time and using it a more efficient process. Soon you'll see that you and your team will be able to get more done with less stress!
---
Asana Alternatives: Wrap-up
Thank you for investing your time in reading this article. We know that choosing a project management tool is a tedious and time-consuming task. But it's essential to pick the right one to meet the majority of your project needs.
So that you make the right app choice, we would like to share a small checklist with you:
Before choosing a project management tool estimate your project and realize what set of functions you need to make it grow.
Always try other apps to find the most practical features that guarantee their value for money.
Stay tuned to the project management app market. Software manufacturers often provide pleasant discounts or impressive freemiums.
Check integration services provided for your app. If your project management tool lacks some features, it's solvable with app integrations.
At Everhour, we hope that this article was informative and helpful. If you would like to try Everhour integration with your project management software (for example, for Asana time tracking) or as an independent time tracking tool, we'll be happy to answer all your questions.