Finding the tool that is most effective and works best for you is important, but in a saturated market full of different business solutions, it can take some time. Let's explore one of the biggest project management software and best productivity apps out there – Monday.com. We'll break down everything you need to know about this solution: what it is, how effective it is, and how to use Monday.com effectively (with some insights on Monday time tracking). Ready? Let's get started.
---
🟧 What is Monday?
Teams use Monday for everything from software development and marketing to HR and operations. It is a large software with hundreds of thousands of business users, from smaller operations to companies like Electronic Arts, the National Hockey League, Universal Studios, and HubSpot.
It has a CRM, marketing, development, and project management platforms. Monday is a massive software solution with many different utilities, and it can accommodate a range of integrations and uses. You can access it through the website or download it as an app for mobile or desktop.
They offer a free plan, which heavily limits the features available and the number of people that can use it. There is also a Basic plan for $11 per seat a month, a Standard plan for $14 per seat a month, and a Pro plan for $22 per seat a month. Each of the plans has different features and options for the users.
---
🌟 How to Use Monday.com for Project Management?
The project management software Monday is intended to help businesses complete everything from basic tasks to complex portfolio management in a more structured way. The Monday features organize employees, help communicate with customers, and generally provide a platform where companies can run their business.
📢 Organization: Organizing everything neatly and effectively in a large project takes time and effort, but Monday is a central hub where businesses can do it all. There are budgeting features, such as customizable planning sheets and cost calculators. You can enjoy collaborative features, like teammate task assignments and easy bi-directional communication that connects communication to all shareholders. There are also customizable dashboards that allow businesses to create shared sources of information.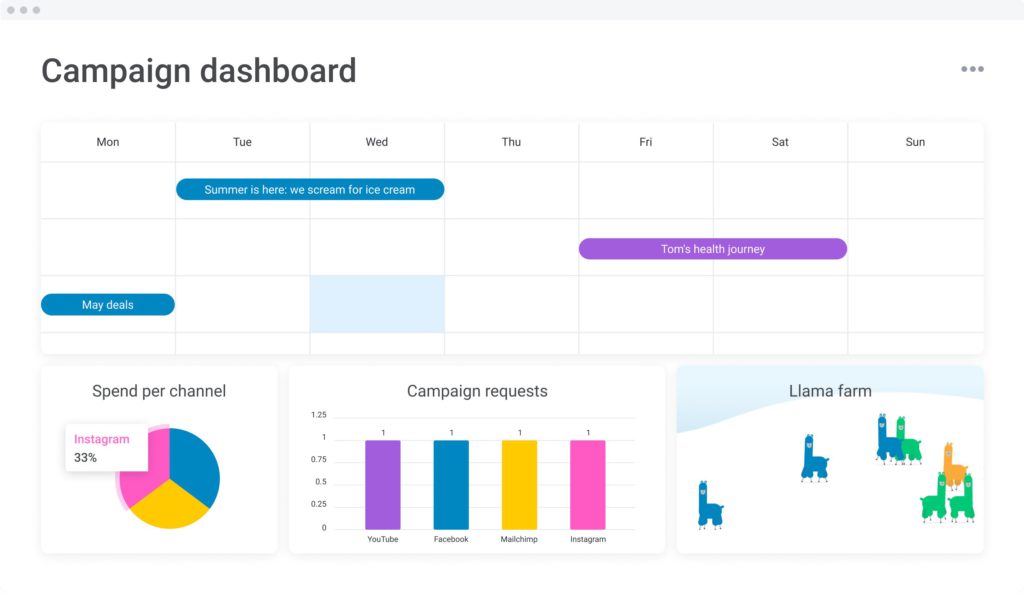 👩‍💻 Management solutions: Monday tools improve communication and collaboration and allow businesses to monitor the status of projects, ensure that budgetary requirements are met, and drastically reduce the time spent on the organization. Teams can cut down on man-hours spent on projects while saving money by ensuring they don't go over budget.
📊 Data and visualization: Tools like the project dashboards are effective because they allow businesses to completely visualize their projects. Things like goals, underway or completed tasks, budgets, and schedules are all easily visible in one central place. The Monday project management software will also provide important data that is insightful and informative into business processes.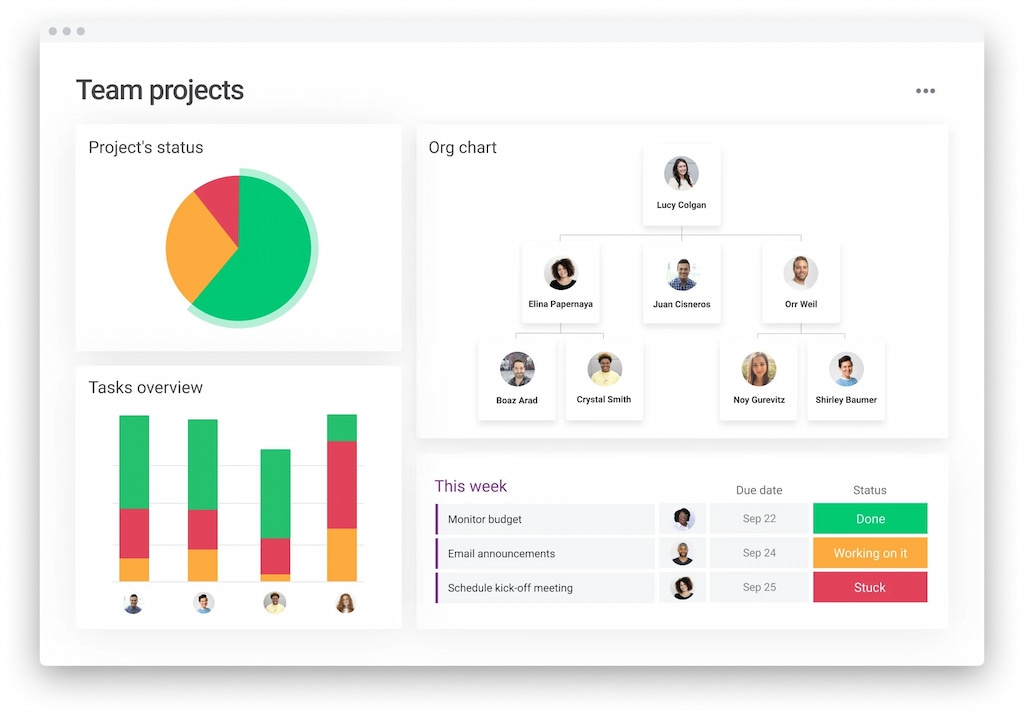 💫 Lots of features: Other key features include templates that you can create and save. These create repeatable project structures that can be followed consistently, whether for the same client or across different projects. There are also great planning dashboards that allow teams to collaborate and develop clear plans of action. Teams can assign roles and access, set deadlines, make milestones, and generally have much more clarity going into projects.
---
---
Pros & Cons of Using Monday as PM software
Like every other solution on the market, the project management tools by Monday have both strengths and weaknesses. Let's explore the pros and cons of the Monday software for project management.
👍 Pros
✅ Limitless use cases: Regardless of the task you are taking on, Monday.com can be an asset. It is useful across industries, with features like a shared dashboard and simplified budgeting that will have a huge array of applications. For any task-based business, the streamlined communicative features and task assignment options will help with collaboration, planning, and execution.
✅ Central hub for teams: Having one primary software that can accommodate a wide range of uses has endless value since it allows teams to strategize and coordinate, post progress, and assign tasks. It is a single central location that can meet an array of different needs. Rather than filtering through a large tech stack and keeping a ton of tabs open, Monday makes it so teams have one primary destination.
✅ Great customer reviews: The reviews for Monday are consistently positive across the board. The people you can trust most are those who've experienced the platform firsthand, and the vast majority love Monday project management.
😒 Cons
❌ Learning curve: One complaint that has come up relatively frequently with Monday is that there can be a learning curve. It is a comprehensive project management solution, and implementing it is a structural business change. This means it could take some businesses a significant amount of time to learn the ropes and fully implement this solution. Monday alternatives can be much better in that regard.
❌ Pricing plan: The Monday Pricing Plan can be expensive. For businesses that employ the Pro plan, it is $22 per seat a month. The features offered are significant, ranging from more integrations and private boards and documents. However, that might be out of budget for some businesses, even if those features are what they are searching for.
❌ Lacks time tracking features: Having a work hours tracker at your disposal helps to stay up to the minute with еру projects and provide accurate reports and invoices. Unfortunately, it isn't available on the standard plans with Monday. While they do offer employee time tracking with their most premium plan, this won't be worth the additional expenses for many smaller teams. Thankfully, Everhour provides its own Monday time tracking integration to help you out.
---
🤔 How Can Monday Help Your Business?
Easing workflows for team members improves productivity, and the Monday project management software is a powerful hub that empowers teams with an array of applications. Let's explore how Monday can help your business.
🔃 Asynchronous work: As the pandemic changed how we work, businesses had to look for new ways to collaborate effectively while working asynchronously. This is difficult, but with digital solutions like Monday, teams can connect and work together from locations across the globe. The dashboard allows teams to assign roles, check progress on tasks, and ensure that everything is running according to schedule. Team members can share files, leave comments, and the Monday software can function as a highly-organized virtual office.
⌛ Save employees' time: Employees have to spend a lot of time organizing, and this is a waste of man-hours. Monday will completely take away the need for employees and managers to spend time organizing and structuring the projects. With reusable templates, easy organization tools, and customizable dashboards, teams can spend their time focusing on the job at hand.
💰 Budgeting tools: Monday also helps teams stay under budget. The planning tools allow for highly effective budgeting features. Your team can input the desired budget, update the project with spending and budgetary changes, and monitor the progress. This will ensure that projects don't go over the set amount that management or customers hoped for.
---
🧡 How to Use Monday.com: Coming to Conclusion
For businesses searching for a perfect software solution that can help with several job areas, Monday offers an impactful option. This software covers everything from development and marketing to project management and beyond. In comparison with other PM tools, for example, Asana vs Monday, the latter can really get a win. There's a reason everyone from Hulu to Coca-Cola is using this platform.
The project management software by Monday are ideal for teams that are searching for scalable project management software. Monday allows businesses to assign tasks, set budgets, monitor progress, track projects, and correspond back and forth. This can help take project management from something difficult to organize and jumbled to a centralized, collaborative process. With top-notch visual data and customizable templates, the impact of a successful Monday-based project can carry over.