There's no better way to stay on top of things in managing complex and time-sensitive tasks than with a project management platform. And among the many project management software, Monday stands out as one of the best.
But is Monday really all you need for project management? This article will review its many features, including Monday time tracking, to see if it's really up for the task!
---
🌟 Monday.com Project Management Features Review
Monday is a comprehensive project management platform that encompasses multiple functions. With functions such as multiple project views, project managers and team members can have access to relevant information arranged in the most efficient way possible whenever they need it.
Monday time tracking integration and automation tools are also quite a lot. The site can integrate with dozens of other apps and platforms and perform thousands of additional functions – particularly repetitive, conditional, yet highly essential daily tasks that all teams will benefit from.
The platform also works for agile teams right out of the box. A template library encompasses multiple types of workflows for various industries, from software development to customer service.
Overall, Monday.com is a solid choice for teams looking for all-around project management software. That said, it does have its own advantages and disadvantages. We'll discuss all these in the sections below.
---
✅ Monday.com Pros
As mentioned above, the project management software Monday.com is an excellent platform with plenty to offer, such as the following features.
Intuitive interface
In that respect, the project management software Monday.com delivers. Monday's interface is sleek, modern, and incredibly visual.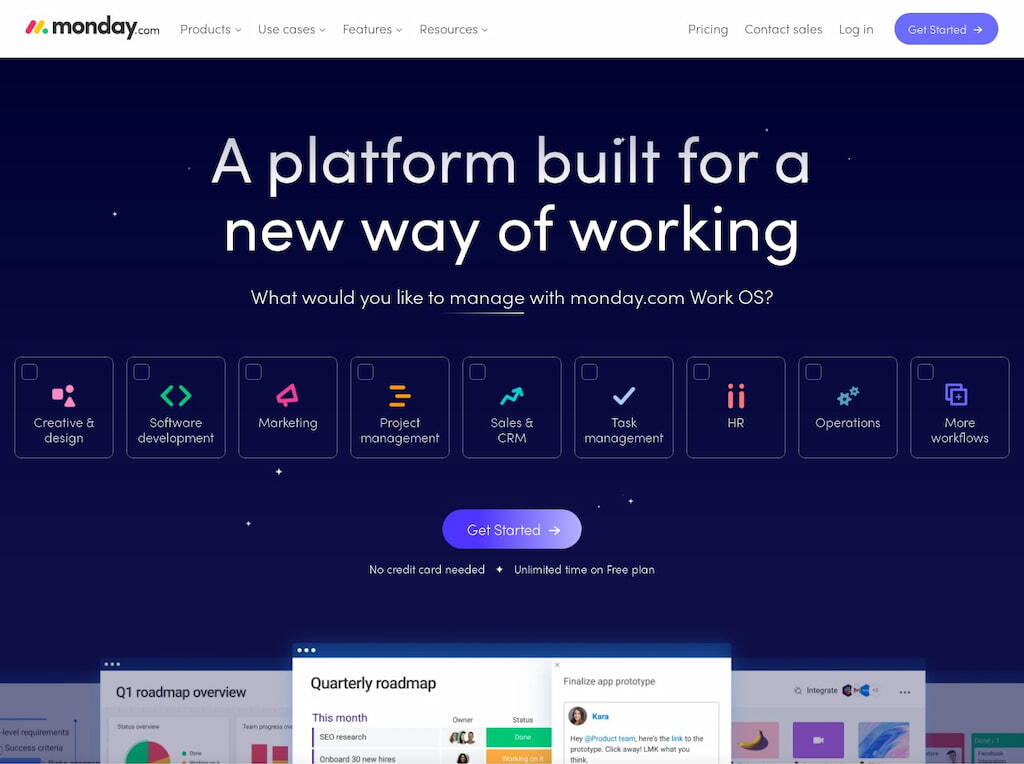 Core functions are represented with large, colorful buttons and icons. It has a simple way of creating new boards, assigning tasks, and more. You don't need any special knowledge to access data and features.
The most commonly-used features such as your messaging inbox, shared project boards, and weekly tasks can easily be accessed through a panel on the left side of the interface. You can also access other more complex features through the Monday profile button.
Multiple board views
Project management can often be confusing, especially if you don't have the right project view modes. Luckily, the project management software Monday.com has over a dozen board views that let you organize and view your workflow however you want.
Table. This view lets you add multiple customizable columns, ideal for displaying a comprehensive details overview of the project Monday platforms are built to handle.
Timeline. This customizable timeline shows task groups as bars on the calendar for a chronological arrangement of your tasks and how those tasks relate to each other. You can also use the Gantt Mode in this view.
Kanban. This view shows all of your tasks as card views that you can move horizontally between columns.
Calendar. While the Timeline view shows you tasks groups, calendars show you the timelines for individual Monday tasks, down to the hour. You can also filter out particular jobs and choose only to see deadlines.
Chart. You can create pie, bar, and line-type charts that you can fully customize with data and labels. It also syncs to different columns of your main table.
Map. This view lets you pin down details on the map. You can also use your main table to reference important location points in this view.
Files. With a search bar for better locating ability, you can aggregate all uploaded files on your main table.
Form. Creates a shareable format for a certain column structure on your board, which you can submit to the client. You can also customize by adding logos, backgrounds, etc.
Dependencies. Shows you automation settings for the flow of tasks that depends on other tasks to begin.
Broadcast. It lets you show the Monday board outside of the Monday platform. You can embed your boards so that stakeholders can monitor your progress without needing a Monday account.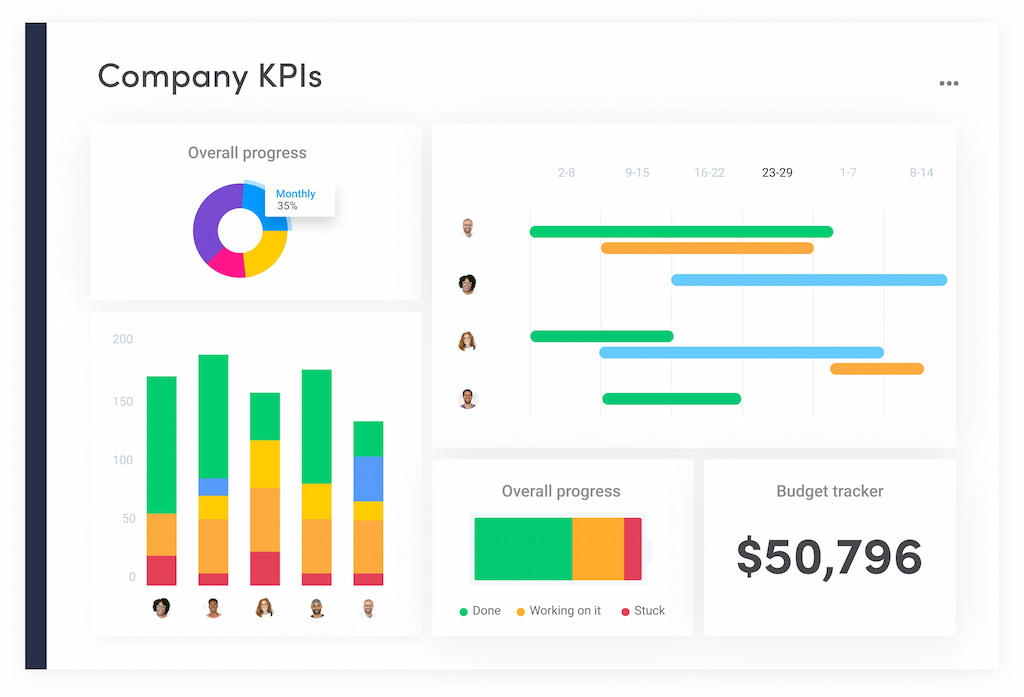 The kind of convenient project management Monday offers tools that allow you to see two boards at once to reference the details about each task quickly. Furthermore, Monday also provides customizable templates, such as software development, customer support, etc. These Monday templates are suitable for many different types of teams and use cases.
Robust collaboration tools
Monday com task management isn't lacking in this aspect. The platform has several collaboration features that you can use to improve your team's workflow. Here are some examples:
Chatting and team communication. Monday allows you to communicate with other team members currently logged in to your platform and comment on each other's work progress.
Collaborative docs. Monday project management platform has the first-ever truly collaborative document editor. Features of this editor allow multiple users to type simultaneously without getting in each other's way.
File and information access. The platform has a specific view that allows all team members access to all the files and information uploaded to the main table.
The Monday task manager makes Monday team management and communication easy through various collaboration tools such as file sharing, task assignments, and more.
---
---
Loads of integrations
In terms of integrations, the project management software Monday also successfully delivers. Monday program management can connect to dozens of platforms and other apps and lets you execute over 25,000 actions involving those integrations every month.
Best of all, it also lets you integrate into Everhour, one of the best Monday com examples for integration. You can enable sophisticated and real-time time tracking features from Everhour, allowing you to gather work-related time statistics through its integration.
Customizable reporting features
Customizable reporting features are essential in project management software. Monday is aware of these needs and crafted a notable suite of reporting tools for your convenience.
Dashboards. Monday features an entirely customizable dashboard. With this view, you have your pick of intuitive and useful widgets, such as the Monday com budget tracking, allowing you to craft unique and fully functional dashboards for all use-cases.
Board view reporting. As mentioned, Monday has a comprehensive suite of board views, with various filters that members can use to access all levels of information.
Search everything. Monday has a feature that lets you conduct a thorough platform-wide search for content, such as text, Monday scheduling, boards, profiles, etc. You can also export or save those searches.
However, a work hours tracker and attendance tracker is notably absent in Monday board templates.
Reports for the time your employees spend working are essential because it's used for multiple mission-critical functions, such as invoicing and billing. Fortunately, a timesheet app can take care of that.
Monday.com time tracking
In any project, time is the most important resource to track. The best project management software allows you to monitor the hours worked for every task – although that seems to be a tall order nowadays, as most platforms don't include a time tracker in their features.
Monday project tracking isn't exactly lacking. The Monday planner has trackers for budget utilization, progress, and more. However, the Monday project tracker doesn't have a time tracker for its lower tier. This would have been essential for better Monday.com resource management. You can only access the time tracking feature when you subscribe to the Pro tier above, which can get very expensive.
❗ Fortunately, it has a pretty robust integration feature. This allows the Monday tracker to connect to the best time tracking platforms in the industry – notably, Everhour.
Everhour is a sophisticated time clock app that seamlessly integrates into any project management software, Monday included. Everhour completes Monday's powerful features by providing comprehensive cross-platform time tracking. Users of Everhour on Monday won't just get a rough overview of their project. They can also see the nitty-gritty details of how many hours their team members spent and on what.
Responsive support
As great as any project management platform might be, there are just some unavoidable scenarios when you need the assistance of a well-trained team, such as platform bugs, product concerns, or technical difficulties.
In that case, you need a good customer support service from the company giving you their platform. Luckily, Monday has several types of customer support.
Knowledge bank. The Monday knowledge bank includes a Monday.com blog and several instructional articles about Monday. Here, you can find starter guides, how-tos, and standard troubleshooting techniques.
Tutorial videos. Similarly, Monday also maintains a YouTube account that contains tutorial videos. These videos range from basic introductory content to in-depth feature walkthroughs.
Contact team. Lastly, you can contact Monday's customer support through a ticketing system that they maintain on their site.
---
❌ Monday.com Cons
As great as Monday com project manager is, it's not perfect. It has a few disadvantages that you have to consider before you commit to using this platform for your team. Here are the areas where Monday.com is limited.
Limited task dependencies
Although Monday.com does have task dependency automation features, it doesn't have the same level of complexity that other project management software might have.
For one, Monday's task dependencies can only be set up by using dates. Additionally, Monday doesn't have a lot of customization features for task dependencies, which are typically helpful for any team.
Not to mention, this feature is only available to the highest tiers, so you'll need to shell out a lot of money for something that pales in comparison to other project management software.
This means that if your team needs plenty of task dependencies and various integrations, it's best to first check whether Monday can cater to the platforms and functions you have in mind.
Pricing plan limits
Monday offers a free plan that is limited to only the most basic features and two team members. This is obviously a problem if you have a bigger team.
2 team members
Unlimited number of boards
Unlimited docs
Hundreds of workflow templates
20+ column types
Mobile apps for iOS and Android
Up to 1000 items
500MB of file storage
If you want to access more features like dashboards, integrations, and automation, you need to pay for a subscription, beginning at $8 monthly for each member. For example, in the Asana vs. Monday battle, Asana wins in terms of pricing.
Slow support
Although Monday's support is responsive, they don't have the best response times, especially if you belong to the free access tier. While the ticketing systems assure that you can pass a thorough account of your problems, it's not as effective for reaching out live customer support as live chats and customer service calls.
In fact, some users have to wait for hours before their concerns can be tended to, which can be a problem if you're having an issue with your Monday project.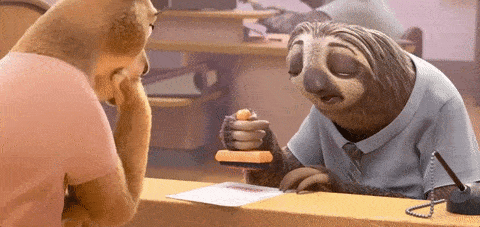 Teams who want priority support will have to pay for the feature. Prioritized customer support starts at $8 with their Basic tier. With that feature, you can ensure that your questions and concerns will be answered promptly.
No built-in employee free time tracking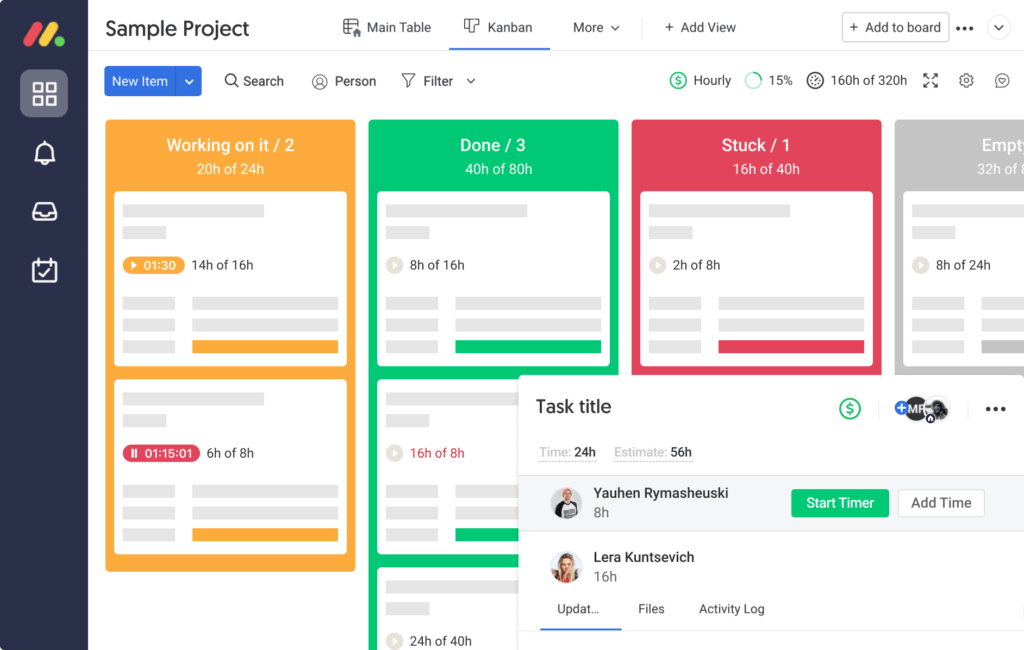 Time tracking is essential for a complete view of your Monday project resources, but if you're looking for this functionality in the free version, you won't find it. The feature is only available for the Pro version and beyond, priced at $16 per teammate per month.
The lack of a native employee time tracking platform in the more accessible tiers is one of the most glaring disadvantages of Monday because time tracking is an essential part of project management.
Fortunately, Everhour can integrate even to Monday's beginner tiers, allowing users to have detailed progress reports on every task with Everhour's robust time tracking.
---
Monday.com Pricing Plans
The project management software Monday has a multi-tiered access structure in the subscription format, with up to five access levels suitable for teams of varying sizes and needs. Monday's pricing plans are the following.
Free. The free version is limited to basic functionality and up to two team members.
Basic. Costing $8 per seat per month, this tier lets you create one dashboard and prioritize customer support.
Standard. At $10 per seat per month, Standard lets you have multiple views, automation, integrations, and dashboards that combine five boards.
Pro. This tier costs $16 per seat per month, giving you access to advanced features such as automation, integrations, time tracking, dependencies, formula, and more.
Enterprise. Lastly, the Enterprise tier has variable pricing depending on your organization's needs and features top-tier tools such as advanced reporting and analytics.
---
Project Management Software Monday: How Did Monday Do?
Overall, Monday PM tools seem to offer excellent value as project management software compared to other Monday alternatives. It's relatively accessible for small teams, and the number and quality of features you can use are excellent.
However, Monday isn't perfect, and it can get expensive if you want to use the more advanced features. One thing that it does lack is quality time tracking features in the lower access tiers. Here's an overview of its pros and cons.
Pros:
– Intuitive interface
– Multiple board views
– Robust collaboration tools
– Loads of integrations
– Customizable reporting features
– Project tracking features
– Responsive support
Cons:
– Limited task dependencies
– Pricing plan limitations
– Slow support
– No built-in employee tracking
Everhour can take care of that, though. Everhour is a comprehensive time tracking software that can be integrated into Monday. It lets you track the number of hours spent by each team member on a task and can create in-depth reports about your team's hours.
Sounds like something your team needs? Schedule a demo with Everhour now!