10 High-Powered ClickUp Time Tracking Integrations [Updated 2023]
Maria Kharlantseva, September 7, 2023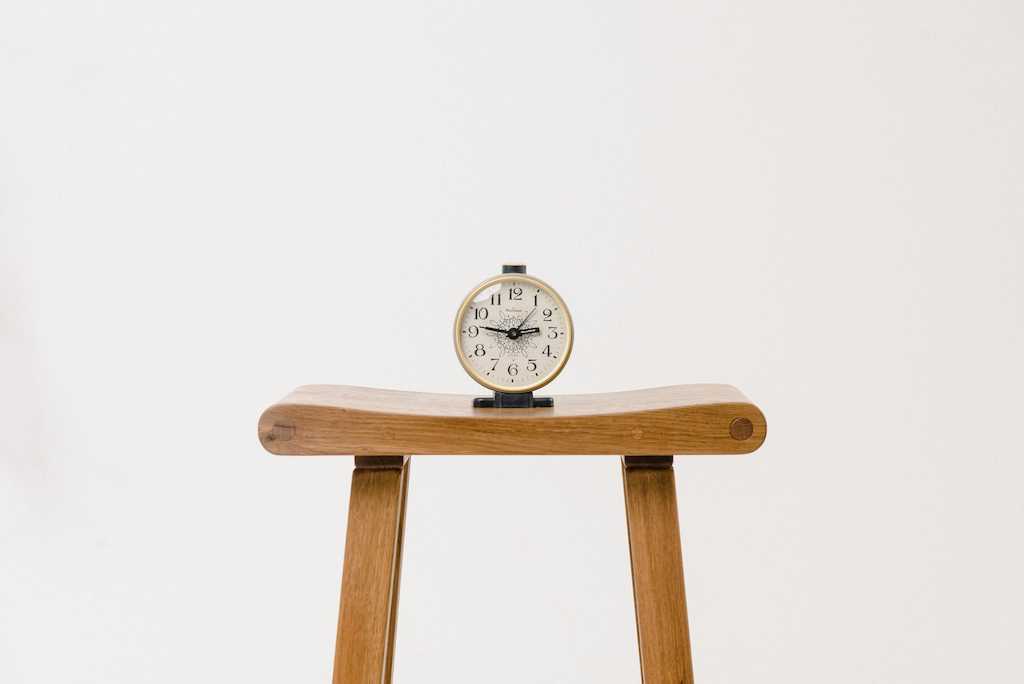 ClickUp is the project management platform that is an all-in-one solution that helps organizations condense their tech stack. It is a software solution with features ranging from chat, project and task management, and goal-setting. With such a wide range of features, it is no surprise that ClickUp also offers time tracking features. Let's explore what the ClickUp time tracker offers (including some of the best ClickUp time tracking integrations).
Key Evaluation Criteria:
Real-time time tracking integration: These integrations seamlessly initiate, pause, and complete time tracking features within the ClickUp platform, enabling accurate time allocation and progress monitoring.
Task and project categorization: Effortlessly categorize tasks and projects within ClickUp for enhanced organization and focused work.
Collaboration and communication: Access integrations that promote team communication, enriching collaboration among team members.
Cross-platform synchronization: Streamlined functionality that integrates seamlessly with various tools and platforms, ensuring a cohesive and efficient project management environment.
User-Friendly Accessibility: The integrations ensure easy access and utilization of time tracking features across different devices and platforms.
Our Approach to Integration Assessment
Our approach focuses on evaluating and highlighting the premier ClickUp Time Tracking integrations to enhance task management efficiency. We provide insights into seamlessly integrating time tracking into the ClickUp platform, ensuring that your projects and tasks are managed effectively.
What Is ClickUp Time Tracking?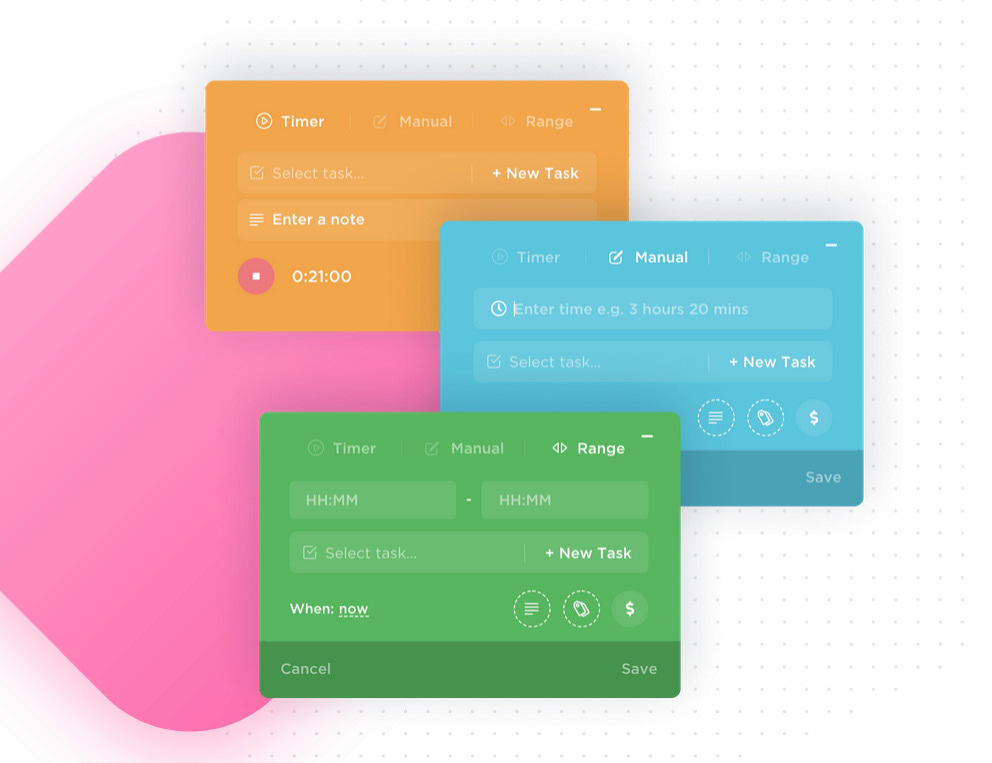 The ClickUp time tracking features are available on the platform, and they have an array of flexible usages. They are accessible from desktop, web, or mobile applications and you can add them as a Chrome time tracking extension. Time tracking in ClickUp allows teams to easily monitor and keep track of the time individuals and teams are spending on different projects. This helps with accurate invoicing and a clear sense of a team's output and productivity. It is also a great attendance tracker and work hours tracker for remote teams.
Let's look at some of the core aspects of this software:
Stop-and-start timing with auto-tracking
Manual time tracking, where users input the time they spent
Time tracking arranged into different tasks
Users can add notes or tags with the time tracker ClickUp software
Mobile app available
Multiple ways to view the time spent on a project with solid reporting features
There are numerous notable basic time tracking options for ClickUp that make it a solid time tracking tool on the platform.
Limitations of ClickUp's Native Time Tracking Feature
While the ClickUp time tracker is a valuable part of the platform, it isn't perfect. (You can read about that in our article about ClickUp alternatives). Some limitations to the time tracking ClickUp features may give some companies pause. Let's look at some of these limitations to help enterprises decide for themselves whether ClickUp time tracking suits their unique business needs.
❗ Only functional on ClickUp: Most time-tracking platforms have numerous integrations, making them functional on many different platforms the average enterprise will be using. ClickUp's time tracking doesn't integrate with other platforms aside from web browsers, so you can only use them through ClickUp.
🤔 Advanced time tracking features only available in Business Plan: Another downside of the time tracking features being only available on ClickUp is that you have to subscribe to the ClickUp Business plan to use the advanced time tracking features. There is time tracking available with the Free and Unlimited plans, but those plans are quite limited. The Business plan costs $12 per user per month if you subscribe to the ClickUp yearly plan.
📃 Limited invoicing features: ClickUp has strong invoicing features, including customizable templates. But they lack the comprehensive linked invoicing with time tracking that other time tracking software solutions offer. Enterprises can still find great value with the ClickUp invoicing, but it isn't as seamless of an experience as you'd find on other time tracking solutions.
10 Best Time Tracking Tools to Track Time in ClickUp
Everhour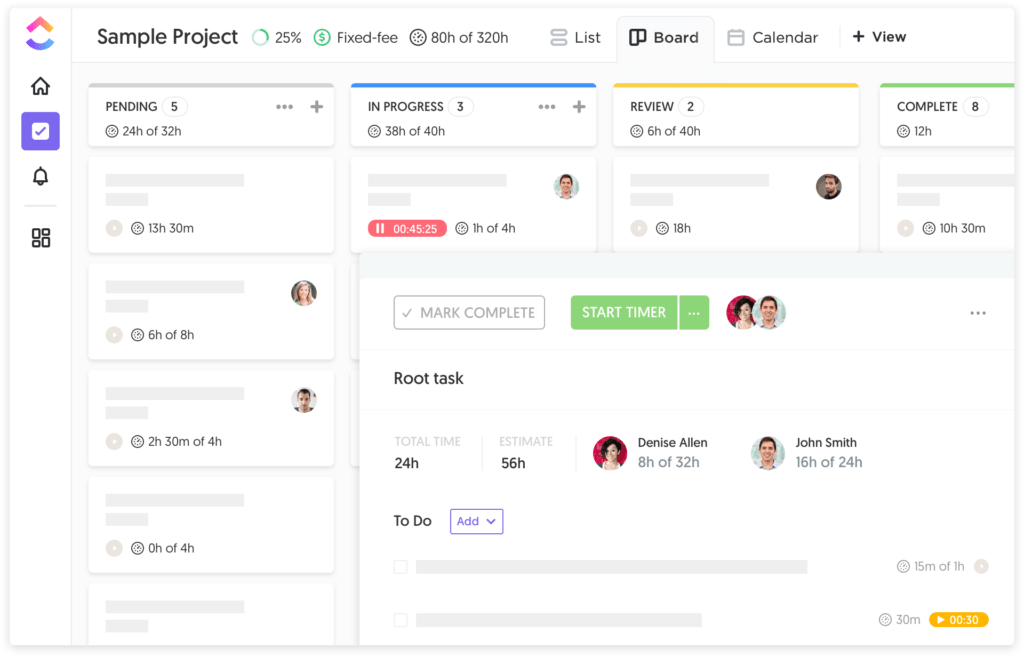 Everhour is a powerful employee time tracking tool that has lots of top-notch features that make it unique. For starters, the invoicing and budgeting features are much more advanced than the time tracking ClickUp software. Everhour's invoicing includes easy and thorough customization of invoices, great invoice reports with dashboards, and linked invoicing and time tracking to provide accurate, concise invoices. The Everhour time clock app and work hours tracker has tools like time controls, easy timing with no tab switching, and automatic syncing. It also has a timesheet app that is incredibly useful for admins to reduce errors in time tracking and that helps to manage your team's working hours.
Everhour also has numerous integrations, including ClickUp, and can be integrated into almost anything through Zapier. It has simple stop-and-start time tracking and is an enterprise software option that will allow teams and individuals to manage their timelines and oversee projects.
Check out our video on how to integrate & work inside ClickUp with Everhour's integration!
---
Timely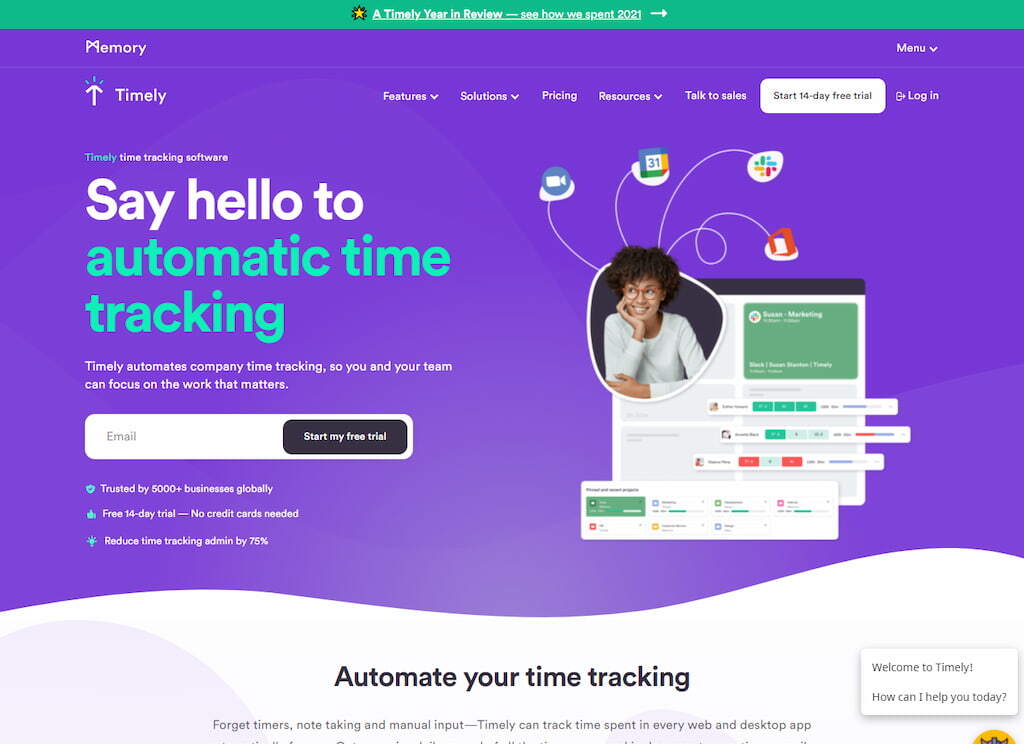 Timely is a time tracking software that automates the process to give companies more time to focus on their projects. It is noted to reduce time tracking admin by 75% and has several core features that make it a useful tool for businesses. It includes the standard stop-and-start timer that is similar to the ClickUp time tracking software but has other options as well.
Timely also comes with the project and team tracking features. Teams can monitor budgets, the activities different members are doing, and the hours spent. These features provide teams with clear insights into their efficiency and output. Timely can integrate to ClickUp to combine with the project management features.
---
Time Doctor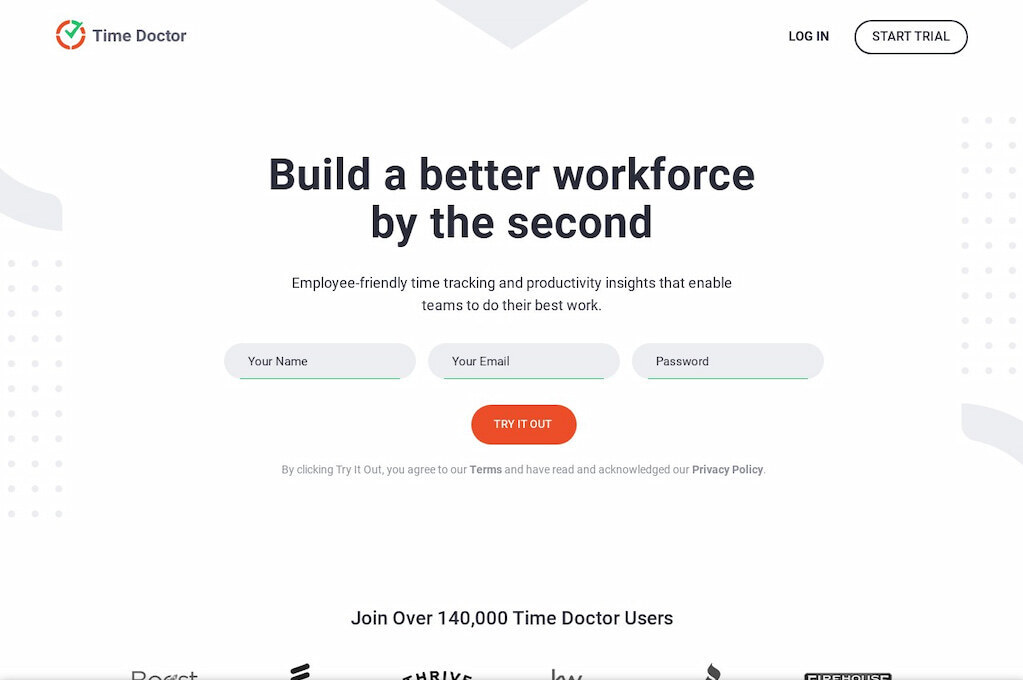 Another tool, Time Doctor is an employee time tracking software with ClickUp integrations. Unlike the other time tracking software on this list, Time Doctor is intended specifically for managers to oversee the productivity of their employees. This includes time tracking features, but it also includes internet usage tracking and keystroke logging.
Time Doctor provides comprehensive reports on how exactly employees are using their time and how much time they are using. It offers valuable data for both companies and employees on work habits and productivity. Time Doctor can be integrated with ClickUp to provide key insights into how your team uses their time.
---
Timeneye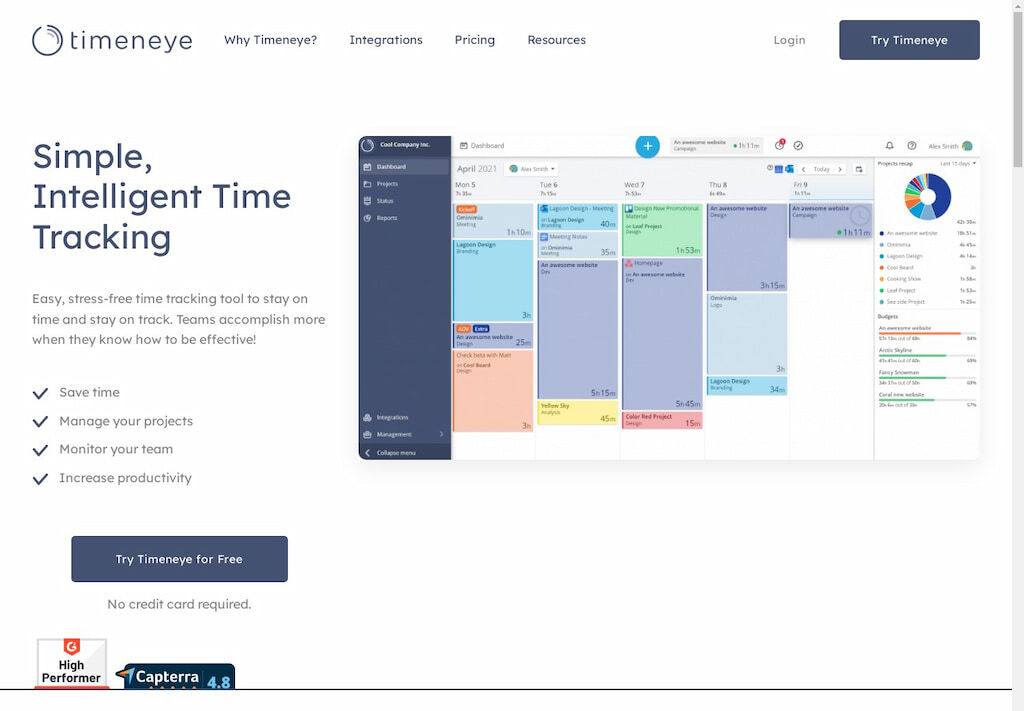 Timeneye is a time tracking and project management tool with several features that make it perfect for teams of any size. It has the standard time tracking tools that you can find time tracking in ClickUp and several other great options. Timeneye provides a helpful color-coded dashboard where teams can track time, allot time to different tasks, and collaborate.
Timeneye can track things like billable hours, track according to the client, and allows users to input how much they are making hourly or per project for clear insight into their gains. It is great for teams or users, with helpful collaboration tools and useful reporting. This app has ClickUp integration and fits perfectly with their PM features. You can check out our article on how Timeney works against Everhour.
---
TMetric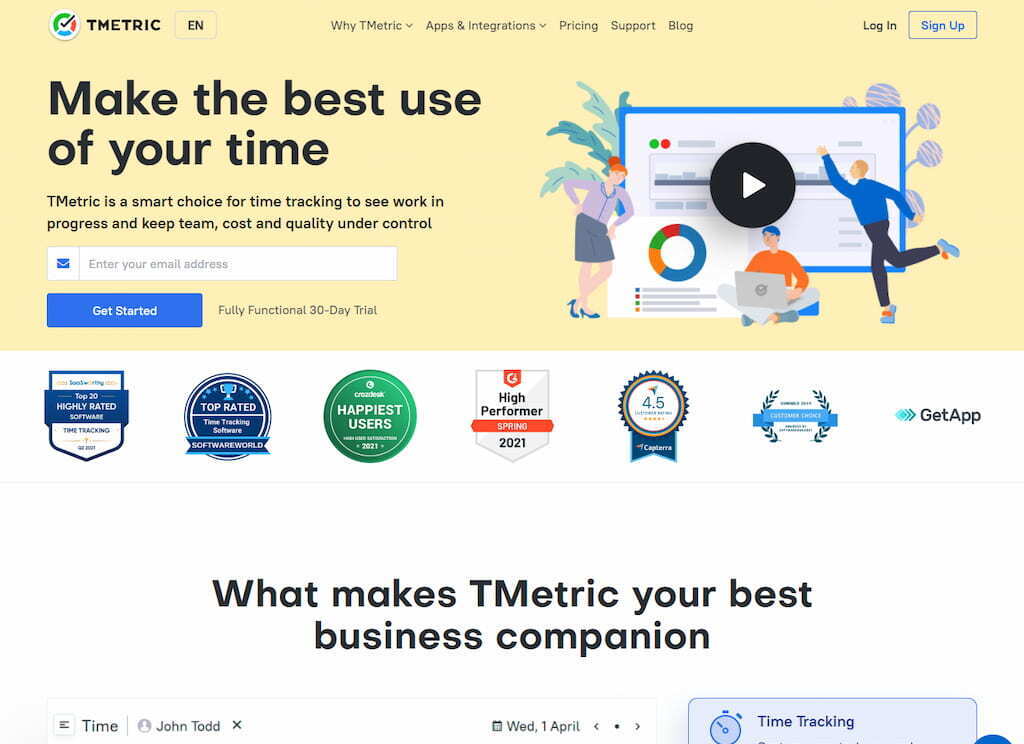 TMetric is designed to help everyone from businesses to freelancers gain insight into their productivity and keep track of their time. It has time tracking features that show billable hours in an easy-to-use dashboard, and teams can track according to task or client. TMetric also has useful invoicing features and helpful controls for companies.
One of the more interesting features offered by TMetric tool is their Time Off tracker, where employers can set mandatory times off and implement things like a PTO, sick leave, or vacation day policy, all from the software. TMetric is a valuable tool with a ClickUp integration and standout features.
---
PomoDoneApp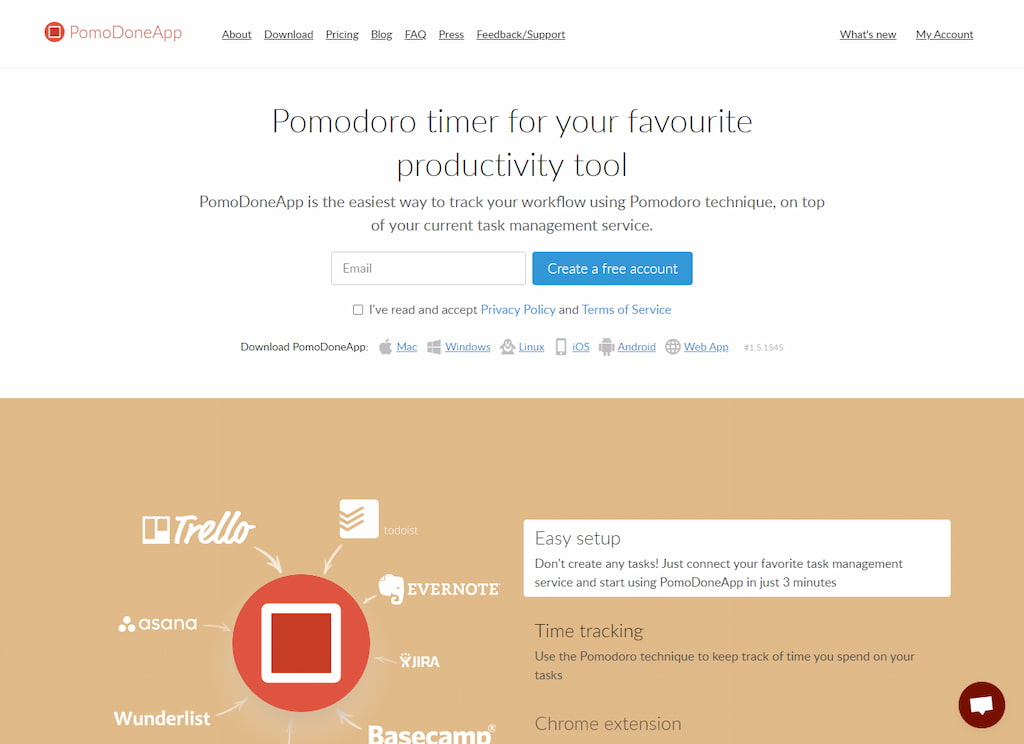 PomoDoneApp is a simplistic time tracking software effective for small teams or individuals. It doesn't have the comprehensive features some other time tracking software solutions do, but it is an easy-to-use, effective focus timer, and it has numerous integrations, including a Google Chrome browser extension.
The PomoDoneApp is intended to connect with a task management app like ClickUp and has a simple stop-and-start timer. It doesn't have the comprehensive reporting or invoice features you'd find with software like Everhour, but it is an effective timer that will keep track of time spent on different tasks.
---
DueFocus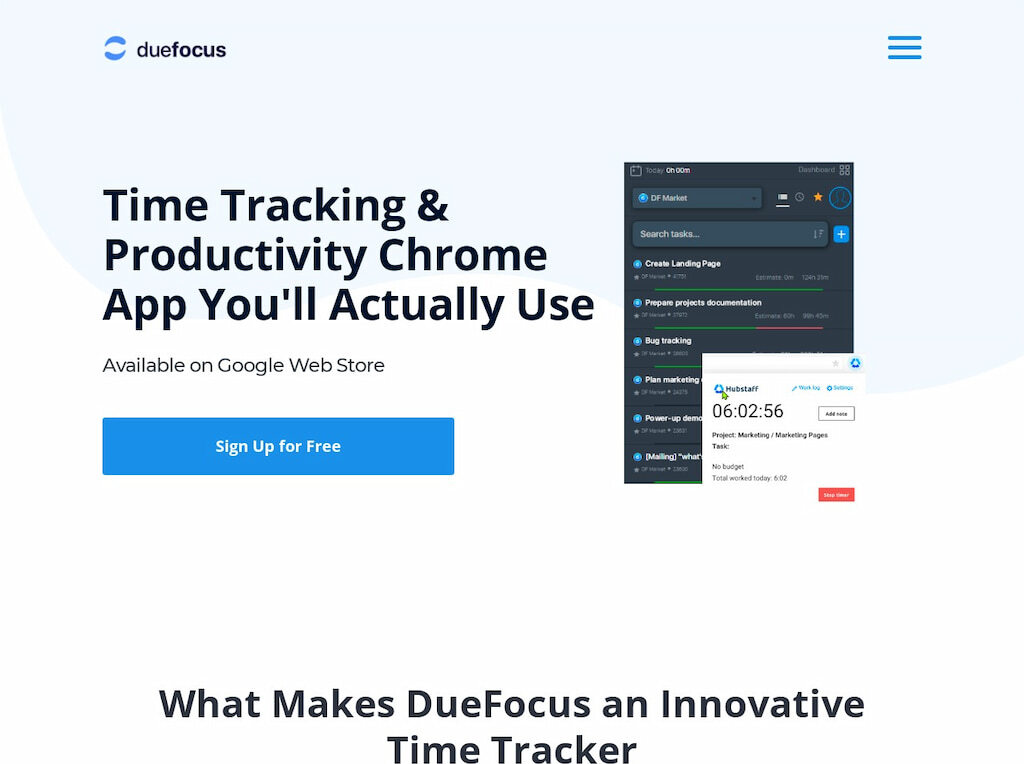 DueFocus is a time tracking and productivity app that can be downloaded as a Google app and used through Chrome. This allows it to be used with ClickUp. DueFocus allows teams and individuals to track hours spent on different tasks and then provides comprehensive .xls reports that can be shared with management or clients.
DueFocus also has some project management tools, like a stage tracking feature that allows employees to update tasks and change priorities. It is a useful solution that tracks team and individual workflows and reports with insightful data. Read more about DueFocus in our article comparing DueFocus and Everhour.
---
Hubstaff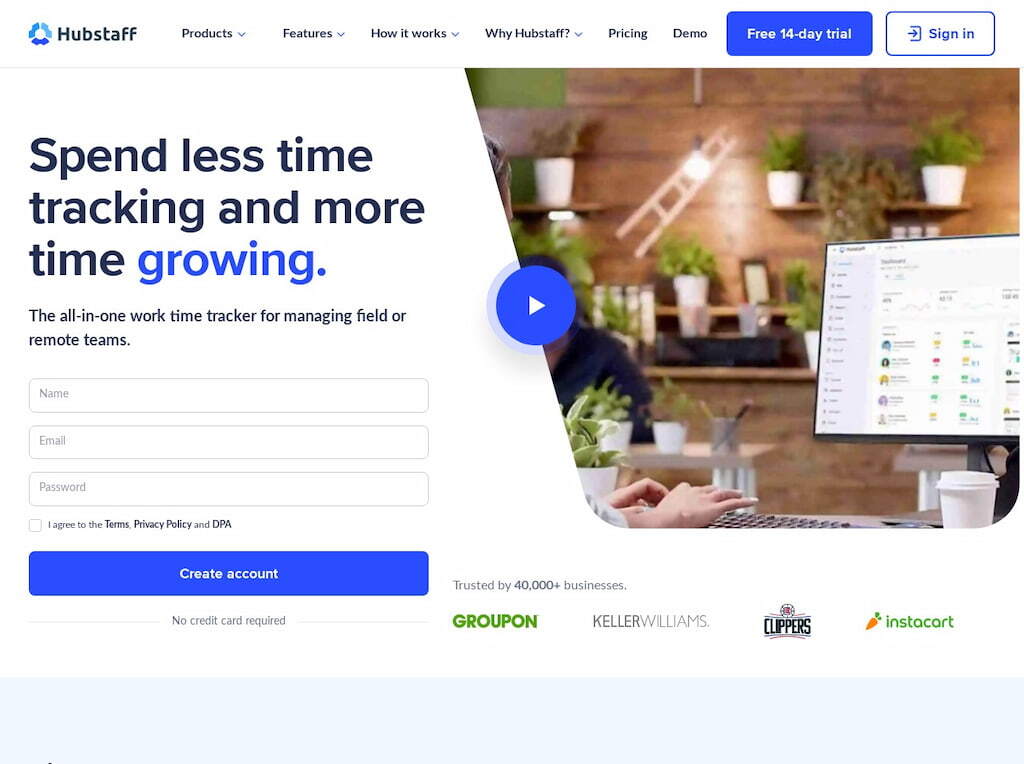 Hubstaff is a time tracking and project management solution that gives managers the tools they need to oversee team productivity. It has seamless time tracking options with a time clock app and time reporting features, and it also has tools for employee scheduling and invoicing. Hubstaff has several integrations and can be used through ClickUp.
One other area in that Hubstaff helps management is employee monitoring software. Hubstaff allows managers to stay on top of employee productivity, track the GPS location of team members using the app, and ensure transparency and productivity. It is a multi-functional tool that assists enterprises in several key areas.
---
WebWork Time Tracker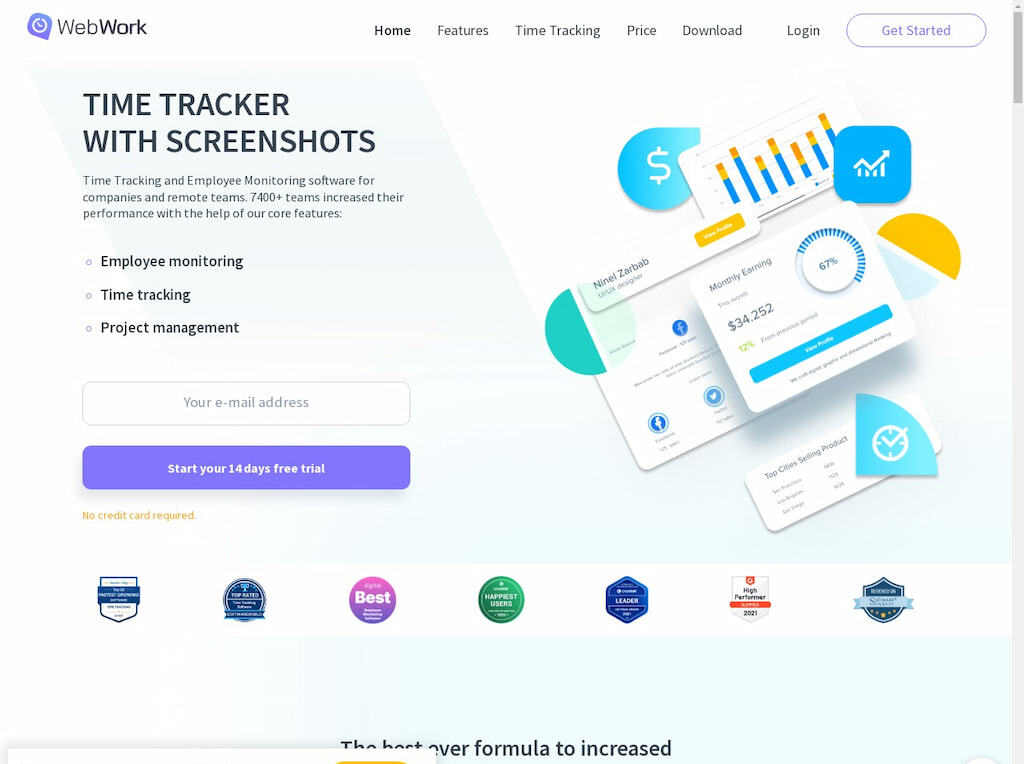 The WebWork Time Tracker is designed to monitor employee productivity and keep track of time. WebWork has a few critical areas that make it valuable to managers that need to monitor large teams. For starters, it has an easy-to-use timer that employees can toggle on and off. They also have comprehensive reporting features that provide business data insights on task, team, and individual time management.
WebWork also has employee monitoring features that can be turned on and off depending on users' goals. These include screenshots at random intervals to ensure that team members are on-track and not succumbing to distractions. WebWork can be integrated with ClickUp to augment the platform's project management features.
---
timeBro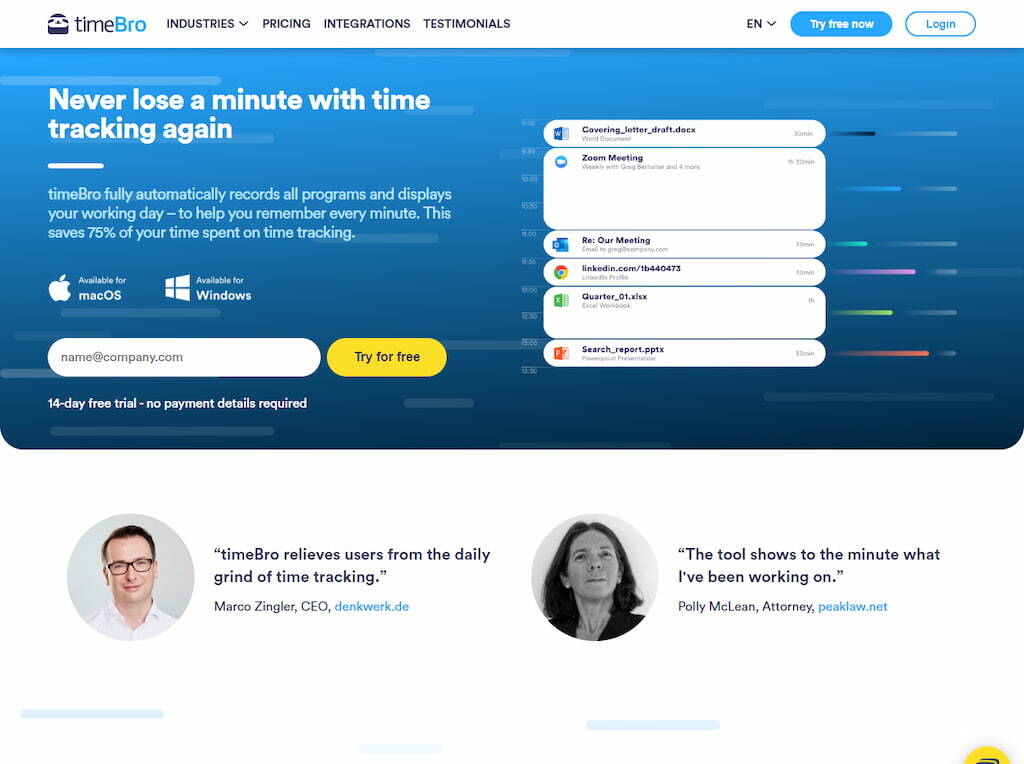 timeBro is an automatic time recording solution that can be downloaded for Mac and Windows. It records all programs and provides displays on your working day to help individuals keep track of every second of their day. timeBro functions well for small teams but can also be used with large enterprises. timeBro will automatically track your time spent on every window in your day, so you can have a very clear insight into how you've spent your day. It offers 100% privacy, so no one can access that information.
These features allow users to see with absolute clarity their productivity. timeBro will also provide reports on time spent, and users can set timelines and goals and see how they've performed. timeBro can be seamlessly integrated with ClickUp.
---
ClickUp Reports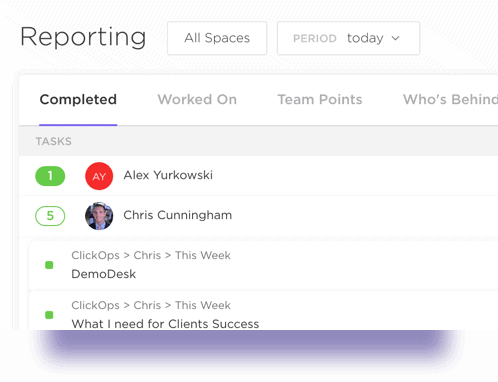 Reporting features offer clarity into the work habits of teams and individuals and can help break down project outcomes. ClickUp has significant reporting features that revolve around time tracking. These features cover several core areas. ClickUp's reports will show teams how accurate their time estimates have been, which tasks have been worked on, and who is behind and ahead on certain projects.
These reports are presented in clear, easy-to-understand ways. The information can be filtered according to project or date, and they offer teams high-value insights into their project outcomes. Managers can see which members are getting the most out of their time, and which need further encouragement.
---
How to Pull Time Reports from ClickUp
Your ability to pull reports from ClickUp is dependent on the ClickUp plan you are using. If you are using a paid plan, you can access all the reporting features from ClickUp. However, the Free Forever plan only gives you access to the Tasks Completed report. Either way, accessing the reports from ClickUp is simple and fast. You scroll to the bottom of the dashboard and click on the three vertical dots. This will pop up two options: Portfolios or Reporting.
Once you've clicked on the Reporting tab, it opens up all the reporting pages you have access to. You can switch between types of reports and filters according to your preferences.
---
Conclusion
Name
Time Tracking
Additional Features
Pricing
Everhour
Timer and manual time entry, Auto-stop timer
Reporting, Invoicing, Expensing, Task and Project management, Timesheets
$5 for Lite plan, $8.50 for Team plan
Timely
Automatic time tracking
Team tracking, Budgeting, Project tracking
Ranging from $9-$22/user per month for yearly plan
Time Doctor
Stop-and-start timer, Automated tracking
Timesheets, Reporting
Ranging from $70-$200/user per year
Timeneye
Stop-and-start timer
Reporting, Project dashboards, Team management
$6/user per month
TMetric
Stop-and-start timer
Invoicing, Task management, Time off
Free Plan, Paid plans range from $5-7 a month+Free plan
PomoDoneApp
Stop-and-start timer following Pomodoro technique
Downloadable app
Ranging from $3-$30/month with yearly plan
DueFocus
Stop-and-start time, manual tracking
Reporting, Invoicing
Free Sign Up
HubStaff
Time clock app, Automated time tracking
Reporting, Scheduling
Free Plan, Paid plans range from $5.83-$8.83/user per month
WebWork Time Tracker
Automated time tracking with screenshots
Reporting, Task management
Free Plan, Basic plan costs $2.99/user per month
timeBro
Automatic time tracking
Downloadable app, Project dashboards
Ranging from $14-$30/user per month
As we've mentioned in our ClickUp review article, ClickUp comes with a time tracking software, and it is one that some businesses will find to be more than adequate. However, with several important features not included in the ClickUp time tracking software, some will find that their time tracking needs are better served with other solutions.
A lot of different time tracking software can be integrated with ClickUp, ranging from Everhour vs Timely to timeBro and Time Doctor. Each of these solutions brings something different to the table that ClickUp might not be able to offer, whether it is integrated time tracking and invoicing features or enhanced employee monitoring options. All of these tools bring something valuable to businesses, the one that works best will depend on the unique needs of your enterprise.