Effortless Basecamp Project Management: Streamline Collaboration and Boost Productivity
Mike Kulakov, November 16, 2023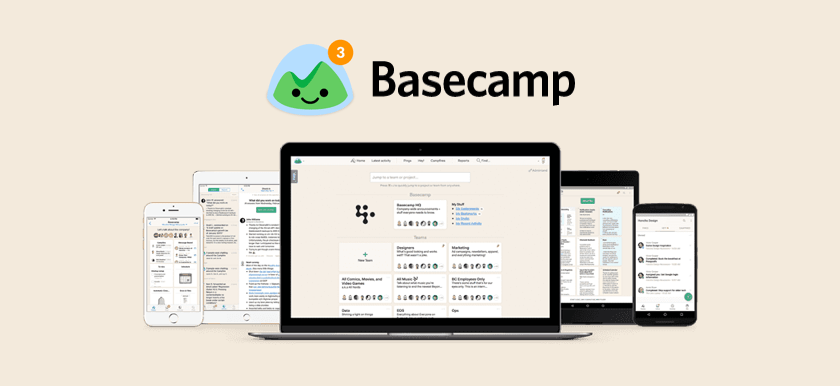 Basecamp 3 is the latest iteration of the popular project management software, and it comes with a whole raft of improvements from Basecamp 2 that have the potential to revolutionize the way that you work.
David Heinemeir Hansson, the creator of Ruby on Rails and founder and CTO of Basecamp, described the creation of Basecamp 3 as being like building a Porsche 911, and when you start to compare different versions you can see why.
Basecamp 3 is a project management machine, reimagined from the ground up with a whole heap of new features that are designed to make it as functional – and as easy to use – as possible. It's the little details that count, and Basecamp 3 has them all – including such nifty features as the ability to limit notifications to working hours and to schedule automated check-ins.
When you put all of this together you get one of the most effective project management tools on the market. We swear by it, which is why we've pulled together our best advice to help you to make the most of it.
Is Basecamp 3 for Me?
The short answer is 'probably, yes.' Here's the long answer. Like any piece of project management Basecamp software, Basecamp 3 has its pros and cons (and you can always check out Basecamp alternatives to choose a tool that suits you better). It's not perfect because nothing ever is, and while the latest build includes a whole heap of new and updated features, it can also lead to a culture shock for people who are used to older versions.
Discover how the system fairs against some of its closest competitors in our quick comparisons to help you get to grips with which is best for you:
Like any business tool, Basecamp 3 is only as good as the people that use it. Employee uptake will determine its success, and if they fail to take full advantage of its features or to keep projects fully updated, your implementation of the software is doomed to failure.
---
---
In fact, most complaints about Basecamp 3 are actually down to human error. Some say that it's difficult to find information or that there are too many updates to keep up with, but both of these can be combatted by a concentrated effort to keep the software as well-organized and as up-to-date as possible.
Basecamp 3 isn't for everyone but used correctly it can level up your project management to the point at which the added efficiency pays for the software. This is often a key argument for smaller businesses who want to use the software but who worry that they don't deal with enough projects to justify the cost of a license.
Basecamp 3 pricing
Basecamp presents two subscription options, both offering a 30-day free trial, which allows for easy cancellation without requiring credit card details. Here's a concise overview of the pricing for these plans:
Basecamp: $15 per user/mo.
Basecamp Pro Unlimited: $299/mo (billed annually) for the unlimited number of users.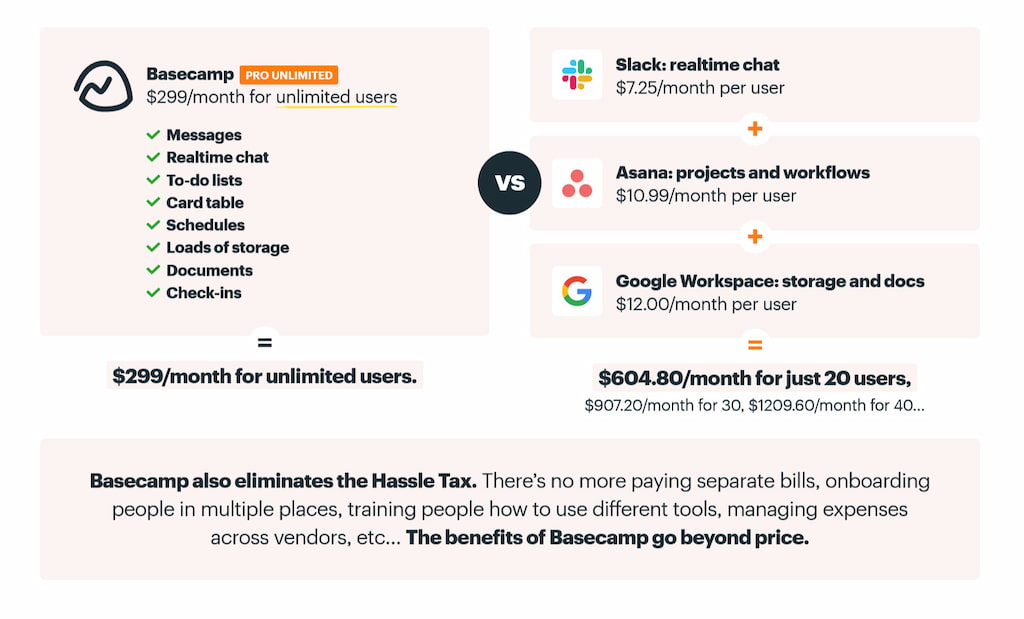 Luckily, discounts are available if you pay yearly (you'll save 15%), and Basecamp is free for teachers and students and half the price for charities and non-profits.
---
Getting Started with Basecamp 3
The good news is that it doesn't take long to get started with the latest iteration of basecamp. The software offers its own onboarding process to guide new users through the interface, and it typically takes less than half an hour to get the basics in place and to send out invites to team members.
But before you invite people to join your projects, you'll want to make sure that Basecamp is already set up with all of the information that employees are likely to need. To do it properly, you'll need to take advantage of Basecamp's tiered approach:
HQ: For company-wide communication
Teams: For specific teams to work together
Projects: Individual projects that are assigned to specific teams
Make sure that you arrange your work to fit within this hierarchy so that your Basecamp 3 setup has a logical structure that fits within the constraints of the software. Pay particular attention to projects and make sure that you're not simply listing tasks that would work better as part of a to-do list.
Not sure how to tell whether something's a project or a task for the to-do list? Projects are usually at a larger scale and include multiple tasks, while tasks are little tweaks and fixes. "Redesign the website" is a project. "Add social networking links" is a task.
---
Basecamp 3: Tools for Project Management
Basecamp 3 is full to the brim of little tools and Basecamp integrations that you can use to take your project management process to the next level. Many of these are unique to the software, which means you won't be able to get them from a competitor.
At its most basic level, Basecamp includes six core tools that can be used at all levels of the software, from HQ level right down to teams and individual projects. Here's a list of what they are and what they're good for.
To-Dos
Good For: Tracking tasks and assigning priorities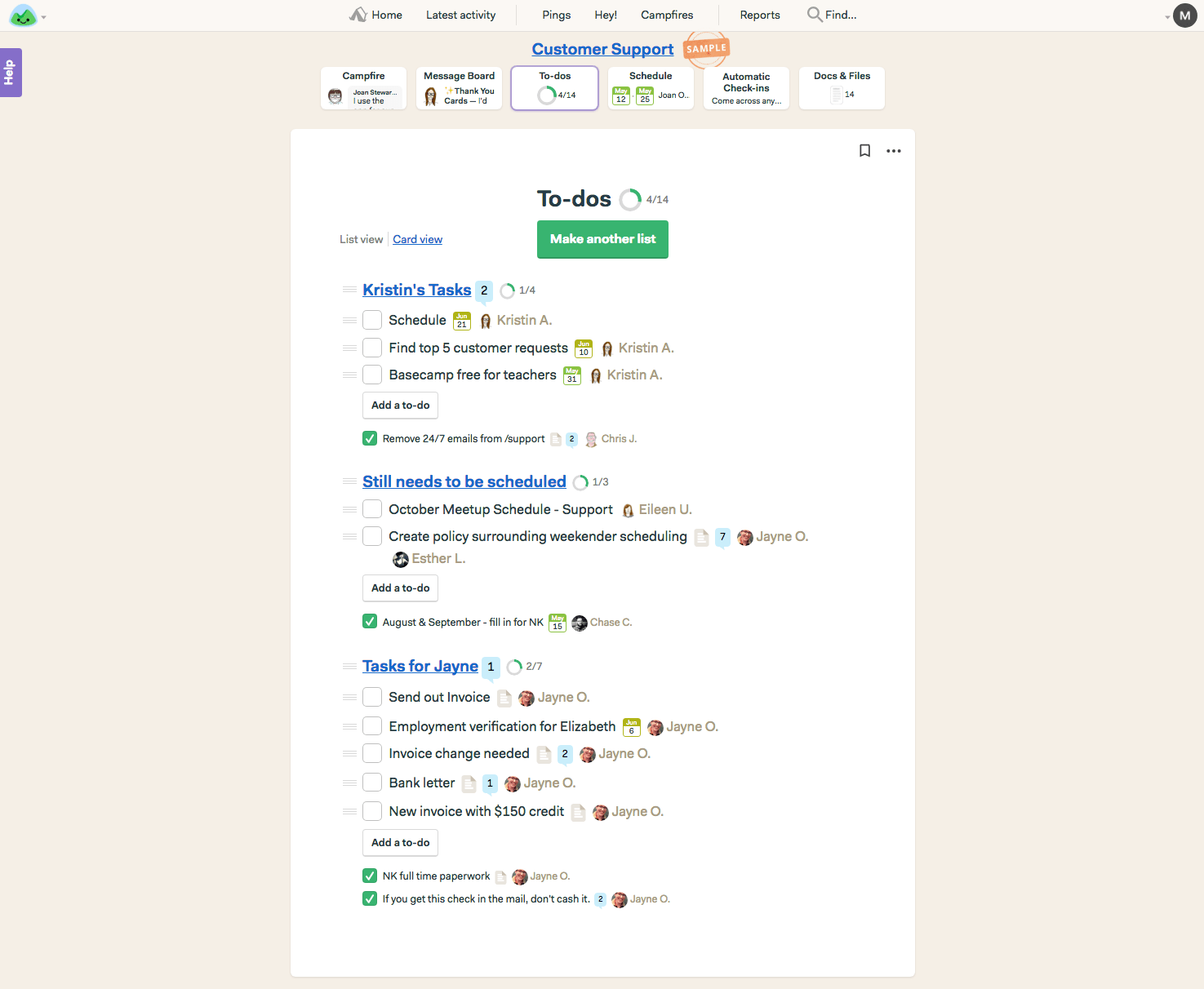 Basecamp 3 has rethought the way that to-dos work to make them more powerful than ever. Designed to break larger projects up into smaller, bite-sized chunks, to-do lists are easy to set up and highly customizable.
You can add details for each item using a visual text editor, and Basecamp makes it easy for you to assign them to users and to set a deadline. Users will receive automated reminders whenever they're added to a to-do list or when a deadline is due, making it an easy way to manage the day-to-day tasks that your department is working on.
🎓Pro Tip: You can move items around (and between lists) by dragging the small icon to the left. You can also drag and drop entire lists when needed.
Message Board
Good For: Sharing announcements, updates, and key communication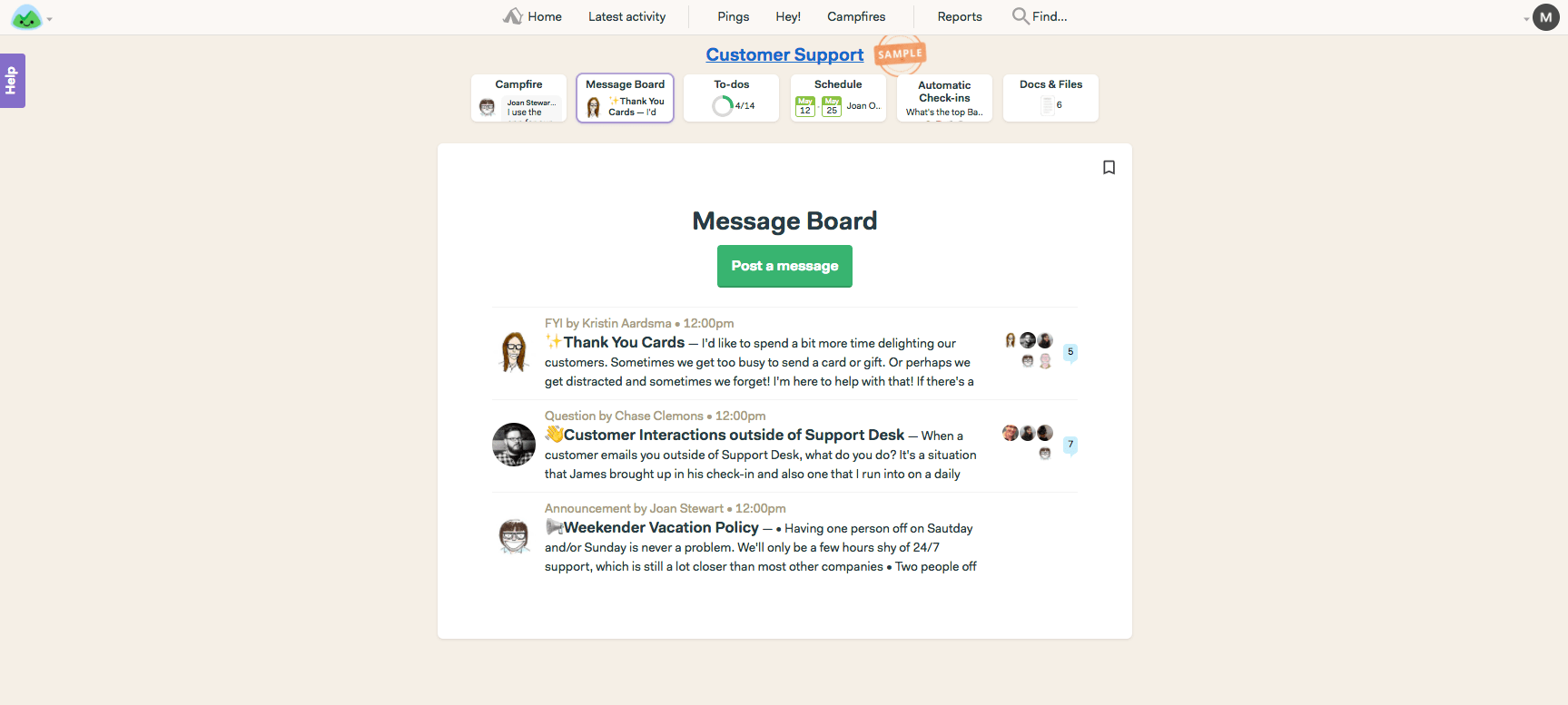 The message board in Basecamp 3 is one of two tools that are specifically designed to foster internal communication.
The message board is the more formal of the two, designed to pull together conversations around a single topic and to cut down on emails. No more CCing and forwarding old emails to new employees – with Basecamp 3, you can do it all within the interface. You can even import external emails and discuss them with your team before replying to the original sender.
🎓Pro Tip: Encourage employees to check their "Hey!" menu every time they log into Basecamp. This menu is "a single inbox for nearly every kind of Basecamp notification", and it pulls together everything from new messages to @mentions, assignments, and project progress.
Campfires
Good For: Casual chat and quick discussions

If the message board is the equivalent of a sit-down meeting then campfires are like gathering around the water cooler. This group chat functionality is built-in at the center of every Basecamp and is designed for quick communication without any fuss, offering a more ephemeral alternative to the more formal message boards.
🎓Pro Tip: Used correctly, campfires can replace existing instant-messaging tools. Alternatively, if you're already using Slack or something similar then be sure to check whether Basecamp offers integration. It supports 50+ market-leading applications and can help to centralize information in a single place.
Schedule
Good For: Tracking progress, deadlines, and milestones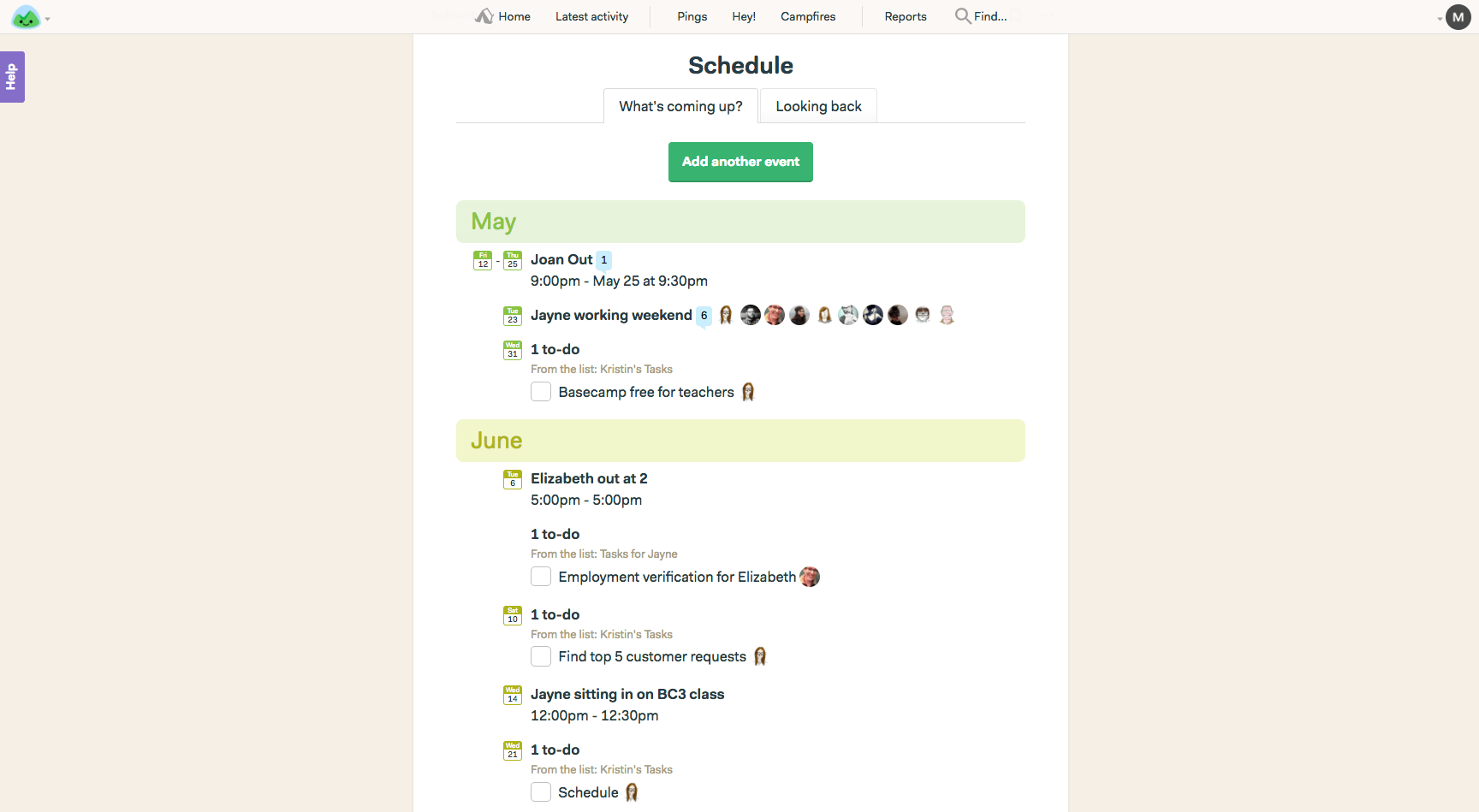 The schedule does exactly what its name suggests. Tapping into the project and task list data that you've added to the system, it will update itself in real-time to show you milestones, deadlines, and more so you know what you're working on and when it needs to be completed. You can discuss your schedule from within the application and export the data to your Google, iCal, or Outlook calendars.
🎓Pro Tip: Basecamp 3 has a nifty piece of functionality that allows you to set your working hours. That way, you won't receive emails or notifications in the evenings or at weekends. But don't worry – everything will be waiting for you when you return to the office!
Docs & Files
Good For: Storing and sorting assets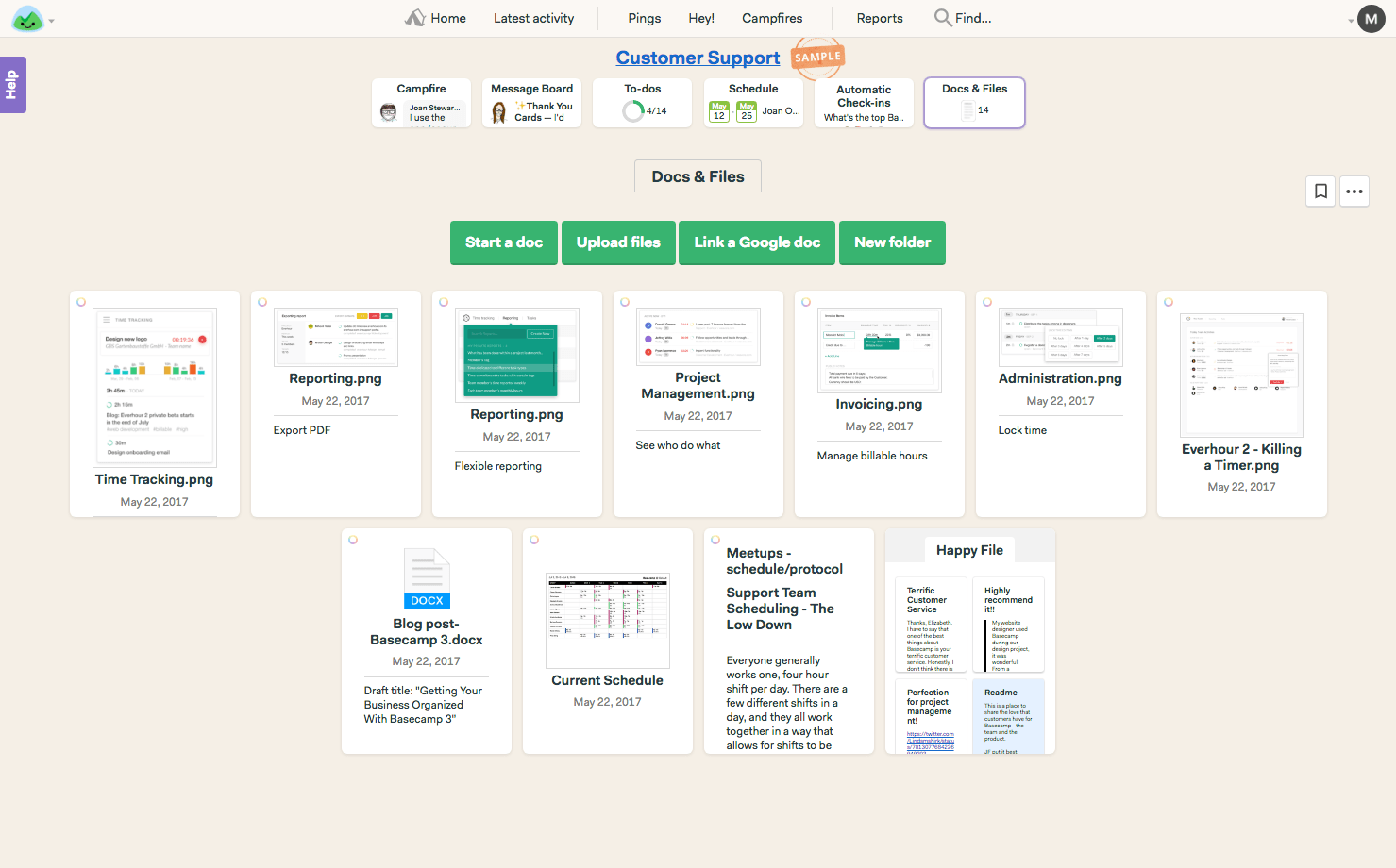 Forget Dropbox. Basecamp 3 includes a stunning document storage system that helps you to organize all of the files that you need to get the work done. The system also allows users to color-code files to make it easier to discover them, and the powerful search functionality means you'll never lose sight of your files again.
🎓Pro Tip: Integrate Basecamp 3 with Google Docs to bring together files from disparate places, and be sure to create a folder structure that groups similar files together for ease of use.
Automatic Check-ins
Good For: Getting updates without having to hassle people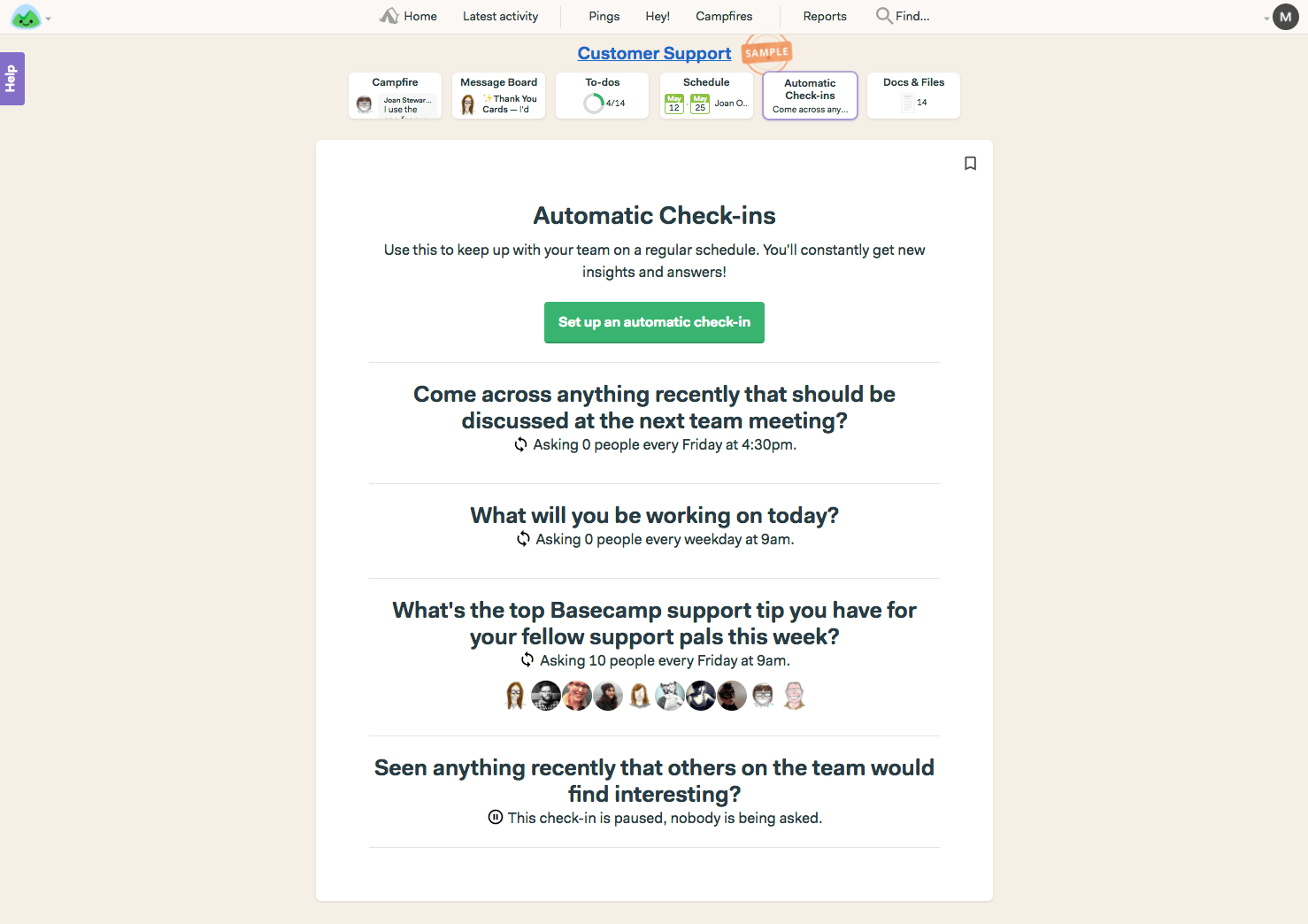 Imagine if you could automate the process of asking staff for progress updates. Well, thanks to Basecamp 3, now you can. The new automatic check-ins feature allows you to specify what to ask, who to ask and when to ask it. Then it will gather the responses and forward them over in an easy-to-read report. The good thing about this tool is that it becomes exponentially more powerful as your company grows, and the smart use of automation can save time and money while improving morale across the company.
🎓Pro Tip: Think outside the box. Don't just ask, "How are you?" Ask for feedback on specific projects or set up check-in on Friday that asks employees for their thoughts on the coming week. When you get the feedback, act on it – otherwise, you send out the message that responding to check-ins is a waste of time.
---
Basecamp 3: Tips for Pro Users
By now, you should have seen enough evidence to prove that Basecamp 3 is one of the best project management tools on the market. In fact, this latest iteration is so feature-rich that no article could ever hope to list every single thing you can use it for.
That said, we still have a few more tips up our sleeve. Here are a few final tricks to try out once you've got your head around the basics.
Take advantage of integrations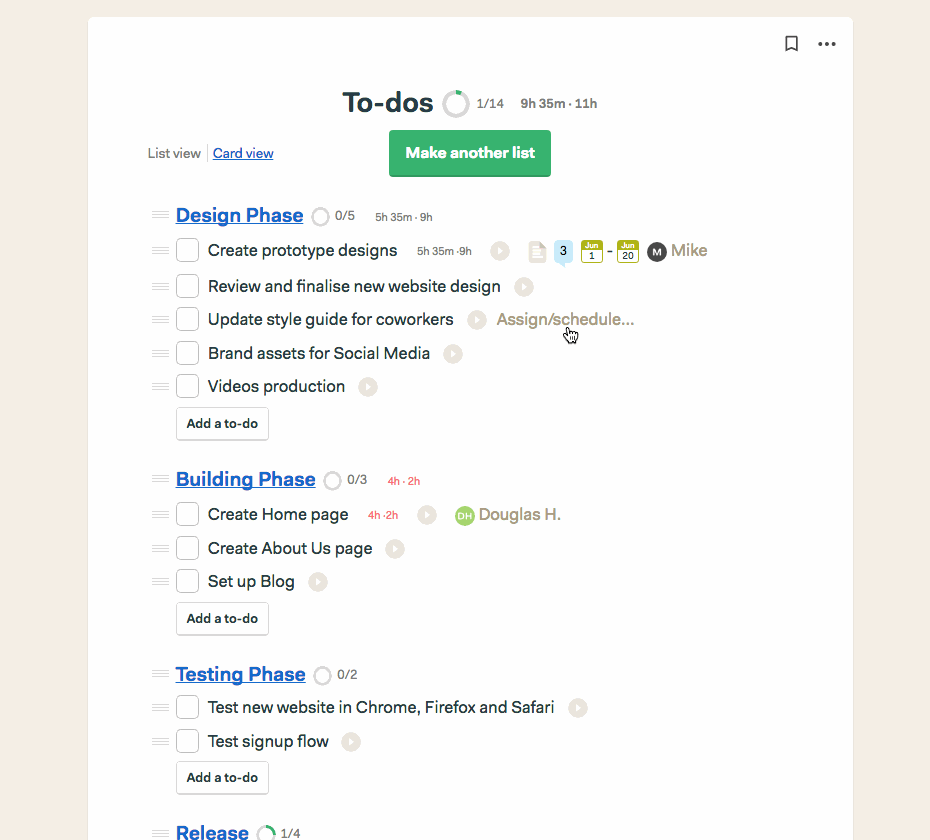 Use Basecamp's bank of integrations to upgrade functionality, such as by bringing in time tracking, estimates, and reporting. Everhour natively integrates into your Basecamp interface so your employees' workflow stays pretty much the same. That's important because it minimizes the learning curve of your team.
---
Use Clientside
Clientside is specifically designed to create a sanitized version of your Basecamp account to share with clients, freelancers, and suppliers. It allows you to keep discussions with your team and discussions with your client completely separate, and it'll also store all of the feedback that you receive in a single place.
Customize your toolbox
Too much choice can be counterproductive, which is why Basecamp 3 makes it easy for you to turn tools on and off by team or by the project. Disable tools if you're not using them to streamline your use of the software.
Use bookmarks
Set up bookmarks for your favorite files so that you don't waste time looking for them over and over again. Your bookmarks will also synchronize between devices so that they're always on hand.
Keep an eye on your timeline
This useful little feature is at the bottom of every Basecamp and shows everything that's happened since the start of a project. If you're looking for something, it's a good bet that you'll be able to find it here.
Use reports
Basecamp 3 allows you to generate real-time reports that show everything from individual employee work records to project progress and an overall timeline and work schedule.
Customize notifications
Notifications are one of Basecamp 3's most useful – and most well-thought-out – features. They're designed to reach you where you are, so they'll try a desktop notification if you're logged in at your machine and follow it with mobile or email notifications if you're not around.
If you don't want to use Clientside but you still want to share something, you can selectively share with outsiders by hitting the share button and choosing the 'public link' option.
---
Over to You
Do you use Basecamp 3 for project management? Which features have you found to be most useful? Be sure to share your thoughts by leaving a comment.